The demand for excellent third party power adapters skyrocketed once Apple, in typical Apple fashion, decided to remove the charger from the box of their iPhones and other devices. History repeated itself and many other companies like Samsung decided to follow suit. This presents the question- "Now that we have to buy a power adapter separately, which one is the most functional, value and versatile option?" I think we have an answer in the form of the AOHi 40W Dual USB-C Fast Charger. 
Design and Build Quality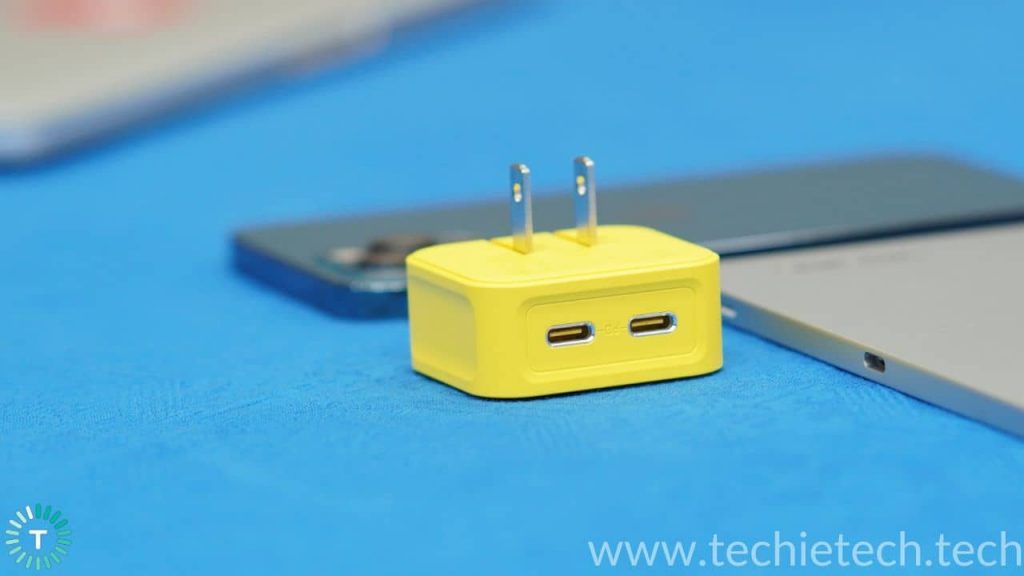 For a power adapter which boasts a 40W power rating and 2 USB-C ports, the AOHi power adapter is surprisingly compact and portable. It is a sturdy little piece of technology and its small form factor would go a long way in making sure you travel light by mitigating the need to carry 2 separate adapters. The foldable pins also help its case by a lot.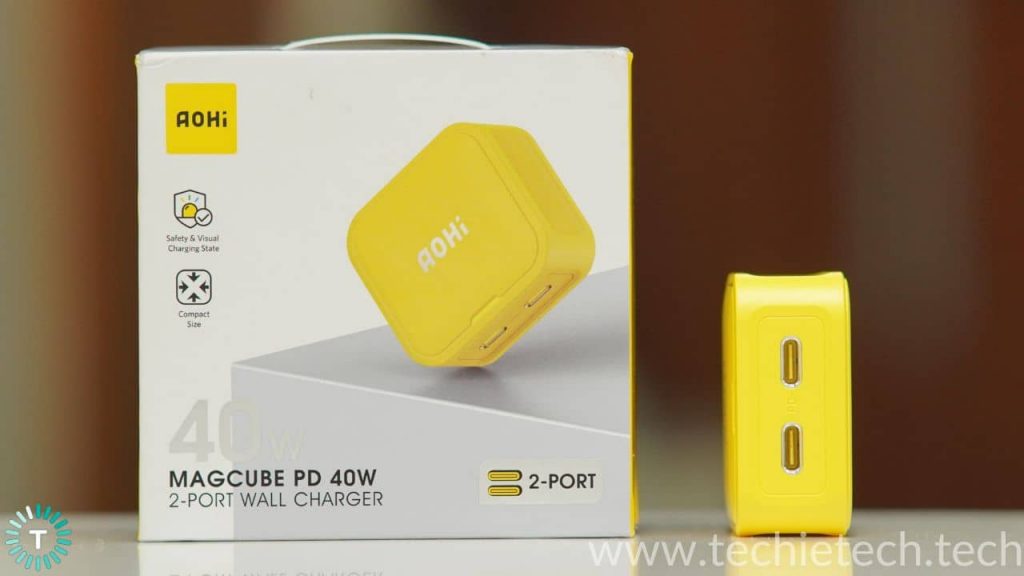 We have the charger in a bright yellow shade here which just looks so much better and chirpier in a sea of mundane black and white power bricks. What we also liked was the light weight, 
which added to the ease of carrying it around in backpacks. 
Performance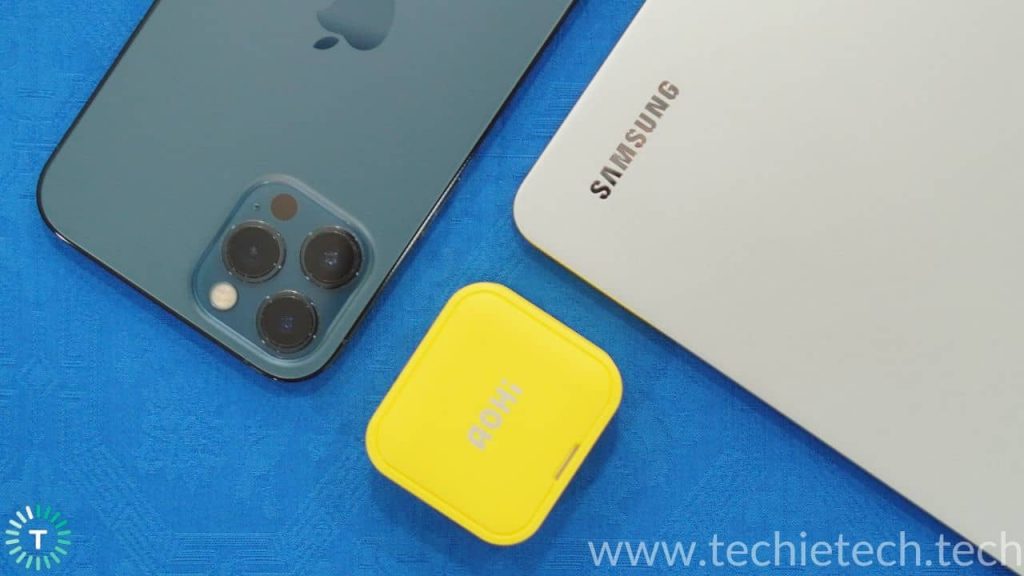 AOHI claims that their Dual USB-C charger features a maximum rating of 40W when you're using only one of the Type-C ports. We tested this on multiple devices including an iPad Pro and a MacBook Air and both devices charged significantly faster than expected. Another plus point is that while the AOHI 40w dual USB-C charger does warm up while charging, it does not overheat enough to become a cause for concern. 
Another great, and probably my favorite, feature of the AOHI 40W Dual USB-C charger is the inclusion of intelligent power allocation technology. Allow us to explain how it works. Whenever you connect 2 devices to the adapter to charge simultaneously, it automatically studies the power requirements of the individual devices. Then, it uses this information to supply the ideal amount of charge automatically. For a device like the iPhone 14 which supports a maximum of 20W charging speed, the AOHI 40W Dual USB- C charger will be able to fast charge 2 devices simultaneously.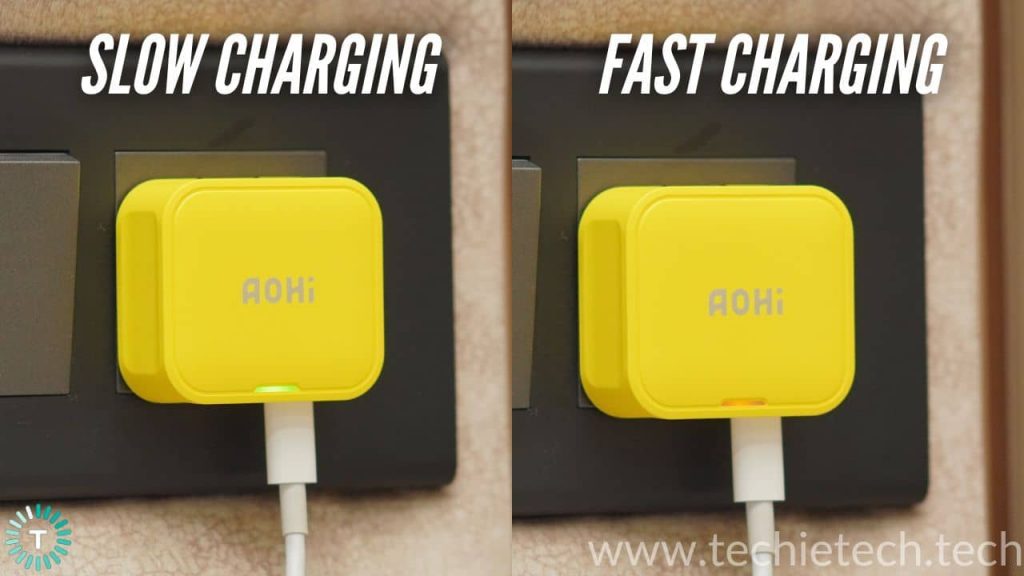 The AOHI 40W Dual USB-C Fast Charger also features PI technology for ensuring maximum safety. How this works is that it studies the power requirement of the device connected and supplies the optimal charge so as to not hurt the internal components of the device. It features a 3 stage charging system and also has an LED indicator on the charger body to show what stage it's currently in. There's yellow or amber color which means fast charging, blue which means standard charging and green which means slow or trickle charging. It comes in very handy when you need to know the charging status of your plugged in iPhone or any other device. 
Also read: Does the iPhone 14 charge faster than the iPhone 13?
Compatibility
Compatibility is of paramount importance when picking up a power adapter, given how we tend to own such a wide variety of devices these days. In our testing, we used the AOHI 40W Dual USB-C Fast Charger with different MacBooks, a Dell XPS 13, iPads, Samsung Galaxy tabs, and a variety of different smartphones from different manufacturers. In our wide array of testing, the AOHI charger worked very well and charged all the devices at optimal speeds without any hiccups. 
Conclusion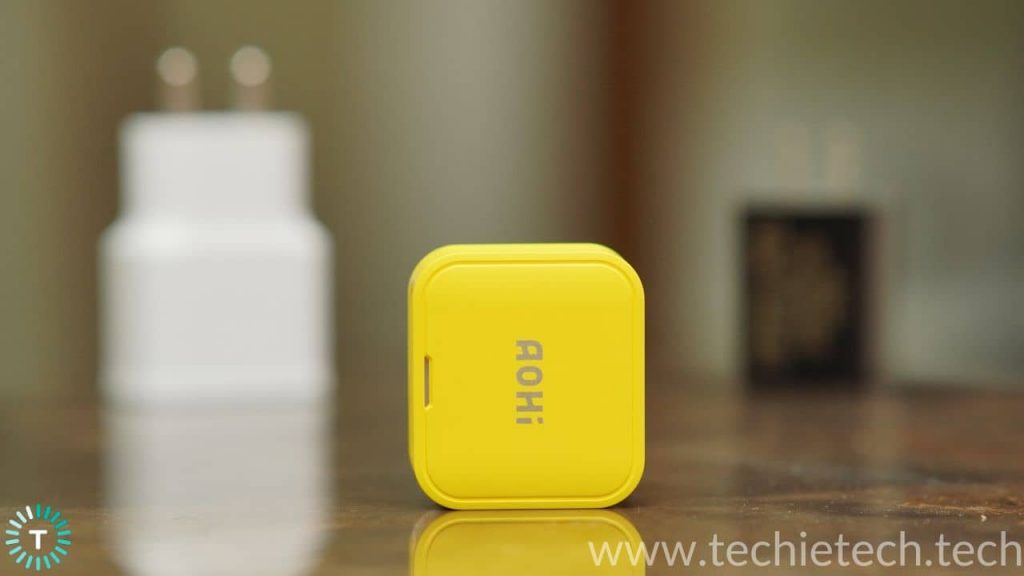 The AOHI 40W Dual USB-C Fast Charger is an amazing power adapter for everyone. It is fantastic for travel, with its light weight and compact design. The ability to charge 2 devices with one of these chargers is also a game changer in my everyday carry backpack as it mitigates the need to carry 2 separate adapters. We would undoubtedly and confidently recommend the AOHI 40W Dual USB-C Fast Charger for anyone who's looking for a functional, portable and value power adapter for their day to day usage. 
Use coupon code AOHI40WC to get an extra 20% off.
Also check out: