Feel Your Music, Not Your Headphones.
With this catchy and exciting tag line, Apple introduced its AirPods Pro worldwide on October 30, 2019. These newly launched pro version offer active noise cancellation, better comfort, and sweat resistance.
There would be a lot of people thinking of upgrading to the Pro ones let's check out if it's are worth the extra money that you are planning to spend.
AirPods Pro has been introduced for $249, whereas AirPods 1 comes for $159 and AirPods 2 (the latest version) is for $199. Apart from the price difference, let us look closer and spot the major differences between the two.
1.AirPods Pro exclusive: Active Noise Cancellation and Transparency Mode.
Well, this can be considered as the most noticeable difference between the two. AirPods Pro uses Active noise cancellation to offer you the immersive sound that cuts noise.
The level of noise cancellation can be customized accordingly and we can even set the transparency mode to hear what's happening around you, without taking off your AirPods. The force sensor is introduced to switch between the two modes. Just press and hold the force sensor to jump from one mode to the other.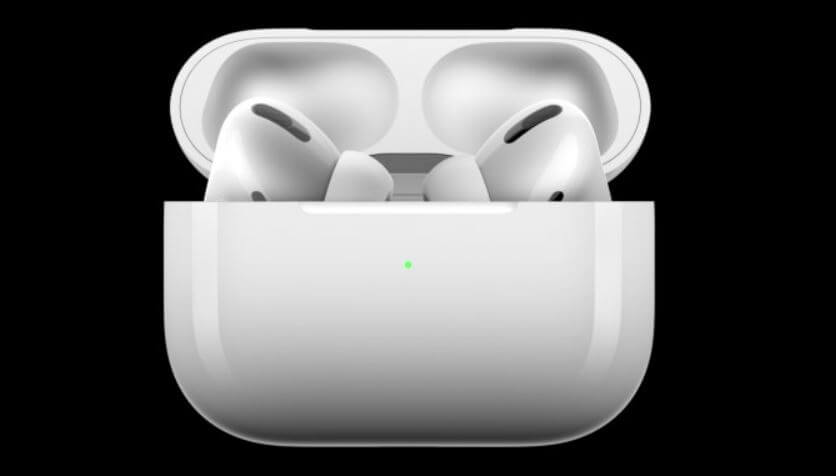 The two microphones feature assist in the active noise cancellation. The first microphone is facing outwards and detects external sound. AirPods Pro counter it with equal anti-noise to cancel the external noise before you hear it. The second microphone is facing inwards and listens inside your ear for unwanted sound, which is eliminated with anti-noise. When we talk about the regular ones, they do not offer active noise cancellation, transparency mode, or a force sensor.
2. A Customisable fit of Pro vs the Universal fit of Regular AirPods.
AirPods Pro offer customization in choosing the perfect fit for your ears. They come with three different-sized soft and flexible silicone tips that perfectly click to your ears to ensure a comfortable fit.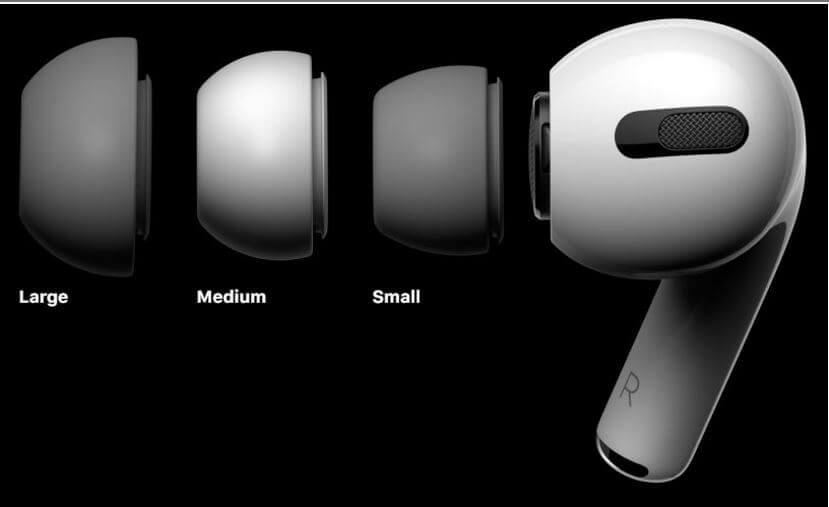 Pro offers an ear tip fit test to help you decide a comfortable and right fit for your ears. It plays some music and then uses the microphones to determine how well they fit inside your ears. If you don't have the right fit, it will advise you to adjust the buds or try a different tip size.
The regular AirPods provide a Universal fit as they have plastic ear tips.
3. AirPods PRO offers IPX4 rated Water Resistance.
 Gym going people are gonna love AirPods Pro as they are sweat and water-resistant for non-water sports and exercises. So, you can wear them comfortably during your workouts in the gym. On the other hand, the regular AirPods are not water-resistant.
4. Differences in size and weight.
AirPods Pro are smaller in size than the regular ones, but they are a bit heavier. Pro version weighs 5.4 grams per earphone, whereas regular AirPods weigh 4.0 grams per earphone.
5. Pro version has Adaptive EQ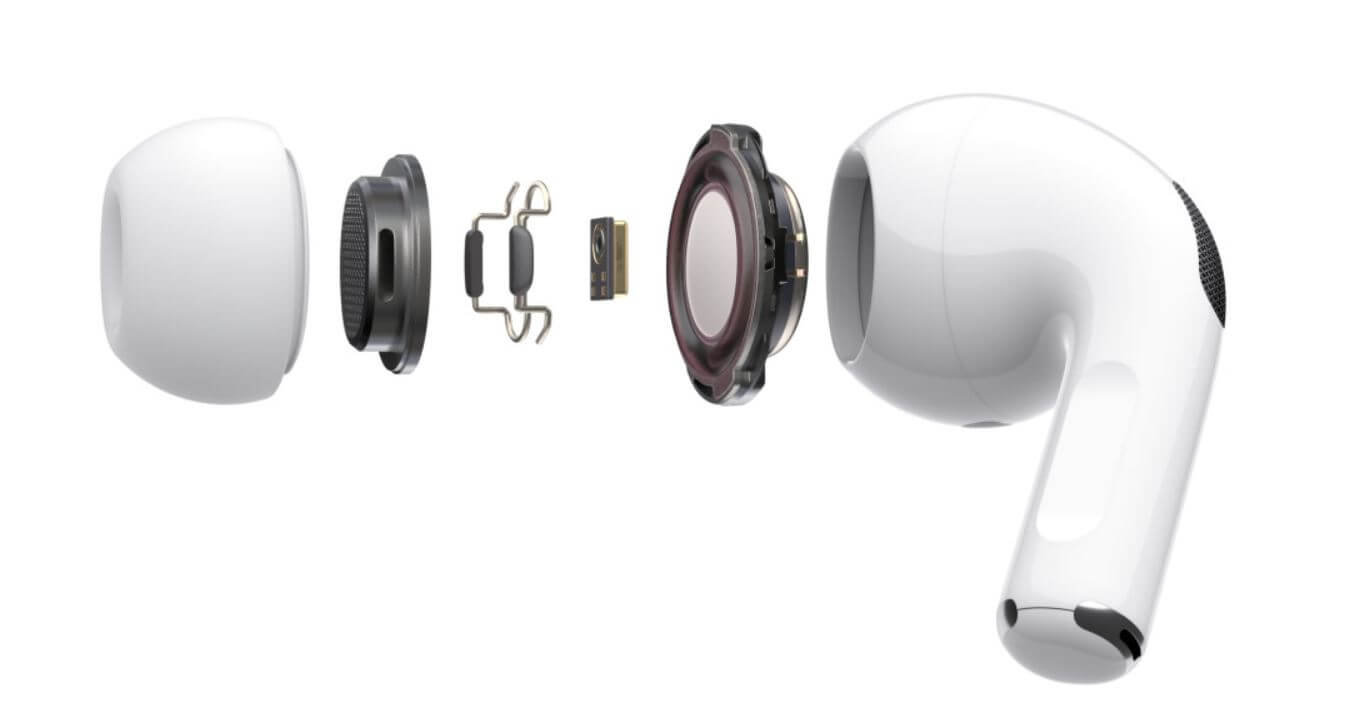 Inside the buds, there are internal microphones that can measure the volume. They assist in noise cancellation and are also used for adaptive EQ that optimizes the sound quality to suit the shape of your ears.
According to Apple, AirPods Pro automatically tunes into the low and mid frequencies, by using a custom high dynamic range amplifier that adjusts the sound signal 200 times per second to give you a clearer and immersive sound. This extends the battery life too. Now that's something nice, Right?
6. Any improvements in sound quality? : Let's check
 Apple says Pro version offers "superior sound quality" thanks to the active noise cancellation mode and the adaptive EQ. They also offer a slightly better sound stage i.e. how clear you can hear the individual instruments. The pro version also has an expanded mesh microphone port that improves call clarity in windy situations.
7. Any differences in Battery life?
 Well, there's no as such difference in the battery lives of the two. According to Apple, AirPods Pro lasts up to 4.5 hours per charge with noise cancellation and Transparent mode enabled. When the modes are disabled, Pro version lasts for 5 hours, just the same as the regular AirPods.
Pro version gives a talk time of 3.5 hours per charge and the regular ones provide 3 hours. Both of them come in charging cases that provide additional charges of more than 24 hours of total listening time and more than 18 hours of total talk time.
 8. Similar Bluetooth and "Hey Siri"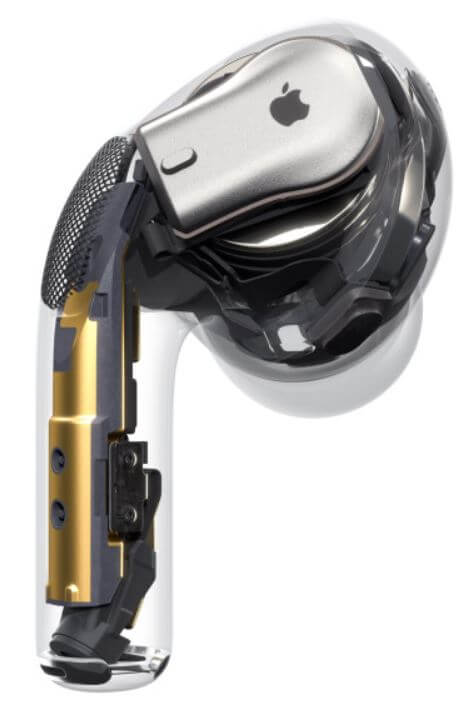 Both of the AirPods support Bluetooth 5.0 and have an Apple-designed H1 chip that enables hands-free "Hey-Siri" to make calls, control your music, volume, and directions.
9. Let's peep into the box!
 AirPods Pro comes with a wireless charging case and three silicon tips for your ear. They come with a Lightning to USB-C cable, whereas the regular ones come with a Lightning to USB-A cable.
10. Price comparison
Apple AirPods Pro is priced at $249 with the wireless charging case. On the other hand, the regular ones are priced at $159 with the standard case and $199 with the wireless charging case.
AirPods Pro vs AirPods 
| | | |
| --- | --- | --- |
| Feature | AirPods Pro | AirPods |
| Active Noise Cancellation                  | Yes | No |
| Customizable Fit         | Yes | No – Universal Fit |
| Sweat and Water Resistant    | Yes | No |
| Weight | 5.4 grams per earphone | 4 grams per earphone |
| Adaptive EQ   | Yes | No |
| Processor | H1 | H1 |
| Case | Wireless Charging Case | Standard and Wireless |
| Price | $249 | $159 (Standard) & $199 (Wireless) |
| Battery Life | 4.5 hours of listening time | 5 hours of listening time |
Conclusion
By considering all the above points, I would want to conclude that upgrading to the Pro version depends upon what a person looks for, in the earphones that he is using.
If you want noise cancellation, want to wear AirPods at the gym, or the pressure builds up in your ear very easily, then it's worth paying that extra money for the Pro version.
And if you're mainly concerned with the battery life, sound, and the compact-ability then you can save yourself a good amount of money by sticking to your regular ones.