A laptop sleeve always comes in handy when you need to carry your MacBook while you're on the go. A sleeve acts as a simple bag that allows users to carry their laptops and other essential accessories that can be used alongside. Not only do sleeves protect your laptop from getting dents or scratched, but it also looks fashionable. Let's not forget that Apple packs its latest Silicon launched at WWDC 2022 event to offer powerful performance in its slimmest MacBook. However, it also requires some additional safety to keep it long-lasting and usable. That's where M2 MacBook Air sleeves come to the rescue. While slim and aesthetically pleasant sleeves make you stand out in the crowd, the protective sleeves can be lifesavers for people with butter fingers. 
Having all that said, we at TechieTechTech understand that it can be a daunting task to choose one, especially when there are thousands of options. So, to ease your hunt, we have compiled a list of the best sleeves for M2 MacBook Air you can buy now in 2023. Whether you need a slim, leather, or protective MacBook Air M2 sleeve, we have covered everything here. 
Without further ado, let's jump right into the list of top M2 MacBook Air sleeves you can buy in 2023. 
Please note that the below-mentioned sleeves securely store both M1 and M2-powered MacBook Pro.
Note: We update our article from time to time to cover the latest products available in the market.
List of the Best M2 MacBook Air Sleeves You Can Buy in 2023 [Our Top Picks]
1. NIDOO Protective Sleeve Case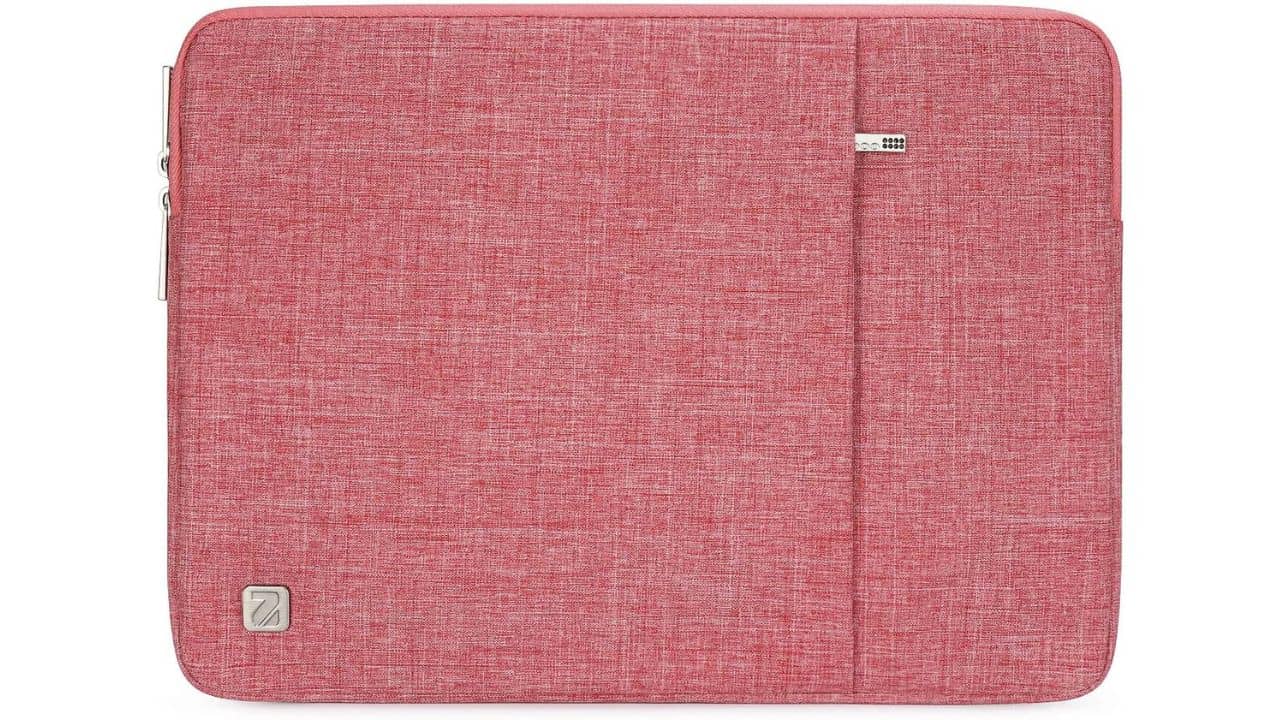 Are you looking for one of the best and most selling sleeve bags for the new 13.6-inch M2 MacBook Air? Grab this sleeve case without any second thoughts. Some of the notable features of these protective sleeve bags are discussed below:
This slim and lightweight design of this MacBook Air M2 sleeve adds more to the portability, making it a go-to product for avid travelers.  

It comes in a beautiful design, built around the polyester foam padding layer and soft fluff interior offering solid shock absorption. This allows the M2 MacBook Air sleeve to protect it from getting dents and scratches. 

The outer material is water-resistant and protects your MacBook from accidental spills and unexpected rains. 

This 13.6-inch MacBook Air M2 sleeve has a side pocket to store small items like

USB-C adapters

,

portable docking stations

,

wireless mouse

, USB cables, and more. 

The universal compatibility means you can use this with any laptop or tablet of the same size.

It comes in five color options which is the real cherry on top if you're fond of colors. 
Also read: Top 25 Apps for M2 MacBook Air to make the most out of it
2. MoKo M2 MacBook Air Sleeve/Bag Pouch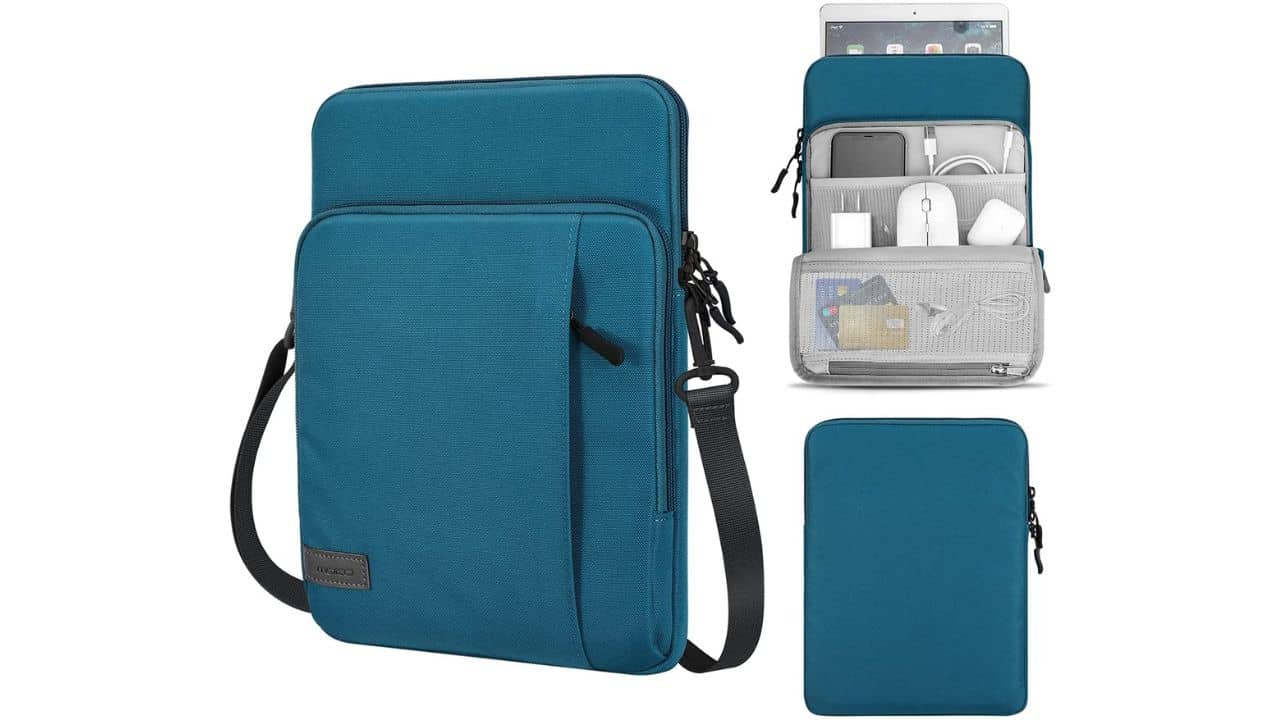 In the second position, we have a functional sleeve & bag for the M2 MacBook Air with different compartments dedicated to storing various accessories. To be honest, it's more like a side bag, and not the simple sleeve case that we have mentioned above.  
The exterior of this professional M2 MacBook Air sleeve pouch bag is made from high-quality polyester. The interior has a soft lining and thick sponge padding that offers additional protection against accidental damages. 

There are plenty of pockets attached to this sleeve bag for the M2 MacBook Air that you can use to store various accessories including your

iPhone

,

external SSDs

, earphones, USB-C cables,

HDMI adapters

, etc. This makes MoKo one of the best MacBook Air M2 sleeves for users who often need to carry a lot of stuff while they're

traveling

. 

You'll also find a smooth zipper enclosing the pockets of this sleeve bag to prevent accidental slippage of the slimmest Apple laptop. 

This sleeve bag ships with a shoulder strap enabling you to carry it comfortably like a casual side bag.

Plus, it is available in eight amazing color options so you can match it to your outfit accordingly. 
In short, it is one of the best sleeve bags for MacBook Air M2 that offers decent protection combined with good looks. 
Just in case you are looking for a relatively more affordable option, we recommend checking this M2 MacBook Air sleeve case that comes with a small pouch. 
Don't miss: Best Monitors for M2 MacBook Air [Buying Guide]
3. FINPAC Protective Sleeve with case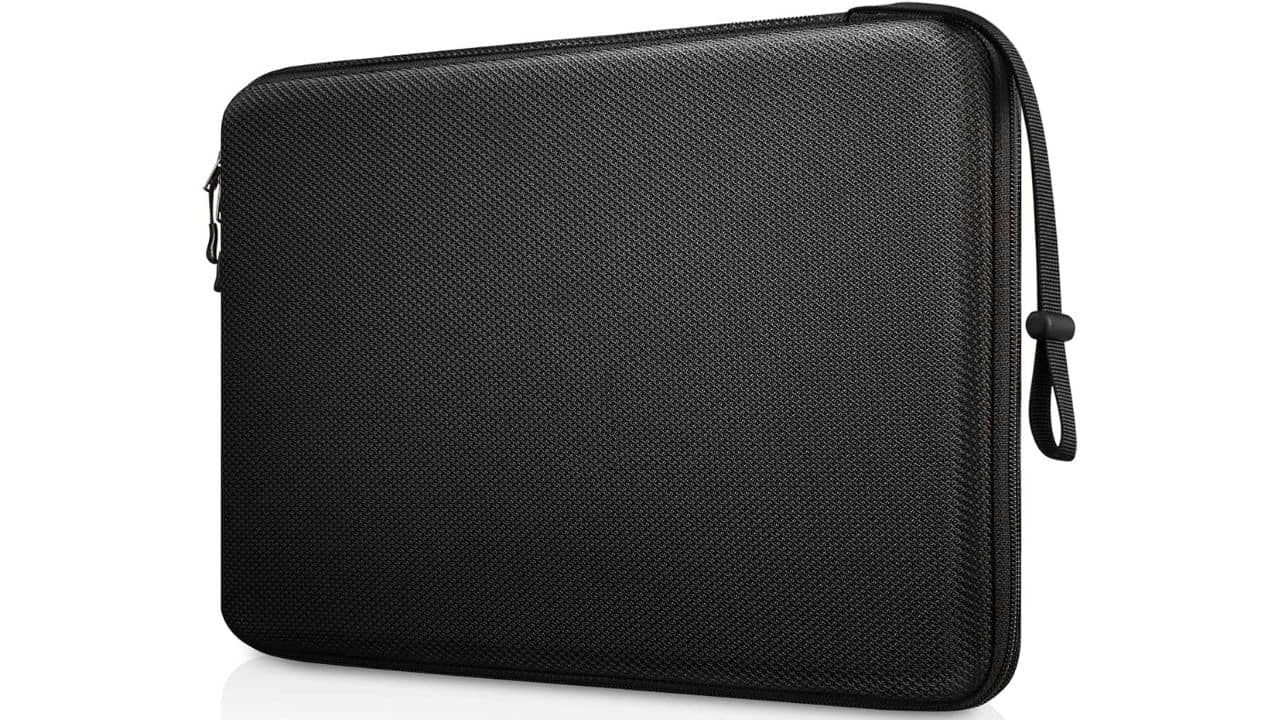 Lastly, we have for you the hard sleeve case which is suitable for users looking to offer top-notch protection for the expensive M2-powered MacBook Air. 
This durable M2 MacBook Air sleeve is made from a

semi-hard EVA shell topped with anti-scratching polyester to offer protection against those drops and bumps from college tables and pillars.

This M2 MacBook Air sleeve sports 5mm thick paddings ensuring maximum protection for the device stored inside. Whereas, the YKK zippers are there to securely provide a long-lasting opening & closing experience. 

Please note that the outer layer of fabric features 1600D High-Density Polyester material known for better water repellency and wear resistance. Next time you spill a glass of iced water, you don't need to worry.

Let's not forget that the minimalist & lightweight design makes it useful for anyone who travels a lot. 
Putting it simply, if you want to take home the best protective sleeve for your M2 MacBook Air, this waterproof case is an excellent pick.
Also read: Best Cases for MacBook Air (M1 and Intel)
4. MasiBloom MacBook Air M2 Sleeve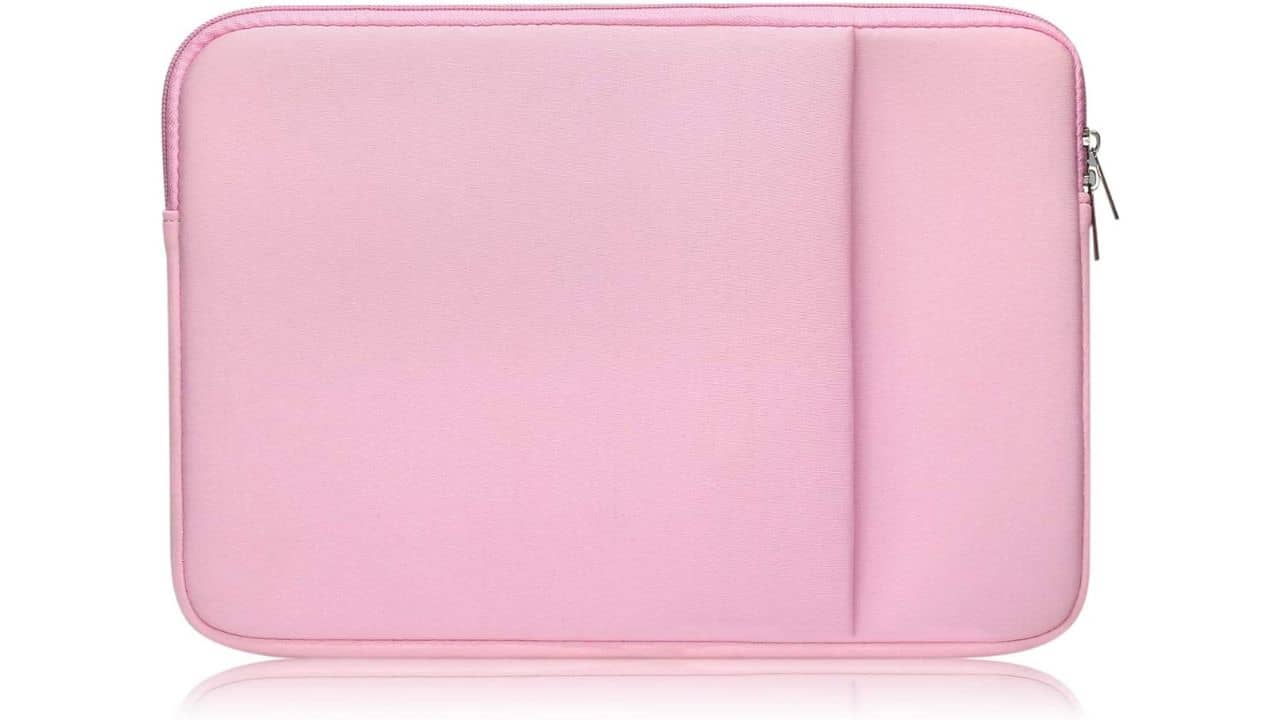 Here we have got another affordable option for everyone looking for the best sleeves for the M2 MacBook Air on a budget. Here are some of the notable features of the MasiBloom sleeve case for MacBook Air with an M2 chip. 
This M2 MacBook Air sleeve bag is made from high-quality memory foam material to ensure good protection to the laptop chassis. 

There are two zippers on this sleeve bag ensuring that your MacBook doesn't fall off even when you're running down the hallway or trying to catch the subway.

You'll find large pockets stitched in front of the MasiBloom sleeve enabling you to easily store iPads, or any

other accessories compatible with MacBook Air

.

The soft foam cushion inside the sleeve case for the M2 MacBook Air offers all-around protection from scratches, shocks, drops, and more. 

Did we mention that this sleeve for the MacBook Air M2 is stain-proof and washable? So, next time you spill your cappuccino over it, you need not worry much. 
In short, it is one of the best budget-friendly M2 MacBook Air sleeves you can buy with similar features offered by premium options. 
Also read: 10 Best Portable Monitors to buy for MacBook Pro/Air/Mac mini
5. Newhey Waterproof Protective Sleeve Case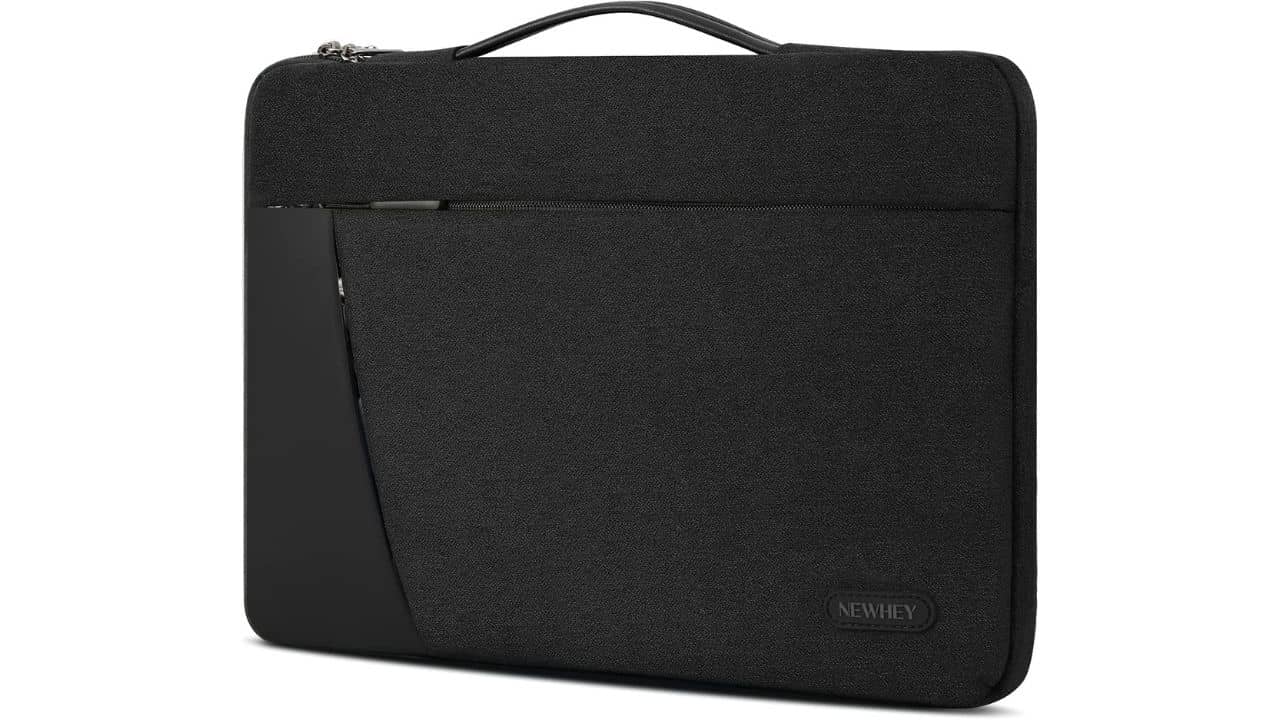 If you're looking for a shockproof sleeve for the M2 MacBook Air, this one from Newwhey is surely the one to grab. This beautifully crafted sleeve provides respectable protection to the 13.6″ MacBook Air powered by the M2 chipset. We have mentioned some of the major highlights of this MacBook Air protective sleeve. 
This M2 MacBook Air sleeve case comes in a lightweight and slim design enabling users to take it anywhere they go. Please note you can fit this sleeve bag in a briefcase as well. 

The premium waterproof material, tear-resistant fabric, shock-proof sponge, and soft fluffy lining ensure 360-degree protection for your M2 MacBook Air. So, if you've got pets or kids at your home who often mess around with your things, this is a must-have sleeve for your MacBook Air M2.

There are 2 anti-collision strips at the corner of this M2 MacBook Air sleeve to mitigate heavy shocks caused by drops, bumps, and fumbles.  

There's a handle on the bag allowing you to carry it like a briefcase wherever you are going to your quick meetings.  

Moreover, you can choose this sleeve case for MacBook Air M2 from six different colors. 
Also read: Best Sleeves for 13″ MacBook Pro
6. Comfyable Slim Leather Sleeve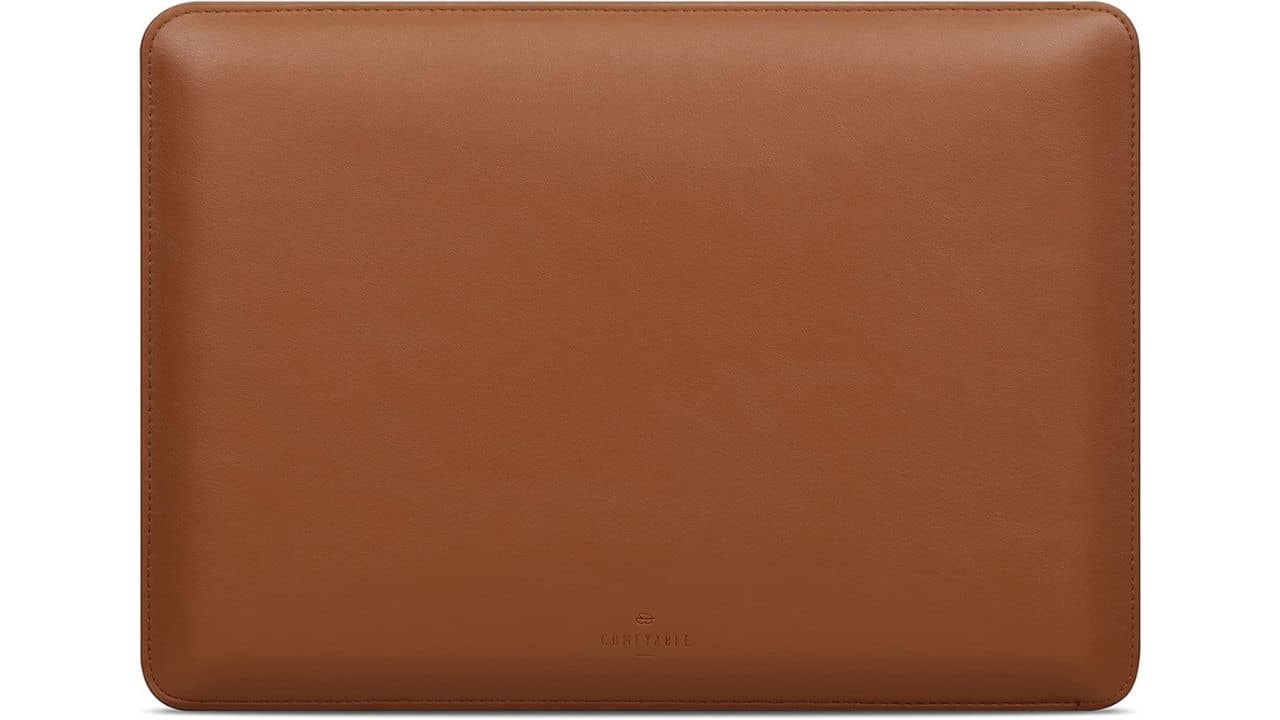 For anyone looking to grab an aesthetically-rich sleeve for M2 MacBook Pro, we recommend getting the Comfyable leather sleeve. This is one of the best MacBook Air M2 sleeves that is made from PU leather. It easily slides Apple's thinnest laptop giving it the stylish looks and design it deserves. Here we have mentioned some of the features that will let you decide whether or not to buy this one. 
This leather M2 MacBook Air sleeve features a minimalist and sleek design and is surely the trendsetter for all the corporate geeks out there. 

As far as protection is concerned, you'll find superior EPE foam padding which delivers all-around protection against scratches, knocks, and minor shocks. Please note this sleeve might not offer the best protection against drops. Therefore, if protection is your prime concern, you can check the other sleeves for the M2 MacBook Air listed in this roundup. On the flip side, if you need a lightweight sleeve to carry your M2 MacBook inside a briefcase or a backpack, you can surely go for this one. 

The magnetic enclosure ensures that your device is not scratched due to zippers, however, this may compromise the security of the device. Your device can be dropped when the magnetic lock gets loose over time. 

Moreover, there are a few color options available for this sleeve, so please make sure to check the best one that matches your vibe.
Also read: Best USB-C Hubs & Adapters for M2 MacBook Air
7. HYZUO Sleeve with Accessory Bag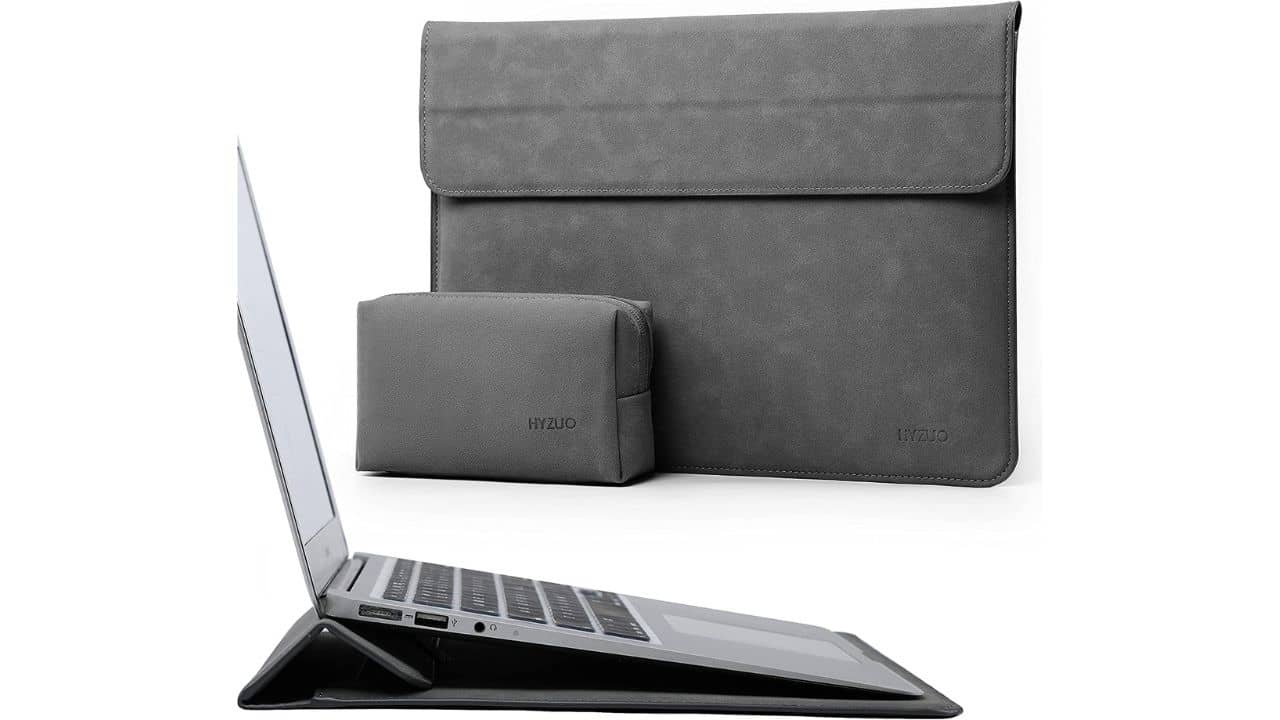 If you are eyeing a classic sleeve for the M2 MacBook Air combined with an exclusive design and plenty of color options, grab this one from HYZUO. If you're not sure whether you should go with this one, we have mentioned some of the notable features of this lightweight sleeve case below.
The HYZUO sleeve bag for MacBook Air M2 is made from faux suede leather material giving the M2 MacBook Air sleeve cover an aesthetically pleasing look. 

You'll get a small pouch bag alongside this sleeve bag to store small accessories like a wireless mouse, power banks, chargers, and more.

What's more interesting about this M2-powered MacBook Air sleeve is that you can use it as a stand for a

comfortable typing experience

. This also helps dissipate heat to

prevent overheating issues

. 

There is an invisible magnetic lock embedded in the sleeve that keeps your MacBook Air secure inside the case. 
In short, it is a handy sleeve for MacBook Air M2 that can be used as a daily driver by corporate workers, college students, & more. 
Also read: Top 8 SSDs to buy for M2 MacBook Air
8. ProElife Sleeve Case for 13.6" MacBook Air M2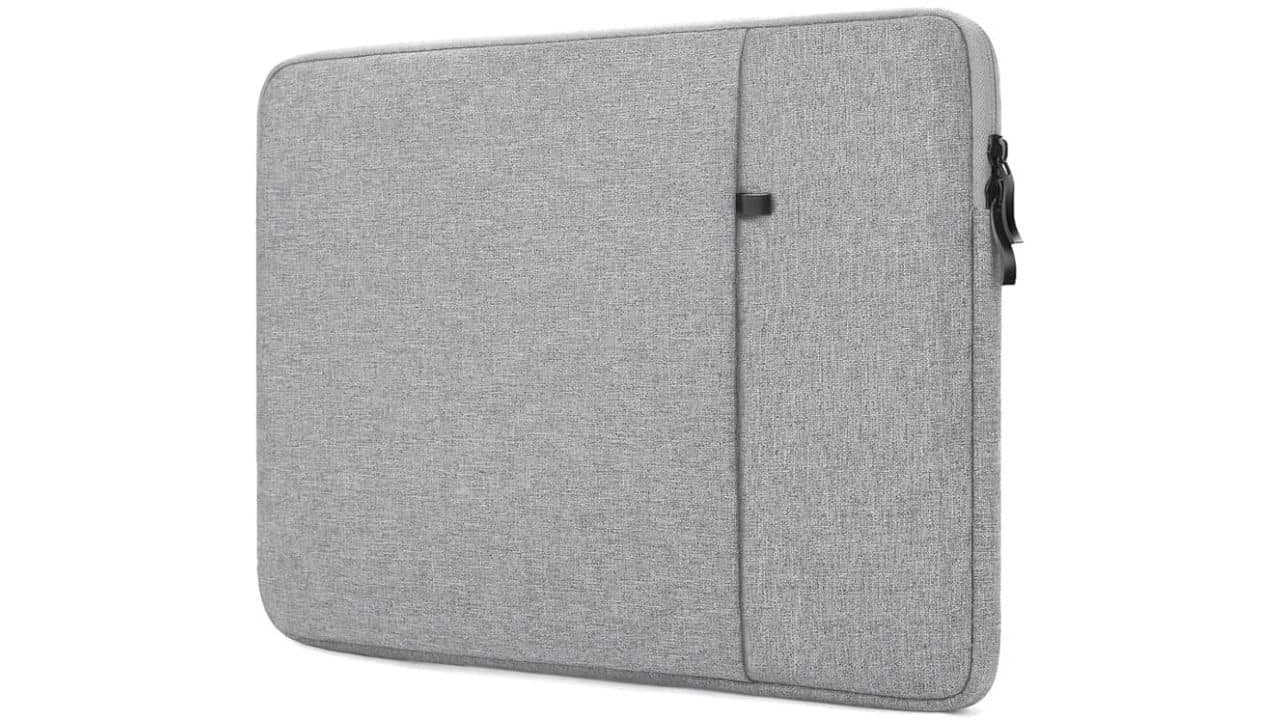 If you are looking for the best budget-friendly sleeve for the M2 MacBook Air, this one from ProElife is unbeatable for its price. 
This MacBook Air M2 sleeve bag features a sleek and minimalist design to ensure maximum portability, making it a useful option for office-goers, college students, and avid travelers.

It is built around a durable and water-resistance exterior that's blended with a soft-touch suede interior and cushioning pad ensuring full protection for Apple's thinnest laptop. 

You'll find a small pocket placed in the front allowing you to store

iPhones

,

iPads

,

external HDDs

, charging cables, etc. 

There are three protective layers incorporated inside this sleeve case to prevent any harm to the MacBook stored inside the sleeve bag. 
Overall, ProElife offers a handy storage solution for the M2 MacBook Air for anyone who is always traveling due to work. 
Storage solution: Best Hard Drives for M2 MacBook Air and MacBook Pro
FAQs related to the best M2 MacBook Air Sleeves
1. What size sleeve do I need for MacBook M2?
It is always recommended to look for MacBook sleeves based on their size. To remind you, Apple launches MacBooks with different chips and sizes every year. So, it is best to confirm the sizes from the official website before buying any sleeves for the MacBook Air, or MacBook Pro. Coming back to the answer to this question, you should look for a 14-inch laptop sleeve considering the 13.6" size of the MacBook Air M2. Using a slightly large MacBook sleeve gives you room for storing small gadgets like tablets, charging cables, etc. That said, the MacBook Air M2 can ideally fit in a 13-inch sleeve, as well. 
If you have a MacBook Pro and looking for a sleeve to protect it from scratches, keep reading. Since the MacBook Pro is available in two sizes (14" and 16"), it is best to go with a 14-inch or 16-inch MacBook sleeve depending on which you own. 
2. Does M2 MacBook Air fit in the 13-inch sleeve?
Yes, an M2 MacBook Air should ideally fit into any 13-inch laptop sleeve. That's not all, even if you buy a laptop sleeve that is made for other laptops of the same size,  the MacBook Air M2 should easily fit into it. 
So, if you are looking for some of the best M2 MacBook Air sleeves for your needs, below are some suitable options you can choose from.
3. Is a MacBook sleeve necessary?
If we have to answer this question in one word, we would say a big 'YES.' MacBook sleeves are super handy for indoor uses. Also, you can store your MacBook inside a sleeve and keep it safely in a laptop bag and travel worry-free. This prevents other stuff from scratching or damaging your MacBook as it is shielded with a sleeve even inside the laptop backpack. In addition, the MacBook sleeves are equally important for anyone who fear liquid damage while riding a bike or walking to your work. Who else knows how much harm rain can do than the bike riders? That said, we also recommend pairing
protective cases with your MacBook to prevent any accidental damage. 
4. Is it better to have a laptop sleeve or case?
If you mostly stay indoors or have minimal movement, a laptop sleeve can be extremely handy. A laptop sleeve will protect your MacBook against dust and minor scratches. We also recommend keeping your MacBook out of the reach of your kids if you have sleeves on them as they are not meant for damage protection. 
On contrary, if you move outdoors often, buying a MacBook protective case can be extremely useful to keep it safe from accidental damage. If you are searching for MacBook Air M2 protective case, do consider choosing from the following options:
That's all for now in this roundup of the best sleeves for the M2 MacBook Air. If you are looking for a sleeve bag for a 13" MacBook Pro, we recommend checking out
our dedicated roundup for the same.