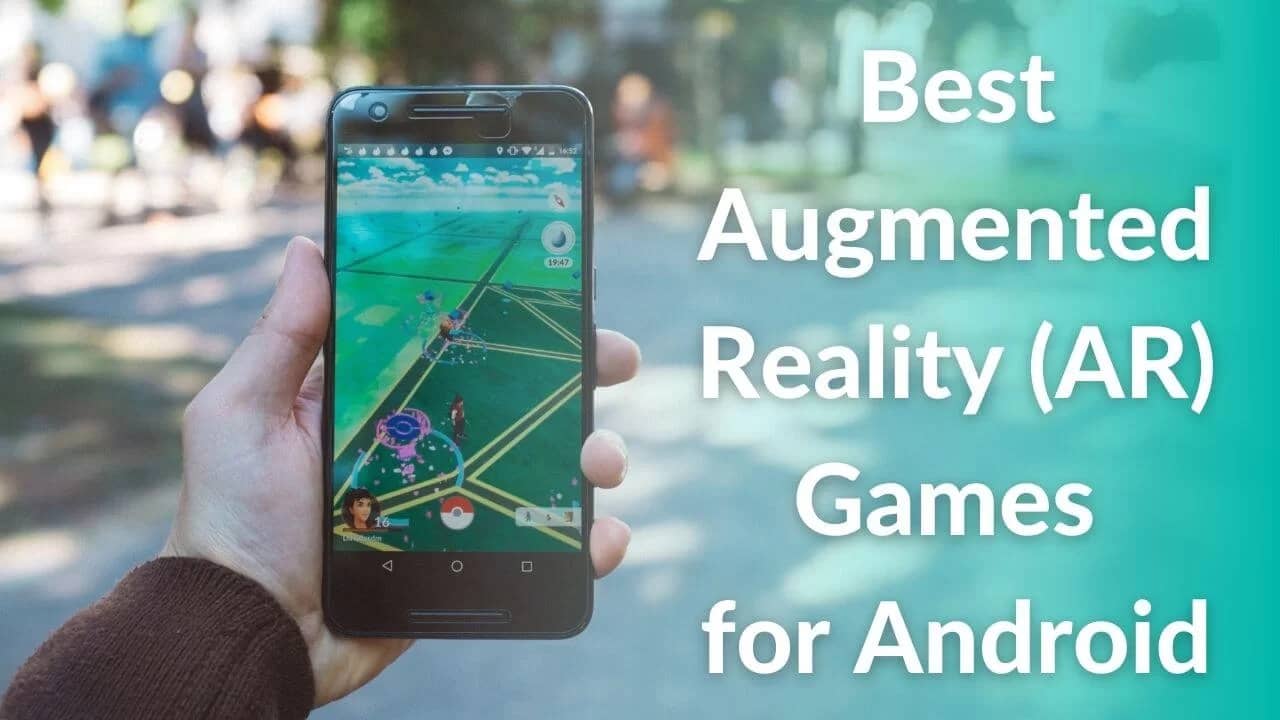 It is fair to say that the Augmented Reality gaming concept is still a developing concept, but tremendous development in the AR field has led to the release of some awesome games. Just like ARKit enables AR gaming on iOS devices, Google's ARCore is responsible for the compatibility of AR games on Android devices. You can now enjoy any of the listed Augmented Reality (AR) games 2023 on your Android smartphones without any bugs. With time, AR games are gaining high popularity and are becoming front-runners in the gaming industry giving tough competition to the pre-existing arcade and multiplayer games which include the most popular Android car racing games such as Asphalt, Need for Speed, etc.  
No doubt, AR games are both interesting and addictive. Once you get your hands on AR games for Android, I am afraid you don't want to go back to the regular
multiplayer games for Android.  Thanks to amazing in-game experience, you can fight with enemies to defend your kingdoms or defeat aliens using futuristic and never seen weapons in different setups like your living room and dining table. What I like the most about AR games for Android is that you don't need AR headsets with jaw-dropping prices to enjoy these games. So, next time you ever think are there any exciting augmented reality games, just read this piece. Here you'll find some of the best Augmented Reality (AR) games for Android devices with Google Play Store download links. All the AR games for Android in 2023 are handpicked from hundred-odd options ensuring that you don't get your hands on any boring ones.
Our Top 16 Picks of the Best AR Games for Android You Can Play in 2023
1. DC: Batman Bat-Tech Edition
If you are looking to enjoy AR games on Android devices, nothing can beat the DC: Batman Bat-Tech Edition. It is a pretty good example to demonstrate to someone what an exemplary AR game 2023 for Android can do. As compared to other 2023 Android-based Augmented Reality (AR) games, the DC: Batman Bat-Tech Edition is a relatively short game that allows you to hustle through ten missions, ten mini-games, and some other content. The in-game missions use your phone camera to project the game map into the real world. Let's not forget that the mini-games use AR technology as well. The extra features in this AR Android game include eight face filters and ten sticker packs. This allows you to take selfies and flaunt them on social media apps. The best part of playing this adventure AR Android game is that it comes with no ads or in-app purchase options. Overall, it is one of the best free AR games for Android that lets you explore the new technology and understand how it brings in an immersive gaming experience.
Also read: Best Free Puzzle Games for Android
2. Angry Birds AR: Isle of Pigs
Are you bored of playing the same old Angry Birds game on your Android phone or tablet? Well, we have got you covered with Angry Birds Isle of Pigs, but with an Augmented Reality twist to it. Yes, you read that right. This Android AR game is pretty much similar to what we have seen in the past versions, you have to kill green pigs by launching angry birds projected over different real-life environments. It could be your kitchen table or your work desk or your kid's play mat – all you have to do is position your phone, just aim and adjust their slingshot to fire. In addition, this AR game for Android enables you to make size adjustments to all the elements depending on where you are playing. For your reference, if you are playing out in an open field, you can increase the size of pigs, slingshots, and other elements to a lifelike size. On contrary, if you are playing in a cubicle, you can easily shrink the size so it fits on your desk. 
All in all, this Android AR game brings fun for anyone who is done with playing boring games.
Download from Google Play Store
3. Egg, Inc
If you love playing farming games on Android such as Farm Simulator 22, you should also give Egg, Inc a try. It is one of the best farming AR games for Android where you are required to build chicken farms, hatch chickens, hire drivers, commission research, and launch space expeditions. As far as complexity is concerned, it is one of the easiest AR games as it doesn't require much thinking. Most of the game takes place on your Android device, while some AR elements within the gameplay can be exciting for anyone who loves AR gameplay. Similar to other 2023 AR games for Android the Egg, Inc also uses Google's ARCore to function. It is surely a boredom killer even if you don't want to use AR stuff within the game. 
4. Knightfall AR
The Knightfall AR can be referred to as the smallest version of Clash Royale, a real-time strategy based multiplayer Android game launched back in 2016. Talking about this game itself, the Knightfall AR is a simple board game that requires you to fight the Templars. In order to get started, you just need a flat surface and this AR game for Android imposes itself there. The controls need some workaround, once everything is in place, you can enjoy a superb gameplay experience, thanks to Google's ARCore for gaming. Since AR gaming is an ever-developing concept, you may encounter some issues while playing this AR game on some Android phones. But the fact that it is free with no in-game purchase, makes Knightfall AR among some of the best and worthy Augmented Reality games for Android.
Also read:  14 Best Car Racing Games for Android
5. Pokemon Go
Wondering what is the most successful AR game to play in 2023? When released, Pokemon Go took the world by storm and is still popular among users around the globe. Its popularity crossed all the limits when celebrities around the world poured in compliments about the game. This exciting AR game was launched back in 2016, but it still remains one of the best 2022 AR games for Android as well as iOS devices. If you've been living under a rock, this Augmented Reality Android game is all about capturing Pokemons hidden in your locality using GPS. You get to hit-up Pokestops, and battle Gyms. Though the game is still very much in the development phase, the loyal Pokemon fans are still crazy about it. Moreover, new features and exciting Pokemon events ensure endless thrills for someone who is an avid Pokemon Go player. 
6. Kings of Pool
Do you love to play a game of pool, but don't have a pool table at your place? Don't worry, the Kings of Pool AR game for Android is the solution for this. This AR Android pool game allows setting up the pool table at any flat location and having all the fun you'd want. There is also a multiplayer option like we see on the 8-ball pool game for Android. Further, the global chat feature allows chatting with global opponents, while you can take a look at the opponent player profile and all the stats and more. It is worth mentioning that a few bugs were detected initially which were further fixed and worked fine for many Pool lovers out there. With over a million downloads, this is one of the top AR games you could play on Android devices.
Also read: How to fix Play Store not updating apps
7. AR Sports Basketball 
What if I tell you that your bedroom can be the basketball court from now on? Not exactly, but somehow, YES. The AR Sports Basketball allows you to shoot balls by placing the basket anywhere you'd like, right from your Android smartphone. It is a fun AR game to play in the office when you have nothing to do. You just need to launch this game on Desk Mode and you're good to go. You don't need any physical equipment, just open the game and the AR will do its job and a basket stand will be right there in front of you. This AR game for Android features three game modes: Desk, Normal, and H.O.R.S.E game mode (or just Horse). The H.O.R.S.E mode is the most interesting of all. This game mode allows you to compete locally versus friends on the same device. The other two modes are all about beating scores. In short, this AR Android game is a perfect choice for killing boredom. Please make sure to download it from the Google Play Store. 
Also read: Best Apple TV 4K Games
8. The Walking Dead: Our World
The Walking Dead: Our World is an AR-style game based on the famous American TV series, The Walking Dead. The gameplay is much similar to Pokemon Go and Ghostbusters World. This game wants you to roam around the real world and kill zombies that come your way. The zombies within the game change as the location differs, at the same time plenty of social elements get changed. You can collect various characters to help you kill more zombies. You can enjoy tons of story missions that were featured on the TV shows to play as well. It's a free AR game for Android but has a few bugs like overheating etc. which get regular patches. However, it still offers a very smooth gameplay experience.
9. Jurassic World Alive
If you love the Walking Dead AR game for Android, the Jurassic World Alive will surely give you goosebumps with the overall gaming experience. This AR game for Android devices is based on the new Jurassic World trilogy. If the gaming mechanism is concerned, the Jurassic World Alive AR gameplay is similar to other games mentioned here such as The Walking Dead: Our World, Pokemon Go, and Harry Potter: Wizards Unite. You need to roam around the real world searching for different dinosaurs. After that, you are required to battle with other players with collected dinosaurs, you can even create hybrid dinosaurs from the game's lab mode. Initially, this AR Android game had several bugs which led to fewer downloads, but now, this AR game is just doing fine with everything under control. Did we mention you can avail of additional rewards by subscribing to the game rather than relying on in-app purchases? If I was you, I wouldn't miss on beating my virtual gaming opponent using the collected dinosaurs by launching them on the battlefield.
Also read: Best Gaming Mouse for FPS Games
10. Zombies, Run!
The storyline of this game is unique. You won't come across any zombies as the AR game's title suggests, rather it's all about you running in the fear of zombies chasing you. If you thought so, you're right! The Zombies, Run! AR game is a fitness game that bills itself as an immersive audio adventure game. This unique AR game for Android was created to involve you in a way that helps you motivate yourself to keep going, here it'd be motivation out of fear. It's a popular Android AR game that even works on treadmills to keep you in good shape, just in case you are always hooked to work-from-home duties. You can play the first four missions of this fitness AR game and unlock new missions each week. If you are more than curious, you can pay a nominal fee for subscription service to enjoy several other features. However, we recommend going with the first method because the goal of unlocking new missions every week keeps you moving.
11. Harry Potter: Wizards Unite
If you're a Potterhead, then this Android AR game is made just for you. The Harry Potter: Wizards Unite is one of the latest AR games developed by Niantic, Inc. The gameplay is much similar to the very popular Pokemon Go and other AR games that we have mentioned above. In this Android AR game, players walk across the real world, collect various resources and battle with various opponents using spells from the Harry Potter world. With over 10 million downloads, Harry Potter: Wizards Unite is one of the best AR games for Android in 2023.
Don't miss: Best AR Games for iPhone and iPad
12. Balanced Tower AR (Play Jenga with AR)
The Balanced Tower AR game for Android is based on real-life Jenga game rules. Similar to the real-life gaming experience, players take turns removing one block at a time from a balanced tower creating a progressively less stable structure by ensuring the tower is not collapsed. The game ends when the tower falls or any piece of the tower falls. The winner is the one who successfully removes a block at the very end. No doubt, it is an Android AR game that tests your patience and balance at the same time. Talking about the AR element in this game, you can start the game by placing the tower on any flat surface virtually. Some of the features of this AR game for Android include local multiplayer support, compatibility with tablets, 3D graphics, and more. In short, it is a fun AR game that you can play with your kids and friends during get togethers.
13. StackAR
StackAR is an augmented reality game for Android that you can play to kill boredom. It is basically another arcade game for Android that requires you to stack up the blocks as high as possible to increase your score without missing one. If you miss any block the game will be done and dusted there and then. Talking about the AR elements on this Android game, you just need a flat surface like a table or your working desk and this AR game for Android imposes itself there. It might sound boring at first but it gets more fun the moment you start moving. 
You can also check out the non-AR version of this arcade game here.
For avid iPad users: Best Multiplayer Games for iPad
14. Neyon Clash 
https://www.youtube.com/watch?v=0LxYlZwJgGg
Neyon Clash is one of the exciting AR games for Android that gives you all the feel of a classic outdoor game. You might be wondering what sort of AR game is it. Well, if you are eager enough, let me tell you it is a paintball game that is played online. It is a multiplayer game, meaning you and your friends can battle virtually with paintball guns without needing to come out in the street. In this Android AR game, all your friends can gather in one place and shoot paintballs in a virtual space. It is indeed a fun AR game to play on an Android smartphone. 
Let me remind you, this fun game is still in the development phase and has all the potential of becoming one of the best AR games for Android tablets. We personally like this game because it promotes players to play outdoor games as well. 
All in all, if you are tired of playing good old racing games and other puzzle games, the Neyon Clash is worth the try.
Download from Google Play Store
15. Ingress Prime
Ingress Prime is one of the first good AR games for Android that has many similarities to the record-breaking Pokemon Go. It was a great success when it was first released. Also, developed by Niantic, this AR game for Android allows you to go out in the real world and enjoy a thrilling gaming experience. With over 10 Million+ downloads, your goal as a player is to walk around the world and collect various items, engage in different battles and deal with calamities affecting wizards. It is one of the top AR games for Android in 2023. This realistic Android game went through a huge change back in 2018 and got re-branded as Ingress Prime. If you want to enjoy the classic version of this AR game, you can still search for Ingress (REDACTED) from Google Play Store.
16. Run Ji Run
If you are looking for a thrilling running 2023 AR game, the Run Ji Run is the perfect AR game for your Android device. If in-game experience and features are taken into consideration it is somewhat similar to the legendary running game Temple Run, which is way too popular in the Android and iOS gaming industry. This AR running game for Android lets you play as a custom 3D avatar in India. You can unlock various themes and environments by escaping in-game villains, collecting coins, and dodging items that come your way while running.
This AR game for Android is offered by Krikey, an augmented reality app that also hosts another action-adventure AR game named YAATRA that wants you to play as a sibling of a banished princess who should fight to reclaim her rightful place in the kingdom. No wonder Run Ji Run sounds interesting. We recommend trying one of the best running AR games for Android smartphones.
Also read: Best Racing Games for Android
That was all for our roundup of the best AR games for Android devices in 2023. We hope you have picked your favourites. Also, if we have missed any amazing AR games for Android, do let us know by commenting down below. Also, make sure to check our list of best offline Arcade games for Android.