The iPhone 14 was unveiled by Apple at the Far Out event in September this year alongside its big brothers iPhone 14 Plus, iPhone 14 Pro, and iPhone 14 Pro Max. It is one of the most affordable iPhones from the 2022 lineup and is identical to its predecessor, iPhone 13. While there are minor changes on the inside, the exterior looks similar to what we saw last year on iPhone 13. 
Since you are here, we are assuming that you've already got your hands on the Cupertino Giant's latest offering. Now that you have it, the next thing you should be ensuring is its safety. Although Apple boasts about Ceramic Shield and the protection it offers, your iPhone is still vulnerable to getting damaged in the event of a fatal drop or shock. Therefore, we always recommend our readers get a reliable protective case that can take care of their iPhone 14 effectively. We understand you are looking out for MagSafe cases. If you are unaware, these cases allow you to power up your device using a MagSafe charger without having to remove the case. You can also pair compatible MagSafe accessories like wallets, and more with such cases. 
As you know there are plenty of options in the market, it can be tough for you to choose a suitable MagSafe case for iPhone 14. But, don't worry, with hours of testing, and researching through thousands of user reviews, our team has curated a list of top MagSafe cases for iPhone 14. Please note these protective cases can be helpful in protecting your iPhone against accidental damage. 
Note: We update our article from time to time to cover the latest products available in the market.
Disclaimer: Since the dimensions of the iPhone 13 and iPhone 14 are more or less identical, these MagSafe cases can be also installed on the iPhone 13. 
List of the best MagSafe cases for iPhone 14 in 2023
1. UAG Mallard MagSafe iPhone 14 Case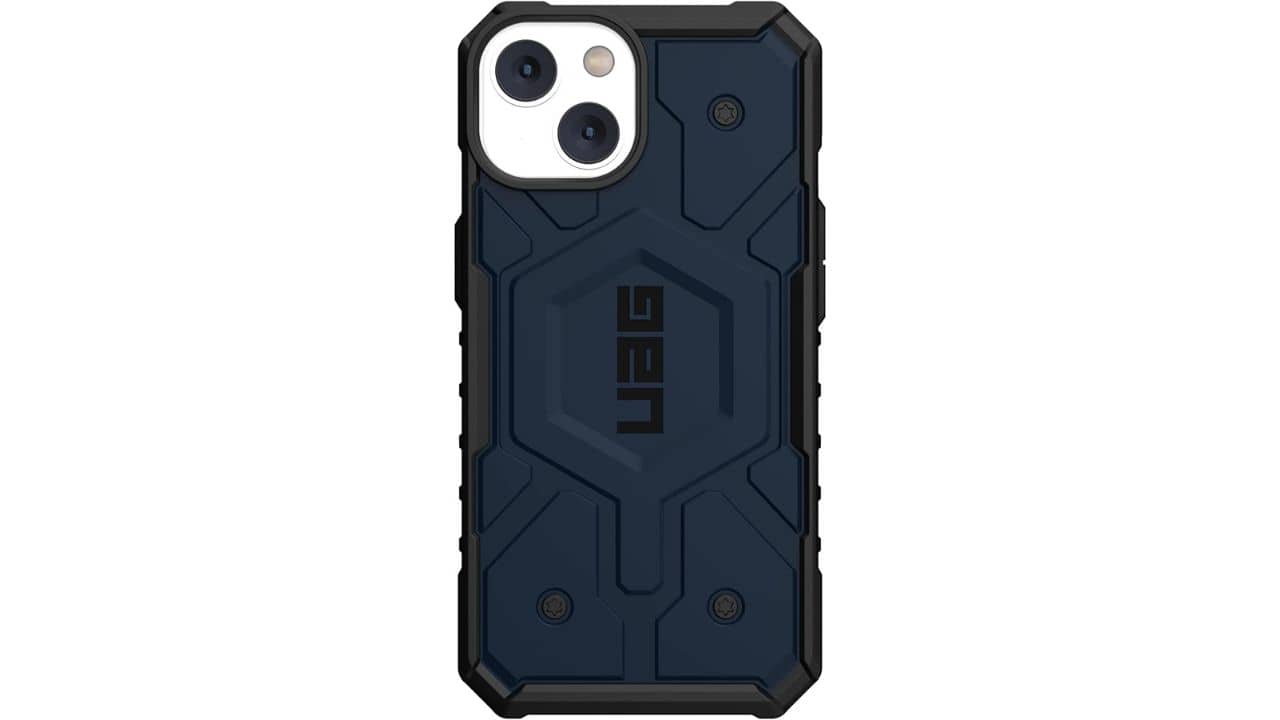 If you are an adventurer or work in a "not so tech-friendly" environment, this rugged MagSafe iPhone 14 case from the UAG Pathdfinfer Mallard series is right for you. It is one of the ultra-tough magnetic cases one could get for the latest iPhone. Talking of build and looks, this protective MagSafe case for iPhone 14 comes with a sophisticated construction for top-notch protection against the roughest shocks and drops. Therefore, you should be assured that this
protective case will defend your iPhone against any kind of knocks, bumps, and drops with ease. In addition, it is worth mentioning that this rugged MagSafe iPhone 14 case can withstand a harsh drop of up to 18 feet in height. So next time you drop your phone from the staircase, make sure you have the UAG Mallard case installed on it. On top of that, this protective iPhone 14 Magsafe case will keep it safe and secure against your mischievous kids who tend to randomly throw your stuff here and there. We've all got one.
You'll find a shock-resistant hard outer armor shell and an impact-resistant soft core for last-mile protection. It ensures that your iPhone 14 can survive any accidental bumps or sideways drops to keep the gorgeous Retina XDR display intact for a long time. All thanks to the solid overall design of this iPhone 14 protective case, you can always capture thrilling moments in the wild without worrying about your device's safety. Well, we aren't done yet, this rugged iPhone 14 case has more to offer. 
If you struggle to handle a smartphone while traveling in a crowded subway or public transport, the traction grip on the side of this iPhone 14 MagSafe case is a lifesaver for you. It lets you grip the device perfectly. Besides, there are raised lips around the camera and screen to prevent annoying scratches that might come off from daily usage. What we loved most about this case is that despite having a rugged design, it still manages to preserve the sleek look of the iPhone. You can also use the lanyard holes to attach the hand or neck strap for better handling of the device, it is super useful for
old-aged people. Since it is MagSafe compatible, so you can charge your device using a MagSafe charger or pair magnetic accessories, without removing the case. 
All in all, it is one of the best and most reliable cases for iPhone 14 with MagSafe you can get in 2023. You should go with this one without thinking too much.  
Reasons to buy: 
MagSafe compatible

The grippy design makes it a perfect choice for butterfingers out there

Best pick for adventurers

18 feet drop protection

Available in various colors
Reasons to avoid:
There are affordable alternatives available from brands like Spigen, Ringke, OtterBox, etc. 
2. Otterbox Symmetry Series+ Rugged MagSafe Case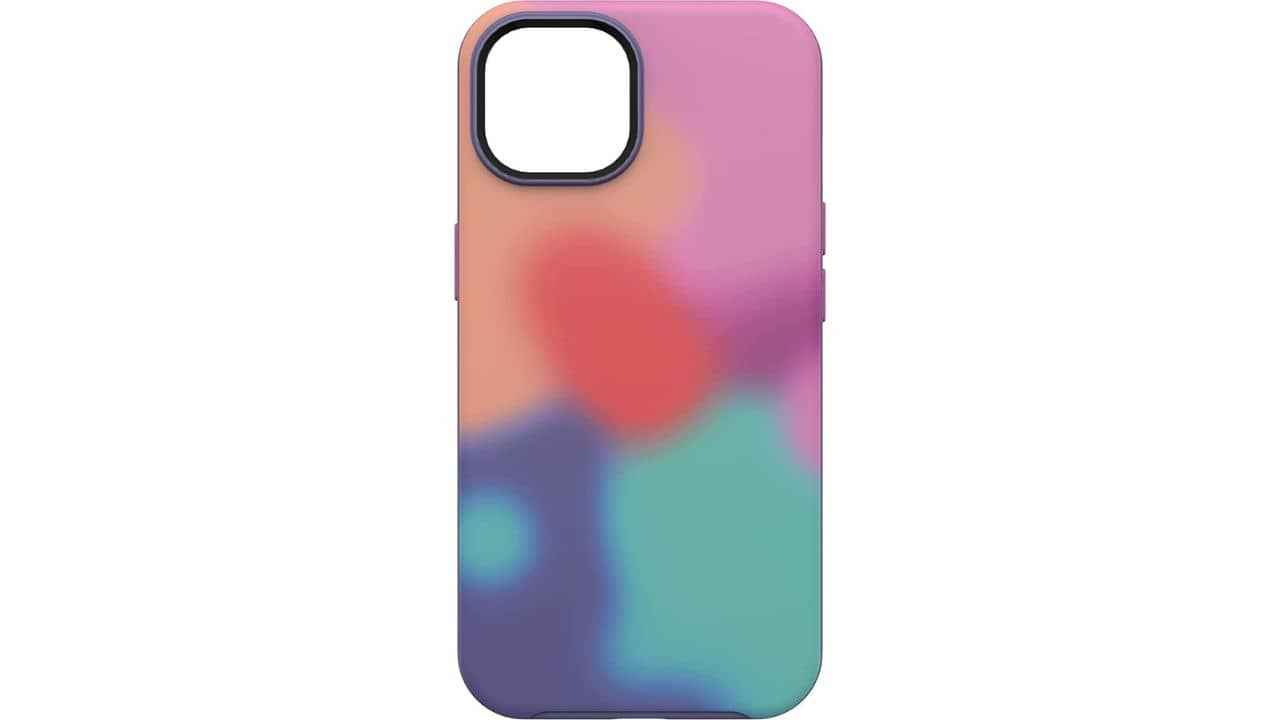 Next in our list of top MagSafe cases for iPhone 14, we have the colorful Otterbox Symmetry Series+. If you are not aware, OtterBox is known for making some of the best rugged and protective cases to safeguard your beloved iPhone in every way possible. And this one does exactly the same, allowing your phone to charge using a
MagSafe charger or any MagSafe accessory. 
Visibly, this iPhone 14 MagSafe case looks premium & stylish, while adding a touch of beauty to the glossy smartphone. This protective MagSafe case from OtterBox features a dual-layer build while flaunting the two-tone finish. Honestly, it's one of the most beautiful cases that we have come across and is surely an eyeball grabber. To remind you, it is not the case with most of the rugged protective cases out there, but this one stands out as one of the best in most departments. 
Moving on, this MagSafe iPhone 14 case comes with industry-leading Drop+ protection to keep your device safe from the harshest of falls & drops. Therefore, it is recommended for anyone who works in an unsafe environment or is involved in adventure activities such as mountain biking, hiking, etc. Also, it can protect your device whenever you drop your phone on any of the gym equipment while working out. So, next time your iPhone falls off your pockets, don't stress out as this MagSafe iPhone 14 case will guard your device effectively. We love OtterBox cases as it has shown good results in our testing. However, the thicker side edges can offer a sense of bulky in-hand feel, but rugged cases are made this way. Therefore, it is exclusive for anyone looking to protect their device against fatal drops, shocks, and bumps that can damage your phone. Also, this MagSafe case is quite expensive, so we recommend this to iPhone users who are looking for ultra-tough protection for a long time. With that being said, it still tops as one of the classic protective cases for iPhone 14 with MagSafe support. 
Reasons to buy:
The secure and comfortable in-hand feel

Drop+ protection

Installation and removal are quite easy

Limited Lifetime warranty

Catchy designs and colors are available 
Reasons to avoid:
Also read: Best Clear Cases to Flaunt Your iPhone 14
3. Smartish iPhone 14 Protective Case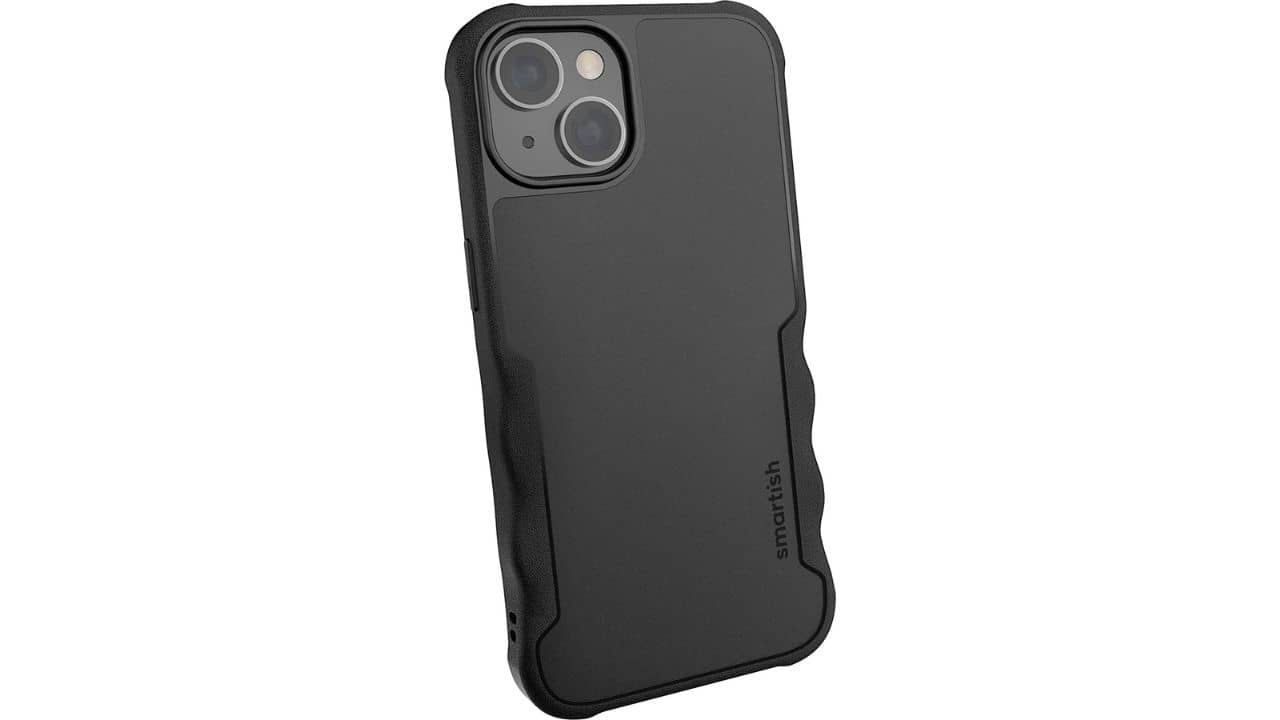 We truly understand what it feels like dropping an $800 phone and stressing the wallet with repair costs. Trust us, we've been through that feeling. Not so long ago one of my friends dropped his iPhone from the staircase, and the display was gone. We have faced it, but don't want you to go through the same pain. Therefore, we recommend you grab a solid durable MagSafe case like Smartish Gripzilla. 
Priced around $30, this rugged MagSafe case turns out as a value-for-money lifesaver for iPhone 14 users with butterfingers just like me and my friend. We absolutely loved the grooved side design that comfortably hugs your hand like a firm handshake and gives you a secure hold of your phone. Therefore, your device won't slip off your hand when someone bumps into you while enjoying reels in a crowded subway. We found out that the grooved sides are a bit harder than the usual cases, but again, that's subjective. Who knows, you might be comfortable around it as you keep on using it. 
Besides, the rugged design and hard casing across the body allow this rugged MagSafe case for iPhone 14 to withstand the harshest of drops. So, next time your toddler drops your phone from bed while enjoying their favorite cartoon, you shouldn't worry. Even if you drop it from the kitchen counter while trying to replicate recipes from YouTube for Thanksgiving, your iPhone 14 will be just fine. Further, it is lashed with tactile buttons, precise port cutouts, and elevated edges for scratch-proof protection. We also love the fact that it is available in gorgeous designs and patterns to give it a personalized touch. 
Overall, this Magnetic protective case for iPhone 14 is a fantastic pick for daily commuters or anyone who works in an unsafe environment like mills or construction sites.
Reasons to buy: 
Maximum protection against fatal damages

Gorgeous designs and patterns are available 

Unique grooved sides

Shockproof protection 
Reasons to avoid: 
Also read: Must-Have Accessories for Your iPhone 14
4. Caseology Nano Pop MagSafe Case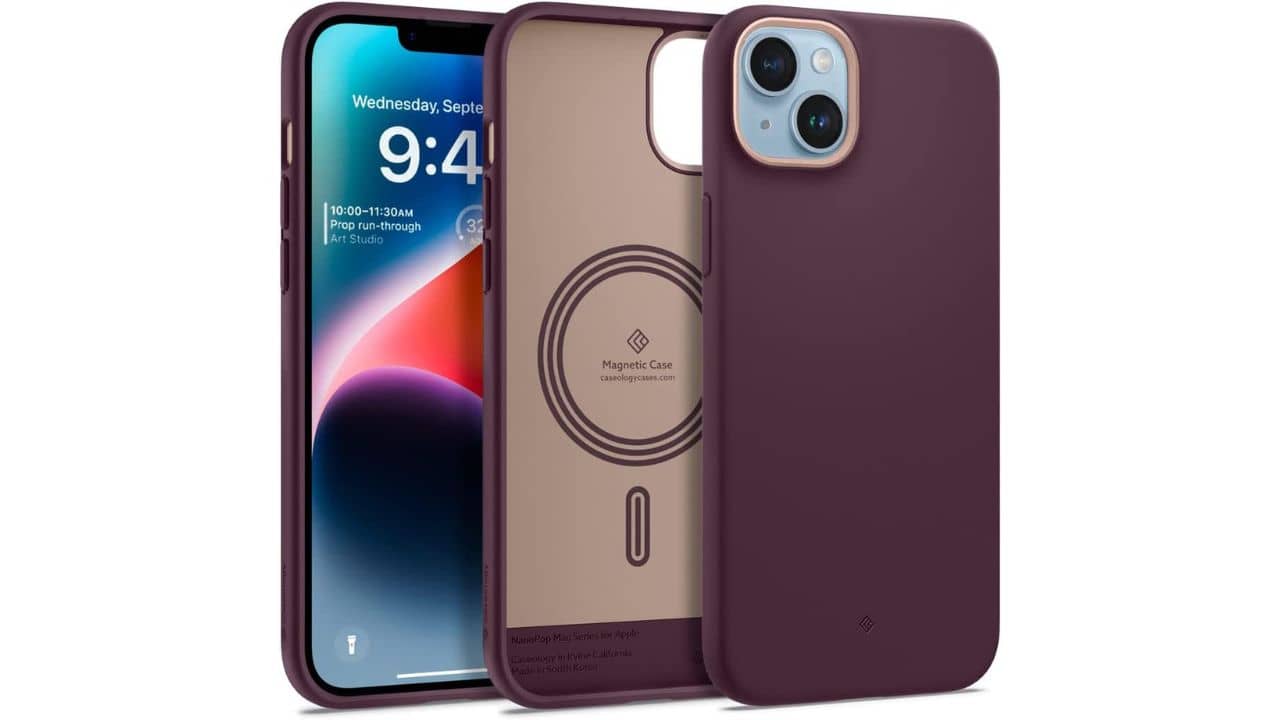 If you are eyeing a budget-friendly MagSafe case for iPhone 14 that offers good protection, make sure to grab this one from Caseology. The Nano Pop series case is known for durability, MagSafe compatibility, and colorful options. At first glance, it looks like the official leather MagSafe case from Apple, but it isn't that expensive. It is made from Silicone material that offers a superb in-hand feel, while the premium design and looks make it stand out among other cases. If you are not a fan of bulky cases from Spigen, OtterBox, and more, this iPhone 14 MagSafe case is just perfect for you. 
As far as protection is concerned, this MagSafe protective case comes with military-grade certification which ensures that your iPhone is safe from any kind of accidental damage. Therefore, if you ever manage to drop your beloved phone accidentally while taking it out of your pocket, don't worry, it will be just fine. You'd be happy to know that this magnetic case for iPhone 14 effectively prevents scratches. So, if you want to toss your iPhone in a handbag alongside keys, coins, etc., be assured that it will be free of scratches. Since we are talking about protection, we can't miss talking about the inclusion of raised lips around the camera and a 6.1" Retina XDR display. It effectively prevents the screen and dual camera setup from getting scratched, when the display is kept face down on a surface, and vice-versa. 
Plus, the integration of small magnets within the case ensures flawless MagSafe charging, while it gives the freedom of attaching compatible
MagSafe accessories at the back. Moreover, you can choose this MagSafe case for iPhone 14 from five available color options – Avo Green, Black Sesame, Blueberry Navy, Burgundy Bean, and Grape Purple.
In short, it is a superb option for anyone eyeing a protective magnetic case with poppy and dual-tone colors.   
Reasons to buy:
The aesthetic dual-tone design looks solid

Superb in-hand feel

Lint and dust-free

Lightweight than most of the protective MagSafe cases

Military-grade certification
Reasons to avoid:
Also Read: Best Chargers for iPhone 14 Pro and 14 Pro Max
5. Apple Official MagSafe Leather Case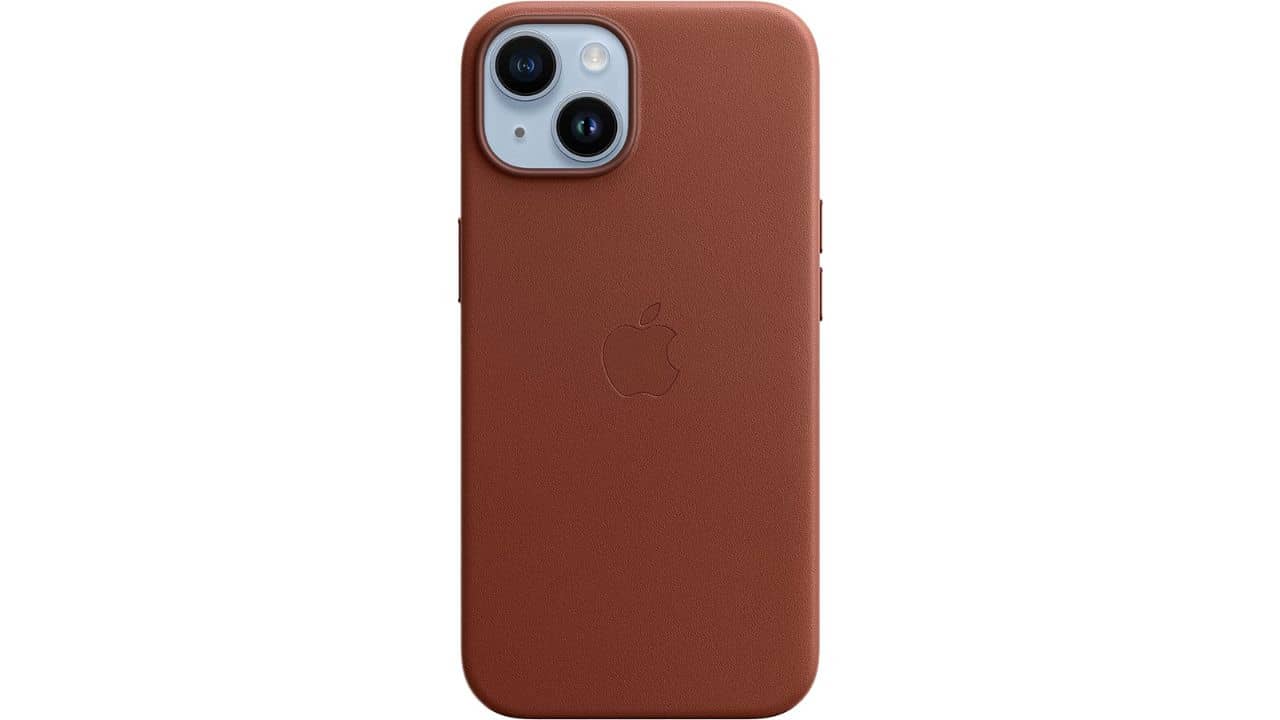 If you are fond of Apple Products and looking for a MagSafe case for your iPhone 14, the official leather MagSafe case is just a fantastic pick for you. It is designed around specially tanned and finished leather that looks classy and offers a premium in-hand feel. Apple offers this iPhone 14 MagSafe case in four gorgeous color options. This makes it a suitable option for anyone looking to try out official cases other than regular black and brown shades. Unlike other leather cases, this one develops a natural patina over time, which means it will only get better as you use it. 
That's not all, we also love the slim and lightweight design of this iPhone 14 MagSafe case that can safeguard your device without adding much bulk to the phone. In addition, the machined aluminum buttons offer a better click-feel, while adding a touch of luxury to the case. What's more? Since it is an iPhone 14 MagSafe case, there are perfectly aligned magnets embedded inside that offer unmatched compatibility with MagSafe chargers, and other MagSafe accessories.
All in all, if you are a working professional or anyone who loves classic MagSafe cases for iPhone 14, this official accessory is your thing even though it is expensive. 
Reasons to buy:
Apple craftsmanship

Premium in-hand feel

Lightweight design

Various poppy color options

Snug fit
Reasons to avoid:
Also read: Best Chargers for iPhone 14 and iPhone 14 Plus
6. Spigen Tough Armor (MagFit) Heavy-duty Case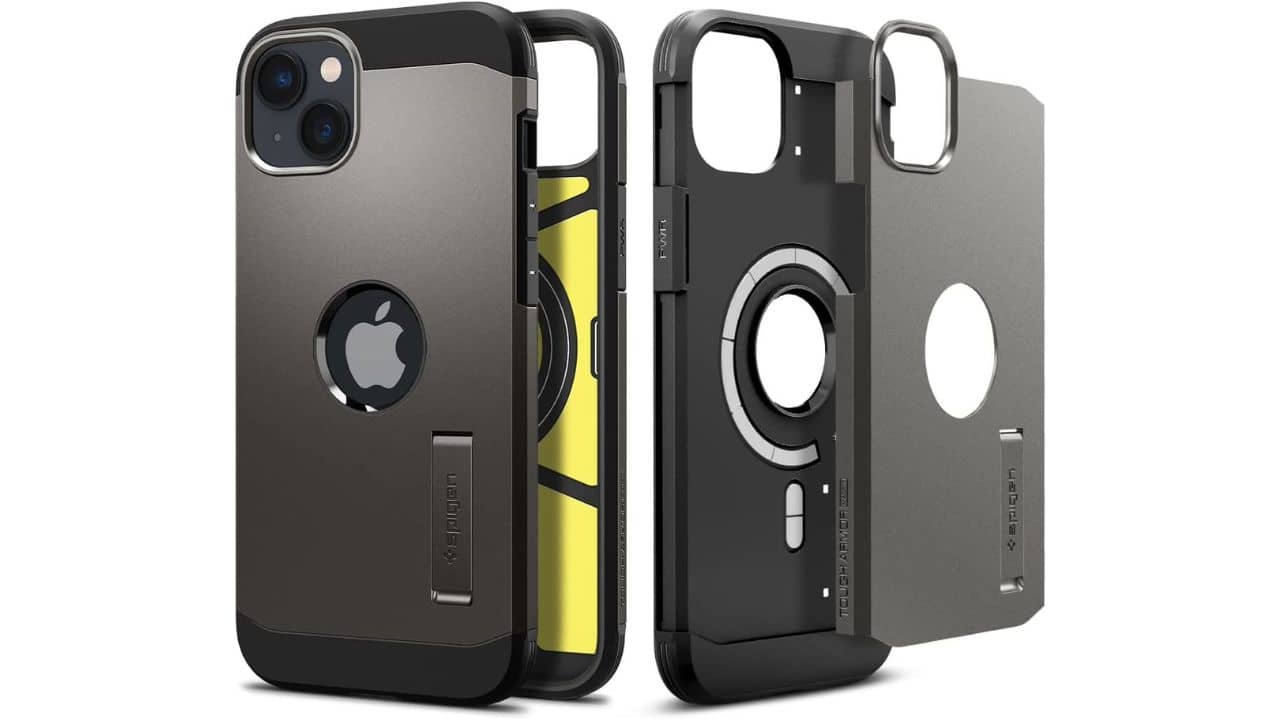 Do you work in an unsafe environment for gadgets like a factory, warehouse, construction site, etc? If yes, Spigen Rugged MagFit is the best MagSafe case for iPhone 14 you can get right now to protect your smartphone. To remind you, Spigen is among some reputed brands that delivers quality smartphone protection accessories for years now. Speaking honestly, we are fans of Spigen products and no iPhone roundups can be completed without it. We've been using Spigen products since the iPhone 4 launched back in 2010.
Talking of this MagSafe case for iPhone 14, it features a lightweight and form-fitted design that snugly fits your iPhone without much hassle. It is made using TPU material and Polycarbonate materials, topped with three color options of the exterior hard shell to compliment your look. All thanks to an extra layer that offers resilient shock absorption whenever your iPhone is exposed to a fatal drop on a concrete or wooden floor. You can also expect this protective MagSafe case for iPhone 14 to keep the device in one piece if your mischievous kid recklessly throws it against the drywall or drops it from the bed.
What's more? This MagSafe protective case for iPhone 14 comes with a built-in kickstand that allows you to talk to your loved ones using FaceTime or to record TikTok videos/Instagram Reels, hands-free. You can also use it as a tripod stand to prop the device and capture memories from your recent barbeque nights or upcoming Thanksgiving party.
Overall, if you are looking for a reliable and shockproof case with MagSafe for iPhone 14, we think Spigen Tough Armor MagFit is the best pick for you.   
Reasons to buy:
Super protection

Shatter and drop resistant

Built-in kickstand

Available in three classic color options
Reasons to avoid:
Pricey 

The hard shell at the back of this iPhone 14 MagSafe case can get slippery when the device is warm
If you are bored of using Spigen's protective case, we have got your back. We urge you to check the Ghostek ATOMIC Heavy-duty MagSafe Case. Even though it is very expensive than the Spigen Tough Armor, the fact that it offers 360-degree protection; so we believe you'd love it. Let's not forget that this rugged iPhone 14 case is compatible with MagSafe chargers as well as compatible accessories.
Also read: The 7 Best Camera Lens Protectors for iPhone 14 and iPhone 14 Plus
7. Ringke Fusion Magnetic Clear Case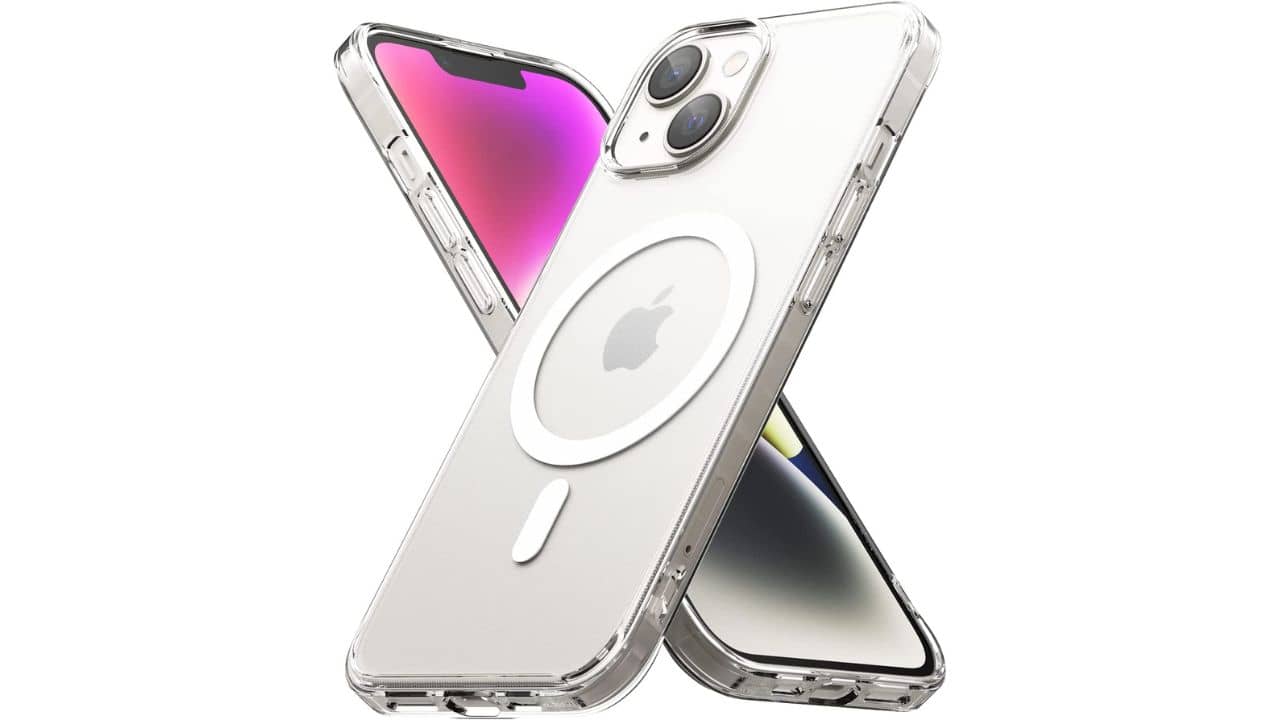 If you think the OtterBox clear MagSafe case is not the perfect value for money iPhone 14 MagSafe case you're looking for then you're alone. We recommend you grab this clear MagSafe case for your iPhone 14 from Ringke. To remind you, this MagSafe iPhone 14 case is relatively more affordable than most of the cases listed here. It rocks a durable PC back and shock-absorbing bumper that works together to provide superb protection to your device against potential harm caused by accidental drops, bumps, and shocks. For extra protection, you'll find a soft TPU bumper on the side of this iPhone 14 shockproof case with MagSafe. The soft wraparound bumper also gives you a smooth and comfortable grip when you are traveling across the city in a bustling subway or bus. Whereas, the beveled edges around the
dual-rear camera ensure scratch-proof protection against scratches that might come off from a flat or uneven surface. Did we mention that this case features a crystal clear design that enables you to showcase the gorgeous colors of your iPhone without much ado? 
Besides, there are Quick Catch lanyard holes that can be used to attach neck or hand straps. This feature is extremely handy for elderlies and anyone with relatively smaller hands. Please note that the hand or neck straps are sold separately, Ringke doesn't ship it with this MagSafe case for iPhone 14. Moving on, the buttons are also good, but we still feel that
Caseology's Skyfall clear series has got the best buttons. Whereas, the cutouts around the charging port and speaker grills are as good as the clear cases from Spigen as well as OtterBox. 
Although Ringke claims that it is yellow-resistant, we can firmly say that this isn't the case. Pun intended. It turns yellow over time and we have seen that in our long-term review and testing. Therefore, you can expect this transparent case to show a yellow tint after a year of usage, which is quite a respectable time for a clear case. All in all, it is an awesome choice for anyone looking for a shockproof transparent MagSafe case for iPhone 14 without spending too much.
Reasons to buy:
Shockproof protection

Value for money MagSafe iPhone 14 case

Raised edges prevent screen and camera scratches

The quick catch lanyard hole is handy for carrying your device using neck and hand straps
Reasons to avoid:
Might get yellow over time
Also Read: Best Wireless and MagSafe Chargers for iPhone 14 Pro
8. CASEKOO MagSafe Clear Thin Case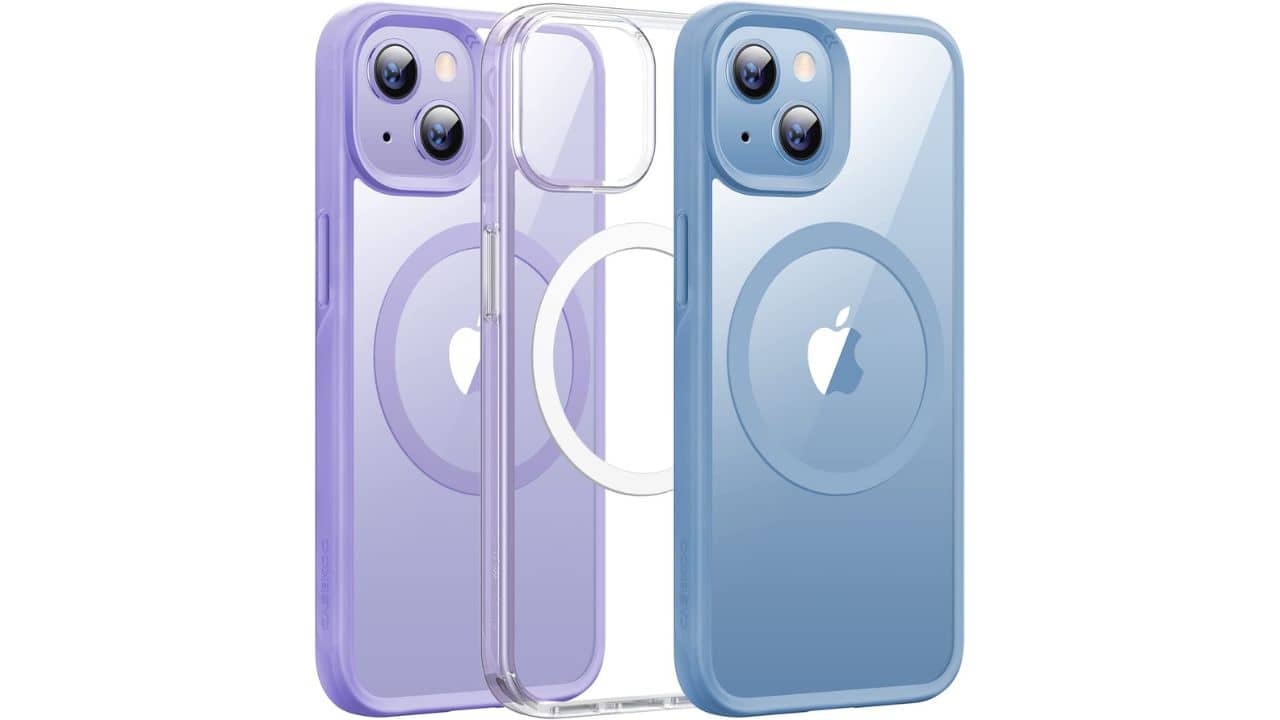 Do you feel Spigen and OtterBox clear cases are way too expensive and bulky? Don't worry, here we have got a superb option from CASEKOO that allows you to showcase your iPhone colors while allowing you to leverage the MagSafe tech. 
This clear MagSafe case for iPhone 14 is made from Thermoplastic Polyurethane (TPU) materials to offer you a secure and smooth hands-on experience. Like any other transparent case, this one also comes with a crystal clear back design that lets you flaunt the glossy design and spectacular colors of your beloved Phone. Talking of protection, it comes with military-grade protection and can survive drops as high as 10 feet. So, next time your little sibling throws your iPhone against the wall because you didn't let them use your phone, don't worry, your device will stay in one piece. In addition, this MagSafe clear case for iPhone 14 ships with a durable wrap-around bump which can definitely defend your iPhone from heavy sideways impact. Further, the air pockets on each corner can prevent heavy shocks and possibly curb the problem of screen damage. Besides, the raised camera lips across the rear camera and display offer protection against annoying scratches that might appear on the phone due to daily wear and tear. 
Moving on, we liked the slim-fit design, hassle-free installation, and non-yellowing properties of this case. To remind you, every clear case is prone to turning yellow over time, and this clear MagSafe iPhone 14 case is no exception. However, the past results revolving around clear cases have shown positive results, therefore we firmly believe it won't let you down. Sadly, the back covering can be a fingerprint magnet, therefore keep a wipe ready whenever you use it with sticky hands. Moreover, there are four different colors and designs from which you can choose this magnetic clear case from. 
Overall, it is an excellent option for anyone looking for an affordable transparent MagSafe case that offers decent protection and super scratch-proof protection.
Reasons to buy:
 7x mil-grade 10 feet drop protection

Strong magnets integrated 

Lifetime return and exchange
Reasons to avoid:
Catches dust and fingerprint stains 
9. TORRAS Slim MagSafe Case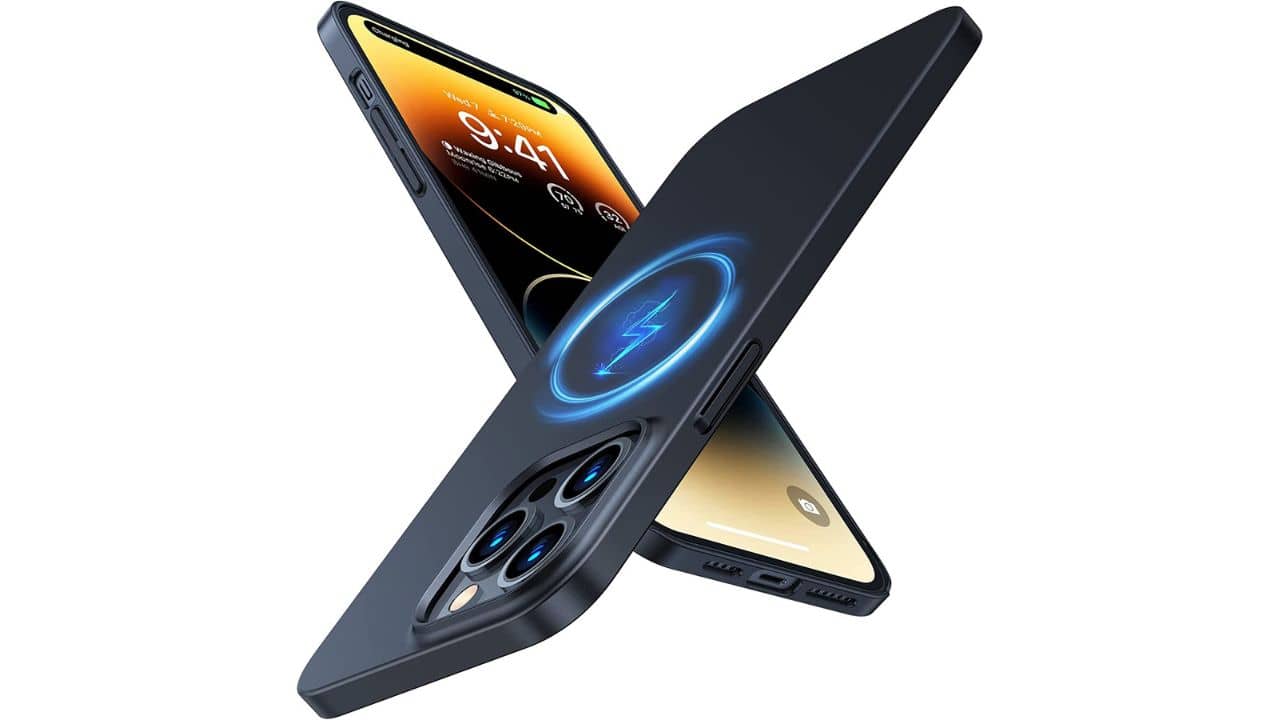 TORRAS has been competing with the likes of Spigen, ESR, and Ringke for a long time now. Last year, we witnessed a wide collection of cases for the iPhone 13 series, and absolutely loved them. TORRAS hasn't let us down this time around as well. It has dropped various cases for the iPhone 14 series. So, if you are willing to check out the whole collection, we recommend visiting their site. For now, we will stick to the slim-fit MagSafe case for the iPhone 14 which we think is a superb option for anyone looking for thin cases. 
This iPhone 14 slim case features a sleek, and minimalist design that preserves the original feel of the latest Apple smartphone. It is so slim that after a while you wouldn't notice the extra weight when you hold your device in your hand. Unlike other slim iPhone 14 cases, this MagSafe case for iPhone 14 offers a good amount of protection for your device. Having said that, we urge you to remain extremely careful while handling the device. Since it is a thin case, we don't expect it to withstand heavy drops and shocks. Therefore, please keep it out of reach of your children or pets who often throw your stuff here and there. However, you can expect better scratch-proof protection for the display and camera lens, all thanks to the 1.5mm raised lips around the display and rear camera setup. 
As far as looks are concerned, this thin MagSafe case for iPhone 14 comes with advanced nano-coating that offers a velvety touch and feel. Besides, the matte exterior gives it a premium look and prevents fingerprint stains to preserve the beauty of your iPhone. Like all the cases in this roundup, this one is also compatible with almost every MagSafe charger and accessory out there. Overall, it is a great thin case with MagSafe for iPhone 14 users who love sleek cases. The only shortcoming we could discuss here is its price. It is priced at around $30 and that might be expensive for some people for a slim case even if it comes with MagSafe compatibility. Therefore, we urge you to check this one only if your pocket allows it. 
Reasons to buy:
Non-slip design

Looks and feels premium 

Snugly fits with iPhone 

Delivers a premium, velvety feel

180-day replacement policy
Reasons to avoid: 
Honorary mentions to some of the top MagSafe cases for iPhone 14 that you can check right now:
That's all for now in this runaround of the top MagSafe case for iPhone 14. If you have got your hands on the high-end models, make sure to check our roundup of the best MagSafe cases for iPhone 14 and iPhone 14 Pro Max.
Banner Image Source: Apple