After months of expecting the release of the latest Pixel series, the wait is finally over! Google has officially unveiled the brand new Pixel 6 series which includes- Pixel 6 and Pixel 6 Pro. Touted as the 'most personal and helpful phone' by Google, it takes all the helpfulness and intelligence of Google and adapts it to users, like you! According to Google, this year is largely different and this time around, the new Pixel 6 features state-of-the-art hardware which provides for an immersive real-time user experience. Powered by the Google Tensor chip, Pixel 6 has all the good stuff with improved hardware, as well. Let's take a look at its specifications and see what it has to offer!
Google Pixel 6 Display & Design
The Google Pixel 6 is equipped with a 6.4-inch FHD+ AMOLED screen with a dynamic refresh rate of up to 90Hz. The phone comes with a punch-hole cutout in the center and is protected by Gorilla Glass Victus with up to 2x better scratch resistance than the previous Pixel phones with an in-display fingerprint sensor. The display also supports HDR.
This time, you can see the Always-on-Display and the adaptive  Android 12, called Material You. According to Google, the new camera lenses and sensors were too large to fit into the previous Pixel's camera housing, necessitating the new camera bar. The phone has a distinctive look thanks to a horizontal black bar that spans the width of the phone's back. The Google Pixel 6 has a  matte aluminum finish, unlike its predecessor the Pixel 5 which had a thin layer of bio-resin plastic covering its aluminum body. It also has an IP68 rating, which means it can withstand dust and be submerged in 1.5 meters of water for up to 30 minutes. The dimensions of the new Pixel 6 are 74.8 x 158.6 x 8.9, weighing in at 207 g.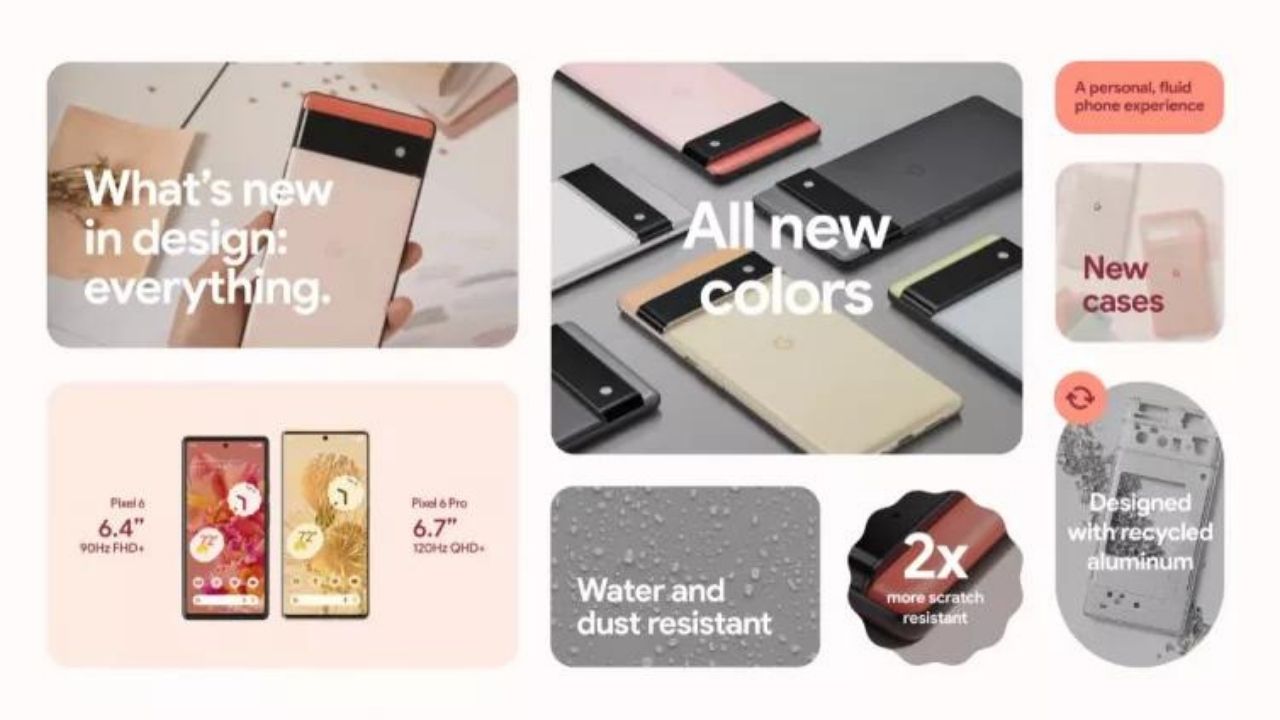 Google Pixel 6 Camera
The new Pixel 6 marks the biggest update in the camera department for Google. The Pixel 6's main camera features a wide-angle lens and a 50-megapixel sensor, the largest sensor ever seen in a Pixel camera. To create a 12.5-megapixel photo, the camera employs pixel-binning, which combines multiple pixels. This results in photos that are brighter, more detailed, and more accurate colors. The new main camera, according to Google, can capture 150 percent more light than the Pixel 5's main camera. For wider shots, the phone also has a 12MP ultrawide lens. On the front, there is an 8MP selfie camera. The device also includes Google's new software, Magic Eraser, which lets you erase unwanted things from the background. Face Unblur and Motion Mode are two more new camera features that aim to improve action shots by adding or removing blur where you want it. Snap Filters are also coming to the Google Pixel 6 series thanks to a collaboration between Google and Snapchat. Snapchat users with Pixel 6 phones can use the Quick Tap to Snap camera feature to send Snaps quickly.
Google Pixel 6 Battery
The Google Pixel 6 will be available with 8GB RAM, 128GB/256GB UFS 3.1 storage, and a Tensor chipset. The phone also has a 4,614mAh battery with wireless and 30W fast charging capabilities. The battery capacity of the Google Pixel 6 Pro is the highest of any Pixel phone to date. It has a 5,000mAh battery, which is about 7% larger than the one in Google Pixel 5a. The battery is said to have a 24-hour battery life, and with Extreme Battery Saver enabled, it can last up to 48 hours. In 30 minutes, it will charge about 30% of its battery. This is true for both the standard and pro versions. The new Google Pixel 6 also supports wireless charging, however, you won't be getting a charger in the box for this one. 
Google Pixel 6 Performance
The new Google Pixel 6 is powered by Tensor, a brand-new custom-designed chip, unlike Qualcomm. It's Google's first processor, and it's been designed specifically for the Pixel. It's 80% faster than the Qualcomm Snapdragon 765G chip found in the Pixel 5 from last year, according to Google. The Tensor chip was created by Google to push the boundaries of software and computations. The new Tensor makes faster, more accurate speech recognition and image processing possible. Tensor promises up to 48 hours of battery life, improved real-time language translations, highly accurate voice transcription, and high-end camera features such as the ability to unblur a moving person's face, with the onset of the new Tensor chip Pixel owners will get at least five years of security and a minimum three years of OS support. The Tensor chip employs a one-of-a-kind CPU core configuration. There's a custom TPU for AI, two high-power Cortex-X1 cores, and four low-power efficiency cores. A 20-core GPU handles graphics, and there's also a context hub for ambient experiences like the always-on display, a private computer core, and a new Titan M2 security chip. A dedicated image processing core is also included to aid in Pixel's signature photography.
Google Pixel 6 Security
The Pixel 6 series has been touted to equip itself with advanced security. The new privacy and security features protect your personal information, photos, and everything else on your phone. All of your security settings are kept in one place in the Security hub. It also provides proactive security advice in the form of simple steps you can take to improve your security. You have complete control over how and when your phone's microphones and cameras are used and you can easily turn them on and off, as well as select which apps are allowed to use them. Pixel can call for assistance, share your location, and record a video all on its own. It can also tell if you've been in a car accident and summon assistance if you're unable to respond.
Google Pixel 6 Price and Availability
The Google Pixel 6 is available in the colors Kinda Coral, Stormy Black, and Sorta Seafoam. It is priced starting at $599. The standard Pixel 6 costs £599 / $599 / AU$999 for the 128GB model and AU$1129 for the 256GB version in Australia. Google also announced the Pixel Pass program, which will allow users to pay a monthly fee for new Pixel phones and gain access to premium Google subscriptions such as 200GB of Google One storage, YouTube Premium, YouTube Music Premium, and Google Play Pass for a monthly fee. Pixel Pass plans are currently only available to customers in the United States and start at $45 for the Pixel 6. The Pixel 6 series is now up for pre-order in the United States, United Kingdom, Australia, Canada, France, Germany, Japan, and Taiwan, starting October 28, 2021. You can place a pre-order for either the Google Pixel 6 or Google Pixel 6 Pro right now on the Google Store.