Getting the Galaxy Z Fold 2 was a very tough decision for me. Firstly, it costs a bomb, way more than any smartphone in the market except for maybe the highest end iPhones which are only slightly cheaper. Secondly, I wasn't really sure how I would react to this form factor. I didn't know if I would love it or hate it. Spending a lot of money on something you will love makes sense but spending a lot of money on something that you might not end up liking is craziness. And craziness we did. Here are my first impressions of the Galaxy Z Fold 2. 
I had spent a grand total of 25 minutes with the Galaxy Fold 1 last year and even that brief encounter is enough to conclude that the build quality, refinement and overall character of the Galaxy Z Fold 2 is miles and miles ahead. Honestly, the Galaxy Z Fold 2 feels like a 2 or 3 generation leap compared to its predecessor. As soon as I unboxed and folded it, I could instantly tell that the hinge is not delicate or fragile. It is very finely engineered but that doesn't mean that it's not sturdy. Talking of sturdy, the Z Fold 2 gives off the impression of a dense, sturdy brick of metal when folded with its 280 grams of weight and thick outline which feels like 2 phones held together. 
Build Quality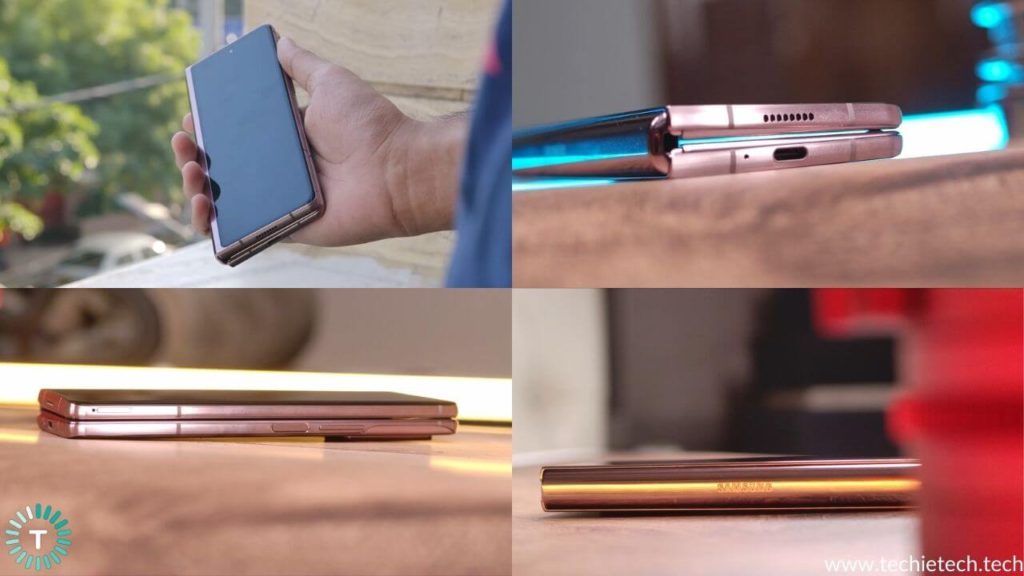 When it comes to the build quality and the overall in-hand feel, I think Samsung deserves a pat on the back here. The Z Fold 2 is a mature, luxurious and well-built device and definitely feels like it costs a bomb. Be it this amazing bronze colours, the matte finish on the back or just the overall in-hand feel, the Fold 2 is an impressive package. My only concern right now is the heft especially when the phone is folded. Of course, that is not a problem unfolded since you get a more spread out weight distribution but from my initial impressions, the Z Fold 2 will not be an easy one hand use device, even when folded. I will ,of course, test this out in my full review. 
Displays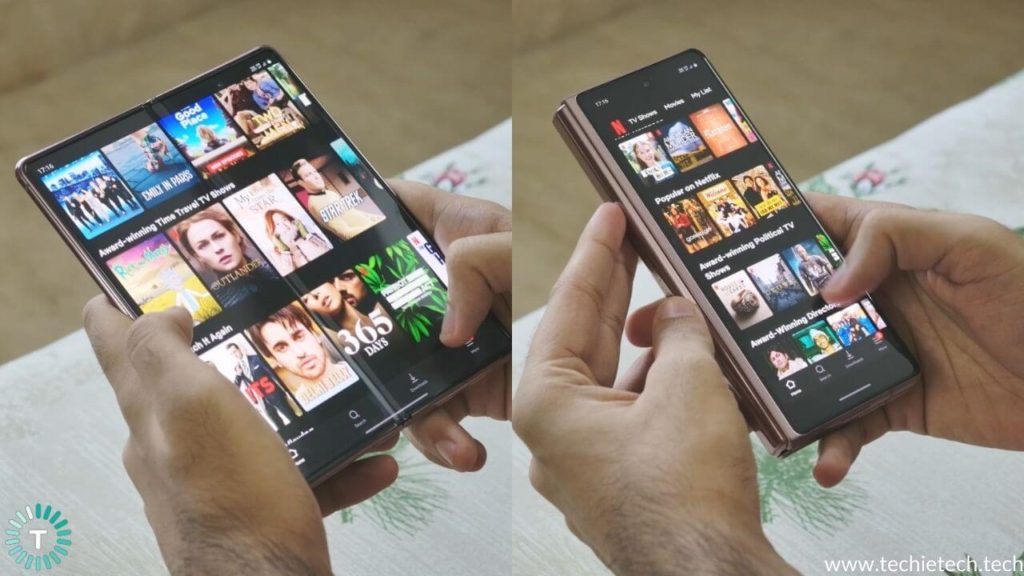 Talking about the display, the outer display is actually usable now. In the first iteration, the outer display was basically like having a smartwatch, good enough to check your notifications and consume small bits of information but anything more than that would be stretching it. Well, all that changes with the Z Fold 2. The outer display is actually really usable now, to the point that, just for fun, you can actually use the thing without unfolding as a weirdly narrow smartphone. The narrow display does lead to a tricky aspect ratio which means that photos and videos are often cut out in Instagram and Snapchat stories but overall it's a much better solution than before. I actually found myself happily reading tweets or web browsing or checking the news on the outer display without any problems. The only usability problem that I really had was with typing on the cramped keyboard but I am sure I can get used to that. 
But why get used to it, when you have a gorgeous 120 Hz display as soon as you unfold this beautiful brick. Of course, the larger inner display is the star of the show with a 7.7 inch, 1689×2213 panel. This is the main reason users are going to spend that money. If you have never felt the need of a bigger screen while using your smartphone, then the Z Fold 2 won't make sense to you. If you have, this is the best and perhaps the only option worth considering. The inner display comes pre-installed with a screen protector which you are not supposed to take off yourself. There is absolutely no doubt that this is an exceptionally fragile display which is why Samsung lists a number of safety measures on the packaging of the phone and on the setup screen. In my limited usage, the display does not feel plasticky or rubbery as some users have reported with the Fold 1 and I think that's primarily because of the Ultra Thin Glass we have beneath the plastic coating. The crease in the middle is noticeable at first but gets out of the way almost instantly once you start using it. Just like the notch back in the day. You also feel the crease very easily if your finger glides over that part but again, I did not find that problematic. The camera cutout on the top right is a very welcome change from the gigantic notch in last year's model. 
Of course, ignoring the fact that this is incredibly exciting technology and looking at them like conventional smartphone and tablet displays, both the panels are excellent and stand true to Samsung's reputation. The vibrance, saturation and colours are all excellent which all sums up to a great media consumption experience on both the inner and outer display. 
Also read: Best Accessories for Samsung Galaxy Z Fold 2
Speakers
Talking of media consumption, the stereo speakers on this thing are amazing. We have a speaker at the bottom and a proper speaker at the top, and it can get really loud with great clarity and quality. I was expecting somewhat of a compromised experience in the speaker department since there is already so much tech crammed in that phone but Samsung did not disappoint.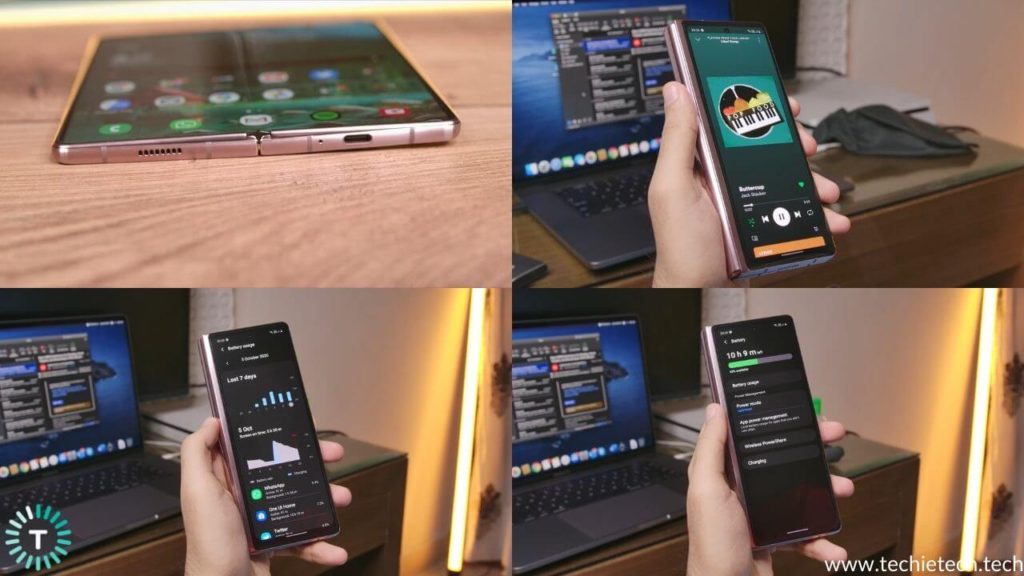 Battery Life
Where Samsung did disappoint though is the battery life. Of course, it's too soon to say now so take this with a pinch of salt but in my initial usage, the battery life is above average but not great. I won't draw any conclusions for now as these are still early days and the battery takes time to settle as the software optimises itself while learning the usage patterns. 
Conclusion
But overall, the Galaxy Z Fold 2 is an amazing phone. I have been using candy bar smartphones for more than 10 years now and to finally get something different in this ocean of black rectangular slabs is very, very exciting. I will be testing out more of the Galaxy Z Fold 2 as I use it including the camera, the overall usage experience, the hinge durability and a lot more. I am really excited for that. 
Check Price on:
Amazon (US): https://amzn.to/30AYCKi 
Amazon (UK): https://amzn.to/2I2abE0 
Amazon (India): https://amzn.to/2SwYUNS