OnePlus launched its OnePlus 8 series in a global online-only event on April 14, 2020. The lineup includes a budget flagship OnePlus 8 and a premium flagship killer OnePlus 8 Pro. Right now, the OnePlus 8 Pro is the best OnePlus phone that you can own. It features a top-of-the-line Snapdragon 865 chipset, a big 6.78-inch QHD+ Super Fluid AMOLED display with a 120Hz refresh rate, a quad rear camera setup, wireless charging, and a matte glass body with curved edges. 
In 2019, the Chinese phone maker had launched the OnePlus 7T and OnePlus 7 Pro with some amazing specs, but the latest OnePlus 8 Pro outshines every other phone the company has ever designed. The OnePlus 8 Pro has support for 5G networks and Wi-Fi 6 compatibility, which marks the entry of this phone amongst the future-proof smartphones with the newest specifications.
The best smartphones deserve the best accessories too. Today, we've come up with our roundup of the best accessories for the OnePlus 8 Pro in 2021. We've included phone cases, wireless earphones, wireless chargers, and every other amazing accessory that you must own with this latest flagship. 
List of the best accessories for OnePlus 8 Pro in 2021
1. Cases for OnePlus 8 Pro
As the OnePlus 8 Pro is a glass-backed smartphone, you would obviously need a good case to protect it so that you don't end up spending hundreds of dollars repairing your expensive phone. Therefore, cases top our list of the best accessories for the OnePlus 8 Pro in 2021.
1. Sandstone Bumper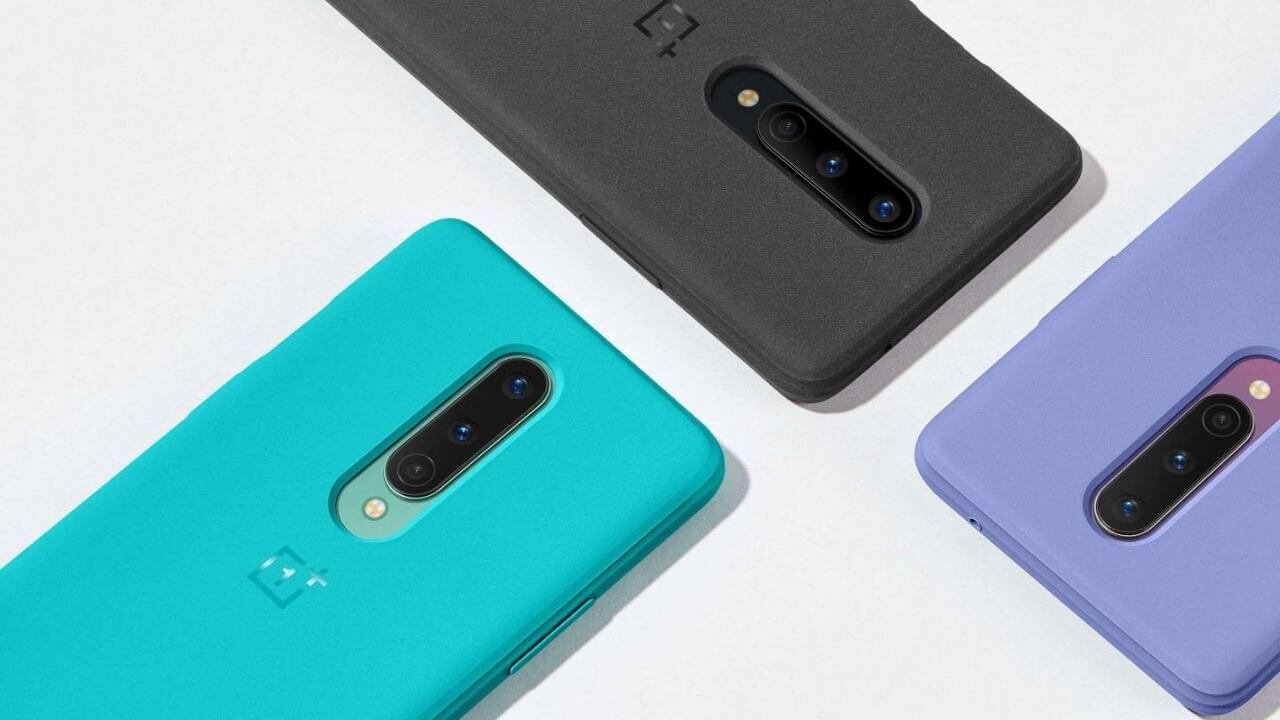 Sandstone has been there with the original OnePlus One smartphone. The company always plays with the texture and the colors to freshen up things. Sandstone bumpers add enough grip to the smartphone, which makes it very easy and comfortable to carry. The phone doesn't feel slippery at all, thanks to the matte rubberized finish. Moreover, being the first party cases, the cutouts are perfect and the buttons don't feel too hard to press, which is a major concern while buying a smartphone case.
The cases are available in the classic sandstone black, beautiful smokey purple, and the cool Cyan color, which looks absolutely gorgeous with the Ultramarine Blue and Glacial Green finish of the OnePlus 8 Pro.
2. Nylon and Karbon Bumpers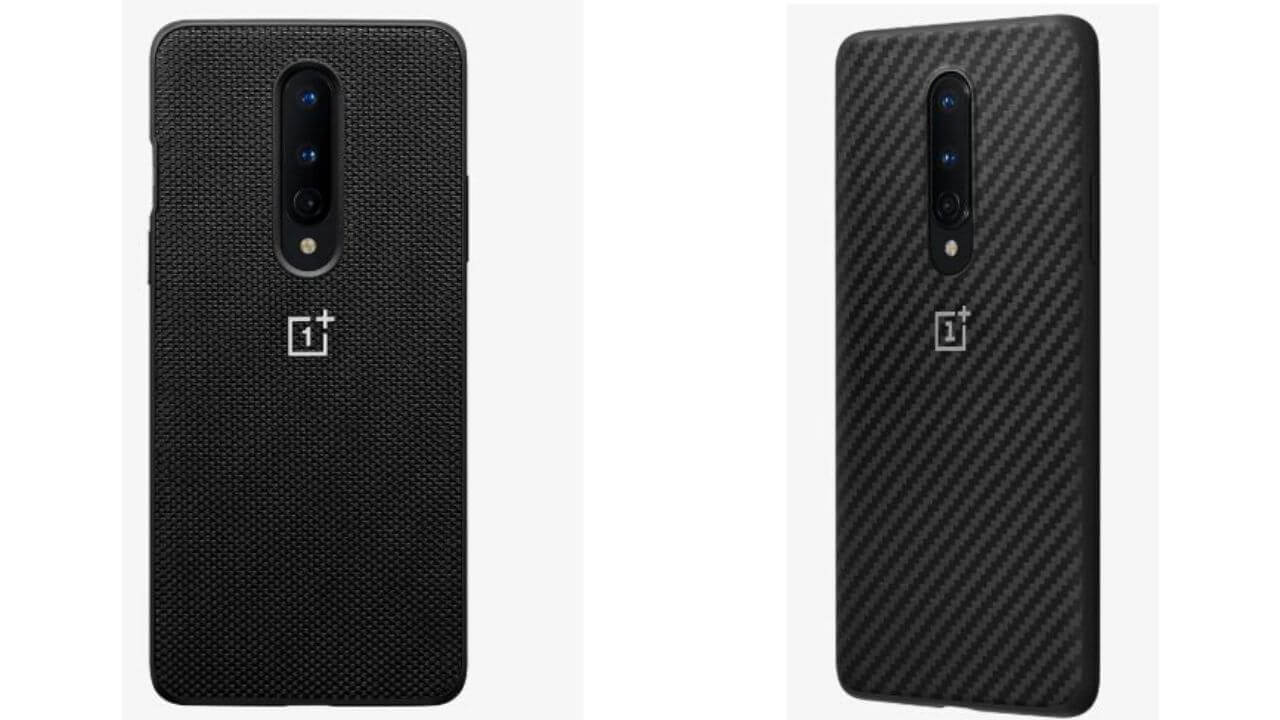 The next in the list of the first-party cases for OnePlus 8 Pro are the Nylon and Karbon bumpers. These cases are pretty much unchanged, you must have seen many OnePlus phones rocking these looks for years now. 
The Nylon bumper gives a look of weaved nylon strands at the back, which makes it very comfortable to hold a smartphone. The cutouts are perfect and the buttons are tactile. If you're looking for the most durable OnePlus official case, you must check out this option.
The Karbon bumper is a thin case that adds enough grip to comfortably hold the phone. The carbon fiber might look very slick, but it actually makes your phone super-grippy. Although the Karbon bumper is the most expensive case amongst the three first-party cases, it adds a unique look to your phone. Moreover, if you're inclined towards thin and sleek cases, it's worth checking out this option.
3. Spigen Tough Armor case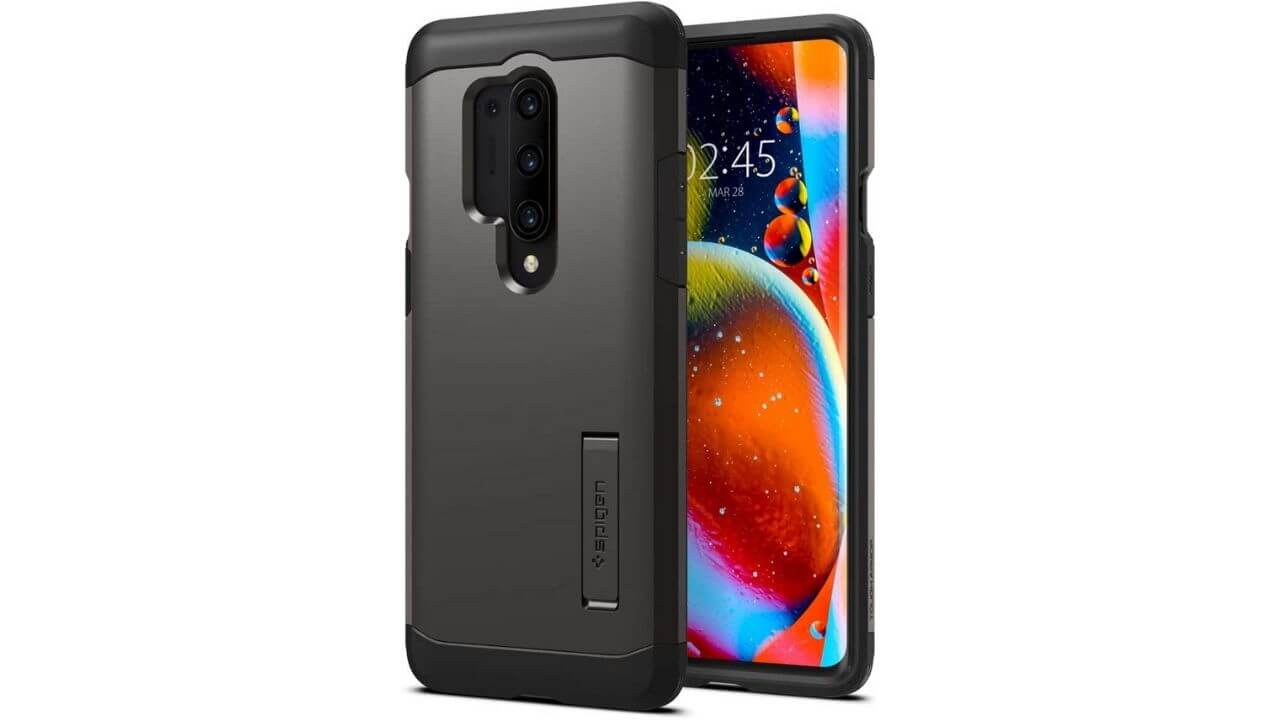 If you're looking for one of the best cases with anti-shock protection for your OnePlus 8 Pro, look no further than the Spigen Tough Armor case.
This case offers dual protection from scratches and accidental drops, thanks to the combination of shock-absorbing TPU and hard polycarbonate. The case deploys the Air Cushion Technology for anti-shock protection and comes with raised lips to protect the phone's screen and camera. So, if you're a clumsy smartphone user, who often drops the phone a lot, it's worth investing in the Spigen Tough Armor case.
4. dbrand OnePlus 8 Pro Grip case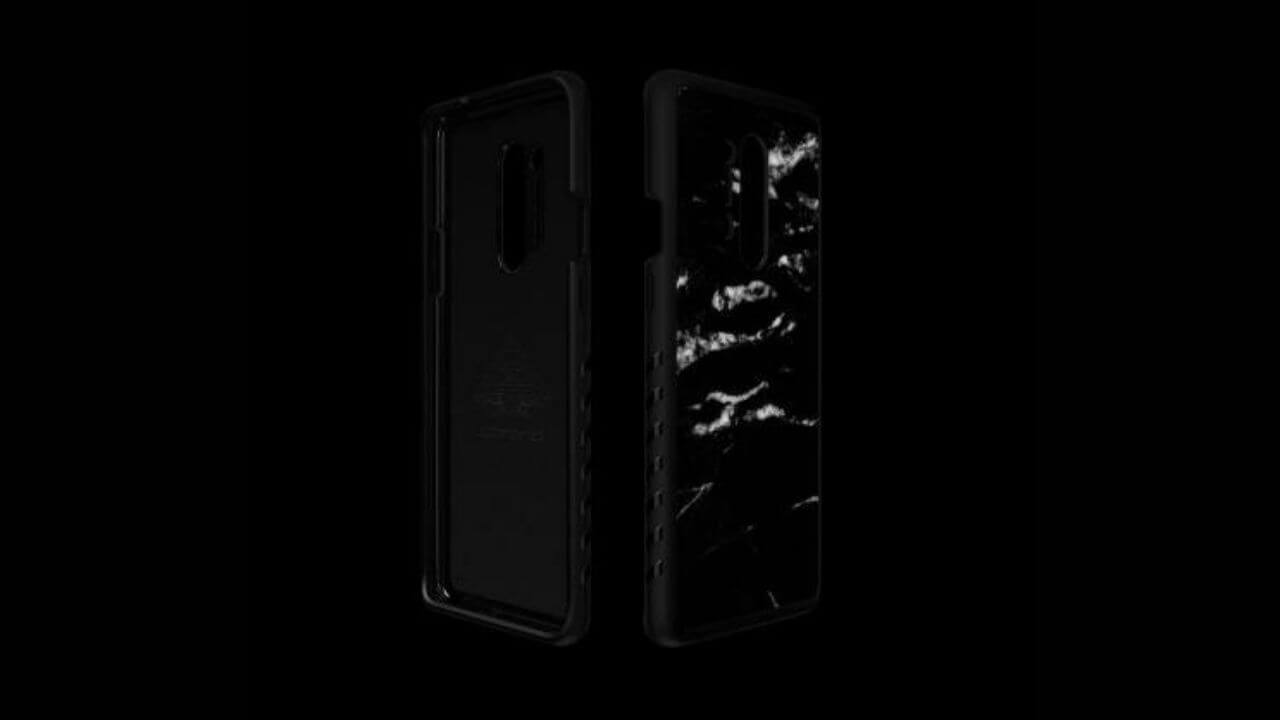 If you want ultimate protection and grip for your OnePlus 8 Pro, without any bulk to your phone, then you must check out dbrand's Grip case. It features a minimalist design with advanced shock-absorbing polymers to offer military-grade protection to your smartphone. The best part is you can easily customize these cases with an amazing lineup of dbrand's vinyl skins, just the way you like it. You can give your OnePlus 8 Pro a wooden glossy, leather, matte, or a patterned finish, to reflect your own style. 
5. Spigen Ultra Hybrid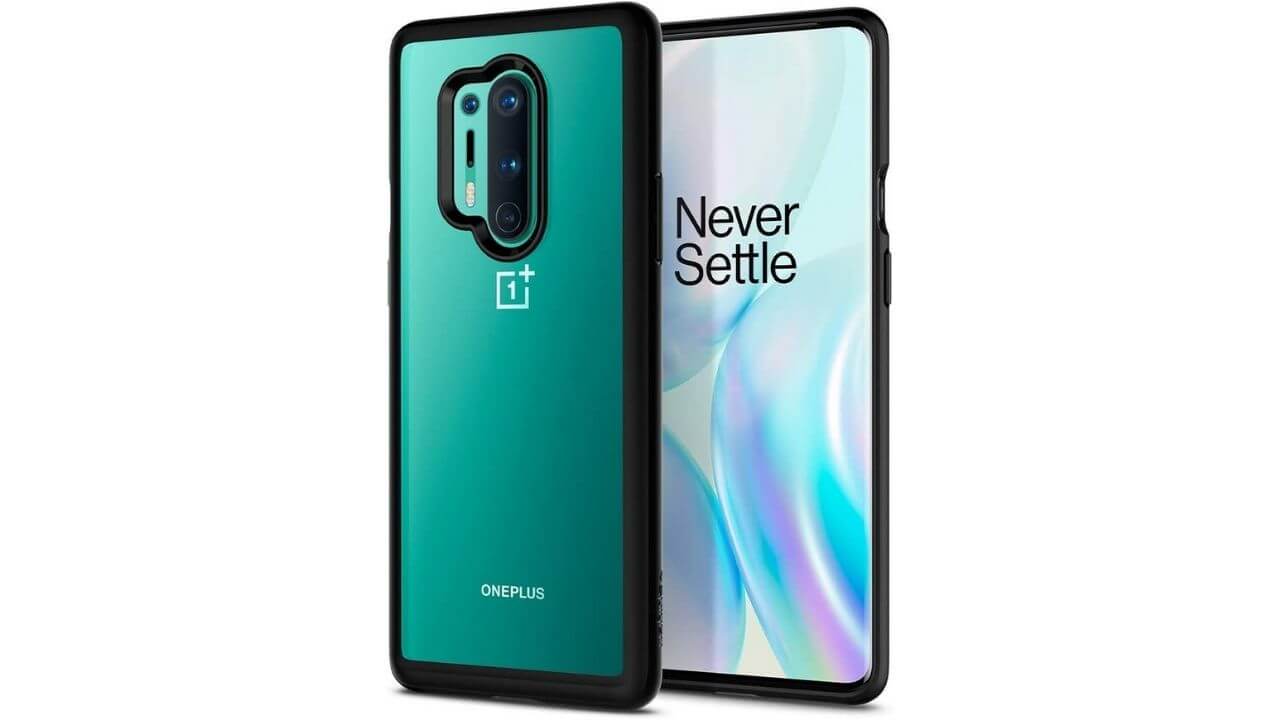 If you're looking for a clear case for OnePlus 8 Pro that lets you flaunt the original back of the phone, while protecting it at the same time, then you must have a look at the Spigen Ultra Hybrid. It features a combination of flexible TPU bumper and durable polycarbonate back. The case has proper cutouts and raised lips to protect the display and camera. Plus, the case supports wireless charging as well. 
6. Spigen Liquid Air Armor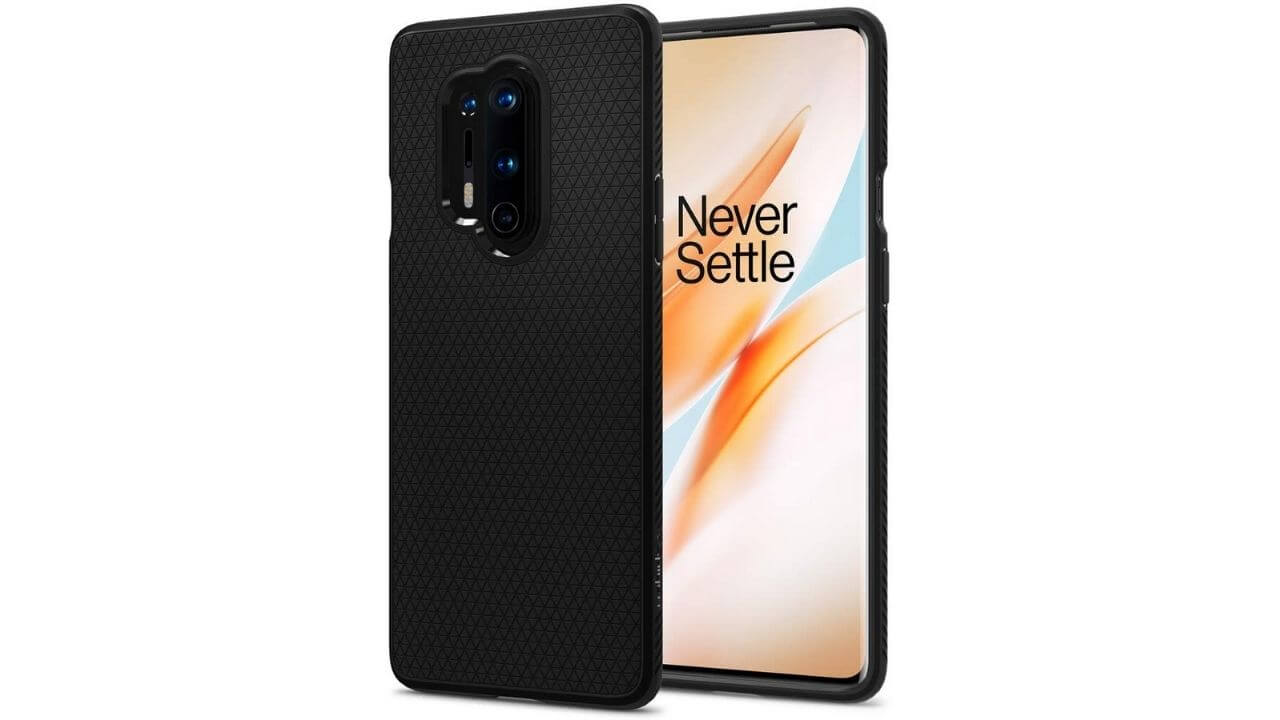 If you're inclined towards slim and lightweight cases for your OnePlus 8 Pro, then the Spigen Liquid Air is a great option. The case features an all-triangle-textured design on it back, which adds to the look and offers enough grip to hold the phone comfortably. It has a slim profile that makes it very easy to slide the phone into your pockets Also, Spigen Liquid Armor utilizes Air Cushion Technology to protect your OnePlus 8 Pro from any drops or falls. 
7. Ringke Fusion X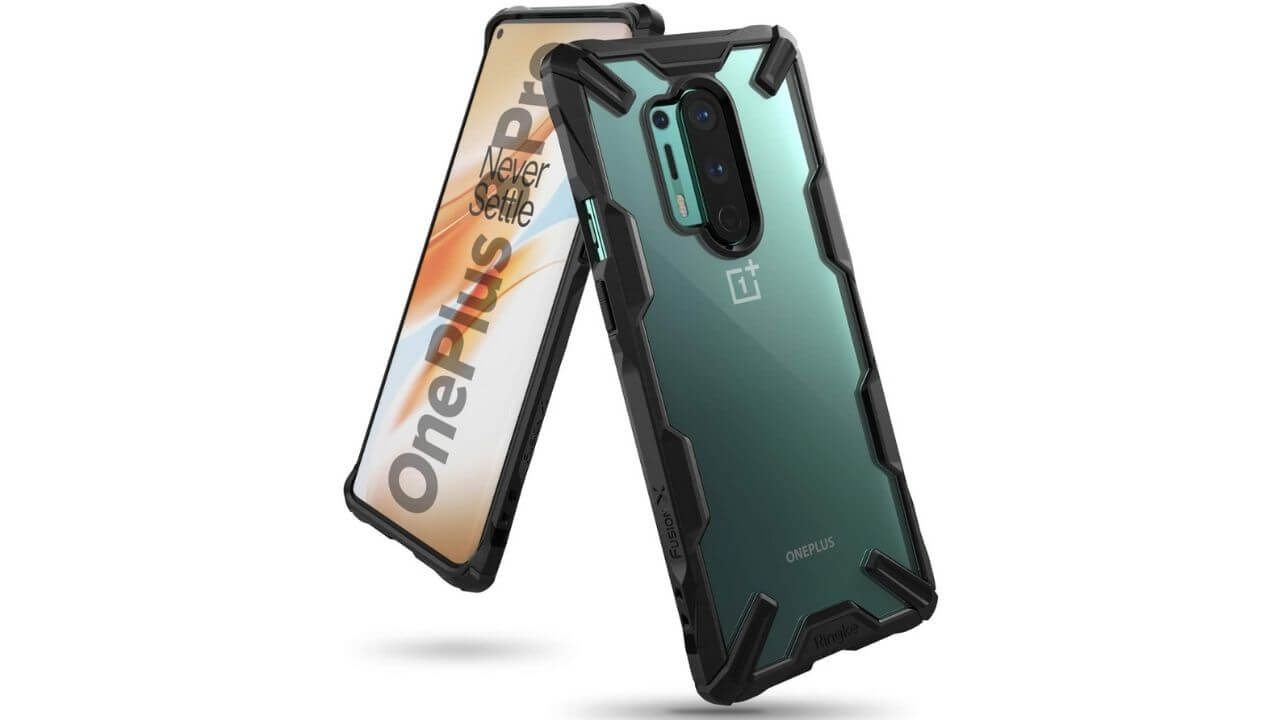 The Ringke Fusion X features a crystal clear back combined with a rugged TPU bumper to offer you the best of both the worlds. The clear back shows the design of your smartphone and the robust bumper delivers enough grip for a comfortable holding experience. Also, this protective case for OnePlus 8 Pro has a built-in Duo QuikCatch lanyard holes for easy and safe carrying. Apart from the crystal clear back, you can also choose a patterned finish that smartly hides any smudges. 
8. GESMA OnePlus 8 Pro case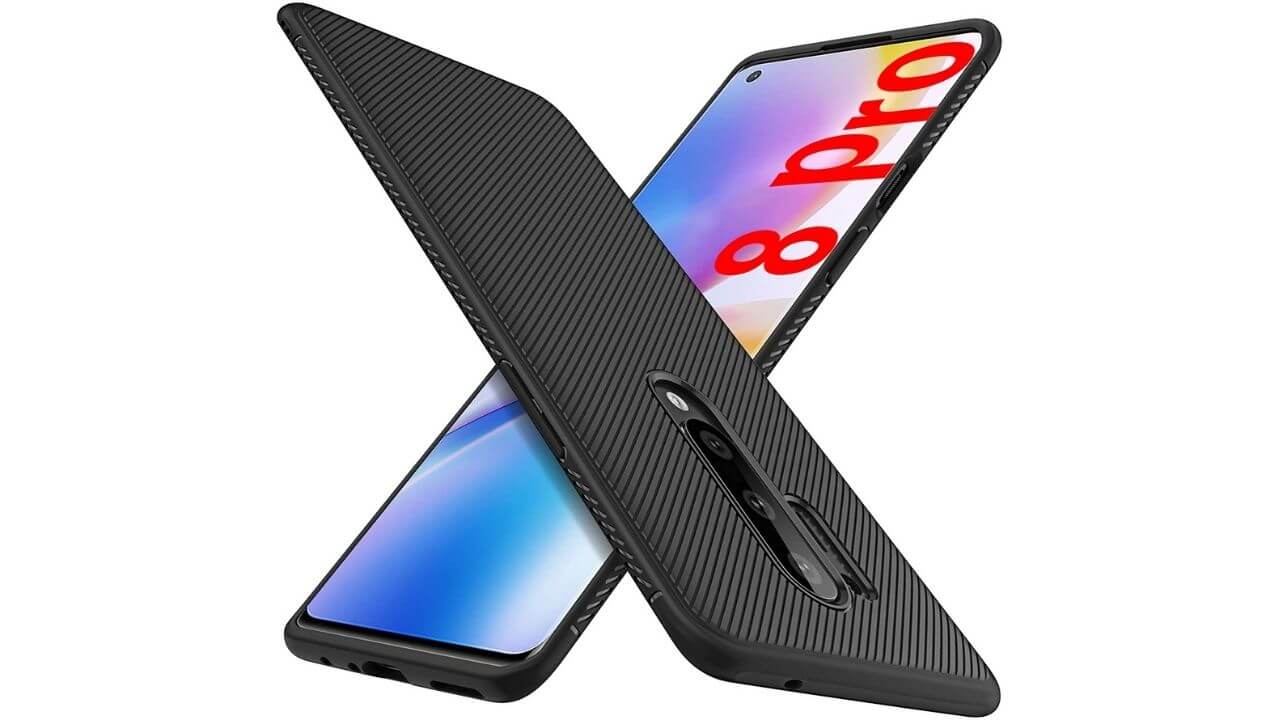 Here comes a great OnePlus 8 Pro case for all the users who neither like too fancy nor too plain designs, when it comes to phone cases. This case features a subtle textured pattern on its back, which is sure to attract the users with its exquisite design. It has a scratch-resistant and anti-slip matte design, which offers an enhanced grip and makes it a good option for everyday use. You can choose between the classic Black and a subtle Celedon grey finish. 
9. Poetic Revolution Series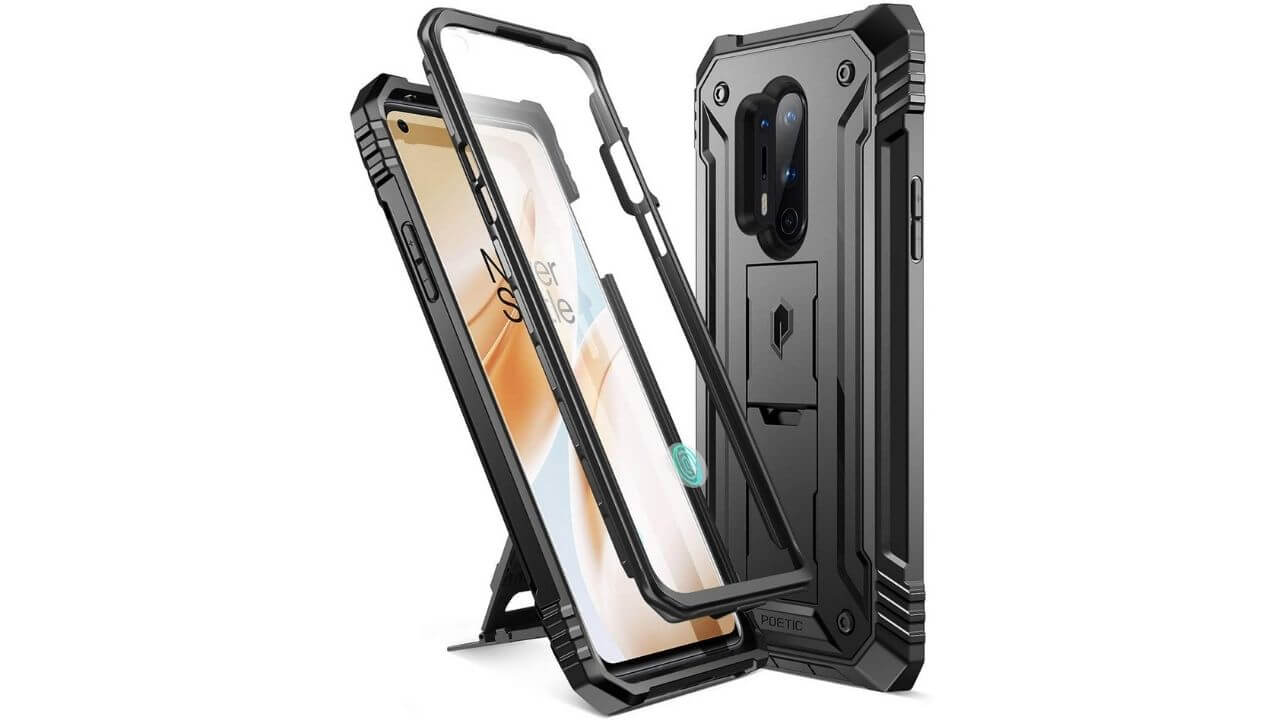 You can choose some really cool-looking and heavy-duty cases from Poetic and its Revolution Series is no different. It includes shock-proof protective cases that offer excellent drop protection. The best part is the Poetic Revolution Series for OnePlus 8 Pro comes with a screen protector and a built-in kickstand for easy viewing and making hands-free
video calls. It offers 360-degree defense against scratches, falls, and bumps. All in all, the Poetic Revolution Series is one of the best-rugged cases for OnePlus 8 Pro. 
Also, check out other truly impressive series from Poetic:
10. TUDIA DualShield Merge Series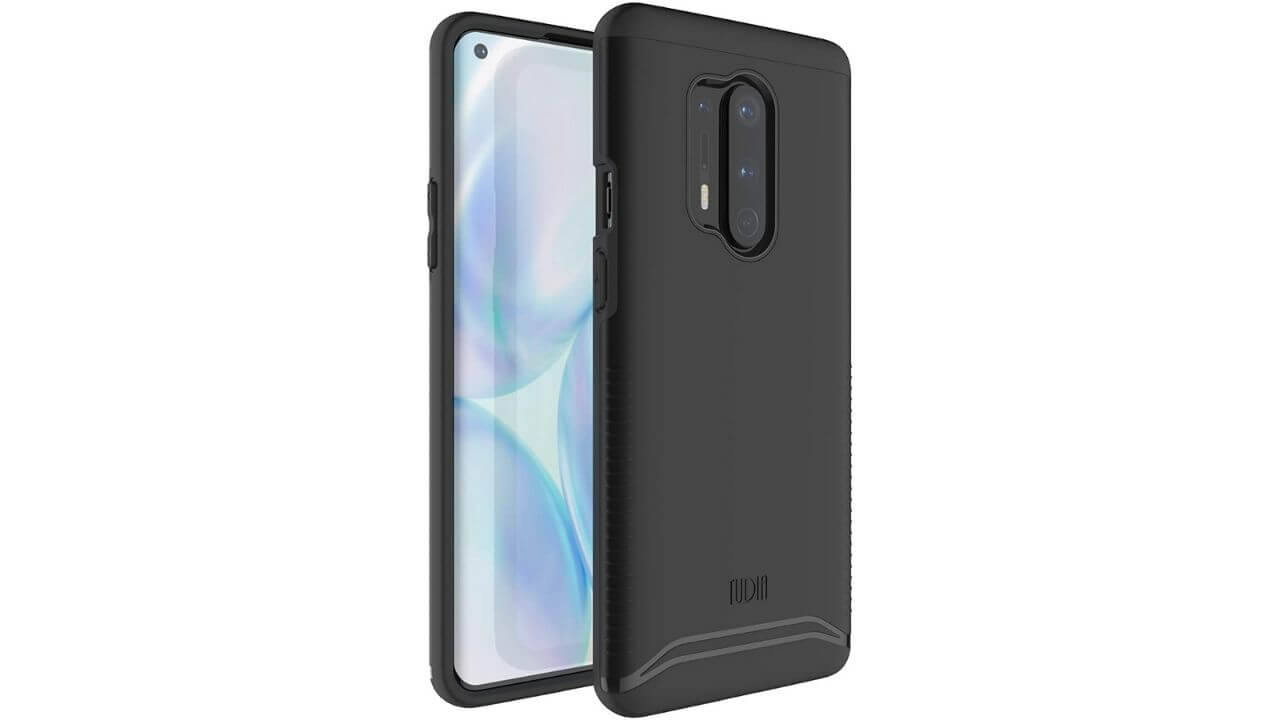 Here we've got a dual-layer case that offers military-grade protection to your smartphone, without making any compromises to the style. The TUDIA Merge series is available in four gorgeous color options, including Matte Black, Metallic Slate, Rose Gold, and Blue. The case utilizes ToughRhino technology to offer double protection against drops and scratches. Plus, the raised edges help to keep your OnePlus 8 Pro's display all-new for a longer time. It snaps on your phone very easily with precise cutouts and tactile buttons. 
11. Caseology Vault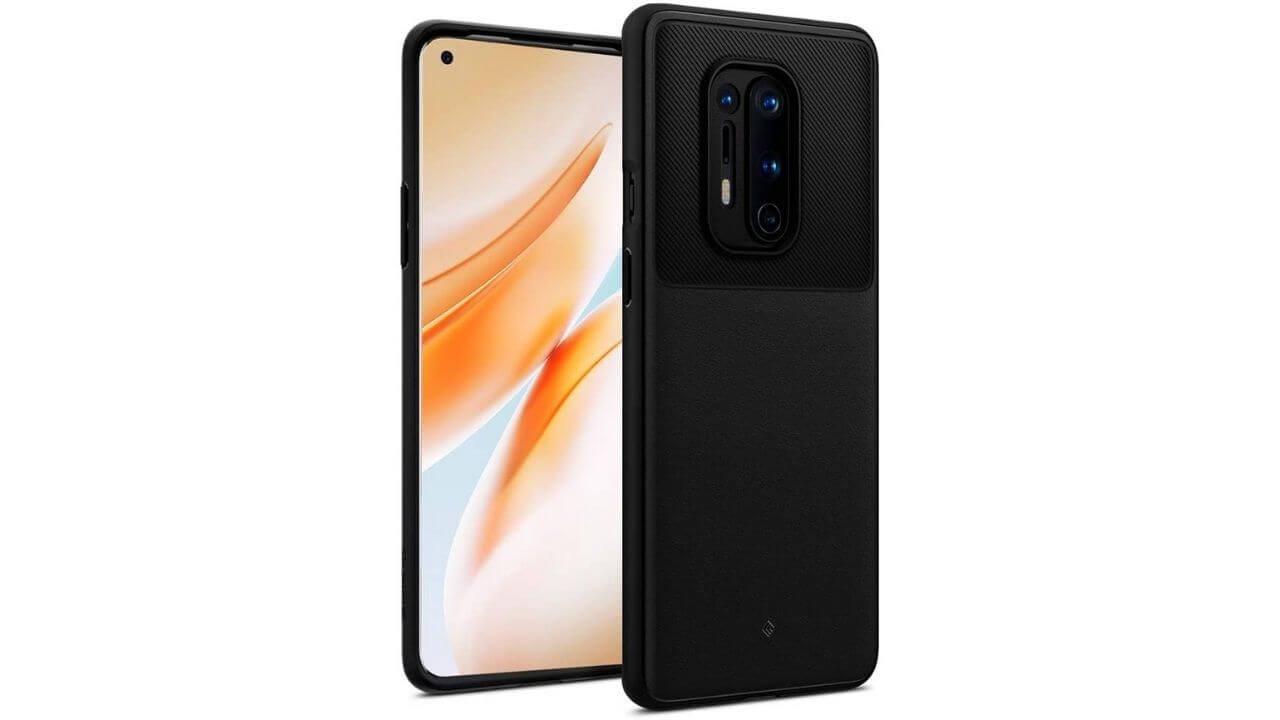 Need a shock-absorbing and lightweight case for your OnePlus 8 Pro that offers excellent protection? Check out Caseology Vault. It's a heavy-duty case that offers impressive shock absorption to minimize most impacts on your smartphone, in case of any drops, bumps, or falls. This protective case for the OnePlus 8 Pro offers precise cutouts, tactile buttons, and enough grip to hold the phone comfortably. Plus, the sleek, modern detailing around the camera module adds a touch of style to the case. All in all, it's an excellent option for all the users who prefer a simple, sleek, and heavy-duty case for their OnePlus 8 Pro.
2. Screen Protectors for OnePlus 8 Pro
1. Olixar Screen Protector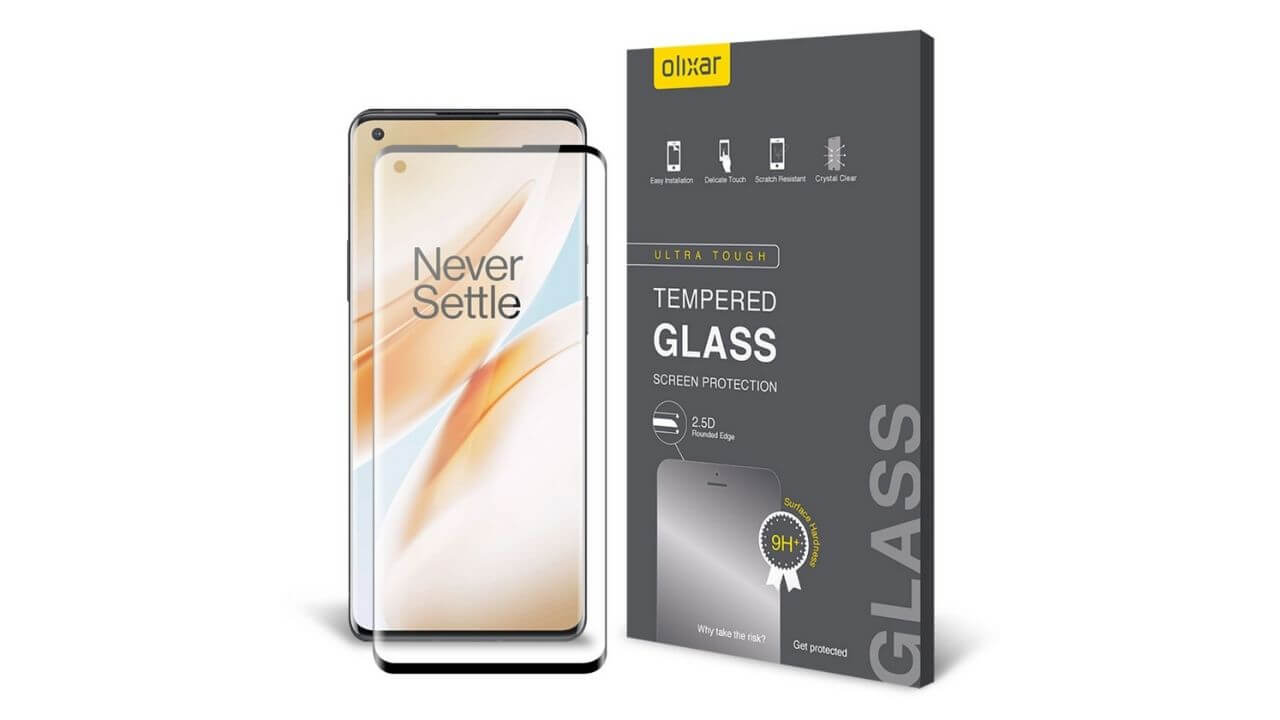 A screen protector is a must-have accessory to protect your 6.78-inch of the OnePlus 8 Pro's goodness. After all, replacing the screen of a smartphone is beyond economical, so, it's better to invest in some good screen protectors.
Olixar screen protector is an ultra-thin tempered glass that packs sensitivity, high-visibility, and toughness to protect the phone from scratches and external shock. The screen protector features an anti-shatter film, which ensures that it does not shatter and protects the phone even under extreme conditions.
The thickness of this screen protector is a mere 0.27mm, which doesn't add any bulk to your phone.

The Olixar screen protector is compatible with the OnePlus 8 Pro's in-display fingerprint scanner so that you can unlock your phone without any fuss.

It features apt cutouts for the camera, speakers, and sensors. 
2. GESMA Screen protector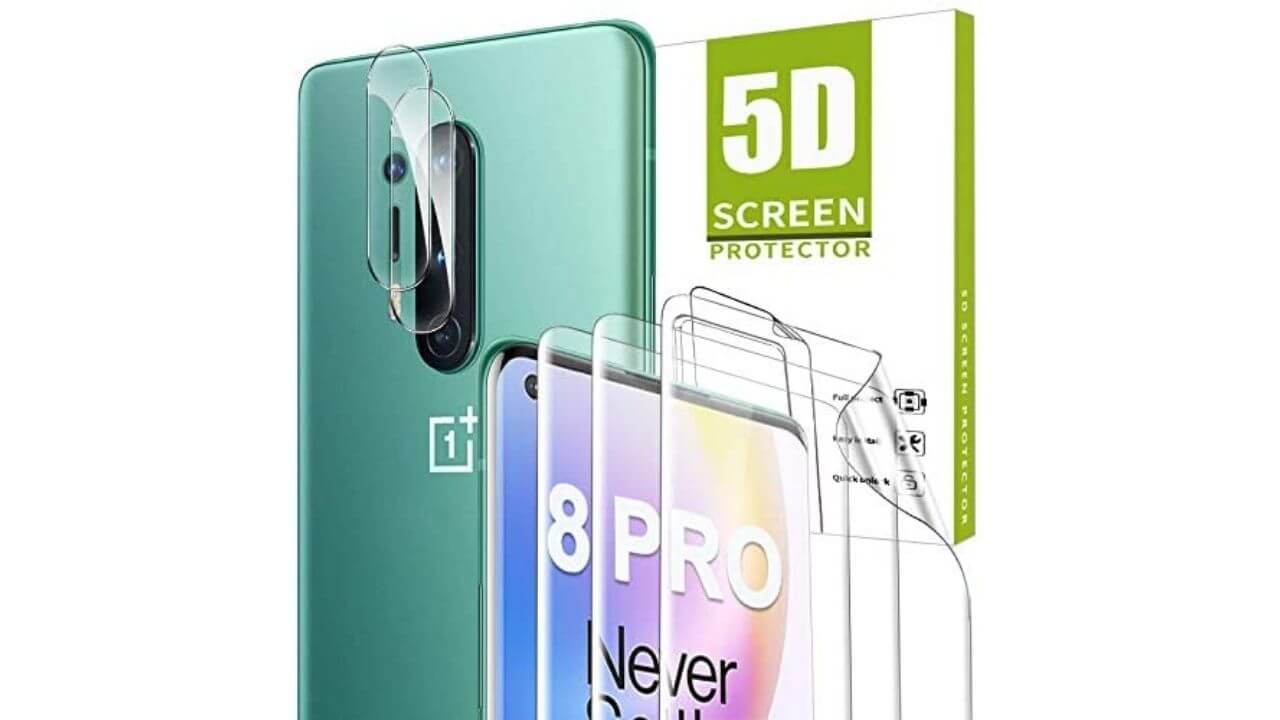 Here comes another tempered glass that offers edge-to-edge protection to the display as well as the camera lens. GESMA screen protector offers an excellent defense against scratches and prevents smudges too. This flexible TPU screen protector for Oneplus 8 Pro is very easy to install and fits the screen perfectly, offering complete edge-to-edge coverage. The GESMA screen protector packs high sensitivity, works perfectly with the fingerprint scanner, and doesn't pop off if you put a case to your phone. The best part is you'll get 3 screen and 2 camera lens protectors at just $12.99. 
3. OnePlus Warp Charge 30 Wireless Charger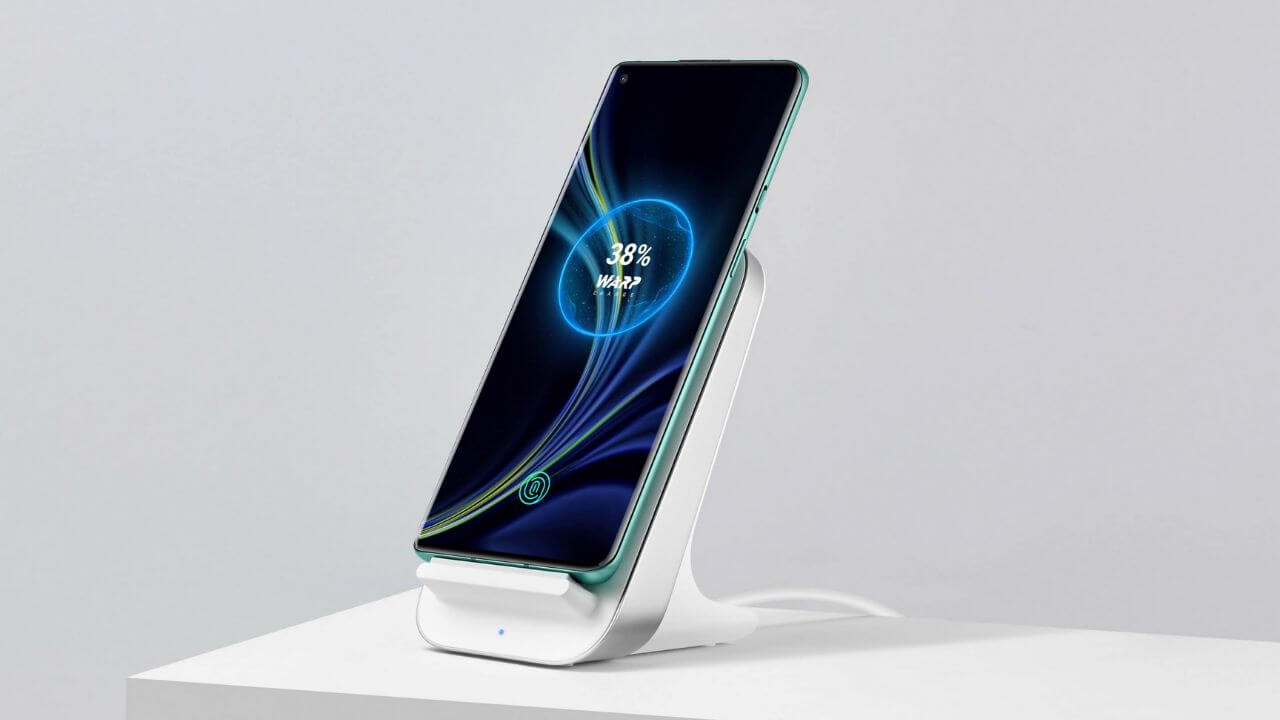 The Chinese phone maker had also introduced its OnePlus Warp Charge 30 Wireless Charger, along with the OnePlus 8 series. It's worth mentioning that this wireless charger works only with the OnePlus 8 Pro, as it's the only phone from the company that has support for wireless charging.
The Warp Charge 30 Wireless Charger can juice up your OnePlus 8 Pro from 0 to 50% in just 29 minutes. It outputs 30-watts, which is about 3 times the amount of a standard wireless charger. Therefore, to avoid any heating issues, this wireless charger has an integrated fan on its back, which keeps it cool during the charging sessions. Moreover, to ensure hassle-free charging, the charger is equipped with an in-built overheating, overcurrent, and overvoltage protection.
The Warp Charge 30 Wireless Charger also offers a Bedtime Mode that allows the phone to be used as a smart alarm clock. The default settings are enabled from 11 PM to 7 AM, dimming the display, but you can easily configure this feature as per your requirements.
Lastly, this charger would work with any Qi-compatible smartphone, but only the OnePlus 8 Pro will be able to get that mind-boggling wireless charging speed. In short, this wireless charger is one of the best accessories for your OnePlus 8 Pro.
4. OnePlus Warp Charge 30 Car Charger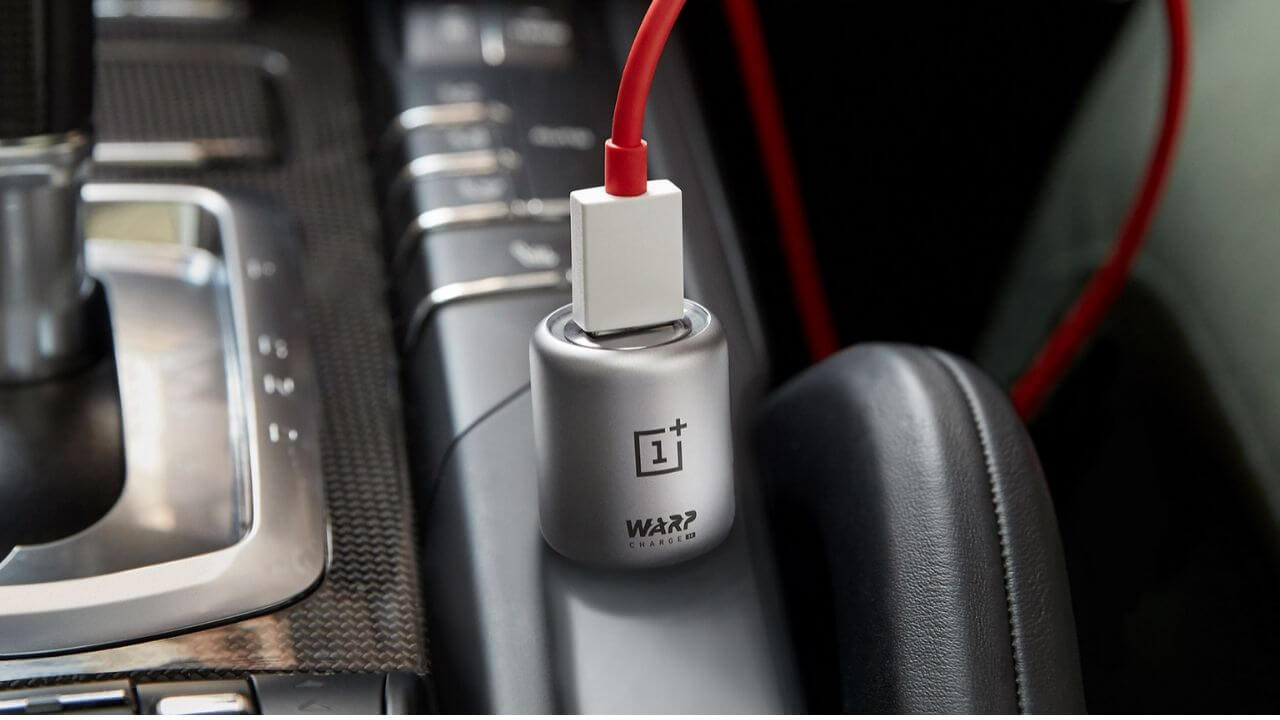 If you're looking for a car charger to power up your OnePlus 8 Pro, your search would definitely end here. The OnePlus Warp Charge 30 Car Charger offers the same power, 30-watts as the Warp Charge 30 Wireless Charger to juice up your phone within minutes, while you're heading to your office or home. This car charger is compatible with both smartphones of the OnePlus 8 series.
Also, the car charger can fill 50% of the OnePlus 7 Pro's battery in just 20 minutes to ensure that you never run out of charge. The charger has a premium build with a low-key gray matte finish, which gorgeously matches the interior of any car. Moreover, the illuminated ring of red light looks very classy at night. The Warp Charge 30 car Charger is also equipped with overheating, overvoltage, overcharging, and temperature control mechanisms.
You'll get the charger, along with a Warp Charge Type-C cable in the box.
5. HUSSELL Car Charger (Best affordable car charger for OnePlus 8 Pro)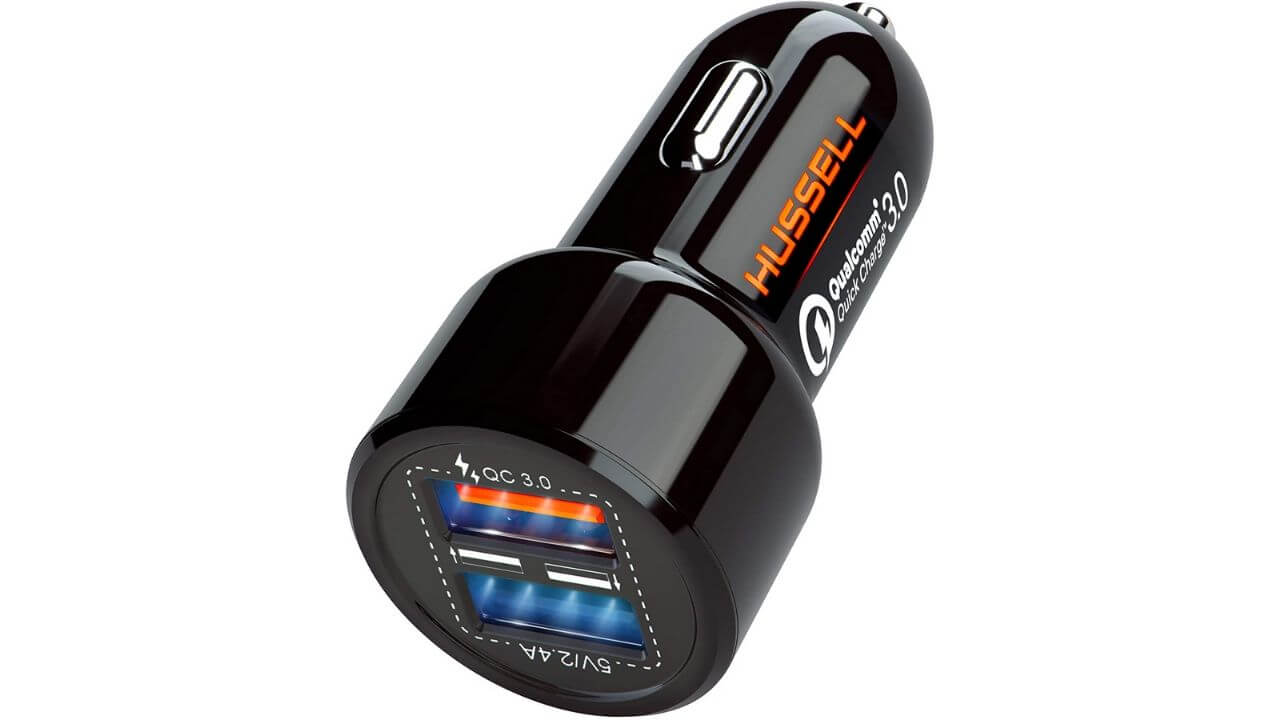 Here comes the best affordable car charger for the OnePlus 8 Pro that's sure to offer a convenient charging solution while you're heading to your office or home. The HUSSELL car charger features dual ports, including a 3A Qualcomm Quick Charge 3.0 that offers 4 times faster charging than the regular car chargers. Plus, there's a 2.4A Smart IC USB port that charges your device up to 2.5X faster than other standard car adapters. The charger utilizes Intelligent Adaptive Technology that automatically charges your phone at its maximum supported speed so that you never have to worry about harming your devices. Therefore, you can use this car charger to power-up your other Android smartphones, iPhones, as well as iPads. 
6. Wireless Earphones for OnePlus 8 Pro
1. OnePlus Bullets Wireless Z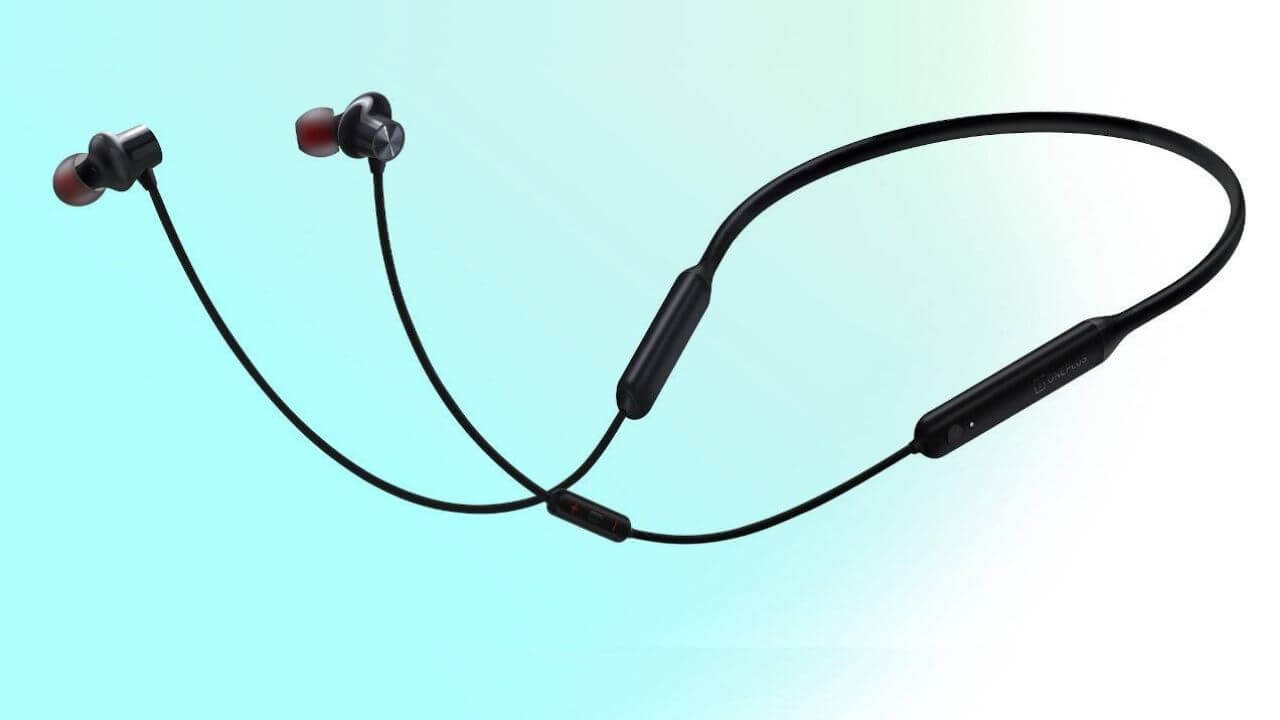 The company had also introduced Bullets Wireless Z, besides the OnePlus 8 series and the wireless charger on April 14, 2020.
You just need to charge the Bullets Wireless Z for 10 minutes and they will offer you 10 hours of audio playback. Also, when you fully charge these new wireless earphones, you would get a playtime of 16 hours as compared to 14 hours in Bullets Wireless 2. Talking about the sound quality, a 9.2mm dynamic driver and super bass tone are fitted inside each earbud to offer rich, immersive sound.
The Bullets Wireless Z are packed with some convenient features like Quick Pair and Quick Switch, which makes it very easy to pair them with any OnePlus smartphone and switch between the paired devices, just as the Airpods and Airpods Pro pairs quickly with Apple devices. Also, there are magnets at the back of each earbud, so that you can snap the buds together and wear it around the neck.
The Bullets Wireless Z comes with an IP55 rating, which means the earphones can withstand light rain. You get to choose between four amazing color options, including black, blue, oat, and mint.
Looking for more options? Check out our list of the best headphones under $50.
2. OnePlus Buds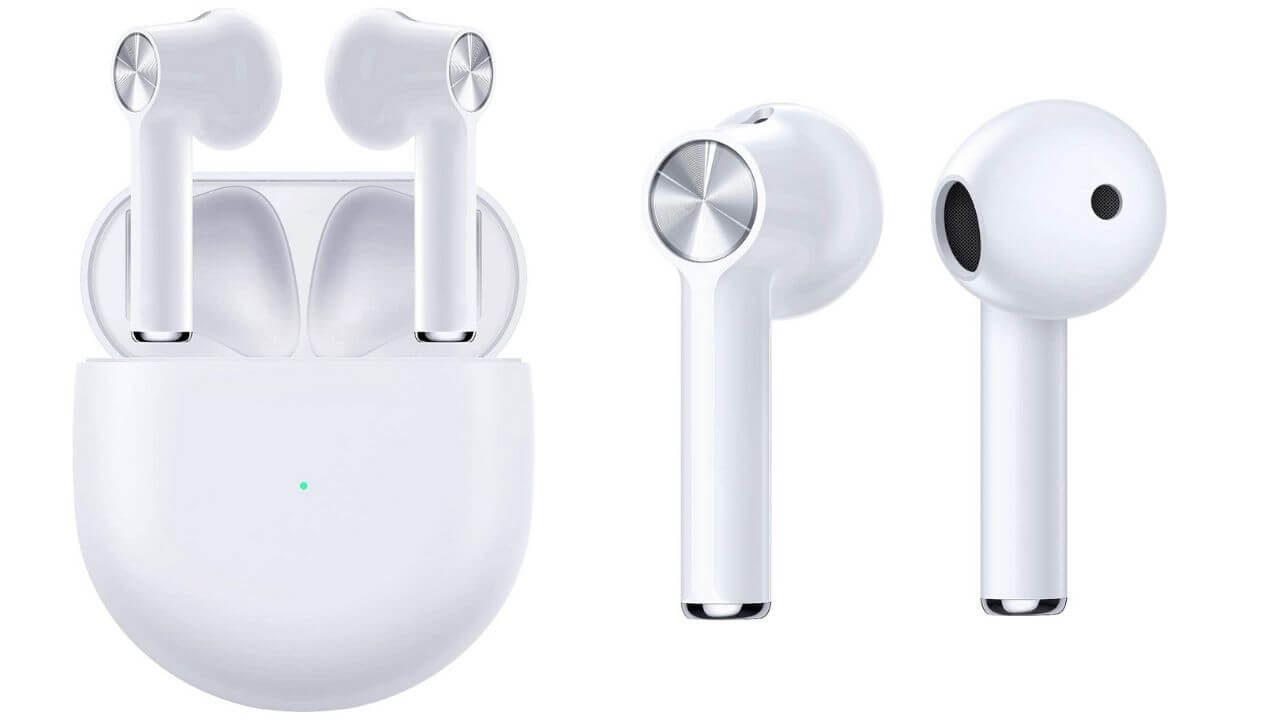 If you're looking for the best wireless earphones for your OnePlus 8 Pro, this latest addition by OnePlus itself is sure to top the list of your favorites. The brand recently launched its OnePlus Buds alongside the OnePlus Nord smartphone. These earbuds utilize the brand's Warp Charge technology to offer up to 10 hours of playback time in just 10 minutes. Also, these wireless Buds offer a total playback time of around 30 hours- 7 hours from the earbuds and 23 hours from the charging case. They also offer the noise cancellation feature and three microphones for better sound clarity. It comes with IPX4 rating pairs instantly with your OnePlus smartphones. All in all, OnePlus Buds are an amazing option for OnePlus 8 Pro users.  
3. Jabra Elite 75t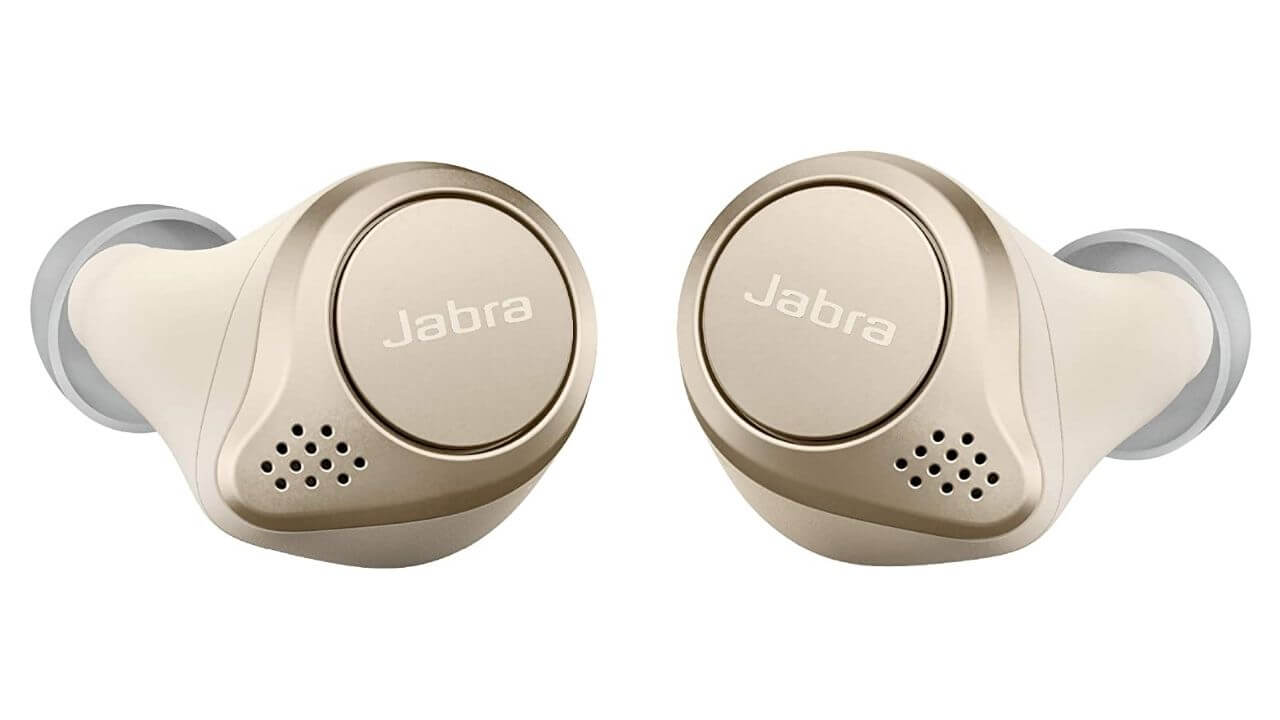 For all the melophiles out there, who don't want to compromise on the sound quality, comfort, and style, get yourself the Jabra Elite 75t wireless earbuds. They are one of the most feature-packed and stylish ANC wireless earbuds for your OnePlus 8 Pro. These truly wireless earbuds deliver clean, crisp, and superior quality sound with Active Noise Cancellation and no audio drop-outs. They have got a sleek and smaller design with an ergonomic shape that adds to the whole experience.
Plus, These earbuds are packed with integrated controls so that you can easily answer calls, adjust the volume, and play/pause the music. These wireless earbuds for the OnePlus 8 Pro are water, dust, and sweat-resistant, which makes them an excellent pick for all gym-goers and fitness enthusiasts. 
7. Bluetooth Game Controller 
If you love playing fierce action games on your phone, a physical controller is an essential accessory to enhance your mobile gaming experience.
For all game lovers, a game controller is one of the best accessories for your OnePlus 8 Pro. If you want to invest in some good Bluetooth game controllers for your latest premium phone, you should check out the SteelSeries Stratus Duo.
SteelSeries Stratus Duo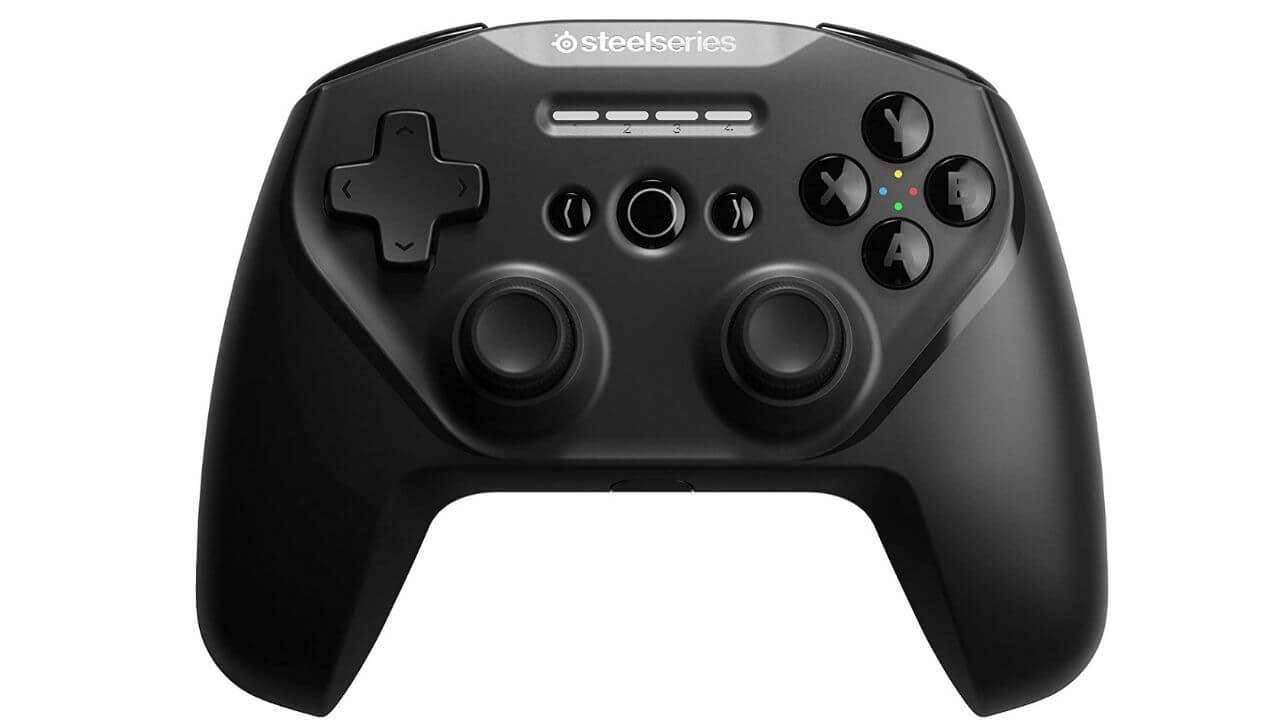 SteelSeries Stratus Duo is one of the best game controllers available for Android devices.
This full-size ergonomic controller is designed to offer comfort and enough grip, while you're playing heavy action games.

SteelSeries Stratus Duo features Shoulder buttons with a subtle texture for grip and grooves, that will make you feel right at home.

This game controller is powered by a rechargeable battery that offers a playtime of more than 20 hours and allows a user to play games while charging the controller.

You can use the same controller to play games on the PC as well.

It offers amazing performance on both Android and Windows with no input lag.
Don't miss our guide on how to improve gaming performance in Android.
8. Mobile Gimbals
If you're planning to shoot videos using the awesome quad-rear camera setup on your OnePlus 8 Pro, you would need a mobile gimbal to ensure smoother videos. You can say goodbye to the shaky and blurry footage by using a good mobile gimbal.
What is Mobile Gimbal?
A mobile gimbal is a handheld mechanical stabilizer that helps you in shooting smooth, cinematic videos without any need for an expensive dolly and a fancy tripod. It uses brushless motors to keep the phone steady while you're recording videos.
Smartphone gimbal is a must-have accessory for shooting time-lapse & motion-lapses on your phone.
1. Zhiyun Tech Smooth Q2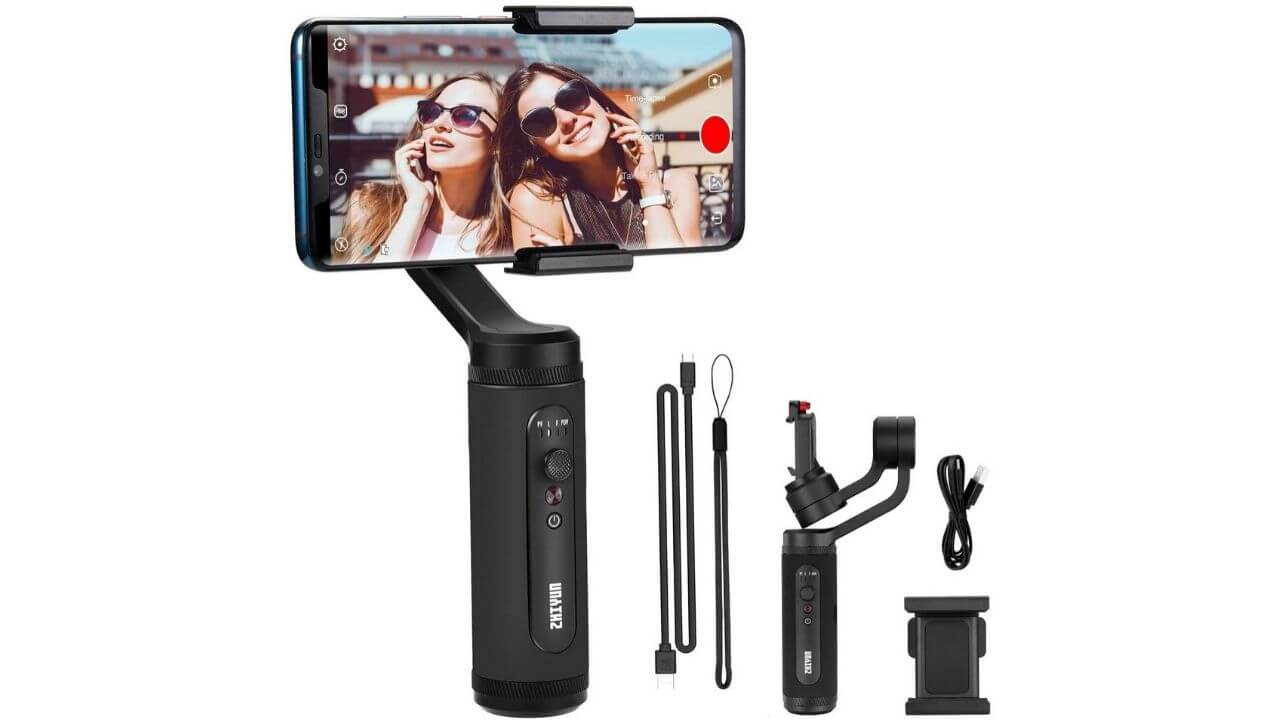 The Zhiyun Tech Smooth Q2 is a pocket-sized Smartphone Gimbal Stabilizer that balances your phone automatically to shoot smooth videos. It features object tracking, motion lapse, and time-lapse modes. Smooth Q2 switches quickly to vertical mode for vloggers and selfie-takers.
The Smooth Q2 is powered by a pretty good battery that easily lasts up to 17 hours. In addition, it also has a micro-USB port, which allows the users to utilize Smooth Q2 as a power bank. The best thing about this gimbal is that it supports the native camera app on your smartphone via Bluetooth connection. Therefore, a user can capture pictures and videos right from the stock camera app on the smartphone.
2. DJI Osmo Mobile 2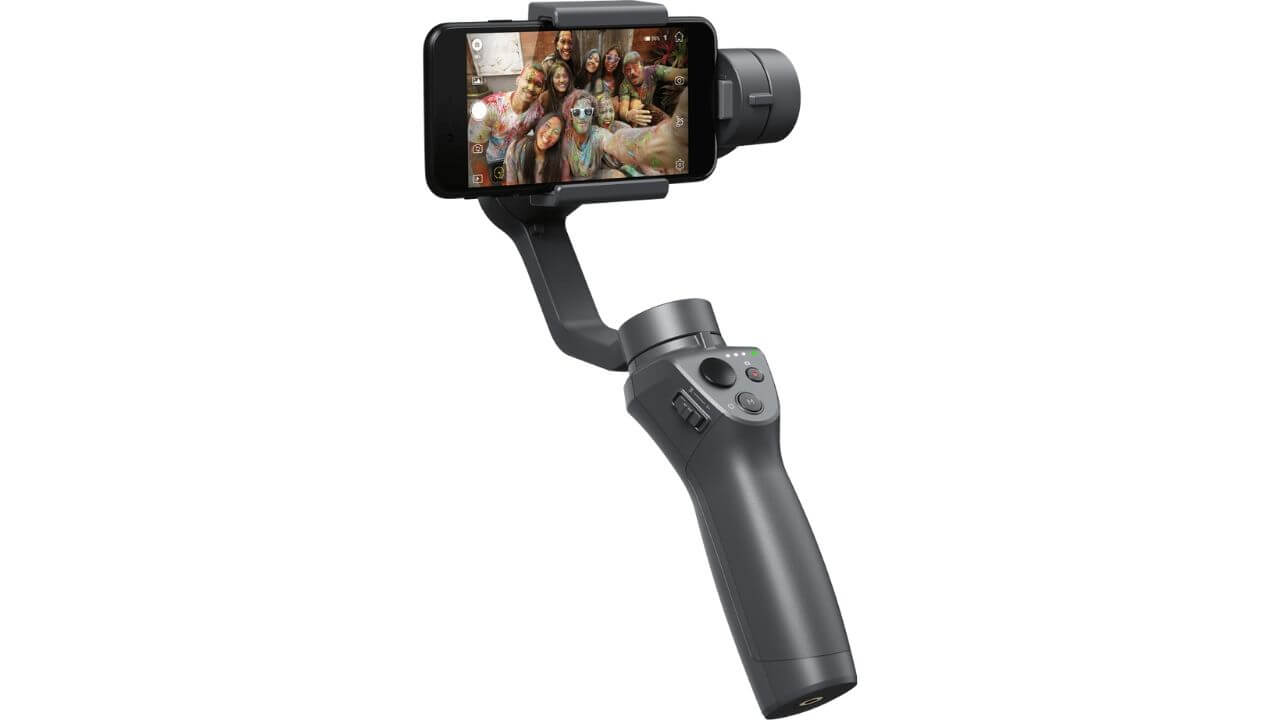 DJI Osmo Mobile 2 is a perfect accessory for all the storytellers out there, who love capturing videos on their smartphones. It allows you to capture such cinematic creations that even the Hollywood creators have used. The prime job of this gimbal is to keep your phone stable, no matter if you're shooting videos while walking or running, you will end up capturing smooth footage. The DJI Osmo Mobile 2 features a high-quality joystick with a bunch of easy-to-use buttons.
It also supports advanced auto-tracking, brilliant time-lapses, motion lapse, and hyper-lapse features. The Osmo mobile 2 uses its own camera app to connect and shoot with your smartphone. Also, it offers a 15-hour battery life, with support to charge your phone on the go, so, you never have to worry about getting your phone out of charge.
9. GripTight ONE GorillaPod stand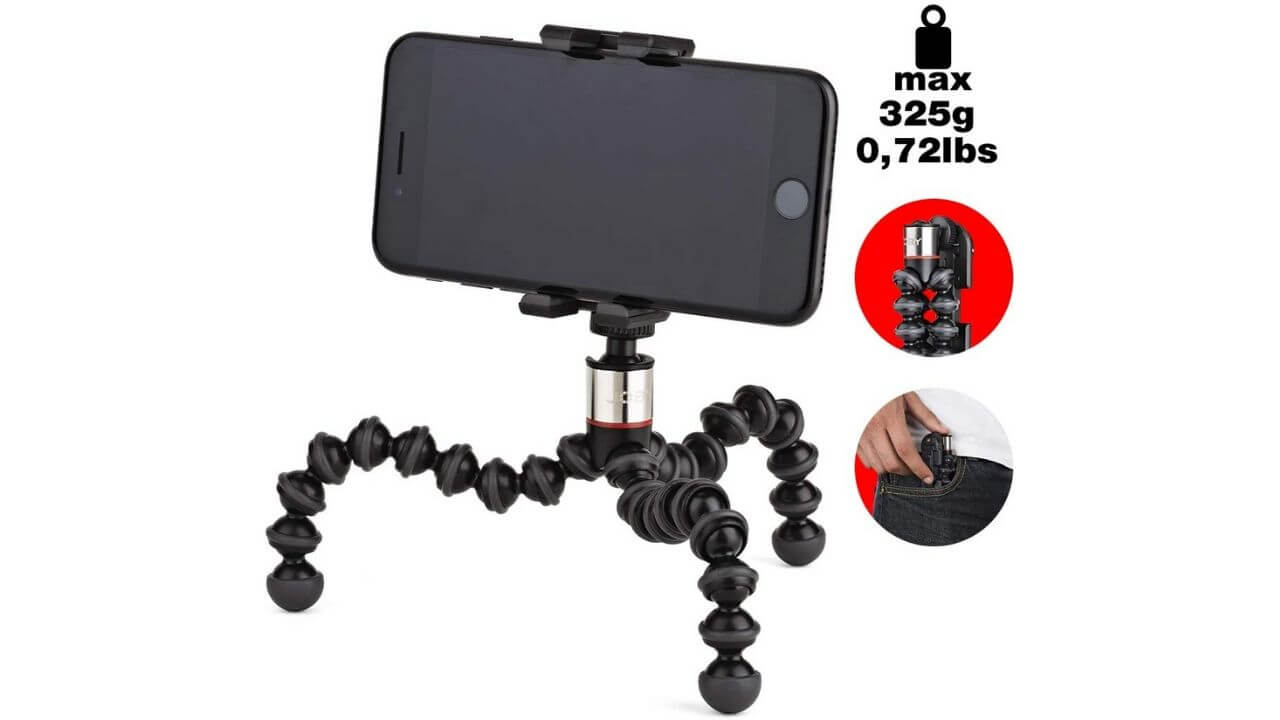 If you love shooting photos and videos on your smartphone, but don't fancy buying the standard-sized tripods, GripTight One is one of the best accessories for OnePlus 8 Pro to spend your money upon.
GripTight ONE is designed especially for mobile filmmakers, vloggers, and content creators. They are famous for their versatile bendable legs that can be moved easily in any direction. This stand can easily mount all smartphones and devices that weigh up to 325 gms. The GripTight ONE comes with a simple phone adapter that easily attaches your phone to the stand with a standard 1/ 4-inch screw.  Moreover, it features multiple mounts for light and mics too.  
You can wrap the GorillaPod stand around trees and poles to shoot from some amazing and unique points. In addition, you can use this stand as a selfie stick too.  It is super-compact and lightweight that you can easily slip it inside your pocket. 
10. UV smartphone sanitizer and Universal charger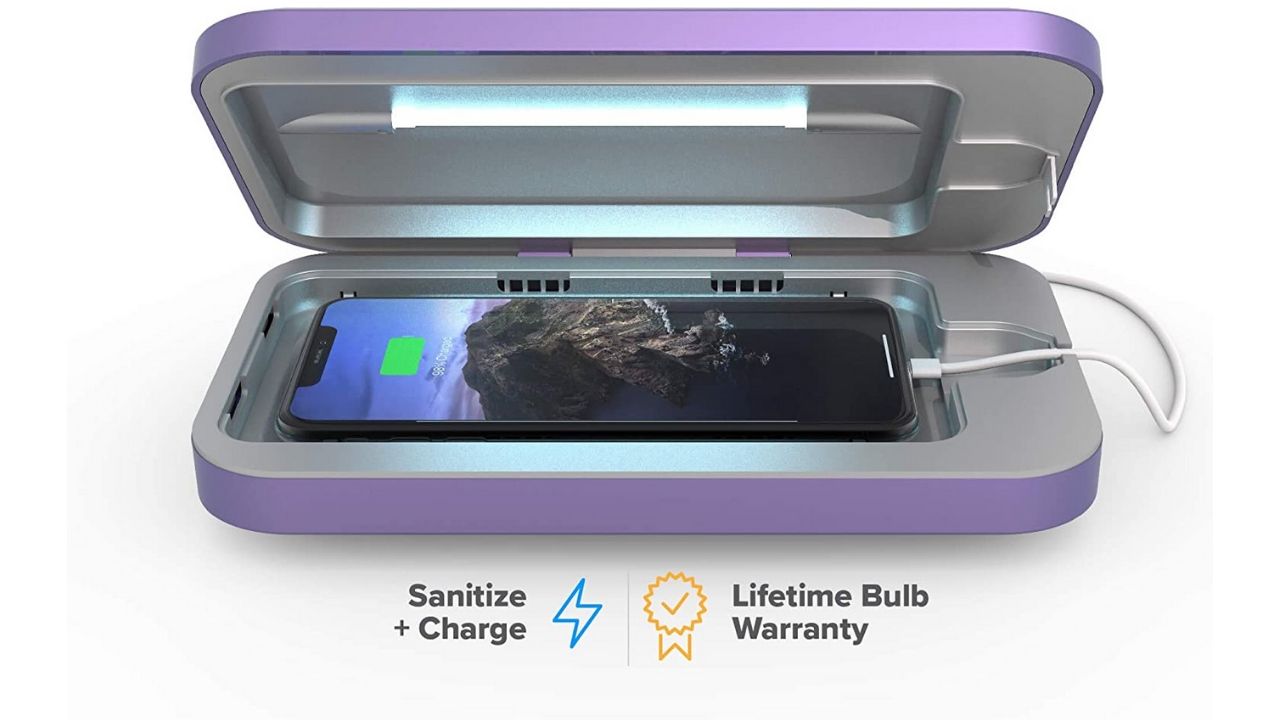 When keeping ourselves well-sanitized and hygienic is the need of the hour, it's equally important to keep our phones germ-free. After all, they gather all the bacteria and germs that our hands touch throughout the day. So, here we've got a smartphone sanitizer for OnePlus 8 Pro that's packed with two germicidal bulbs to offer 360-degree protection and kill up to 99.99% of bacteria while charging your phone. There are USB-A and USB-C ports for charging your phones, plus you can sanitize your headphones, keys, and smartwatches as well. The best part is the charger can easily fit in any smartphone that's up to 6.8 inches. You'll get to choose from 5 beautiful color options, and there's a lifetime warranty on bulbs. 
You can also go for the wireless version of this smartphone sanitizer and charger.
11. Affordable Warp Charge Bundle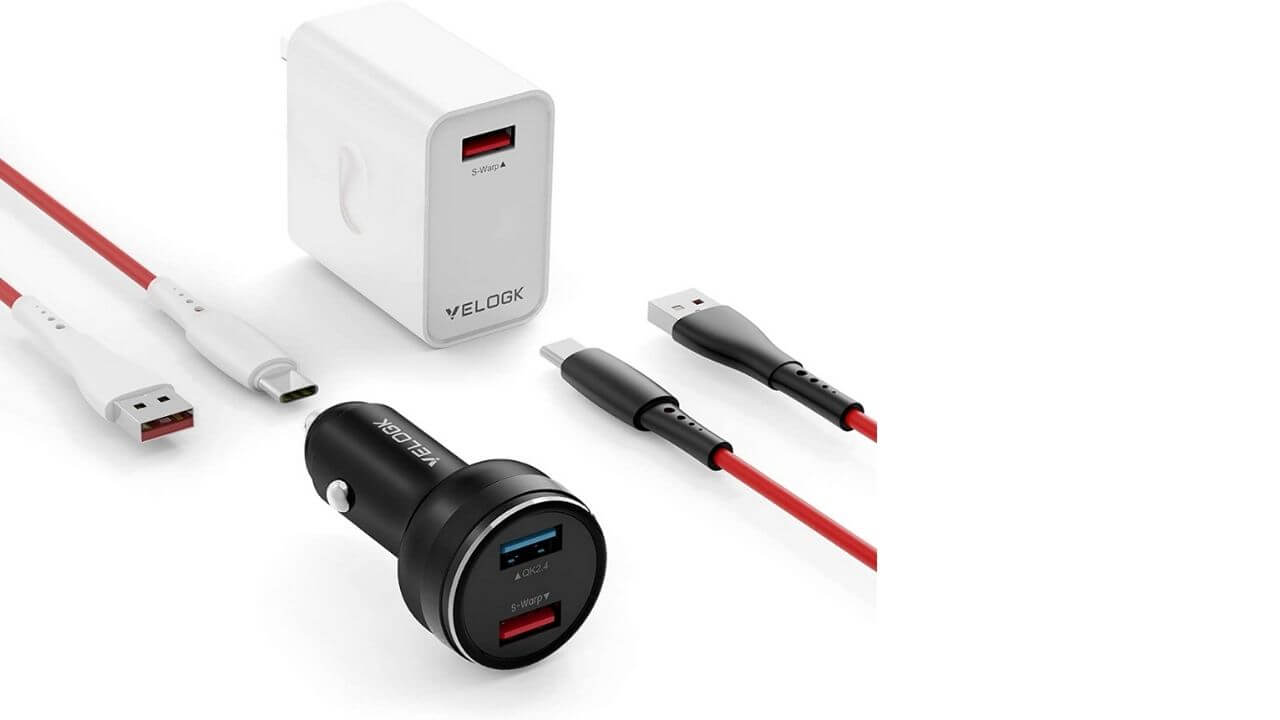 If you want a second OnePlus 8 Pro Warp wall and car charger, but don't want to spend too much on a charger, we've got a great deal for you. The VELOGK Warp Charge Kit gives you a Warp wall charger, a Warp car charger, and two 3.3ft Warp charging cables at an affordable price tag.  The ultra-compact and sleek design makes it very easy to carry this charger while you're on the go. Plus, the built-in multi-protect safety system safeguards your phone against overheating and overcurrent problems. The 30W Warpwall charger can re-energize your OnePlus 8 Pro as fast as the original Warp Charger. Therefore, it's a great option for anyone who's looking for a secondary fast-charger for the OnePlus 8 Pro at a budget-friendly price.
That was all for our roundup for the best accessories for OnePlus 8 Pro in 2021. We hope this article has helped you spot your favorites. Do let us know if you own some other amazing accessories for this latest flagship killer.