iPhone 12 was the first flagship phone from the iPhone 12 Series to launch in 2020. This brilliant device features a big 6.1-inch Retina display, complemented by a sleek flat design with a glass back that looks and feels premium. As far as the camera is concerned, the iPhone 12 features a primary dual camera setup of 12MP and a front camera of 12MP. Apple has incorporated the in-house A14 Bionic chipset in this device to offer optimal performance. Not to forget, the iPhone 12 supports 5G as well as Wi-Fi 6. 
As the camera lens remains the most delicate part of the iPhone, it needs more care. Else, you have to console yourself with low-quality pictures and videos. So, what is the most effective way to protect them? Yes, you guessed it right, using a reliable camera lens protector can be helpful.
Is the iPhone Camera Lens Protector Necessary?
Installing a camera lens protector on your iPhone 12 is the best and affordable way to protect the camera from scratches. Most iPhone users overlook this fact and end up with a scratched camera lens. But, some segments of users use these glass protectors, adding an extra layer of security to the iPhone 12 camera setup. Moreover, you can replace the camera lens protectors if it gets scratched.
Note: We update our article from time-to-time to cover the latest products available in the market. 
List of Best Camera Lens protectors for iPhone 12
1. UniqueMe iPhone 12 Camera Protector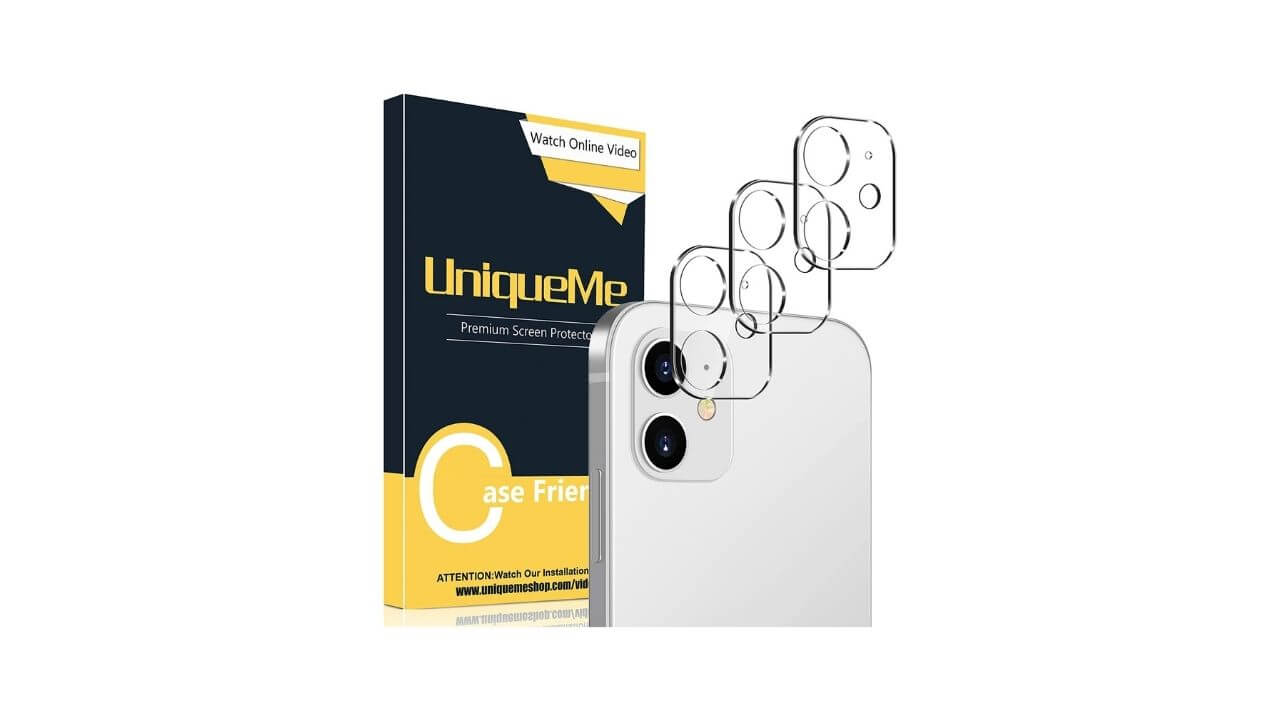 If you are looking for an iPhone 12 camera lens protector, here's one from UniqueMe. The  9H hardness property suggests that this camera protector withstands heavy scratches and accidental damages. The high-quality glass used in the making of this protective glass makes it super clear and offers original picture clarity and quality. You will get a guide frame that eases the whole installation process. This camera lens protector for iPhone 12 features nano-electrostatic adsorption technology that ensures bubble-free installation. 
Pros:
Easy to install

Better adhesive

Fits perfectly around the camera setup

9H hardness ensures better protection

Bubble-free
Cons:
Videos/pictures with a flash appear with a blue tint
2. Spigen iPhone 12 Camera Lens Protector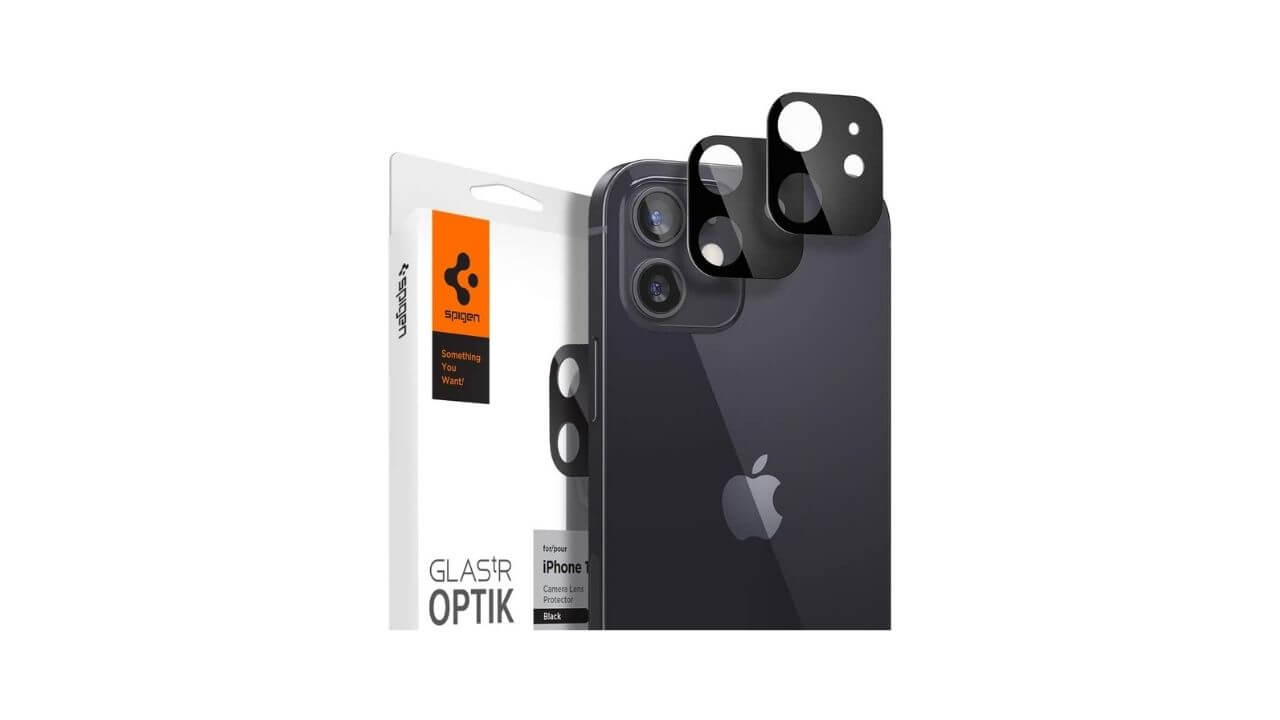 If you are looking for color-matching camera lens protectors, get yourself one from Spigen. The Spigen camera protector is made from premium tempered glass that offers extra protection from scratches. It offers an anti-fingerprint coating that helps to offer a smudge-free photographic experience. Spigen offers the camera protector in five different colors to complement the vibrant colors of the iPhone 12.
Pros:
Better protection from scratches

Many color options

Better picture quality

Anti-fingerprint 
Cons:
3. Rhidon Camera Protector for iPhone 12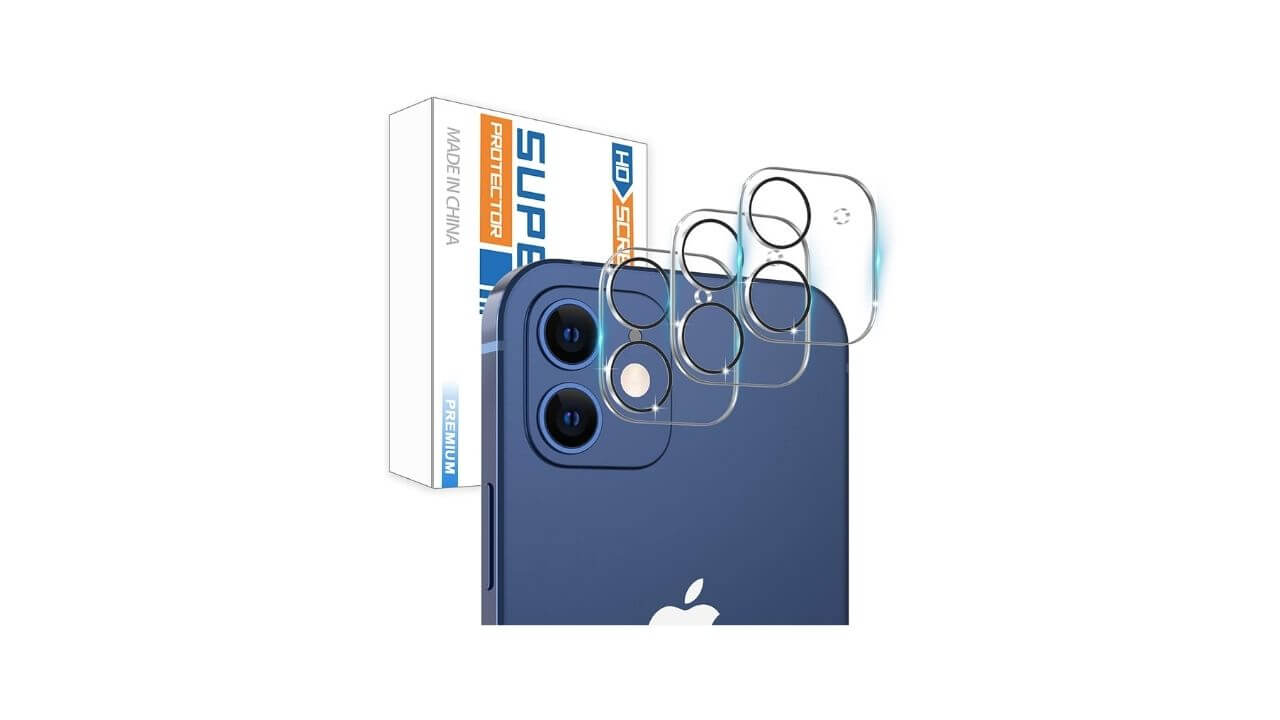 Here's another budget-friendly option from Rhidon that offers greater protection to the rear camera lens of the iPhone 12. This durable camera lens protector comes with an oleophobic coating that prevents dust, oil, water, and fingerprint stains. Not only that, it offers greater transparency to click pictures of original quality. The strong adsorption technology helps it stick firmly without any bubbles. Not to forget, the thinness of the camera protector makes it case-friendly too. 
Pros:
Durable and easy to install

Greater transparency

Oleophobic coating resists dust, oil, water, and fingerprint

Affordable

Bubble-free

The ultra-thin design makes it case-friendly 
Cons:
Looks foggy if you apply pressure to the lens
4. LK 3 Pack Camera Lens Protector for iPhone 12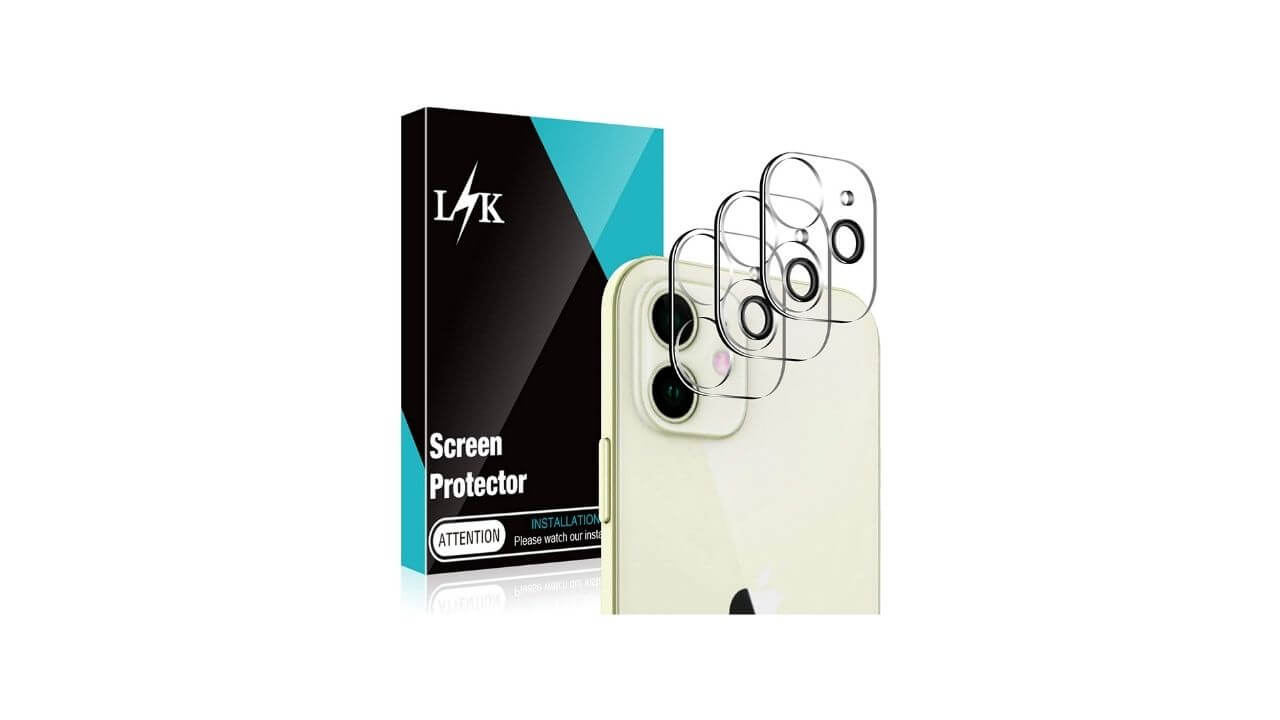 If you are looking to protect the camera lens of the iPhone 12, make sure to get this one from LK. This camera protector comes with 9H hardness that ensures better impact and scratch-resistant. LK has tried mitigating the flash problem and offered a camera flash circle. Not to forget, the clarity offered by this ultra-thin camera lens protector allows clicking better pictures. 
Pros:
9H hardness property

Camera flash circle included for better night images

Transparent and ultra-clear
Cons:
Expensive than other alternatives
5. SUPTMAX iPhone 12 Camera Protector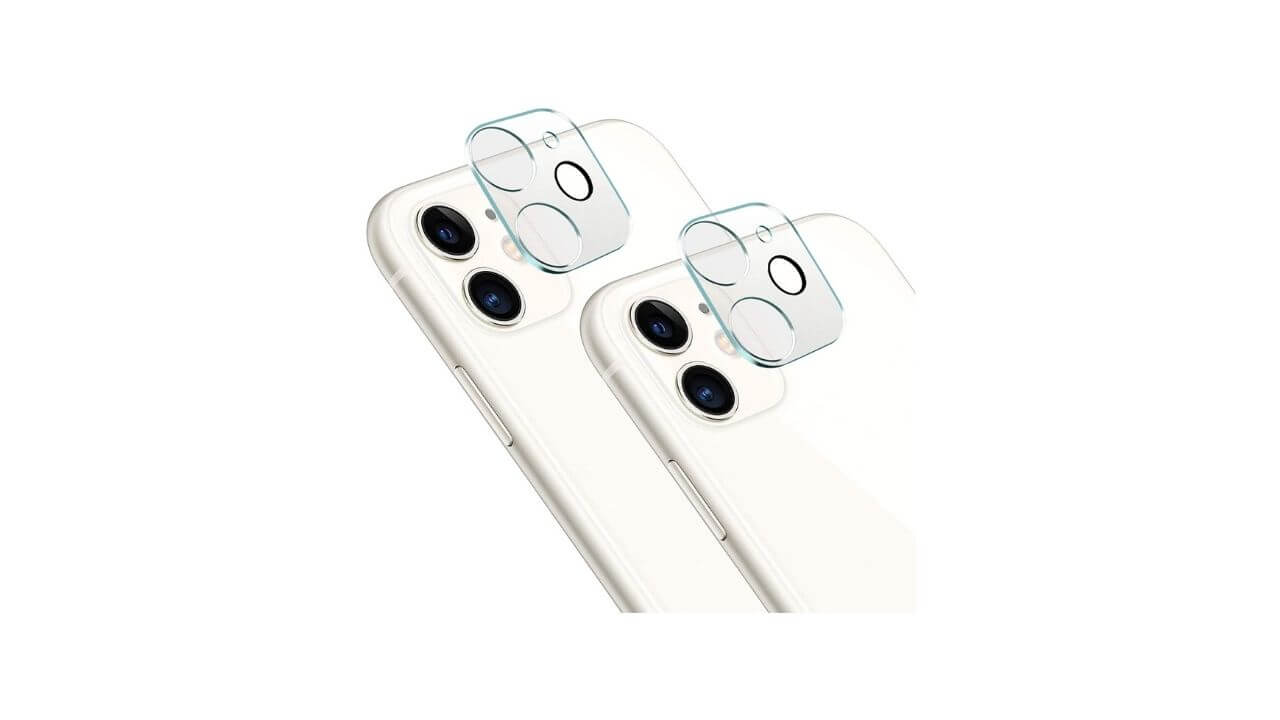 Here comes another camera lens protector from SUPTMAX that is made from high-quality tempered glass. This durable glass cover protects the camera setup of the iPhone 12 with ease. Also, it features 9H hardness property as the other camera protectors helping it prevent scratches. The precision cuts and good adhesive ensures quick and bubble-free installation. 
Pros:
Better transparency ensures better picture/videos

9H hardness does its work to safeguard camera lens

Easy installation

Adhesive used is up to the mark

Precise cutouts
Cons:
Expensive than other alternatives

Includes only two camera lens protector
6. AMOVO iPhone 12 Camera Lens with 9H Hardness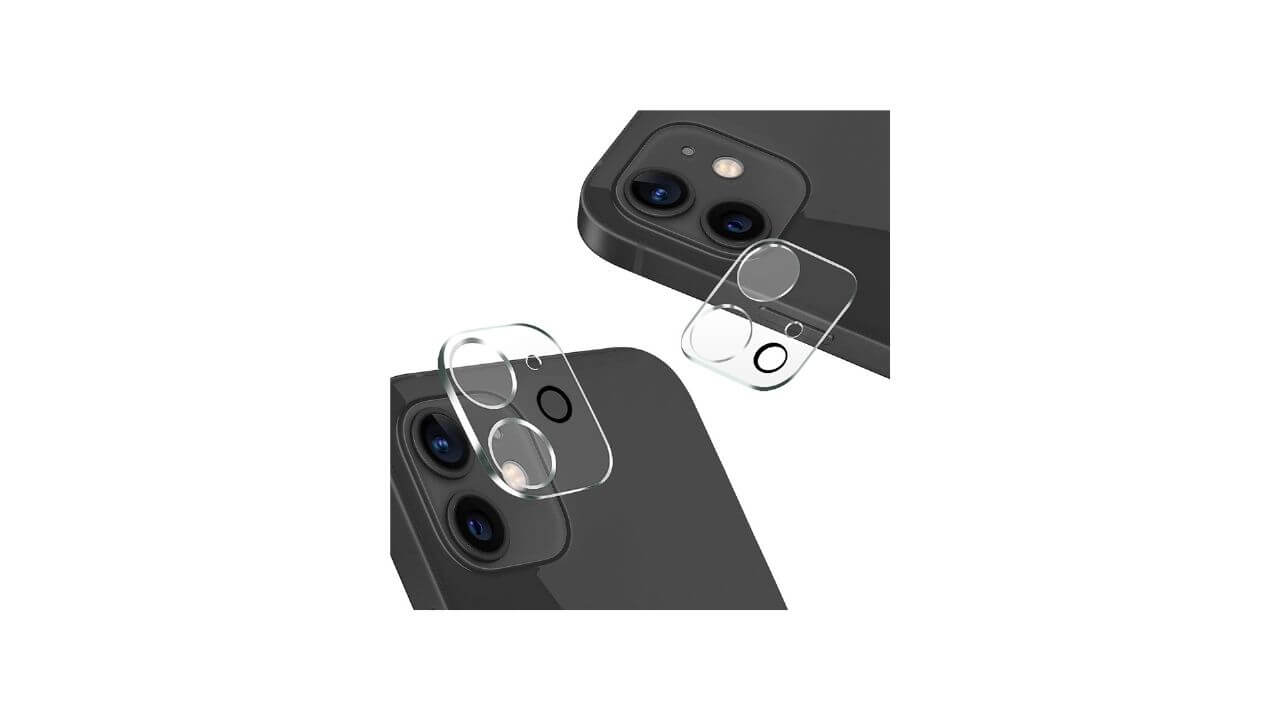 Last but not the least, the AMOVO camera lens protector for iPhone 12 features an ultra-thin and transparent look. The nono-electrostatic automatic adsorption technology allows better adhesion. The 9H hardness property ensures that this camera protector can withstand oil, dust, water splashes, and scratches. The brand claims that the cut-out design doesn't affect the flashlight while clicking pictures. 
Pros:
Ultra-thin design

Clear and transparent

Scratch-resistant

Offered in two designs

9H hardness 
Cons:
Relatively expensive

Reported for the appearance of air bubbles
Additional Things You Can Do to Protect the Camera of iPhone 12 
1. Using an iPhone Protective Case with Raised Bezels 
In recent times, phone manufacturers started offering cameras covering large spaces. Therefore, it is important to be more careful towards protecting them because repairing them can cost a hefty amount. The best way of doing this is to use protective cases for iPhone 12 with raised bezels. These bezels elevate the camera setup preventing it from getting scratches. As far as the front camera is concerned, you can use screen protectors with edge-to-edge safety.  
2. Avoid keeping your iPhone on a rough surface
Another way of preventing scratches on iPhone camera lenses is by keeping them on a surface; without facing their camera down. If you can't do this, place your phone on a piece of folded clothes or a handkerchief.  
Well, that's the end of our roundup on the best camera lens protectors for iPhone 12. We hope you choose one and enjoy clicking better pictures with a dual-camera. Also, make sure to check our roundup on the best accessories for iPhone 12.