Is your older iPhone slowing down? Do you want to speed up your iPhone? Are your apps crashing all the time? Do you feel your iPhone is not performing the way it used to?
If the answer is yes to any of the above questions, this article will help you speed up your iPhone, without the need of upgrading to a new device.
The iPhone is a great product and many people consider it faster than other smartphones. When we can use our iPhones to do almost every task, even the slightest bug can cause irritation. In this article, we'll discuss simple hacks that can be done to speed up your iPhone.
Disclaimer: Proceed at your own risk, TechieTechTech will not be responsible if anything goes wrong with your device.
Tips to speed up your iPhone
Here are some easy, tried and tested hacks that are sure to help you to make your iPhones faster, without splashing to a new model.
1. Delete Old Photos 
Having too many files on your iPhone can be a reason for the slow and jagged performance, and by files, we mean photos too. Your iPhone performs better if you keep around 10% of the total available storage as free. 
If you have thousands of photos and hundreds of videos, they are sure to slow down your iPhone. Therefore, to improve the performance of your iPhone, try moving out the photos from your iPhone.
You can sign up for the iCloud and start backing up your photos to the cloud.

If you don't fancy paying money to store your photos, you can move your photos to your laptop or a computer.

You can then delete the photos from your iPhone.
2. Delete Heavy Apps 
If you noticed that your phone became slow after installing an app, then, that particular might be responsible for slowing down your iPhone. Therefore, to make your iPhone faster, you must identify the apps that are taking up a lot of space. You can browse through the following steps to see how much space a single app is occupying:
Go to

Settings > General

.

Tap on the iPhone Storage.

Then you'll see the list of the apps, along with the space they are taking up.

Tap on the app, you can either delete or offload an app.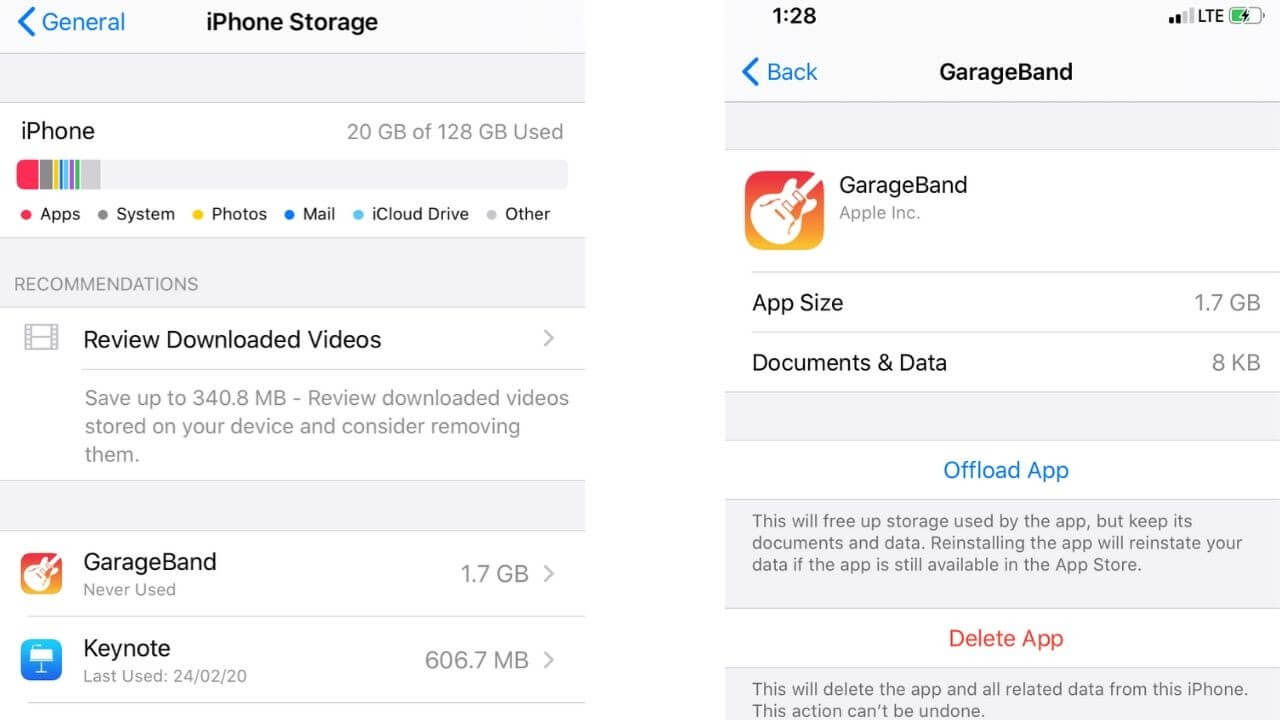 Delete the apps that are eating up a lot of your iPhone's storage. You can also delete the app from your Home screen by:
Press and hold the app until it pops a quick action menu.

Tap on the Delete App.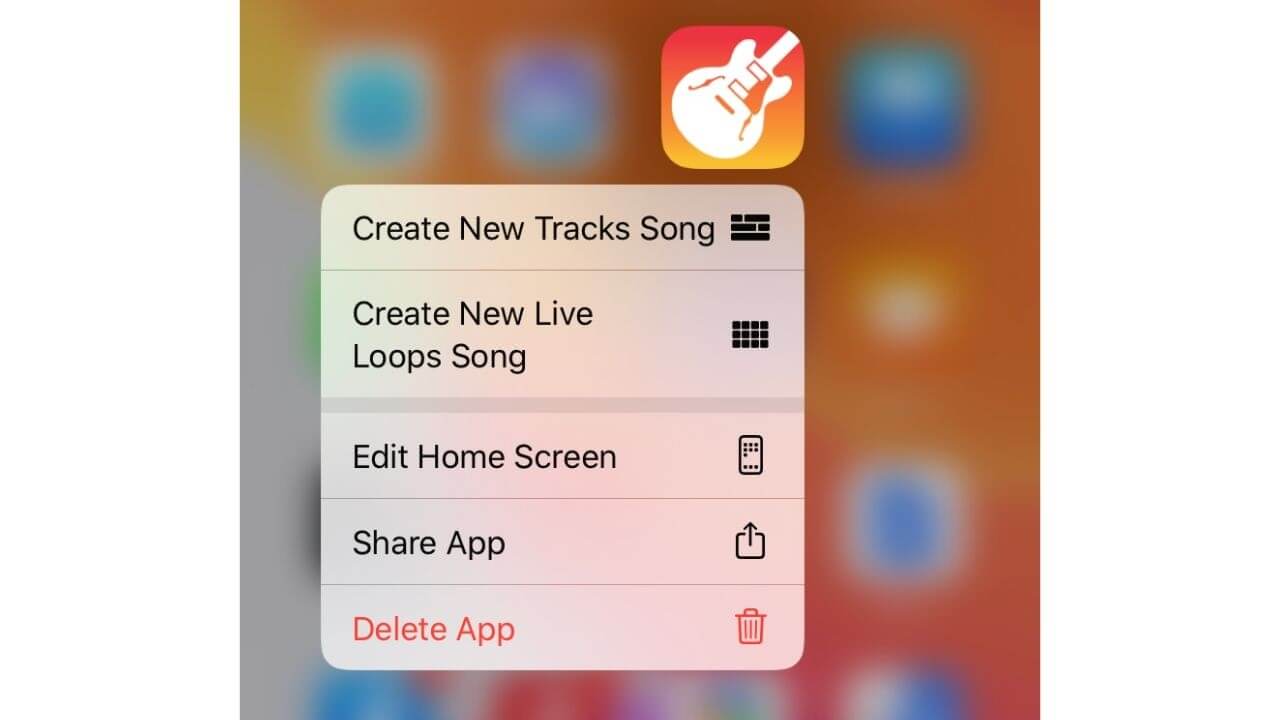 3. Erase your old message threads 
The more bloated your device is, the slower it will run. If you're not deleting any of your messages, it can weigh down the iOS. We are not saying that you make a habit of deleting messages every now and then, you can automatically delete them by changing the default time to keep your messages.
The iPhone offers you three options- 30 days, 1 year, and forever. You can choose the 30-days option as it's neither too early nor too late to delete the text messages.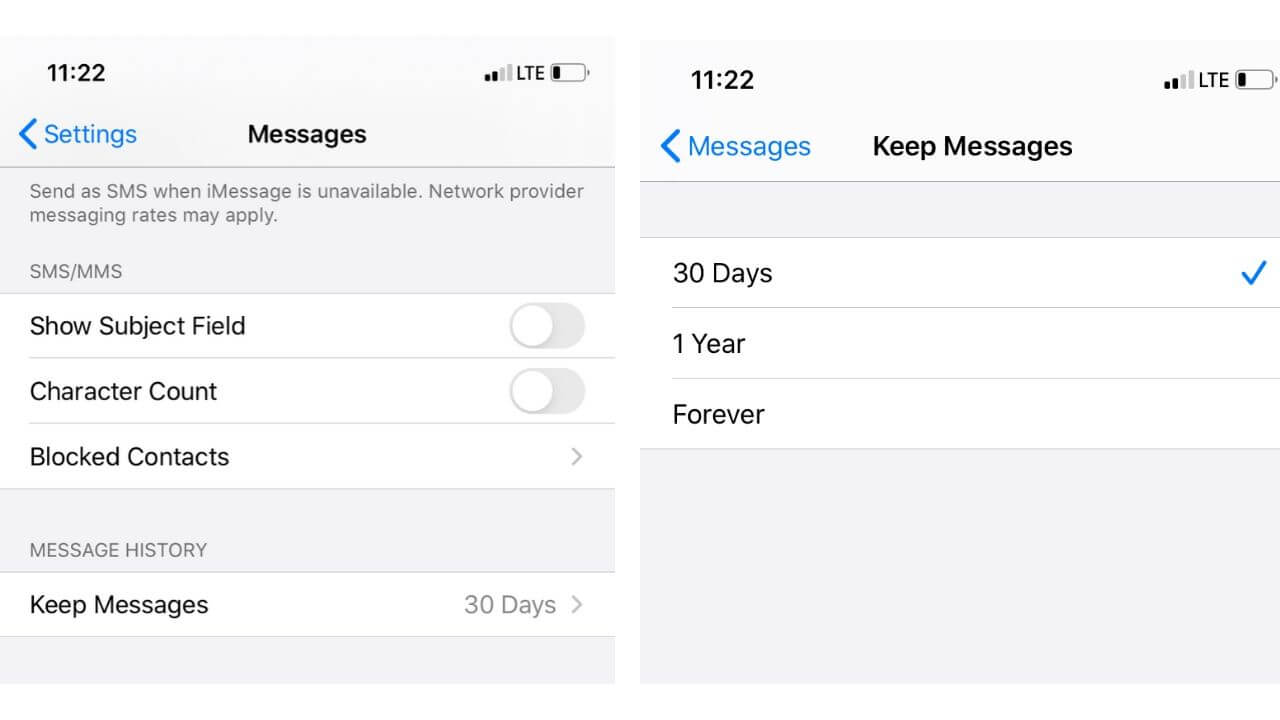 It's worth noting that deleting the threads with only text-based messages won't free up much space on your iPhone. So, you must focus more on deleting threads with a lot of images, voice notes, and videos. 
You can put a stop to the back-log of photos and videos in your Messenger app and ultimately make your iPhone faster.
4. Turn Off Auto Updates
Your iPhone can run a little slow if it's trying to update apps in the background. So, if you can do something manually, you should avoid setting it to automatic. You'll see a big boost in battery life and it will also help you to speed up your iPhone.
How to turn off the Automatic Updates on the iPhone?
For iOS 13
With iOS 13, Apple introduced a quick way to stop the automatic updates. The new Low Data Mode prevents apps from using data in the background. As a result, there will be no automatic updates and background tasks. Enabling the Low Data Mode not only saves battery but it also helps to make your iPhone faster.
Go to

Settings > Mobile Data

Tap on Mobile Data Options

Turn ON the Low Data Mode
Another method to turn off automatic updates on any iPhone 
If you want to turn off auto-updates and make your old iPhone faster, which is not running on iOS 13, follow the steps mentioned below: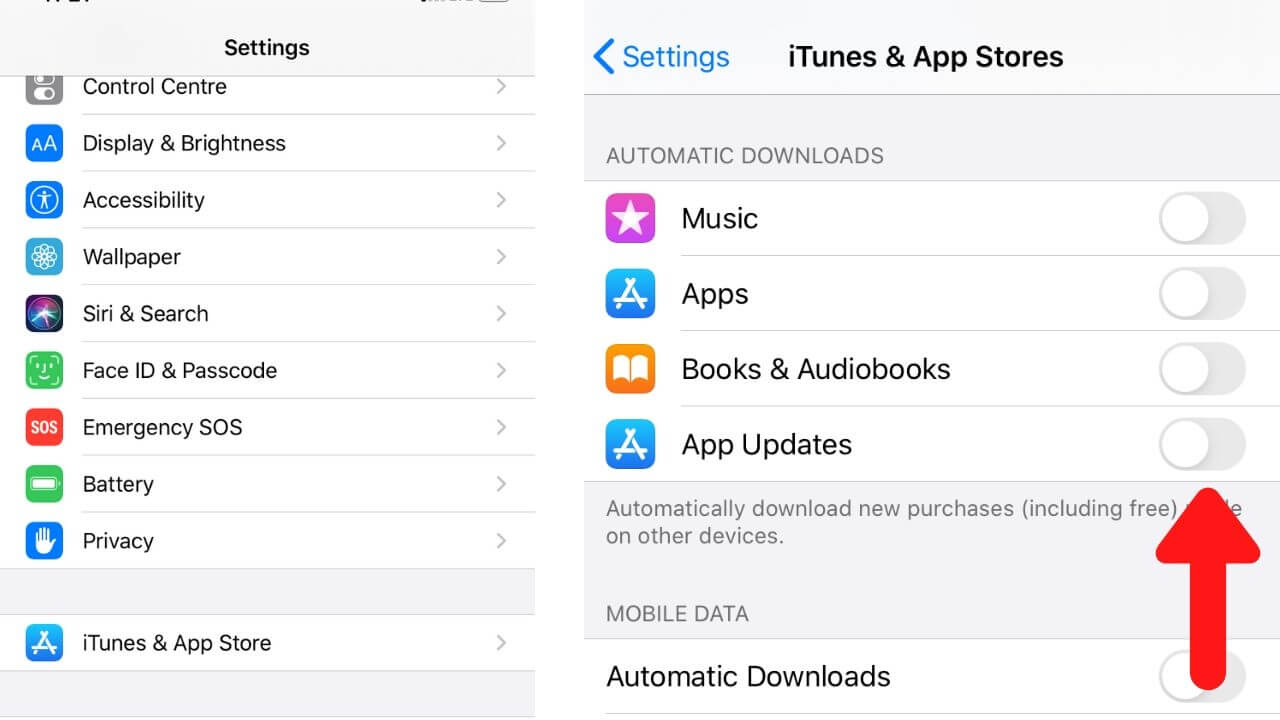 Go to Settings 

Head to iTunes & App Store

Turn the slider OFF where it says App Updates.
 5. Restart your iPhone
This is something which comes in the mind of every user, whenever anything goes wrong with their smartphones. This simple hack will help your iPhone let go of some of the resources it had been holding, that was slowing down your iPhone. The healthy habit of restarting your iPhone once in a while is sure to help you speed up your iPhone.
 6. Turn Off Auto-Downloads
Just like the automatic updates, automatic-downloads can also clog the performance of your iPhone. When your internet connection is on, your iPhone can automatically download some of the apps, which can slow down your iPhone. For example, if you download an app on your iPad and automatic app downloads are enabled on your iPhone, that particular app will get downloaded on your iPhone as well. This might cause your iPhone to slow down.
Therefore, you need to turn the auto-download feature off to speed up your iPhone.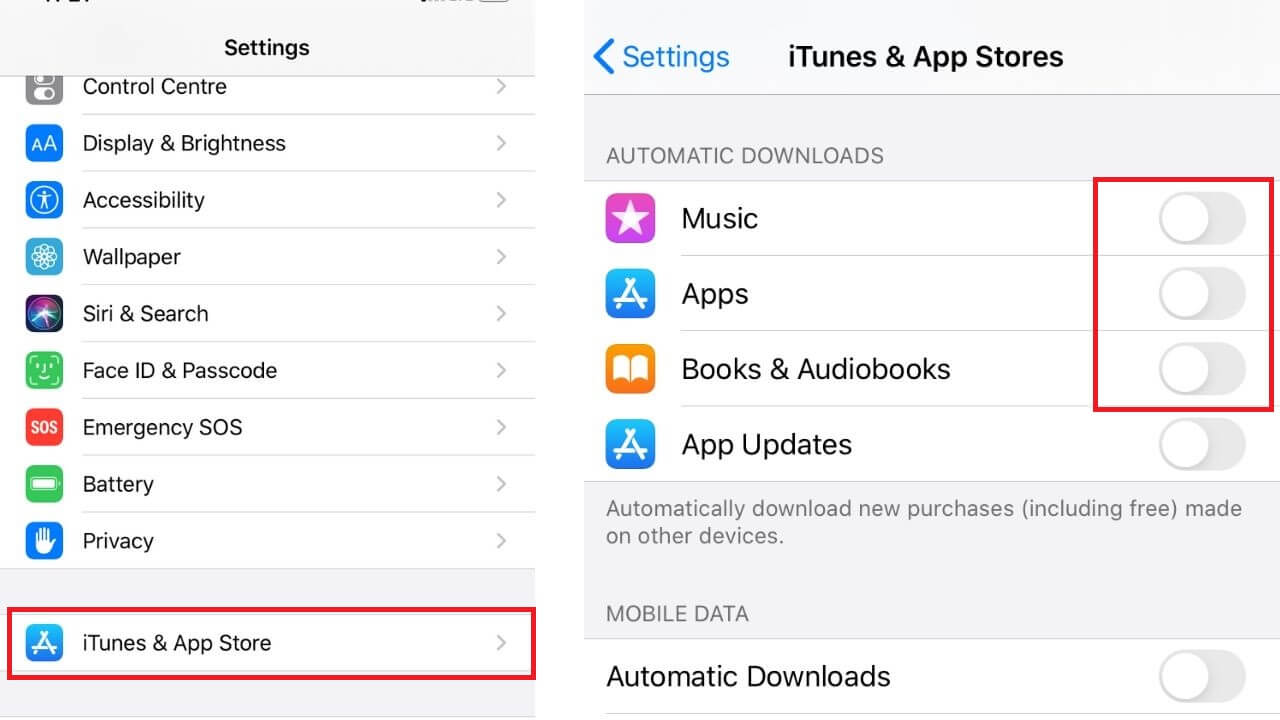 Go to Settings 

Head to iTunes & App Store

Turn OFF the sliders.
 7. Clear Safari's Cookies and Data 
We all use our iPhones like computers to get everything done. Likewise, we also need to clear Safari's cache to free up some memory and ultimately get smooth performance on our iPhones. Although it might make browsing less convenient as Safari will forget the URLs that you've been visiting, it will definitely make your iPhones faster. The bookmarked URLs won't get deleted.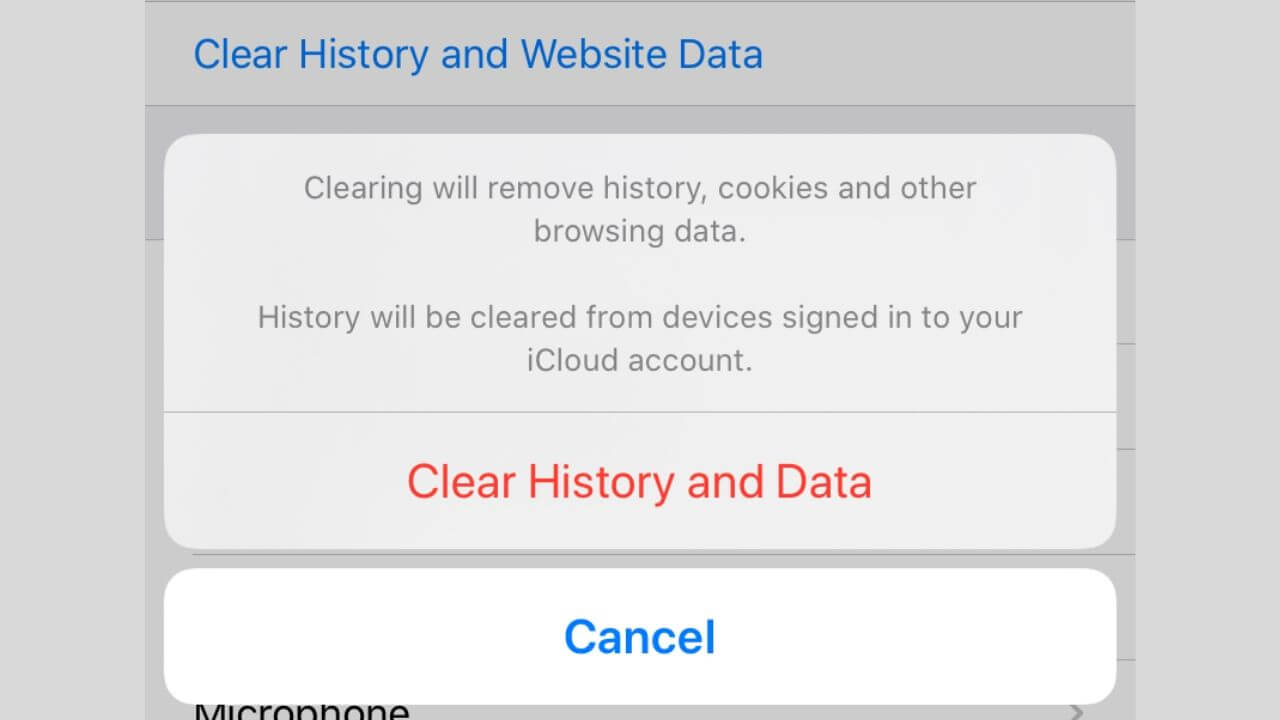 Go to

Settings > Safari

Tap Clear History and Website Data.
8. Make UI faster (Reduce Motion) 
Apple does great at the fancy visual effects, which provides seamless transitions between apps with animation. However, the animation technique consumes the processing power of your iPhone and slows it down. We can enable the Reduce Motion feature to improve the iPhone performance. It will turn off the parallax effect of alerts and icons and will speed up our older iPhones.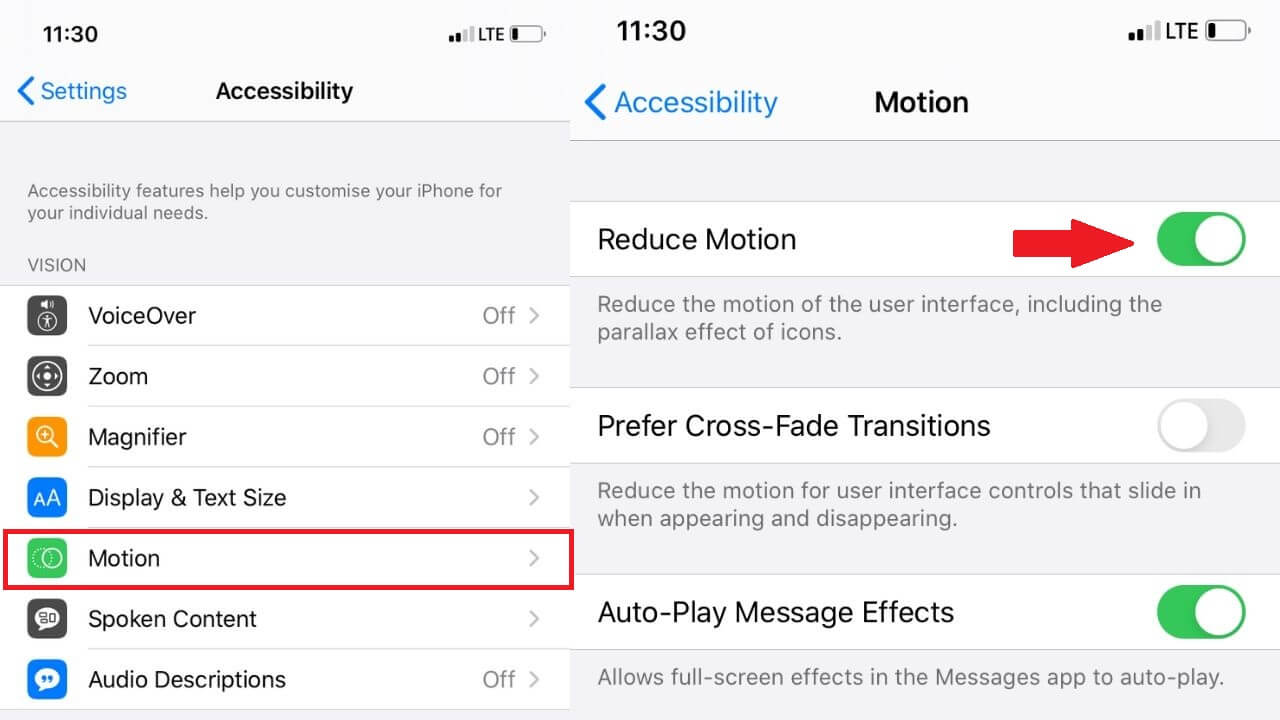 Head to Settings > General

Click on Accessibility

Turn the slider On for the Reduce Motion option.
9. Check the Battery Health 
Back in 2017, Apple admitted that it had been slowing down the iPhones to prolong the lifespan of the batteries. Recently,
Apple agreed to pay up to $500 Million for deliberately slowing down the older iPhones, without warning the users. Therefore if you want to speed up your old iPhone, you must have a watch on the battery health of your iPhone. If the battery is showing signs of degrading or the battery health drops below 80%, it is a good idea to replace the battery, especially if you intend to keep it for a long time.
How to check the Battery Health of your iPhone?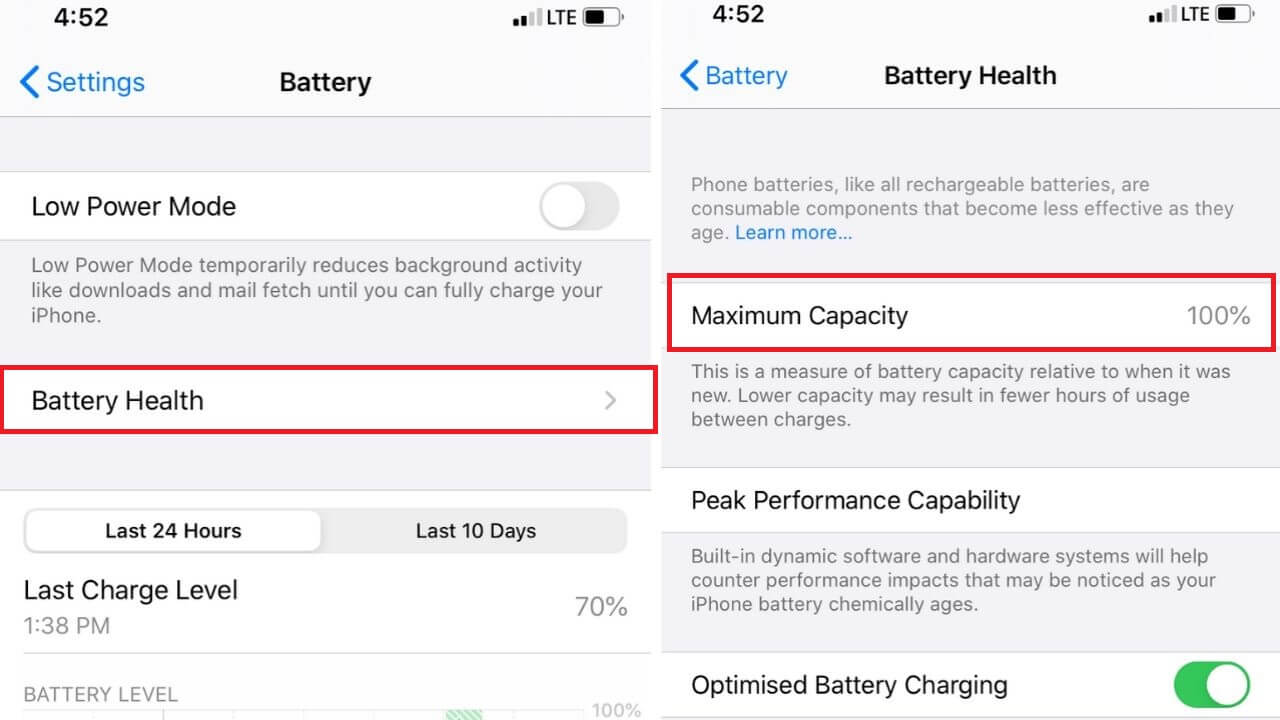 Go to

Settings > Battery

Tap on Battery Health

You'll see the maximum capacity of your battery.
Make sure to check out our blog on improving the iPhone's battery health. If something is wrong with your battery statistics, you can perform battery calibration to reset the statistics.
10. Check for Software Updates 
Updating iOS can help you fix the issues caused by certain apps, which will further help you to speed up your iPhone. Follow the mentioned steps to check if any update is available for your iPhone.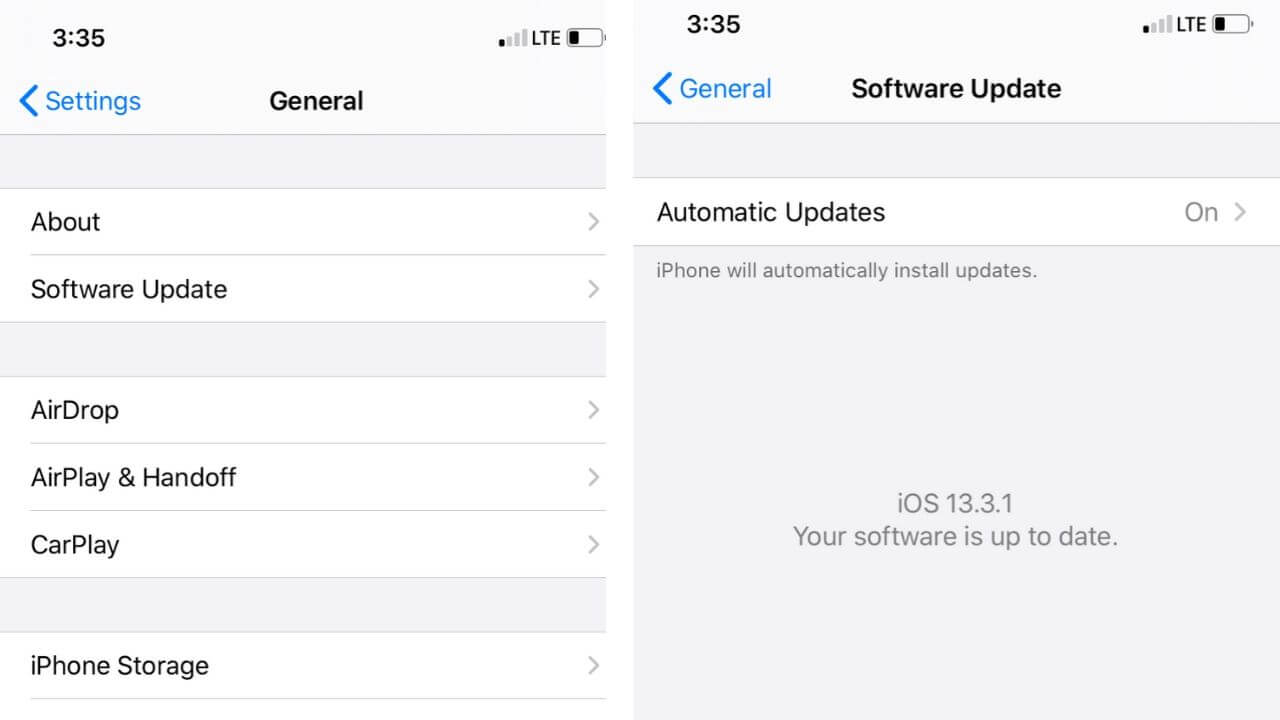 Go to Settings.

Tap on the Software Update.

If any update is available, install it.
Make sure you have enough storage available on your iPhone to download the update. Otherwise, try freeing up the storage space by moving your files to your computer.
11. Reset your iPhone
If nothing helped you to speed up your iPhone, you must restore it to the factory settings. In simpler terms, you must reset your iPhone to improve its performance. When you perform a reset to factory settings, your iPhone is restored to the spotless state, which your iPhone was in when you bought it. However, it's worth mentioning- Resetting your iPhone will delete all the data. Therefore, it's important that you back up your files and data. You can either use iCloud or iTunes to back up data on your iPhone.
Now, after you have successfully backed up your data, it's time to factory reset your iPhone.
How to Factory Reset an iPhone?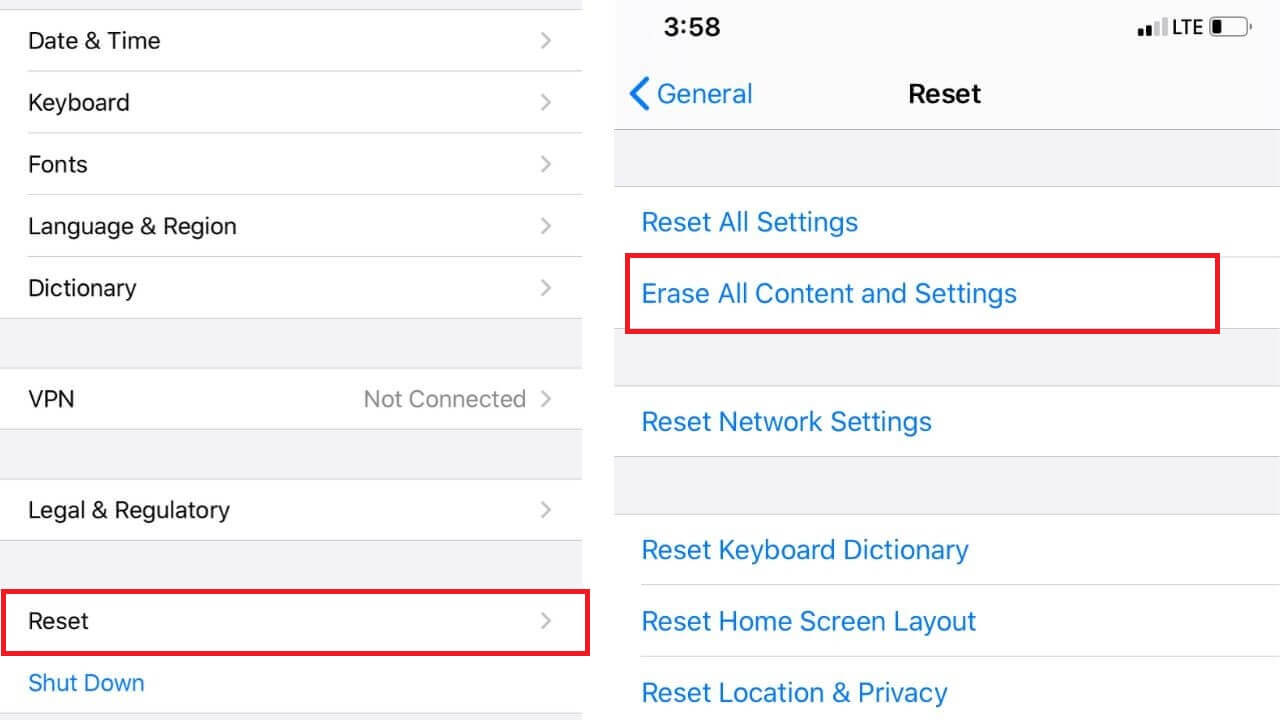 Go to

Settings > General

Tap on the

Reset

option at the bottom of your screen.

It will show up a lot of reset options. Make sure you tap on the

"Erase All Content and Settings"

If you are using a password, TouchID, or a FaceID on your iPhone, you'll need to confirm it, and hit Erase iPhone.

Log in with your Apple ID to ensure it can be removed from the device.

After doing this, your iPhone will take a few minutes before prompting you to set it up as a new device.
You've successfully managed to reset your iPhone.
That was all for our list of how to speed up your iPhone. We hope this article has helped you to make your iPhone faster and improve its performance. Do let us know which hack worked for you in the comments section below.