Even though the flag-bearer model of the Galaxy S series this year is the S20 Ultra, its smaller sibling, the S20 Plus makes for a much more sensible buy. Well, I have been using one on and off for a few months now and I would love to help you decide whether to consider getting this phone or look elsewhere. Because with the way things are in the smartphone market right now, "elsewhere" is looking like pretty good competition. 
Galaxy S20 Plus Review: Design and In-Hand Feel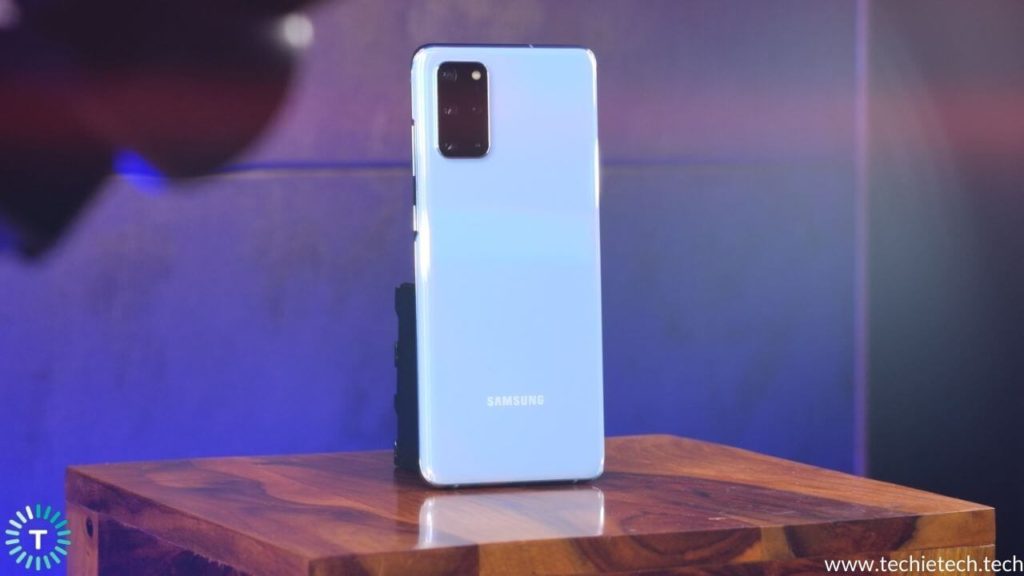 When you hold the S20 Plus in hand, you immediately realise that this is a premium object. The finish and refinement of the materials used and how well they are put together is definitely top notch. We have glossy aluminium sides and a glossy glass back which tends to attract fingerprints but still manages to look really good. The camera bump is somewhat lowkey for 2020, considering the ginormous camera bumps in the S20 Ultra and the OnePlus 8 Pro. The power and volume buttons are very clicky and on the same side which makes it easier not to smash the volume rocker by accident when you meant to press the power button. All in all, when it comes to the build quality, I genuinely think this is one of the best built Android phones right now and I would even go as far as ranking it above the
S20 Ultra simply because of the reasonably sized camera module and more ergonomic weight and form factor. 
Galaxy S20 Plus Review: Display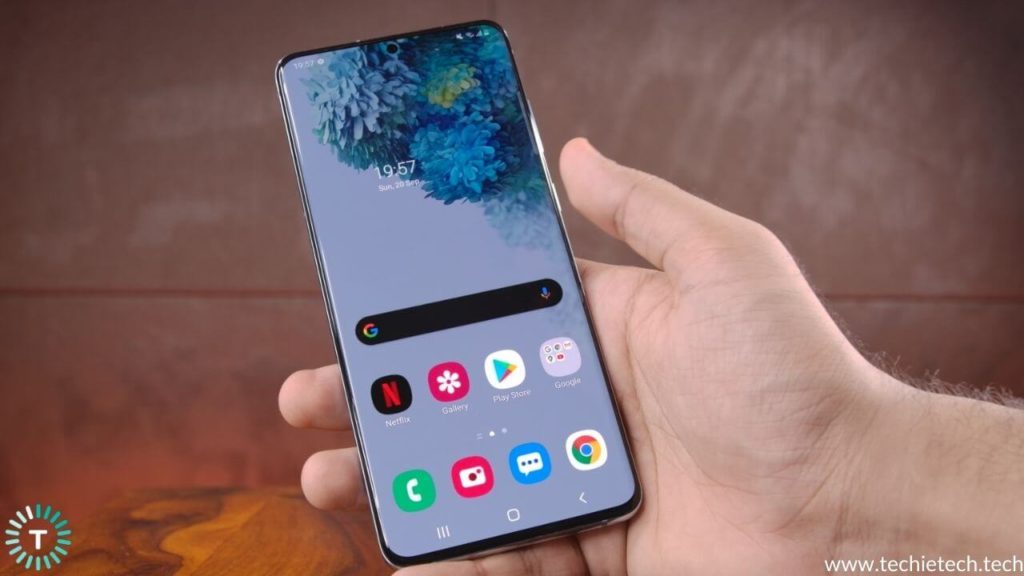 Flip the phone over and you are greeted by probably my favourite thing about this phone. The display. Remember how curved displays used to look really flashy and amazing but they were functionally terrible as they led to so many accidental touches? Well, Samsung has given the best of both worlds this time around with a somewhat flatter curved display on the S20 series. So you have the modern look and feel of a curved display but the curve is still subtle enough to not touch your palm here and there. The less curved display also makes gripping the phone easier, a problem that I faced in my time with the OnePlus 8 Pro. 
As for the raw display quality, I am not going to say much. It is a Samsung panel and these guys know they are doing. The colours, the contrast, the saturation, the vibrance, everything is better than the competition. Not even slightly better, the difference is actually noticeable. The only caveat that some users might find is the lack of the option to run the full QHD resolution along with the 120 Hz refresh rate. I personally don't mind it but I can see how Samsung not including it in their flagship phone is an issue. 
Galaxy S20 Plus Review: Performance(Exynos)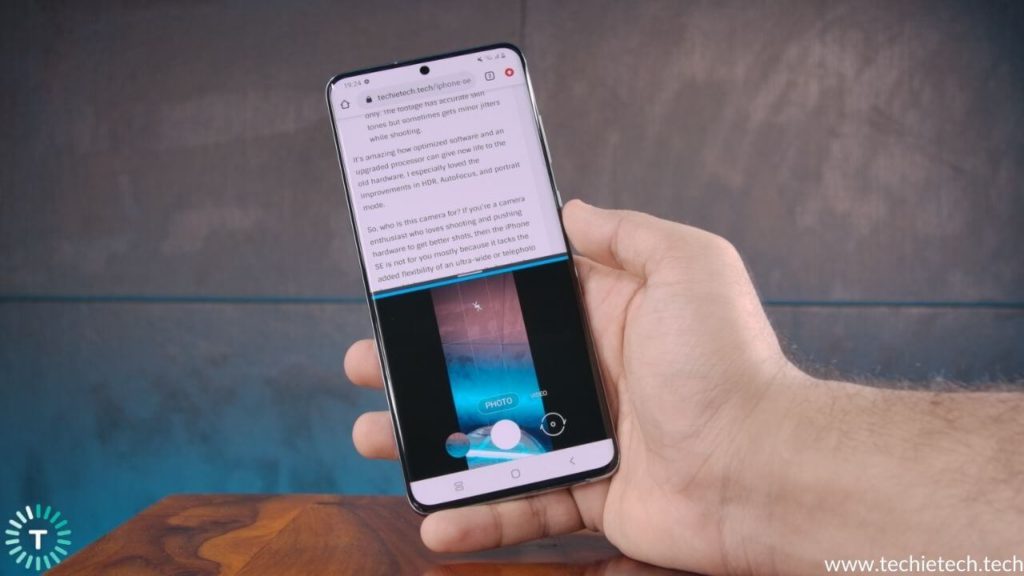 Let's talk about the performance now. We are using an Exynos 990 Version of the Galaxy S20 Plus while in some regions you get the Snapdragon 865 which is supposedly a more powerful and more efficient CPU. I won't get too in-depth in that argument, just that the more power hungry your smartphone usage is, the more difference you can feel between the 2 CPUs. As for me, I am a somewhat moderate user who doesn't game a lot and the Exynos has mostly been great. There have been no stutters, no lags, no frame drops or anything of that sort. I have been getting pretty average battery life though, and while that could be because the Exynos is not very efficient, I cannot say for sure since the 120 Hz Display is a battery hog anyway. 
But all in all, for most of the users out there, the Exynos should not be a big deal. But if you're a gamer, specifically a hardcore smartphone gamer, I would strongly recommend checking the phone out before buying. In my limited gaming experience, this phone doesn't support the highest graphics settings and even when it did, it overheats pretty quickly.
Basically, if your smartphone usage includes no or just casual gaming, the Exynos should not be a problem for you. But if it does, you should rethink your options. 
Galaxy S20 Plus Review: OneUI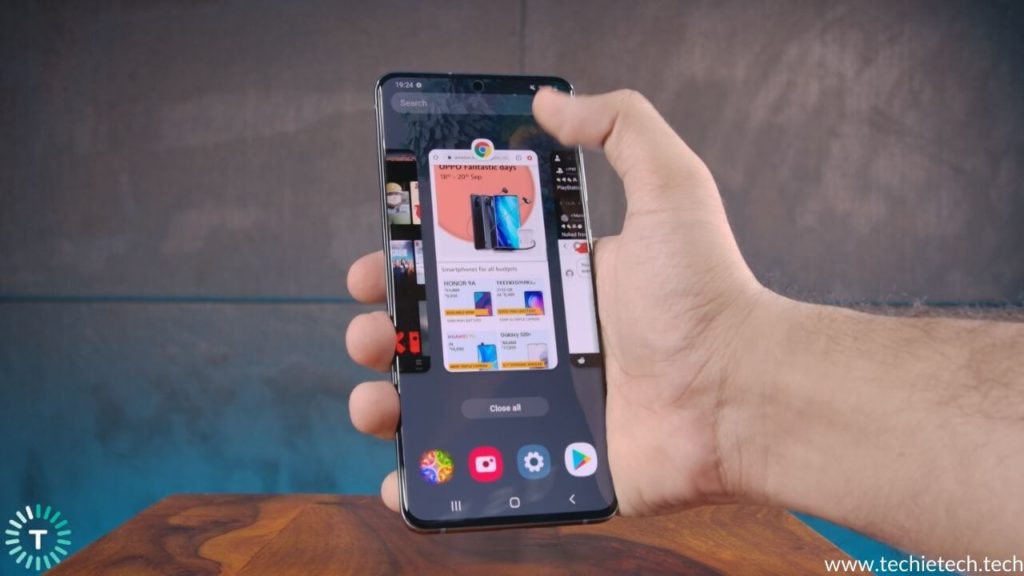 OneUI, Samsung's Android skin, is a pleasure to use. It has a lot of amazing features that are actually useful and while it used to be uncooked, messy bloatware in the past, they are really refined now. The overall look, feel and flow of the UI is more refined than Stock Android and yet somehow more user friendly. I don't know what it is but I have always seen more mature users and transitioning iPhone users prefer OneUI over other Android skins. But regardless of that, my experience with OneUI has majorly been a positive one. There are shortcomings like the presence of a Samsung service for every Google service and the lack of Google Feed on the home screen but all in all, OneUI is great and one of my favourite Android Skins. 
Galaxy S20 Plus Review: Camera
The S20+ sports a quad-camera setup on the rear and a 10MP front camera. The rear camera setup includes a 12MP primary shooter, a 64MP Telephoto, a 12MP Ultra-wide, and a 0.3MP Depth camera module. Samsung Galaxy flagships have been known to deliver excellent performance when it comes to mobile photography, let's find out how this year's flagship performs in real life.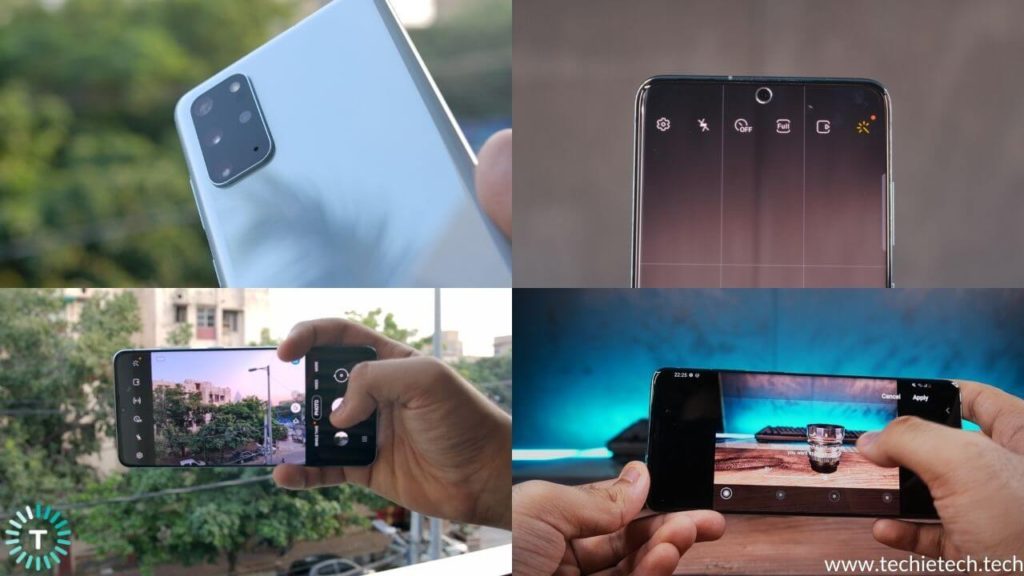 Photos:
The 12MP primary camera takes outstanding pictures both indoors and outdoors. It produces stills with a wide dynamic range and rich colors that are pleasing to the eye. It is one of the best primary cameras we've tested so far, this year. 

The S20 Plus has the same ultra-wide-angle camera which is present on the Galaxy S20 Ultra. Thanks to the larger pixel size on the 12MP sensor, the S20+ delivers well-exposed pictures with minimal distortion levels. 

The telephoto lens sports a 64MP sensor and actually has a 1.1x optical zoom. The S20 Plus uses a hybrid zoom to deliver 3x zoomed-in stills. To be honest, they are really good in terms of color rendering and stabilization. Although, the results are not the best in class when it comes to sharpness and details. 

Switching to portrait mode, the S20+ delivers well-exposed portraits with amazing subject separation on both people and objects. The dynamic range and color rendering of portraits are also excellent. The S20+ offers a portrait mode that allows you to change the bokeh effects. It also allows you to adjust the bokeh after you've taken the pictures. 

Flipping to the front camera, the 10MP selfie camera takes fairly good selfies. The selfies have a wide dynamic range and good colors. The selfie mode also has a wide mode where it actually takes 10MP pictures and a zoomed-in mode where it shoots 6.5MP stills by default. The only caveat I found with the selfies is the lack of details. 

Night mode performance has improved since the last generation. The S20+ takes brighter and sharper stills in different focal lengths. 
Videos:
The S20+

packs some serious shooting capabilities when it comes to videos. Both the front and rear cameras can shoot up to 4K@60fps. Just like the S20 Ultra, the Galaxy S20+ can also shoot in 8K@24fps. 

Moreover, Samsung has also improved its manual video mode which gives more settings and resolutions to tinker with. 

The videos shot outside look absolutely stunning with amazing color rendering and details. The AF and OIS performance has improved compared to last year's Galaxy S10+.

The low light performance is a bit glitchy as the videos have some noise processing issues. Hopefully, Samsung will fix that with a software update soon.
The Galaxy S20+ has a feature-loaded camera setup which delivers amazing performance from almost all the lenses. Doesn't matter whether you just want to take pictures and videos for sharing on social media or for professional purposes, the customizable and feature-rich camera app provides a seamless camera user experience for everyone. Moreover, Samsung has been consistent with updating their flagships with next-generation camera features. Therefore, when it comes to smartphone cameras in this budget, you can't really go wrong with the S20+. 
Galaxy S20 Plus Review: Battery Life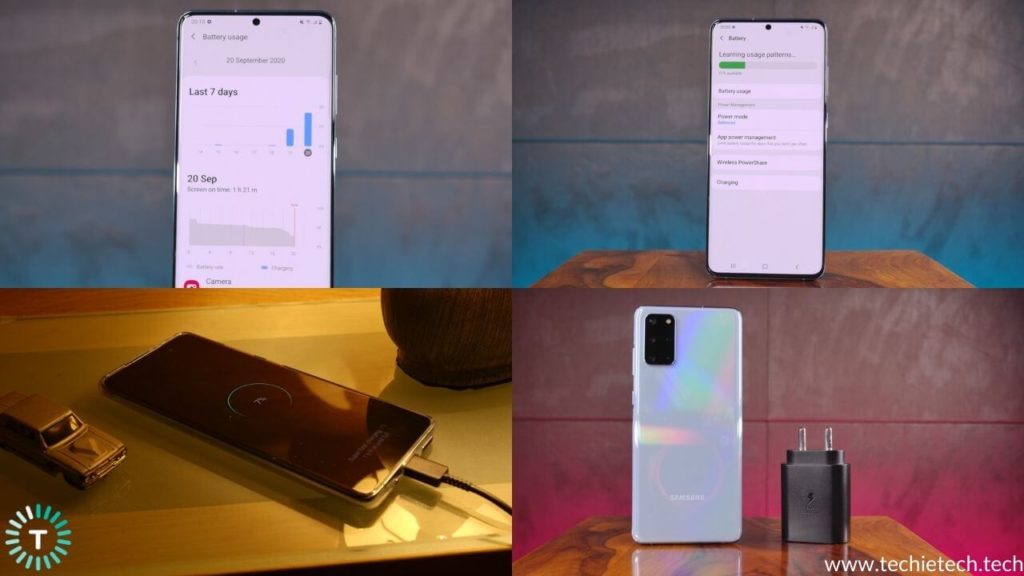 The endurance on this phone is somewhat of a disappointment. Now, I know that you're supposed to let a phone settle down after you set it up so that it can learn your usage patterns and optimise accordingly and I did just that, but I still got pretty average battery life from the Galaxy S20 Plus. Long story short, this phone lasts a day with medium to heavy usage which is basically around 4 hours of SOT. The medium power saving setting does come in handy by turning off some features but I would still love a 1 and a half or even 2 day battery on a Plus model. Thankfully, we do have a Super Fast Charger in the box and support for Fast Wireless charging so even if you are running out, a quick 20-30 minute power up will make sure you can get a few more hours of endurance. 
Galaxy S20 Plus Review: Phone Calls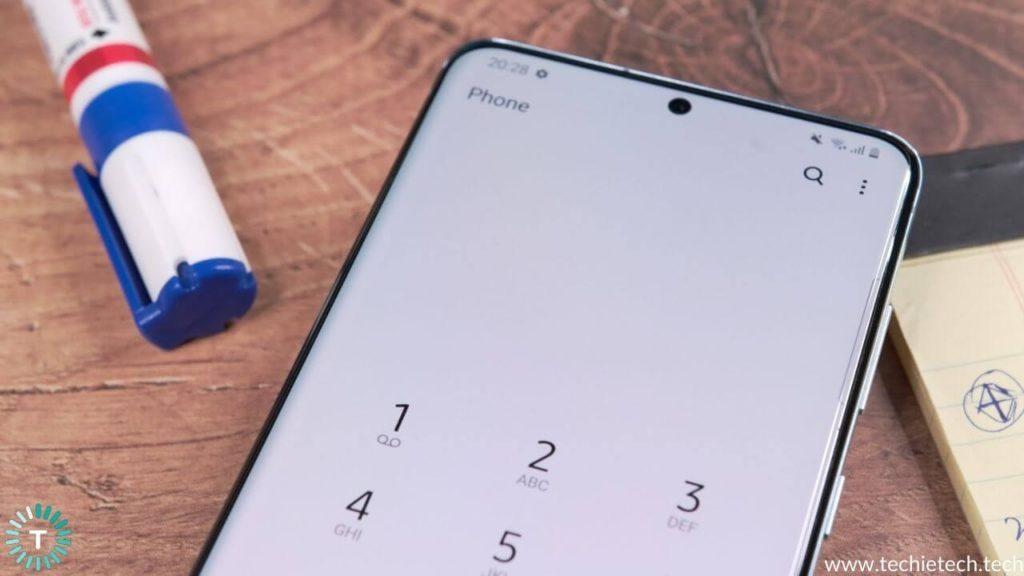 Let's talk about one of my favourite qualities of this phone and Samsung phones in general. The phone call experience. It has been phenomenal. I have been taking a lot more calls than usual due to the work from home situation and let me tell you, out of all the phones I have used in the past few months, this has offered the best calling experience. Be it the signal retention, the earpiece and loudspeaker quality or even the overall clarity of the whole conversation, the S20 Plus is a calling champ. And since it is so much lighter than other flagships, holding it next to your ear for longer periods is more comfortable. 
Galaxy S20 Plus Review: Fingerprint Sensor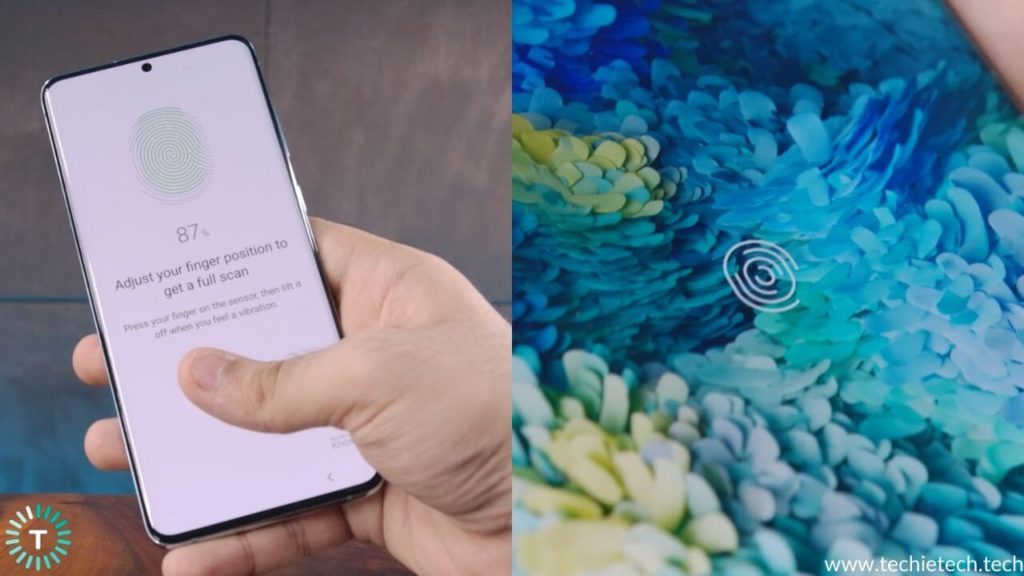 Before we conclude, I'd also like to talk about the Ultrasonic fingerprint sensor which gets a lot of bad rap in the Tech community. It is slower and slightly less accurate but in my use, it's fine. Unlike other in display fingerprint scanners, this one doesn't need you to turn the screen on first, which means it can work with the screen off provided your finger lands on the correct spot. I found myself developing muscle memory pretty quickly and the experience was great from there on. 
Galaxy S20 Plus Review: Conclusion
Should you look at buying the Galaxy S20 Plus now? In one word, absolutely! With the Galaxy Note 20 being a disappointment with its plastic back and 60 Hz, full HD display, I think the S20 Plus is the only reasonably priced Samsung flagship. When you factor in the hefty price tags on the Galaxy S20 Ultra and Note 20 Ultra and the almost negligible added value they offer in return, the Galaxy S20 Plus looks like an even sweeter deal.. I loved using the Galaxy S20 Plus as my daily driver and won't have a problem recommending it to most users. 
Check Price on:
Amazon (US): https://amzn.to/2FVxIW6 
Amazon (India): https://amzn.to/2G1gfvg