The Galaxy S22 Ultra is a stunner in every sense of the word. It has the Galaxy Note series inspired design, such as the S Pen stylus and the brick-like design. It also has the same features as the Note and Ultra in the past, such as a larger screen and a more advanced camera. In comparison to its predecessor, the S22 Ultra boasts a newer chip, a better low-light camera, and faster charging than the S21 Ultra. Even so, it's a pleasant refresh for Galaxy Note users who haven't had a new device in some time.
But now that you've spent the money, you'll want to make sure that your new Galaxy S22 Ultra stays in good working order for months and years to come without any problems. However, we completely understand that you'll want to show off your brand new phone to everyone and anyone, but with thousands of cases out there, they just end up confusing all of us. This is why we've brought a list of some of the best clear cases that you can buy for the Galaxy S22 Ultra in 2022.
Note: We update our article from time to time to cover the latest products available in the market.
List of Best Clear Cases for Galaxy S22 Ultra in 2022
1. Spigen Ultra Hybrid (Best Overall)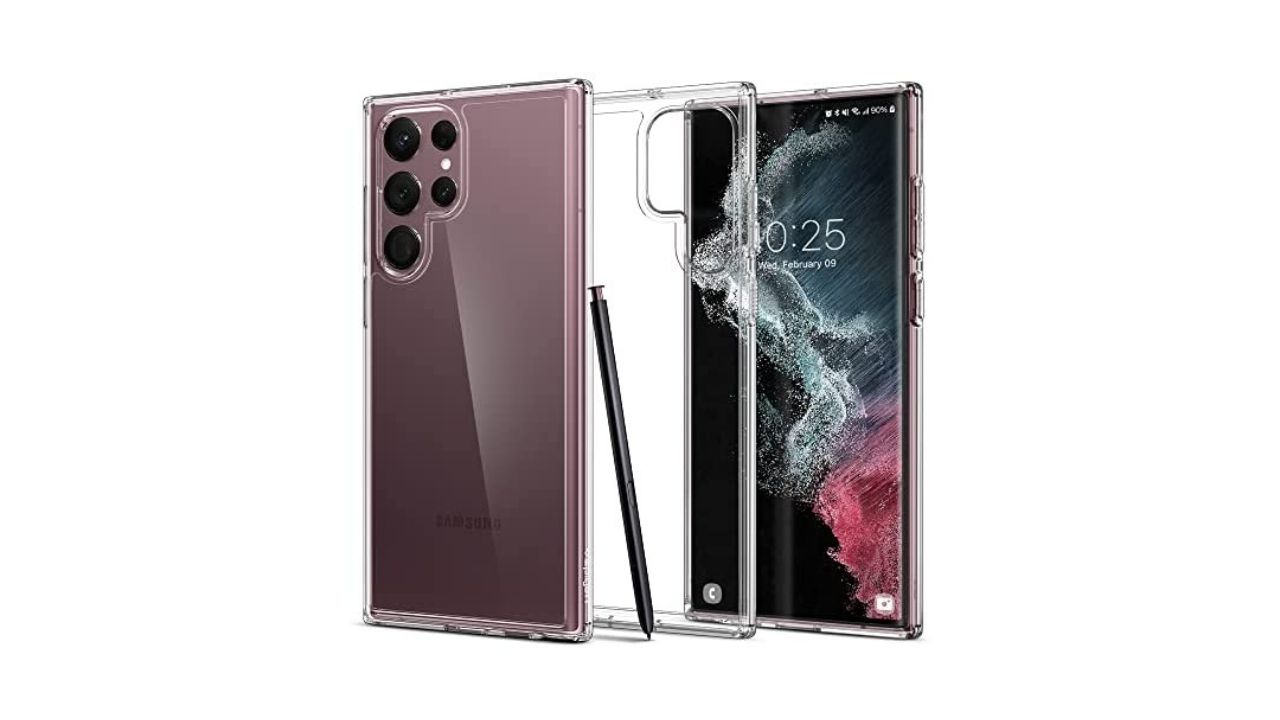 Spigen creates some of the best smartphone cases on the market, so it's no surprise that the Spigen Ultra Hybrid benefits from the company's years of experience. This durable clear case for Galaxy S22 Ultra gets its moniker from the fact that it's made up of two materials: a TPU bumper and a hard PC back. As a result, the case provides excellent protection against drops and falls, as well as excellent grip for a more stable grip on the phone. The borders of the screen are slightly raised around the front to protect it from scratches and cracking.  Spigen's "Ultra Hybrid" series features "Air Cushion" technology to absorb impacts at all four corners. It's slim and unobtrusive, with slightly raised bezels to shield the screen and cameras from scratches that could occur on flat surfaces, and the clear design ensures that you can always see S22 Ultra's glass back. With support for wireless charging and anti-yellowing coating, this is truly one of the best clear cases you can buy for Galaxy S22 Ultra in 2022.
Also Read: Best Protective Cases for Samsung Galaxy S22 Ultra in 2022
2.
Galaxy S22 Ultra Ringke Fusion (Best Protective Clear Case)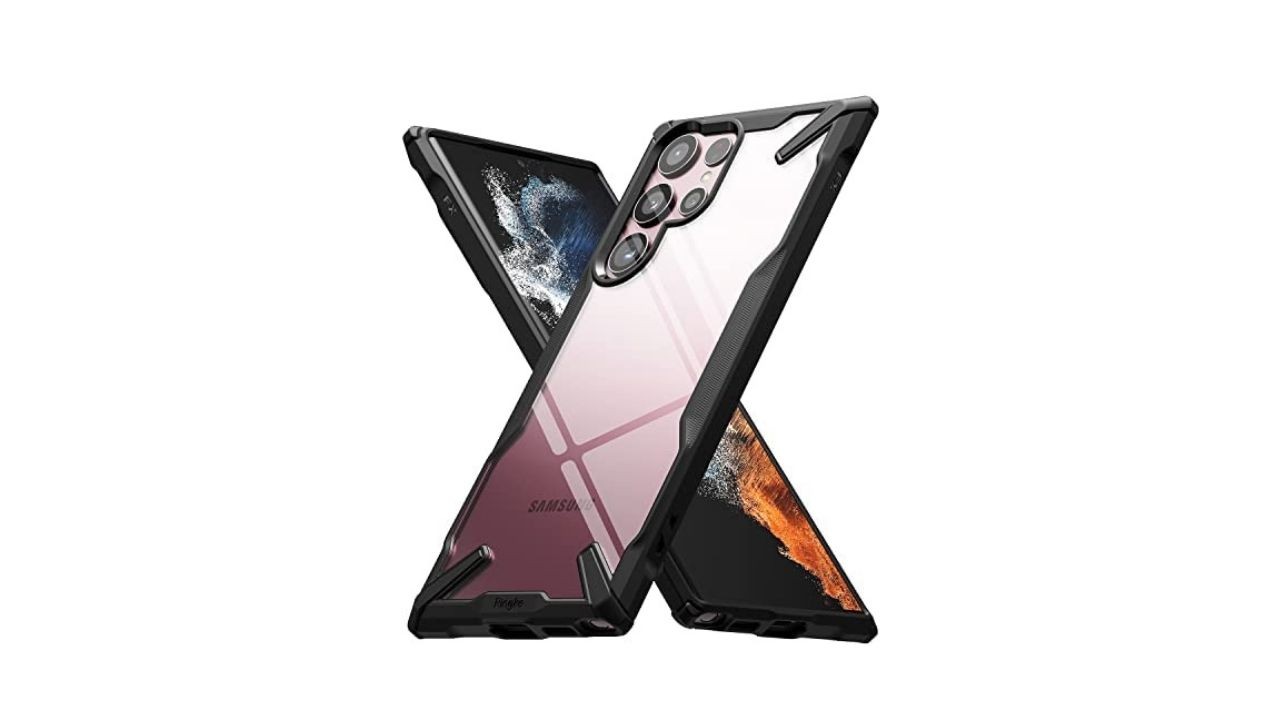 Ringke nailed the fit factor. These cases are snug enough that they won't fall off on impact, but not so snug that they'll be difficult to remove. Both the Fusion and Fusion X clear cases offer a slim fit without compromising on impact protection for the Galaxy S22 Ultra. There's a raised lip around the top and bottom of the screen, as well as adequate protection around the sides to keep the screen safe in the event of a drop or while it's lying flat on a table. The Fusion is the Fusion-sleeker, X's less intimidating sister, with smoother angles, smaller corners, and a more polished appearance than the heavy-duty Fusion-X. But don't be fooled by the Fusion's smoother, thinner appearance: it's easy and good to hold. On a slanted tabletop, the case is equally as sticky; don't anticipate it to spin or slide around like some other clear cases. The polycarbonate back can feel a little slick when your hands are moist, but the flexible bumper is still comfortable to use. Despite all of this protection, the case isn't overly bulky. Although it isn't the thinnest case available, the form factor is rather compact and narrow for the amount of protection it provides.
Other notable characteristics include textured sides that aid grip. The extra grip will surely come in handy for a 6.9-inch smartphone such as the S22 Ultra.
A good transparent case enhances and highlights the phone's features, and the Ringke Fusion is one of the best clear cases for Galaxy S22 Ultra in that category. 
Moreover, with this Galaxy S22 Ultra case, you won't have to worry about wireless charging. Besides being one of the best clear cases for Galaxy S22 Ultra, this case is also wireless charging compatible and can also be used to attach neck straps or lanyards. It's available in two colours: Black and Camo Black.
Also Read: Best Screen Protectors for Galaxy S22 Ultra in 2022
3.
Samsung Official Galaxy S22 Ultra Clear Kickstand Cover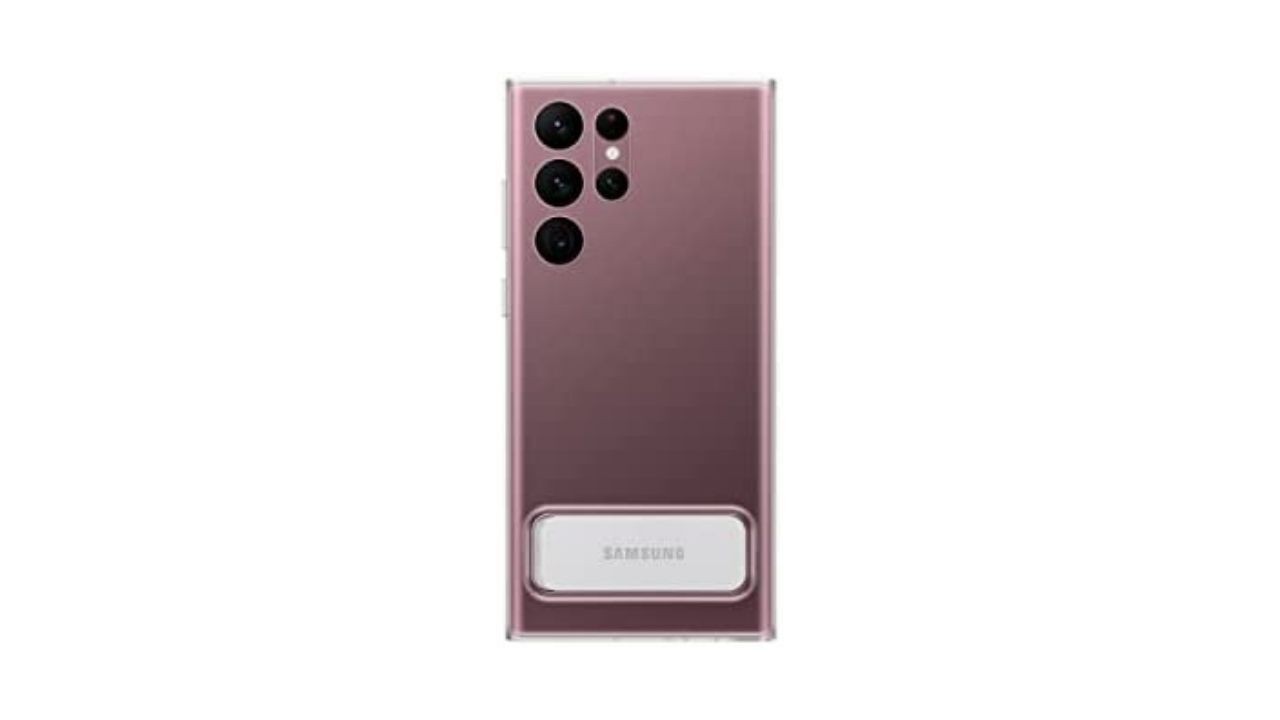 When you're looking for safe bets, nothing is safer than Samsung's own case. TPU (Thermoplastic Polyurethane) and PC (Polycarbonate) combine to create this clear case for Galaxy S22 Ultra. This Galaxy S22 Ultra case's corners are covered by TPU bumpers which keeps the Victus+ glass panel from shattering due to nasty falls or pet attacks. The case is transparent, allowing all four official colours to pop. It also has a Samsung logo on a chrome kickstand. The rear free stop hinge is adjustable, allowing you to choose the position that is most comfortable for you, so your Netflix binges are uninterrupted. Users have constantly praised the case for its premium look and enviable features like its snug fit, easily distinguishable side buttons and its top tier quality. If you're looking for one of the best clear cases for Galaxy S22 that pretty much has it all, then this one is it! However, if you're looking to use Wireless PowerShare make sure you remove the cover. It is available in the colours: Clear, White, Lavender, Black, Light Gray, Burgundy, Olive Green and Navy.
Also Read: Best Fast Chargers for Galaxy S22 Ultra in 2022
4. Spigen Liquid Crystal Clear (Best Slim Clear Case for S22 Ultra)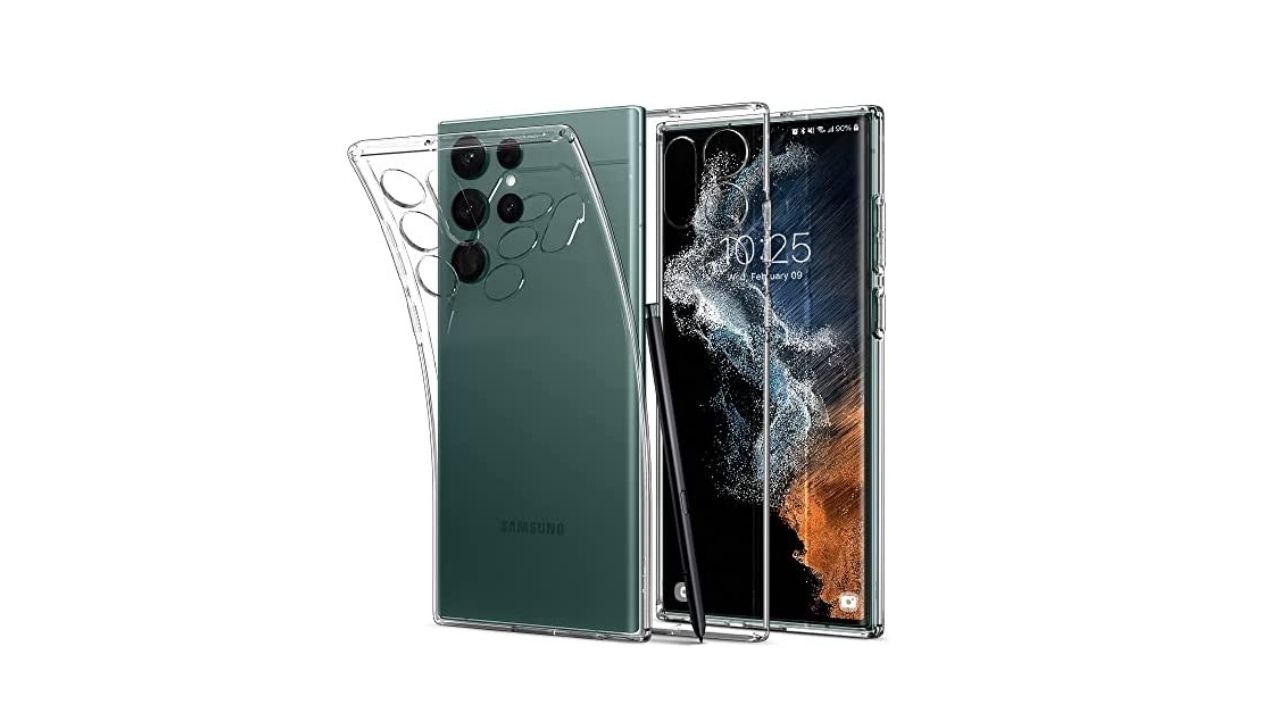 Sometimes you just want a phone case that doesn't seem or feel like it's there. Spigen's Liquid Crystal case is perfect for that, as well as giving a reliable experience at an unbeatable price. This compact and easy to remove and install Galaxy S22 Ultra case is made of anti-slip TPU to keep your phone safe and secure while keeping it easy to use. The Liquid Crystal clear case for S22 Ultra has raised bezels to protect the curved display and camera rings from scratches and smudges, and it goes above and beyond by remaining clear for as long as possible before yellowing, which many transparent cases suffer from. Users have long praised the case for its crystal clear look and seamless functionality. Many have also said that all of the side buttons are as easy to use as they are extremely tactile, providing an unbeatable satisfying experience. The S-Pen can still be removed with ease, and the USB-C cutout is large enough to accommodate 99% of third-party USB-C connectors. Quite possibly, the best part about this Galaxy S22 Ultra slim clear case is how comfortable it is to hold in your hands and the snug fit it offers. 
Also Read: Best Cases for Galaxy S22 Ultra in 2022
5. E
SR Clear Metal Kickstand Case (Best Accessibility Case)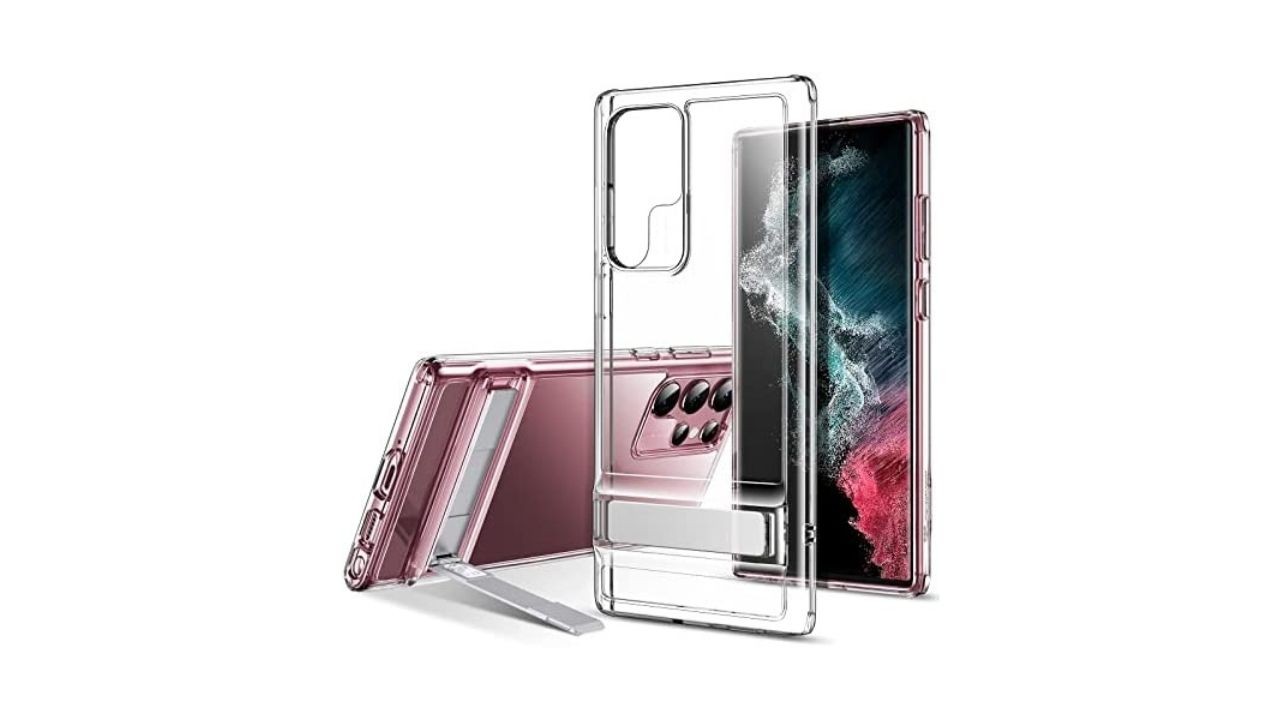 With a screen this large, kickstand cases are essential, allowing you to spare your wrist and neck by propping your phone up when you need a rest during those long video calls. ESR's clear case — it's also available in a textured black, but the clear lets your S22 Ultra's colours shine through. This clear cover for Galaxy S22 Ultra also provides a small kickstand for half the price of Samsung's protective standing cases. Although this kickstand is marketed as being able to be used in both portrait and landscape modes, we recommend going light on the taps in portrait mode because the kickstand balances on three points rather than four in landscape mode. The kickstand is also excellent and firm, as long as you don't overextend the hinge and wear out the tension in the hinge.
This Galaxy S22 Ultra case may look like an ordinary clear case but it also offers some serious protection against nasty falls due to its Air Guard corners and raised edges which defend your precious phone's camera and screen from rough scratches. It also supports wireless charging and is also resistant to yellowing, which is a common problem in most clear cases. Therefore, if you work in the art or culinary department then this is an absolute value for money clear case for Samsung Galaxy S22 Ultra. 
Also Read: Best Accessories for Samsung Galaxy S22 Ultra in 2022
6. Raptic Shield Case (Best Looking Clear Case for S22 Ultra)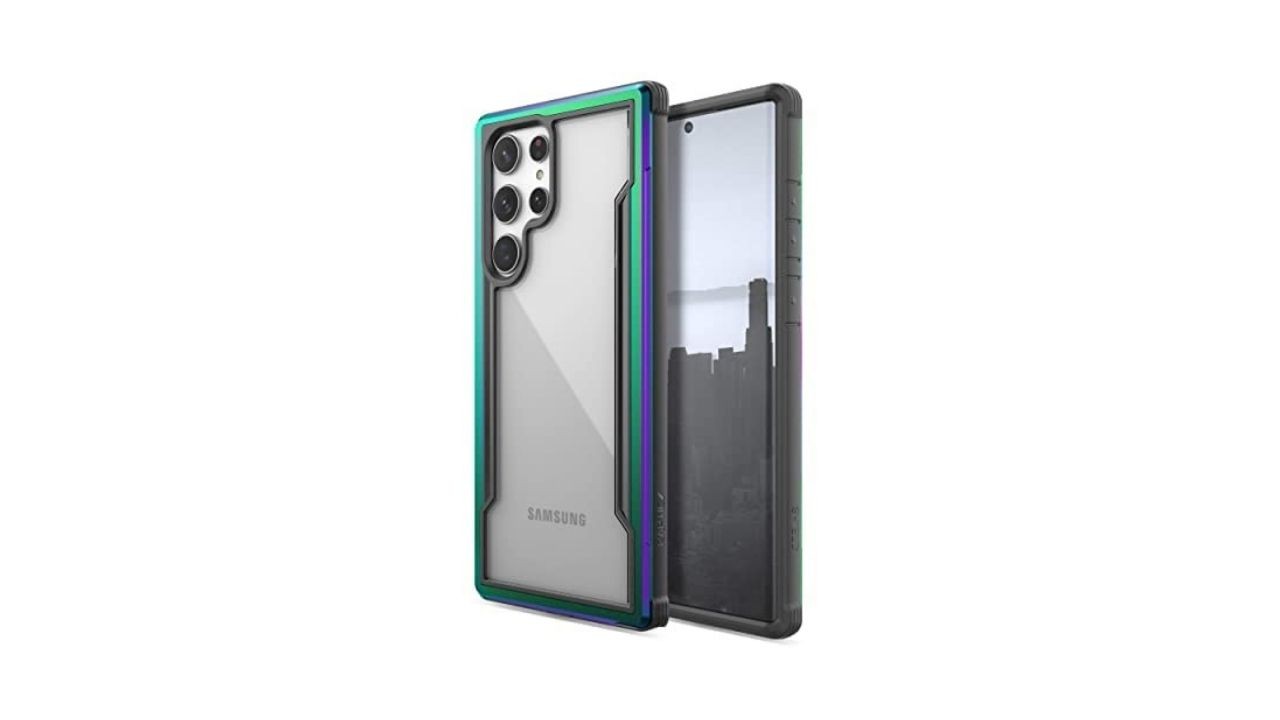 Hard polycarbonate, soft rubber, and anodized aluminium combine to make the Raptic Shield a hybrid clear case. The backplate is made of polycarbonate with bonded rubber borders. To offer added rigidity, the aluminium wraps around the case's back edges. A metal borpder surrounds the backplate, which might be black, red, or iridescent in colour. The rubber borders will be black if you choose the red or black colour, while the rubber will be dark grey if you choose the iridescent colour. Apart from the materials, the design is quite appealing. The aluminium border features chamfered corners, and the back has a very angular form. The rubber borders are fairly smooth to the touch, and the top and bottom of the casing have lines etched into them. The top, bottom, and corners, as well as the corners, appear to be thicker than the side margins. Furthermore, the case closes the gap between the camera bump and the casing that most other cases have. This goes a long way toward preventing dust and debris from getting into the casing. This also makes the back of the case flat. 
On the Raptic Shield, buttons are flush with the case's edges, and small dots indicate where they are. If we're going by touch, these buttons can be a little tough to feel at first, but you'll grow used to it. It does result in a cleaner appearance, although it does take some getting used to. The top and bottom borders of the screen are similarly elevated to assist protect it, but the side corners are not and lie somewhat lower than the screen. 
The Raptic Shield has a drop rating of 10 feet and military-grade protection, an extra layer on the interior of the case, contributes to this. Not to mention the antibacterial protection it provides against germs and development. The Raptic Shield is a clear protective case that is really well-made. It has military-grade protection, shock absorption, and a nice appearance. 
Furthermore, the case also supports wireless charging due to its transparent/clear back. 
Also Read: Galaxy S22/S22+/S22 Ultra Overheating? Here's how to fix it
7. Caseology Skyfall Clear Case (Protective Clear Case)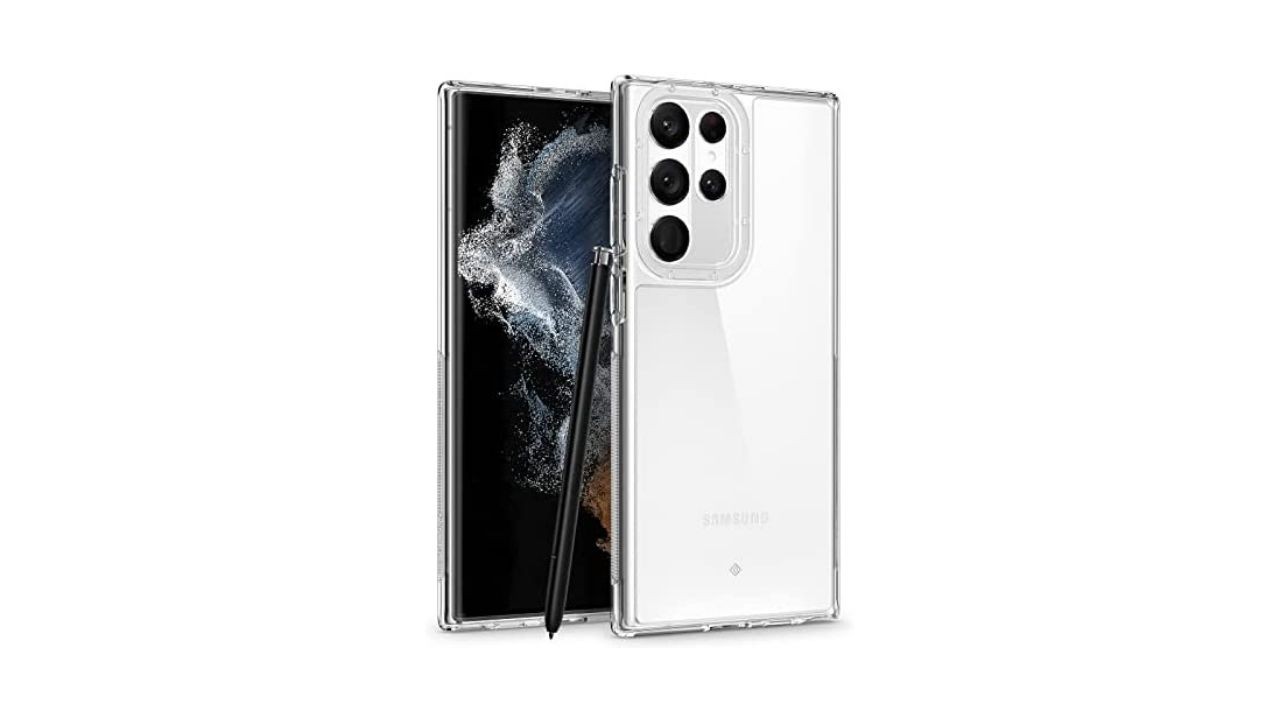 You might not want to hide your smartphone in a case after spending $1200 on it. But you certainly want to protect that premium glass back of the Samsung S22 Ultra. A clear case is the perfect solution if you want to show off your new 2022 Android flagship. It not only complements the phone's appearance and colour but also protects it from damage.
With a similar TPU and Polycarbonate structure to the Spigen Ultra Hybrid and Ringke Fusion above, the Caseology Skyfall isn't all that different in terms of build. With a new bump surrounding the camera, it does appear different. The clear version is our favourite, but the translucent rose gold and black alternatives give a pop of colour. 
The Caseology Skyfall is certified with military-grade drop protection, so you won't have to give up much in terms of safety. It can withstand drops of up to four feet. So, you don't need to worry while taking it out for a spin in a subway or the tube. The cover also has a gripping texture on the sides to keep the phone from slipping out of your grip. This comes in handy because of the curved design of the S22 Ultra.
Raised corners and wireless charging compatibility are also included, making this one of the top Galaxy S22 Ultra clear cases for both utility and displaying your phone in all its beauty.
Also Read: Best Cases for Samsung Galaxy S22 in 2022
8. i-Blason Ares Series (Best Rugged Clear Case for S22 Ultra)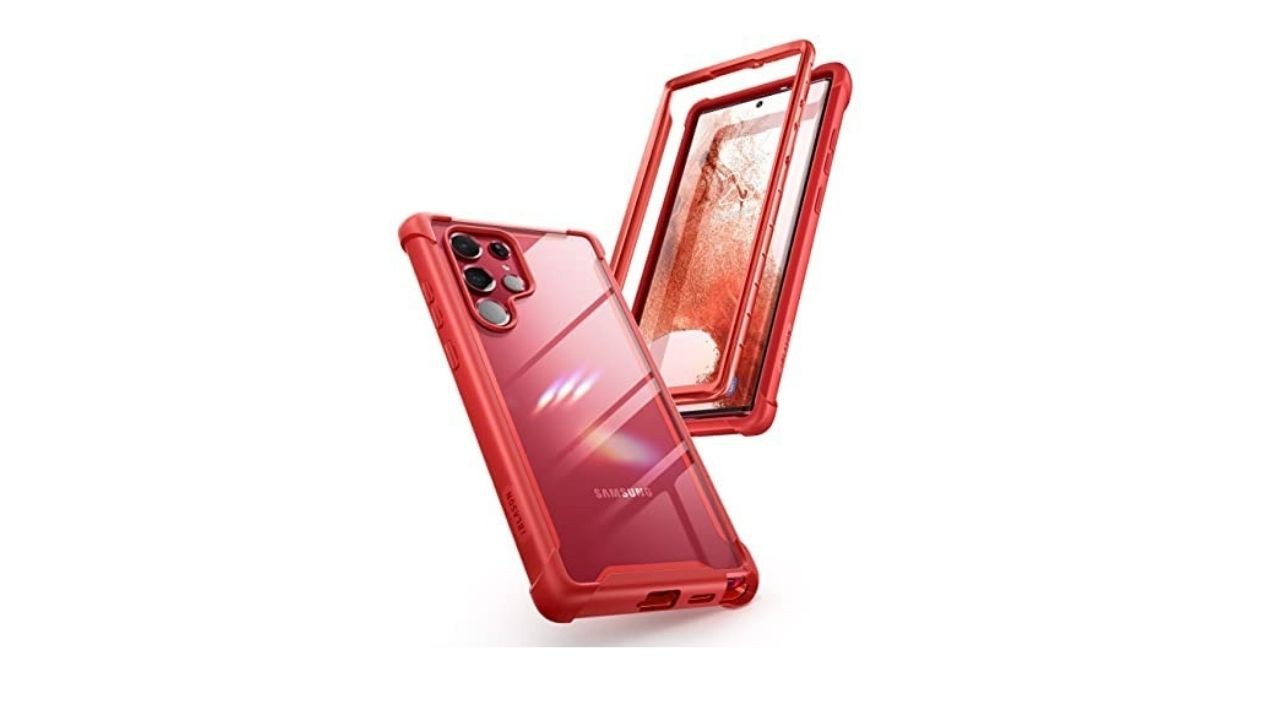 With the i-Blason Ares protective clear case, you can flaunt your Galaxy S22 Ultra while keeping it safe from the everyday grind. The full-body cases have a clear back that is transparent and scratch-resistant, as well as a built-in screen protector. It uses a combination of flexible TPU and polycarbonate to provide 360° protection and CNET-certified drop prevention up to 20 feet.
Other features like deep bezels and extra-cushioned corners protect against drops, dust, and filth in addition to the enclosed design. This is a useful feature if you work on a construction site or are a road warrior and require reliable protection for the smartphone. The metallic-looking inner lining has contrasty colours which make for unique design detail. The case is surprisingly light, despite being a bit large. It's something we'd strongly suggest to everyone who likes travel and adventure. Please note that it is relatively heavier than other slim clear cases.
This two-part cover checks all the boxes: it has a clear back that lets the colour of your Galaxy S22 Ultra shine through, as well as a sturdy dual-tone bumper that protects against drops while adding grip. There's a bumper for practically every Galaxy S22 Ultra because it comes in five distinct colour combinations for your phone. Moreover, you also get a built-in screen protector that protects the 6.8 inches curved AMOLED display from shattering falls. You could run into some fingerprint issues therefore, it is recommended to rescan your fingerprints after installing the screen protector.
Also Read: Best Cases for Galaxy S22 Plus in 2022
9.
Supcase UB Edge Pro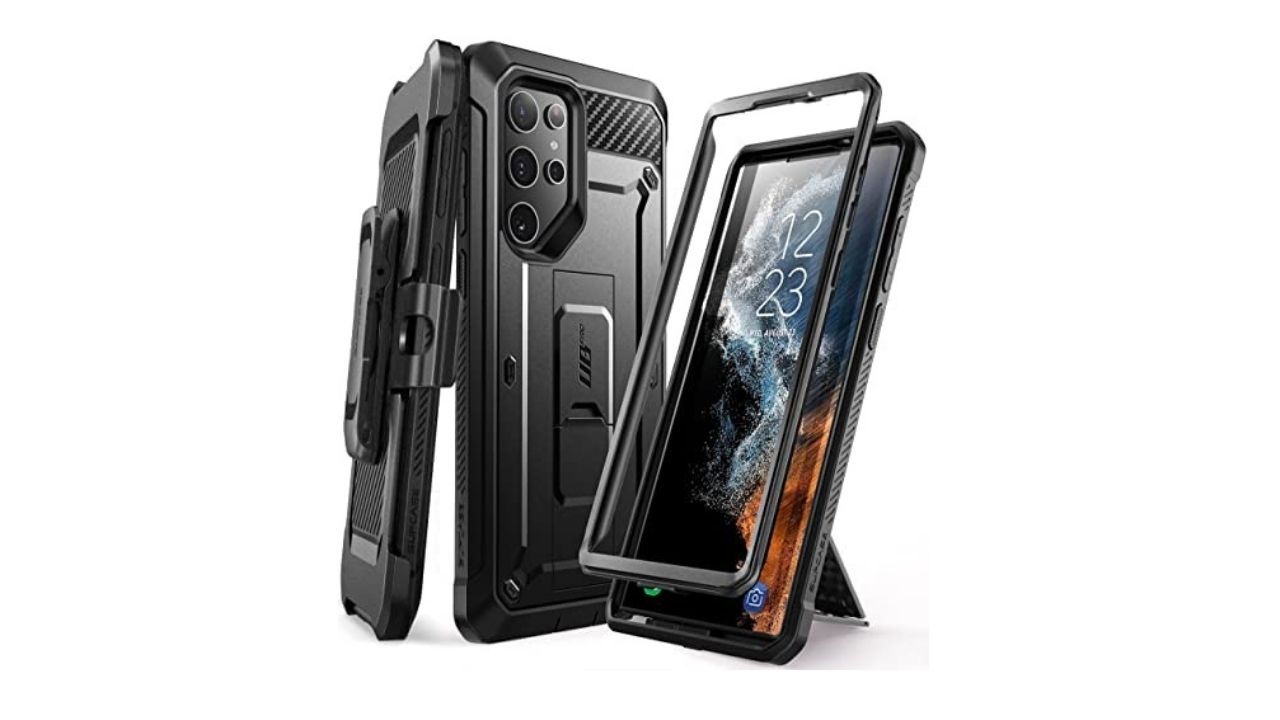 It's a perfect fit for the 2022 flagship Android smartphone. There's no wiggle room, no flex, no bending – it just fits and that's it! Many of today's cases, while they look and feel nice in the hand, have a little flex to them and will fall off if you bump them or snag them when putting them in or taking them out of your pocket over time. This Galaxy S22 Ultra clear case makes the device feel more like a tank than a delicate piece of glass. If you're someone who feeds off adventure and thrill and loves going on trips, then this case is the best Galaxy S22 Ultra case for you. Not only do you get to show off the premium looks of your phone but also get assured protection! However, there are several colour alternatives available if you prefer a little splash of color. It also includes a belt holster. Please note that wireless charging may not work properly. 
Also Read: Best Screen Protectors for Galaxy S22 Plus in 2022
10. VRS Design Terra Guard Crystal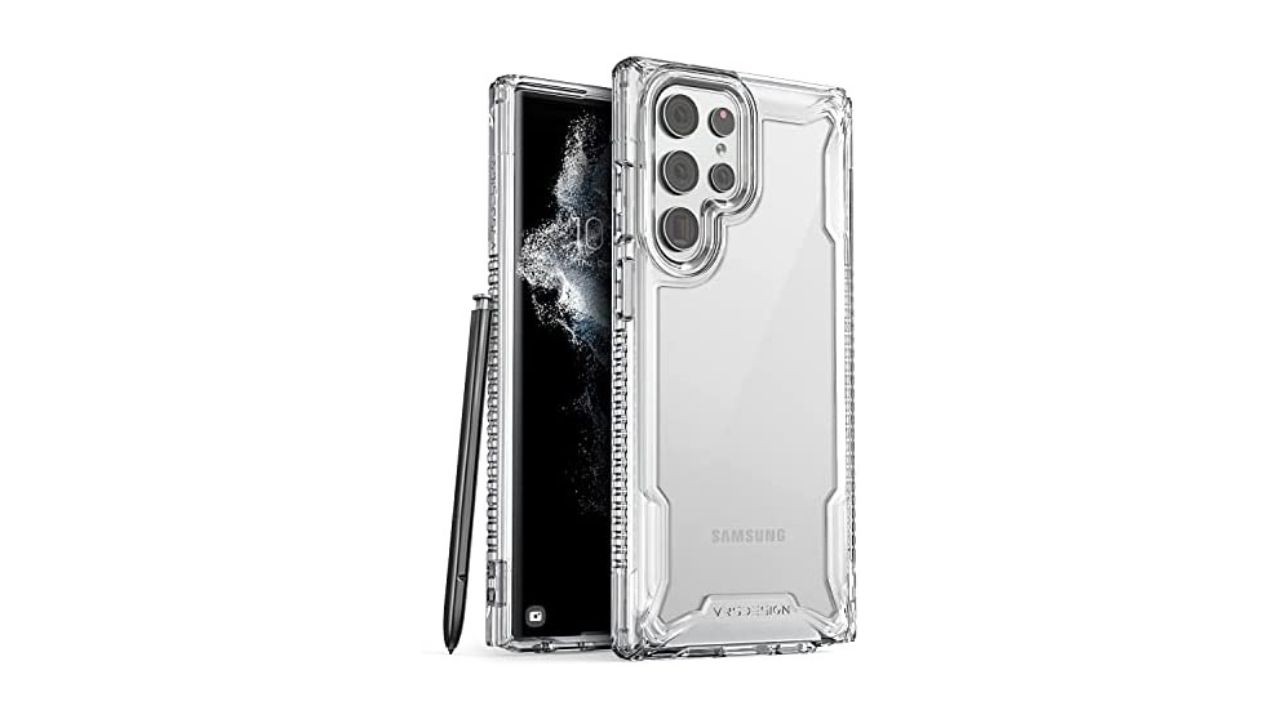 A clear hard shell back panel fused onto a flexible textured TPU bumper for a fantastic grip with style, that's how we would describe the VRS Design Terra Guard Crystal case for Samsung Galaxy S22 Ultra. This protective clear case for S22 Ultra delivers impact protection with lasting clarity. It has been drop tested to fulfil VRS standards for shock absorption and drop protection. 
This case is not only basic and clean but also features a non-slip side surface and offers tough protection. It's also made of high-quality anti-yellowing materials and provides ultimate robust protection from strong falls and shocks thanks to flexible TPU and high-quality PC material. Furthermore, the raised corners and precise cuts provide your cameras and front screen extra protection.
Also Read: Best Screen Protectors for Galaxy S22 in 2022
11. Torras Armor Clear Case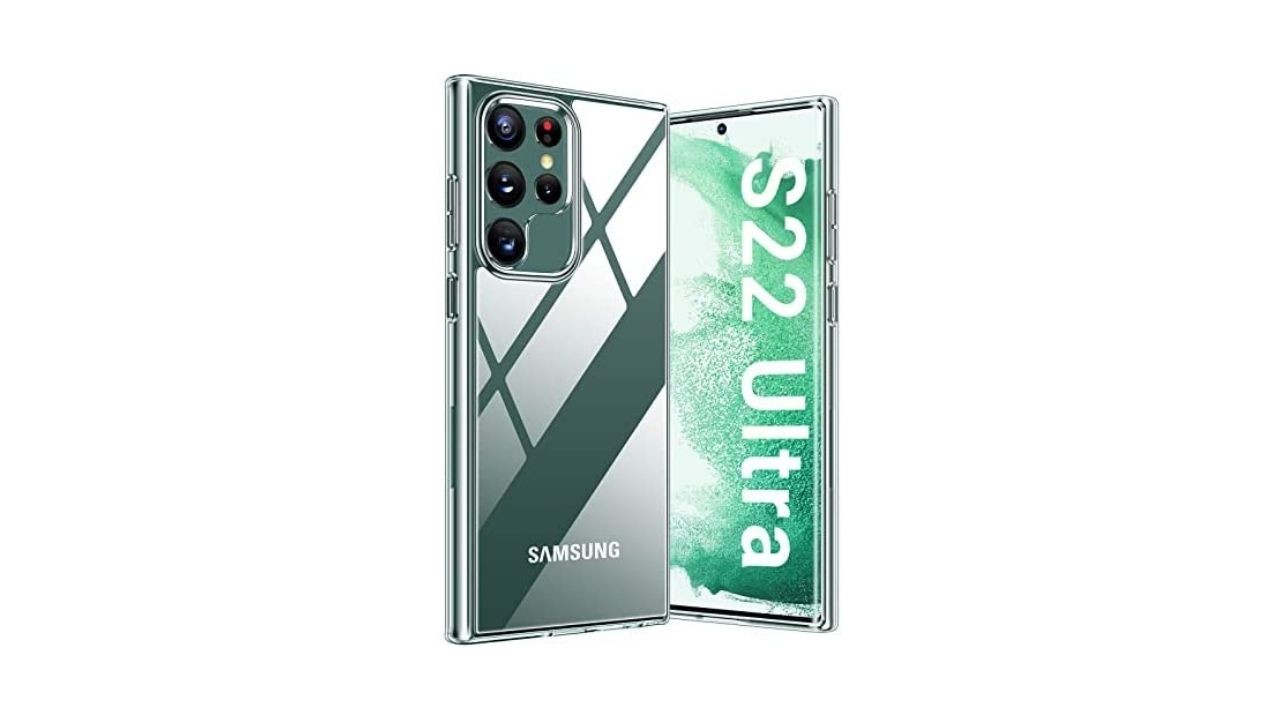 This Samsung Galaxy S22 Ultra clear case is everything it promises to be and more. Firstly, the case is equipped with Anti Yellow Technology which means you won't have to worry about any yellowing of the clear case. Moreover, it also features Trio-Shield Military Protection and has been drop tested from a height of 8 feet, it also features diamond hardness which means you can leave all your worries about breaking your phone at the threshold. There are also screen and camera bezels built right in this protective clear case for Galaxy S22 Ultra which means that you won't have to worry about any scratches on your screen or camera rings since it won't be touching any hard or rough surfaces any time soon. If you work in the art or workshop department then this is a lifesaver.  It also supports wireless charging and fits your Galaxy S22 Ultra like a glove at all times. This Torras cover has been the go-to slim clear case for Galaxy S22 Ultra users because of its minimal look, slim fit, non-bulkiness and shock-proof protection in all situations!
Also Read: Best Accessories for Galaxy S22/S22+ in 2022 
12. CaseBorne R Series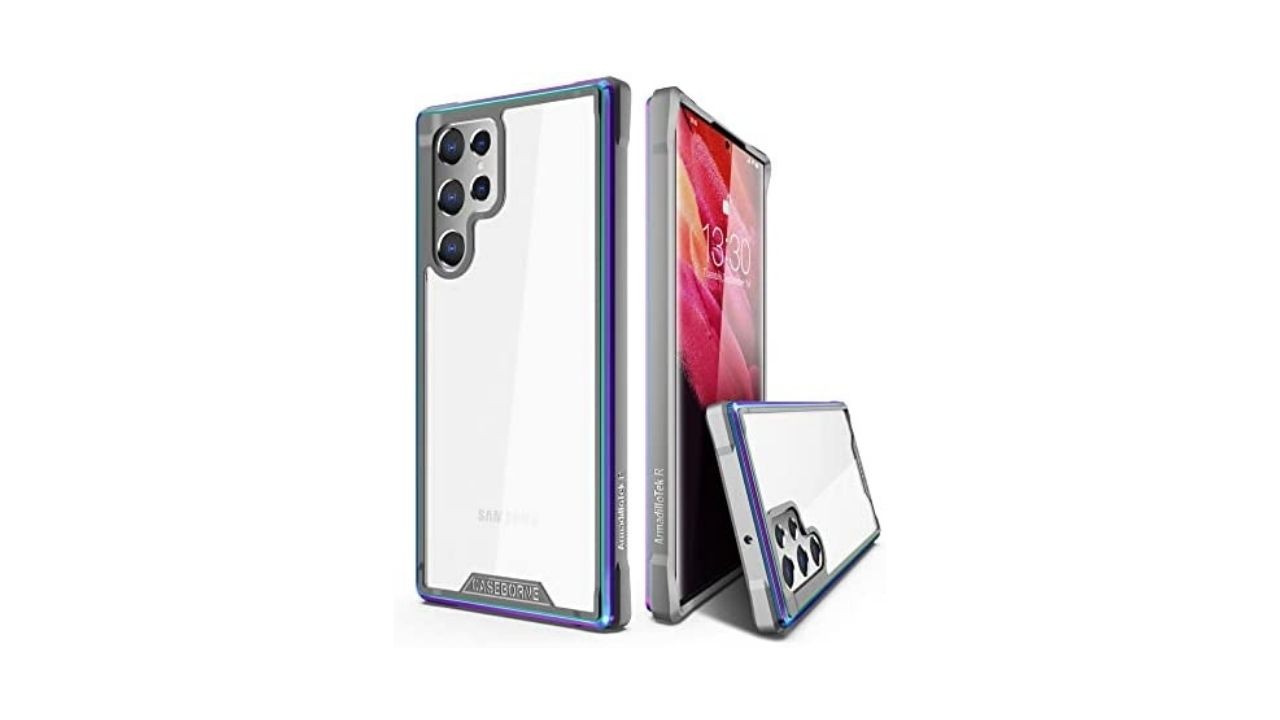 The CaseBorne R Series combines a transparent design with a colourful outside rim to provide consumers with subtle personalization. It manages to be light while passing a drop test that is twice as long as the military standards viz. up to 12 feet. It's constructed of polycarbonate and aluminium metal, with a rubber insert to keep your phone's glass back safe from shattering due to accidental bumps. The CaseBorne R's transparent back panel allows you to always see your premium Android smartphone while protecting the glass back from daily scratches. 
Moreover, all buttons are properly aligned with precision-cut cutouts, enabling complete access to all functions. The phone is easy to hold because of its easy-to-grip and anti-slip design which makes sure your phone doesn't fall out of your grasp. The buttons on the case are also extremely tactile which means you won't have to exercise your fingers more in order to press the volume or power buttons on your Galaxy S22 Ultra
Furthermore, this Galaxy S22 Ultra case also supports wireless charging.
An aramid fibre rear, on the other hand, offers the phone a sleek Carbon fibre appearance which not only makes it one of the best clear cases for Samsung Galaxy S22 Ultra but also the toughest.
Also Read: Best Fast Chargers for Samsung Galaxy S22 in 2022
Well, this is where our list for the best clear case for Samsung Galaxy S22 Ultra ends, we hope that now you have a definite choice in mind and If this list has helped you out, make sure you let us know! Until then, check out our article on the Best protective cases for Galaxy S22 Ultra