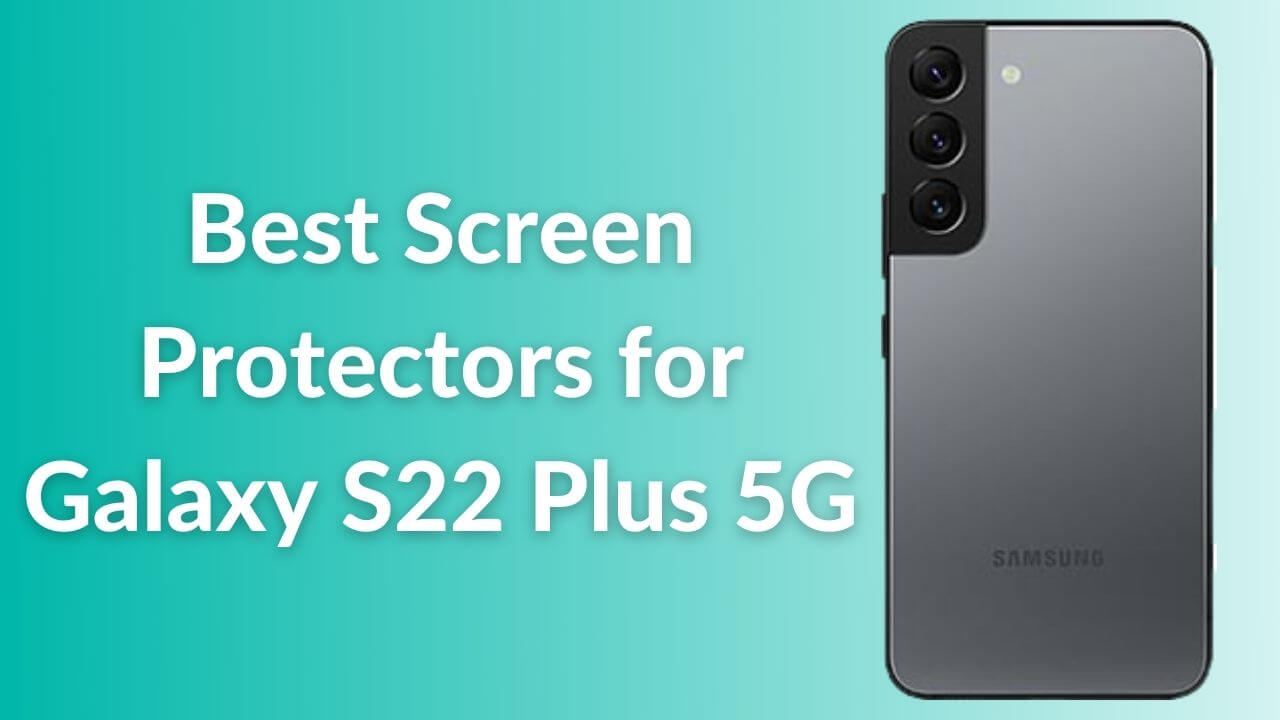 Samsung unveiled the Galaxy S22 lineup at the Galaxy Unpacked 2022 virtual event, and it included the Galaxy S22, the Galaxy S22 Plus, and the Galaxy S22 Ultra. Besides the launch of these powerful smartphones, Samsung also showcased the anticipated Galaxy Tab S8 series for users around the globe. As the title suggests, we are here for the Galaxy S22 Plus 5G. Talking about the specification, the Galaxy S22 Plus features a big 6.6 inches Dynamic AMOLED 2X display that comes with a refresh rate of 120Hz and HDR10+ certification. The S22+ has a flat display therefore screen guard installation would be fairly easy. Samsung ships the Galaxy S22 Plus 5G with the in-house  Exynos 2200 or Snapdragon 8 Gen 1 chipset which is available based on your region. Worth mentioning, this flagship Samsung smartphone is compatible with 5G and Wi-Fi 6. 
Now that this amazing flagship phone has started shipping, you should look into securing your investment from any kind of accidental damage. Yes, we are suggesting you get protective cases and screen protectors for Galaxy S22 Plus 5G. We understand that the product is new in the market, which is why finding the best protective gear is tough. Don't worry! With hours of research, our team has curated a list of the best screen protectors for Galaxy S22 Plus that we think you'd invest in without any doubt. 
Without much ado, let's jump right into the list of best Galaxy S22 Plus screen protectors in 2022. 
Note: We update our article from time to time to cover the latest products available in the market.   
List of Best Galaxy S22 Plus Screen Protectors 
1. amFilm Galaxy S22 Plus Tempered Glass Screen Protector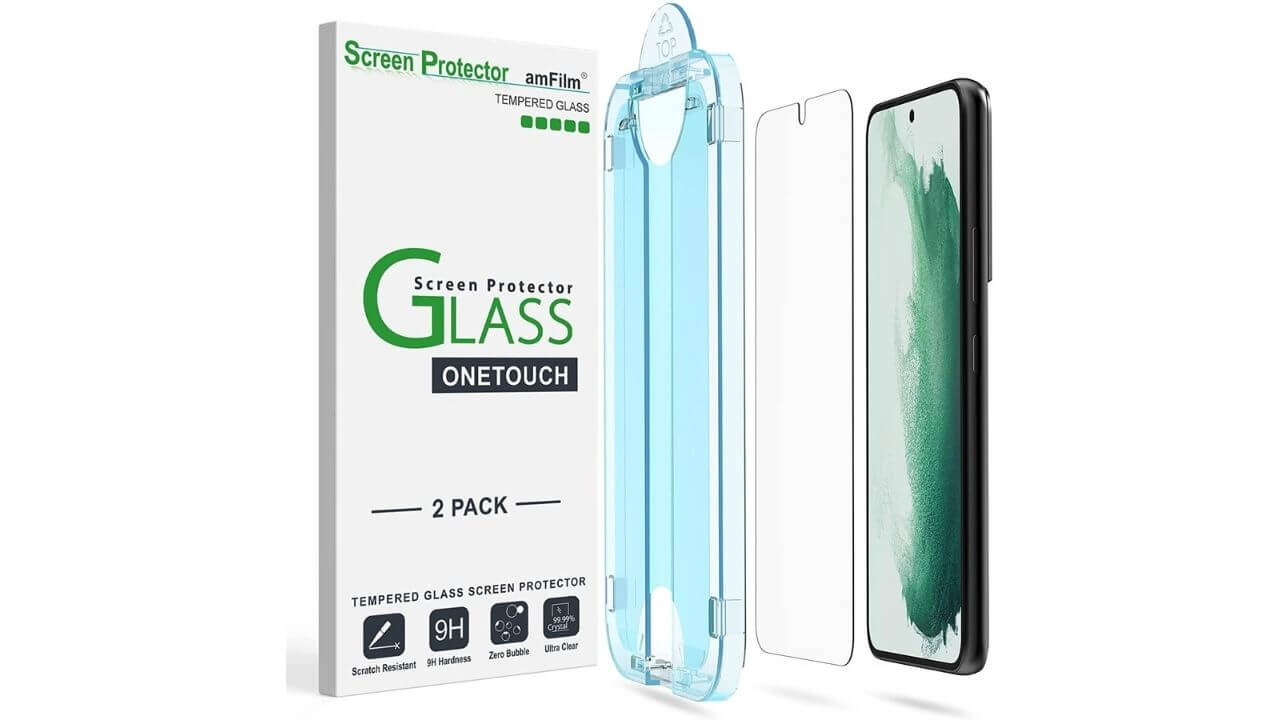 The first contender on our list is the amFilm screen protector for Galaxy S22 Plus. This screen protector offers solid durability and protection to the Dynamic AMOLED display of Samsung's 2022 flagship. It features 9H hardness property to ensure strength and top-notch protection from any kind of scratches and accidental damages that may damage the display. Thanks to the oleophobic coating on the exterior layer of the amFilm Galaxy S22+  screen protector, this tempered glass prevents oil, dust, and fingerprint smudges from sitting on the surface offering a crystal clear viewing experience. Please note that the auto-alignment tool that ships with this S22+ Plus screen protector ease the overall installation process. Make sure to rescan your fingerprints after installing the screen protector. It also comes with two camera lens protectors for the Galaxy S22 Plus so you can shoot anywhere without worrying about scratches on the camera module. Thousands of users have praised amFilm for delivering reliable and value for money screen projectors for different smartphones. Without a doubt, it's highly recommended for you all to invest in this screen protector for S22 Plus in the first place.
2. Spigen NeoFlex Solid Screen Protector for Galaxy S22 Plus
Besides offering the best cases and covers, Spigen has been doing a pretty good job in delivering the best screen protectors for smartphones like the Galaxy S22 Plus. Personally, it is my favorite brand when it comes to mobile protection accessories, it's also loved by users around the globe due to the value for money and superb quality that their product offers. Coming back to the Spigen NeoFlex, this Galaxy S22 Plus screen protector is a highly durable and reliable S22+ protective accessory that offers edge-to-edge protection to the 120Hz 6.6″ display. Besides, this screen protector offers bubble-free installation and is handy for anyone who is not very good at screen protector installation. Also, it preserves a crystal clear look of the screen with zero glares or rainbow effects to provide the best viewing experience when you are enjoying your favorite movies and web series on the Galaxy S22 Plus. The best part of buying this screen protector is the price, you get the assurance of the Spigen brand, and top-quality screen protector, all just under $13. Moreover, the installation process has become a lot simpler and you can easily install the screen guard on the S22 Plus without any worries. 
Also read: Best Screen Protectors for Galaxy S22
3. UniqueMe Glass Screen Protector for Galaxy S22 Plus 5G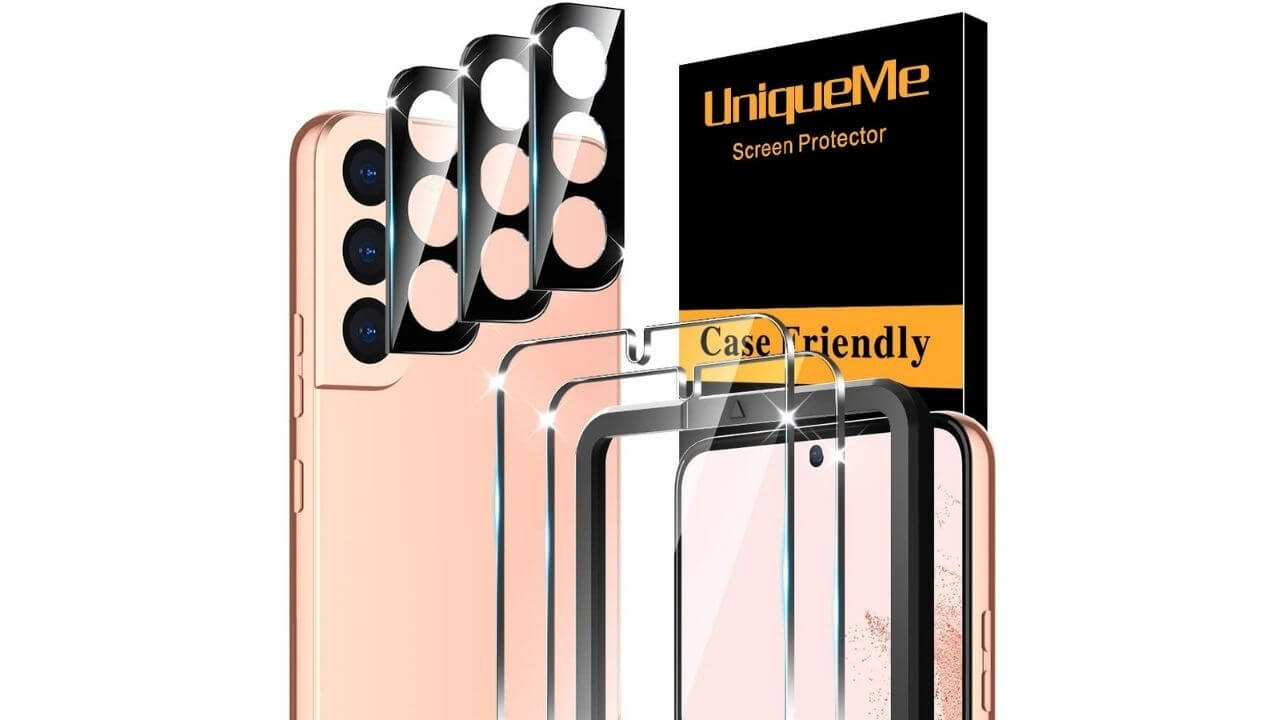 Are you looking to protect the display and brilliant camera setup of your Galaxy S22 Plus? Make sure to get your hands on the UniqueMe screen protector glass. This Galaxy S22+ tempered glass screen protector offers solid protection to the display against scratches and smudges that might disrupt the viewing experience. This tempered glass screen protector for Galaxy 22 Plus is waterproof as well as dustproof, thanks to the Oleophobic coating on the upper layer of the screen protector. Additionally, it also protects the display from dirty fingerprint stains and oil smudges. Besides, this screen guard is shipped with an alignment tool that eases the installation process. If you're someone who tends to drop their phone very often or work in a warehouse then this budget-friendly screen protector glass for Galaxy S22 Plus is a great option for you. Moreover, it comes with a pair of camera lens protectors which offers ultimate protection to the rear camera of the Galaxy S22 Plus.
4. LK Galaxy S22 Plus 5G Screen Protector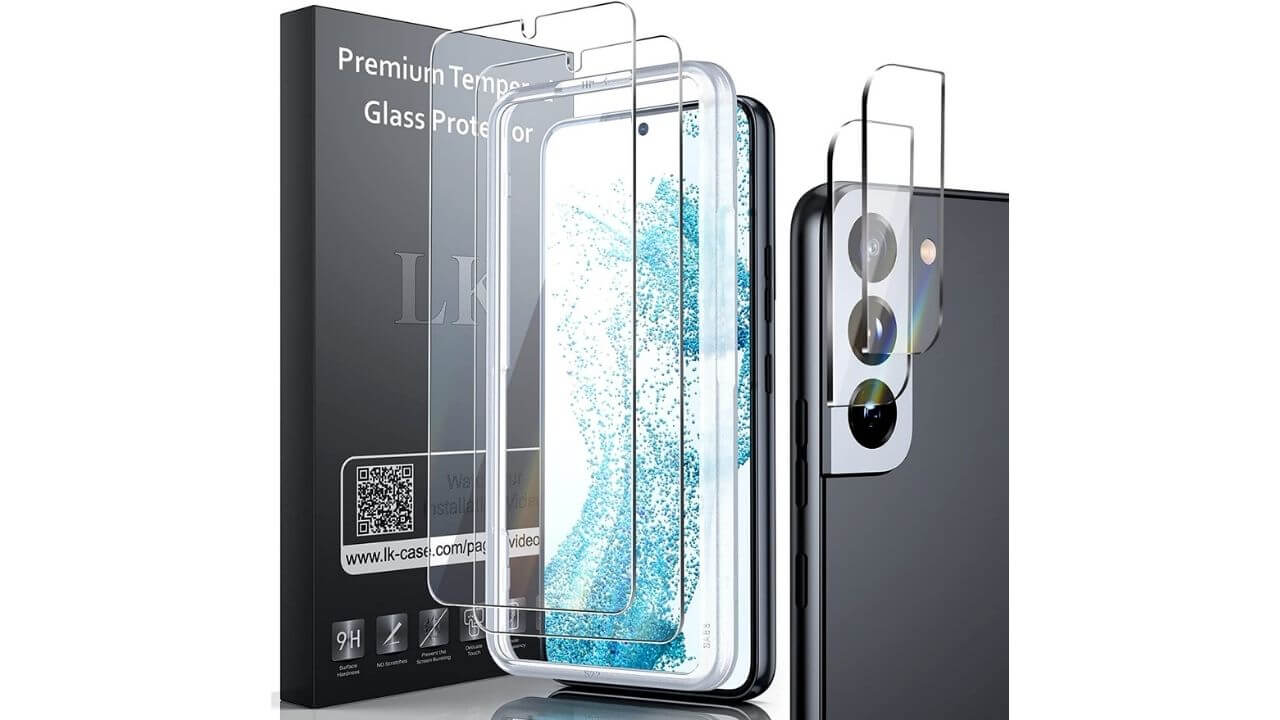 Here's another reliable screen protector for Samsung S22 Plus from LK. This glass screen protector for S22 Plus 5G uses special glue for solid adhesion while it also ensures almost 100% transparency for the best viewing experience. With this screen guard you can get rid of dull screens and colors while watching your favorite movies/series across various OTT platforms. Remember, the ultra-thin design of this screen protector ensures that you don't have to compromise with the case compatibility, it should work with most cases for Galaxy S22+.  Besides, the self-healing technology repairs minor scratches and bubbles within 24 hours. As far as coverage is concerned, the flexible design provides edge-to-edge protection for all-around protection. On top of all, the guide frame shipped with this Galaxy S22 screen protector ensures hassle-free and accurate installation. Also, you will have to add your fingerprint scans again after applying the screen guard. Moreover, this screen protector comes with two camera lens protectors without any extra cost. 
Also read: Best Accessories for Galaxy S22/S22+
5. EGV Glass Screen Protector for Galaxy S22 Plus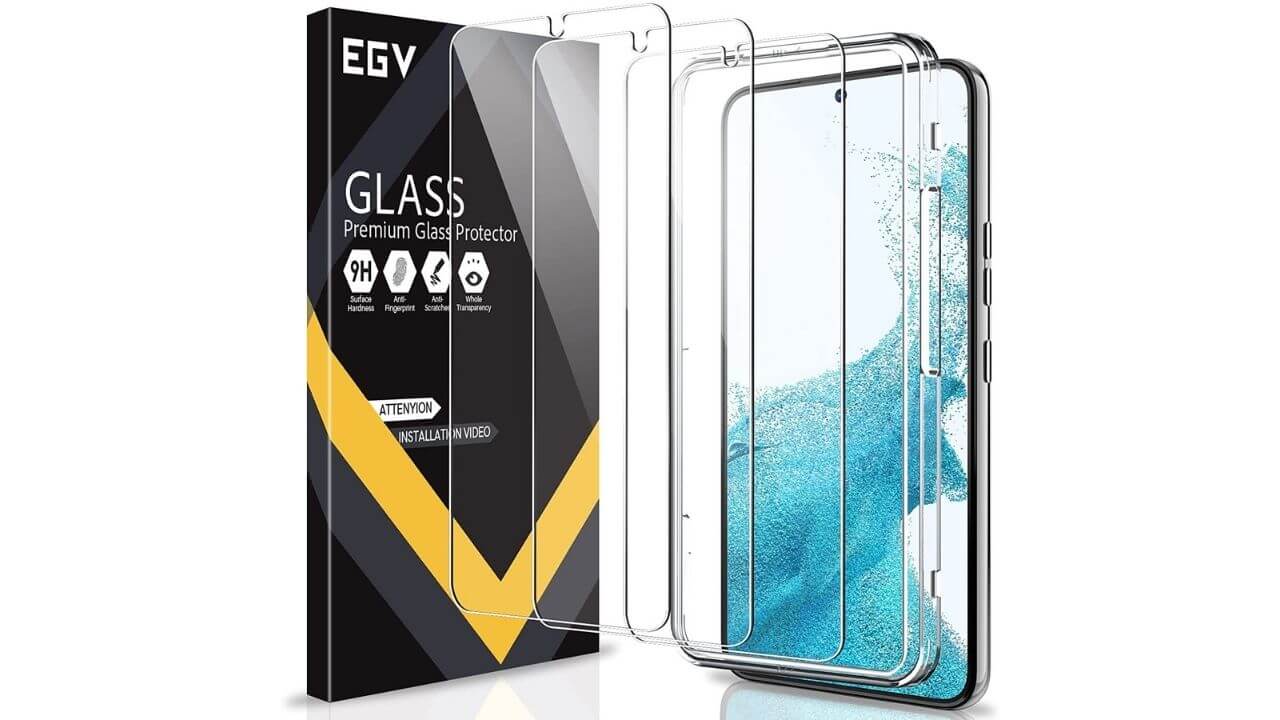 Next, we bring to you one of the best budget-friendly screen protectors for Galaxy S22 Plus 5G. The EGV S22 Plus screen protector is shipped with 9H hardness property which ensures good protection against nasty scratches and accidental damages from your daily commutes. It is merely 0.25mm thick which means you can enjoy everything shown on the phone with utmost clarity. Also, the thin design is doesn't hamper the fingerprint unlocking experience. You'll also get an alignment frame for the easy installation process of the EGV screen protector for the Galaxy S22 Plus 5G. Moreover, the screen protector glass is secured by oleophobic and hydrophobic coating for protection against fingerprints and smudges to offer a crystal clear look all day long. This feature comes in handy if you work in workshops, kitchens or warehouses. The coating will ensure your device does not absorb those smudges leaving the display a mess to look at. This screen protector pack includes three pieces of protective glass which can be handy for anyone who works at warehouses and tends to drop their devices a lot. Hence, extra glasses can be useful if they need to replace their protectors very often.
6. Supershieldz Samsung Galaxy S22 Plus 5G Tempered Glass Screen Protector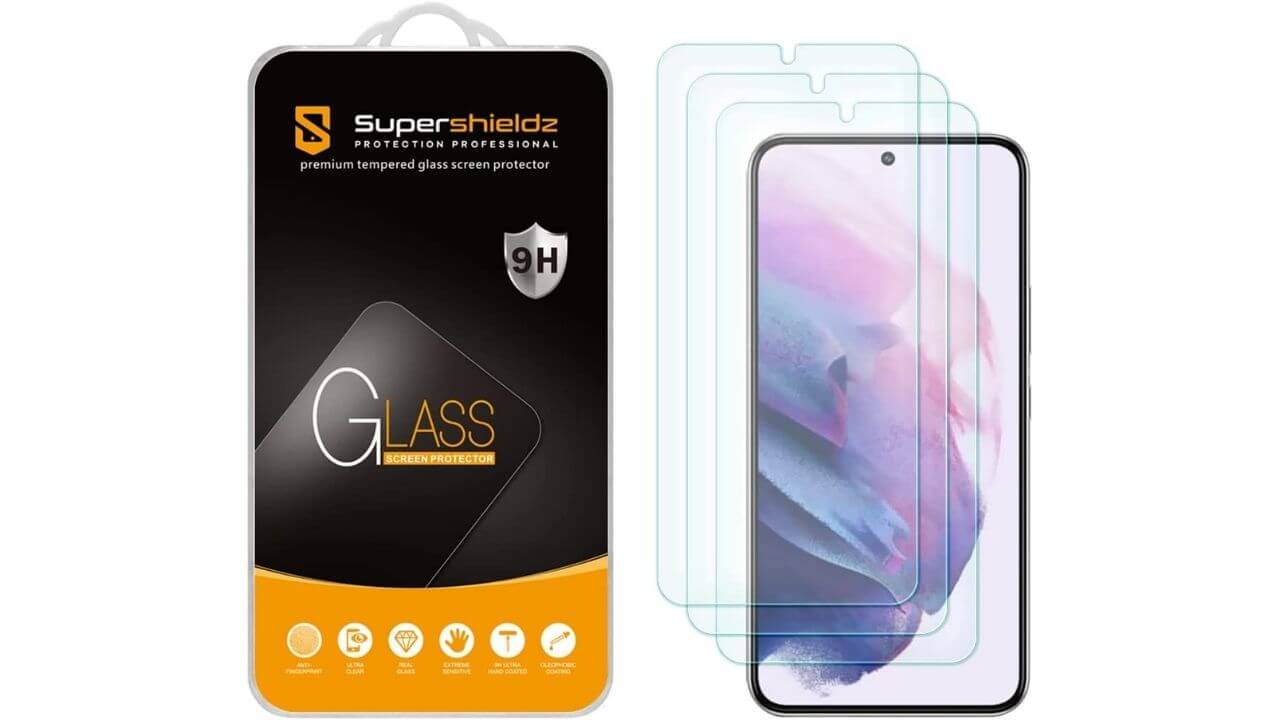 The Supershieldz S22 Plus screen protector is another reliable contender on our list which is offered at an attractive price tag. It is one of the durable and thinnest tempered glasses that you can find in the market to protect the display of the Samsung S22 Plus 5G. As far as protection is concerned, the 9H hardness feature makes it one of the strongest screen guards available for Galaxy S22 Plus ensuring the best possible protection from annoying scratches, drops, scuffs, dents, and more. It is 99.99% transparent to deliver the best in class clarity and true colors for anyone who is watching movies or simply browsing. Similar to other S22 Plus screen protectors, it is also shipped with a special coating to avoid oily fingerprints and waterproof protection and ensure a clear display every time you use your phone. Also, the 2.5D curvature design fits well with the rounded corners of the Galaxy S22 Plus. Whereas the contoured edges of this screen protector ensures best fit when it comes to applying protective cases without any issues. The best thing about investing in this brand is that you get three pieces of screen protectors for your 2022 Android flagship without paying much. 
Also read: Best Cases for Galaxy S22 Ultra
7. Caseology Snap Fit Clear Tempered Glass for Samsung Galaxy S22 Plus 5G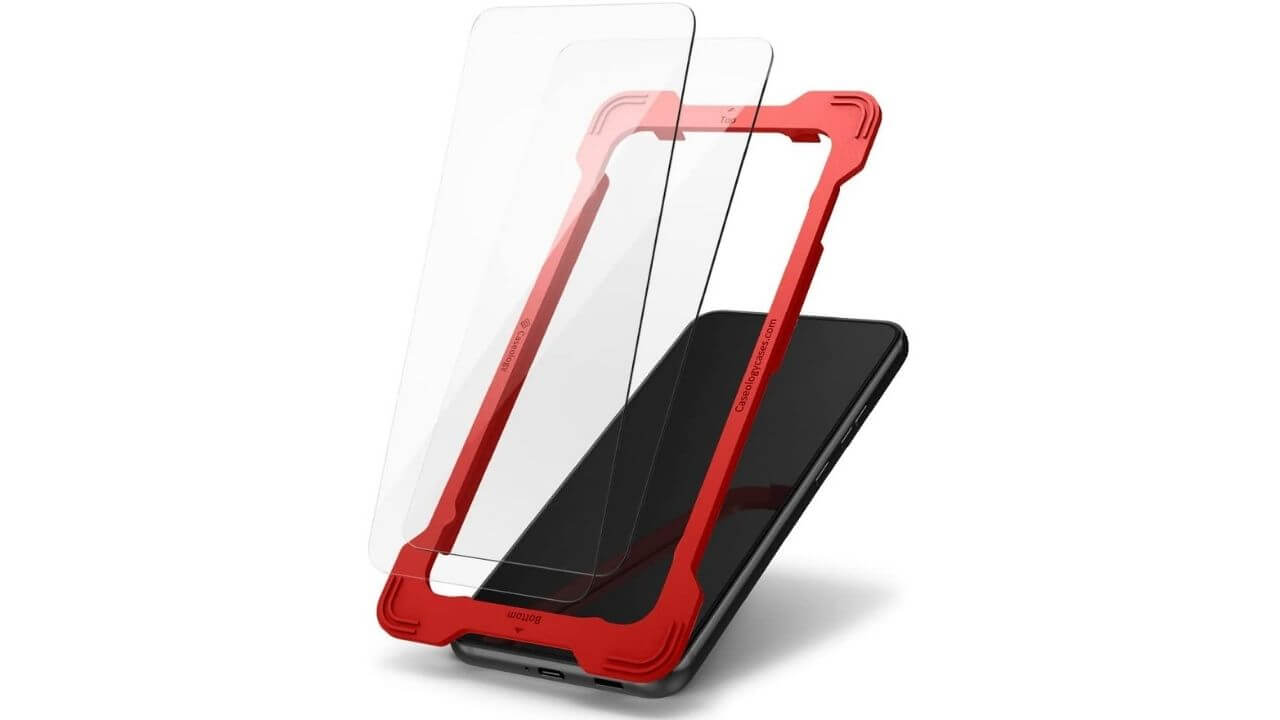 Caseology has been front runners in the mobile protection industry for a long time now, which is why the Caseology Snap Fit screen protector for Samsung Galaxy S22 Plus has made its way to our list of best screen protectors. It is similar to all others that we have mentioned in this roundup, however, the ultra-thin design with extremely good protection is surely the highlight of this screen protector for Galaxy S22 Plus. The anti-shatter design and durable build ensure that it can take heavy blows, yet remains on top when it comes to protection from accidental drops which may cause screen damage. Other than slightly higher pricing, everything else is just right about this screen protector for S22 Plus. 
8. Uyiton S22 Plus 5G Screen Guard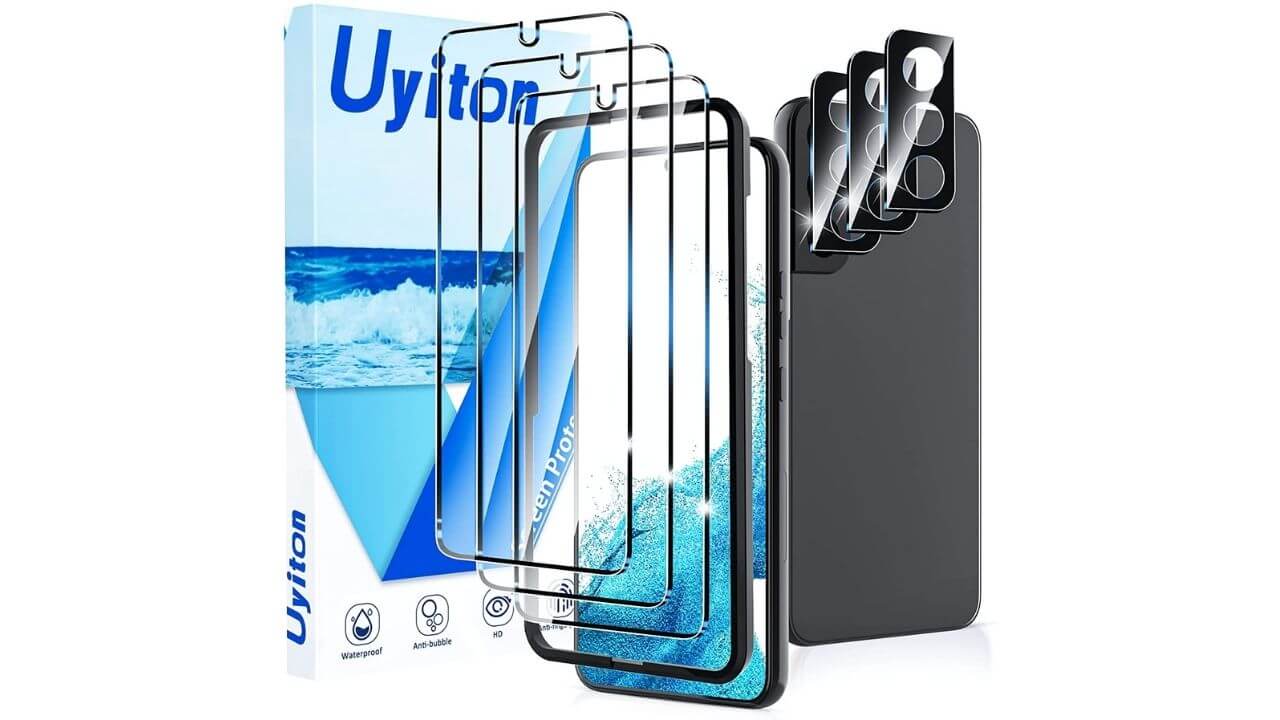 If you're looking to grab a good deal that includes screen protectors and camera lens protectors for the Galaxy S22 Plus, the Uyiton screen protector combo is for you. This screen protector features 9H hardness which ensures top-notch protection against heavy scratches and accidental drops and bumps. Also, the sleek design of this S22 Plus tempered glass gives maximum clarity when you're watching your favorite videos or photos. The case-friendly design and edge-to-edge protection feature are other key pointers that make it one of the best value for money screen protectors for Galaxy S22 Plus. The anti-glare feature is extremely useful for anyone who tends to enjoy long gaming or binge-watching sessions. Moreover, the inclusion of three camera lens protectors alongside these features at an affordable price is the cherry on top. 
Also read: Best Accessories for Samsung Galaxy S22 Ultra
That's all for now in this roundup of best screen protectors for Galaxy S22 Plus 5G. Just in case you are planning to get the beefiest smartphone from the Galaxy S22 lineup, we recommend checking our roundup on the best Galaxy S22 Ultra screen protectors.