Techtober has been very exciting. We recently witnessed new hardware from Apple, Amazon, and Google, meaning we were left with Microsoft. And, the company finally unveiled the curtain from its new gadgets at the Microsoft Surface Event 2022 held virtually on October 12. We got to see various Surface devices: the Surface Laptop 5, Surface 9, Surface Pro 9 5G, and the Surface Studio 2+, all were introduced with new processors and noticeable upgrades. The Windows company also took the stage to reveal brand-new Microsoft 365 and a few work-from-home accessories.
All the Surface devices announced by Microsoft are available for pre-order starting October 12 at Microsoft.com. If you missed the event or anything that the company announced in its Fall event, don't worry we are wrapping up everything Microsoft announced at Surface Event 2022.   
Microsoft Surface Laptop 5 Specifications, Price, and Availability 
Surface Laptop 5 goes all Intel

The Surface Laptop 5 brings in major upgrades and is available in its usual size i.e. 13.5-inch and 15-inch options. The smaller model is available in a new Sage color as well as Sandstone. That's not all, both models will also be available in Platinum and Matte Black colors. Though Microsoft didn't bother to mention the port selection during the event. You'll get a USB-C port with USB 4.0/Thunderbolt 4, a USB-A 3.1 port, a 3.5-mm headphone jack, and a Surface Connect Port. But, the 15" model now comes with
Thunderbolt 4 support, meaning you can easily connect a 4K display and transfer data at a much higher speed. Sadly, Microsoft has revoked the AMD option. To remind you, users were allowed to make a choice between AMD and Intel processors on the Surface Laptop 4, not the case now, it is Intel only. However, you'd get options between Core i5 and Core i7 on the 13-inch model, whereas the 15-inch model only comes with i7. The starting price of Surface Laptop 5 is $999 and it will be available from October 25. 
Also read: Best Monitors for Microsoft Surface Pro and Surface Laptops in 2022
Microsoft Surface Studio 2+ Specifications, Price, and Availability
An identical twin to the predecessor with upgrades on the inside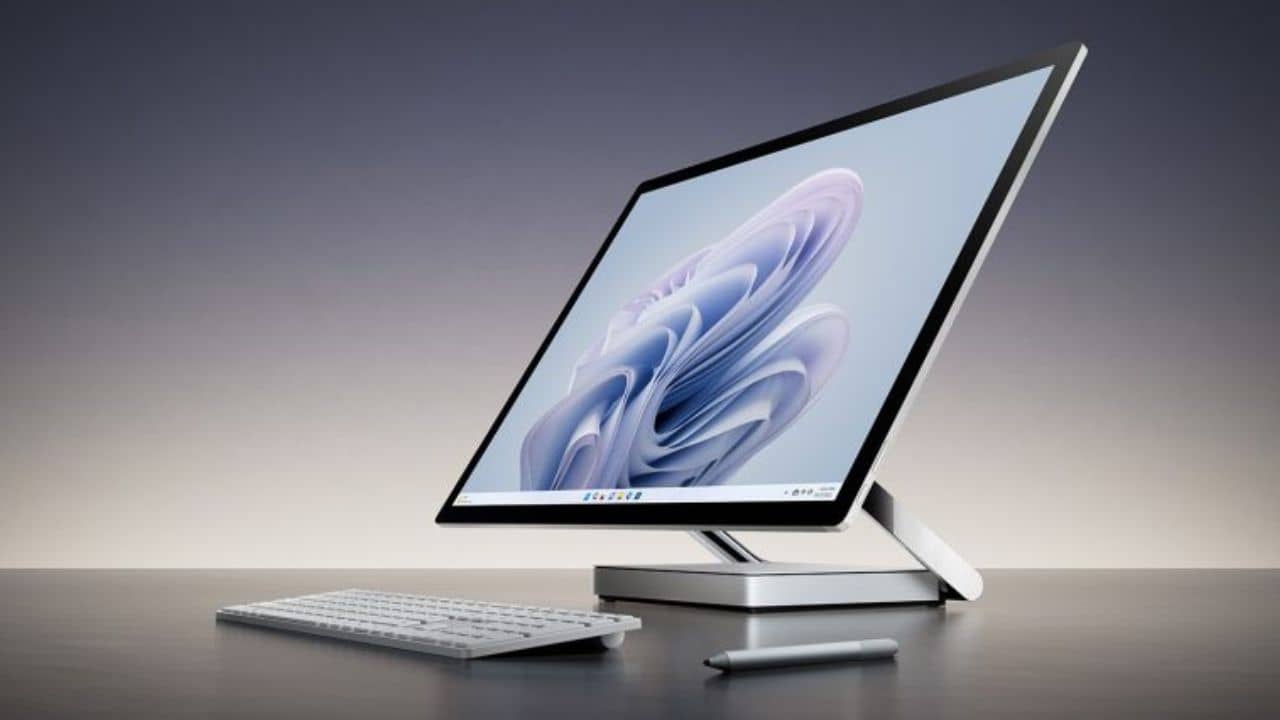 After a long wait of four years, the Surface Studio 2 has finally got its big brother, Surface Studio 2+. It is an all-rounder PC for designers that looks like an identical twin to the predecessor launched back in 2018. The Surface Laptop 5 features a 28-inch touchscreen display with a 4,500 x 3,000-pixel resolution, a versatile hinge design, and stereo speakers with
Dolby Atmos for crazy sound. Microsoft has made some upgrades to the laptop. The ports now consist of three USB-C/Thunderbolt 4 ports and upgrade from only one port on the Studio 2. It also has two USB-A ports, a 1-Gigabit Ethernet connecter, and our dear 3.5mm headphone jack. You'll also be able to connect up to three 4K UHD monitors with a 60 Hz refresh rate. The tech giant has made some significant changes on the inside where you'll get an 11th-gen Intel Core i7-11370H processor and Nvidia GeForce RTX 3060 graphics card. Microsoft claims that the chips are able to deliver 50 percent faster CPU performance, while the graphic performance is more than doubled. Moreover, the Studio 2+ ships with a Surface Pen, a Surface Keyboard, and a Surface Mouse. The price of Studio 2+ is set at $4500 and will be available starting from October 25. 
Also read: Best USB-C Adapters for Microsoft Surface Laptops
Microsoft Surface Pro 9 and Surface Pro 9 5G 
Packs different processors and more color options
The new Surface Pro 9 retains all the essential qualities that we saw in last year's Surface Pro 8. But. now Microsoft gives you the option to choose from Intel-based Surface Pro 9, and a 5G model that packs Qualcomm's SQ 3 chip. The Windows giant has introduced two new colors (in addition to Platinum and Graphite) for the Intel model. Whereas the 5G model only retains the Platinum and Graphite options. Eager to know more about the specs, price, and availability of these awesome hardware pieces?
Read our detailed coverage of Microsoft's Surface Pro 9 and Surface Pro 9 5G. 
Work-from-home or in-office Accessories Launched at Microsoft Surface 2022 event 
1. Microsoft Presenter+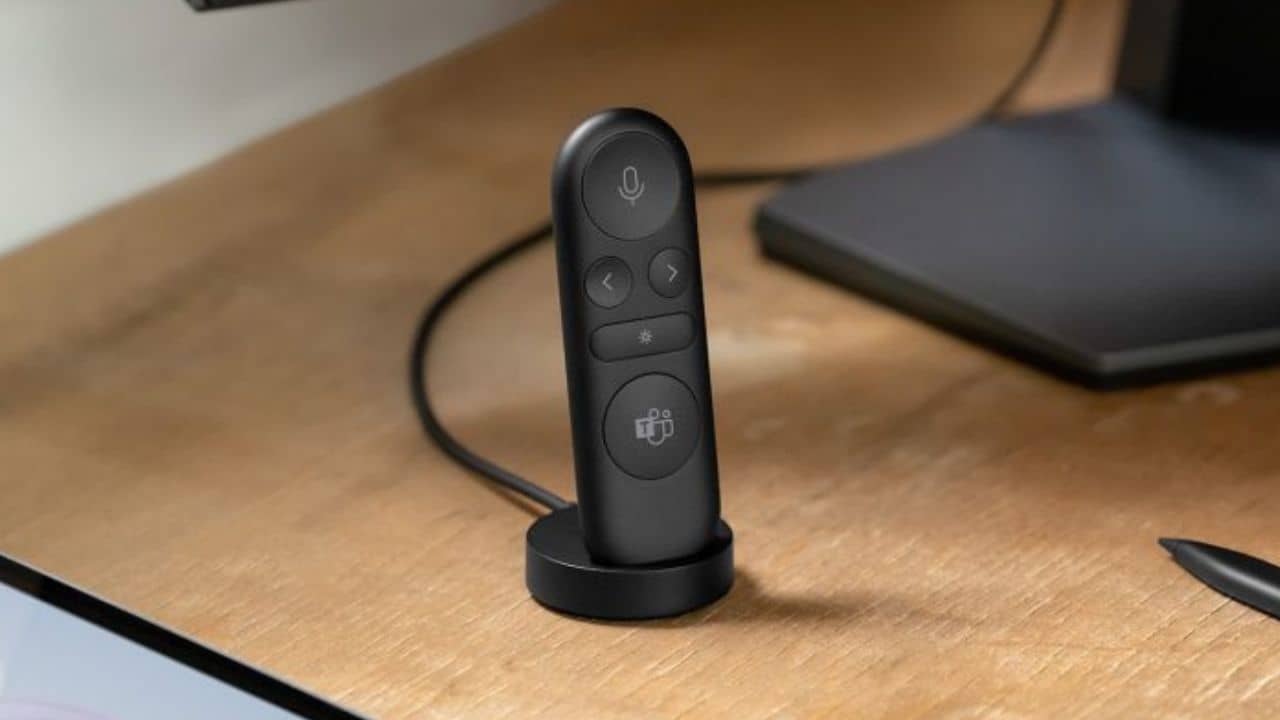 The Presenter+ is basically a Bluetooth remote that is designed to streamline the presentation in Microsoft Teams. You can use it to mute and unmute yourself during video calls and enables you to join meeting rooms too. Whenever presentation responsibility comes forward, you can use the Presenter+ to move through the slides and even direct your colleagues to specific content within the screen using the screen pointer feature. Gone are the days, you used to tap the native app feature to raise your hands during virtual meetings, you can now do it with this $80 dollar Presenter+. Microsoft claims that it can offer up to 6 days of battery life on a single charge. 
2. Microsoft Audio Dock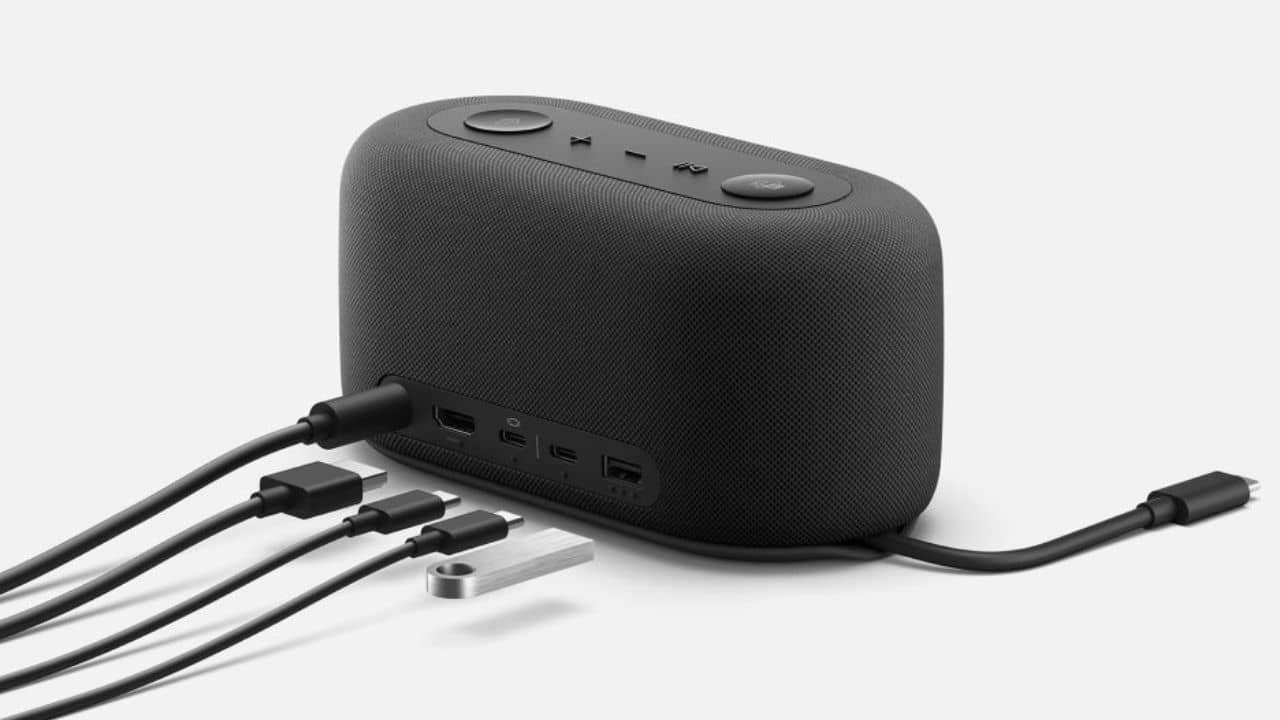 Microsoft also unveiled the Audio Dock at the event. It comes with speakers that have a 15-watt woofer and 5-watt tweeters. Plus, there are microphones, and a pass-through PC charger, all that packed inside a compact and beautiful design. There are four ports in this Audio Dock: 1 x HDMI port, 2 x USB-C ports, and 1 x USB-A port. You can use the ports to plug in up to two different
monitors and charge a smartphone without messing up your workstation look. Microsoft claims the dual forward-facing mic on the Audio Dock also helps in noise reduction, while you can find a mute button for video calls. You can grab this gadget at $250.  
3. Adaptive Accessories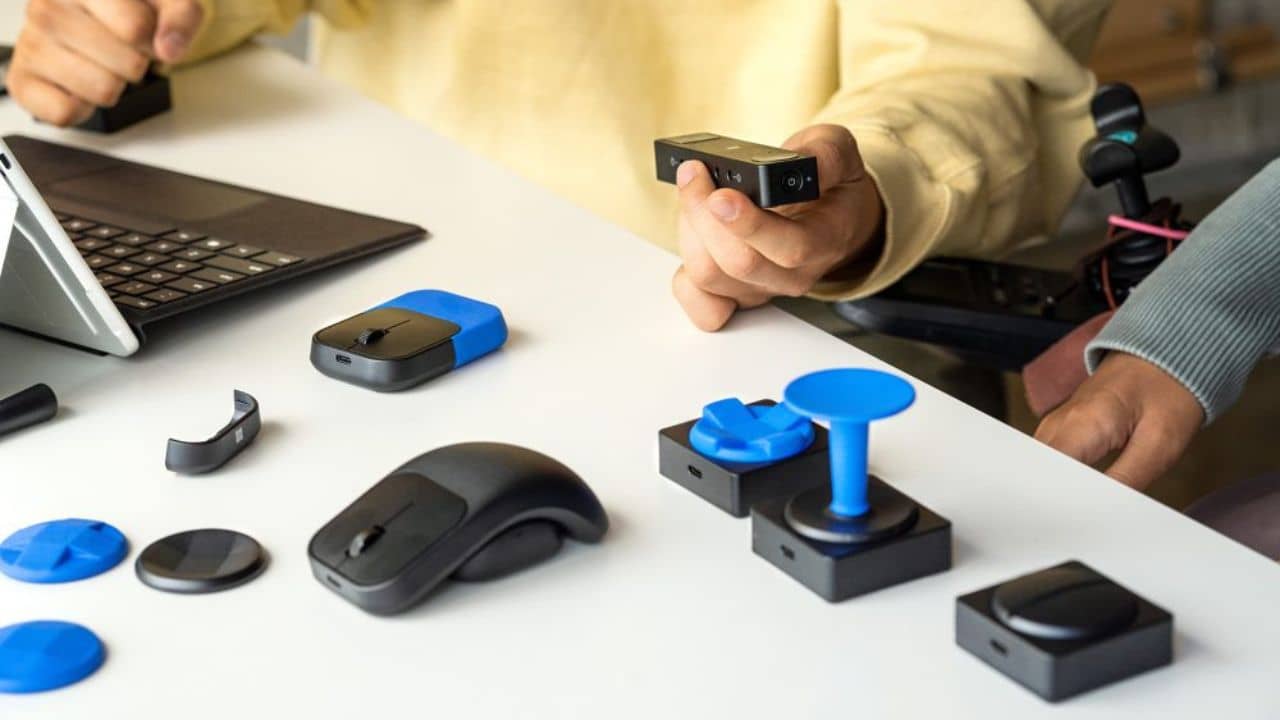 If you could recall, at the Ability Summit, Microsoft announced that it will launch PC hardware for users with limited mobility. And, they're here now. The adaptive accessories include a programmable button, an adaptive mouse, and a hub that will easily connect them to a PC wirelessly. The adaptive accessories are set to hit shelves officially starting October 25. However, we don't have any hints about pricing on our hands as we write.
New Creator Tools added to Microsoft 365 Suite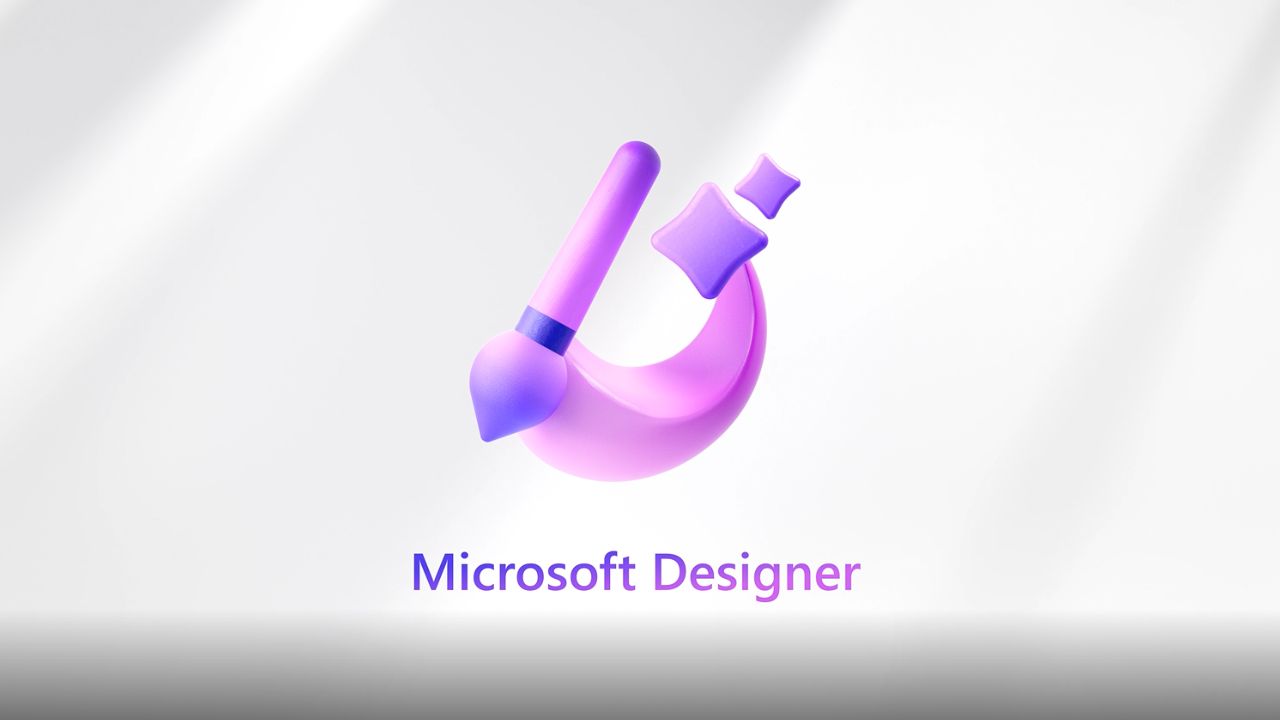 Not only hardware, but Microsoft also introduced new creator apps within Microsoft 365 suite, Microsoft Edge, and Bing. The company announced that a brand-new Microsoft Designer app will let you create graphics, digital postcards, invitations, etc. The app uses DALL-E 2 from OpenAI, to generate images and designs on its own, saving you time. It can also be integrated into Microsoft Edge so you to be able to use it within a browser window. You can also access a similar app called Image Creator within the Bing search engine. 
Video editing goes a notch up as Clipchamp is now available for Windows 11 and via browser. The tech giant has also introduced a new website called Microsoft Create, which can also be used for designing purposes. Surely, Microsoft has put forward its step to localize all the design works.
The Apple and Microsoft Team Up 
Microsoft announced that for the first time Apple Music will be available on the Xbox platform. You'll also see dedicated apps for Apple TV Plus and Apple Music on Windows, preview versions are awaited by the end of this year or even earlier. Moreover, the company also announced iCloud Photos integration on Windows.
That's all for now, do share this piece with your friends or colleagues who are always interested in Microsoft products and services. 
Banner Image Source: Microsoft