Finally, after weeks of rumors and leaks, Apple has unveiled its latest, redesigned iMac with the powerful Apple M1 processor, improved camera, and a spectrum of bright colors. Apple had announced the date of its "Spring Loaded" event a few days back, and now we've got a look at the first set of Apple products for the year 2021. Apple has introduced an impressive lineup of products, including the redesigned iMac with Apple's in-house processor, the new Apple TV 4K, the M1 iPad Pro, as well as the much-awaited AirTags. 
Talking about the new iMac with the Apple Silicon chip and macOS Big Sur, Apple has transformed Macs into a different class of product that aims to deliver breakthrough performance.
With the M1 chip onboard, the iMac joins the family of Apple's M1 Mac models with the MacBook Air, MacBook Pro, and the Mac Mini. This marks a step forward in Apple's transition to its in-house Silicon chips. 
The M1 iMac 2021
M1 iMac Display and Design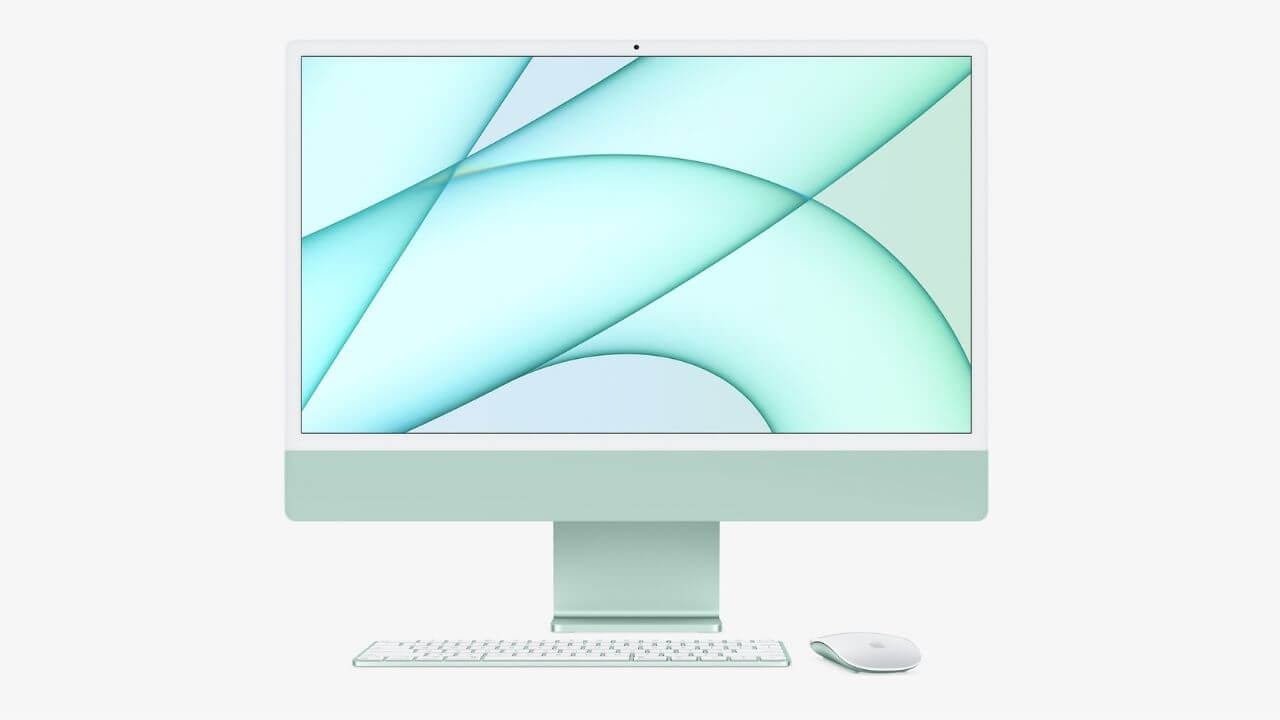 The latest M1 iMac features a stunning 24-inch 4.5K Retina display with narrow borders, 11.3 million pixels, and a slimmer design that's a mere 11.5mm thick. In addition, with the P3 wide color gamut, more than a billion colors, and 500 nits of brightness, the M1 iMac is designed to offer a brilliant and more vivid viewing experience. That's not all. This latest display also features True Tone Technology that automatically adjusts the color temperature for a more natural viewing experience and an industry-leading anti-glare coating for greater comfort.
In terms of design, the M1 iMac has got clean and simple aesthetics with a single sheet of glass that covers the entire display. It's thin and more spacious than the previous 21.5" iMac models. Apple has also replaced huge logic boards with smaller ones that efficiently incorporate CPU and GPU, all thanks to the System-on-Chip architecture of the M1 chip. In addition, as the M1 chip is more power-efficient, it has allowed Apple to replace bulky systems with two smaller fans for cool and quiet operations.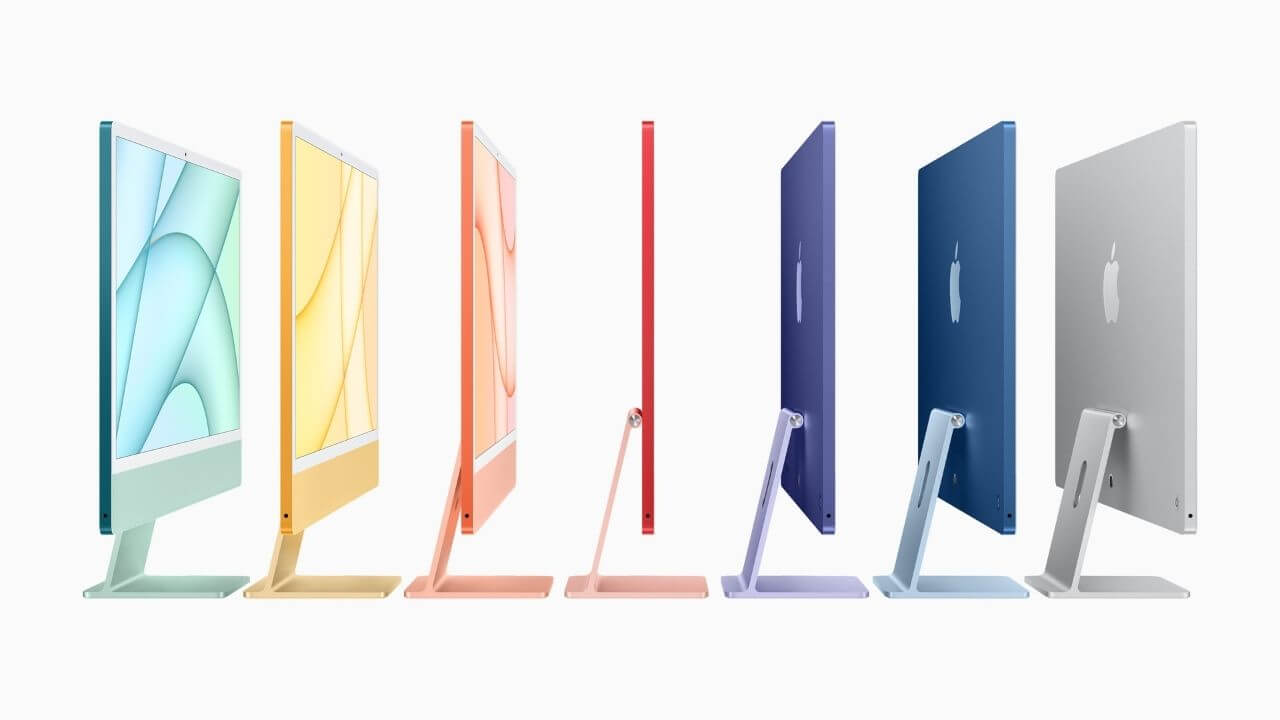 One of the biggest and noticeable changes to the iMac is the introduction of rich, saturated, and bright color options, rather than the single standard aluminum color of the previous models. The M1 iMac is available in an array of seven colors, featuring a mix of subtle as well as bold colors so that you can easily pick the one that best matches your personal style.
M1 iMac Camera, Mics, and Speaker System
Apple says they've taken the Mac cameras, mics, and speaker systems to a whole new level with the latest M1 iMac. With the WFH mode and secure video conferences becoming more important than ever, this impressive M1 iMac features the best camera that's ever put on a Mac. The machine features a 1080p FaceTime HD camera to level up the video quality. Besides, there's a larger sensor that offers great performance in low lights. The iMac takes the advantage of the Image Signal processing on the M1's Neural Engine for greater dynamic range, better noise reduction, and more intelligent exposures & white balance adjustments. This will ensure that you always look your best when connecting on a video call.
To complement the camera, Apple has also leveled up the mics and speaker systems on the iMac. There are three, studio-quality microphones that reduce background noise for clearer and calls and recordings. Talking about the sound systems of the new iMac, it has a six-speaker sound system for clearer notes, powerful bass response, and a wider sound stage. Impressively, the M1 iMac also supports spatial audio when playing a video with Dolby Atmos, which delivers an incredible movie-watching experience. 
M1 iMac Performance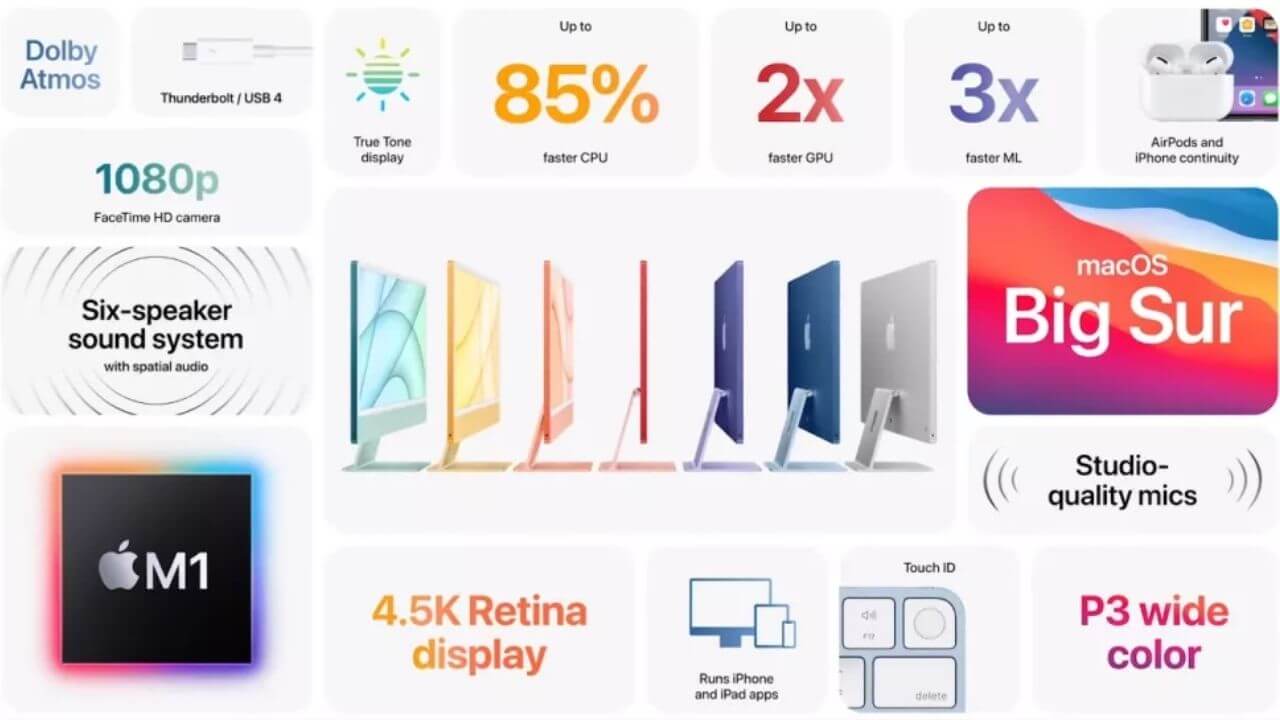 With the power of the Apple Silicon chip and macOS Big Sur, the latest iMac 2021 delivers an impressive performance. Machine Learning is almost three times faster on the M1 iMac than the standard models. Apple claims that the M1 iMac offers up to 85% faster CPU performance than the previous 21.5" iMac models. This allows users to compile new apps in Xcode in a fraction of time, export their video projects much faster in iMovie, and easily work with a whopping 100MP photos in Lightroom. In addition, this latest machine doubles up the GPU performance for compatible M1 apps like Photoshop and Affinity Photo. On top of it, users can edit up to five streams of 4K or one stream of 8K footage in Final Cut Pro, without dropping a frame. 
The M1 iMac is designed with a new level of capabilities. The machine wakes up instantly, the apps are launched with blazingly fast speed, and the everyday tasks are more fluid and fast. 
You can also run your iPhone and iPad apps on the new iMac. This powerful machine is equipped with two Thunderbolt 4 and two USB-C ports for connecting a single 6K or multiple 4K displays. Besides, the Wi-Fi 6 compatibility ensures faster wireless performance on the iMac.
Apple has introduced a new power connector, sparing those USB and Thunderbolt ports for connecting external devices. The new power connector attaches magnetically for an easy and quiet connection. There's also a 1Gbsp Ethernet port in the power adapter for clutter-free desk space.
M1 iMac Accessories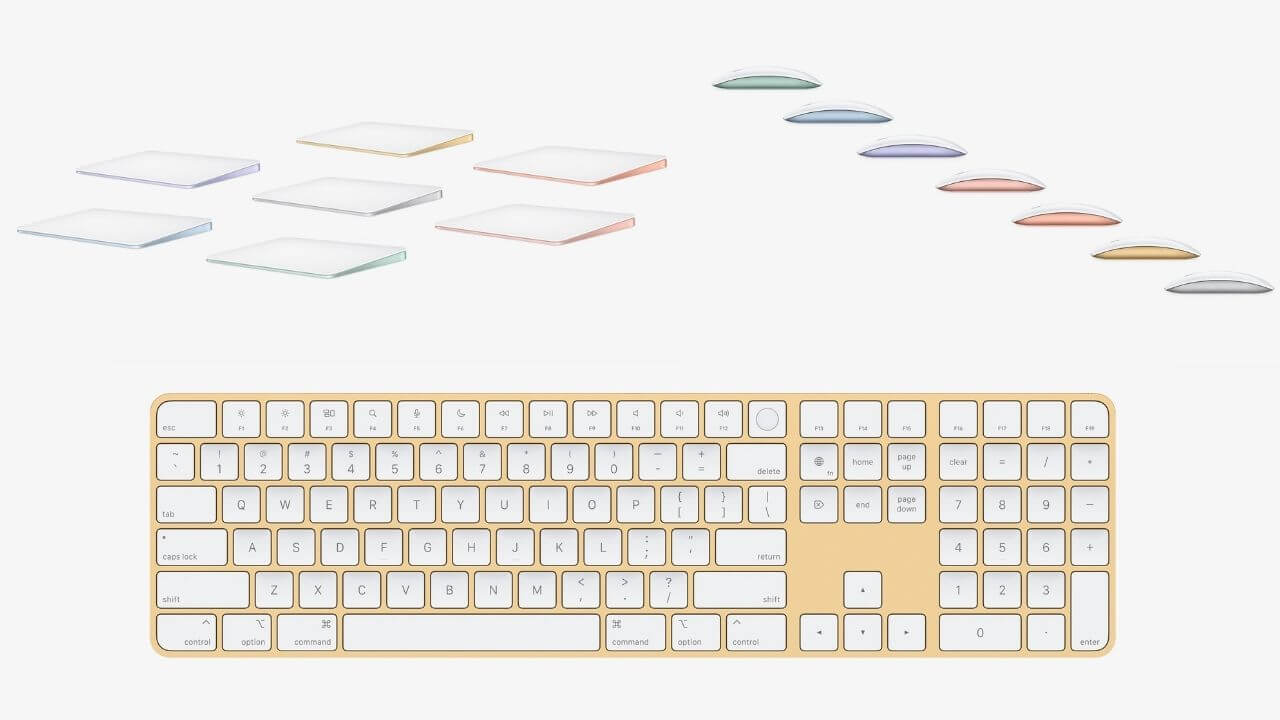 You'll get a Magic Mouse and Magic keyboard right in the box with your iMac. Users will be excited to know that besides the colorful finishes for the iMac, Apple has also introduced various color-matched accessories for this latest machine. There are colorful Magic Trackpad options that go beautifully with the iMac aesthetics.
You can choose from three types of Magic Keyboards with stunning aluminum enclosures and matching color tones. Also, for the first time ever, there's a Magic Keyboard with TouchID. You can use it to unlock your iMac, make purchases with Apple Pay, and Fast User Switching. You can also go for the Magic Keyboard with TouchID and a numeric keypad. 
M1 iMac Price and Availability
The all-new M1 iMac comes in two configurations. There's a $1,299/Rs 1,19,900  iMac model that features a 7-core GPU, 8-core CPU, 8GB of unified memory, 256GB SSD, two Thunderbolt ports, Magic Keyboard, and Magic Mouse. This iMac model is available in Pink, Blue, Green, and Silver finishes.
There's another $1,499/Rs 1,39,900 model that comes with an 8-core GPU, 8-core CPU, 8GB of unified memory, 256GB SSD, two Thunderbolt ports, two additional USB 3 ports, Magic Keyboard with Touch ID, Magic Mouse, and Ethernet. You can get this iMac model in a spectrum of vibrant colors, including g
reen, pink, purple, yellow, orange, blue, and silver.
Besides, you can obviously upgrade the RAM and SSD configurations by paying an extra amount of cash, but we'll have to wait to see how much these upgrades will cost till the preorders go live.
The new M1 iMac will be up for preorders starting from April 30th on apple.com and the Apple Store app. This latest machine will be hitting the store shelves a bit later in the second half of May.
What do you think about this latest iMac? Drop your view in the comments section below.