The OnePlus 9 Pro is finally here. It's a premium flagship of the OnePlus 9 Series which has a mid-range OnePlus 9, and a budget-oriented OnePlus 9R. Besides these smartphones, the company has also launched the much-awaited OnePlus Watch at the same event. Talking about the maxed-out variant of the OnePlus 9 Series, the OnePlus 9 Pro is powered by the latest Qualcomm Snapdragon 888 chipset and features a 6.78" QHD+ Fluid Display 2.0 AMOLED display with the Smart 120Hz feature for dynamic refresh rates. There's an impressive and powerful quad rear camera setup co-developed with Hasselblad, a big 4,500mAh battery with 65W fast charging.
We believe that a premium flagship killer like the OnePlus 9 Pro deserves the best accessories. To help you spot the best options and enhance your user experience, we've handpicked the best accessories for the OnePlus 9 Pro in 2021. Whether you're looking for protective cases, wireless chargers, earbuds, or even photography accessories for your OnePlus 9 Pro, we've got you covered. So, without any further ado, let's get started with our list of the best OnePlus 9 Pro accessories.
Note: We update our article from time to time to cover the latest products available in the market. 
Best Accessories for OnePlus 9 Pro in 2021
Best OnePlus 9 Pro Cases
1. Best grip: Caseology Parallax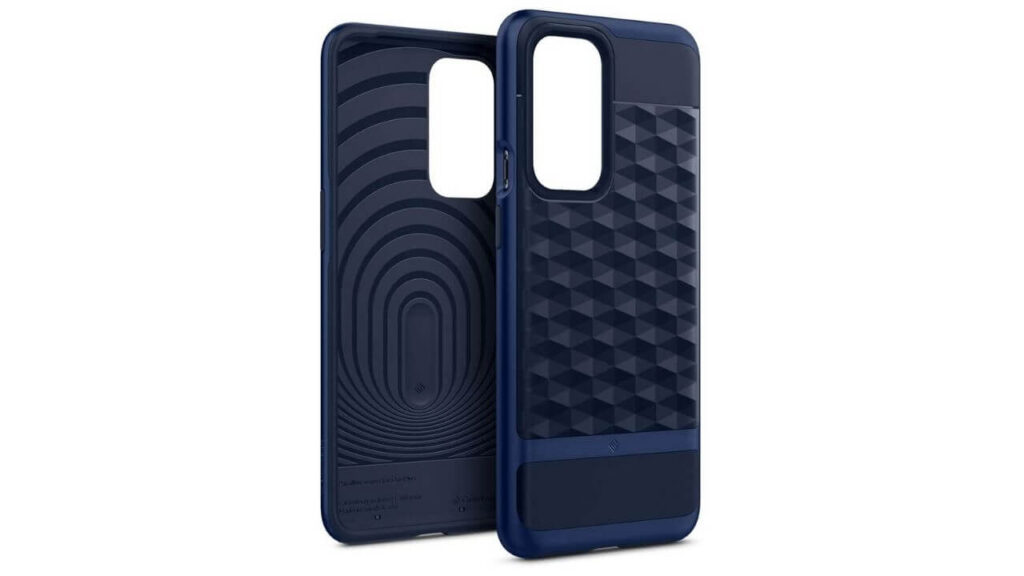 Caseology Parallax is a 3D functional case that offers an incredible grip, camera & display protection, and enhances the already gorgeous looks of your smartphone. This designer case for the OnePlus 9 Pro is all about style, good looks, and decent protection. It adds a colorful layer of protection to your smartphone without hampering its lightweight design or slim contours. This dual-layered bumper case meets military-grade standards to deliver impressive shock and drop protection in case of accidental falls. You can choose between Midnight Blue and Ash Gray finishes.
2. Best Clear Protective OnePlus Case: OtterBox Symmetry Series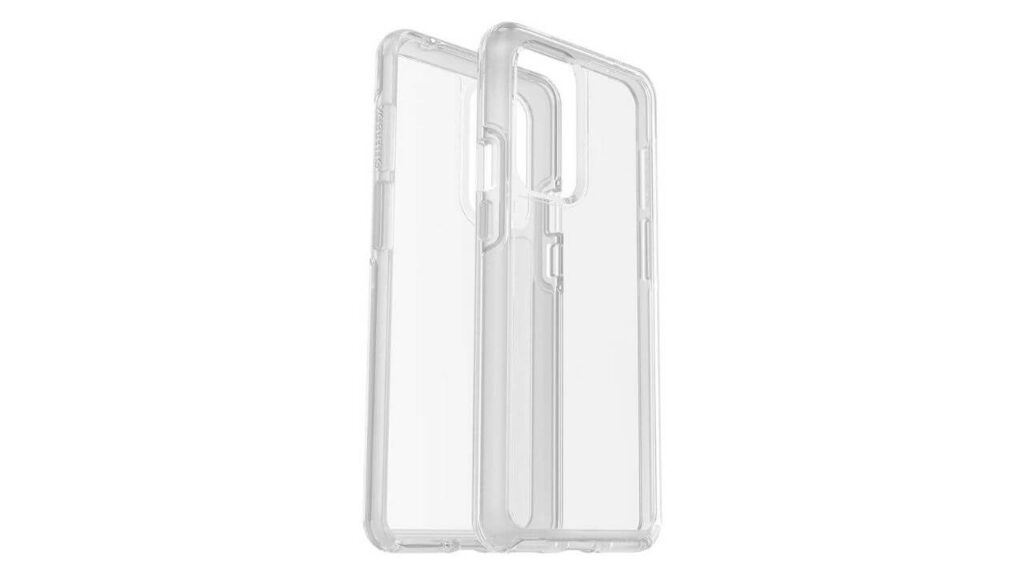 OtterBox is known to provide excellent protection with its amazing lineup of cases, and the OtterBox Symmetry Series for OnePlus 9 Pro is no different. It's a sleek, lightweight, and durable clear case that sports a minimal design and offers drop+ protection. The clear back lets you flaunt the original beauty and colored finish of your OnePlus 9 Pro and offers excellent protection against bumps and drops. Besides, the case is topped with an anti-microbial coating to keep the case safe from germs and bacteria. The OtterBox Symmetry Series is backed by a worry-free lifetime warranty. 
More budget-friendly alternative – Spigen Hybrid Clear Case
3. Best OnePlus Pro Case with kickstand: Spigen Tough Armor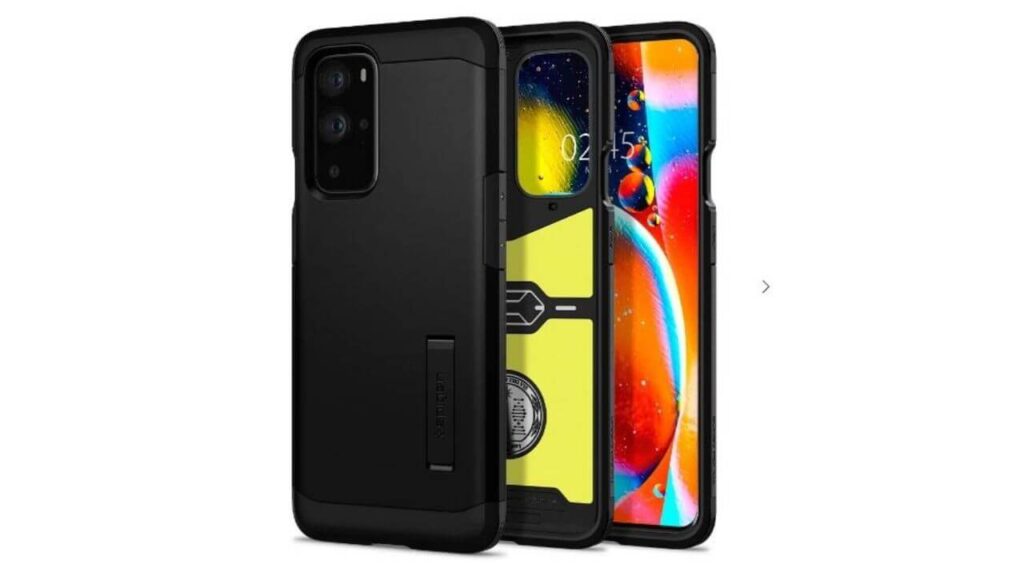 If you need the best rugged and shockproof OnePlus 9 Pro case with a kickstand, get yourself the Spigen Tough Armor. It features a tough dual-layer body design and utilizes the all-new extreme impact foam technology to offer impressive durability and extra shock absorption. The built-in kickstand securely locks your phone so that you can watch movies in different orientations and make hands-free video calls. It offers excellent protection against scratches, bumps, and drops, without adding too much bulk to your phone.
4. The unique looking case: OnePlus Unique Bumper Case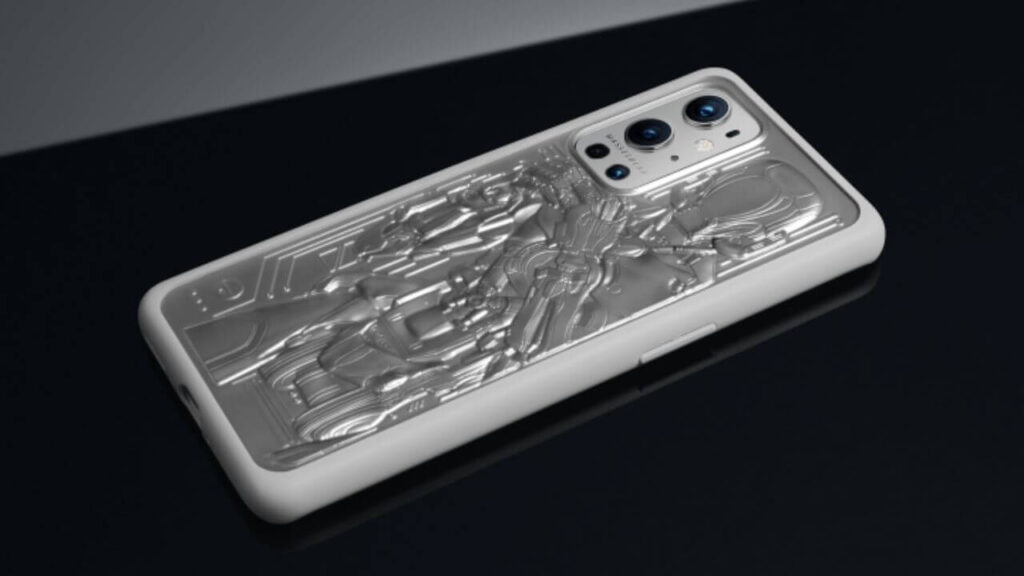 The Droid Case that made its debut with the OnePlus 5T smartphone is back with the OnePlus 9 Series. The OnePlus 9 Pro Unique Bumper Case is a cool-looking cover that features metal embossing with image prints and smooth texture to deliver a unique, eye-catching 3D look. It's a lightweight and full-wrapped case that safeguards the back and edges of your phone for all-around protection.
5. First-part feel: Sandstone and Karbon Bumper Case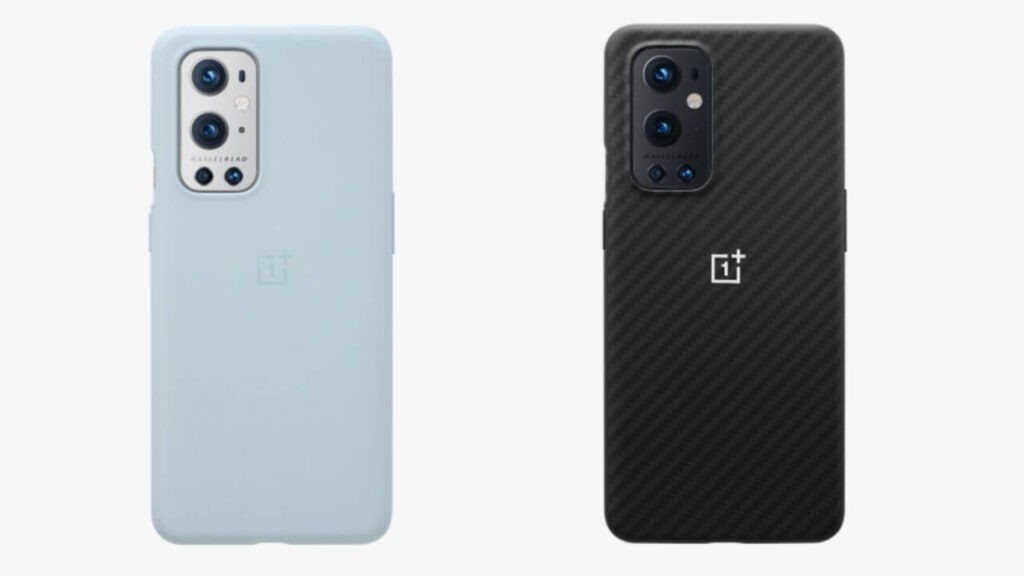 The OnePlus 9 Pro Sandstone Bumper Case features a minimalist design with fine-ground sandstone textures. It fits seamlessly onto your phone and gives a comfortable holding experience. It's a simple, full-wrapped case with subtle colors that will enhance the overall look of your phone. In short, if you prefer elegant and classy cases, the Sandstone Bumper Case is a must-have accessory for your OnePlus 9 Pro. It is available in Sandstone Black and Rock Gray finishes. 
The Karbon Bumper Case is a lightweight and flexible first-party cover that fits snugly and offers a smooth touch and classy look to your OnePlus 9 Pro. It's a high-quality, durable case that rocks the aesthetics of weaved patterns and the strength of aramid fiber. The case has got slightly raised front and back to protect the stunning display and camera of your smartphone.
Check Sandstone Bumper on OnePlus
Check Karbon Bumper Case on OnePlus
Looking for more options? Don't miss our roundup of the best OnePlus 9 Pro cases.
Best Screen Protectors for OnePlus 9 Pro 
A good screen protector is unquestionably a must-have accessory for any premium flagship like the OnePlus 9Pro. After all, getting a cracked or broken display is amongst the worst nightmares for a smartphone user. Therefore, it's better to invest in some good screen protectors rather than paying a hefty amount to repair your already expensive smartphone.
1. QITAYO OnePlus 9 Pro Screen and Camera Protector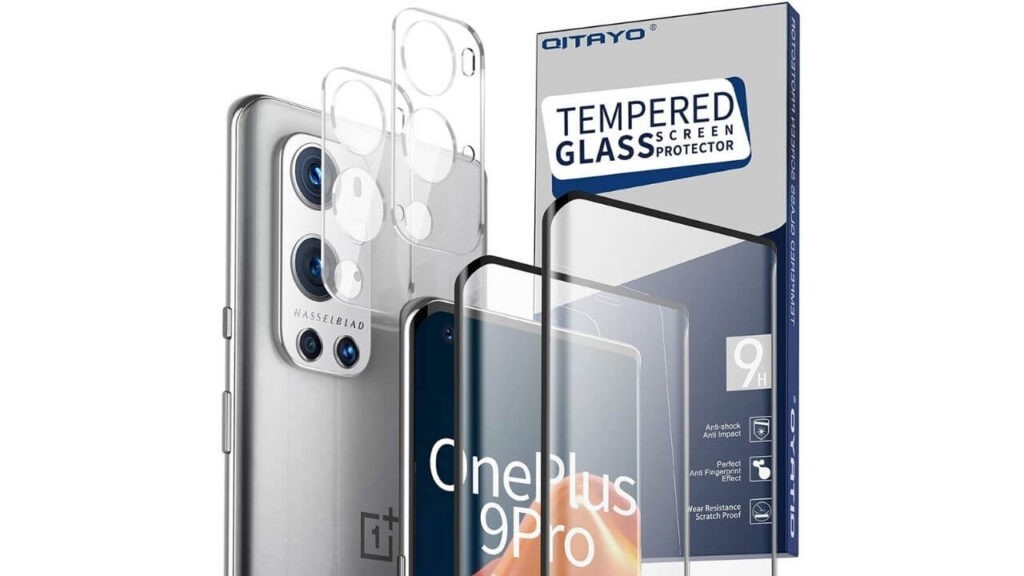 Here we've got a useful tempered glass for the OnePlus 9 Pro that offers complete protection with its ultra-thin, highly sensitive screen protector and anti-scratch camera lens protectors. It preserves the original responsiveness and clarity of the display and features apt cutouts for the front camera, speakers, and sensors. Besides, the camera lens protector for the OnePlus 9 Pro is protected by an oleophobic layer that prevents water, dust, and oil marks. These tempered glass protectors for the OnePlus 9 Pro are backed by an impressive lifetime warranty.
2. Glass-M Screen Protector
The Glass-M Screen Protector is a shatterproof tempered glass that's made from 9h hardness glass to protect the screen from scuffs and scratches by keys, knives, and other objects. The screen protector packs high transparency, offers a smooth touch performance, and does not interfere with the fingerprint sensor. 
The hydrophobic and oleophobic screen coating keeps those oily and sweat fingermarks away. It offers a full, 3D coverage to protect the stunning curved display of your OnePlus 9 Pro from high-impact drops and bumps. The Glass-M Screen Protector for OnePlus 9 Pro comes with a 30-day money-back and 1-year replacement warranty.
Best Wireless Chargers for OnePlus 9 Pro
1. OnePlus Warp Charge 50 Wireless Charger (Ultra-Fast OnePlus 9 Pro Wireless Charger)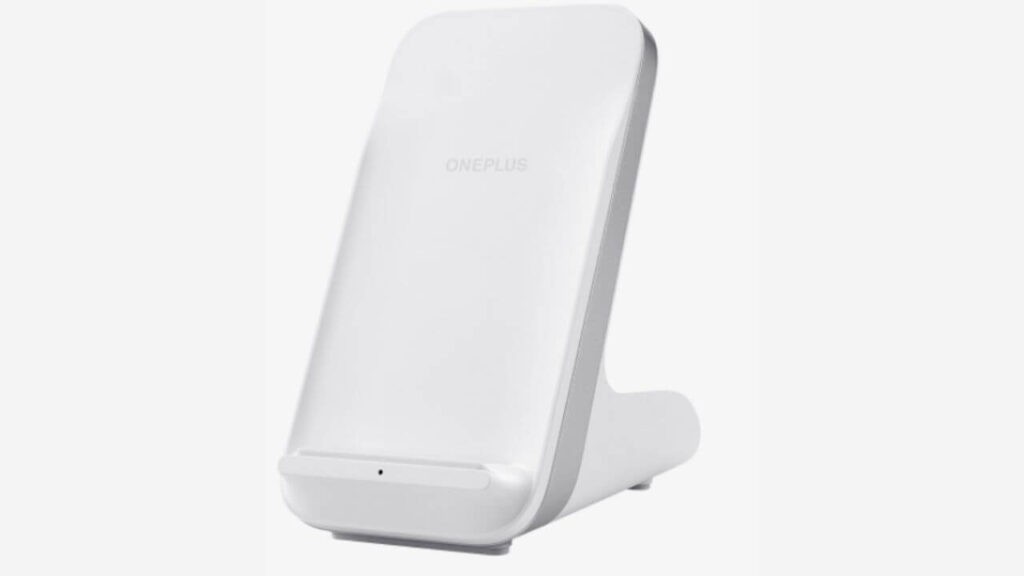 Here comes one of the most important OnePlus 9 Pro accessories- the OnePlus Warp Charge 50 Wireless Charger. It's a super-fast wireless charger that outshines the charging speeds of most wired chargers and re-energizes your OnePlus 9 Pro at an insane speed of 50W. Therefore, you can power up the OnePlus 9 Pro from 1 to 100% in just 43 minutes. It's a good-looking wireless charger that features a dual-coil charging system that allows you to charge your phone in both, vertical and horizontal orientations. That means you can charge your smartphone watching binge-watching Netflix. Besides, you don't even need to worry about noise as the Warp 50 offers a silent mode that reduces the charging speed, brightness of the light indicator, and fan power below 23dB.
2. Anker 15W Wireless Charging Pad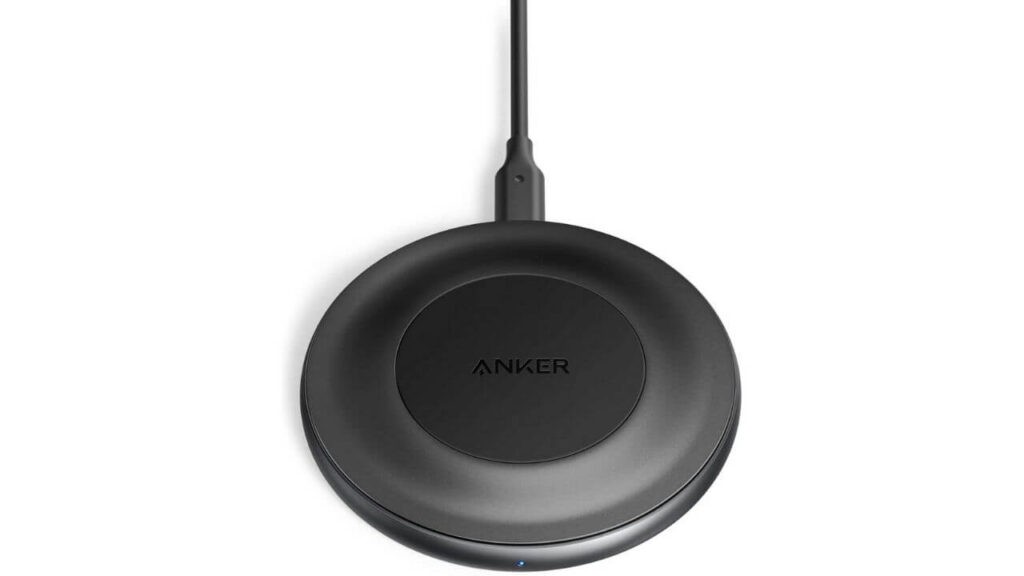 If you're looking for the best wireless charger for nighttime slow charging, the Anker Wireless Charger is an amazing option. The Anker 15W Wireless Charger is a budget-friendly wireless charger for the OnePlus 9 Pro features a premium design with an aluminum base that offers a classy matte alloy finish, better heat dissipation, and delivers a stable charging experience on your devices. The anti-slip silicone pads keep your phone in place while delivering stable power. The charger includes an 18-month warranty, a USB-A to C cable, and works perfectly with all Qi-enabled devices.
You can also check out the Anker 10W Wireless Charging Pad and Stand. 
OnePlus Watch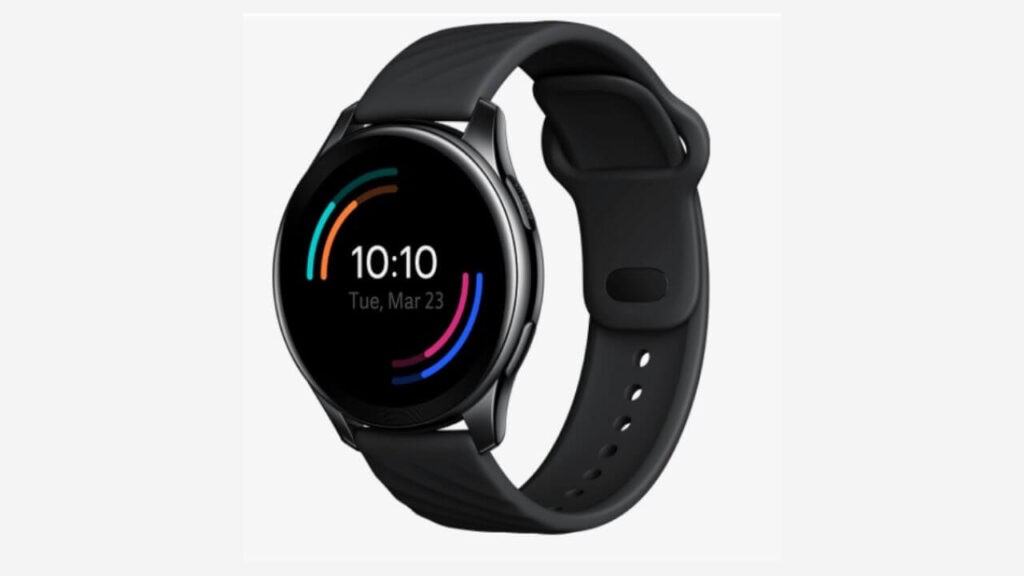 With the OnePlus 9 Series, the company has also launched the much-awaited OnePlus Watch. This smartwatch is a perfect blend of stylish looks and advanced features. It sports a round 46mm face and interchangeable watch bands. It's a perfect health companion that can monitor heart rate, stress levels, sleep patterns, as well as blood oxygen levels. This amazing wearable offers 110 workout modes, built-in GPS, and a 5ATM IP68 rating which makes it safe swimming. 
One of the most standout features of the OnePlus Watch is that you can use it as a remote control for your phone's camera or OnePlus TV. Impressively, it automatically lowers the volume when you're on a call and turns off the OnePlus TV, 30 minutes after you've fallen asleep.
OnePlus has also launched the Cobalt Limited Edition that's designed using cobalt alloy, a sapphire glass watch face, and a leather strap.
In short, the OnePlus Watch is an essential OnePlus 9 Pro accessory for all fitness enthusiasts. 
Best Wireless Headphones for OnePlus 9 Pro
1. OnePlus Buds Z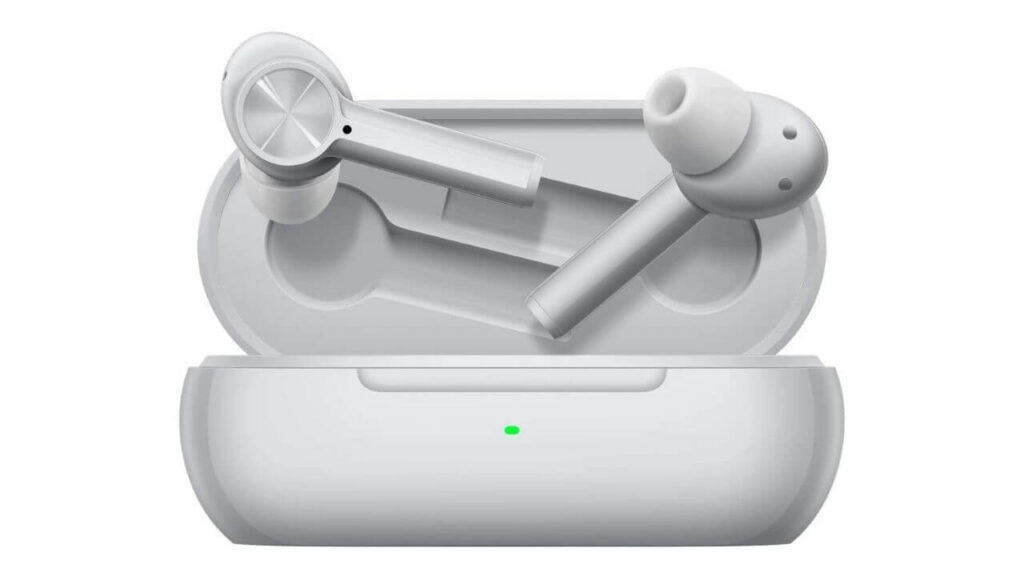 OnePlus Buds Z are amongst the best wireless earphones for your OnePlus 9 Pro. The lightweight design and included silicone tips give a comfortable fit for long listening hours. These earbuds incorporate an advanced 10mm dynamic driver to deliver deep bass definition. They are packed with fast charging technology and offer 3 hours of playback time in just 10 minutes. Also, these wireless Buds offer a total playback time of around 20 hours when combined with the charging case. It features Bluetooth 5.0 connectivity and an IP55 rating for water and dust resistance. All in all, OnePlus Buds are a fantastic choice for OnePlus 9 Pro users.   
You get to choose between White and Steven Harrington Edition. 
If you're looking for a premium option, you can also check out the OnePlus Buds. These wireless earbuds are packed with the noise cancellation feature, offer 3D stereo with Dolby Atmos, and deliver an impressive battery life of up to 30 hours (with case).
2. OnePlus Bullets Z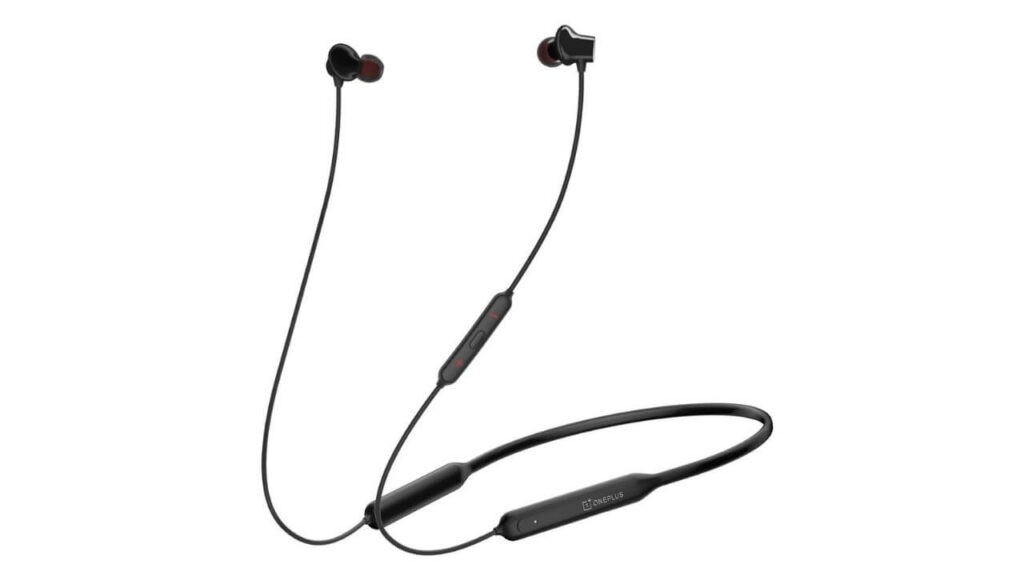 OnePlus Bullets Wireless Z utilizes Warp Charge technology to deliver 10 hours of audio playback in a mere 10 mins. Also, when you fully charge these new wireless earphones, you would get a playtime of 16 hours whereas the Bullets Wireless 2 delivers a 14-hour playback time. These earbuds offer useful features like Quick Pair and Quick Switch, which makes it very easy to pair them with any OnePlus smartphone and switch between the paired devices. They deliver rich and superior sound quality with a 9.2mm dynamic driver and a super bass tone that is fitted inside each earbud. Also, there are magnets at the back of each earbud, so that you can snap the buds together and wear them around the neck.
You get to choose between black, blue, and mint finishes.
3. Bose QuietComfort 35 II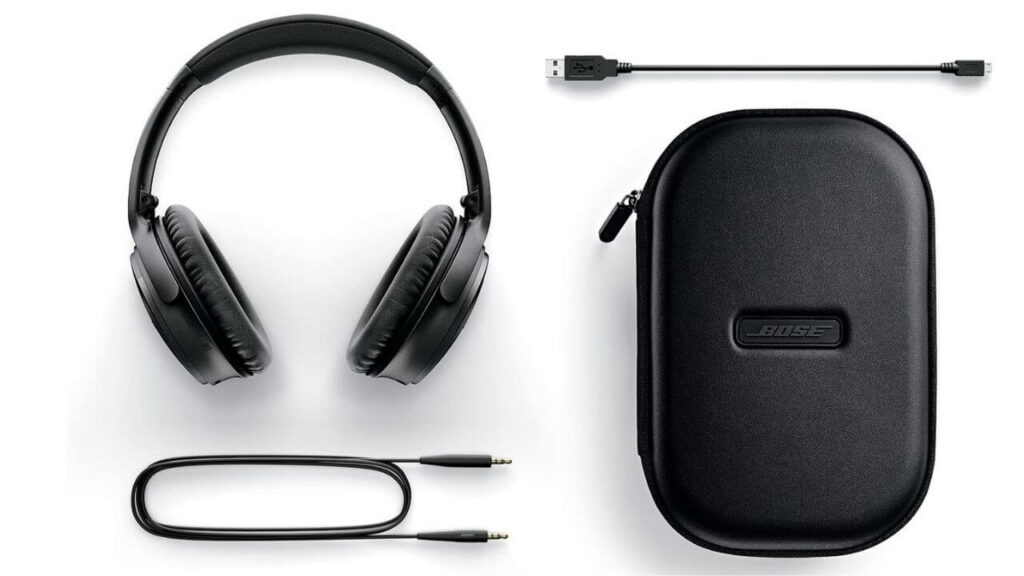 For all the music lovers out there, who prefer over-ear headphones, the Bose QuietComfort is amongst the best premium headphones that you can get for your OnePlus 9 Pro. These headphones are packed with three levels of noise cancellation to deliver an enhanced and immersive listening experience in any environment. They offer easy Bluetooth pairing and an excellent battery life of up to 20 hours. You can use the Bose Connect App to adjust the level of noise cancellation, manage Bluetooth connections, and update the software. In short, these premium headphones are a must-have OnePlus 9 Pro accessory for all melophiles.
4. Jabra Elite 75t and 85t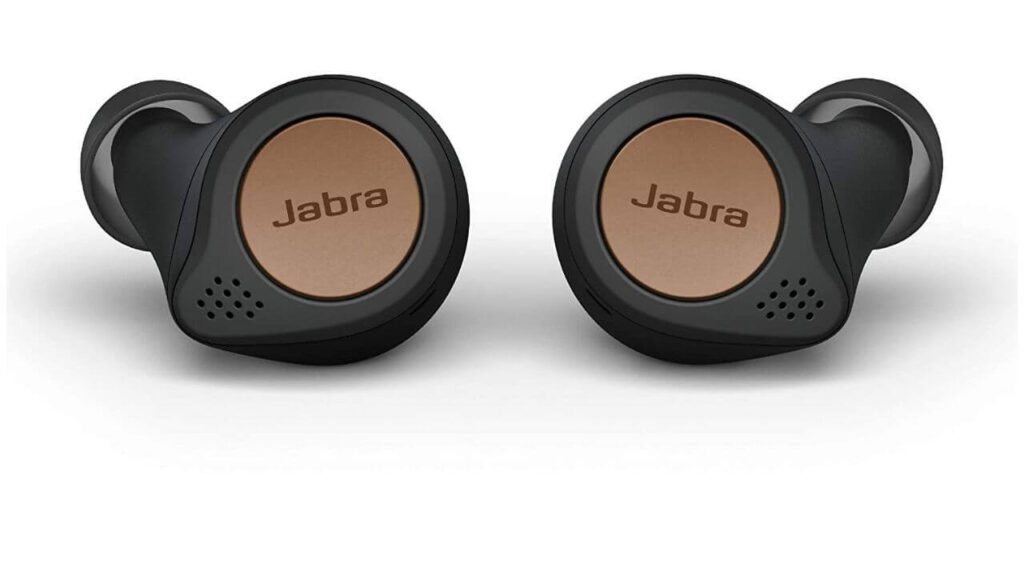 Need cool-looking and stylish wireless earbuds for your OnePlus 9 Pro? The Jabra Elite 75t is sure to impress you with its incredible sound quality, ANC, comfortable fit, and impressive battery life. They use four-microphone technology and background noise filters to deliver crisp and clear sound, without worrying about audio dropouts. These wireless buds are available in an array of bold and stylish colors, including Titanium Black, Mint, Sienna, Navy, and more.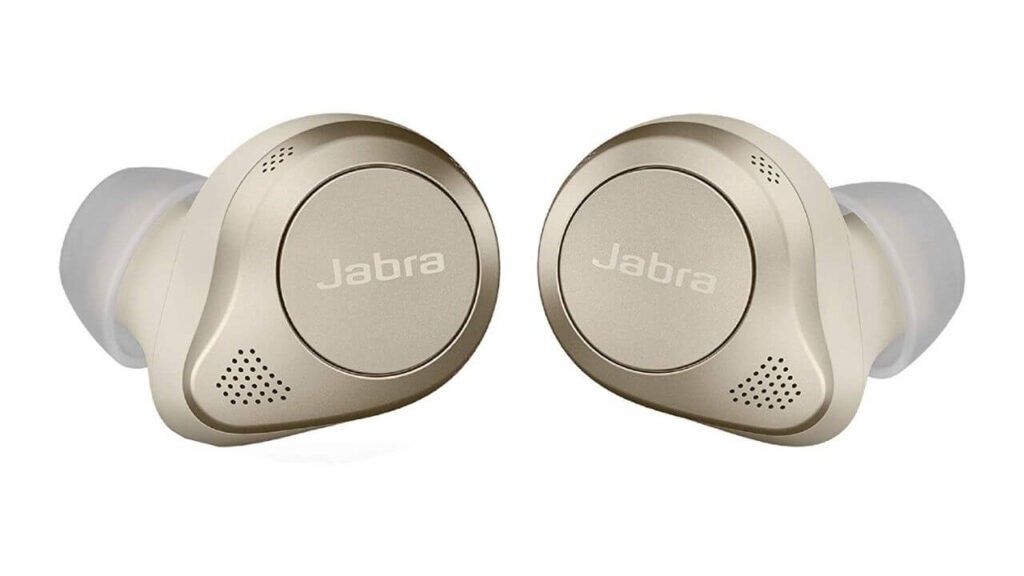 Talking about the Jabra Elite 85t, they are one of the most premium noise-canceling earbuds that you can pair with your OnePlus 9 Pro. These wireless buds feature advanced Active Noise Cancellation technology and allow you to adjust the level of ANC via the Jabra Sound App. They are packed with 6 mic technology and wind protection for crystal clear calls. These premium wireless buds for OnePlus 9 Pro deliver up to 5.5 hours on a single charge with ANC On, and a total playtime of up to 25 hours with the compact Qi-certified charging case. You can choose between Titanium Black, Copper Black, and Gold beige finishes. 
Check Jabra Elite 75t on Amazon
Check Jabra Elite 85t on Amazon
Best Car Chargers for OnePlus 9 Pro
1. OnePlus Warp Charge 30 Car Charger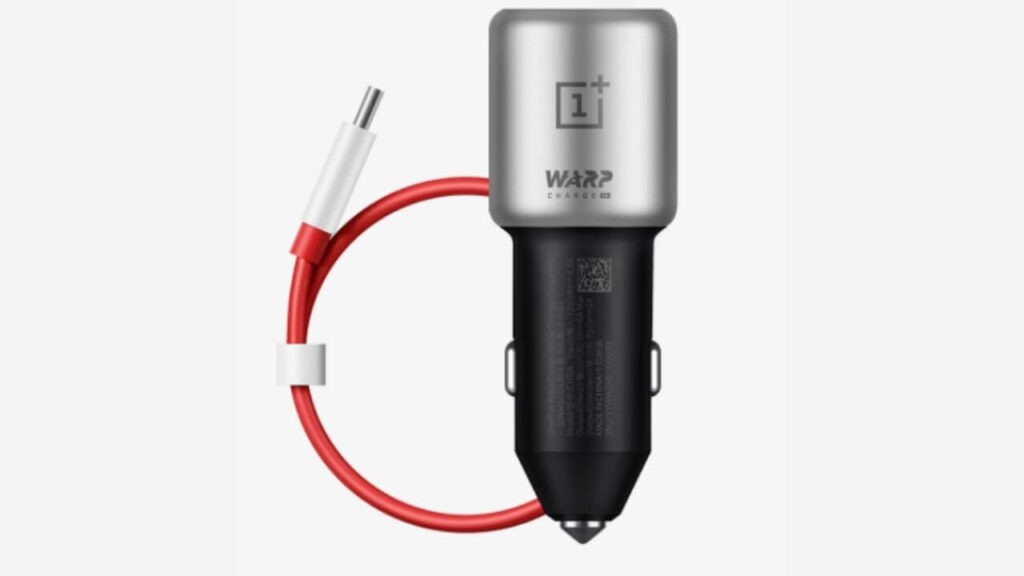 Looking for a fast car charger to power up your OnePlus 9 Pro while you're on the go? The OnePlus Warp Charge 30 Car Charger outputs 30 watts to re-energize your OnePlus 9 Pro at a fast speed, while you're heading to your office or home. This car charger is designed beautifully with a low-key gray matte finish and premium built, which complements the interior of any car. Moreover, the illuminated ring of red light looks very classy at night. The Warp Charge 30 Car Charger is also equipped with overheating, overcharging, and temperature control mechanisms to protect your smartphone. This car charger is also compatible with the OnePlus 8, 8 Pro, 7 Pro, and other models.
You'll also get a Warp Charge Type-C cable in the box.
2. HUSSELL Car Charger (Best Affordable car Charger for OnePlus 9 Pro)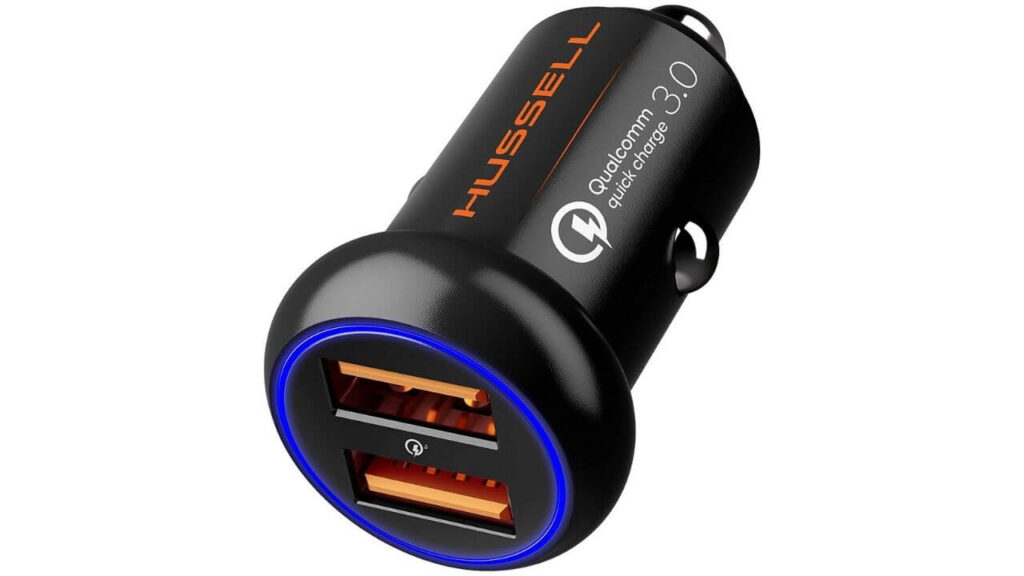 Looking for a budget-friendly OnePlus 9 Pro car charger? 
The HUSSELL Car Charger is one of the best OnePlus 9 Pro car accessories that your money can buy. It packs 5.4A 30Watts dual USB charging ports, including a 2.4A Smart IC USB port and a 3A Qualcomm Quick Charge 3.0 port that offers 4X faster charging speeds on compatible devices. The HUSSELL Car Charger utilizes Smart IC Intelligent Adaptive technology that automatically recognizes and delivers optimized charging speed. This car charger for the OnePlus 9 Pro is also compatible with various Android smartphones, iPhones, as well as iPads.
Best Gaming Accessories for OnePlus 9 Pro
If you love playing games on your phone, you'll surely fall in love with these amazing OnePlus 9 Pro gaming accessories that are designed to enhance your mobile gaming experience.
1. OnePlus Game Triggers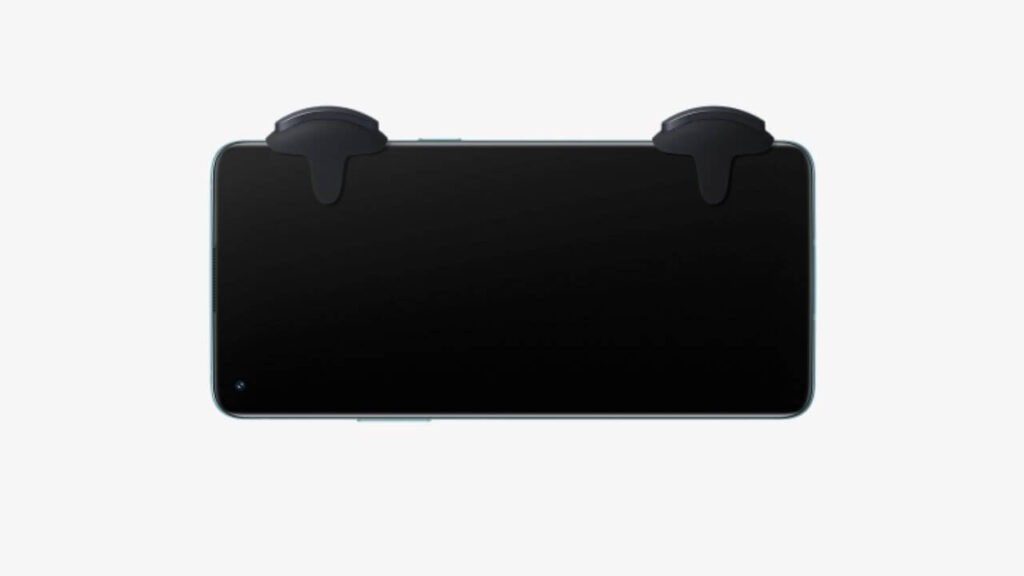 The OnePlus 9 Pro is a premium flagship that's designed to enhance the mobile gaming experience. Therefore, the company has also launched OnePlus Game Triggers that will help you level up your game. These triggers are designed for e-sports and use Omron switches to deliver better tactile feedback based on what happens in-game. You can attach one or both the triggers on your phone and use them for commands like reloading or launching powerups. Besides, OnePlus 9 Pro, these game triggers are compatible with a wide range of Android and iOS devices.
It's worth mentioning that if you want to attach these game triggers with your phone, make sure that the combined thickness of the screen protector, your phone, and the case does not exceed 11.5mm, otherwise the clamping shafts of the triggers may get damaged.
2. SteelSeries Stratus Duo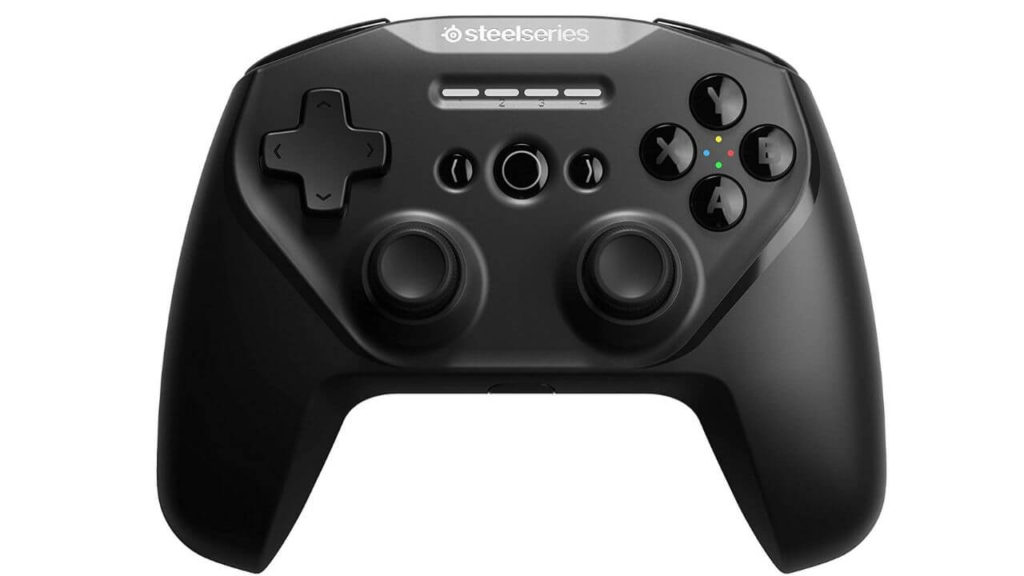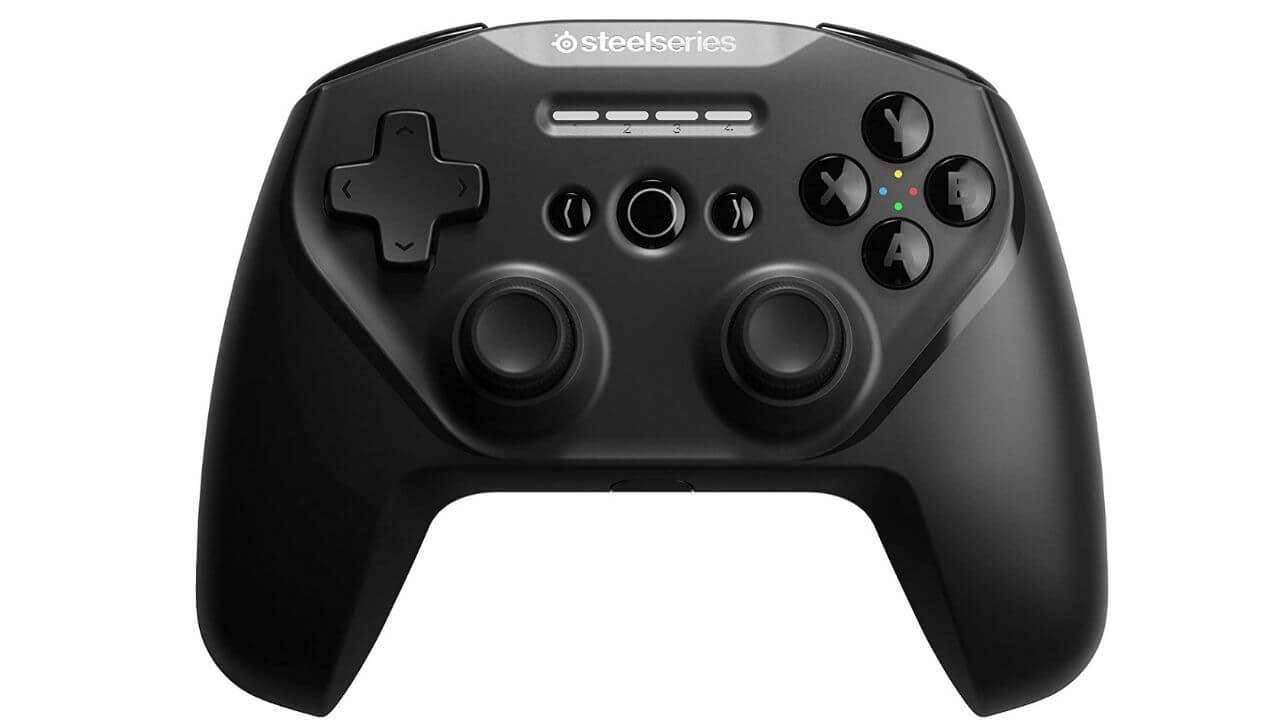 If you're looking for the best game controller for your OnePlus 9 Pro, get yourself the SteelSeries Stratus Duo without any second thoughts. It features a full-size ergonomic design and clickable analog joystick that offers comfortable grip and precision, while you're playing your favorite heavy action games. It offers excellent performance with no input lag. There are Shoulder buttons with a subtle texture for grip and grooves, that will make you feel right at home. The SteelSeries Stratus Duo game controller is powered by a rechargeable battery that offers a playtime of more than 20 hours. You can also play games while charging the controller and it works perfectly on PCs as well.
3. UNI USB-C to HDMI Cable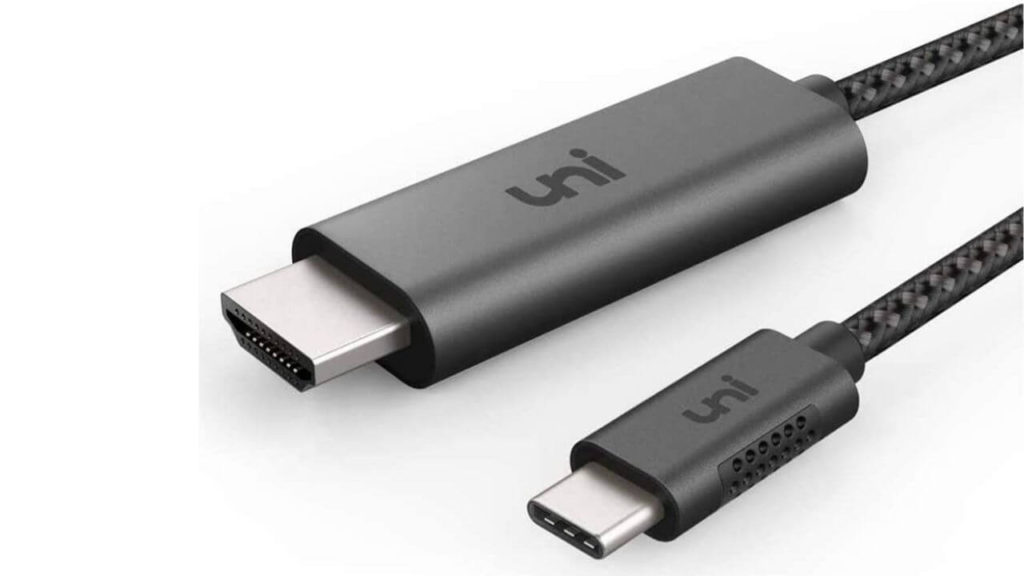 If you want to hook your OnePlus 9 Pro to an external display and enjoy games on a larger screen, you would need a USB-C to HDMI Cable. Look at this amazing option from UNI. This USB-C to HDMI Cable has a sturdy build, is compatible with a wide range of devices, and comes in various length options to support your setup. It allows you to extend crystal clear video output quality up to 4K@60Hz, with no transmission loss, delay, or unwanted motion blur. The nylon braiding adds to the durability and the advanced aluminum case that minimizes interference and enables better heat dissipation. This HDCP 2.2 compatible HDMI cable is backed by a worry-free lifetime warranty.
Undoubtedly, a good USB-C to HDMI Cable is one of the most important OnePlus 9 Pro accessories for pro gamers.
Don't forget to browse through our recommendations on the best USB-C to HDMI Cables.
Best OnePlus 9 Pro accessories for photography
The latest OnePlus 9 Pro is packed with a powerful camera that's co-developed by Hasselblad. To level up your photography game, we've come up with some must-have camera accessories for the OnePlus 9 Pro.
1. Joby GripTight One GorillaPod Stand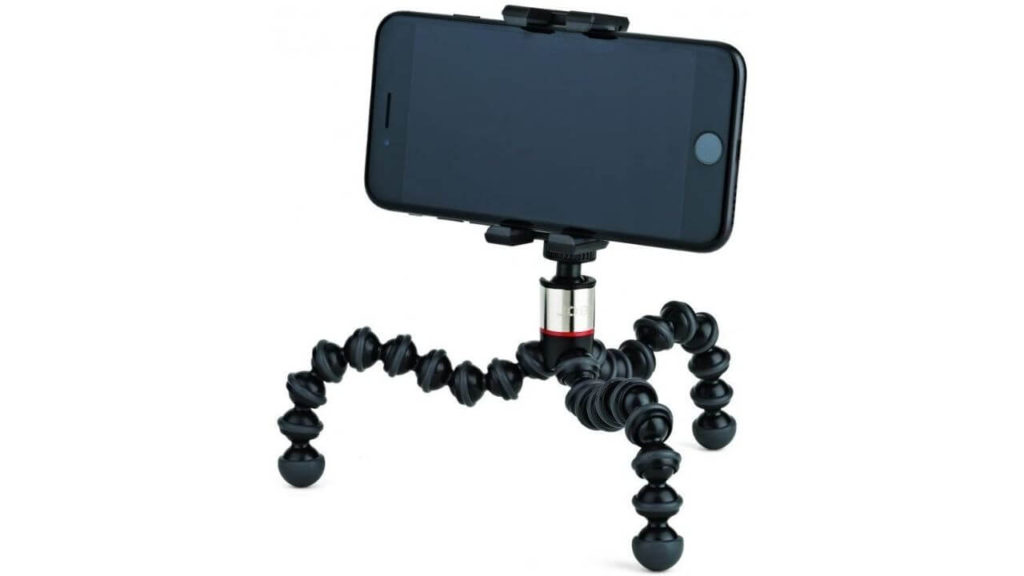 GripTight ONE is a must-have OnePlus 9 Pro accessory for mobile filmmakers, vloggers, and content creators. The Joby GripTight One GorillaPod Stand is popular for its bendable legs that allow you to wrap the stand around trees and poles to shoot from some beautiful and unique points. This stand can also be used as a selfie stick. The super-compact and lightweight design make it very easy to slip the stand inside your pocket. It comes with a simple phone adapter that easily attaches your phone to the stand with a standard 1/ 4-inch screw.  You can easily mount any smartphone and device that weigh up to 325 gms. Besides, there are multiple mounts for light and mics too. 
2. Zhiyun Tech Smooth Q2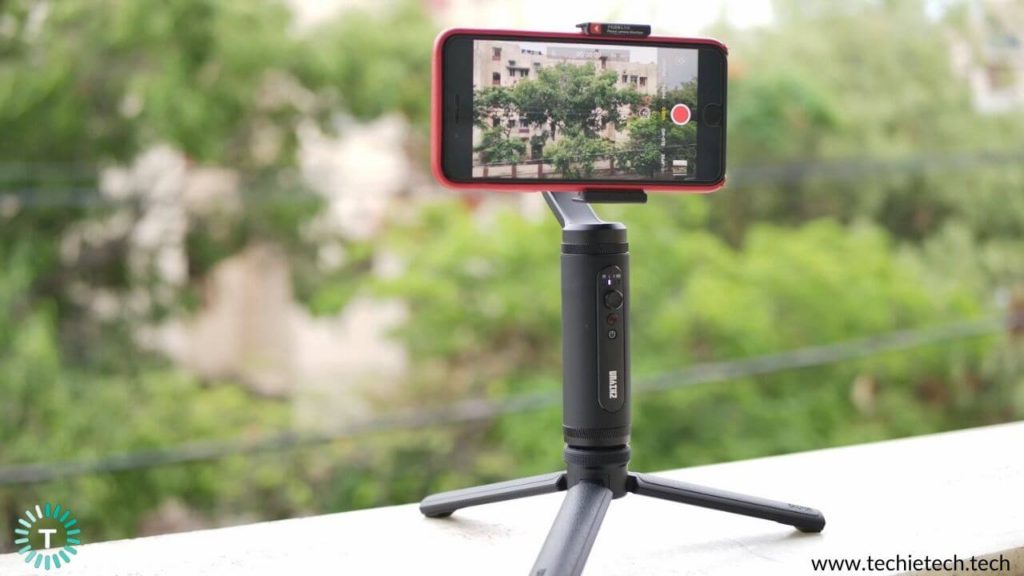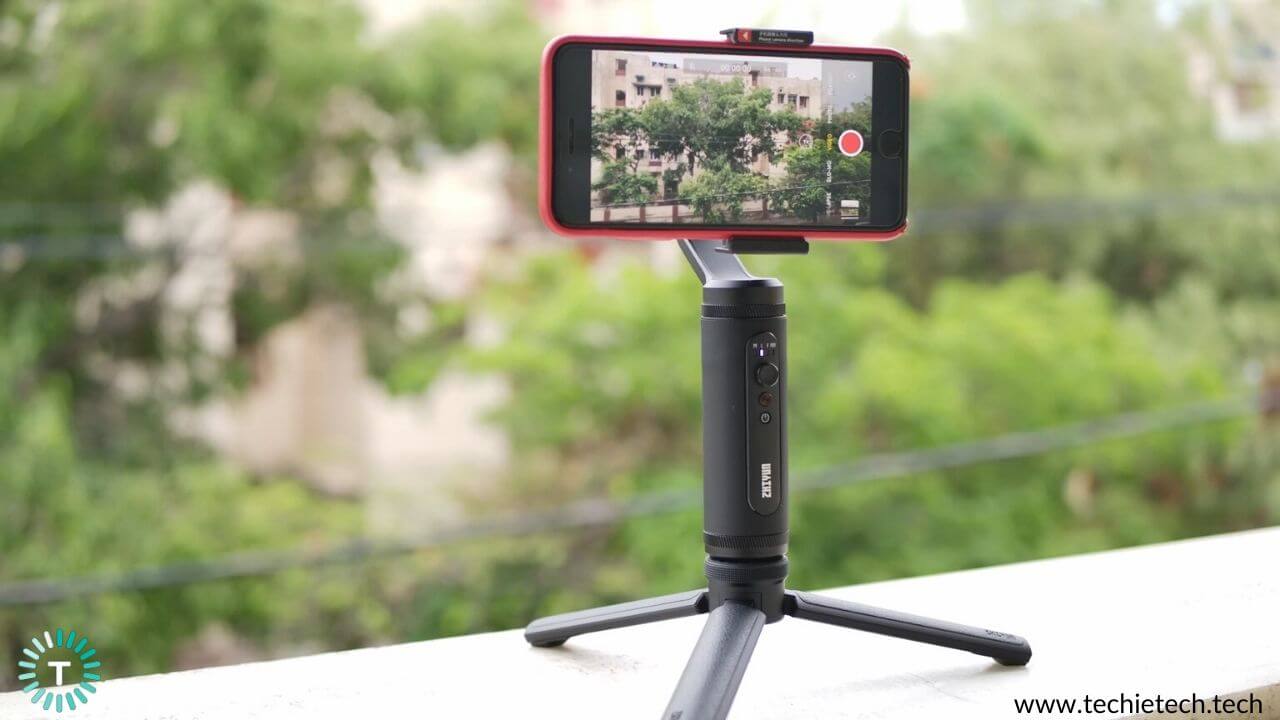 If you want to shoot smooth and cinematic videos on your smartphone, but don't fancy buying a tripod or a dolly, you must get yourself a good mobile gimbal. Here we've got a pocket-sized smartphone gimbal stabilizer, Zhiyun Tech Smooth Q2 (review) that balances your phone automatically to shoot smooth videos. 
This OnePlus 9 Pro accessory is packed with convenient features like object tracking, motion lapse, and time-lapse modes. There's a vertical mode, making it a great deal for vloggers and selfie-takers. This mobile gimbal offers a 17-hour battery life, and you can also utilize it as a power bank. One of the standout features of this gimbal is that it supports the native camera app on your smartphone via Bluetooth connection. Therefore, you can capture pictures and videos right from the stock camera app on the phone.
3. DJI Osmo Mobile 3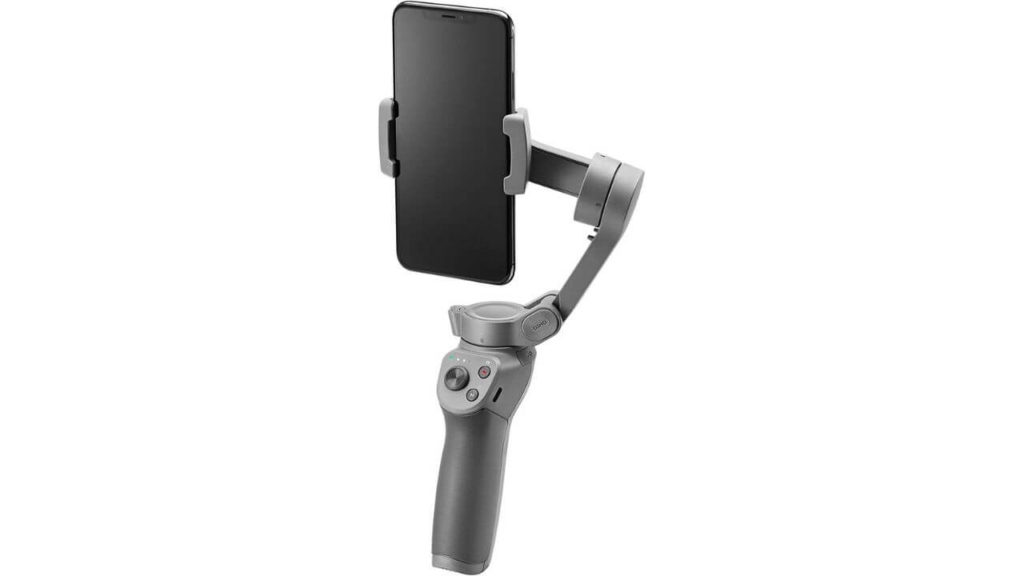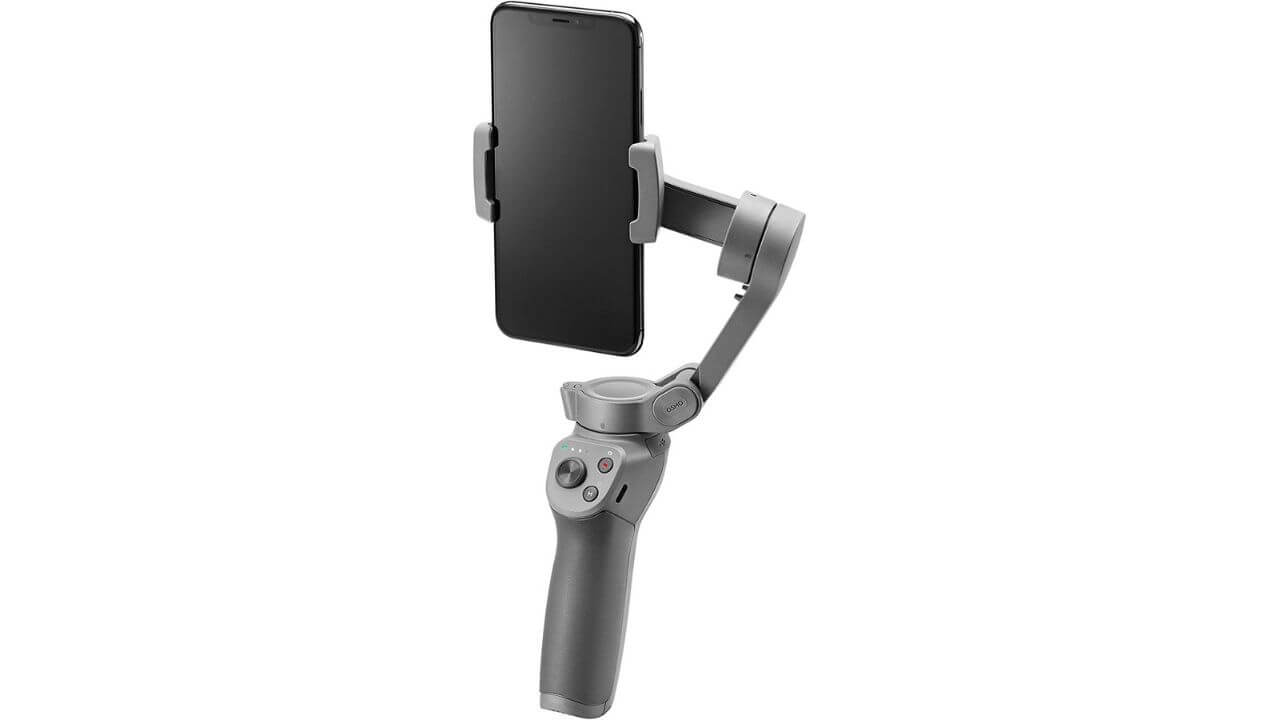 DJI Osmo Mobile 3 is another highly useful and functional mobile gimbal for OnePlus 9 Pro users. It keeps your smartphone steady on all the 3 axes so that you end up shooting clean and smooth videos, even if you're walking or running. This makes it a great option for all the storytellers. It supports a variety of functions like dolly zoom, panorama, gesture control, story mode, slow motion, motion lapse, time-lapse, hyper-lapse, sports modes, and more. It sports a foldable design which makes the DJI Osmo Mobile 3 one of the best portable mobile gimbals for the OnePlus 9 Pro in 2021. 
Must-Haves for OnePlus 9 Pro
1. PhoneSoap 3 Smartphone Sanitizer and Universal Charger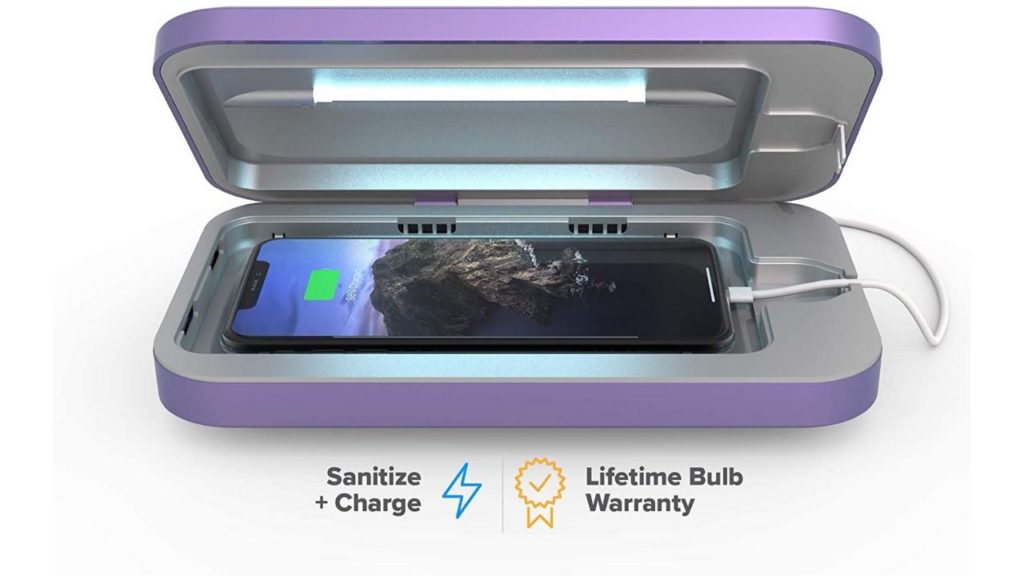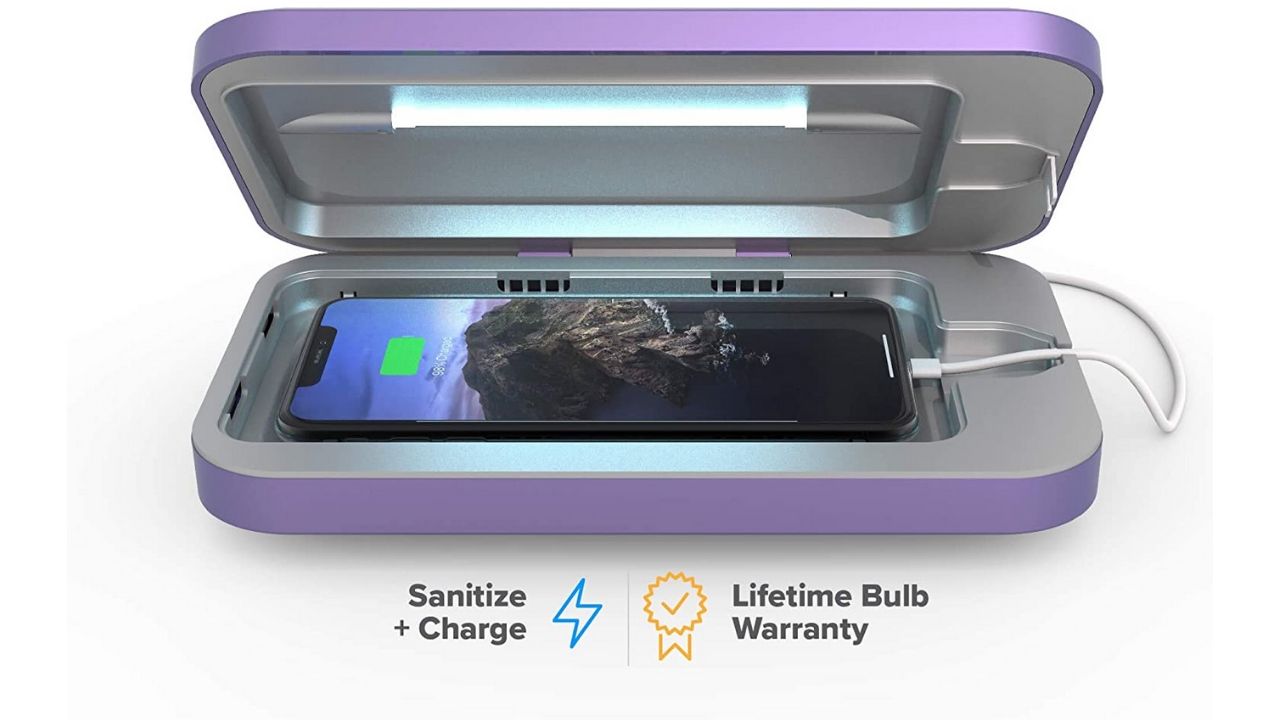 We all have the habit of keeping ourselves clean and hygienic, but what about our smartphones? They gather all the bacteria and germs that our hands touch throughout the day. When hygiene is the need of the hour, we've got a smartphone sanitizer for the OnePlus 9 Pro that houses two germicidal bulbs to kill up to 99.99% of bacteria. Besides, it is equipped with USB-A and USB-C ports to power up your phones. What's more? You can also sanitize your headphones, keys, and as well as smartwatches. 
Best of all, the charger can easily fit in any smartphone that's up to 6.8 inches. You can choose from an array of 5 subtle color options, and there's a lifetime warranty on bulbs. For all the hygiene lovers, this Smartphone Sanitizer and Universal Charger is sure to become one of your favorite OnePlus 9 Pro accessories in 2021. 
2. PopSockets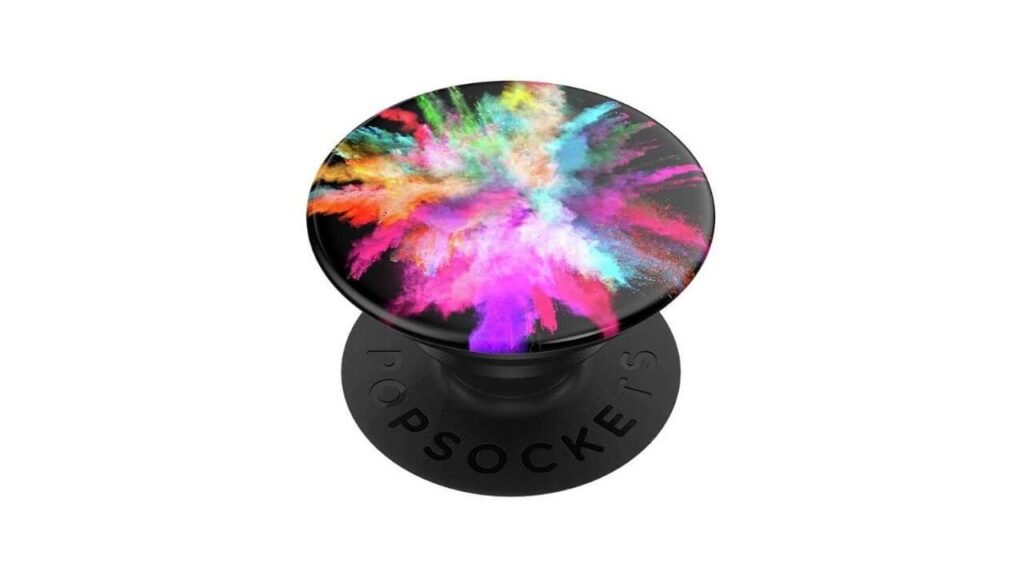 With smartphones getting bigger and bigger, PopSockets have become an inevitable smartphone accessory. Get yourself a PopSocket and hold your 6.7" big OnePlus 9 Pro comfortably one-handed. With a good PopSocket, you can take photos and watch your favorite Netflix series, without worrying about dropping the phone. There are many options that you'll find in the market. You can easily pick the one that best reflects your style.
Check Price on Amazon (Minimal popsockets)
Check Price on Amazon (Colorful  popsockets)
With this, we've come to the end of our list of the best accessories for the OnePlus 9 Pro in 2021. We hope this article has helped you spot the right accessories for this latest high-end smartphone. Do share your favorites in the comments section below.