LG launched its latest smartphone, LG Velvet, in South Korea on May 15, 2020. The smartphone features a 6.8-inch OLED FHD+ display with curved front glass, Snapdragon 765G chipset, triple rear cameras, support for LG dual-screen accessory, a big 4,300mAh battery with fast wireless charging, and 5G network support. Today, we've become so familiar with smartphones having larger rear camera bumps, like the Galaxy S20, iPhone 12, 12 Mini, and S21 Ultra, but the LG Velvet has chosen to take a different path, where the camera array is super-slim. In terms of pricing, the LG Velvet costs 899,800 won, which would put the US price for this smartphone around $730.
We have come up with our roundup for the best cases and accessories for LG Velvet in 2021. We've included screen protectors, cases, fast chargers, mobile gimbals, and every other amazing accessory that you must own to protect & improve your smartphone experience.
List of the Best Cases and Accessories for LG Velvet
Best Cases for the LG Velvet 5G
1. Spigen Rugged Armor
Highlights
Sleek design

Air Cushion Technology for shock absorption

Wireless charging compatible

Precise cutouts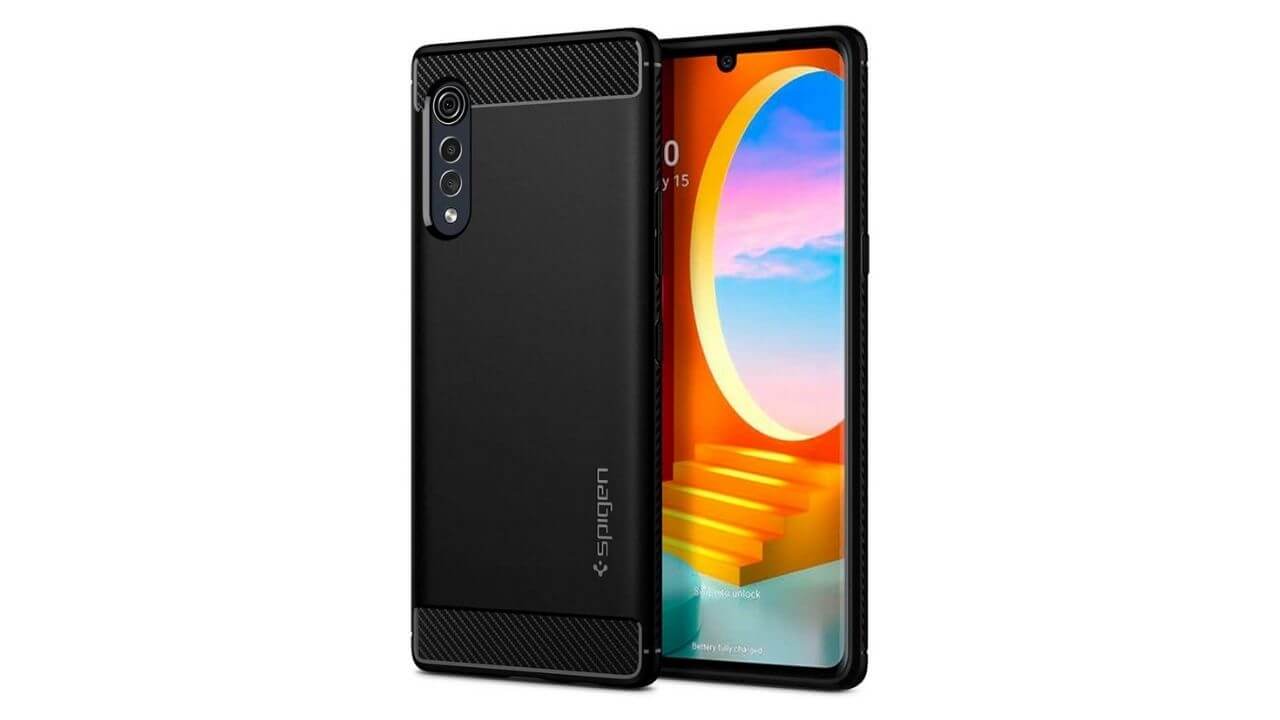 If you're looking for the best LG Velvet case that offers rugged protection at a budget-friendly price, you must get yourself the Spigen Rugged Armor. It is a flexible TPU case with an interior spider-web pattern and carbon fiber design that adds a touch of luxury and offers excellent protection, with minimal bulkiness. Embedded with Air Cushion Technology in all four corners, the Spigen Rugged Armor offers resilient shock absorption in case of accidental drops and falls. This rugged case for LG Velvet snaps on/off very easily and has got raised edges to protect the display and camera bump of your phone. Spigen Rugged Armor tops our lists of the best cases for LG Velvet because of its slim profile, rugged protection, and affordable price tag.
2. Ringke Fusion 
Highlights
Anti-slip

Shock-proof

Durable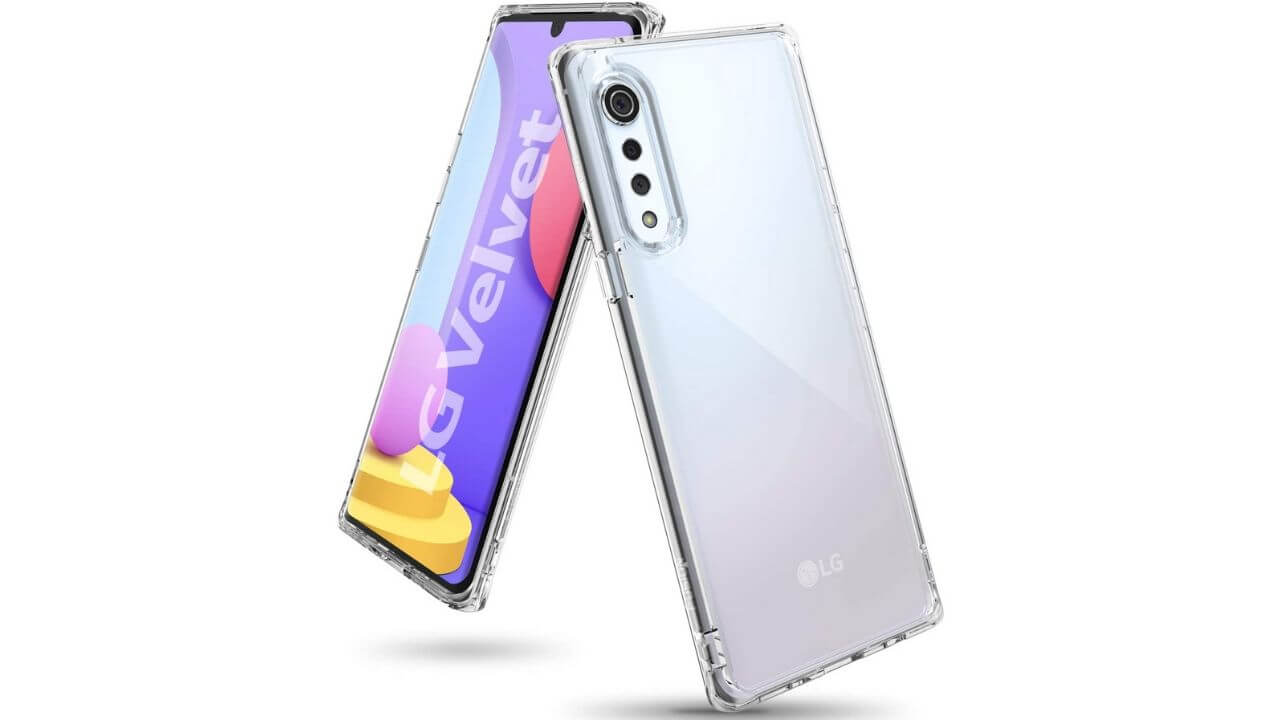 If you're looking for the best clear case for the LG Velvet, look no further than the Ringke Fusion Clear Case. Ringke is a leading brand, which is better known for its durable and high-quality cases, and the Fusion series features a
slim and protective clear case design that shows off the aesthetics of your LG Velvet. The case features an anti-slip design that's built using shock-proof TPU materials, fused with Polycarbonate to deliver ample grip and protection to your smartphone. Plus, it features precise cutouts and raised lips to protect your smartphone from any accidental scratches and damage.  The case comes with built-in dual QuikCatch lanyard holes that allow you to attach a wrist or neck strap (not included with the case) with your phone. All in all, it's one of the best anti-slip cases for your LG Velvet. 
The Ringke Fusion case is available in Clear, Smoked Black, and Frost Clear finishes. 
3. TUDIA DualShield Case for LG Velvet
Highlights
Ultra-slim rugged design

Raised lips

Military-grade protection

Available in four color options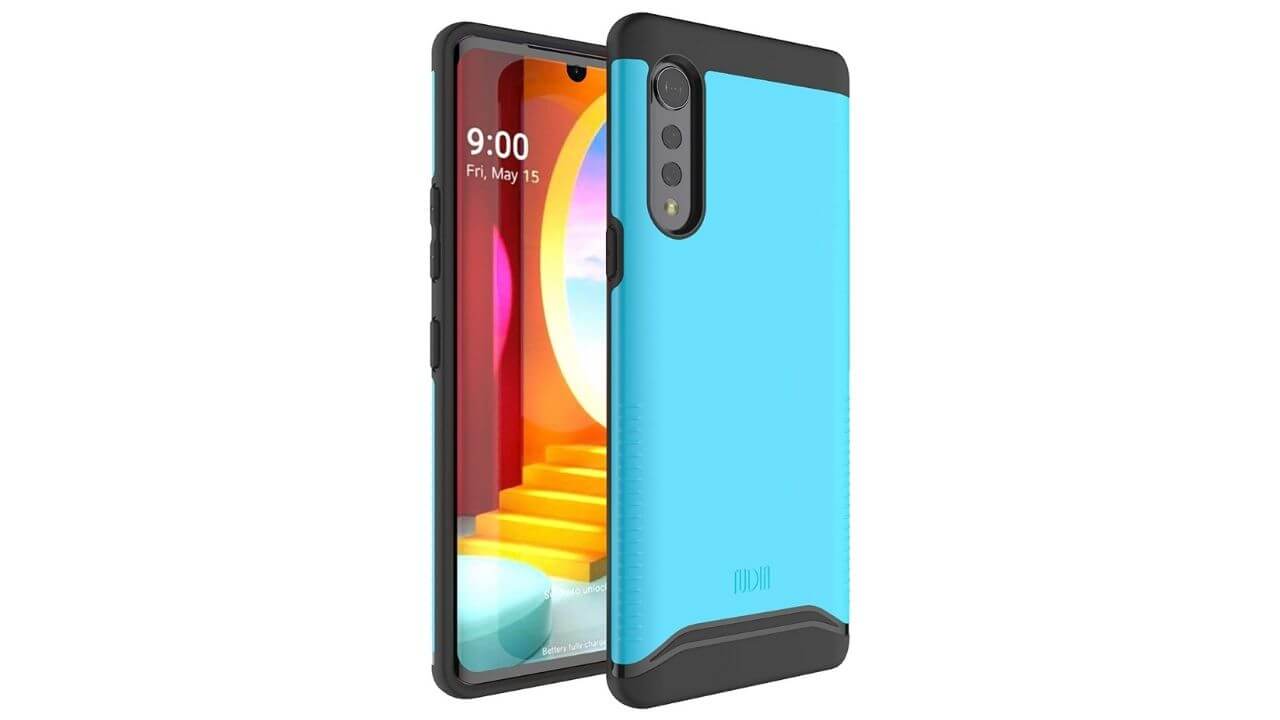 Want to add a layer of colorful fun and heavy-duty protection to your LG Velvet? The TUDIA DualShield is an ultra-slim, heavy-duty protective case for LG Velvet that offers maximum protection with minimal bulk. The case meets military-grade standards and utilizes ToughRhino Technology to offer
excellent protection against scratches and drops. Plus, the raised edges keep the display and camera of your smartphone protected against scratches. It features a rugged design that offers ample grip for a comfortable holding experience. The ultra-slim design helps to maintain the sleek contours of your LG Velvet while giving it impressive protection.
The TUDIA DualShield Heavy-duty Protective Case for LG Velvet is available in Blue, Rose Gold, Metallic Slate, and Matte Black finishes. 
4.Ghostek Covert Heavy Duty LG Velvet Case(Best Heavy-Duty Case for LG Velvet)
Highlights
Survive drops from up to 8 feet

In-built metal kickstand & wireless charging support

Anti-slip and scratchless design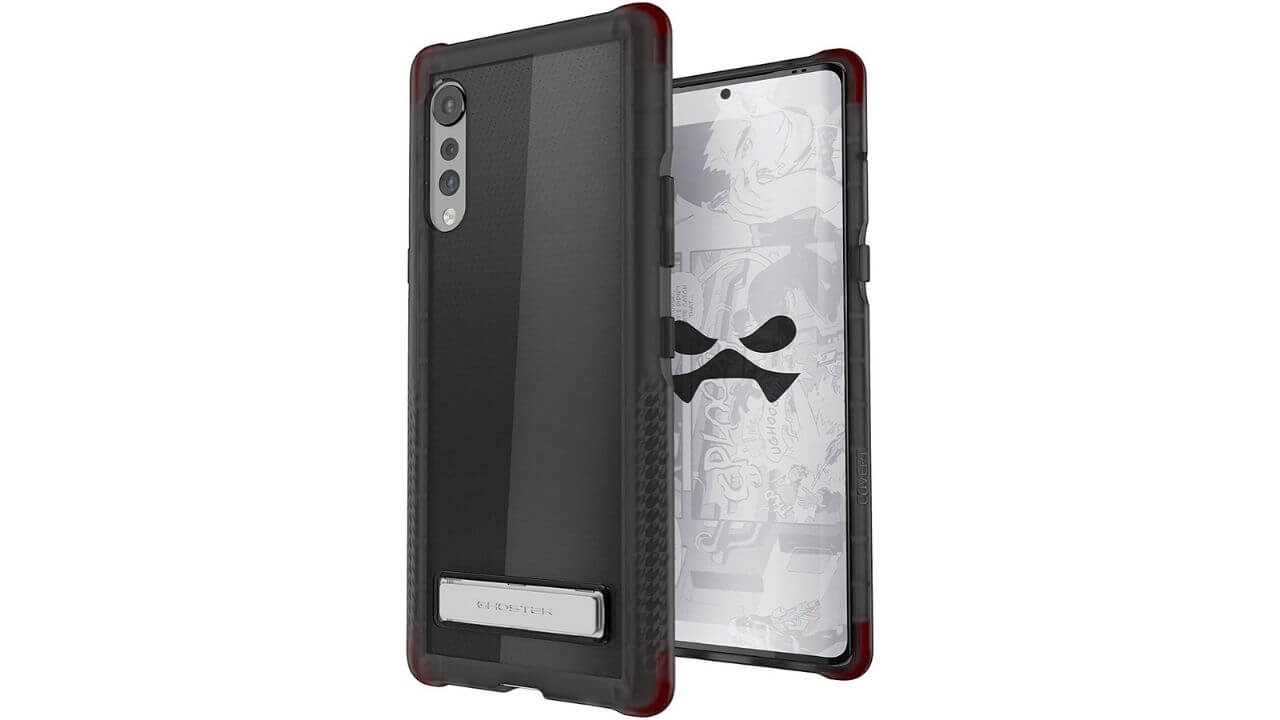 Ghostek Covert Heavy Duty is an interesting clear case for iPhone 11 that lets you watch your favorite series and make video calls hands-free. It has a scratchless, slim TPU body with raised edges and a metal kickstand that pops out and props your smartphone vertically or horizontally. The stand holds the phone securely and adds to a
more comfortable viewing experience. Also, this case claims to survive drops from up to 8 feet. It's a must-have case for all the clumsy and adventure-loving smartphone users, as it has an anti-slip design. The case is compatible with wireless charging and available in three options, including Clear, Pink, and Smoke finishes. 
5. BANZN Slim Fit LG Velvet case
Highlights
Ultra-light

1-year quality warranty

Minimalistic design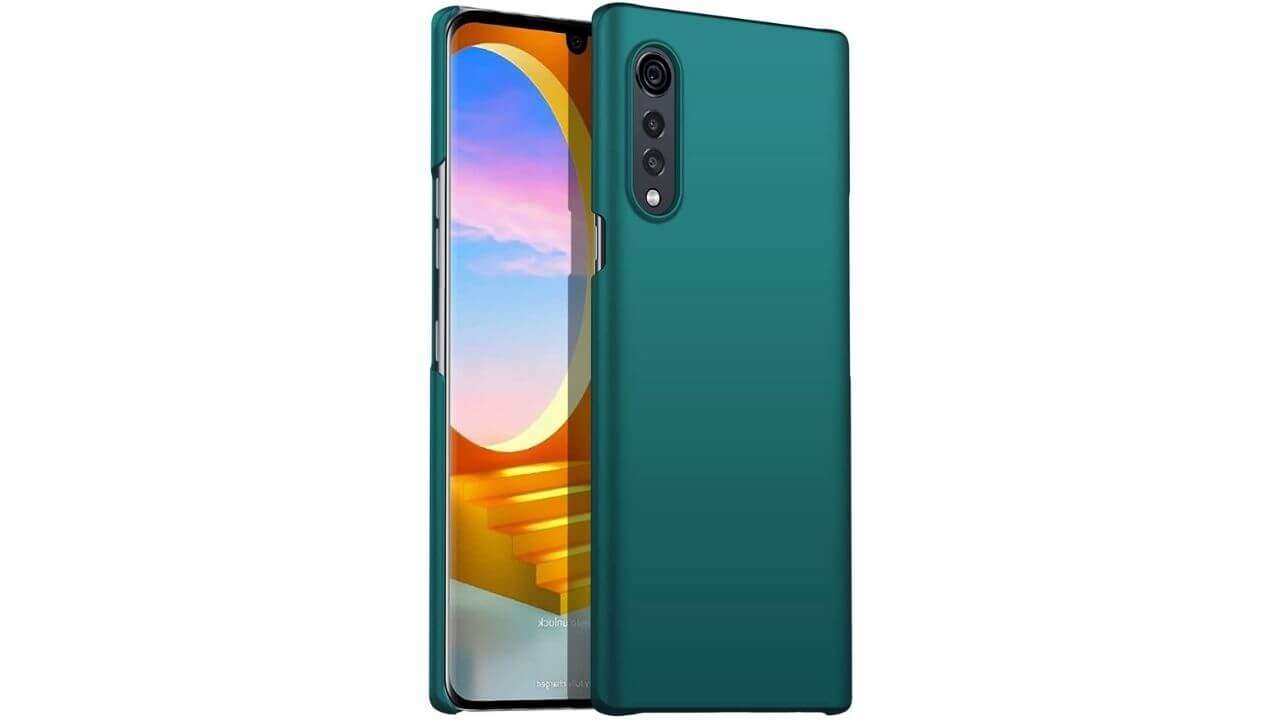 Here we have another amazing case for the LG Velvet, that's perfect for all the users who're inclined towards solid cases with a minimalistic design. The BANZN Slim Fit case features an ultra-thin and lightweight design that weighs a mere 20 gms. It has a super-smooth processed finish to deliver an excellent grip to hold your phone comfortably and minimize fingerprints too. This is a must-have solid case for all the users who're looking for a super-light yet durable and affordable case for LG Velvet. This case has raised edges to protect the camera and screen from any scratches when you lay the phone on abrasive surfaces. The case fits perfectly and is backed with a
30-day money-back and 1-year quality warranty. You can choose from Blue, Rose Gold, Black, and Blue finishes.
6. Armor-X BX3 Rugged Case (Best Rugged case for LG Velvet)
Highlights
Shock-absorbent

Ultra-sleek design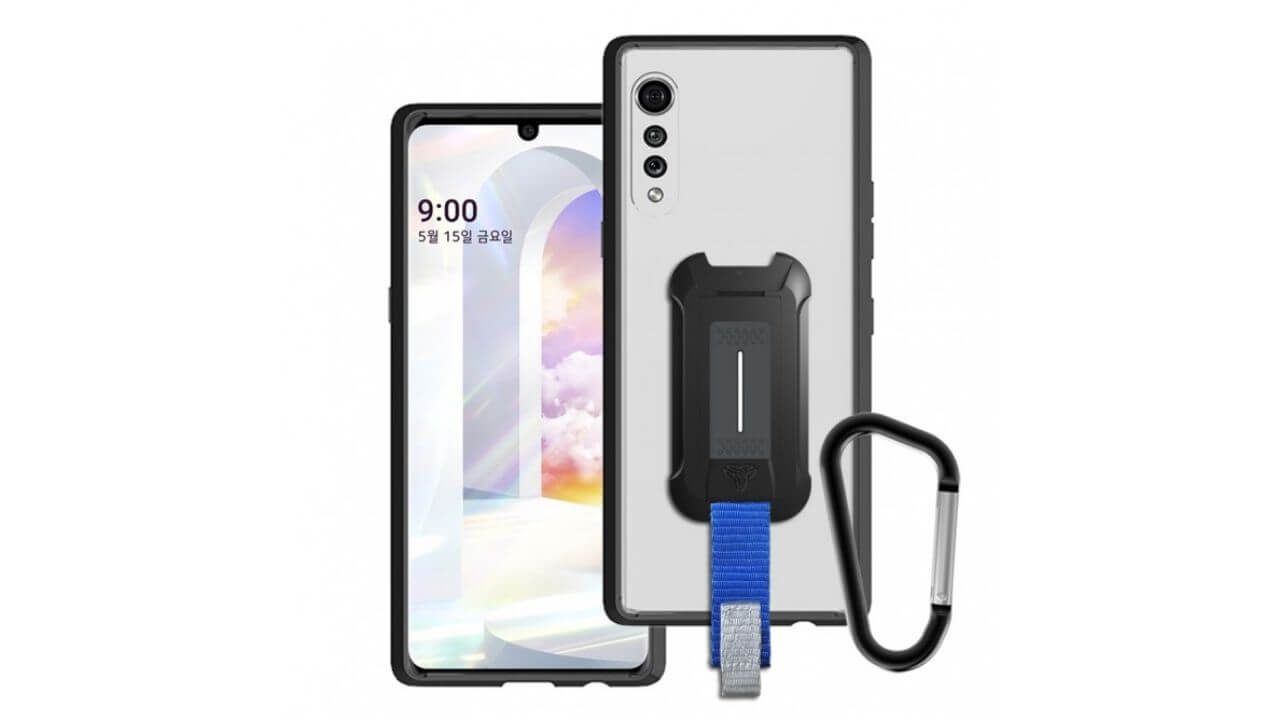 For anyone who's looking for one of the best rugged cases for the LG Velvet, the Armor-X rugged case is worth checking out. It features an ultra-sleek design with a full edge shock-absorbent TPU frame to offer complete protection to your smartphone. This rugged case for LG Velvet has proper cutouts and tactile buttons for quick and easy access. Plus, the case has raised edges to protect the camera and screen when the phone is put down on flat surfaces. You can also opt for additional smartphone accessories with this case, like a retractable key holder, hand strap, bike mount, belt clip, anti-lost strap, etc. 
7. Osophter Shock-absorbing Clear Case
Highlights
Raised edges to protect screen and camera

Shatterproof and shock-absorbing design

Supports wireless charging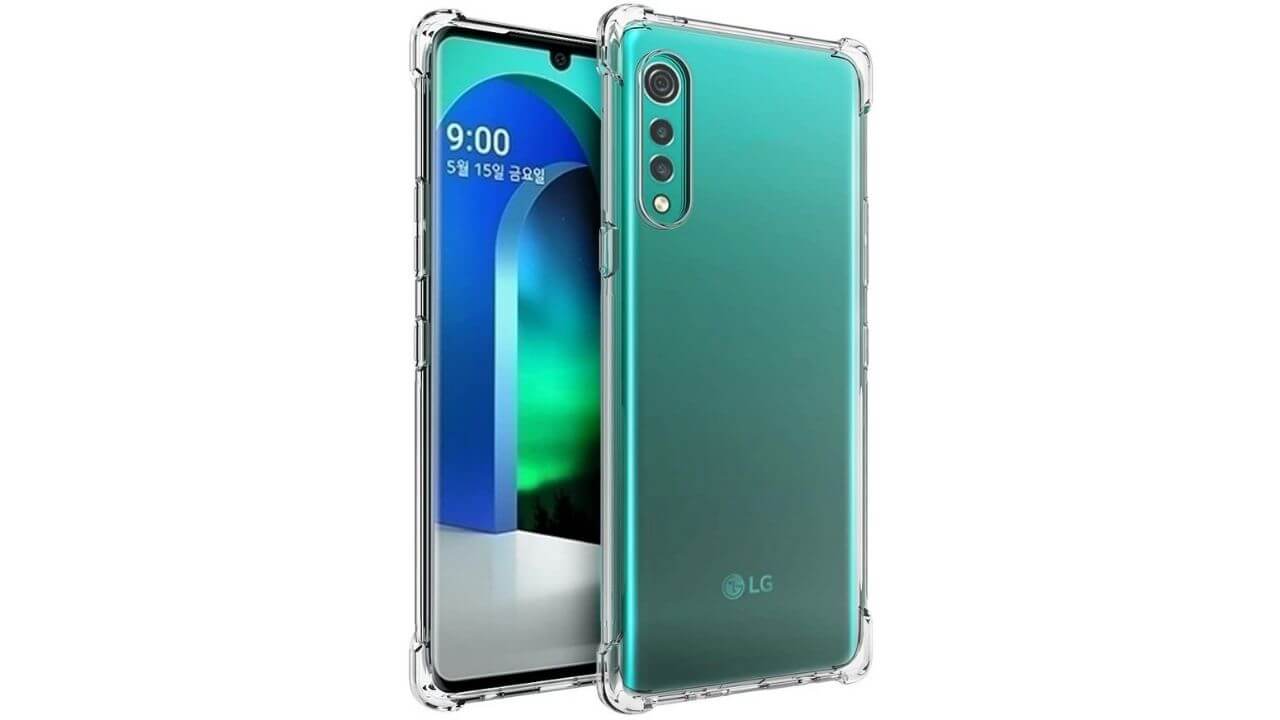 Here comes a slim and lightweight clear case for LG Velvet that's designed using shock-absorbing and shatterproof premium TPU and Polycarbonate materials. The Osophter case features raised edges and extended bumpers along corners to safeguard your phone from drops and bumps. It has precise cutouts,
supports wireless charging, and is available in clear as well as smoke finish. This case provides excellent protection for your phone and also prevents accidental scratches from sharp objects. 
8. Design Skin Leather Case for LG Velvet(Best Leather Case for LG Velvet)
Highlights
High-quality leather 

Additional cardholder pocket

Available in unique designs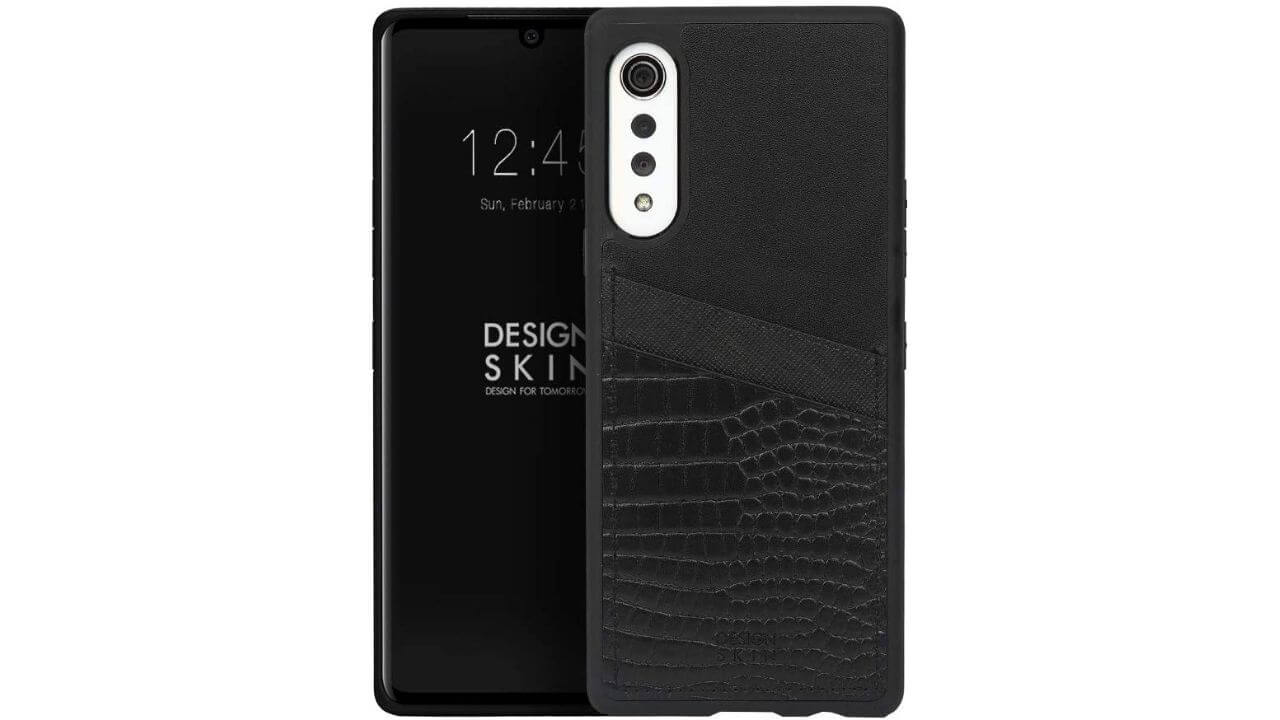 If you prefer using leather cases for your smartphone, look no further than the Design Skin Leather Case. It's designed using soft genuine leather, which adds to the look and feel of the case. Design Skin leather case fits the LG Velvet really well with precise cutouts and tactile buttons. There are two leather cardholder pockets, where you can keep some cards and cash, and do away with the need for carrying a wallet when you're going out. It's a must-have leather case for all the users who're looking for something unique and love experimenting with different designs. 
9. JOTO Underwater Pouch for LG Velvet
Highlights
Waterproof and Snowproof

Scratch-resistant

IPX8 certification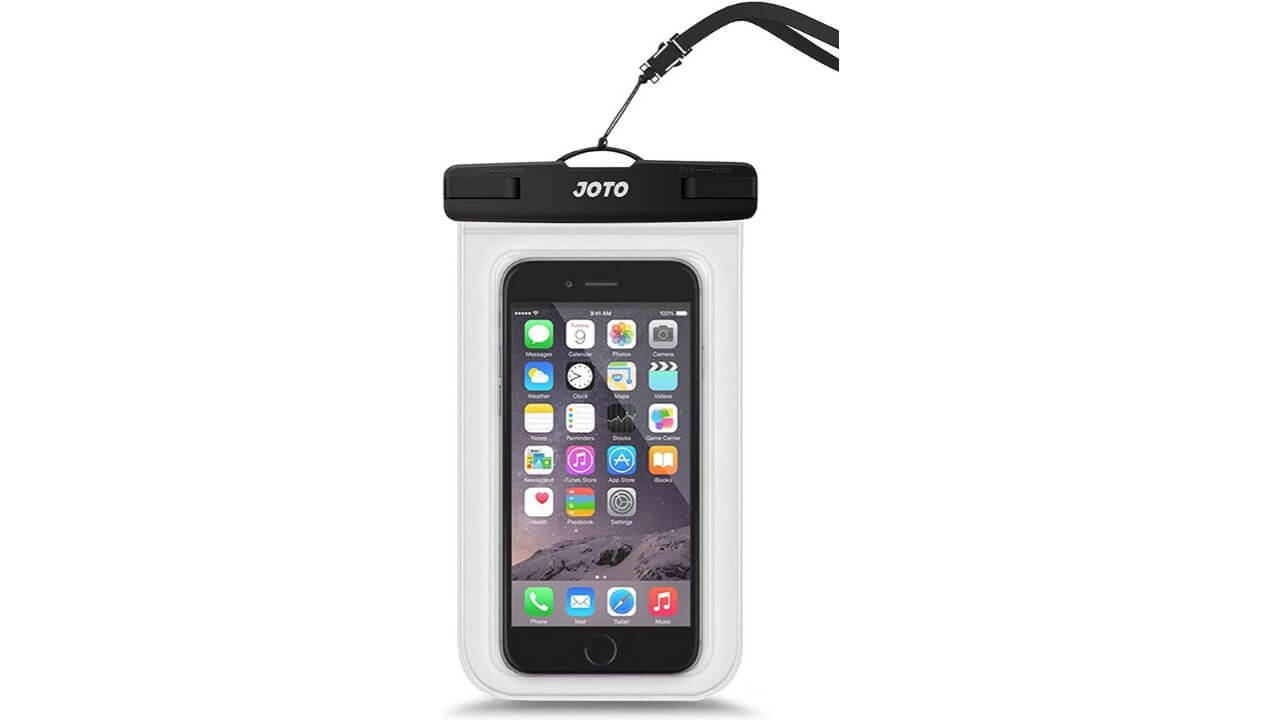 For all the water-sports and adventure lovers out there, who are looking for complete waterproof and snowproof protection for their smartphones, the JOTO Underwater pouch is sure to become your favorite accessory. It's a
waterproof, snowproof, dustproof, and scratch-resistant pouch that allows you to securely pack and take your phone to a swimming pool, a beach, skiing, surfing, and even snorkeling, without worrying about water seeping into the ports or chlorine damage. 
The JOTO underwater pouch packs high sensitivity and comes with IPX8 certification. It securely seals your smartphone and allows you to comfortably access the touch screen. Moreover, this pouch comes in amazing color options, to match or contrast with your phone. 
Best Screen Protectors for LG Velvet
1. Ringke LG Velvet Screen Protector 
Highlights
Full-coverage protection

Self-healing coating 

Smooth and easy application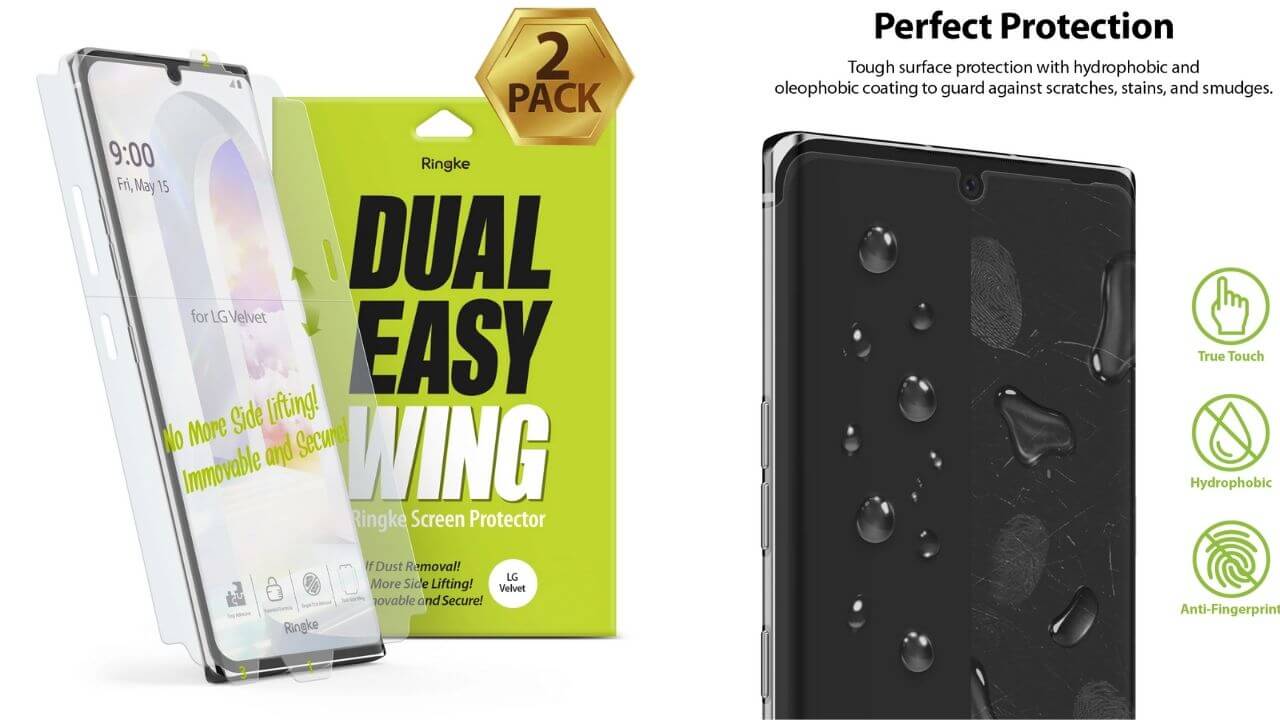 The Ringke LG Velvet screen protector is built using high-quality PET film that packs high visibility and responsiveness to protect the phone from scratches and scrapes. This screen protector is packed with self dust removal and healing coating to minimize imperfections, and also protects your phone against fingerprints. Besides, you don't have to worry about any bubbles, which is a major concern while applying screen protectors. Moreover, this screen protector for LG Velvet
doesn't add any bulk to the phone and has proper cutouts for the front camera and speaker. 
2.
DDJ LG Velvet Screen Protector
Highlights
Full 3D curved edge tempered glass

9H high hardness

Liquid dispersion technology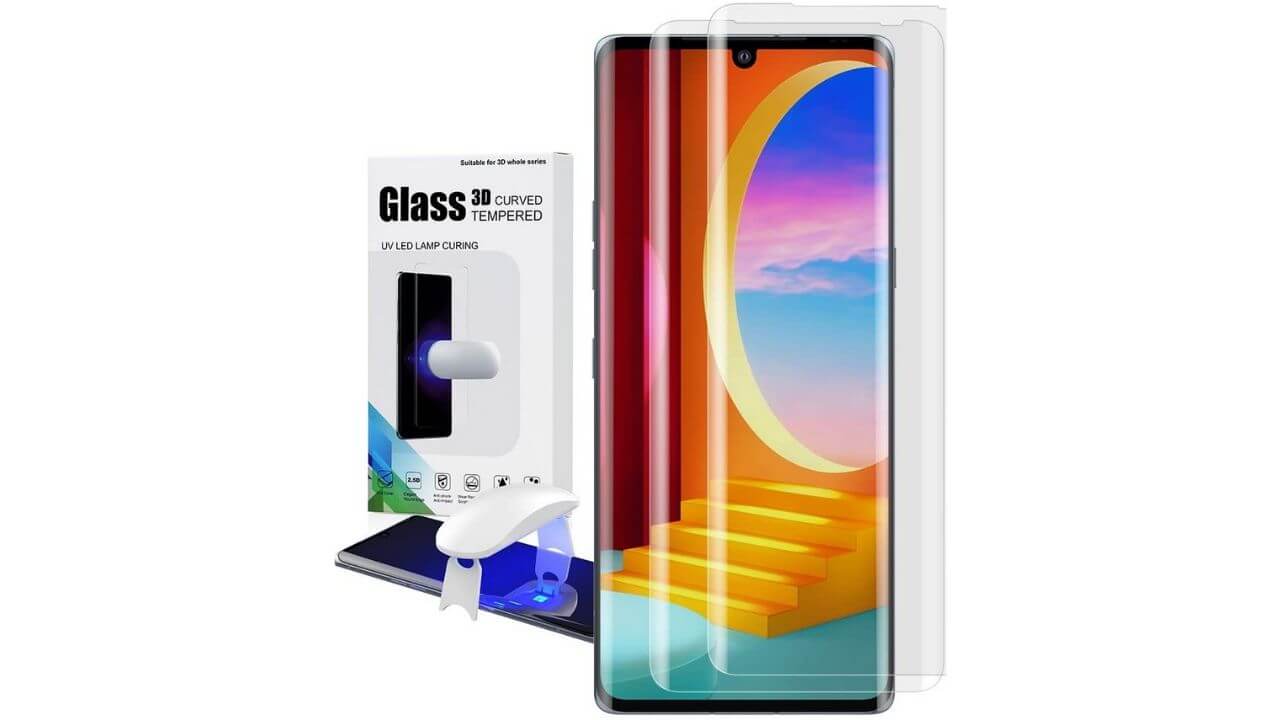 A good screen protector is a must-have accessory to protect your 6.8-inch of the LG Velvet's goodness. After all, replacing the screen of a smartphone is beyond economical, so, it's better to invest in some good screen protectors. Here comes an amazing tempered glass that offers full 3D protection to your LG Velvet. The scratch-resistant coating protects the smartphone from daily scratches. The thickness of this screen protector is a mere 0.2mm, which doesn't add any bulk to your phone. It also features apt cutouts for the camera, speakers, and sensors. 
Best Chargers for LG Velvet
1. Anker Powerport III Mini (Best Fast Charger for LG Velvet)
Highlights
Ultra-compact and portable design

International voltage compatibility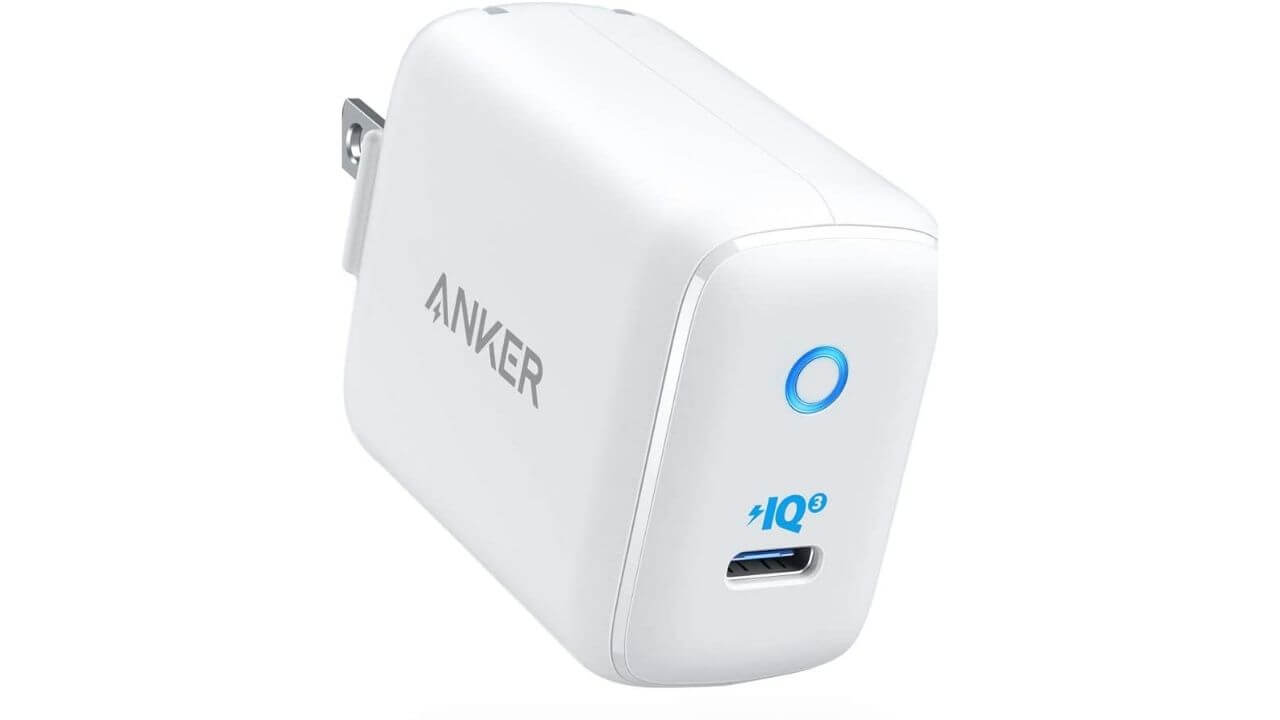 PowerPort III Mini is a powerful fast charger for your LG Velvet, from the renowned and trusted brand Anker. This fast charger is sure to become your must-have travel accessory for your LG Velvet, shout out to its
super-light and ultra-compact design featuring a foldable plug and international voltage compatibility. PowerPort III Mini uses Anker's PowerIQ 3.0 technology to fast-charge any device at its maximum supported speed. It's worth mentioning that as your LG Velvet is designed to support max 25W fast charging speeds, this charger won't power up your LG Velvet beyond that. This charger is equipped with over-charging, over-voltage, and over-current detection mechanisms to ensure the utmost safety of your devices. Anker PowerPort III Mini is backed up with an 18-month warranty.
2. YOOTECH Fast Wireless Charger (Best Wireless charger for LG Velvet)
Highlights
Supports through-case charging

Includes a QC3.0 AC adapter and USB Type C cable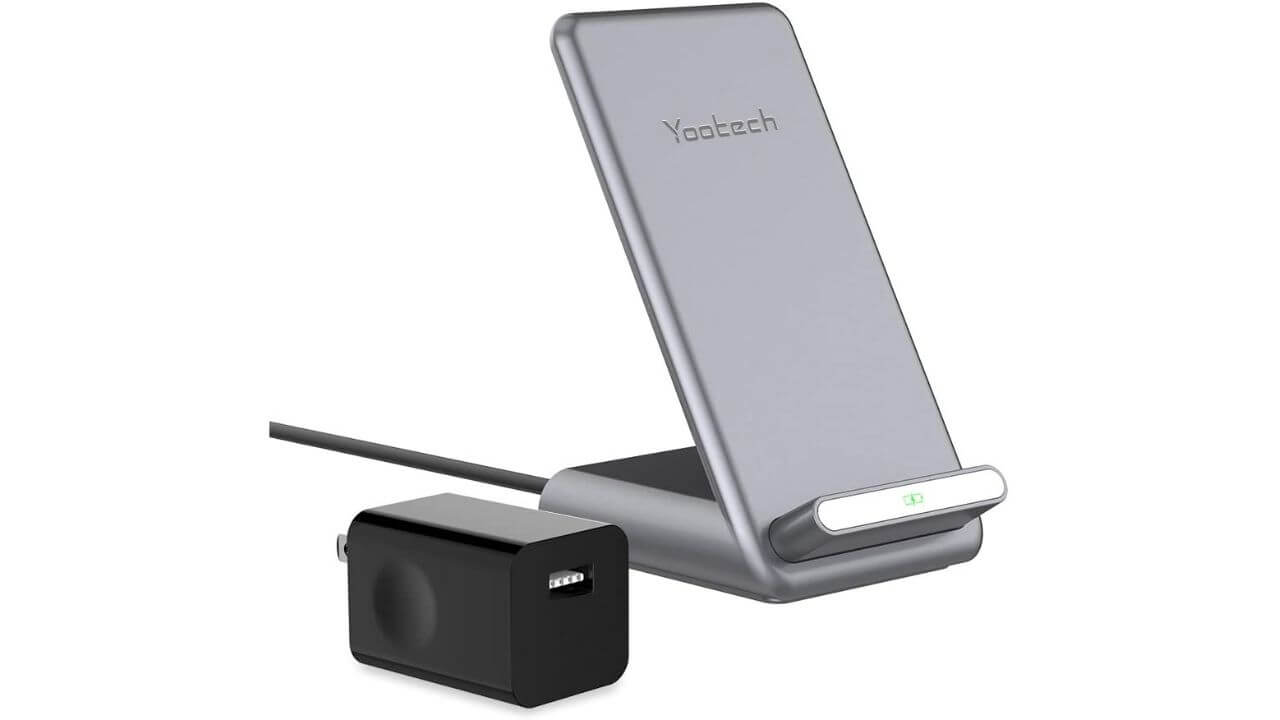 If you're looking for a wireless charger for your LG Velvet, you must check out the YOOTECH Fast Wireless Charger. It has a solid and reliable design with multiple heat dissipation holes to keep the charger at a low temperature, even while charging your device at the highest speeds. You can charge your smartphone in both vertical and horizontal modes, and safely use your phone while charging. There's a
sleep-friendly LED light, which will automatically turn off once your smartphone has started charging. This wireless charger comes with all the essential accessories that you'll need to charge your phone- a USB Type-C cable and a QC3.0 AC adapter. The charger can easily power-up your phone through cases that are up to 4mm thick. It's worth mentioning that you must remove any metal accessory to ensure hassle-free wireless charging. 
3. HUSSELL Car charger (Best Car charger for LG Velvet)
Highlights
Smart IC Intelligent Adaptive technology

Supports Qualcomm Quick charge 3.0

Universal device compatibility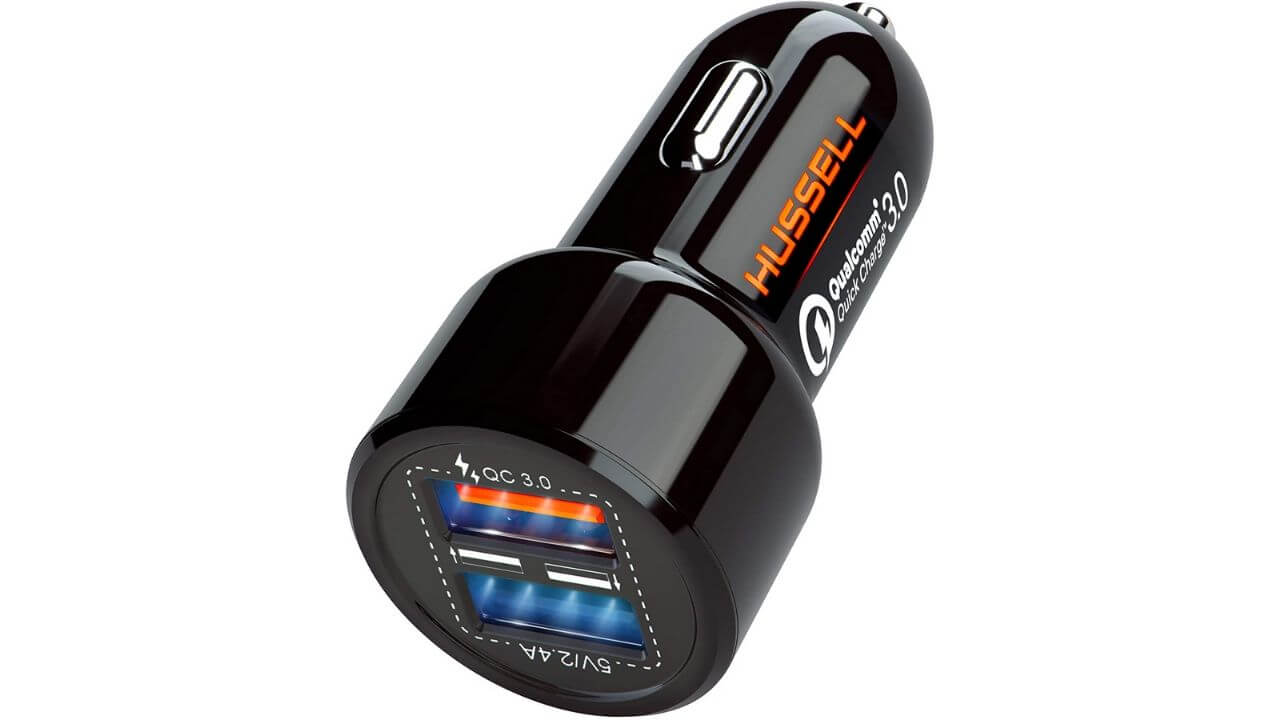 Here we've got the best car charger for the LG Velvet and any other device that you own. This car charger is equipped with 5.4A 30 Watts dual USB charging ports, including a 3A Qualcomm Quick Charge 3.0 that offers 4x faster-charging speed to compatible devices and a 2.4A Smart IC USB port that charges your device up to 2.5X faster than the usual car adapter. You can charge any Android smartphone, iPhone, and even your iPad. This car charger uses
Intelligent Adaptive technology that automatically recognizes and charges your smartphone at its maximum supported speed, without any risk of damaging them. 
4. Anker PowerCore 20100mAh Portable charger (Best Portable Charger for LG Velvet)
Highlights
High-speed universal charging

Dual device output

Pocket size friendly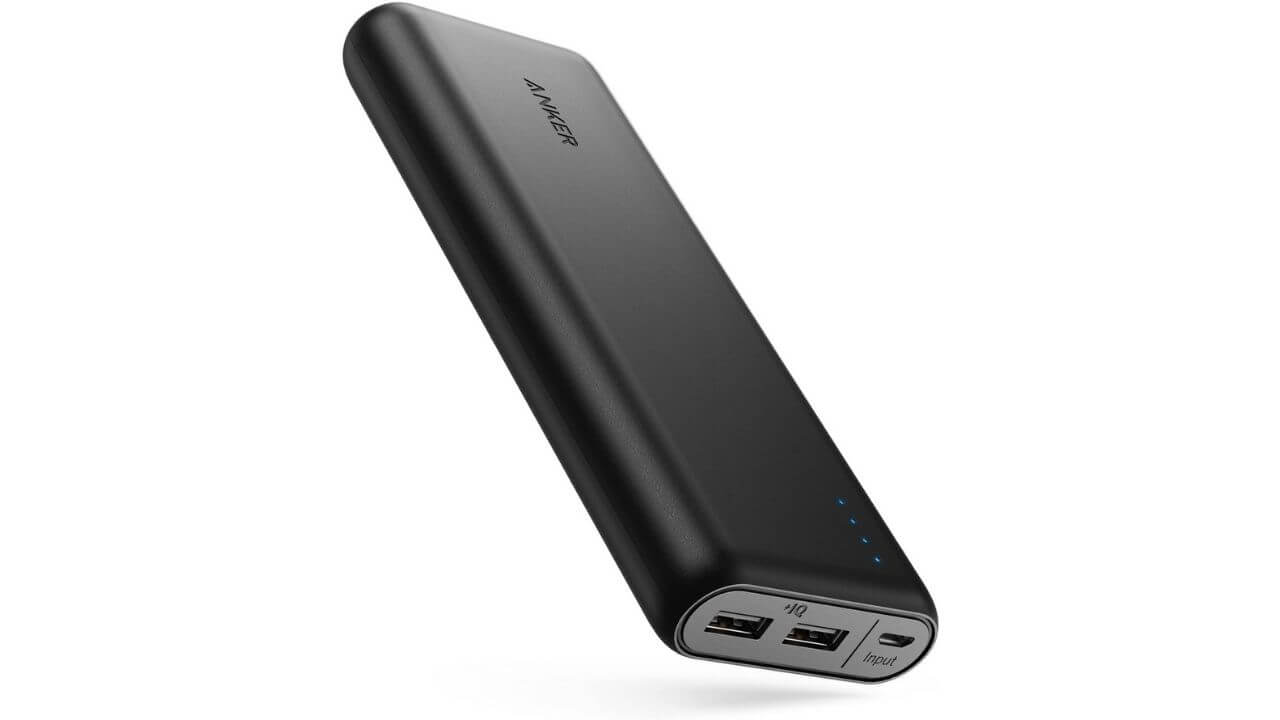 If you're looking for a portable charger for your LG Velvet, Anker PowerCore 20100mAh is the best portable charger for your smartphone that your money can buy. PowerCore 20100mAh uses PowerIQ and VoltageBoost technologies to deliver high-speed charging for a wide range of devices. It's constructed using premium materials and packed with multi protect safety system to keep your devices safe while charging. The charger is able to output a  total of 4.8 amps that's enough power to simultaneously charge any combination of devices at full speed, by supplying 2.4 amps in each port. It comes with a travel-friendly pouch and micro USB cable right in the box.
Best Camera Accessories for LG Velvet
1. Zhiyun Tech Smooth Q2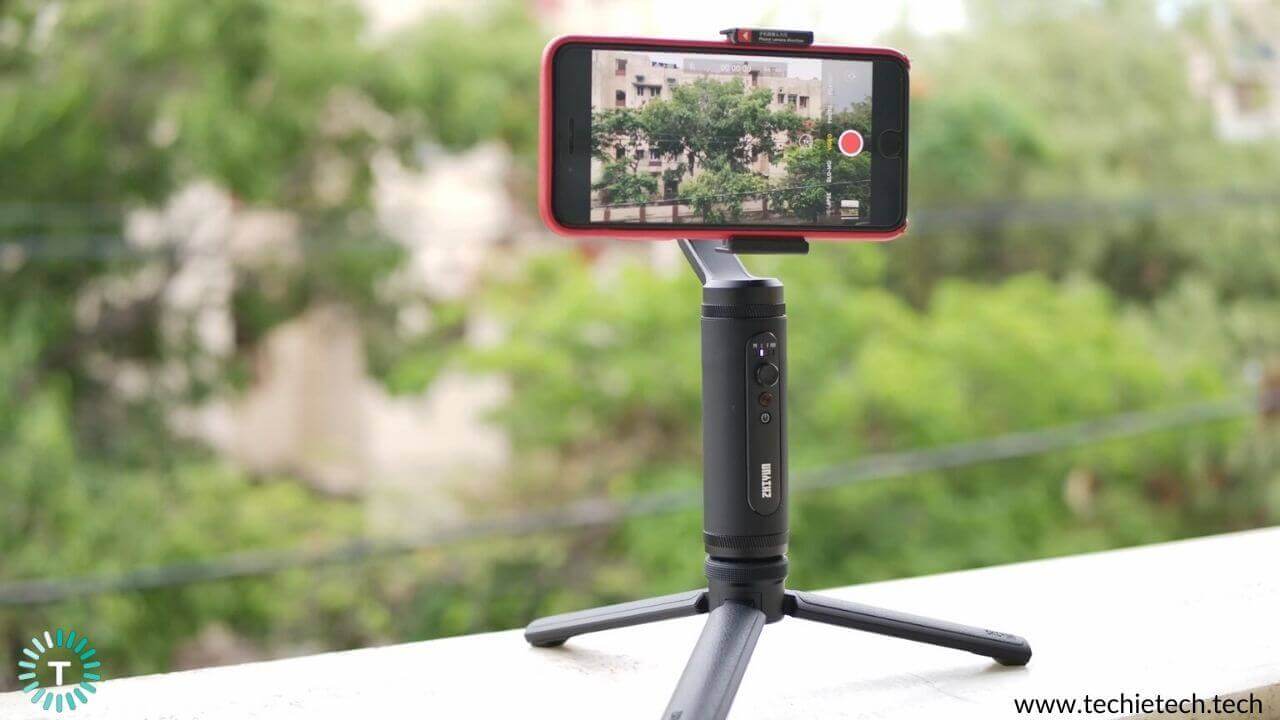 The Zhiyun Tech Smooth Q2 (review) is a pocket-sized smartphone gimbal that balances your phone automatically to shoot smooth videos. It supports object tracking, time-lapse, and motion lapse modes. The Smooth Q2 switches quickly to the vertical mode for vloggers and selfie-takers.
The Smooth Q2 is packed with a pretty good battery that easily lasts up to 17 hours. Moreover, there's a micro-USB port, which allows the users to utilize Smooth Q2 as a power bank, while they're on the go. Another peculiarity of the Zhiyun Tech Smooth Q2 is that it supports the native camera app on your smartphone via a Bluetooth connection. Therefore, you can shoot pictures and videos right from the stock camera app on your LG Velvet.
If you're looking to take full advantage of the triple camera setup on your LG Velvet, then the Zhiyun Smooth 4 is a mobile gimbal for professional content creators and features manual controls and even a follow focus. 
2. DJI Osmo Mobile 3
 
If you're a storyteller, who loves shooting videos on his smartphone, the DJI Osmo Mobile 3 is another amazing mobile stabilizer that you can get for your LG Velvet. It keeps your smartphone steady on all 3 axes so that you can shoot smooth videos, no matter if you're walking or running. The DJI Osmo Mobile 3 features a high-quality joystick with a few easy-to-use buttons. 
It allows you to shoot fantastic motion lapses, time-lapses, and even hyper-lapses on your smartphones using DJI's app. Moreover, Osmo Mobile 3 supports advanced auto-tracking as well. It offers a decent 15-hour battery life and has support to charge your smartphone on the go, so, you never have to worry about getting your phone out of charge while shooting. The foldable design makes it a
travel-friendly companion as well.
3. GripTight ONE GorillaPod stand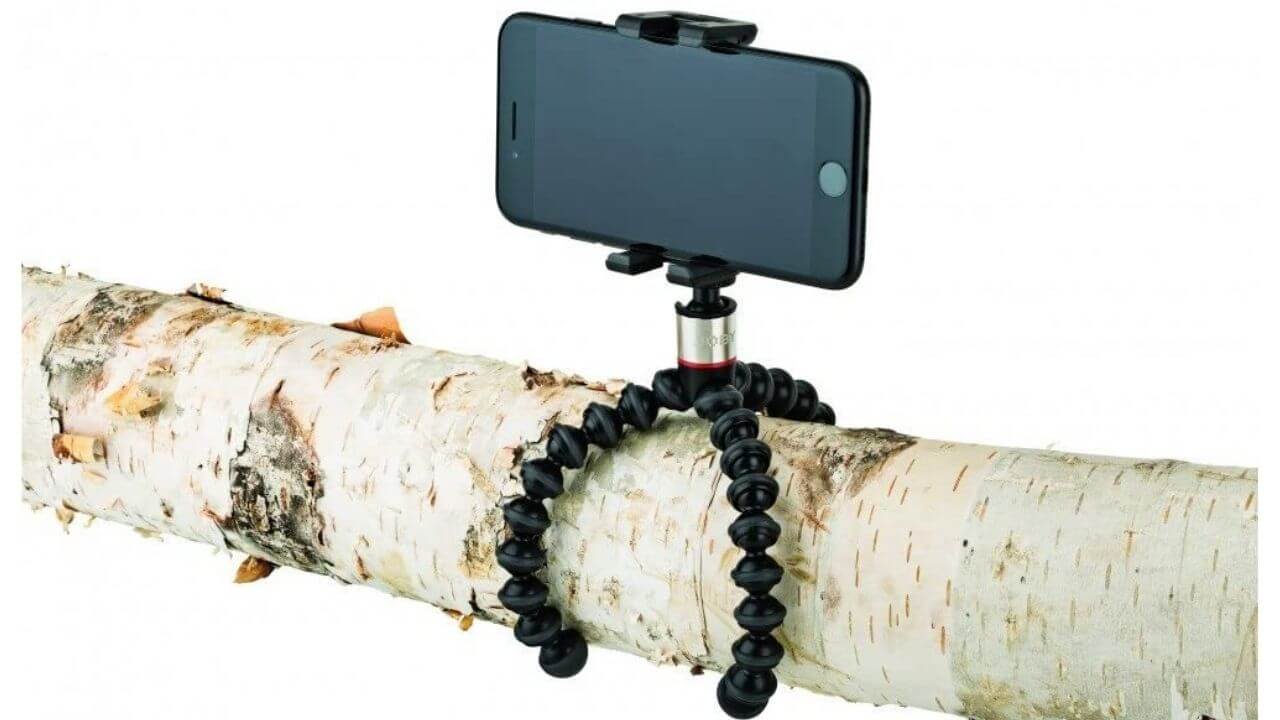 Here comes a must-have accessory for all the content creators who love shooting photos and videos on their smartphones, but don't fancy buying the regular or standard-sized tripods. Undoubtedly, GripTight One is one of the best accessories for your LG Velvet. It can easily mount any device that weighs up to 11.4 ounces/325 gms. The stand gives you the freedom to shoot from some amazing and unique points by easily wrapping the GorillaPod around trees and poles. As an added bonus, this stand can be utilized as a selfie stick too.
The GripTight ONE comes with a simple smartphone adapter that easily attaches your LG Velvet to the stand with a standard 1/ 4-inch screw.  Moreover, you'll get
multiple mounts for torch, lights, and mics too. This stand is super-compact and lightweight that you can easily slip it inside your pocket. 
Best Accessories for LG Velvet
1. LG Dual Screen and Stylus Pen
LG Velvet supports the LG Dual Screen Accessory and Stylus Pen. The LG Dual Screen case is bundled with some pre-orders, and after that, it will be available as a separate accessory. The LG Dual case resembles a thicker folio case housing a second screen for your smartphone, with a front cover that folds closed over the smartphone. On the front, there's a small informational screen with the time, date, battery life, and a few notifications. This accessory gives you the ability to extend your smartphone experience across two screens. You can use your LG phone with this dual-screen case or just pop it out of the case and use your phone like a regular phone. The case connects to the LG smartphone via an integrated USB-C adapter. It's worth mentioning that each LG smartphone has its own Dual Screen Case, and is not compatible with one another. 
You can also get yourself the LG Stylus Pen to get a more natural writing experience on your LG Velvet. It features tilt detection and a long-lasting battery.
2. UV Smartphone Sanitizer & Universal Charger
Highlights
Disinfects and charges your smartphone simultaneously

Compatible with most smartphones

Lifetime bulb warranty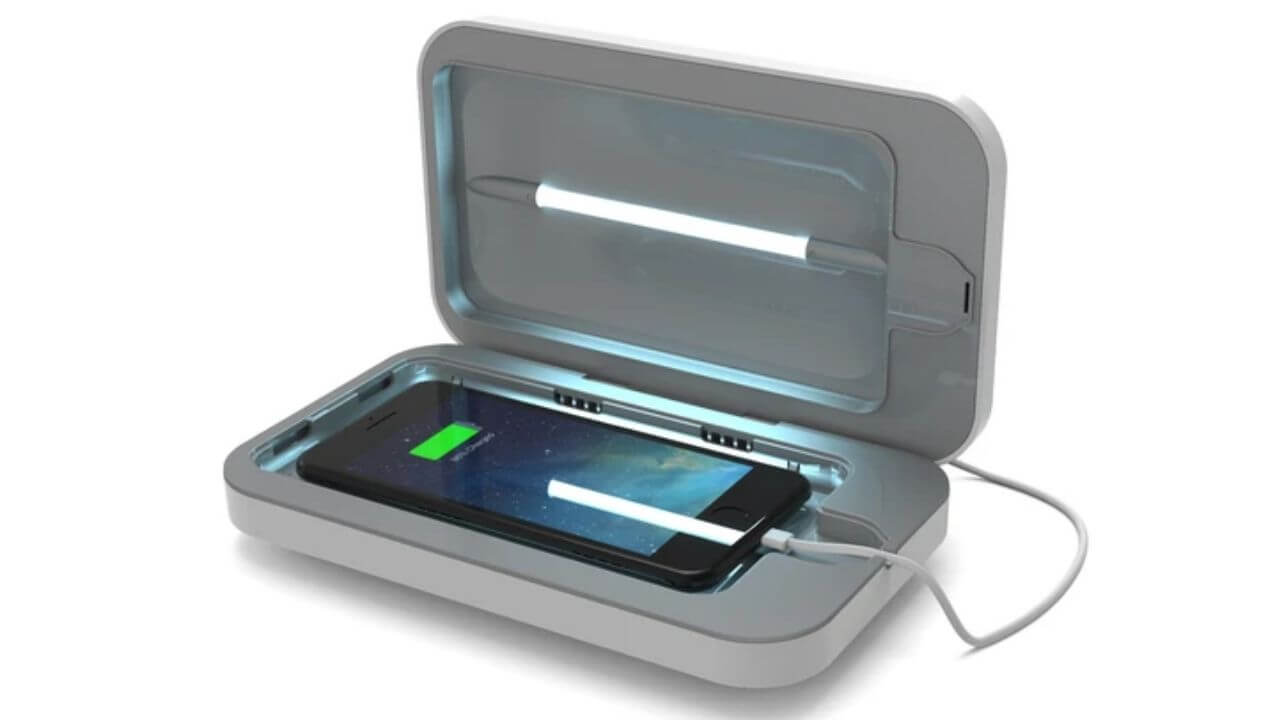 Did you know that your smartphone gathers all the bacteria that you touch throughout your day? We wash and sanitize our hands at regular intervals, but never our phones, right? So, here comes a smartphone sanitizer that's equipped with
two germicidal bulbs to offer complete 360-degrees disinfection and kill up to 99.99% of all germs and bacteria on your smartphone. Moreover, there are USB-A and USB-C ports to charge your smartphones as well. It's compatible with your LG Velvet and available in 5 different color options. 
3. SanDisk 128GB Extreme MicroSDXC UHS-I Memory Card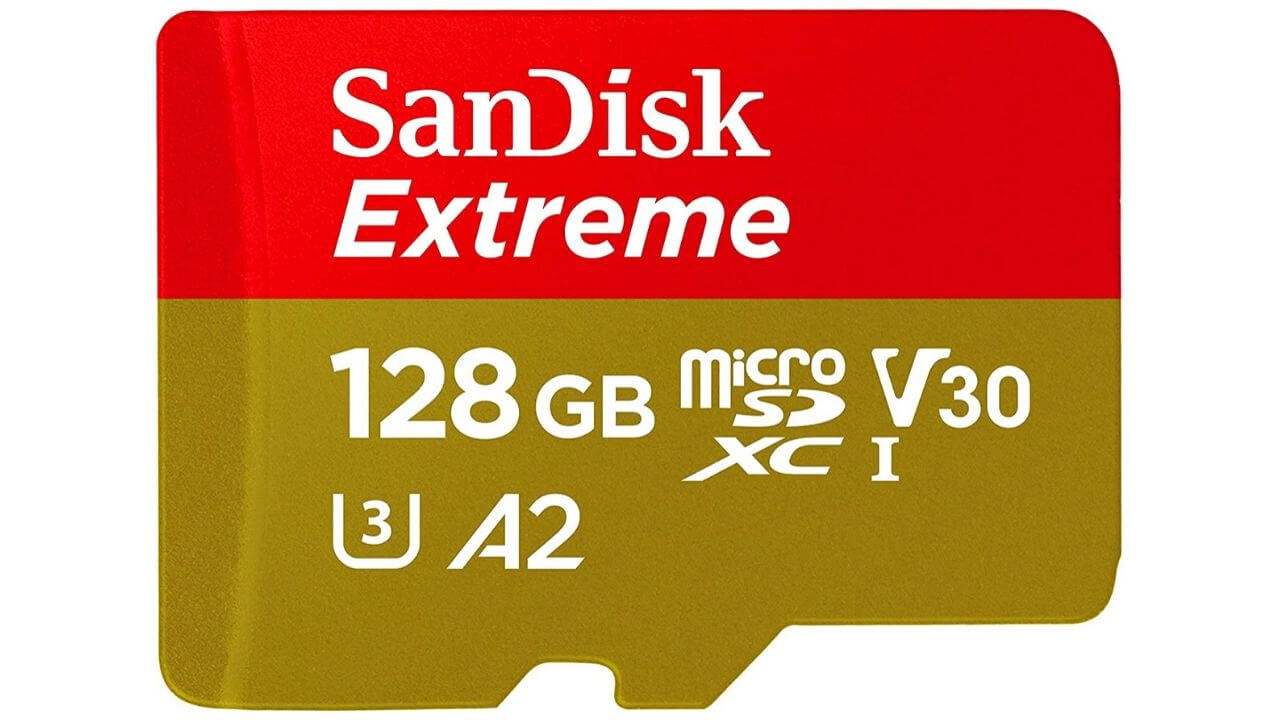 As the LG Velvet supports expandable memory via a microSD card, you should invest in a good microSD card to level up your storage game. Here we have the SanDisk 128GB Extreme PRO card that offers read speeds of up to 160MB/s and write speeds of up to 90MB/s for compatible devices. This card can easily shoot uninterrupted 4K UHD videos on compatible host devices. The SanDisk 128GB Extreme Pro is backed with a lifetime warranty. Also, the card is temperature-proof, waterproof, shock-proof, and x-ray-proof.
That was all for our roundup for the best accessories for the LG Velvet in 2021. We hope it has helped you spot your favorites. Do let us know if you're rocking any other amazing accessories for this latest LG smartphone.
Don't miss our roundups for the best accessories for Motorola Edge Plus and OnePlus 8 Pro.