Everyone carries an almost professional camera right in their pocket these days. But to cover that "almost professional" gap there are some accessories that help you go pro.
That's where mobile stabilizers or gimbals (as they're commonly known) step in.  Zhiyun's Smooth Q2 is the company's 6th attempt at making a smartphone stabilizer and I've been using mine for over 3 months now. Let's find out how they nailed it this time.
After testing a decent number of mobile gimbals, I've finally found the perfect gimbal for every kind of user. It doesn't matter whether you're a vlogger, looking to step up their vlogging game or a professional filmmaker looking to get that stabilized footage from a smartphone. The Smooth Q2 serves everyone right.  
Build Quality & Design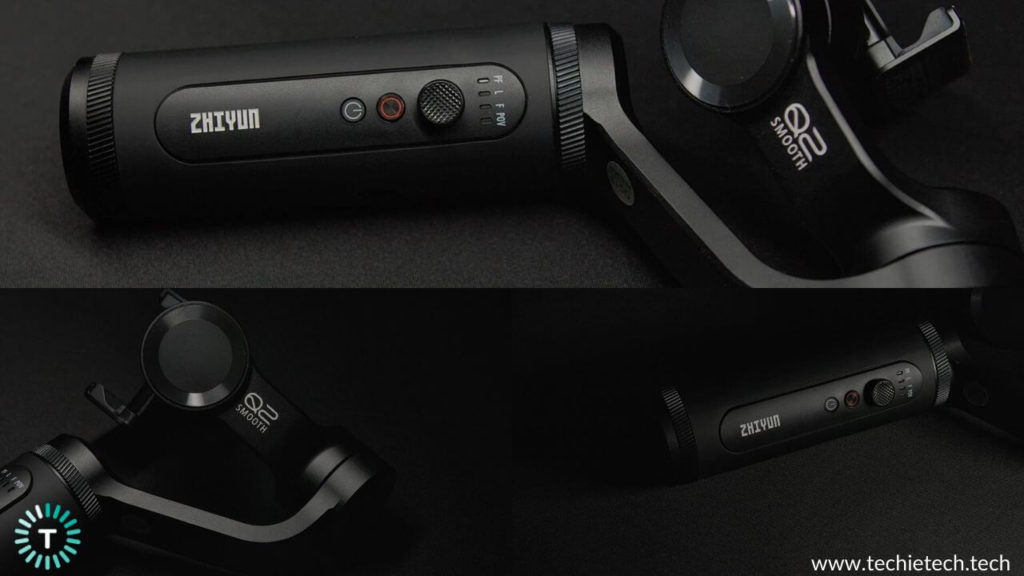 When it comes to gimbals, the build quality of the mobile stabilizer matters the most. It makes perfect sense to expect great build quality. After all, you're trusting your smartphone with that accessory.
The Smooth Q2 has an all-metal body with a premium grip. The buttons and overall in-hand feel for the device is incredibly good. It only has 3 buttons and a joystick with an ambidextrous layout. So, that means I can use it with both hands without any issues.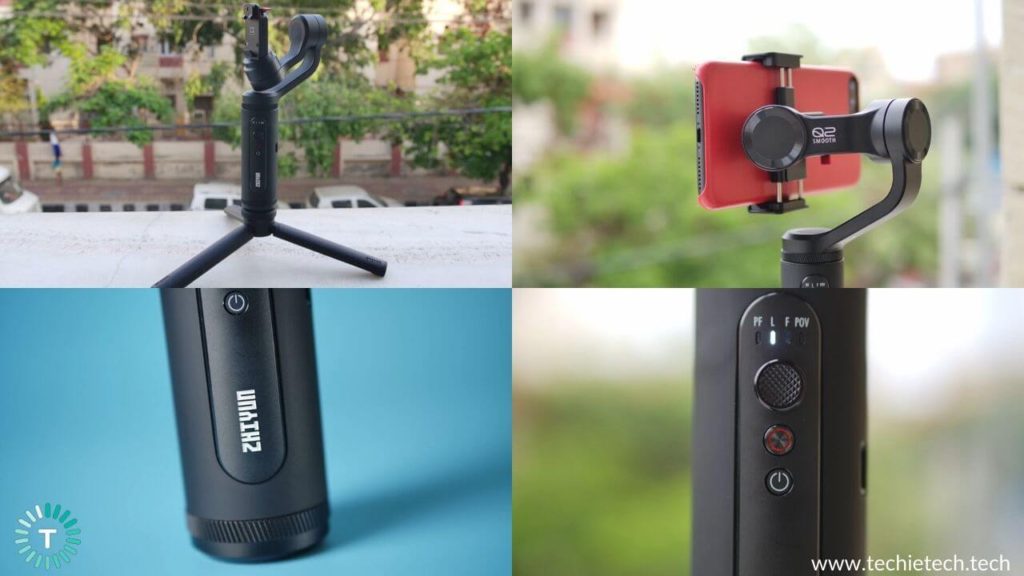 Moreover, the design of the Q2 is also different from other smartphone gimbals in the market as it comes with a flat base. So, you won't need a tripod if you're using it on a flat surface. Although, I highly recommend using one. There's also the commonly found quarter-inch thread mount on the base. The absence of a mini tripod in the box is duly noted. 
Intuitive User Experience
Mobile filmmaking is all about shooting on the go without any assistance. Hence, a stabilizer should provide an easy to use and intuitive user experience while shooting. The Smooth Q2 scored an A+ in this aspect.
Primarily because of the easy to pair and setup process. Compatibility with the native and 3rd party camera apps and easy to switch to portrait mode are another set of features that add to the amazing user experience.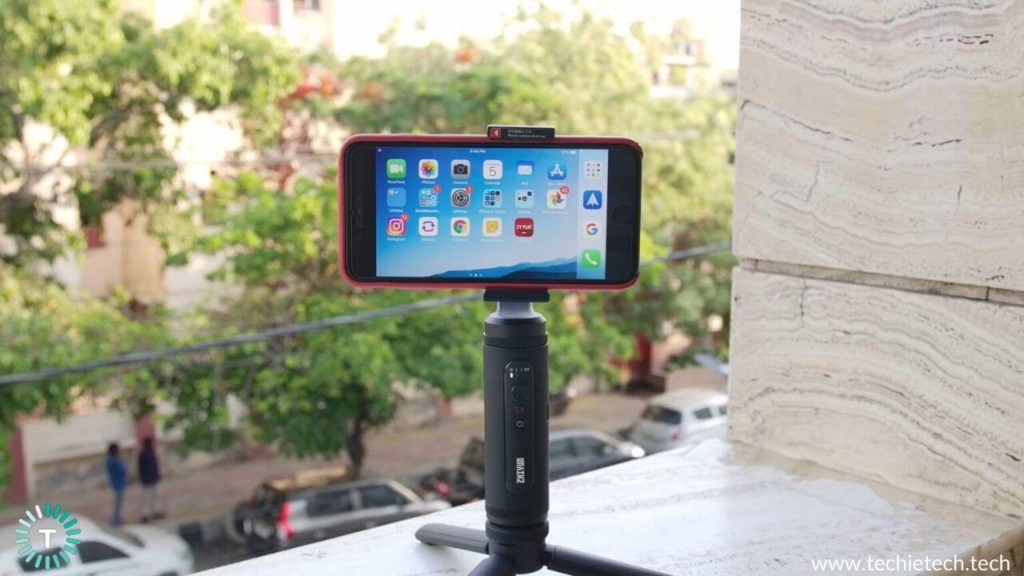 The ZY Play App offers features for both casual users like vloggers as well as professional filmmakers. I love the motion-lapse feature. It's got a list of presets as well as a custom designed pathway for the motion lapse that you can use to capture incredible day and night time lapses. 
Besides the seamless pairing and app experience, the Smooth Q2 is also future proof because of ultra-wide-angle lens support. The major challenge with using ultra wide lenses with gimbals is, one of the axes ruins the frame. The Q2 fixed this by a software upgrade which makes the final footage distraction free.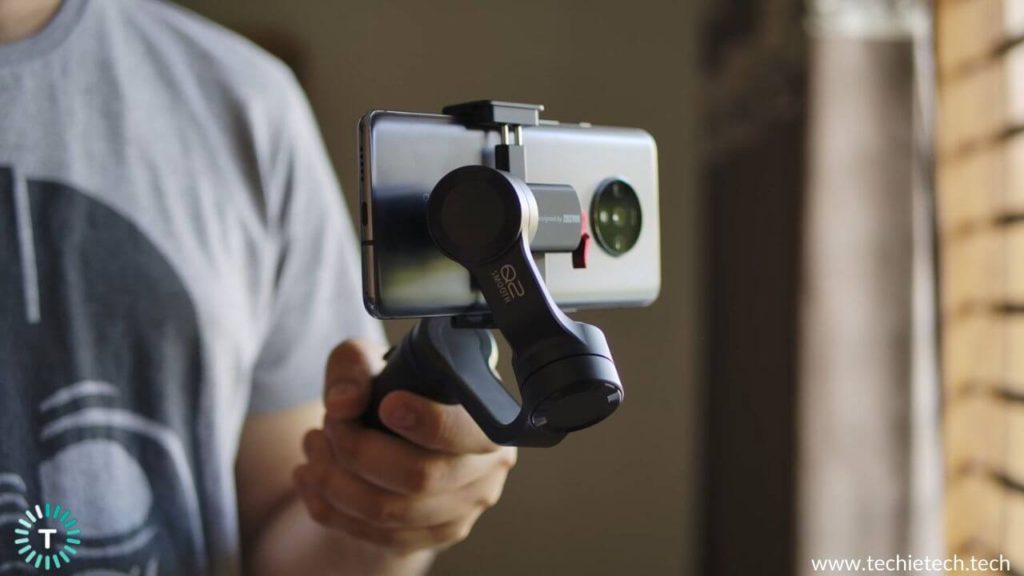 A lot of mobile gimbals on the market don't have this feature even in 2020. 
Battery Life
The Q2 comes with a removable 4500mAh battery which gives you a juice time of over 17 hours. This number is subjective to how accurately balanced your phone is. If you balance it accurately, you'll get a better battery life along with a more stable and faster response from the gimbal motors.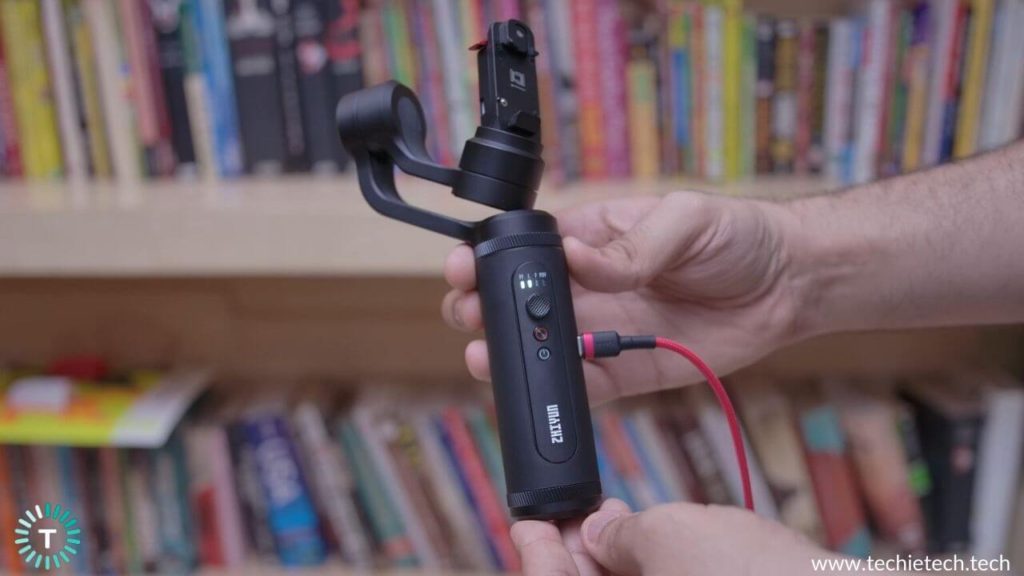 But the fact that your gimbal can charge your phone while using it, is very useful when shooting for long hours. Like while shooting a time-lapse or a motion-lapse.
Moreover, the 3-hour charging time is like icing on the cake and makes it the perfect travel companion. It's one of the best camera accessories for an iPhone. 
Price
When it comes to mobile stabilizers, the price tag is usually a deal-breaker for most people.
With a price tag of $100 USD, the Smooth Q2 is one of the most affordable mobile gimbals out there.
That's even cheaper than a high-quality smartphone lens!
Strong Motors & Easy balancing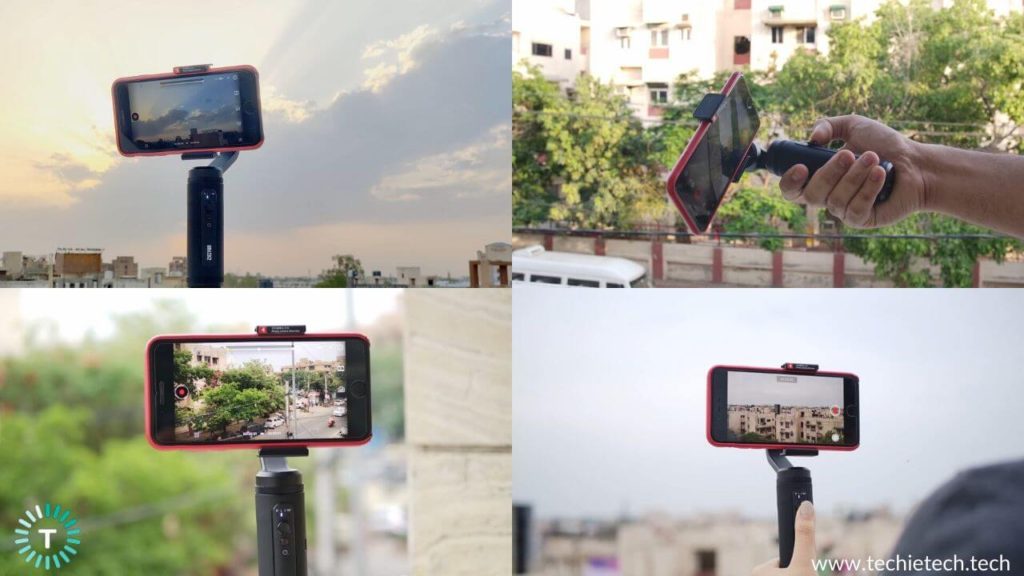 This might sound like 3 different features but they're just part of 1 big feature of advanced and strong motors.
In other gimbals, a user must accurately balance the smartphone on all the 3 axes, in order to get the smoothest shots. If the phone was off even by half a centimeter, the motors used go haywire and ended up spinning the phone. That made using 3rd party accessories like an external lens or a mic even worse. 
Because of these upgraded motors, if a user does not need to balance the phone accurately, he'll still get smooth footage. Moreover, one can easily use 3rd party accessories like Sirui lenses to get different focal lengths.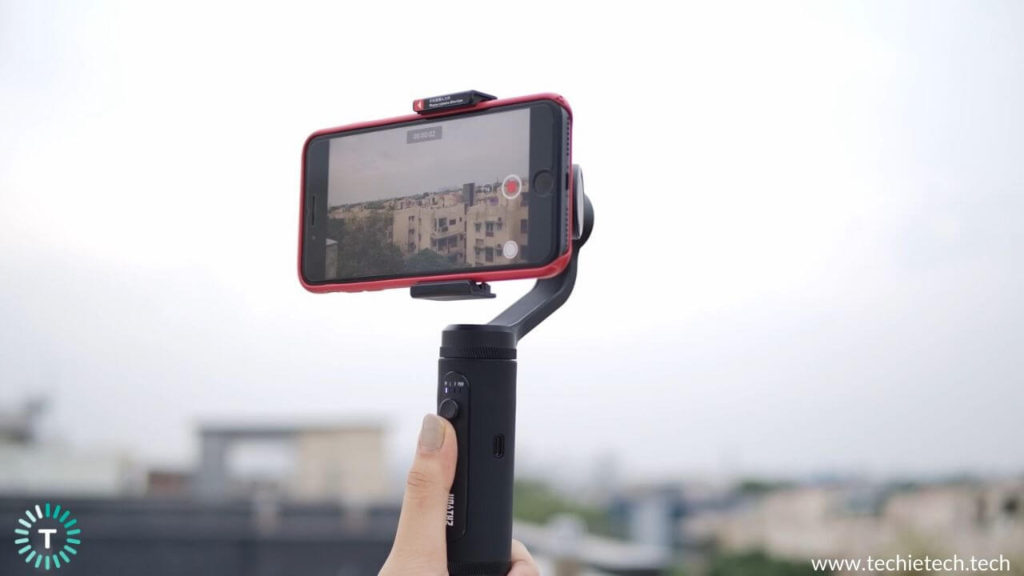 One honorable mention is the all-new innovative mounting clip. It's built like a tank and can easily take phones as big as 6.5" without any issues. Moroever, mounting that clip takes less than 5 seconds.
To sum this up, the Zhiyun Smooth Q2 fits the bill if you're looking for the perfect mobile gimbal without burning a hole in your pocket.
If you have any questions regarding the mobile gimbal, feel free to ask them in the comments and I'll be happy to help you.