Introduction
Flash storage is probably the most used technology innovation today. It is present in our PCs, our smartphones, be it an iPhone or a Samsung Galaxy smartphone. This wide adoption of flash memory has led to fierce competition in the memory storage market. This has further led to more and more companies popping up with brand new products and features. Therefore, high and fast memory storage capacities have paved the way for high-resolution camera sensors &  powerful image signal processors. We now have smartphones with 200MP camera sensors and portable cameras that can record videos in 8K!
microSD cards have been a very big part of all this development. Since it is one of the smallest available memory cards for users, it is also the most widely used in products like action cameras, drones, smartphones, tablets, etc. Fast SD cards are have become an essential part of owning these devices. Well, there's just one problem. Faster & smaller storage options are still new and relatively expensive. The market is full of UHS-II (Ultra High Speed) cards, it's just that they are quite expensive for both casual and professional users. There are very few SD cards that offer a reliable storage experience at a more budget-friendly price. We have been testing a few of them for some time and here's our take on one of them.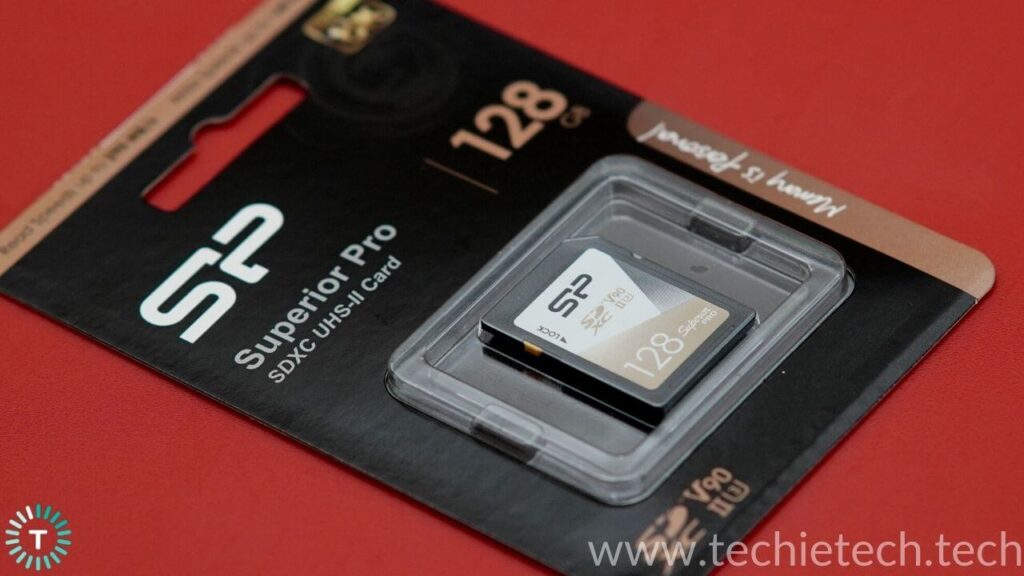 Let's take a look at Silicon Power's Superior Pro SDXC V90 UHS-II SD and microSD cards. I've been using them for quite some time now on a number of different devices for different purposes. In fact, the UHS-II microSD card has become my daily driver, so I will be primarily focusing on that. The Taiwan-based company has been at the forefront of pushing budget-friendly memory storage solutions that deliver a reliable product experience. In fact, we've reviewed a bunch of Silicon Power storage products in the past and thoroughly tested them for storing & editing 4K videos.  
Also read: Silicon Power US70 Review: Best Budget PCIe 4.0 NVME SSD?
Specs & Hardware Information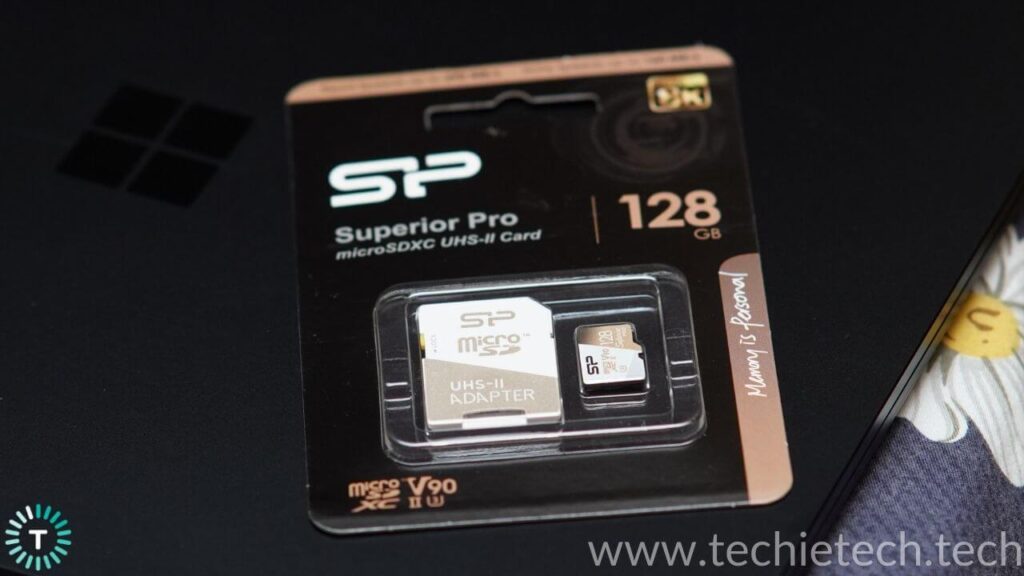 Here's a quick introduction to the Superior Pro microSDXC V90 UHS-II card. If that name sounds a bit confusing to you then I highly recommend reading the differences between UHS-I and UHS-II cards and what the rest of the naming jargon means & represents. 
Before we jump into the actual review, here's a quick look at the specs sheet of the Silicon Power Superior Pro microSDXC V90 UHS-II card:
| | |
| --- | --- |
| Dimensions | 15.0mm x 11.0mm x 1.0mm |
| Weight | 0.3g |
| Video Speed | C10, UHS-II U3, V90 |
| Durability | 10,000 insertions (minimum) |
| Operating Temperature | 0°C – 70°C |
| Storage Temperature | -40°C – 85°C |
| Humidity | 8% – 95% |
| Operation Voltage | 2.7V – 3.6V |
The Superior Pro V90 offers read and write speeds of 290MB/s (max) and 160MB/s (max) respectively. It is also travel-friendly for adventure seekers users as this microSD card is waterproof, shockproof, temperature-proof, and even X-ray-proof. Backed up by a 5 years warranty, this product should already be on the must-have travel accessories list already.
In terms of storage capacity, the Silicon Power V90 microSD card comes in two options i.e. 64GB and 128GB. 
The V90 microSD card comes in a standard plastic clamshell packaging with a microSD card to SD card adapter which is also UHS-II rated. We tested the 128GB models of this card. 
Also read: Silicon Power Gen 3 vs Gen 4 PCIe NVME SSDs: Which one should you buy?
Features & Gear Compatibility
The high transfer speeds and its price tag make it a very interesting purchase for content creators or professionals who shoot videos in 4K or above. Since the Silicon Power Superior Pro V90 is a UHS-II mircoSD card. A user would need a compatible device that supports UHS-II SD cards in order to take full advantage of the high read and write speeds. 
Most modern devices like tablets, handheld gaming consoles usually support UHS-I SD cards. We tested the card with UHS-I devices as well and found some interesting results. 
But, when it comes to cameras, things get a bit boring as most entry-level cameras still do not use UHS standards and therefore you would need a mid-range or a flagship mirrorless or DSLR camera from the past 3 years for UHS-II support. Cameras like Sony A7SIII, Panasonic GH5 have support for UHS-II SD cards and can also shoot videos in 4K at up to 120fps or 10-bit respectively.
Similarly, in order to get high transfer speeds in post-production, you'd need a UHS-II microSD or SD card, reader. There are a bunch of reliable UHS-II card readers out in the market, you can browse the list here.
Also read: ZCAM E2 Mini Cinema Camera Review
User Experience & Tests 
We used the Silicon Power Superior Pro microSDXC UHS-II card along with and without the microSD adapter. As mentioned earlier, we tested the V90 on a bunch of different products and for different purposes. We used the UHS-II microSD and SD cards with the Panasonic GH5 and did not face any major issues like delay, slow buffer, or data corruption while capturing pictures in burst mode.
If you're a filmmaker, then this is certainly an appealing purchase for you. We also shot some 4K@24fps videos in 10-bit and did not face any issues with that either. Since this card is rated for 8K video recording so I am assuming most users should not face any issues with high resolutions like 5K or even 6K unless they are shooting in high frame rates or shooting proxies or RAW video files with the same card. Moreover, formats like ProRes have high bitrate requirements so it's a good move to match and compare the bitrate and speeds shared by your camera manufacturers. If they fall under the promised speeds of the V90 UHS-II cards then I highly recommend doing a stress test before taking it on a formal gig. 
From a photographer's point of view, we did a bunch of burst tests in both RAW and JPEG + RAW and did not face any significant delay, slow buffer, or data corruption issues either. We've seen what a slow SD card can do in these situations and the V90 was clearly a winner in this. All in all, this is more than enough for what you'd need for capturing pictures of your running dogs or people dancing in events. 
Although, the 128GB storage capacity might be bothersome for some users as they would need to format it before every shoot or every once in a while. Therefore, make sure to factor this into your workflow.
We also tested this on an Android 11 tab to playback a full-size uncompressed 4K Blu-ray movie. To our surprise, the V90 took it like a champ and there were only minor stutters while scrolling through the 25GB MOV file.
Just to see how fast it really is, we also used the microSD card as SWAP memory on the Galaxy S7 FE tab to see whether the read and write speeds are actually fast enough to be used as virtual RAM. We added over 12GB of SWAP memory and the difference in the overall performance of the device was clearly visible. Loading multiple apps and accessing large worksheets or video files took less than a second, even in DeX mode.
When it comes to raw numbers, the performance of the Silicon Power Superior Pro microSDXC V90 card largely depends on the kind of hardware you're using it with. As mentioned earlier, it is a UHS-II card and you'd need a UHS-II card reader and the right cable to get more accurate numbers. We used the ProGrade Digital UHS-II card reader with a USB-C 3.2 Gen 2 cable. 
We were easily able to get the promised speeds. Here's a quick look:
| | |
| --- | --- |
| ATTO 2.47 |   |
| ATTO 2.47 (Read) 1GB | 289MB/s |
| ATTO 2.47 (Write)  | 163MB/s |
| Crystal Disk Mark 6.041 x64 (4GB) |   |
| 512K Write | 161MB/s |
| 512K Read | 269MB/s |
As for real-world file copy paste tests, we were easily able to get around 276MB/s and 167MB/s while transferring large files (30GB) from and to the card respectively. Please note that the card got fairly hot during large transfers. This is very normal for cards that offer high storage speeds in such a form factor. These are small chips that use passive cooling to dissipate heat. We've tested chips that
get way hotter than this during these transfers.   
We also tested it with UHS-I devices and we were able to get a significantly faster transfer and data access speeds on those devices. The list includes the Obsbot Tail 4K AI-powered camera, Galaxy Tab 7 FE, Sony A6400 & more. In short, we were able to max out the storage speeds of these devices with the Silicon Power V90 microSD card.
Conclusion
If I had to sum up my review of the Silicon Power V90 UHS-II micoSD card, it is a flagship product that offers respectable performance at a not so flagship price tag. The high transfer speeds make it suitable for a wide variety of users. The larger shot buffer makes it a must-have accessory for photographers who shoot a lot of weddings and events. The fast data moving transfer speeds for photo and video data are actually noticeable if you're using the right UHS-II card reader.

Another finding that makes the Superior Pro V90 by Silicon Power the best value for money microSD card is that it works amazingly well with UHS-I devices. We tested it with a bunch of cameras and Android devices and we were able to get speeds that we hadn't seen with these devices before. 
The cost per GB is also one of the best in the industry that too backed by a 5-year warranty. Therefore, if you're looking for a reliable microSD card for photography, filmmaking and even storing a lot of games and movies for your portable devices, the Superior Pro V90 is hard to ignore. 
Check Price on Amazon (US):
microSD Card: https://amzn.to/3p3Rvp9  
SD Card: https://amzn.to/2VISlwX 
Check Price on Amazon (UK):
microSD Card: https://amzn.to/3nUw0b2 
SD Card: https://amzn.to/3xzRADh 
Check Price on Amazon (India):
microSD Card: https://amzn.to/3CBLdmD 
SD Card: https://amzn.to/3CBLdmD