Introduction
Now that Artificial intelligence (AI) is expanding to almost every segment of our life, making it a lot smarter with each update, it has finally come to cameras. No, I'm not talking about the hit and miss AI smartphone cameras. I'm talking about real-time tracking.
I've used it on a bunch of smartphones and camera gimbals and honestly, it's not that impressive. But the Obsbot Tail takes this to a whole new level. Read on to find out.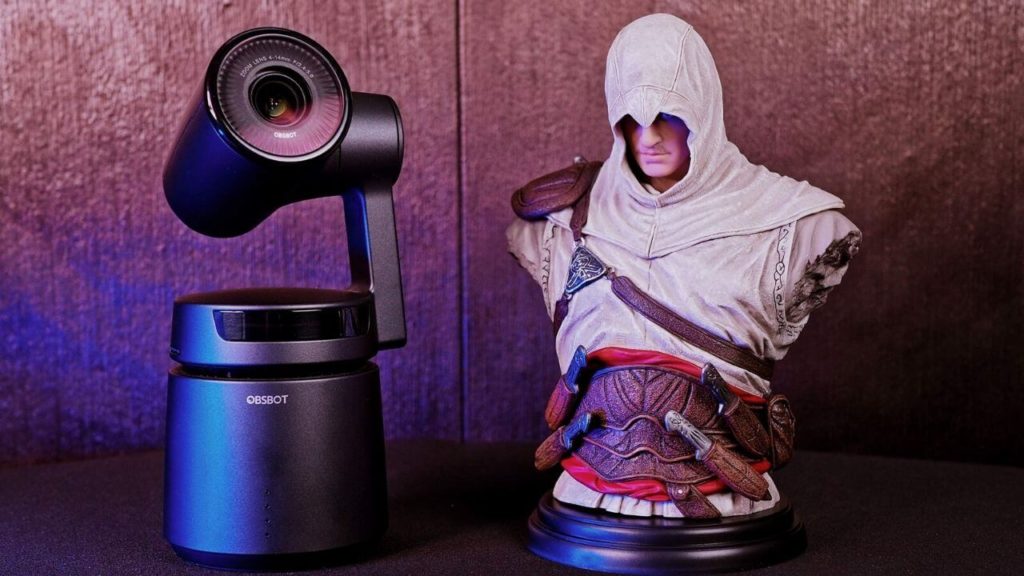 Who is this camera for?
Before proceeding with the review I'd like to state even though this camera was meant for vloggers or casual users, it can still be used by prosumers for different purposes like a filmmaker/photographer can use it as a behind the scenes camera or as an extra camera which will track the subject without an operator.
So, here's my Obosbot Tail review while keeping both the users in mind.
Parameters
Build Quality & Variants
For a consumer product, the build quality is very good. The plastic body is hard-shelled and very lightweight.
It comes in two different colors, Greyish Black and Red. While the black is more stealthy, the red Obsbot Tail attracts a lot of attention.
Size and Weight
The Obsbot Tail has a very different shape as compared to both the consumer level and pro-level cameras. That's because of the in-built gimbal. It looks like someone threw the Amazon Echo on a wheel and modeled out the Obsbot Tail. Here's a comparison between the two.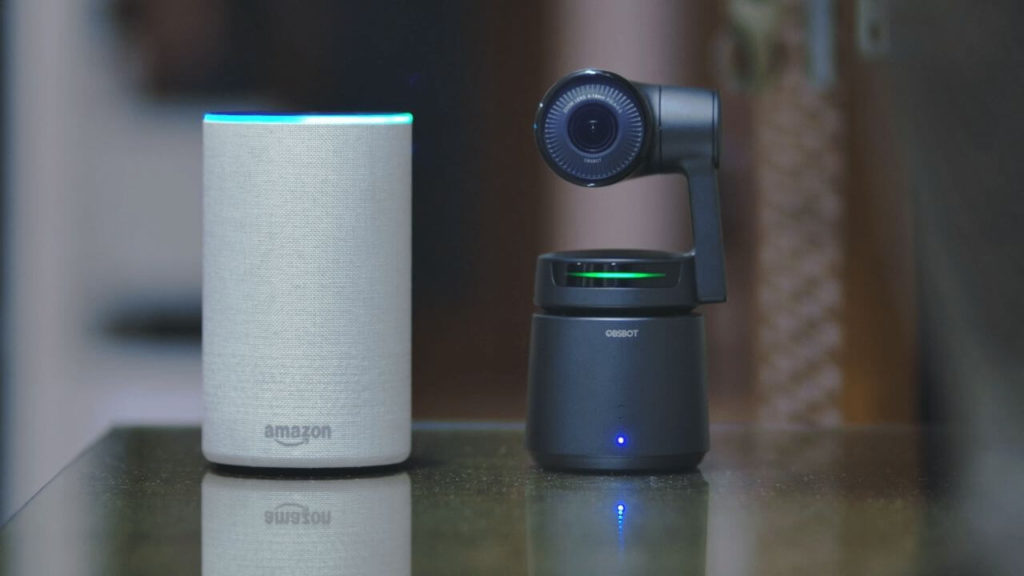 In terms of portability, it's quite easy to travel with, using a small and spacious bag or you can always buy the carrying case separately. I'd recommend the separate carrying case since it has protection for the in-built gimbal motor. I won't recommend risking it with a regular bag pack.
During my review, I used the Mindshift camera handbag with camera bag dividers. Prosumers don't need to buy a separate case. Their regular camera bag would be good enough.
The AI-powered camera weighs 580 g (20.45 oz). It's no DJI OSMO Pocket but performs quite similarly. Also, there's no built-in display but it does have LED indicators. We'll talk about them in the next section.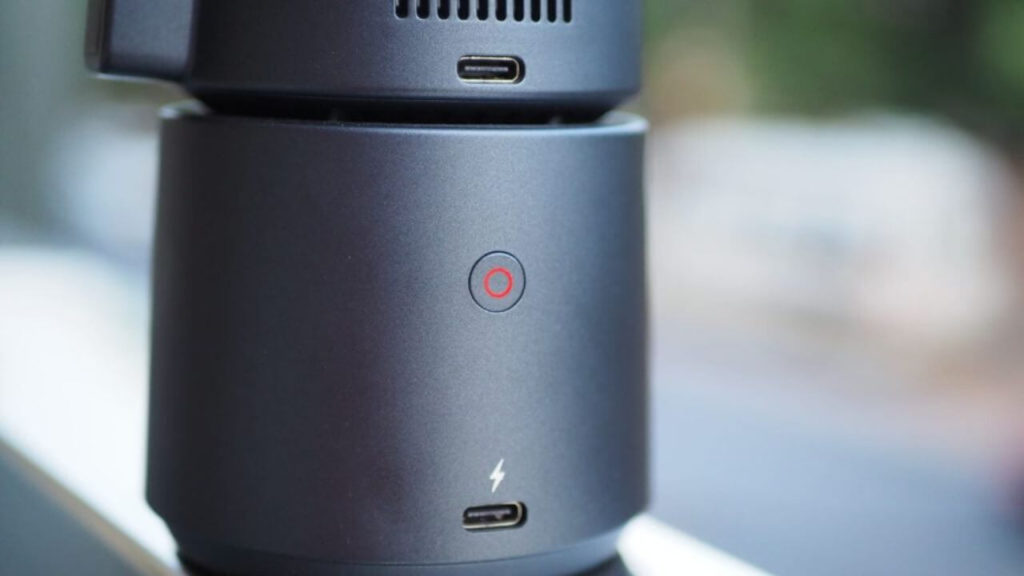 Ports
The Obsbot Tail features 2 USB Type C ports, one is for power supply and the other one for transferring data and updating the camera. The former port is located below the power button in the bottom half and the latter one is right below the fan grill.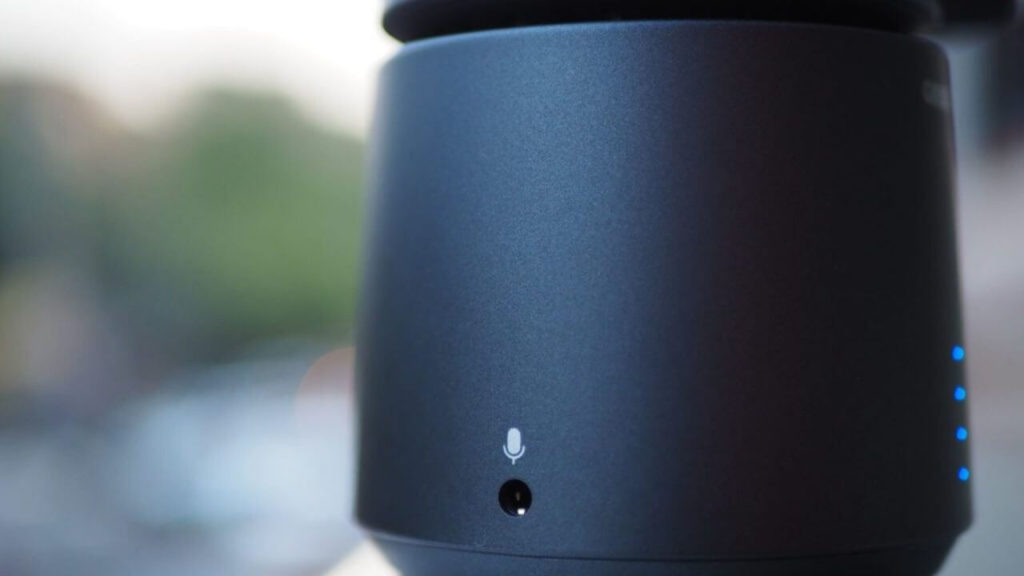 There's also a 3.5mm jack which is used as a microphone input. There's no built-in microphone though so if you want to record audio, you'll have to get an external microphone. I tested a bunch of different microphones. Here's my list:
Saramonic V-Mic Mini, Rode VideoMic Pro Plus, and the Shure VP83F.
The Obsbot Tail worked very well with these microphones. One issue that I found was there's no audio monitor or any settings for adjusting external mic's audio levels. I'd appreciate that in the app.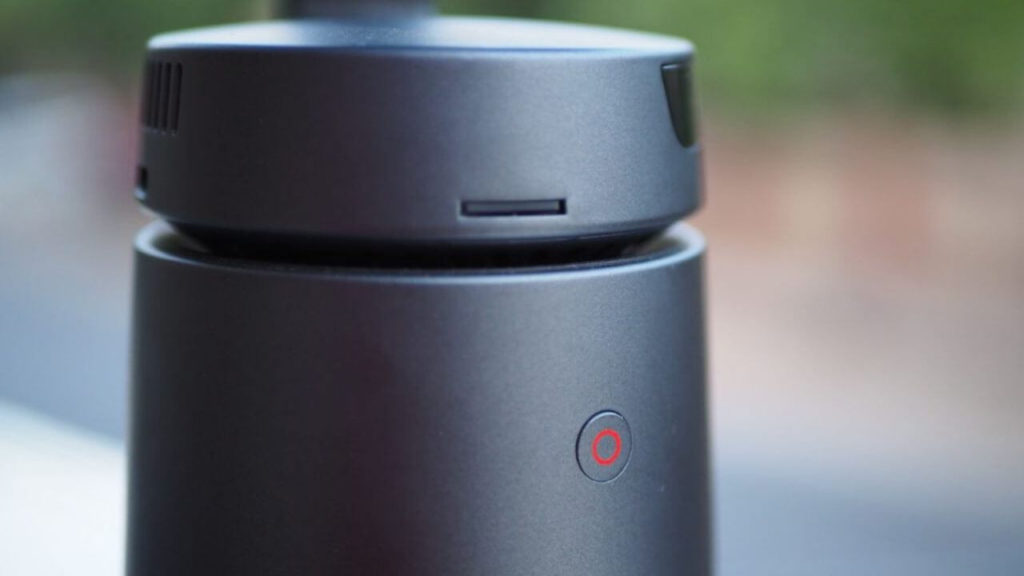 There's also a micro SD card port that supports up to 128 GB. It has no covering for the port, so I'd suggest you avoid using the Tail in dusty and/or unclean environments. Moreover, it's a good practice to clean your camera ports regularly.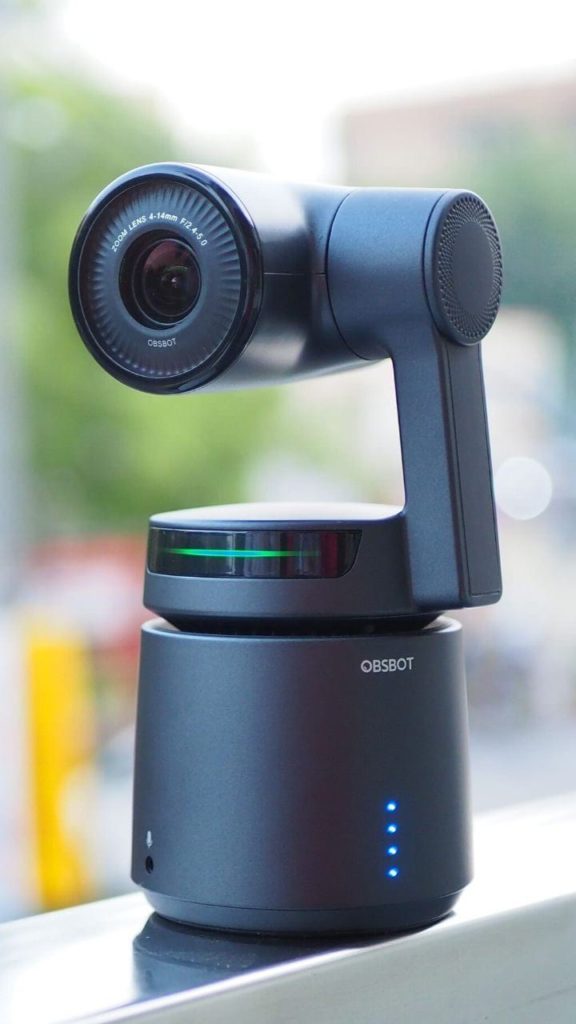 Under the camera lens, you'll see this sleek horizontal LED light. It is very useful when you're using the camera without the app. It changes whenever you use gesture controls or enable tracking.
There's the Obsbot logo on one side and below the logo you'll find 4 tiny LEDs. Those LEDs tell the battery level without turning on the camera. This reminded me of the old Macbook Pros with dedicated battery indicators. It's a small feature but probably the most appreciated one in my opinion.
Fan
The Obsbot Tail features a fan. That's right. A legit cooling fan.
Considering how we're moving back to the era when we used to have moving parts in our everyday devices *coughs OnePlus 7 Pro* I wouldn't be surprised by this. The fan is present in the upper part of the camera i.e. the gimbal and you can only see the fan's grill.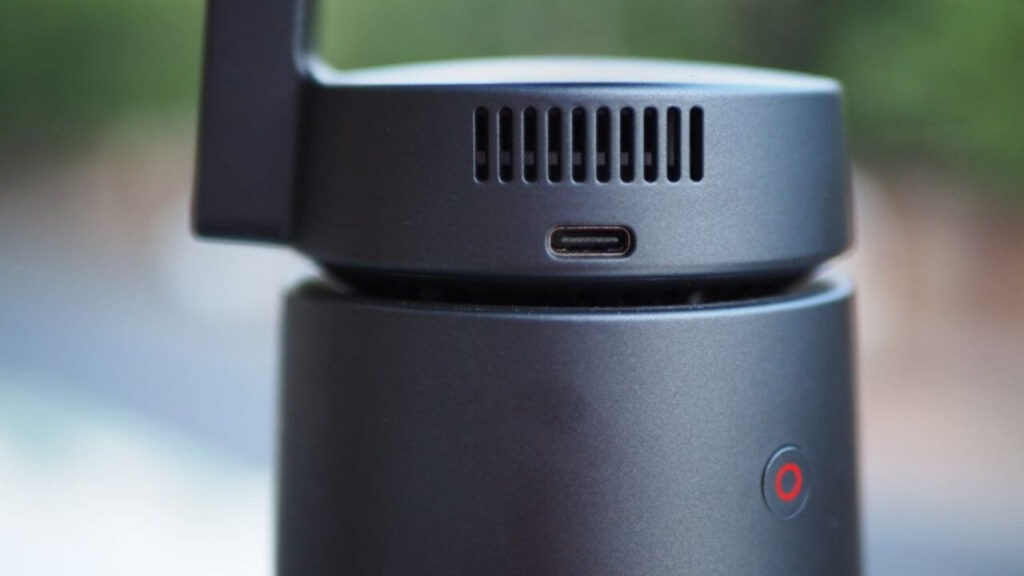 In terms of performance, the fan does its work as it should. Moving on to noise performance, you'll barely hear the fan noise if you're shooting outside but I noticed a decent amount of fan noise while shooting indoors.
On a casual level that's bearable but on a professional level, I'll be throwing the noise reduction effect on the audio clip. One thing that bothered me was that irrespective of whether you're shooting in 4k or full HD or even not shooting at all just playing around, the fan will stay on. Overall, on a vlogger level, it's a good feature when you're shooting for long hours.
Gimbal
The Obsbot Tail features 3-axis 360° gimbal. I've used a lot of gimbals ranging from smartphone stabilizers to gimbals for rigged up cameras and based on my experience, I'd say the gimbal motors are very responsive. The lightweight hard shell plastic body complements the motor speeds and helps in tracking subjects at crazy speeds.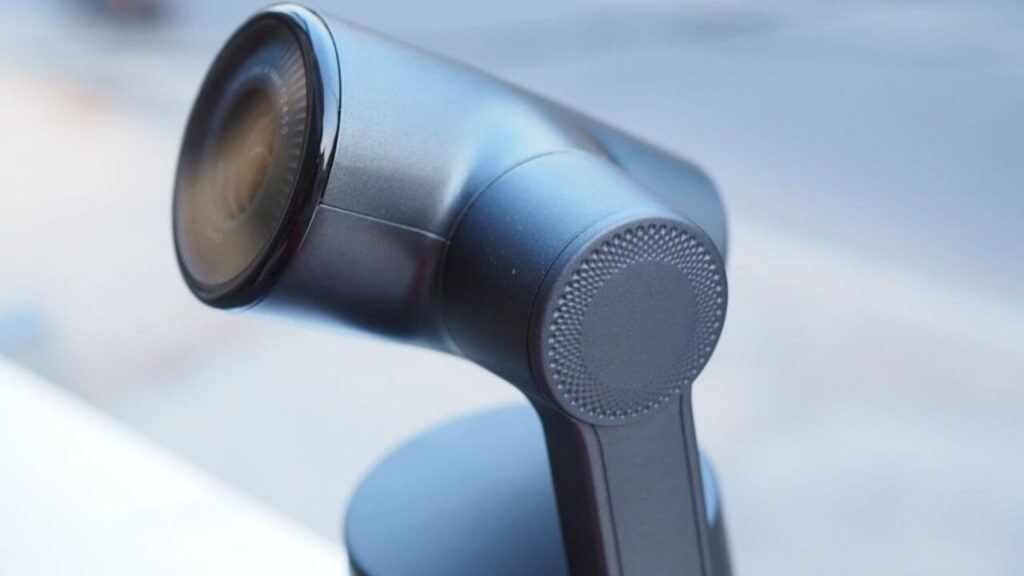 You can also lock the gimbal head whenever it's not in use. 
To sum this part up, I'd say the gimbal game of the Obsbot Tail is on point.
Mounting Points & Rubber Grip
There's a ¼" thread mount on the bottom, which means it's compatible with most of the mounting accessories ranging from basic light stands to sliders. There's a rubber grip on the bottom of the Obsbot Tail, surrounding the mount.
Camera Specs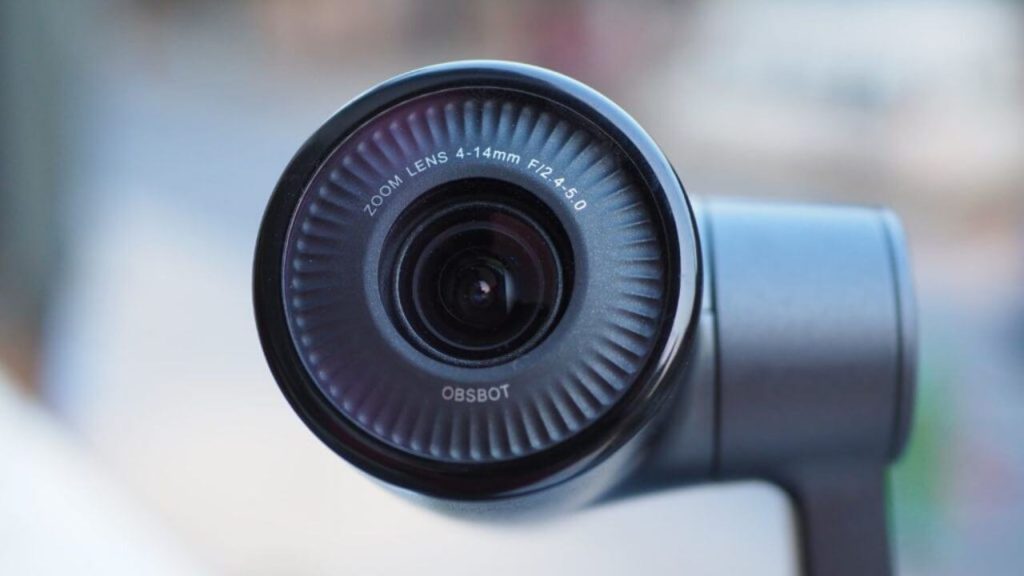 Lens
The Obsbot Tail sports a Hoya 3.85mm-13.4mm (equivalent focal length 24-84mm) F2.4-F5 lens. The lens has a Field of View (FOV) of 92 degrees (at wide) and 32 degrees (at telephoto).
There are no rings around the lens to attach a filter but I have high hopes that Obsbot will do something regarding this considering the fact that they have included a dedicated FILM look section for cinematic frame rates & resolutions.    
Sensor
It features a ½.3" Sony CMOS 12.MP sensor. This small sensor can shoot upto 4k@60fps! The sensor is said to be the same as that on DJI Osmo Pocket (Not confirmed yet). Although, smaller sensors are subject to poor low light performance this sensor did a modest job while shooting indoors.
The camera uses a HiSilicon Hi3559A chip. This chip specializes in high-performance vision processing.
Image/Video Quality
The Obsbot Tail can shoot in the following resolutions: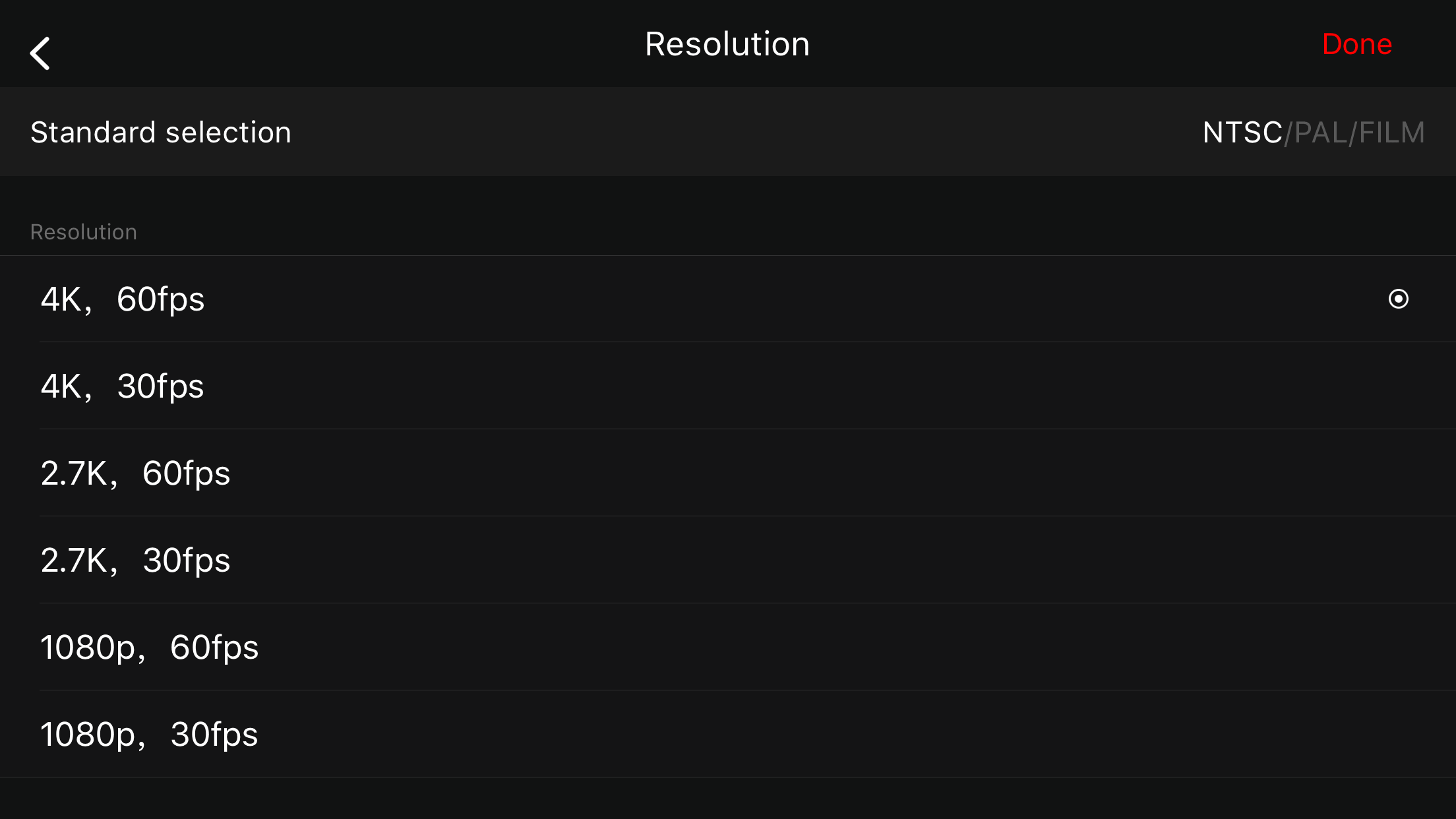 You can access the different frame rates and resolutions in NTSC/PAL/FILM sections.
The camera also supports slow motion videos. But the footage is very soft.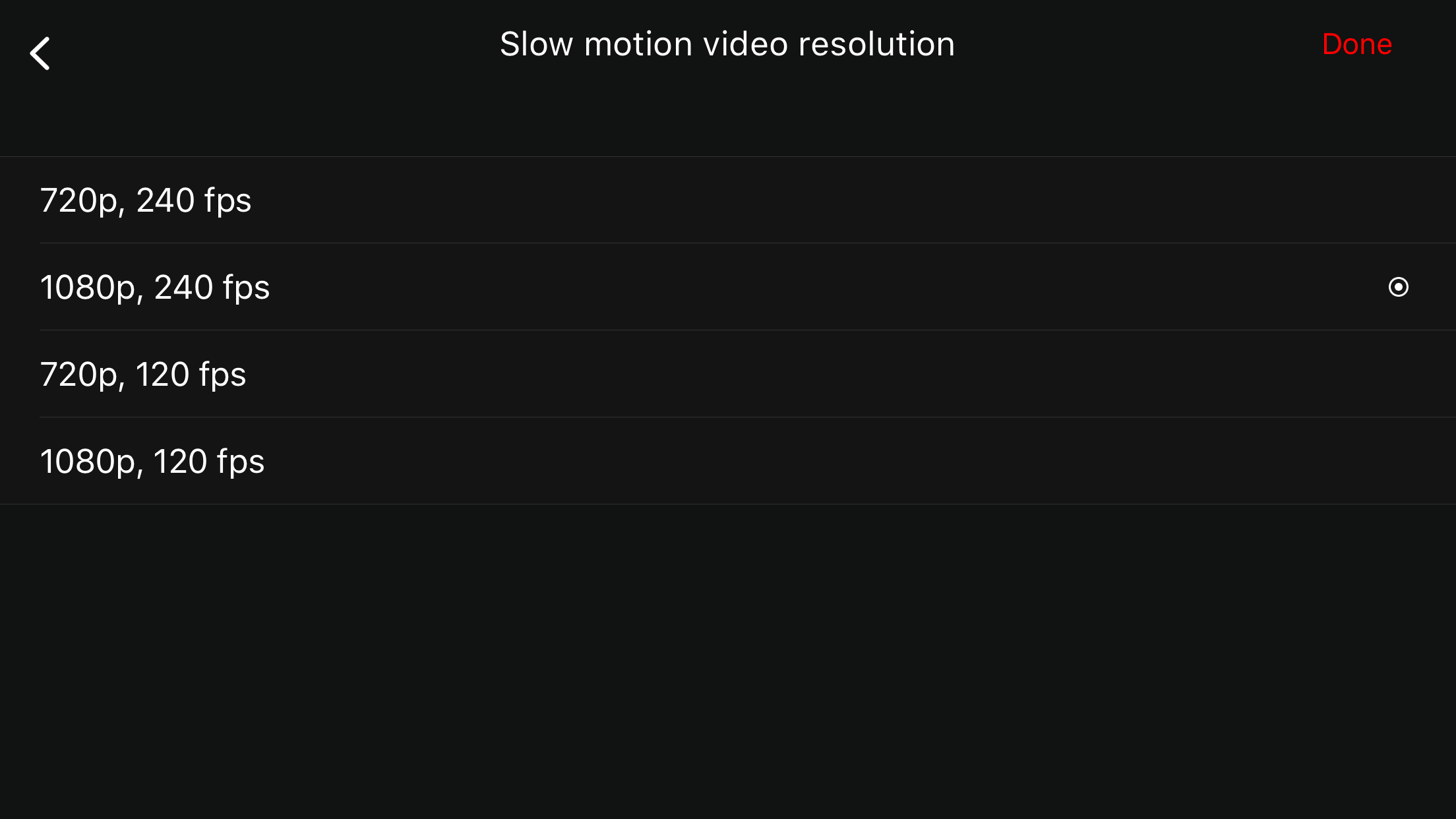 The 12MP stills are okayish when shot in normal indoor lighting and the pictures come very close to mid-range smartphone cameras if you know how to expose your shots.
Here are some samples shot in different lighting conditions:
The Obsbot Tail supports both H.264 and H.265 encoding. Considering, the maximum bitrates of 60Mbps, it won't make much of a difference.
One amazing thing that I noticed while using the Tail was the tracking wasn't much affected by poor lighting and that's one hell of a thing on such a small sensor.
Although, one thing that bummed me out about the sensor was the software lowered down the shutter speeds in low lighting conditions instead of pushing up the ISO up to a decent level & reducing the noise in the camera itself. The low shutter speed caused motion blur and taking pictures with that is a difficult nut to crack. In most of the scenarios, if your subject is moving, the shot will be ruined. But I have high hopes that this will be updated in the future software updates.
App Review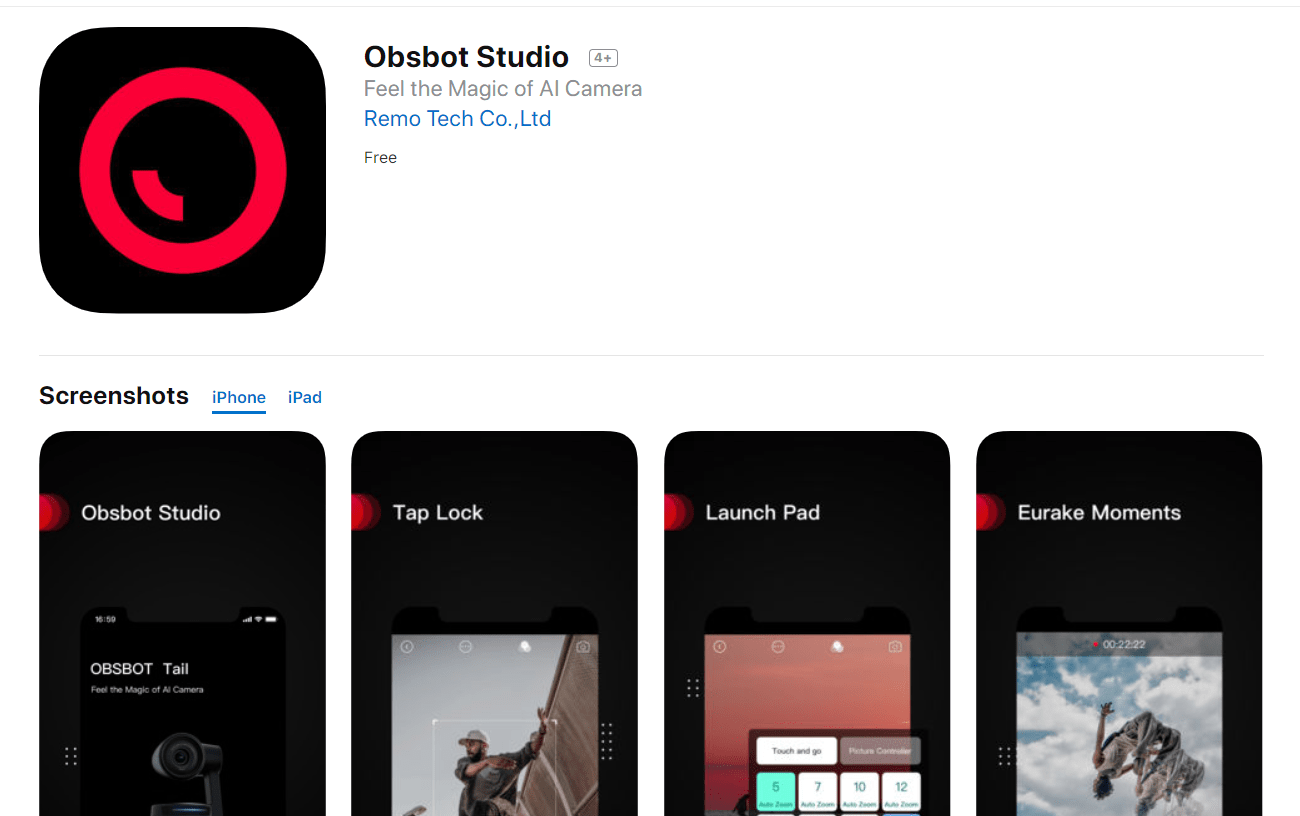 The Obsbot Tail uses the Obsbot Director app. It's available for both Android and iOS. The app gives you a live view along with different shooting modes and features. Of course, you can use gestures to control the camera without even touching your phone.
Using the app, you can access the photo mode to capture 12MP stills, there's a slow motion feature and you can also change the codecs, file format as mentioned above.
Along with all this, there's the option to use looks (in-app filters). With the app, you can stream your videos to YouTube and RMTP. RTMP is a feature that allows you to stream your videos to many different platforms, so you can find a much bigger audience for your live streams.
You can also transfer the recorded files from the camera to your phone using the app. There's also an option to choose the file size. For example, you may not want a 4k video transferred right to your phone because of the big file size.  
We'll talk more about these app features in the next section.
iOS
As always the iOS app optimized and almost all the features work flawlessly. I tested it on the iPhone X and iPhone 8 Plus and had no issues at all. The wireless live view had zero lag during my review. I tested the app in both beta mode as well as when the app was launched officially.
Android
The Android app isn't as good as the one on iOS. The basic features like video recording and settings are fairly accessible but you'll have some lag with live view and the overall speed. I tested the app on OnePlus 5. But you should know that the app receives updates regularly.
Features
Power Gesture
This is the second most impressive feature of this AI-powered camera. With the help of these gestures, you can use the camera without even touching your phone. You just need to power on the Obsbot and start off with the gesture controls once you see the horizontal LED flash a green light. These gestures range from allowing you to track a person to start recording and do some crazy zoom-ins and outs.
Watch this video to see it in action:
LUTs/Filters and Dynamic Range
To be honest, I wouldn't call them exactly LUTs, they're just video filters which look a lot like some commonly found LUTs.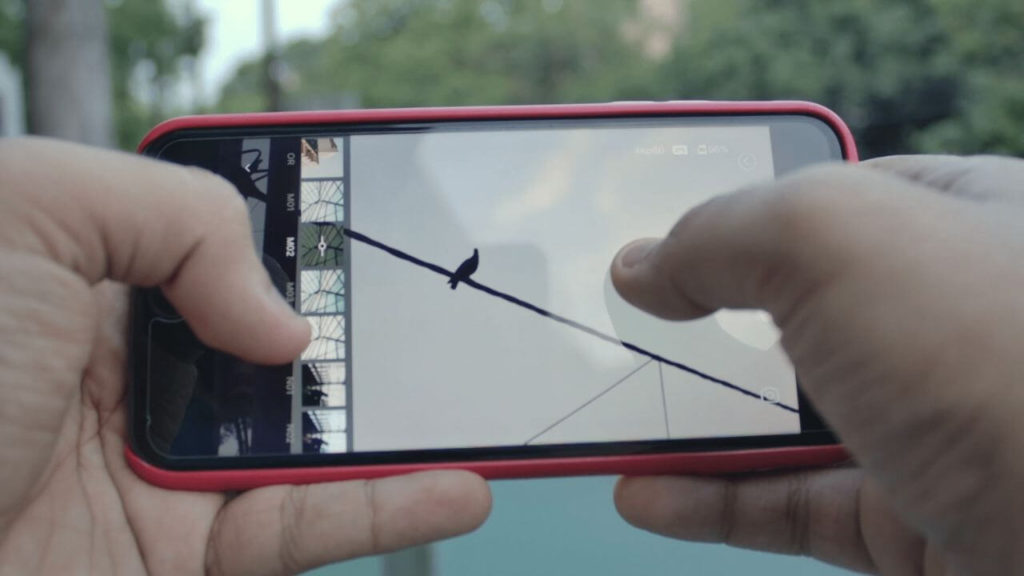 You can't shoot log on this camera. The app features a bunch of different filters. They look pretty cool if you know how to expose your footage correctly. But if you're a vlogger then it should be fine.
Dynamic Range is that is the difference between the darkest and the lightest part of the subject. The Obsbot doesn't have high dynamic range. Here are some shots:
Manual Video Mode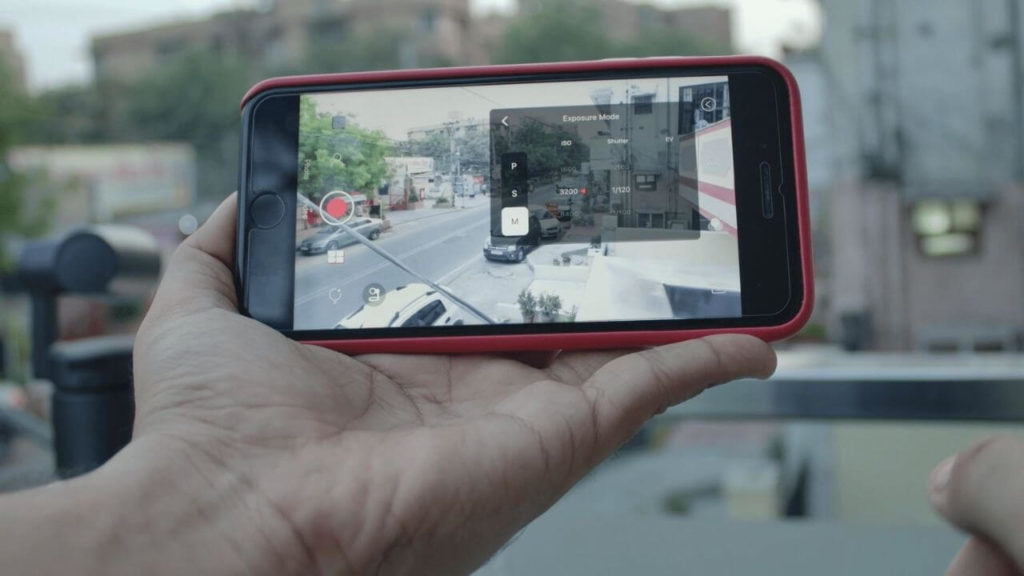 This is where the Obsbot Tail steps up from the casual consumer segment. Yes, there's a manual mode but it's not fully manual. The settings that you can tweak include the ISO, shutter speed and exposure. Although there are various modes like the program mode and the omnipresent Auto mode.
But there'll be scenarios when you'll feel like using an ND filter to get the correct frame rates and shutter speed. Unfortunately, as of now, there are no filters available for Obsbot.
Portrait Mode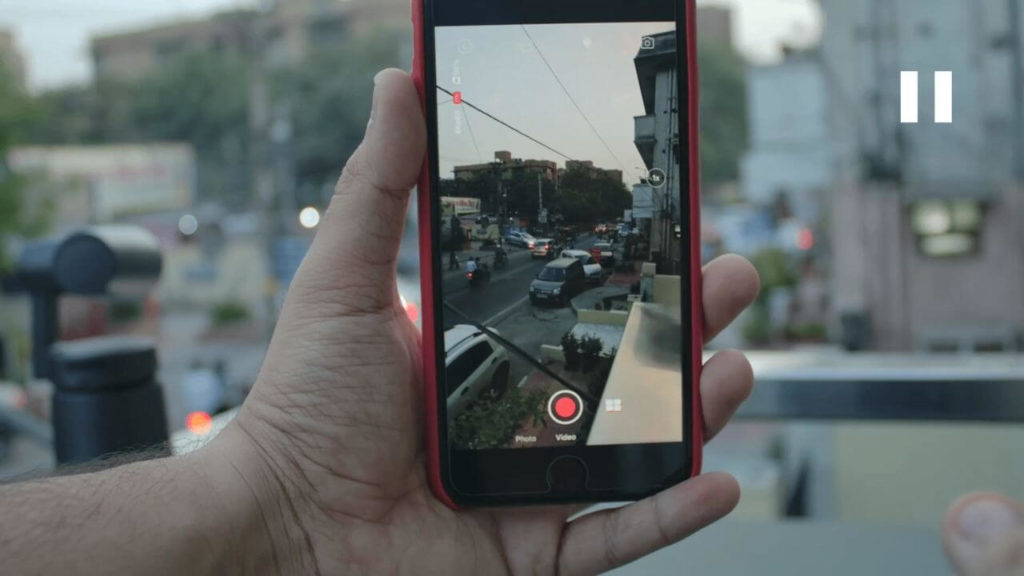 One thing that a casual user would really appreciate is the portrait mode. It's not your standard portrait picture mode found on most smartphones these days. It just allows you to shoot videos in portrait orientation. With the rise of platforms like IGTV and stories, this is a useful thing for vloggers. In fact, I actually shot a few videos in portrait mode as part of my behind the scenes Instagram series and the Obsbot turned out to be surprisingly instrumental.
Pricing
The Obsbot Tail is currently priced at $719 USD.  Learn more here.     
Update: The Obsbot Tail Price dropped by a $200 on Amazon.
Here's some funding background, the Obsbot was launched on both Kickstarter and Indiegogo. It successfully secured funding of over $400,000 USD by 700+ backers, so safe to say, a lot of people have already put their money and trust behind this product.
Future Updates
As per my discussion with their support and development team, the Obsbot Tail will be receiving regular software updates to improve the tracking system and other in-app features.
There is also going to be an HDMI out accessory coming up in the future. This would allow you to hook the camera to an external monitor, or a wireless video transmitter or streaming device.
Currently, they're working on a pet tracking system. Considering the chip they used is meant for processing vision related queries, I'm quite positive about this camera's future.
Obsbot Tail Technical Specs

Accessories
There's a bunch of different accessories that come with the Obsbot Tail. But none of them come with the retail base package.
Here are the accessories that come with different packages:
Carrying case;

Mini Tripod;

HQ Microphone;

Chest mount.
You can learn more about the accessories & packages on their store.
Conclusion
My conclusion for the Obsbot Tail AI camera is divided into two pieces meant for different audiences.
Casual User
With features like gesture control and wireless media transfer, the Obsbot camera was meant for casual users. Overall, it's a decent camera and I'd recommend it to anyone who wants to step away from carrying a regular DSLR or a mirrorless camera and use it without worrying about other stuff.
Prosumer
From a prosumer point of view, I'd say it's not exactly a replacement for your current setup. It's more like an extra hand which comes in handy if you need a behind the scenes video or need to shoot something without carrying your regular kit. I'd suggest that you check out the footage first before proceeding. You can find the RAW files link here.