SSDs are good but they're not portable enough. CFast cards take this a step further while shooting with professional gear. The only caveat while working with CFast cards is they're expensive than other storage media. But lately, brands have been pushing more affordable fast media recording & storage products. Lexar Memory is one of those brands. I've been using the Lexar CFast card for over a year now and here's my review of the same.
How I ended up using a CFast card? 
Last year I got the ZCAM E2, a mini cinema camera which at the time of release could shoot 4K at up to 120fps in H.265 codec. Sounds amazing, right? It certainly does and the footage looks even better.
So, in order to get most of the cinema camera, I had to get a reliable and fast recording card that could easily record 4K footage in high frame rates. So, Lexar sent a 128GB CFast card with 3500x speeds to test with the ZCAM E2.
Please note I have not tested this card on any DSLR or a stills camera. This card has been tested only on a cinema camera.
Features
The Lexar CFast card 2.0 has a robust build which makes it a bit heavy. The moment you hold this card, you know its premium stuff right there. Because of the sturdy built and the card tilts towards the front where the connector usually is. It's not exactly an issue but it's just how the card feels in the hand.
The silver accents and minimal labels on the back of the card give it a subtle look. The Lexar Professional 3500x CFast 2.0 comes in 4 different size capacity: 64GB, 128GB, 256GB and the 512GB. Sadly, there's no 1TB card yet. I tested the 128GB capacity card.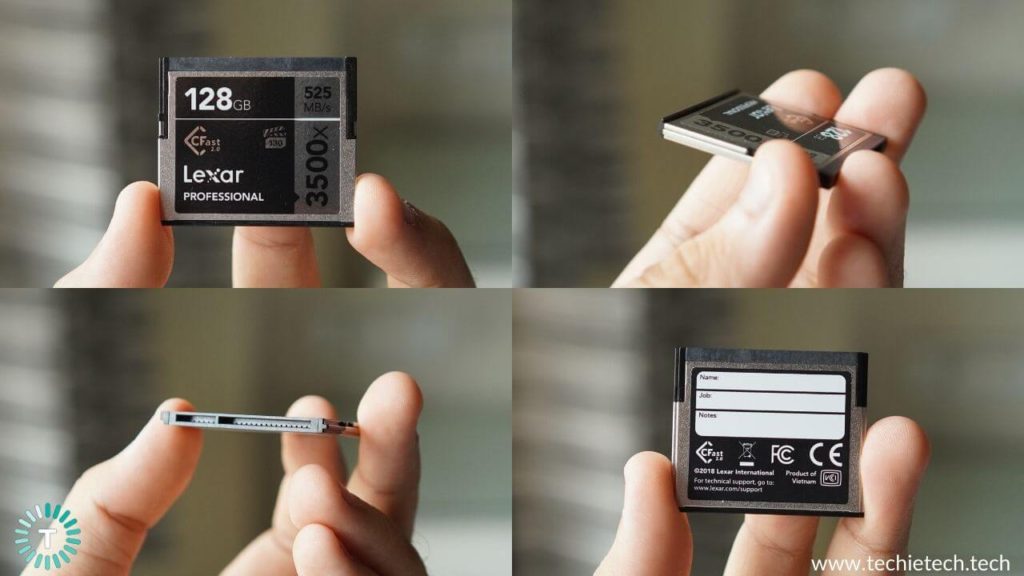 Lexar claims that the card supports VPG-130 (Video Performance Guarantee) specification for professional-quality video. In simple terms, this CFast card has been tested and guaranteed to deliver a minimum speed of 130MB/s (1040 Mb/s) for professional video capture streams with compatible host and streaming media devices.
Lexar has also mentioned that this CFast card is suitable to record 4K footage in RAW and ProRes codecs and we made sure to push the card to the limit in order to get the real-life results.
Transfer Speeds
When we talk about numbers this card does not disappoint at all. Lexar promises a speed read speed of 525MB/s (4200 Mb/s) and 425MB/s (3400 Mb/s) write speed. So, I put this card to test and here's what the CFast 2.0 card delivered:
Windows Copy/Paste Speed Test: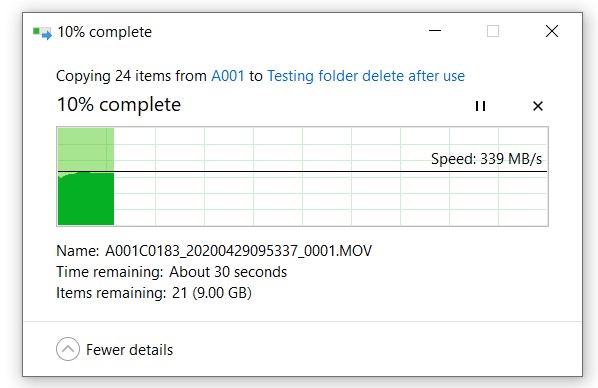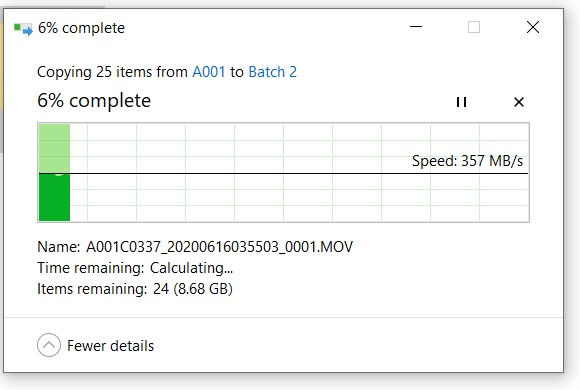 Crystal Mark Speed Test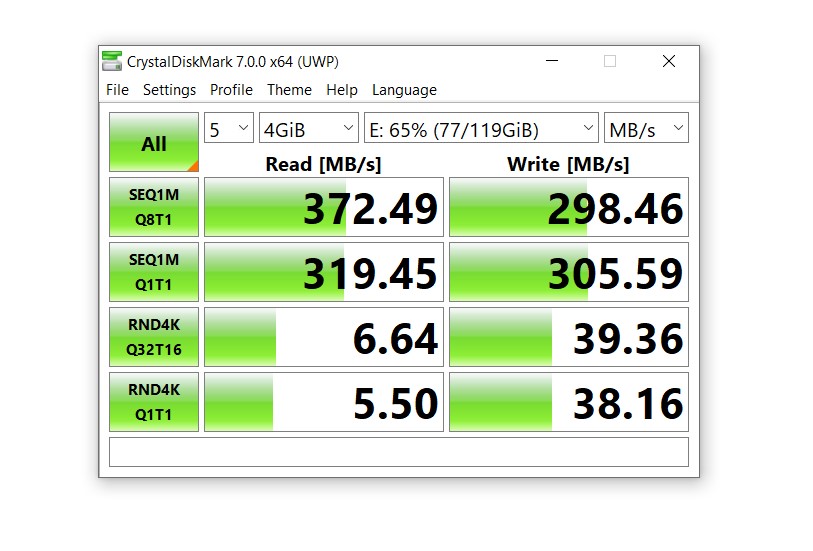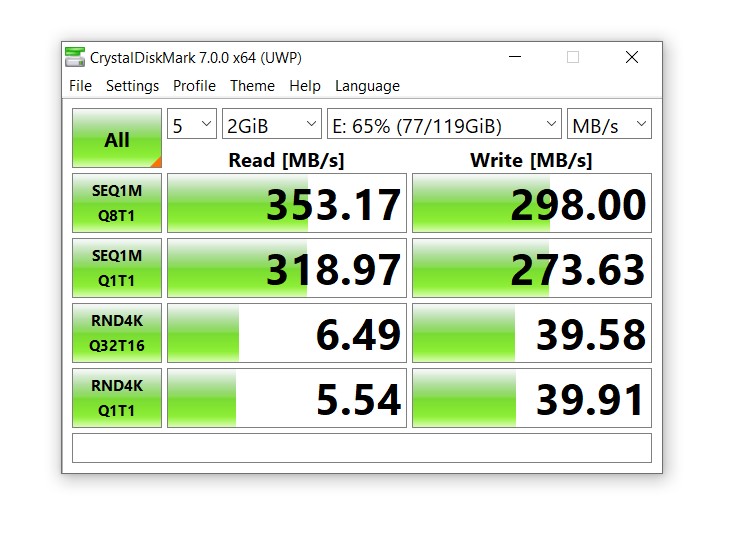 I conducted the above speed tests while the CFast card was connected to my laptop via a USB 3.0 port. It's highly likely that the USB port on my laptop affected the transfer speeds of the CFast card via the card reader.
Note: If you connect the card to the computer via the camera, the transfer speeds are significantly low. So, in order to take full advantage of the high transfer speeds of the Lexar CFast card, you'll have to get a dedicated CFast card reader. So, I got the Lexar's official CFast reader.
Lexar CFast Card Reader Review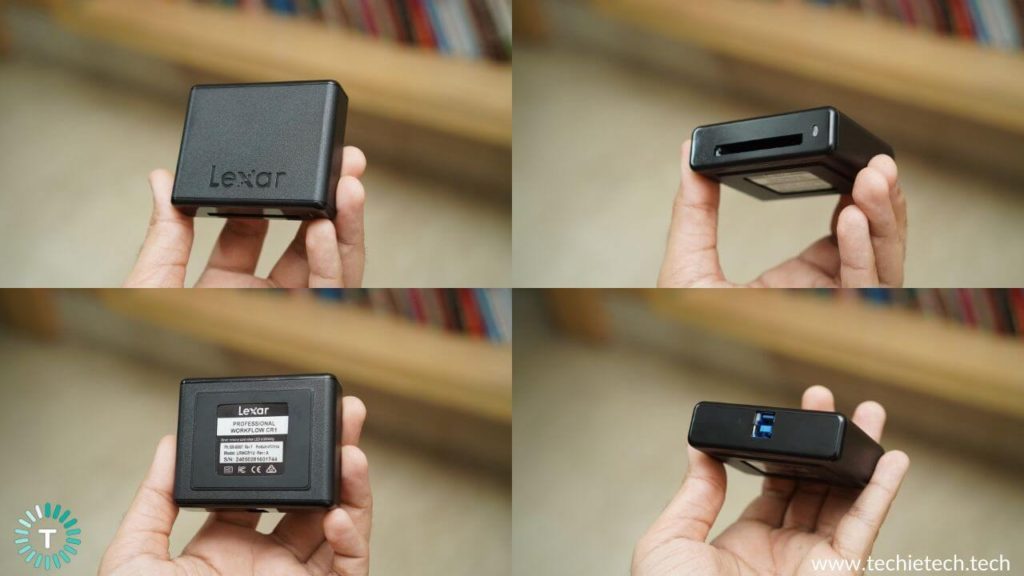 It's a lightweight plastic built CFast card reader which comes with a long cable. The cable has a Type-B and Type-A connector on each side.
The card reader also has a small blue led beside the CFast card port to let you know whether the card is being accessed or not. I'll give Lexar points for adding rubber feet to the bottom of the reader. This basically ensures the card reader does not slip if you accidentally move the cable or the laptop. As someone who gets paranoid while backing up footage from the camera, this gives me some relief.
The only downside of this CFast card reader is the plastic built. Otherwise, it's a decent small little card reader that has a matte and glossy coating. Please note that the glossy parts (the front and back of the card reader) get scratched very easily.
Reliability & Performance
In terms of reliability, this CFast card is the most reliable camera memory card I've ever used. I've used memory cards from almost a dozen different "leading" brands. I've recorded the footages in different resolutions and this card never crashed, corrupted, or caused any sort of issue. Here's a quick look at the different file formats/codecs and respective bitrates:
4K@30fps in ProRes LT & 422 HQ (up to 1500 Mb/s)

4K@60fps in ProRes LT & 422 (1500Mb/s)

4K@160fps (2.4:1 aspect ratio) in H.265 (350Mb/s)

4K@120fps in H.265 (350Mb/s)

1080p@240fps in H.265 (250Mb/s)
All these footages were either shot in log or in WDR (Wide Dynamic Range) mode. In this mode, the footage is processed and recorded in two different shutter speeds and then combined in real-time. I've pushed the camera and the cards to the limits by using them in different weather conditions and they have not disappointed me at all.
The only issue I had with this CFast card is that it gets hot very quickly. This is probably because of the build quality. This is a bummer for people who shoot in high-temperature environments.
For example, I live in a place where the temperatures during summers usually cross 45 degrees Celsius. So, I must think twice before just heading out with the camera.
I'd appreciate it if Lexar could fix this high-temperature issue. Although I never faced the card corruption or stopped recording error due to high temperature. But as a creator, I can't take risks with my footages.
Competition Landscape
With the rise of budget cinema cameras and high-end DSLRs making a shift to faster memory cards, the change in portable media storage landscape especially CFast and SD cards, has been significant. There are dozens of new brands entering the storage solutions market every year offering a better value proposition. So, here's a quick look at some of the best CFast cards you can buy right now:
Although, I highly recommend reading user reviews because some cameras perform more efficiently on certain cameras. For example, SanDisk cards work very well with Canon cinema cameras. Similarly, AngelBird cards work effortlessly with ZCAM cameras, and so on.
Conclusion
So, after shooting 100+ hours of footage with this CFast card, I can say it's a good CFast card and worth the extra money. I personally prefer reliability over storage capacity & value for money so if that's a priority for you then this is one of the best CFast cards you can buy right now. I'm looking forward to testing this with 6K, 8K & ProRes RAW footages soon.