That's it. You've finally bought the camera you've been saving up for a long time. You insert the memory card and battery. You power it on for the first time and proceed with the initial setup. Now, you want to test the new camera by shooting some high-quality 4K videos or taking sharp pictures in burst mode. You click the shutter button and it keeps on processing or saving until the moment is gone. Don't worry, your camera is alright.
It's your memory card that is most likely the bottleneck here. The right memory card will make sure your camera doesn't show the buffering or saving icon for long enough that you end up missing the shot or with corrupted files.
Buying a memory card used to be so easy, a few years ago. You only needed to know about the storage capacity and the speed of the card depending upon the "Class" icon which was supposed to be a maximum of 10.
Gone are those days. This is what a modern memory card looks like: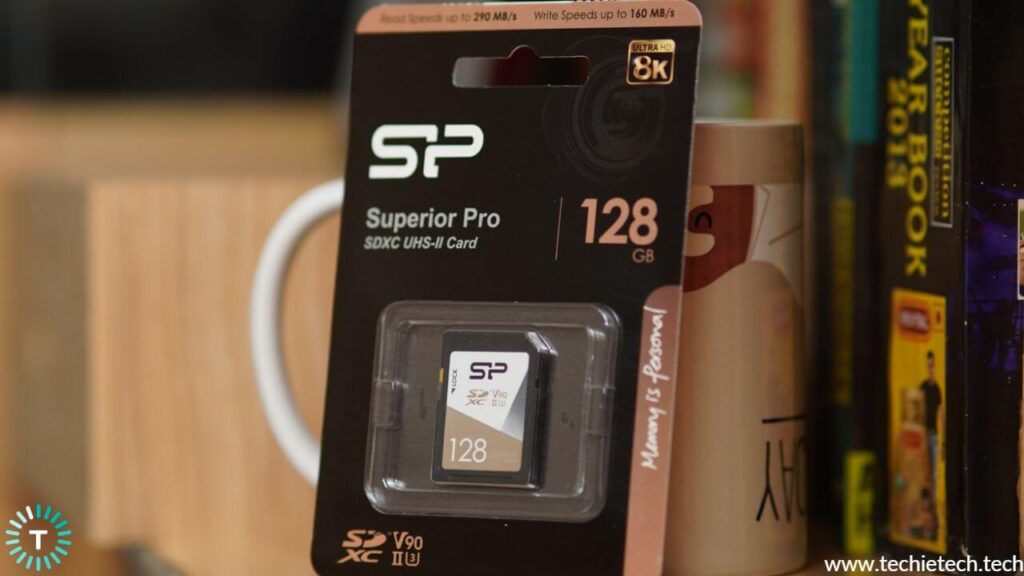 See, the only info a casual user can make out is the 128GB of storage capacity. For a lot of new users, it's still complicated. There are multiple standards or "Class" of memory cards that you need to watch out for. These classes or memory card ratings define the minimum transfer speed a card offers. Minimum data transfer speed will either help you make the most of your camera or annoy you to the point where you don't want to shoot with it.
Here's a quick look at the different class ratings:
| | |
| --- | --- |
| Card Ratings | Transfer Speeds |
| Class 10 Card | Minimum write speed of 10MB/s |
| U1 Card | Minimum write speed of 10MB/s |
| U2 Card | Minimum write speed of 20MB/s |
| U3 Card | Minimum write speed of 30MB/s |
| V Class Card | Minimum write speed of 10, 30, 60 and 90MB/s |
Source: www.sdcard.org
Both the Class 10 and U ratings are mostly obsolete. One of the most commonly found ratings is V. The V in the V class card means video. So, if you're shooting a video then these different values like V30, V60, and V90 denote the transfer speeds of these cards. Furthermore, with the introduction of UHS (Ultra-High-Speed), selecting a memory card has gotten easier. Both the UHS-I and UHS-II offer excellent transfer speeds meant for different uses at different price tags.
What is UHS?
Ultra-High-Speed (UHS) is a modern bus interface for SD cards. They facilitate high data transfer speeds for media with very high bit rates like 4K, 6K, or even 8K videos.
UHS-I vs UHS-II?
UHS-II cards basically offer significantly faster read and write speeds. They are specifically meant for shooting videos. Since modern digital cameras offer a high data throughput, flash memory devices need to be able to match those data rates. Otherwise, a user will either end up corrupting their recorded files or the camera just won't start recording. Since they offer transfer speeds up to 312MB/s, they come at a hefty price tag.
UHS-I cards offer somewhat slower transfer speeds, but they're usually meant for low-bitrate videos or stills. This makes them a lot cheaper than UHS-II cards. UHS-I cards offer transfer speeds up to 104MB/s.
UHS-III cards have also been announced with transfer speeds up to 624MB/s. Unfortunately, there haven't been any consumer faced products yet.
Moving on, we'll be comparing these two memory cards: The Superior Pro SDXC UHS-II vs Superior SDHC/SDXC UHS-I from Silicon Power and find out which one is the right choice for you.
Factors to consider before buying a memory card
Before you buy a new memory card, you need to consider some factors like your budget, gear compatibility, etc. into the equation. Let's have a quick look at them.
Gear Compatibility
This is largely dependent upon your cameras and the kind of workflow that you have.
Most entry-level DSLRs or mirrorless cameras (under $1,000) usually support UHS-I or below. And as you raise the price tag, so does the memory card compatibility. The $1,000-$2,000 or above range supports UHS-II. This is subject to change as new cameras are released every few months with better hardware.
If you're a photographer and shoot a lot of pictures especially in RAW format or if you're a filmmaker who shoots video in high resolutions with significantly high bitrate, then UHS-II or above is recommended. If you have a camera like the Panasonic GH5S or Sony A9 Mark-II with dual memory card slots, you can also use a UHS-I or II card (if you shoot RAW in high resolution) for storing pictures and a UHS-II card for storing high bitrate videos respectively.
Storage Capacity
The second most important factor is storage capacity. This is largely dependent upon your budget and what kind of media you shoot. For pictures usually, 128GB is more than enough if you format your cards before and after every project. For videos, I usually recommend cards with 128GB or above. Since videos take a lot of space and even changing the settings from 8-bit to 10-bit video can increase the file size exponentially, I recommend a 256GB UHS-II card.
UHS-I vs UHS-II: Which one should you buy?
Superior Pro

SDXC UHS-II

Superior SDHC/SDXC

UHS-I

Capacity

64GB, 128GB, 256GB

64 GB, 128 GB, 256GB,512GB

Performance Read(max.)

290MB/s

100MB/s

Performance Write(max.)

160MB/s

80MB/s

Warranty

5 Years

5 Years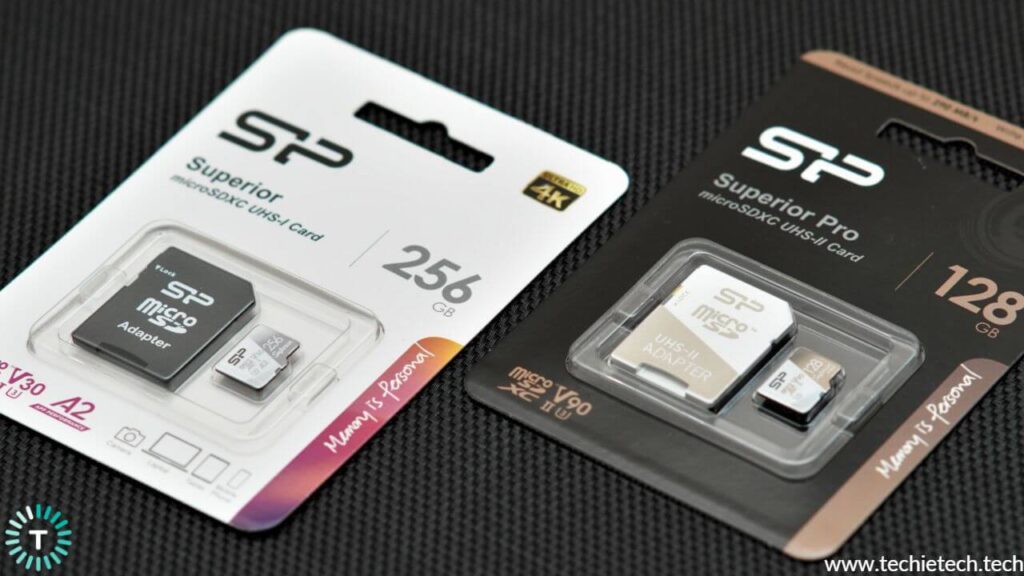 Superior SDHC/SDXC UHS-I
The Silicon Power Superior SDHC/SDXC UHS-I memory card offers read and write speeds of up to 100MB/s and 80MB/s respectively. Since it's a Class U3 and V30 card, it can easily shoot high-resolution pictures and videos. It is also available in microSD format and comes in storage capacities of up to 512GB. This makes it suitable for smartphones, drones, action cameras, and for recording long time lapses.
If you're a photographer shooting with a full-frame camera or a modern action camera in high frame rates, the Silicon Power UHS-I should be good enough. It is also good enough for shooting videos in 4K. But you need to make sure that your video file's bit rate is not that high.
Check Price on:
Amazon (US): https://amzn.to/3Av130G
Amazon (UK): https://amzn.to/3xzRADh
Amazon (India): https://amzn.to/3iB92TO
Superior Pro SDXC UHS-II
The Silicon Power Superior Pro SDXC UHS-II offers read and write speeds up to 290MB/s and 160MB/s. It is available in storage capacities up to 256GB. Plus, it comes in microSD format as well. This makes the Superior Pro memory card suitable for shooting high-resolution videos with professional drones and high frame rate videos with action camera FPV drones. Since it is a U3 and V90 rated memory card, the Silicon Power Superior Pro is suitable for recording super high-resolution videos and has support for 8K and 6K (raw) video recording. If you're a filmmaker sporting a UHS-II compatible video camera, the Superior Pro memory card is a must-have camera accessory. It is also suitable for shooting RAW stills from a super-fast resolution full-frame camera like the Sony A9.
Check Price on:
Amazon (US): https://amzn.to/2VISlwX
Amazon (UK): https://amzn.to/3xzRADh
Amazon (India): https://amzn.to/3CBLdmD