Samsung launched its next generation of Galaxy smartphones, the Samsung Galaxy S23 series along with Galaxy Books at the Unpacked 2023 event. The South Korean giant launched Galaxy S23, Galaxy S23 Plus, and Galaxy S23 Ultra. Just like in 2022, those who want the top-of-the-line flagship device from Samsung will want to pick up the Galaxy S23 Ultra. It's no doubt one of the best Android phones to start the year off. But of course, the big and powerful Galaxy S23 Ultra isn't cheap! It starts at $1,200 retail and goes up to $1,600! With such a hefty price tag you will definitely want to protect your investment. 
As the biggest and fanciest of the S23 models, the Galaxy S23 Ultra also gets more love from case makers. Some brands have made exclusive cases for Galaxy S23 Ultra while well-known brands like Spigen, and UAG, offer twice the number of cases for the Ultra compared to the S23 and S23+. This means we get the cream of the crop, but it also means we have even more cases to sift through to find the best ones for you. Another benefit of all this extra attention is that case makers are more willing to experiment with new ideas on the Ultra, such as Spigen and UAG's magnetic ring cases. That is why we have rounded up the best protective cases for S23 Ultra to cater to every individual's needs. There are different types of protective cases in the market and we've tried to pick different options for you from rugged cases to hybrid and even slim fit cases. Do you work with kids all day or are you a road warrior always on the go for the next adventure? You can surely find the top case to protect your Galaxy S23 Ultra from any kind of damage.
After spending hours in research and testing, we have rounded up the top protective cases for Galaxy S23 Ultra. To help you narrow down the choice we have taken into account brand value, online reviews,  after-sales support, personal experiences, and some extra features. 
We are guessing that you will buy Galaxy S23 Ultra or have already bought the phone. Here are some roundups that you will find useful and help you get more out of your brand-new phone. 
Top Cases for Galaxy S23 in 2023 
1. Mous Limitless 5.0
Stylish meets protection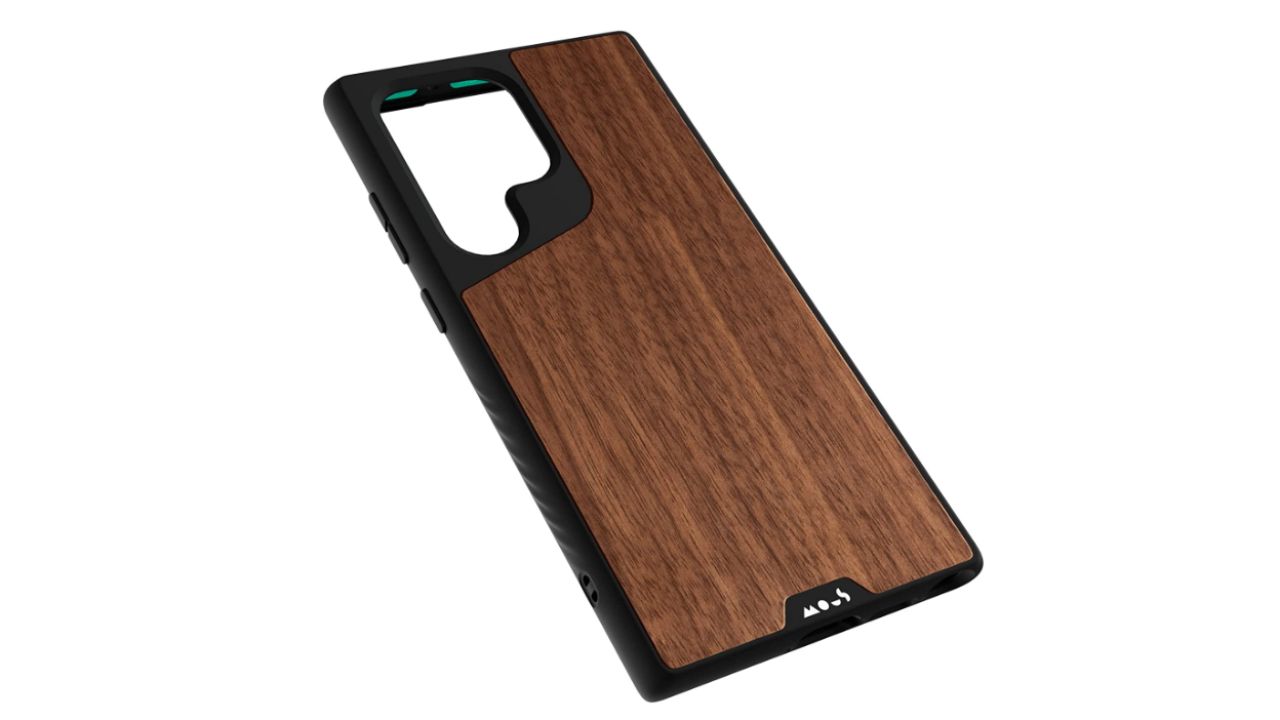 Let's be honest, most protective cases aren't that good when it comes to aesthetics so how about adding a walnut back to your Galaxy S23 Ultra? Behold the Mous Limitless 5.0 Walnut case—the epitome of style and protection. This protective Galaxy S23 Ultra case is made from genuine walnut wood with natural grain patterns that give each case a unique and eye-catching look, making your phone stand out from the rest. There are a bunch of other very cool materials to choose from, including bamboo, leather, aramid fiber, and more.
But it's not just about looks. The Mous Limitless 5.0 Walnut Case is made with a specially designed shock-absorbing material that protects your phone from drops and impacts. The case also has raised edges to protect your camera and screen, as well as port covers to keep out dirt and dust. This Mous case is designed to be MagSafe compatible, so you can easily access all the cool MagSafe accessories with your flagship Android as well. 
Reasons to Buy 
Genuine materials used in cases

Protective case that offers looks as well

Compatible with MagSafe accessories and chargers 

Raised edges and enhanced bezels to protect cameras and screens

Comes with a lifetime warranty 
Where it falls short: 
Mous has an interesting way of drop testing their case from helicopters, so if you don't believe in the durability of Mous cases watch the video below:
Mous also launched an exclusive case for S23 Ultra named Evolution. This is a protective MagSafe protective case that is designed keeping bikers, and cyclists in mind. This case is made from AiroShock material that lowers the impact of any accidental drop while you're riding. To mount this case on your bike you'd have to purchase the Bike Phone Holder from Mous which is compatible with this case. You just have to place this holder on your handlebars. By using their Intr-Lock technology in the Evolution case you can lock the phone on your bike's handle.
Also read: Best Screen Protectors for Galaxy S23 to buy in 2023 
2. Spigen Ultra Hybrid One Tap 
Best MagSafe Case for Galaxy S23 Ultra
Spigen is one of the most trusted brands when it comes to mobile cases and with its exclusive lineup for Galaxy S23 Ultra, it is even better. Spigen cases regularly show up on roundups of our
favorite accessories – like the best cases for the S22 and S22 Ultra– and for good reasons. Through its partnership with Samsung, Spigen has an inside edge in designing custom aesthetics to support Samsung's latest flagship. Spigen launched some exclusive customized cases for S23 Ultra and the Ultra Hybrid OneTap Ring case is one of the first MagFit cases for the Galaxy S23 Ultra. Are you jealous of your iPhone friends who use those cool MagSafe accessories?  Spigen has got you covered with MagFit cases. This protective clear case for Galaxy S23 Ultra has an integrated metal ring that sits inside the case body and is flush with the surface. With this Samsung S23 Ultra case, you can seamlessly use all the
MagSafe chargers and accessories even with your Android flagship phone. Furthermore, this case comes with Air Cushion technology, raised lips on the screen, and cameras to protect your Galaxy S23 Ultra from waist-height drops. 
Reasons to Buy:
MagFit case can be used with Apple MagSafe chargers and accessories

A clear hybrid case that provides decent protection

Raised lips around the screen and cameras

Precision cutouts for S-Pen
Where it falls short: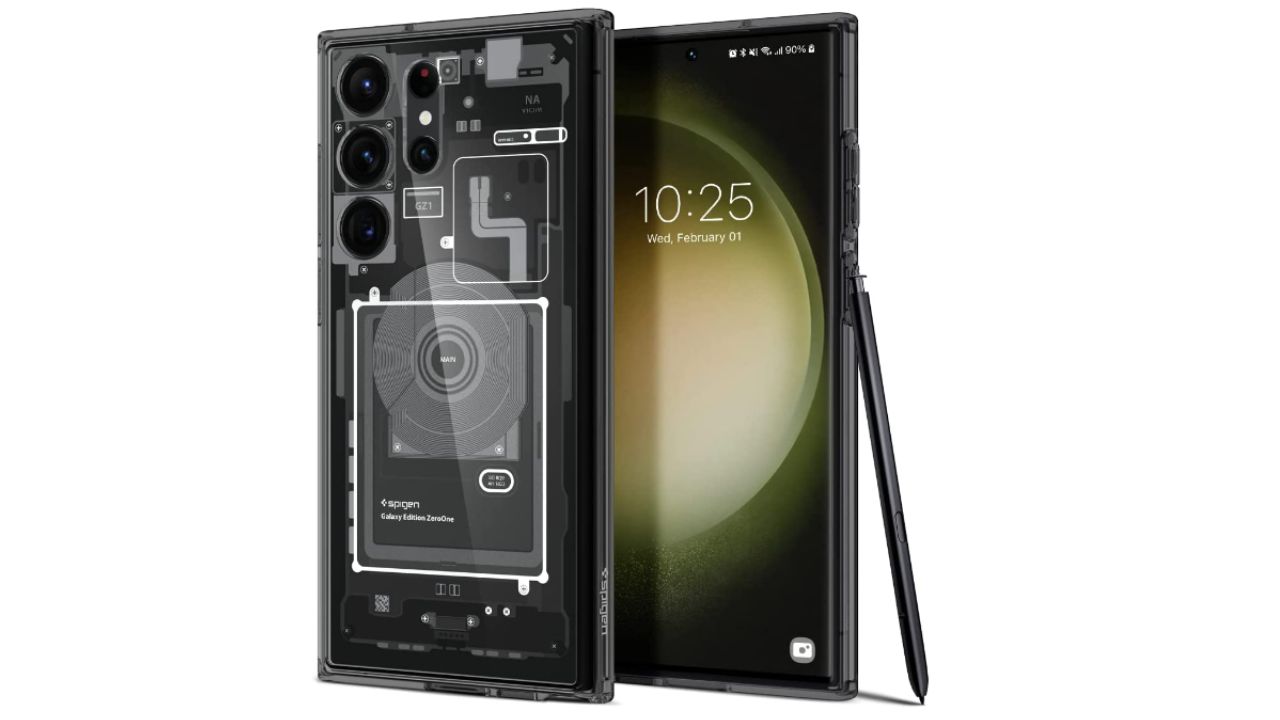 If you like the aesthetics of Nothing Phone (1) and want something similar for your Galaxy S23 Ultra, Spigen has a solution. The Ultra Hybrid ZeroOne case has an edgy transparent back, with an X-ray-style effect that gives the illusion of peering directly into your device. The unique teardown design accentuates the camera configuration of the S23 Ultra, and its crisp corners mirror the sleek design of your phone.
Also read: Best Cases for Galaxy S23 To Buy in 2023 
3. OtterBox Defender Pro Case
Ultimate protection for Galaxy S23 Ultra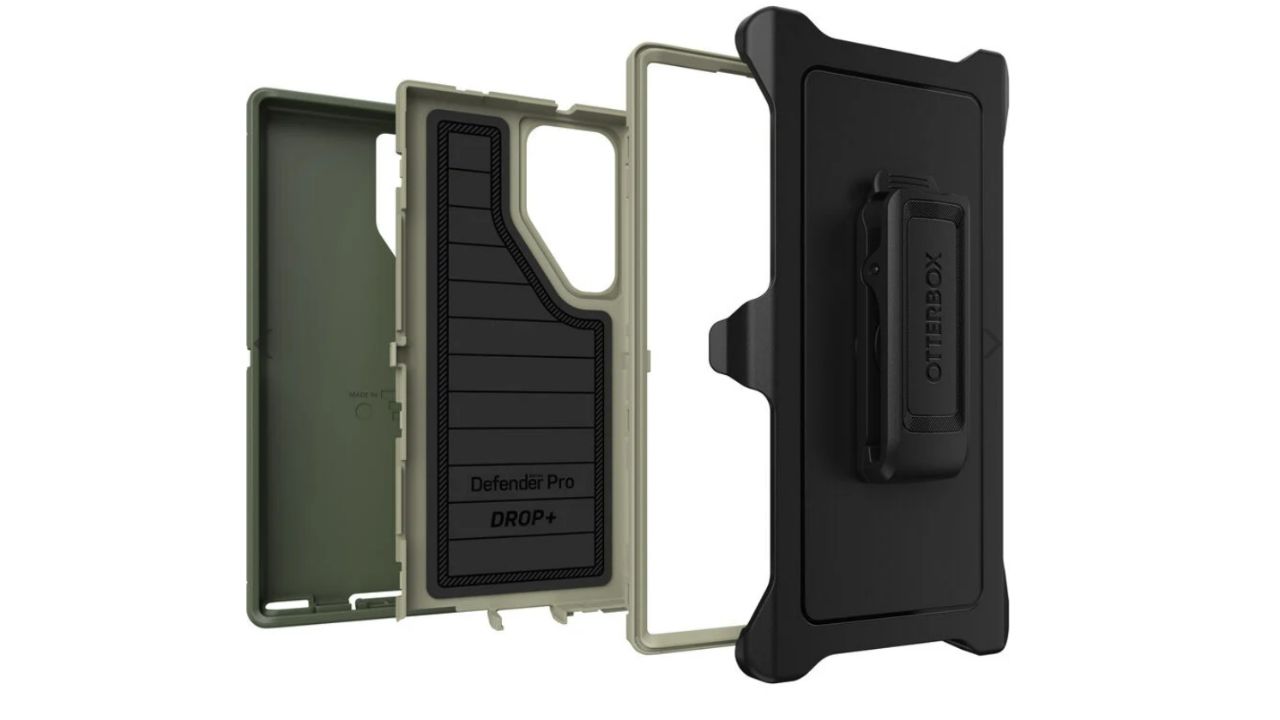 When it comes to heavy-duty rugged protection for GalaxyS23 Ultra, the Defender Pro series by Otterbox doesn't miss. This case is actually four pieces: two pieces comprise the hard polycarbonate inner shell; just place your phone on the back piece and snap on the front. The synthetic rubber outer shell is softer and goes on with the other two parts. However, you cannot use the inner or outer shell or vice versa; all four pieces make the case and provide a nice grippy texture. All these pieces make the case definitely bulky and considering the large screen size of the S23 Ultra you can also go for some lighter variants that offer decent protection. You can go for Otterbox's
Defender series which is a toned-down version of Defender Pro and offers 4X drops as a military standard. There is also a Commuter series which is lightweight, and grippy comes in beautiful colors and offers reputable protection from accidental drops even in the subway while catching the metro. If you're someone who wants to show off the colors of your latest flagship Android phone- go for the OtterBox Symmetry series. It features a clean sleek design that will enhance the colors of the S23 Ultra while maintaining decent protection from daily scratches and scuffs.
Reasons to Buy 
Heavy Duty protection 

Variety of colors and patterns

The holster doubles as a kickstand
Where it falls short: 
It makes your phone bulky
Also read: Best Screen Protectors for S23 Plus in 2023 
4. Poetic Spartan Case
Rugged-looking protective case with a built-in kickstand
If you are someone who likes adventures and wants a heavy-duty protective case for Galaxy S23 Ultra-this is the perfect option. This case features a built-in kickstand that can be used in both landscape and portrait mode, and owing to the big screen of Galaxy S23 Ultra, the kickstand is sturdy enough. You'll also get an extra front frame if you wish to install any other screen protector on your Galaxy S23 Ultra. This case has been tested to meet even exceed military drop-test standards, making it a reliable choice for those who need extra protection for their phone. The Revolution lineup might be a couple of dollars cheaper, but the Poetic Spartan case is definitely worth the upgrade. The Poetic Spartan has a more metallic finish as opposed to the glossier Revolution, it features polyurethane leather accents to break up the otherwise monotonous backplate, and you get better color options.
Reasons to Buy 
A built-in kickstand and screen protector

Durable protection and rugged looks

Comes in 5 vibrant colors
Where it falls short: 
The back panel can be slippery and bulky for some users
Also read: Here are the top USB-C Adapters to Fast Charge for Galaxy S23 Ultra 
5. UAG PathFinder 
Premium rugged case for Galaxy S23 Ultra
Urban Armor Gear is known for making rugged protective cases for your smartphones. When rugged cases look like giant, bulky bricks UAG designed this attractive-looking case that gives ultimate protection to your 2023 flagship phone. The case is wrapped in a camouflage design along with multiple rivets that give your smartphone a unique look and a super grippy in-hand feel. This rugged protective case for S23 Ultra comes with a military-grade drop test certification of up to 16 ft [MIL STD-810G 516.6]. The Pathfinder cases for S23 Ultra are relatively lighter and more affordable than the Monarch series. The 6.8-inch screen size of the S23 Ultra might make it difficult to carry for some users, so if you want a case that gives decent enough protection without making it really bulky, the PathFinder case is perfect. But, if protection and looks are a priority over bulkiness then you can also go for Monarch cases as it comes in different colors and has a very edgy aesthetic. 
Reasons to Buy:
Low profile premiere edge with tactile grip 

16-ft drop military-grade protection 

Precise cutout for full and easy access to S-Pen 

Enhanced corner protection with light impact frame

Comes in 5 neutral colors
Where it falls short: 
It does not come on and off easily
UAG has also launched a MagSafe lineup only for Galaxy S23 Ultra. The Plyo Pro is the most affordable clear MagSafe case for Samsung S23 Ultra. You can also buy the
Monarch Pro, or the Metropolis LT Kevlar Black as both come in a MagSafe variant. All the cases hide a hexagonal magnetic ring for using third-party magnetic chargers and magnetic wallets/grips/power banks. 
Also read: Best Accessories for Galaxy S23 and S23 Plus
6. Caseology Parallax
Fashionable textured case for fidgeting & reliable protection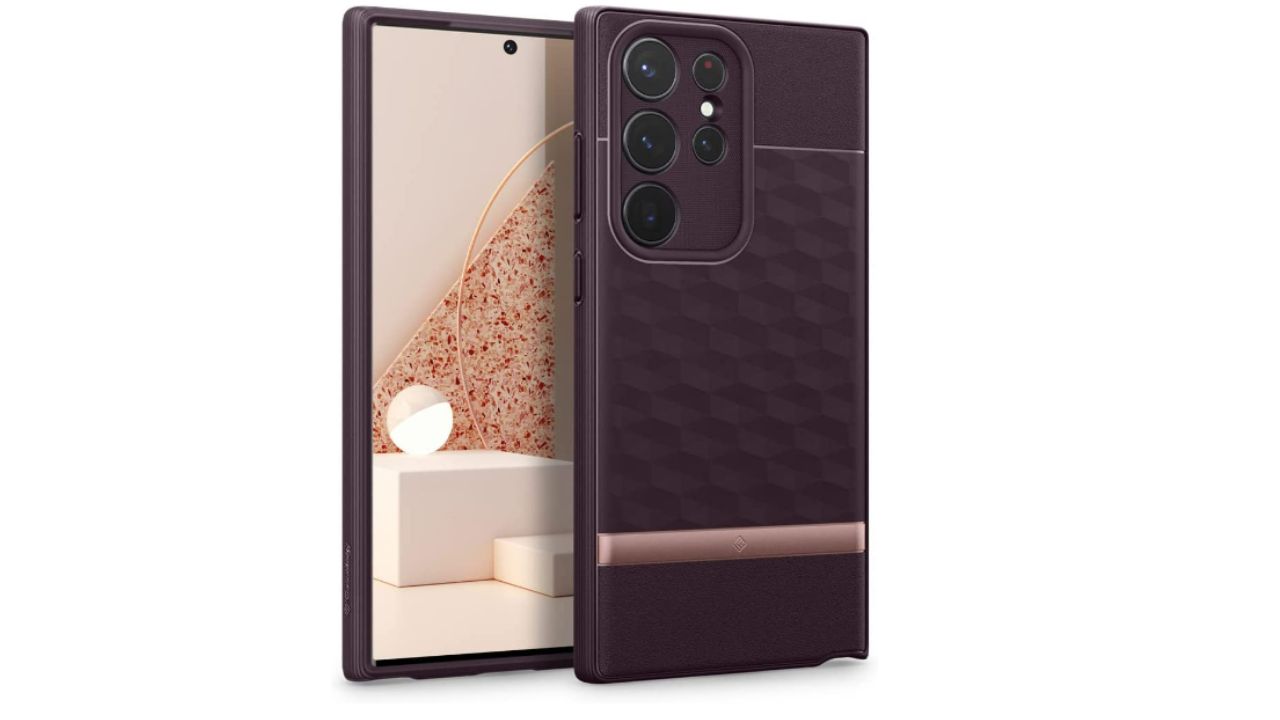 The Caseology Parallax is a stylish protective case for the Galaxy S23 Ultra, featuring a 3D honeycomb texture on the back panel for enhanced grip. It provides all-around protection from scratches and drops while keeping your phone looking stylish. Many users appreciate the case's unique design, which features a raised, geometric pattern that adds grip and a touch of style. Our testing and users also praised the case for its comfortable grip and overall feel in the hand. However, it's worth noting that some users have reported that the raised pattern on the case can attract oily smudges. We're only getting three colors this year, but that's for the best; a light-colored version would've stained more easily, and both the Burgundy and the Midnight Green look great with the Cream Galaxy S23 Ultra.
Reasons to Buy 
The raised geometric pattern feels good if you like fidgeting with your phone

A comfortable grip makes it easy to hold

Slim and form-fitting

Made with durable TPU material with a rubber frame
Where it falls short: 
Does not provide heavy-duty protection 
Also read: How to Fix Common Galaxy Z Flip 4 Problems- Tried & Tested Solutions
7. SUPCASE UB Pro 
An all-rounder protective case for Galaxy S23 Ultra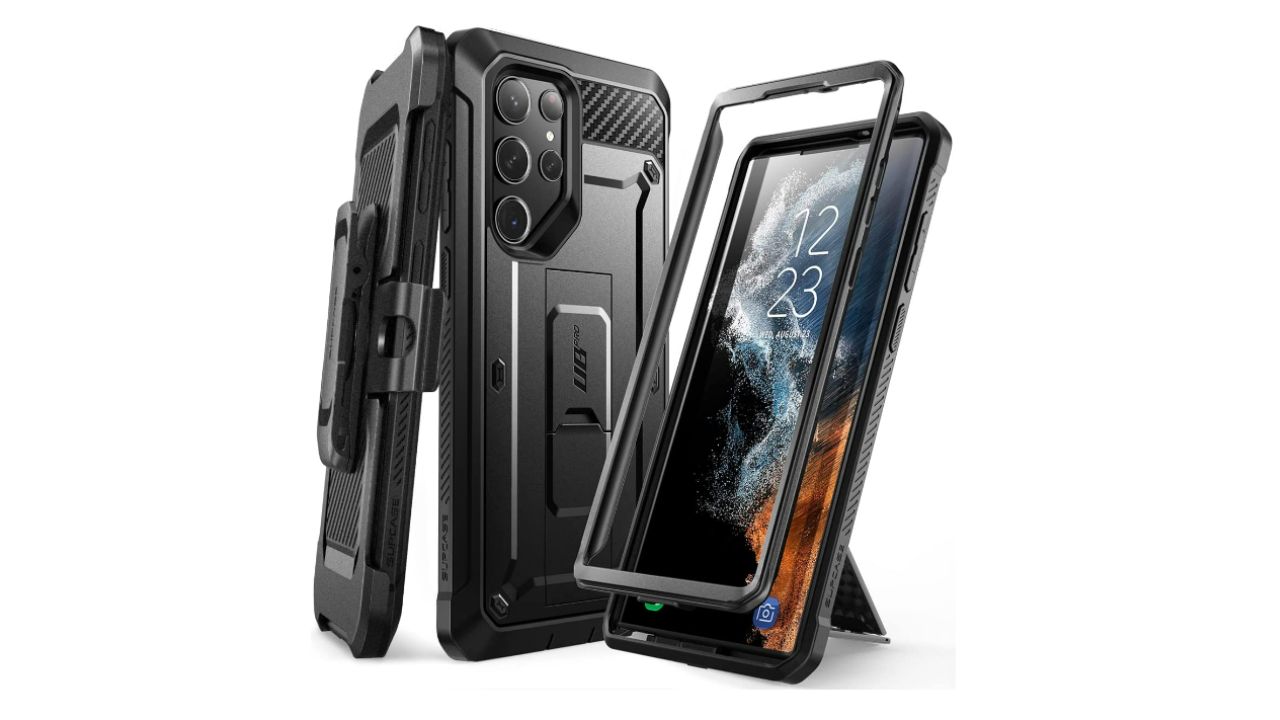 SUPCASE caters to the heavy-duty crowd. The Unicorn Beetle cover bolsters the S23 Ultra's defenses like no other, with raised edges all around. You get a rugged body made of tough materials that are meant to take a beating. There's a little stand that pops out of the back and it also acts as a grip since you can slip your fingers through it. This case is single-layer rather than two-piece, but you still get that stocky kickstand to use vertically for
video calls or horizontally for late-night, in-bed YouTube binges. The built-in screen protector offers decent protection and makes this case an all-in-one purchase, so you don't have to buy anything separately. This case comes in 5 colors- Black, Cream, Guldan Green, Ruddy Red, and Tilt Blue. 
Reasons to Buy: 
20-ft drop test for ultimate protection

Comes with a screen protector and kickstand

Offers 5 vibrant colors

Responsive buttons and precise cutouts 
Where it falls short: 
It makes your phone heavy 

Some users reported easy scratches on bright-colored cases
Also read: Best Cases for Galaxy S23 Ultra 
8. Ringke Fusion X case
Clear Protective case for Galaxy S23 Ultra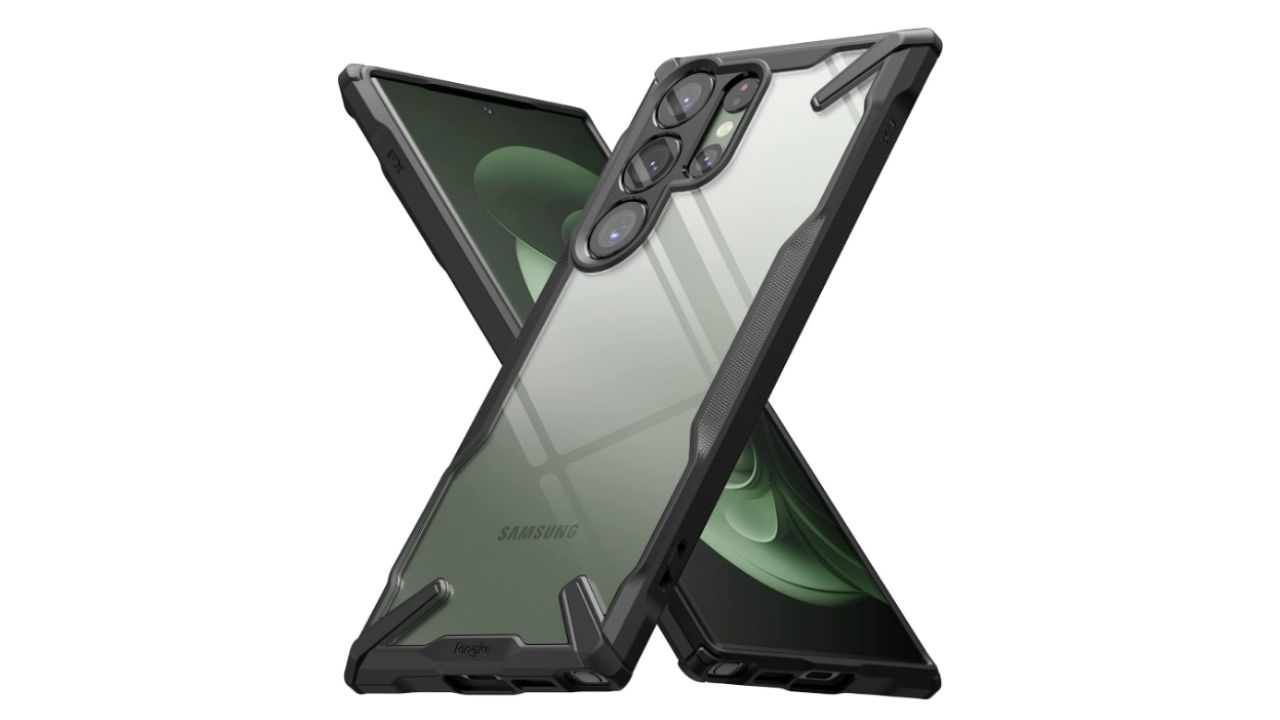 Clear cases are usually super glossy and super smudge prone. Grabbing a matte clear case can help keep things a little more tidy looking, and the Ringke Fusion X swings both ways. This hybrid protective case for Galaxy S23 Ultra offers good protection from daily wear and tear. The Fusion X comes in two variants- a clear one with shockproof sides, and the Camo Black that looks like a black net on your phone. You can also go for traditional with the Clear Fusion and opt for the Matte version with its frosted backplate, or even go to the dark side with the Smoke Black.
Reasons to Buy:
Hard PC back and soft TPU bumper 

Comes with lanyard holes on both sides

Offers decent protection while flaunting your phone colors
Where it falls short: 
Not recommended for heavy-duty protection 
If you like a textured back and matte feels in your hand, you can go for the Ringke Onyx case for Galaxy S23 Ultra. This case comes with a granulated texture which makes it easy to grip your big smartphone. The flat textured corners of this case make it, even more, grippier while maintaining the slim form factor.
Also read: Best Screen Protectors for Galaxy S23 Ultra to Buy in 2023 
9. Tech21 Evo Tactile Case
Matte finish textured case for Galaxy S23 Ultra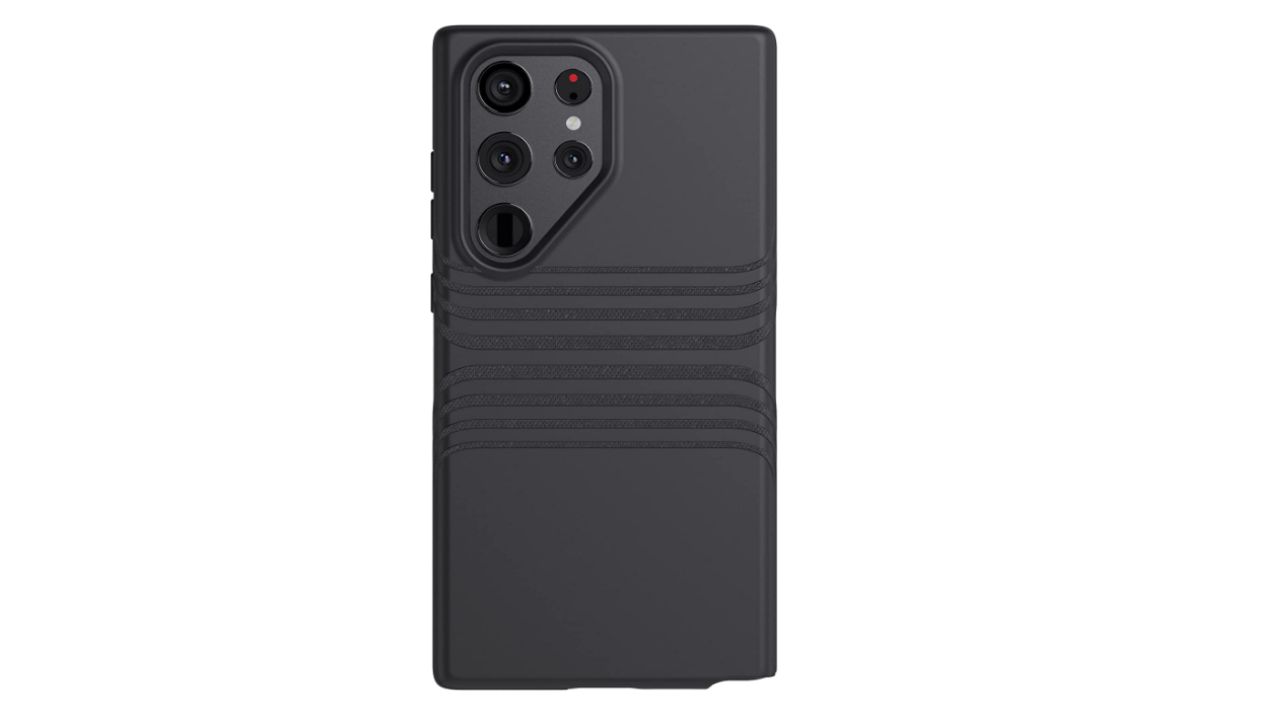 The Tech21 Evo Tactile Case for Galaxy S23 Ultra is the right option for you if you have butter fingers. Many users appreciate the case's ability to provide excellent protection without adding bulk. However, don't get fooled by the slim profile, this case still manages to provide 16-ft drop protection without adding a huge bulk to your phone. The soft-touch material provides a comfortable grip and the raised bezel helps protect the screen and camera. Cutouts for buttons and ports are precise and allow for easy access. In terms of design, the case has a sleek and stylish look that appeals to many users. Its matte finish is a nice touch and helps reduce the appearance of fingerprints and smudges.
Reasons to Buy:
16-ft drop protection 

The grippy texture makes it non-slippery

Soft matte feel reduces fingerprints

Made with recycled material and comes in a cardboard box to reduce wastage
Where it falls short: 
Comes in black color only
Also read: Best 15 Chargers for Galaxy S23 and S23 Plus to buy in 2023
10. ESR Metal kickstand case 
Metal kickstand case with military-grade protection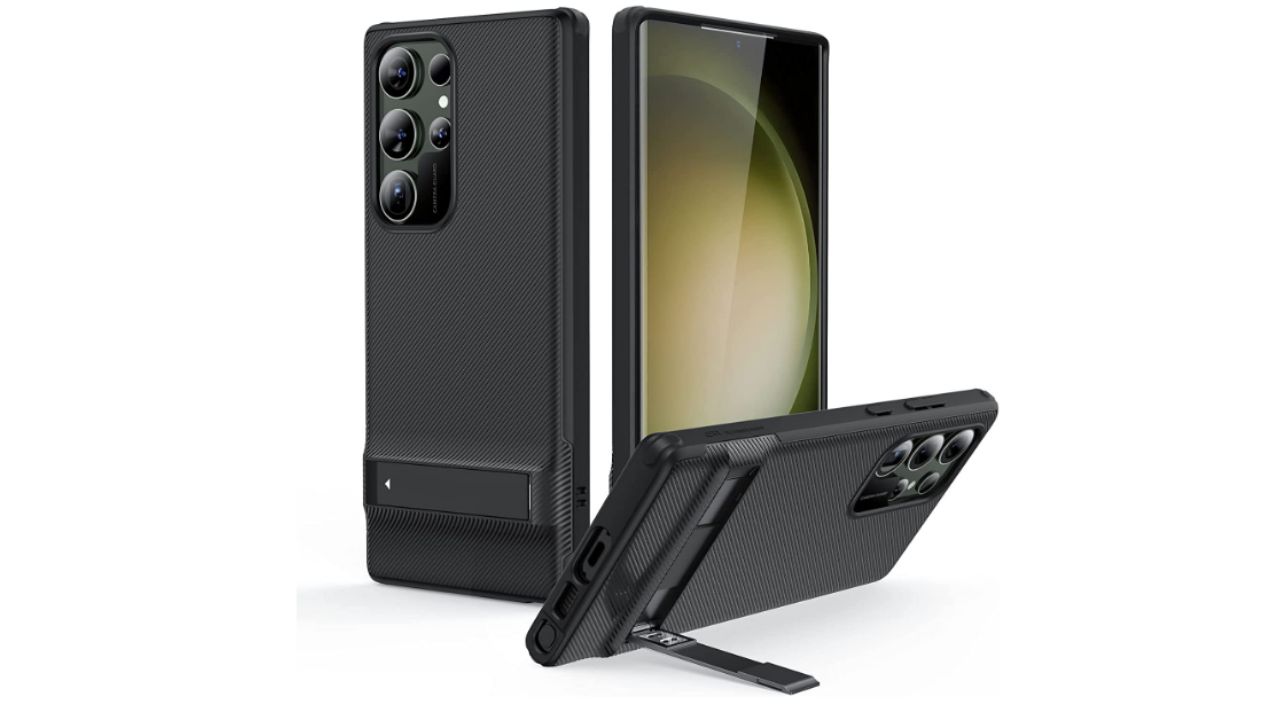 This protective kickstand case for Galaxy S23 Ultra adds functionality while giving you protection. The case comes with military-grade protection and shock-absorbing corners that will protect your phone from all kinds of accidental damage. The textured back makes this case anti-slippery and you can hold your phone easily even underwater while swimming.
There's an in-built kickstand that eases your tension of holding phones in hand while you are using the safest video calling apps or watching your favorite Netflix series. There're precise cutouts across the mics, port, and speaker grill.
Reasons to Buy 
The kickstand can be used in landscape and portrait mode

Military-grade protection with Air-shock corners

Soft and grippy texture 
Where it falls short: 
Kickstand can make your phone bulky

No rugged protection
Also read: How to Turn OFF/Disable the Keyboard Sound on Samsung Phones and Tablets
That's all for now! Let us know in the comments which case you're buying for Galaxy S23 Ultra. Do come back for more recommendations as we regularly update our roundups.