The Samsung Galaxy S23 lineup was announced at the Galaxy Unpacked 2023 event. Samsung launched Galaxy S23, S23 Plus, and S23 Ultra along with Galaxy Book 3. The latest flagship lineup comes with an updated flat back design with flat camera bumps. Beyond the aesthetics, these Wi-Fi 6E compatible phones also come with a new Qualcomm Snapdragon 8 Gen 2 processor, increased battery life, and new camera features. 
Now that this base model of the Galaxy S23 lineup has started shipping it's best that you plan beforehand to keep your new Galaxy device secure. Since the product is relatively new, we understand that it is a challenging task for you to search for reliable cases and accessories for Galaxy S23. That is why we have rounded up some of the best cases in the market from the most trusted brands. We have included the best official and third-party options to protect your 2023 Samsung Galaxy smartphone. We've collected different types of cases from bulky bricks that can take a massive beating, to slim and stylish cases, that focus on ergonomics, aesthetics, and grip.
The Samsung Galaxy S23 (review) definitely boasts some amazing features from great cameras to a gorgeous display. But, one fall to the ground could cause terrible damage to those great features. That's where a good case comes in. Safely, wrapped away in a protective covering, your Galaxy S23 should be able to withstand disastrous drops. With these cases, your Galaxy S23 is also safe from the usual scratches and scuffs that can result from everyday use. 
Some of these cases will provide you the maximum drop protection on a road while other cases will safeguard your S23 from bumps by your furry friends or accidental drops in a subway. Not only just protection looks are also important, which is why we have made sure to include some protective and good-looking options. This roundup of the top cases for Galaxy S23 is based on our research and months of thorough testing along with thousands of user reviews.
Top Cases for Galaxy S23 to buy in 2023
1. Samsung's Official Cases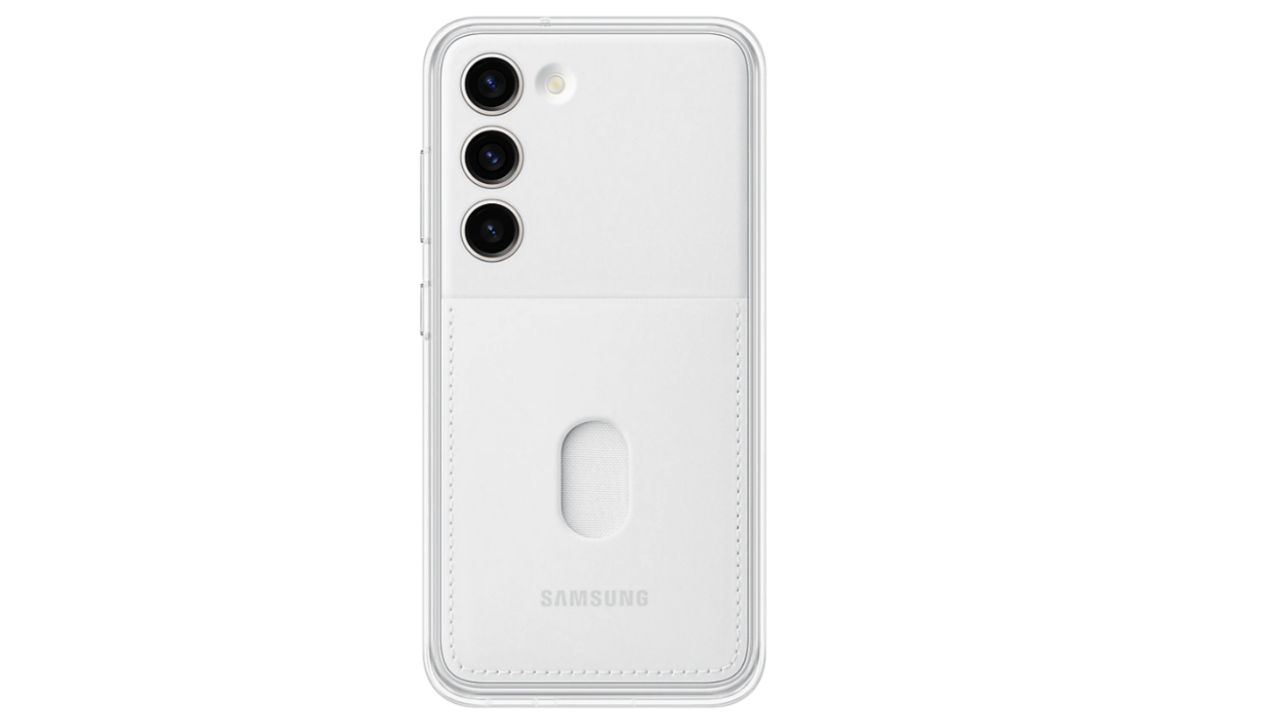 If you need something reliable, this year's official protective case from Samsung are worth checking out. These Galaxy S23 official case come with a grippy bumper and two backplates that can be swapped out — and customized with extra backplates sold separately. This case includes 2 back plates which makes it easy for you to change the color. This Frame case for S23 features a cardholder which makes metro & bus travel easy. You can also store any credit/debit card in this slot according to your needs. 
Reasons to Buy:
Grippy design to make it anti-slippery

Supports wireless charging 

2 Backplates for customization

Made from Biomaterial

Easily accessible card slot
Where it falls short:
Expensive as compared to third-party cases
You can also check out Samsung's silicone case for S23 which provides decent protection and smart looks. The silicone case comes with a designer strap which gives it unique aesthetics and functional grip for easy in-hand use. There is also a leather finish case that you can buy to give your new Galaxy S23 a smart and formal look. You can also buy the Smart View Flip cover for Galaxy S23 by which you can easily glance over time and notifications. One thing you should keep in mind while buying official cases is that they are mostly expensive as compared to other third-party options listed here. So before making any decision try to understand what features are you looking for in your Galaxy S23 case.
Also read: Best Cases for Samsung Galaxy S23 Plus in 2023 
2. Spigen Tough Armor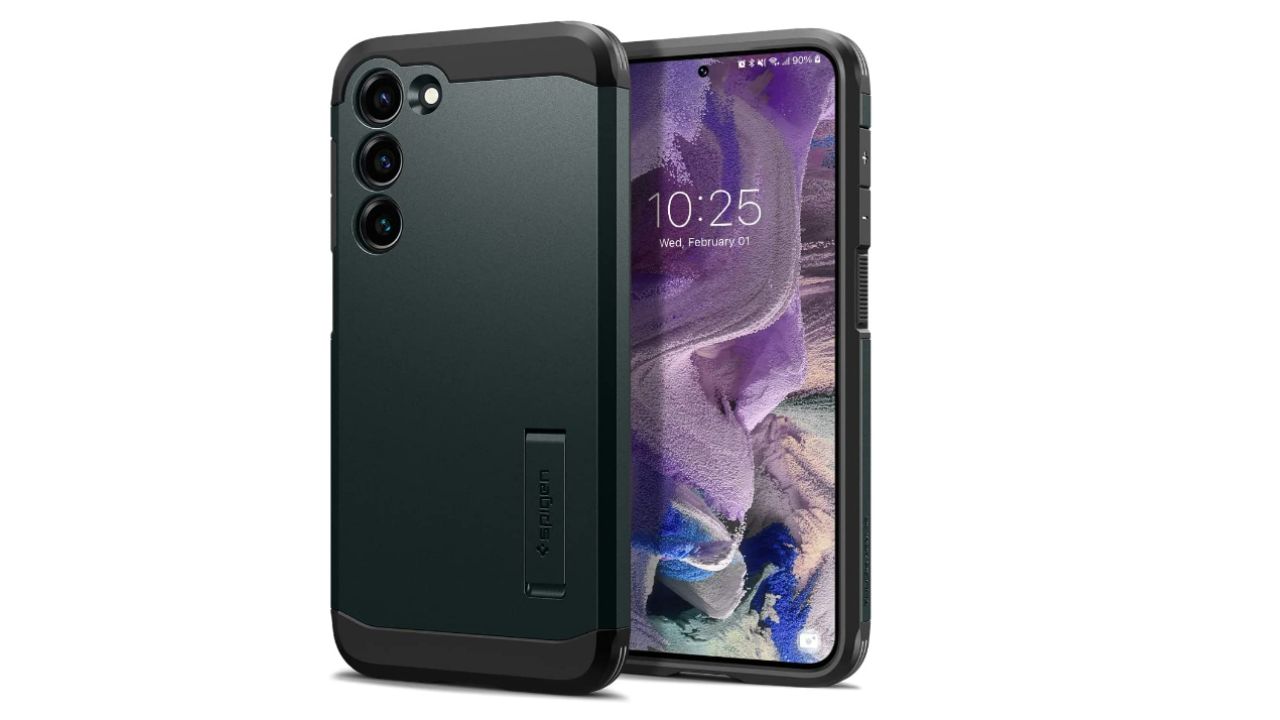 Spigen is one of the most trusted brands when it comes to smartphone accessories and offers a variety of different cases. The Spigen Tough Armor Case treads the middle ground between being slim yet more durable than most. It isn't the most rugged option on the list, but for the average user, this does the job very well. The case uses extreme impact foam with durable layers so that it can protect the phone from accidental damage while keeping the phone slim. The combination of soft TPU and rigid polycarbonate provides ample protection and comes with Air Cushion technology to save your Galaxy S23 even if you drop it while running late for meetings. The power and volume buttons are responsive and easy to press. The case does a great job of protecting the camera lenses from protruding out of the case, ensuring they don't get scratched or damaged. Being able to prop your phone up is definitely a feature that some users appreciate. It makes it far more convenient to watch content on your phone like
TikToks, take video calls, or scroll through recipes. This is one of the best protective cases for the Galaxy S23 you can get at this price point. 
Reasons to Buy:
Durable design 

Built-in kickstand 

Affordable yet protective

Perfect fit and cutouts

Air-cushioned corners and raised bezels around the screen
Where it falls short:
A lot of people want to show off the original color and design of their smartphone while also adding a fair bit of protection. If that sounds like you, the Spigen Ultra Hybrid series for S23 is the one you should consider. The standard Ultra Hybrid has a TPU frame along with a hard polycarbonate back that's clear. The frame adds protection to your phone in case of drops while the clear back protects your S23 while ensuring the minimal design doesn't hide in the back. The other variants of the S23 cases are similar with slight differences.
The Spigen Ultra Hybrid S has a built-in kickstand, and the Quartz version has a glass back instead of plastic. You can also pick multiple color variants of these cases where the side frame is colored instead of transparent to add a tinge of color that complements your original phone color.
Also read: Best Cases for Galaxy S23 Ultra in 2023 
3. Caseology Nano Pop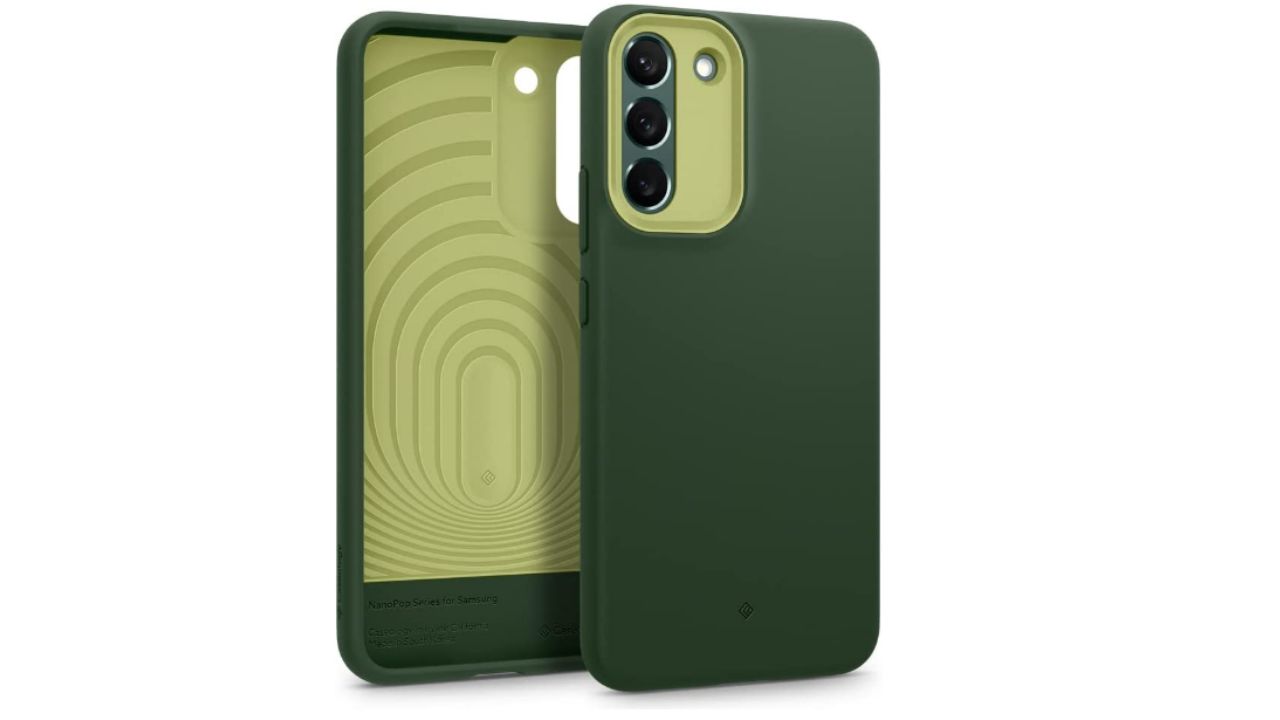 The Caseology Nano Pop is one of the best Galaxy S23 slim cases you can buy if you want to add a pop of color to your 2023 flagship smartphone. It's a thin and light case that not only looks good but also offers decent protection against daily wear and tear. The Nano Pop's 2-tone color provides a nice bit of flair while also adding extra protection around Samsung Galaxy S23's all-important parts like the corners, the flat display, and the cameras. The camera module cutout also shares the same bold color as the case's interior lining, where thin air cushion grooves are etched in concentric, elongated ellipses. This case is better looking than the Spigen Tough Armor, it's easier to get on and off than the OtterBox Commuter series. If you're looking for a case that won't sacrifice pocketability for protection, the Nano Pop hits just the right spot between rugged and slim cases. It provides style, grip, and just enough impact protection that you won't feel the need to white-knuckle grip your phone the second you leave the house.
Reasons to Buy:
Stylish-looking two-tone case

Snug fit and tactile enhanced buttons

Grippy silicone texture with bezels around the camera

Light yet durable case 
Where it falls short:
Might catch oily fingerprints easily

Available in limited colors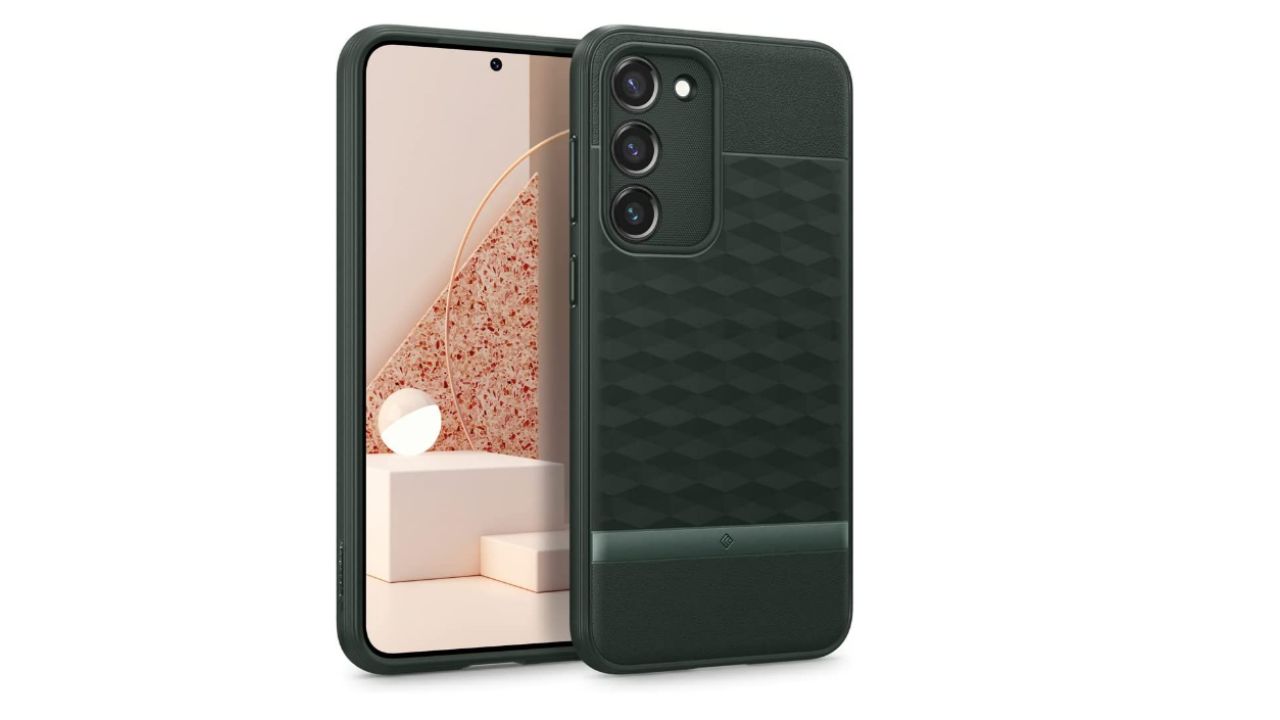 Caseology also offers a great option in another model known as Caseology Parallax. This hybrid case for Galaxy S23 features a soft triangular pattern textured back that you will love if you like to fidget around with your phone. The pattern improves grip and impact absorption and just looks a lot better than a smooth case. The Parallax series for Galaxy S23 comes in a variety of colors that you can match with your S23.
Also read: Best Screen protectors for Galaxy S23 Ultra to buy in 2023
4. UAG Monarch Rugged case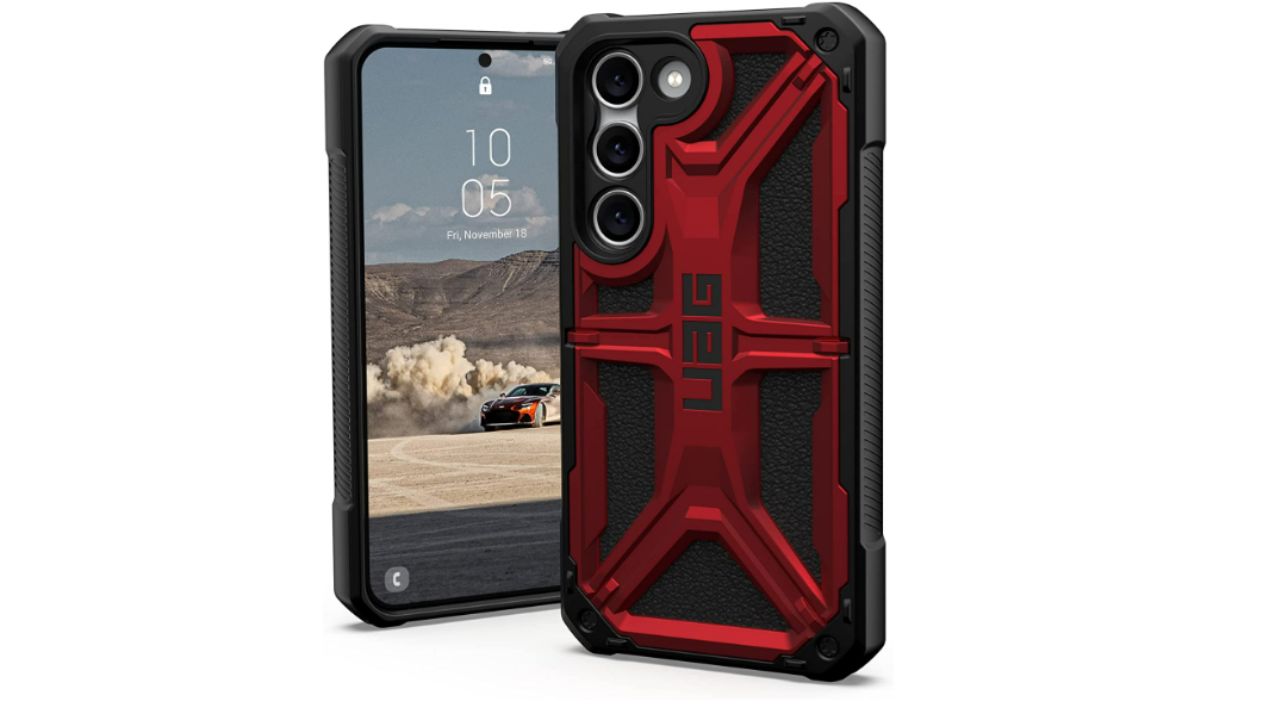 This case may seem a bit extravagant and bulky considering the high cost but it is actually very lightweight. This case is handcrafted from top-grain leather, plastic, and metal. It's actually a 5-layer case: UAG's signature armor frame and shock-resistant core, top-grain leather, a polycarbonate shear plate, and metal hardware, all wrapped in impact resistant rubber. The UAG Monarch for Galaxy S23 is a true fit for travelers and trekkers due to its amazing build quality. In terms of protection, this Samsung Galaxy S23 case has everything: 5 layers of material, reinforced corners, textured sides, raised lips around the screen, and a camera cutout. Despite all of this the case is surprisingly lightweight and supports wireless charging with most chargers. The 20-foot drop protection ensures it can take the hardest of blows without destroying your investment. The case comes with a 10-year limited warranty and comes in a variety of colors; the price varies depending on which size and color you choose. The company also offers Monarch Kevlar edition, which has an ultra-rugged Kevlar finish but comes with a slightly higher price tag.
Reasons to Buy:
20-foot drop protection

Hits the sweetest spot between protection and bulk

Raised lips and bezels for extra protection

Military drop tested 

Wireless charging compatible
Where it falls short:
You can also check out the UAG eco-friendly 100% biodegradable case if you are an environment-conscious person. The UAG eco-friendly case is 100% compostable with a D6400-04 certification. Apart from being recyclable this case has 12-feet drop protection and raised bezels to protect and be snuggly fit for your S23.
Also read: Best Screen Protectors for Samsung Galaxy S23 Plus in 2023 
5. Torro Leather Case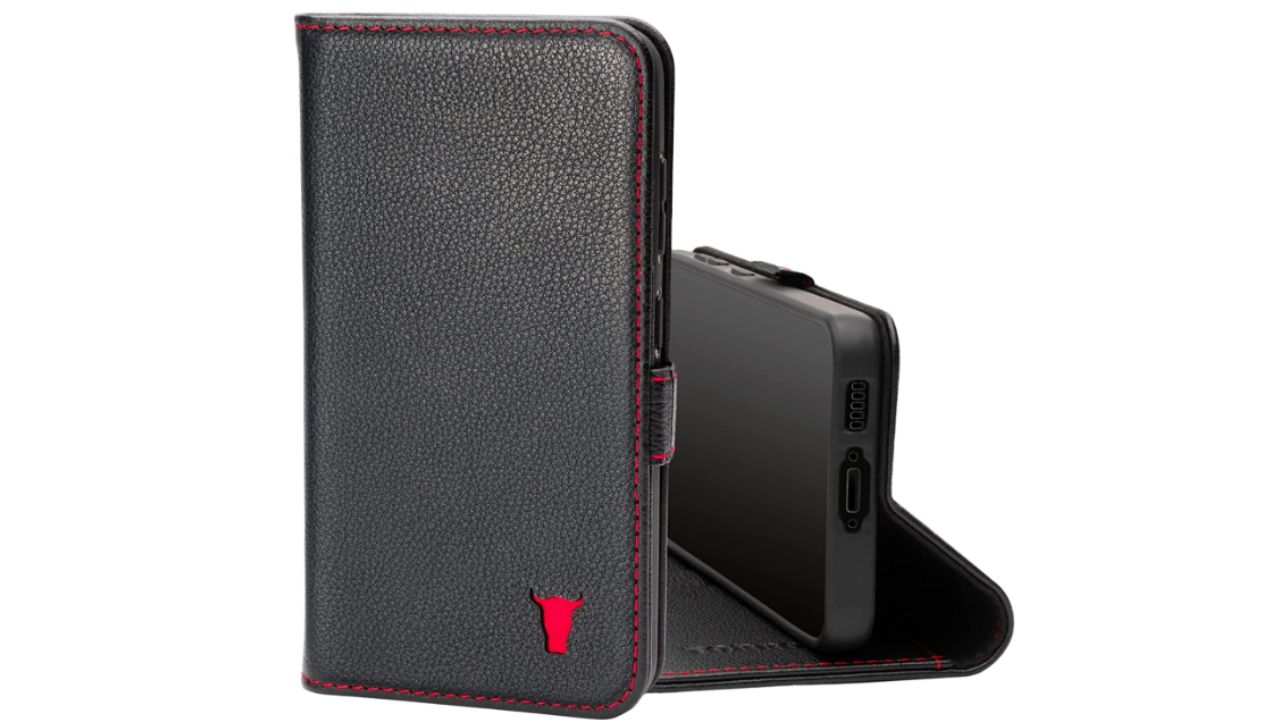 If you like leather cases but are tired of the crippling plastic of faux leather that survives only months then this is the right leather case for your Galaxy S23. This elegant leather case feels fantastic with the grainy texture and comes with a lot of functionality making it worth every penny. This handcrafted Samsung S23 case is made from high-quality cowhide leather combined with a durable TPU phone holder for excellent all-around protection. There are card slots on opposite sides of the phone means this can double as a wallet. At the same time, the satisfying magnetic clasps ensure it doesn't open automatically. We've reviewed this for the Galaxy S22 Ultra as well. You can read our review here. 
This leather case for Galaxy S23 can also be folded like a stand so you can also use your phone horizontally for
Zoom meetings. The case also supports wireless charging but it can be iffy depending on which wireless charger you are using. This Samsung S23 leather case comes in two colors; one dark brown and one black with bold red threading that looks too good to ignore. If you are looking for a protective yet stylish-looking leather case that comes with a functional card slot this Torro Genuine Leather case for Galaxy S23 is something you should check out.
Reasons to Buy:
Premium looks 

Genuine leather 

The Folio cover folds into a kickstand

Three card slots and a cash pocket for functionality
Where it falls short:
Wireless charging might not work with some chargers
Also read: Best Chargers for Galaxy S23 Ultra in 2023 
6. Otterbox Symmetry Case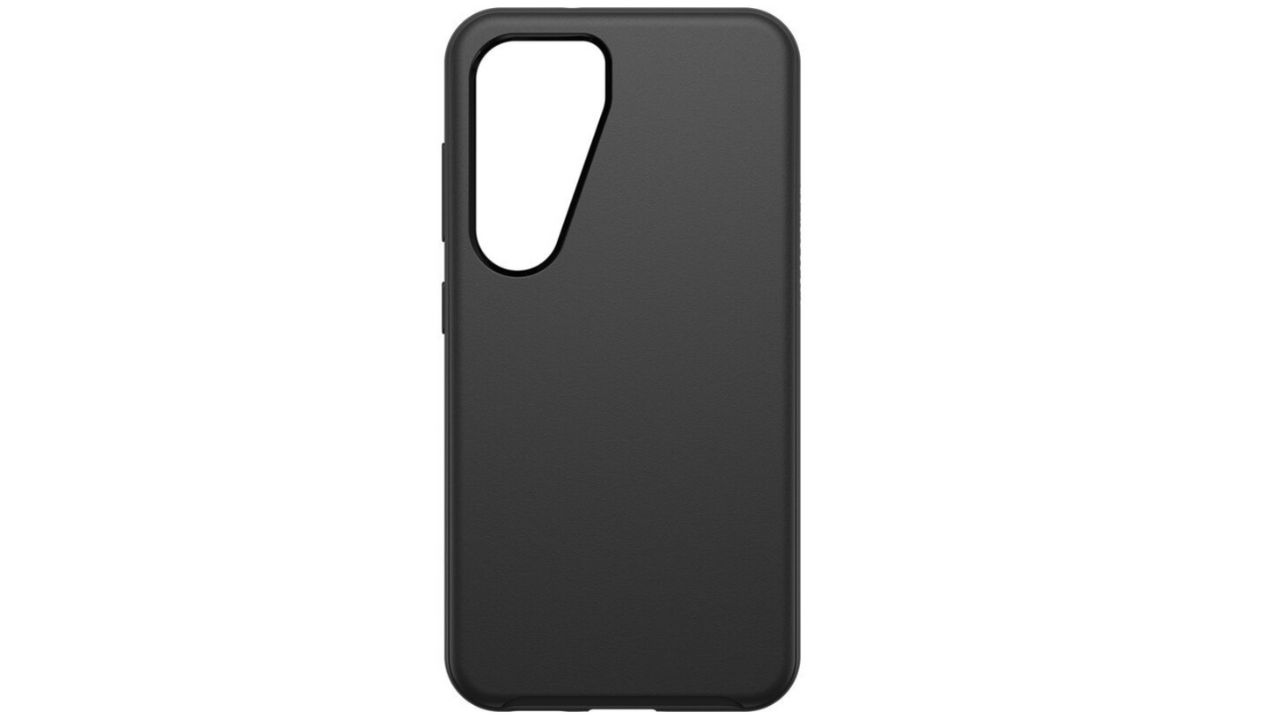 Otterbox is a trustworthy brand when it comes to smartphone accessories and the Symmetry series is one of the industry-leading cases when it comes to durability. Otterbox has managed to bring the protection of a rugged case to a clear case. This might look like a simple case, but you don't have to worry about anything happening if the phone slips out of your hand even when you're in a parking lot. If you want to protect your S23 without compromising on the looks this Otterbox Symmetry case is for you. Sleeker than the Defender Series and way better colored than the Commuter series, the Symmetry is a durable yet stylish-looking case. The Otterbox Symmetry case comes in different variants- colored and clear cases. You can also find MagSafe variants of all the cases and Otterbox doesn't miss when it comes to MagSafe compatibility.
Reasons to Buy:
Military Standard certified with 3X drop protection up to 8ft

Very grippy

A durable case that isn't too bulky

Comes in a variety of colors 
Where it falls short:
The power button might be hard to press initially

The clear case might turn yellow over time for some users
Also read: Best Chargers for Galaxy S23 and S23 Plus to Buy in 2023 
7. SUPCASE Unicorn Beetle Pro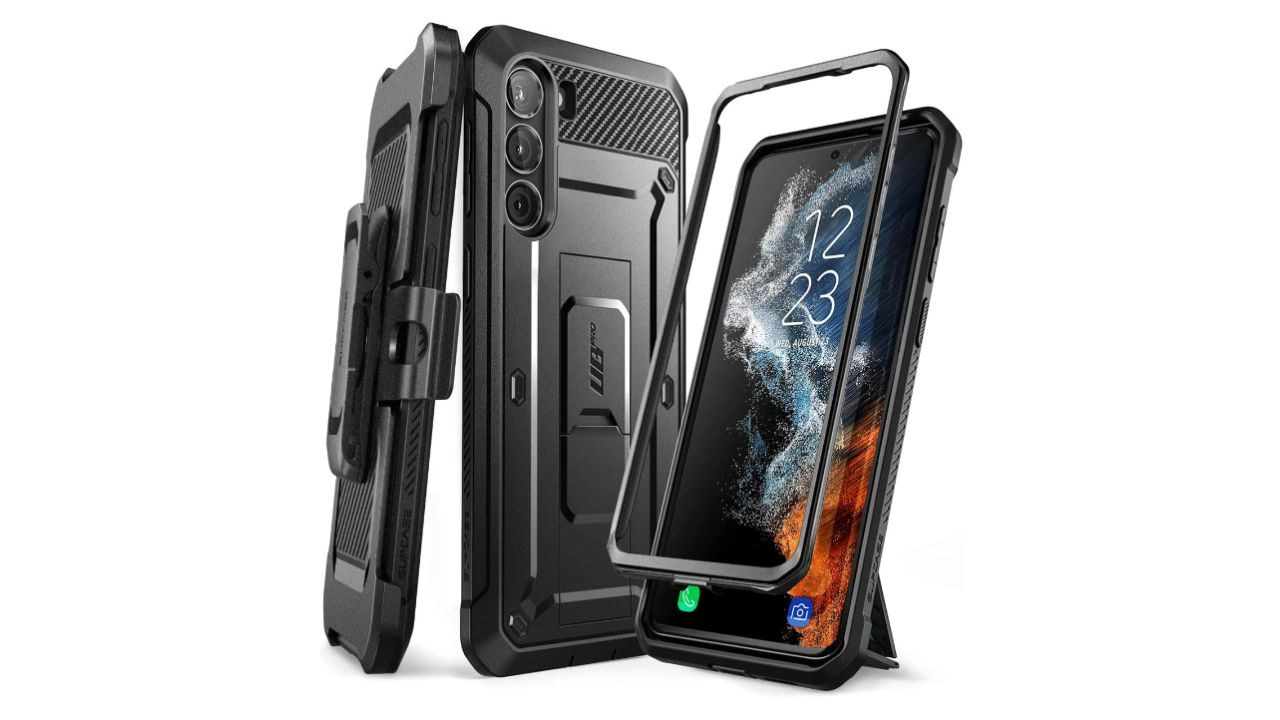 The Unicorn Beetle Pro series from Supcase doesn't mess around when it comes to keeping your Galaxy S23 protected. The Unicorn Beetle Pro oozes rugged in both looks and protection. This case is rated for protection against 20-foot drops and can withstand even the hardest drop damage. This protective Galaxy S23 case comes with a screen protector and a detachable belt clip that gives your smartphone overall protection, In short you can take your Galaxy S23 for adventures without worrying about it falling out of your pocket. The case's back is smooth to the touch, grip point on the back and the grove lines on the bumper lend a good grip. All buttons maintain decent tactility, and port cutouts are smooth and not too protruded. You and your S23 have nothing to fear with this thick, metallic cover that comes in 5 bright colors. The rotatable holster clip helps you to keep the phone in a functional position by attaching it to your bag and belt. As you can see this case is an all-rounder case you don't have to buy anything separately and considering the price point of $25, this is a value-for-money deal steal.
Reasons to Buy:
20-foot drop protection

Detachable clip and a built-in kickstand

Comes with a screen protector

Durable yet stylish 

Comes in a range of colors to complement your S23
Where it falls short:
Also read: Best S22+ Screen Protectors to Shield the Display in 2023 
8. Speck Presidio2 Grip case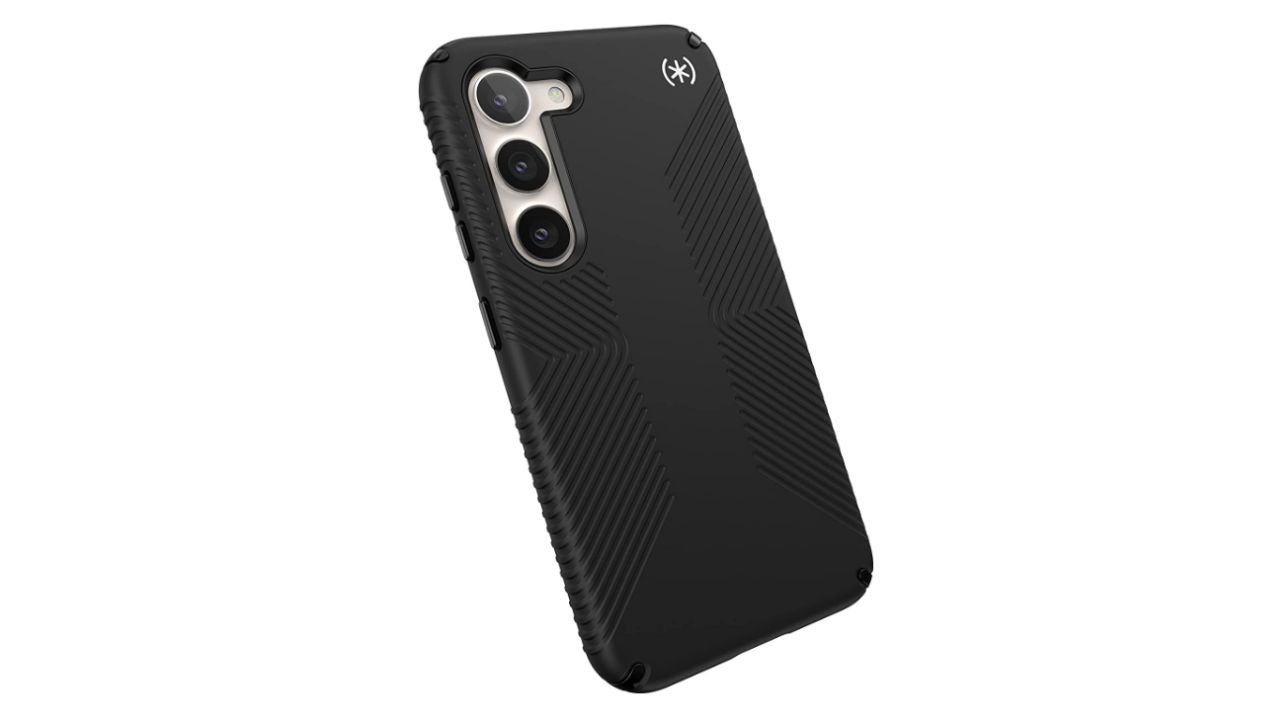 As its name suggests, the Speck Presidio2 Grip case will make your Galaxy S23 easier to handle, thanks to its textured design. If you like to fidget around with your phone and want a grippy case then go for this case. It's a relatively thin case as compared to other cases on this list but still manages to offer 13ft drop protection. It's slim and protective, and the grips on the sides and back make it even more comfortable to hold and use your Samsung Galaxy S23. One of the past issues with the Presidio Grip in the past was the rubberized grips stuck out, which resulted in getting dirty and worn out. This issue has been resolved with the Presidio 2 Grip so now you have inverted grooves.
You will get Air cushions on the side of the cases to handle accidental damages. Along with drop protection this grippy case for Galaxy S23 guards against other scuffs and scratches. It also has Speck's Microbane, which helps to reduce 99% of bacteria growth on the case, creating a cleaner surface for your S23.
Reasons to Buy:
Grips on the sides of the case

Antimicrobial coating 

13-foot drop protection

Slim yet durable

Grips are now inverted 
Where it falls short:
Available in limited colors
Also read: 15 Ways to fix Wi-Fi Not Working on Galaxy Devices
9. ESR Boost Kickstand Case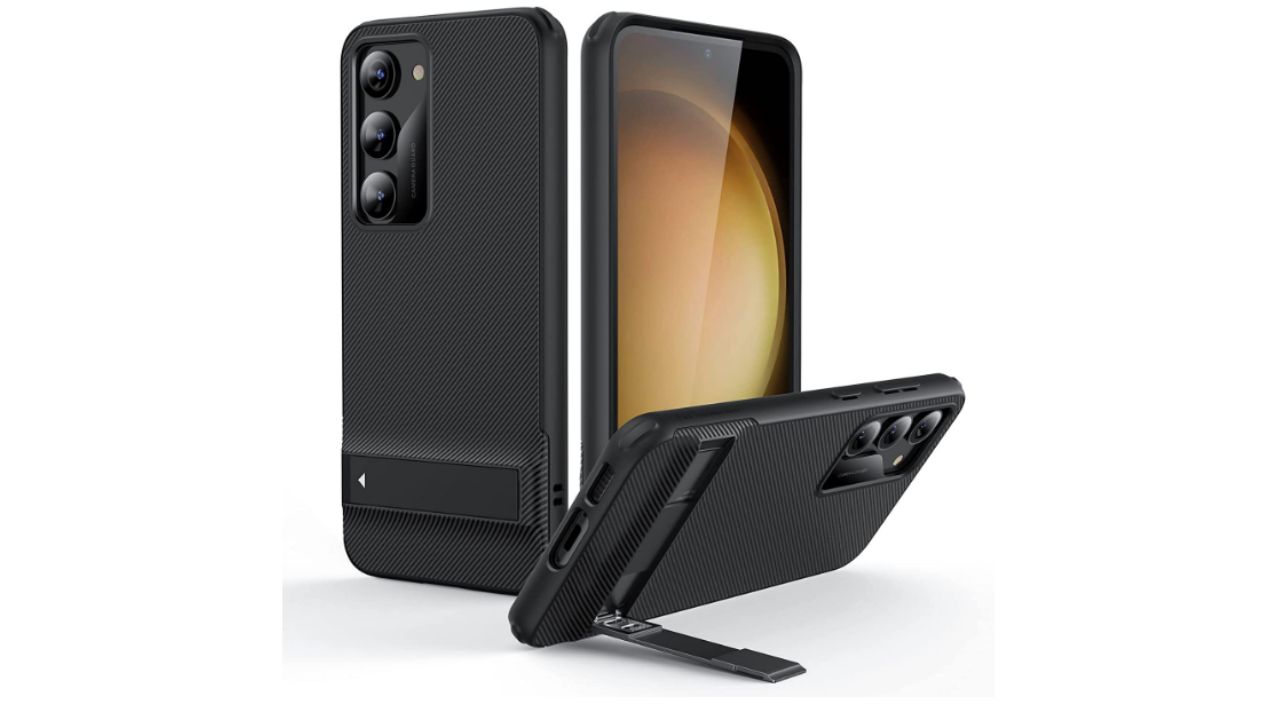 The ESR Metal Kickstand is versatile and sturdy, with two different colors to choose from. The kickstand on the ESR is not a flimsy one as compared to other cases on the market, this case comes with a metal kickstand which you can use in different ways. The kickstand allows you to easily attend your meeting or watch your favorite shows without straining your hand. This type of kickstand is unique, but it also gives you lots of flexibility when it comes to propping your phone up at the best angle. This kickstand can be used in portrait and landscape mode, but in portrait mode, you should use it carefully because it balances on three points rather than four. It's also compatible with wireless charging, which means you can watch your favorite shows hands-free, then drop your phone on a charging brick to juice it back up. 
Reasons to Buy:
The kickstand can be used in portrait and landscape mode

Wireless charging compatible

Military-grade protection with Air cushioned corners

A textured case for better grip
Where it falls short:
Not as strong in portrait mode
Also read: How to Fix Common Galaxy Z Flip 4 Problems-Tried & Tested Solutions
10. i-Blason Cosmo Galaxy 
If you have a thing for printed cases then the i-Blason Cosmo series for S23 is just for you. This Galaxy S23 case provides looks and safety to your phone without burning a hole in your pocket. This i-Blason case comes with a screen protector to give your S23 overall protection from screen scratches as well as drops and scuffs. The elevated bezels in the screen protector and case protect your 120Hz screen and the triple camera bump. This sparkly case comes in 3 different patterns to choose from that give a unique look to your S23. If you are someone who likes to focus on the aesthetics of your gadgets, you should buy the
same case for your Galaxy Tab as well.
Reasons to Buy:
Distinctive looks

Comes with a screen protector

Elevated bezels for screen and camera protection

10-foot drop protection 
Where it falls short:
The fingerprint reader might require recalibration 
Also read: Best Fast Chargers for Galaxy S20 Series in 2023
If you just want to add a pop of color to the edges of your phone and not a whole printed case, you can also check out the i-Blason Ares series. This case adds a pop of color to the edges of your smartphone while you can still flaunt the color of your Galaxy S23.
That's all for now. This is our list of best cases for Galaxy S23 in 2023. Let us know in the comments what your experiences are with these cases. 
Also read: How to Fix Black Screen Problem in Galaxy S22 Series in 2023