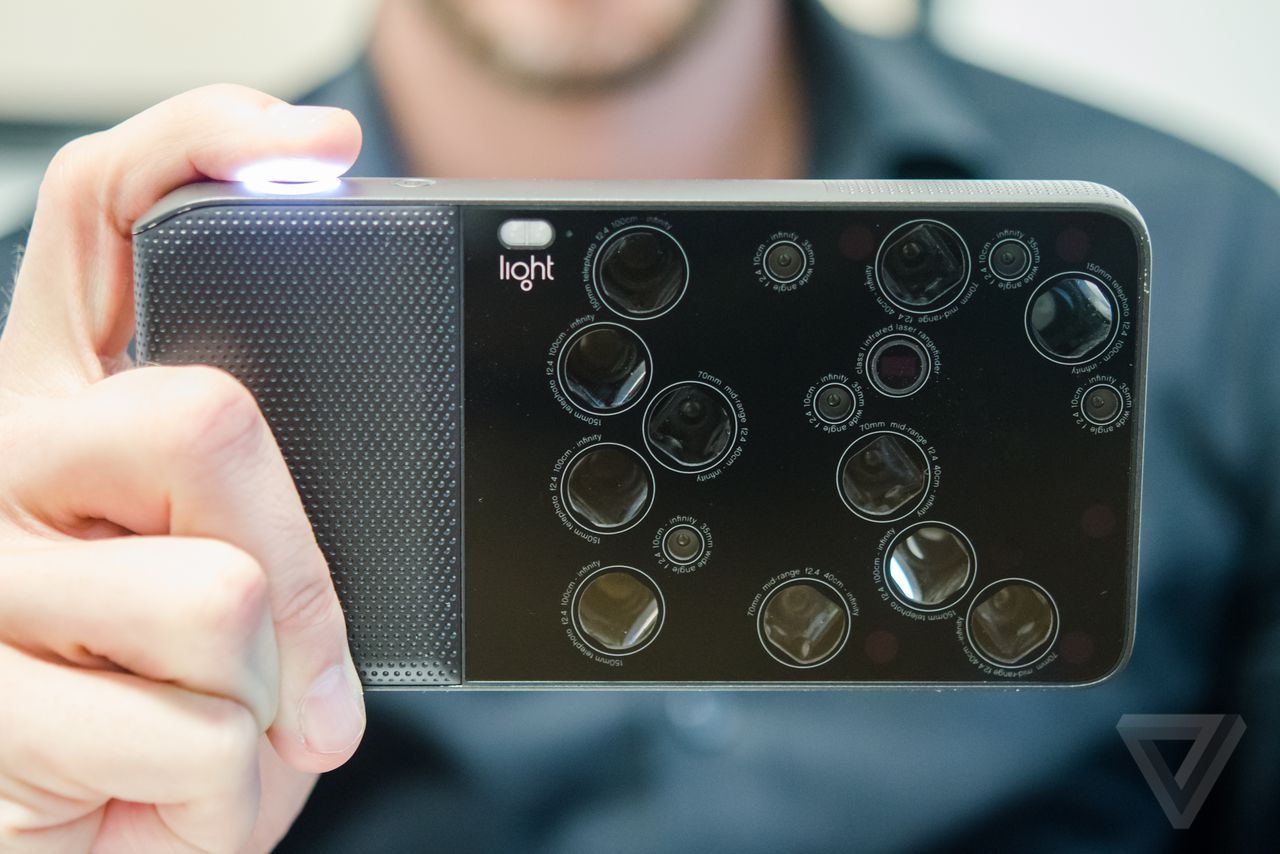 Light.co has recently been in the news because of it's incredible new camera called L-16.
As the name suggests, the L-16 has 16 individual types of lenses each of 13MP which produce an epic image of 52 Megapixels.
Talking about lenses, the L-16 packs 16 individual modules
5x28mm at f/2.0, 5x70mm at f/2.0, and another 6x150mm at f/2.4 all of them have focal lengths at full frame equivalent with 13 megapixels each.
Take a look at this picture and lose your sanity for a while, then we'll move on to the specs.
Moving on to the specs, the L-16 weighs only 435g / 15.3oz, compared to a regular DSLR with 16 lenses it's amazing!
L-16 also sports a 5" Full HD touchscreen, and it comes with Android operating system.
It has a chassis made out of die-cast aluminum and a rubberized non-stop grip paired with its convenient design is indeed a thing to fall in love with.
Let's take a look at it's detailed specifications –
Sensors

16 individual 13MP sensors

Video

4K video with 28mm, 70mm or 150mm focal lengths at full frame equivalent

Processor/ Chipset

Qualcomm Snapdragon 820 + Light ASIC

Battery

4,120mAh Lithium-ion polymer

Storage

256GB, Supports USB on the go.

ISO sensitivity

100-3200

Shutter Speed

1/8000 to 15 sec.

Focus Mode

Tap to focus, Half-shutter press to focus

Connectivity

GPS, Wi-Fi, and Bluetooth

Exposure modes

Auto & Manual

Focus

Tap to focus

Half-shutter press to focus

Output

File types: JPEG, DNG, LRI

Minimum Focus

10cm at 28mm, 40cm at 70mm, 1m at 150mm
The ability to shoot in RAW with upto 5x optical zoom and features like noise reduction with depth of field control makes this camera of future an absolutely mouth watering
What's a bummer is that it costs $1950. Let's just wait for the reviews to drop in!

For more information and sample shots, visit their website. 

Comment your opinions and let me know if you want more news and updates about camera gear.