The pace at which the smartphone industry is moving is so insanely fast that the Galaxy S10 Plus from last year feels like it's from a time that was long, long ago. Of course, while phones tend to get forgotten sooner and sooner, thanks to a combination of efficient hardware and software, they tend to last a lot longer than ever before. To check that out, I grabbed an year old Galaxy S10 Plus, put my SIM inside it and used it as my main phone for 2 weeks. Here are my observations. 
Galaxy S10 Plus Review: Build Quality and Design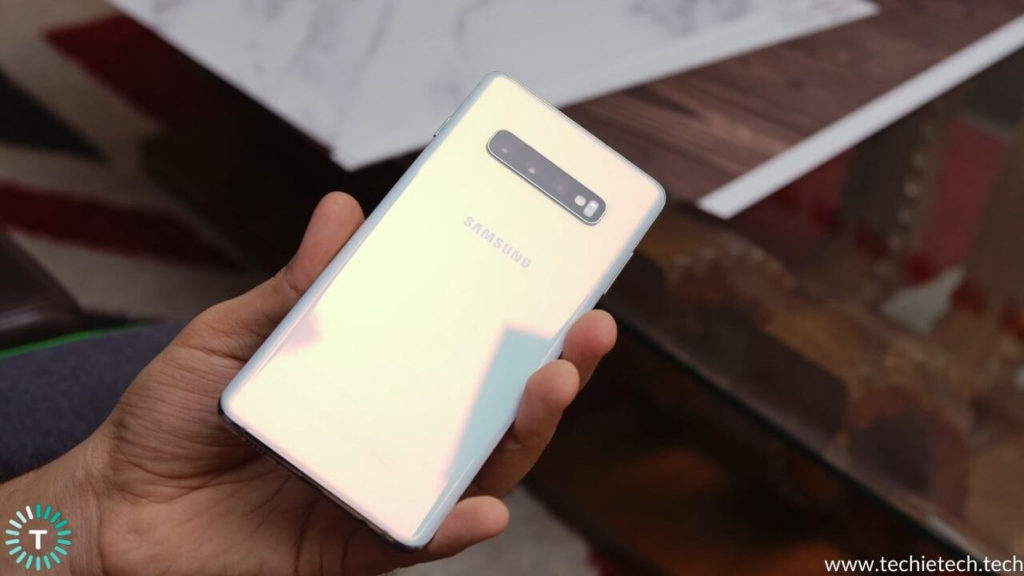 When you pick up the Galaxy S10 Plus it actually feels just as premium if not better than a lot of phones from today. It is very light for its size at just 175 grams and very thin which makes it a delight to use one handed. Compared to the large and heavy Galaxy S20 Ultra that I was using before this, the S10 Plus feels very comfortable in the hands. 
A couple of interesting hardware facts about this phone. Firstly, I believe this is the last flagship level phone to have a headphone jack. I had forgotten all about it but when I rediscovered it, it felt like re-living a warm, familiar friendship. Also, this is the last Samsung flagship to house a dedicated Bixby button. While it is reprogrammable to some extent, I much prefer the no extra button approach on
But apart from all that, hardware-wise, the S10 Plus is still a stunning device which, in my opinion, looks more elegant than its successors. 
Galaxy S10 Plus Review: Display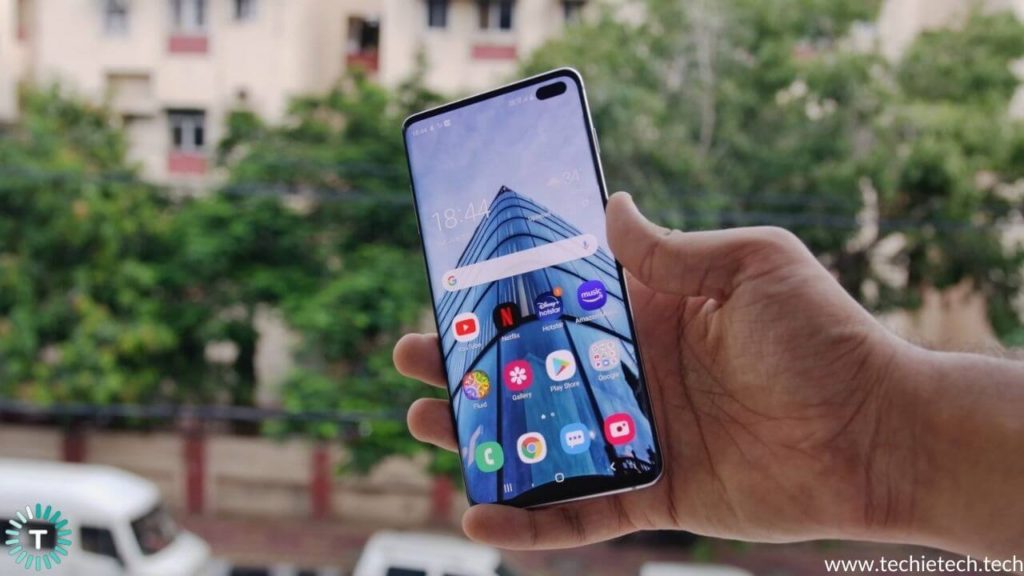 Talking about that display, let's get rid of the only negative first. It is a 60 Hz panel, which was not a big deal last year but is kinda big now, especially because similarly priced and even cheaper phones are now sporting 90 Hz refresh rate displays. 
But once you look past that, the display on the Galaxy S10 Plus, like every Samsung display panel, is gorgeous. It just stands out with it's popping colours, higher saturation and just clean, bright whites. The core display color quality is definitely still one of the strongest points of this phone, even an year later. Be it reading or watching a movie or just browsing through your colourful Social Media feed, this display is best in class and at par or even better than most flagships from 2020. 
Of course, there is a pill cutout on the top right of this phone. While I don't mind it at all, some people mind it a lot. It's all personal preference, really. 
Also read: Samsung Galaxy Note 10 Plus Review
Galaxy S10 Plus Review: Performance
Let's talk about what is possibly a weak spot for this phone. The one major weakness that could make you rethink. Performance. Again, the S10 Plus is available with either the Snapdragon 855 in the US, Korea, Japan and Canada or the Exynos 9820 everywhere else. Samsung will try to convince you that the difference is negligible, if any. And if you are looking to do the regular day to day Social Media, web browsing, movie watching, they would be right. However, when it comes to performance intensive tasks like gaming, the difference is clearer than ever. 
That's not to say that the Exynos Galaxy S10 Plus is a bad device for gaming. It is still very capable and easily gets the job done for the casual gamer. This wasn't the case when the Galaxy S10 had just launched; possibly because of no optimization early on for its Exynos processor. This is also what we're seeing with the S20 Ultra wherein it does not support higher graphic settings in PUBG, settings that are supported on the S10. But things are better now, games run well and you could easily make do if you just want to game casually.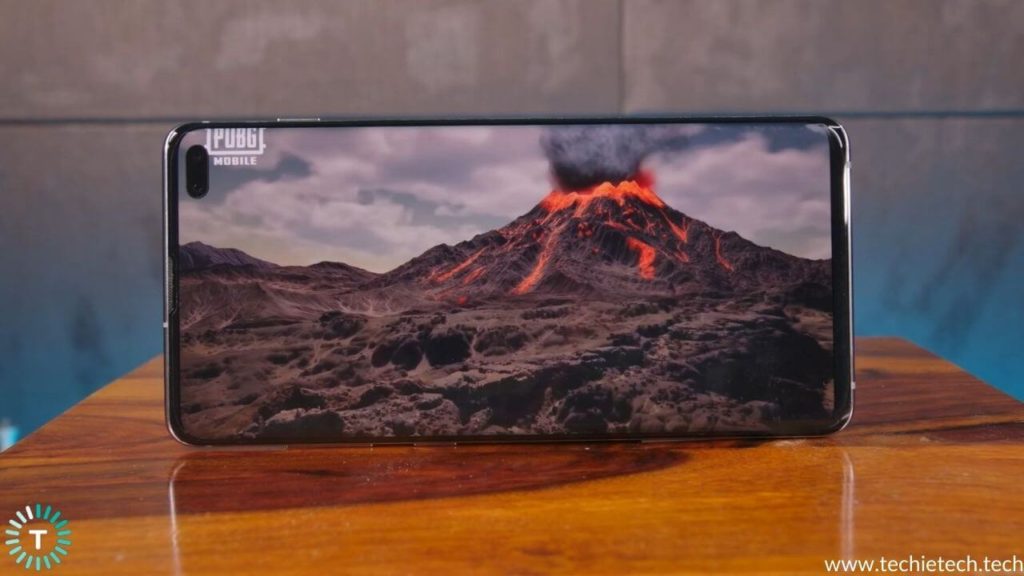 Just remember, there are phones in the price bracket with the Snapdragon 855 or even 865. They are clearly better at churning out the most processing power so if you're someone who is looking for that, perhaps consider those phones. 
But again, I would like to reiterate, the S10 Plus does more than an amazing job at providing a great day to day experience in terms of performance. 
Also read: 25 Tips & Tricks for Galaxy S10+ that you need to know 
Galaxy S10 Plus Review: Camera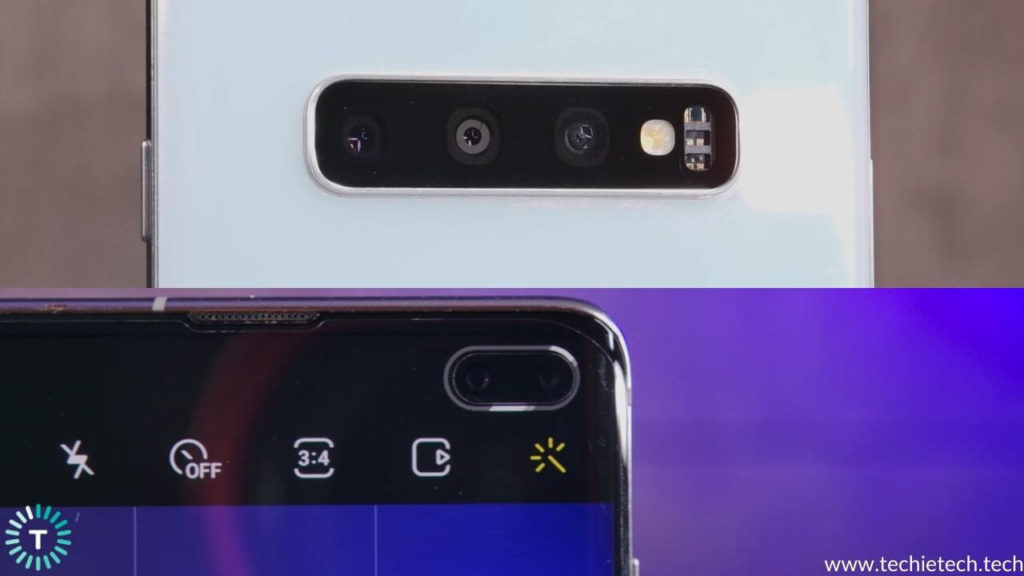 The S10+ has a total of 5 cameras with 3 modules on the rear and the rest of the shooters on the front. Since the launch, Samsung
has pushed several software updates to improve the camera performance of the S10+. 
Let's dig deeper and find out how a 1-year-old flagship camera performs in such a dynamic smartphone camera market!
Photos
The primary 12MP camera takes excellent pictures in all scenarios including low light and indoors. Thanks to the improved image processing and seamless switching of dual aperture, the S10+ delivers cleaner and sharper stills.

Based on the shooting environment the camera automatically switches between f1.5 and f2.4 aperture. In simple terms, a dual aperture lens is a mechanical hole with two different hole sizes which adjusts the amount of light that hits the camera sensor to produce a well-exposed picture. 

Samsung has also nailed it with excellent AF, HDR, and stabilization on the primary camera. 

The ultra-wide-angle lens is really wide. It's the same 12mm camera module as that on the Note10+ and takes fairly good stills. The HDR processing and distortion correction makeup for the lack of autofocus. The S10+ is one of the few smartphones which actually shoots good indoor pictures with the ultra-wide-angle camera.

One weird thing we noticed while testing the 16MP ultra-wide camera was that the pictures were grainy in the corners, even in well-lit shots.

The 2x telephoto camera takes pictures with rich colors and a high dynamic range. Even though it's just 12MP, the amount of details and sharpness is respectable for a year-old flagship camera.

Moving to the front, there's a 10MP camera along with an 8MP depth sensor module.

The 10MP selfie camera has a regular 6.5MP selfie mode and a wide-angle mode which takes the full resolution 10MP stills.

Therefore, the front camera takes 6.5MP pictures by default.

Apart from the resolutions, the front camera takes selfies with accurate skin tones and really good HDR processing.

Thanks to the 8MP depth sensor, the portraits shot with the front camera are sharp and subject separation is also good.  

Samsung has improved the Low light performance of the S10+ over the past year with frequent software updates. The night mode works on both the rear and front cameras now.

The overall low light performance is really good, even in dark environments with minimal ambient lighting. One minor hiccup is the presence of a yellowish hue.
Full resolution camera samples: https://bit.ly/2R8oO9W 
Videos
The S10+ does a

really good job with all of its cameras

and supports various resolutions & frame rates.

The color rendering, HDR processing, and stabilization on the S10+ work together to deliver excellent footage via the primary camera.

4K videos shot outside on all cameras are vibrant and exposed properly. The AF speed is also respectable if we compare today's flagships cameras with laser AF. 

The lack of autofocus in the ultra-wide-angle camera was felt while taking close-up videos of objects. 

Switching to the front camera, it does a very good job in daylight with accurate skin tones. The 4K footage out of the front camera is also good enough for regular use.

Low light videos are exposed very well, thanks to OIS and the wider apertures. I feel the S10+ lags behind in the noise processing department. 

Other notable features of the S10+ camera include a dedicated manual video mode, filters, AR features, and HDR10+ shooting & playback support. 
Samsung has been consistently improving the camera performance of the S10 series. In fact, back in April 2020, the S10+ received features like Single Take, Night hyper-lapse, and a Pro Video Mode from the Galaxy S20 series smartphones via a software update. 
It's true the S10+ does not have a high-resolution camera sensor. The major issue with a high-resolution sensor is you lose out on the dynamic range. A high megapixel count does not mean, it's a good camera. Instead, a camera with lower resolution & better image processing which can capture more information will be considered a good smartphone camera. 
So, If you're a camera enthusiast looking for a smartphone with adequate camera hardware and image quality, which gives plenty of space to experiment, you can't go wrong with the S10+.
Galaxy S10 Plus Review: Fingerprint Sensor
The fingerprint sensor on the Galaxy S10 Plus is an in-display one which uses ultrasonic technology. It is slower compared to optical sensors like on OnePlus phones but since you can use it without first waking the screen up, you develop muscle memory and eventually the difference is negligible. I don't think there is a very clear advantage or disadvantage of either type of sensor here. From a no-comparison, standalone perspective, the Galaxy S10 Plus provides an excellent biometric experience.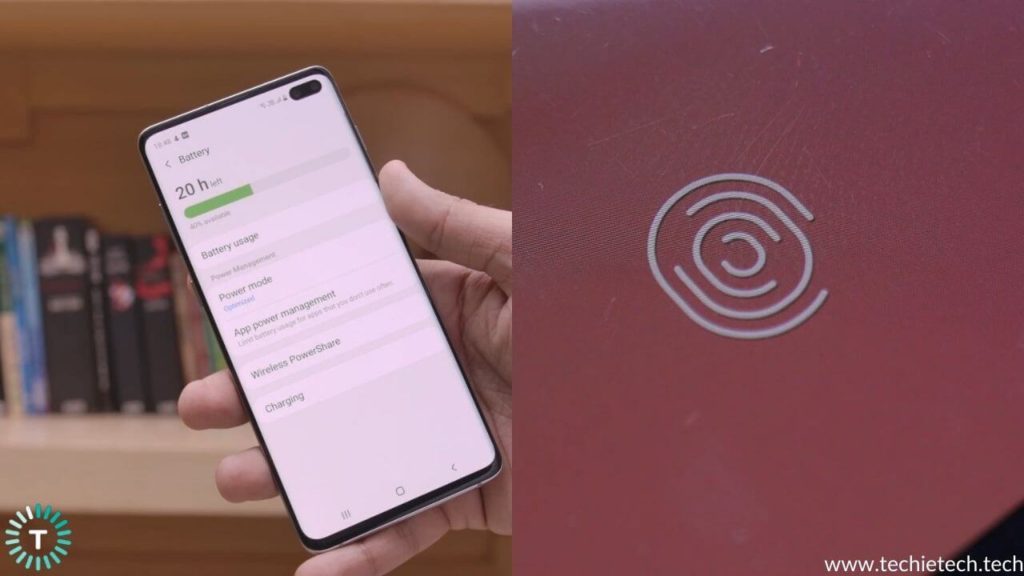 Galaxy S10 Plus Review: Battery Life
Battery life is another factor which impressed me. The device that I used for this review is borrowed from a friend, so it has been used daily with
regular cycles of charging and discharging unlike review phones which just lay idle most of the time. Even after that obvious wear, the battery life is pretty good and easily lasted me a day of medium to heavy usage. 
Also read: Best accessories for Samsung Galaxy S10+
Galaxy S10 Plus Review: Miscellaneous 
Apart from that, the haptics on this phone are pretty decent, not amazing like on the Galaxy Note 10 Plus or most iPhones but still good enough. Even the stereo speakers are good enough. Call quality and reception are great too, better than most phones. Then there's Samsung Pay which lets you emulate a credit card swipe so you can leave your wallet at home. I love it but again, your mileage may vary.
Galaxy S10 Plus Review: Conclusion
To conclude, to buy or not buy this phone is purely based upon your requirements. If you want a sleek, elegant phone which does all the day to day tasks well, this is a very good option. On the other hand, if you want the most performance packed phone or the one which would run games the best, it would be good to look at other options. Either way, the Galaxy S10 Plus remains a solid phone an year after use and I would recommend it. 
Check Price on: 
Amazon (US): https://amzn.to/2Fk2tnu 
Amazon (India): https://amzn.to/3jTPDv5