Remember when there were simpler times and there used to be only one version of a flagship. Remember how gradually, we moved from one flagship smartphone to 2, one large and the other even larger. Remember how Samsung, back in March, even one upped this trend and brought 3 variants of their 2020 flagship, the Galaxy S20, S20 Plus and the S20 Ultra. The S20 Ultra is supposed to be Samsung's ridiculous all out phone, it doesn't only pack the best of everything like it's smaller siblings, it boasts of being excessive. I have been using the S20 Ultra for the better part of 4 months now so let's find out how Samsung's priciest smartphone fares.
In-hand Feel & Build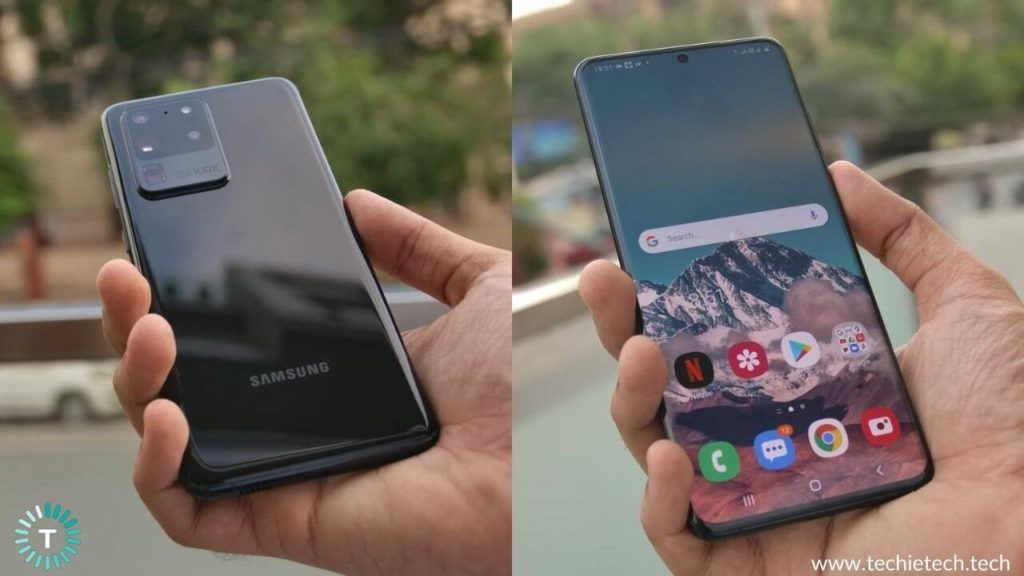 I always begin my reviews with the in-hand feel and hardware of the device. As with the excessive theme of this device, the S20 Ultra is BIG, it packs a large 6.9-inch display, it has a massive camera module, bigger than any I have ever seen and it is heavy at 222 grams. Of course, even with larger hands, the S20 Ultra is not a one hand use device.
Surprisingly, even after the large camera module on the top, the weight feels very well distributed and it feels very dense in hand, like a very well, thought out object of opulence. The volume and power buttons are both on the right side and clicky enough. Of course, with a module this large, the phone tends to wobble when you keep it on a table or any surface, even with a case on.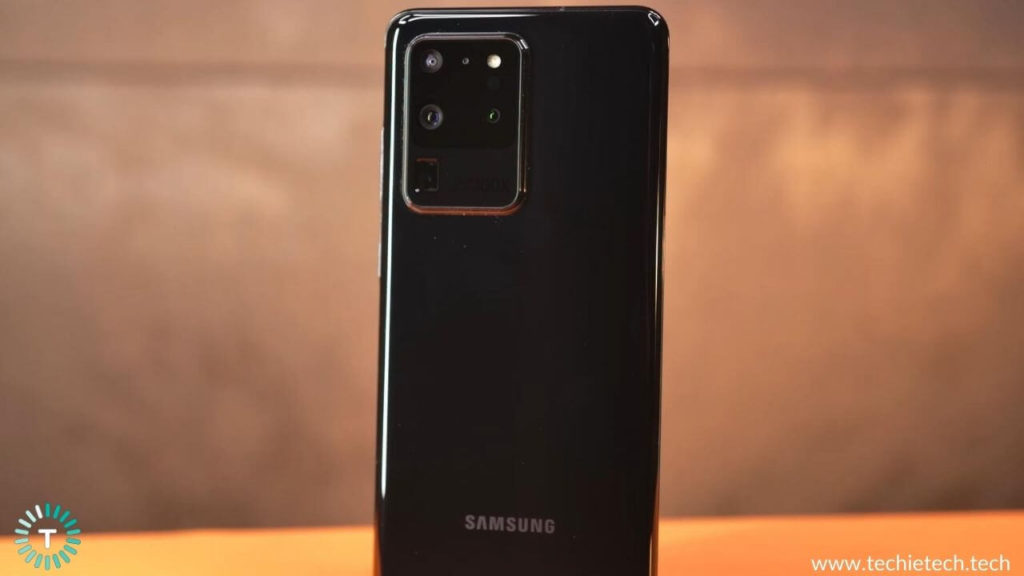 Now, there have been multiple complaints about the camera glass on the Ultra breaking on its own or with slight damage and that honestly doesn't seem very far fetched given how large this glass is. Thankfully, I haven't faced any issues with mine and neither has a friend who has been using it for a solid 3 months.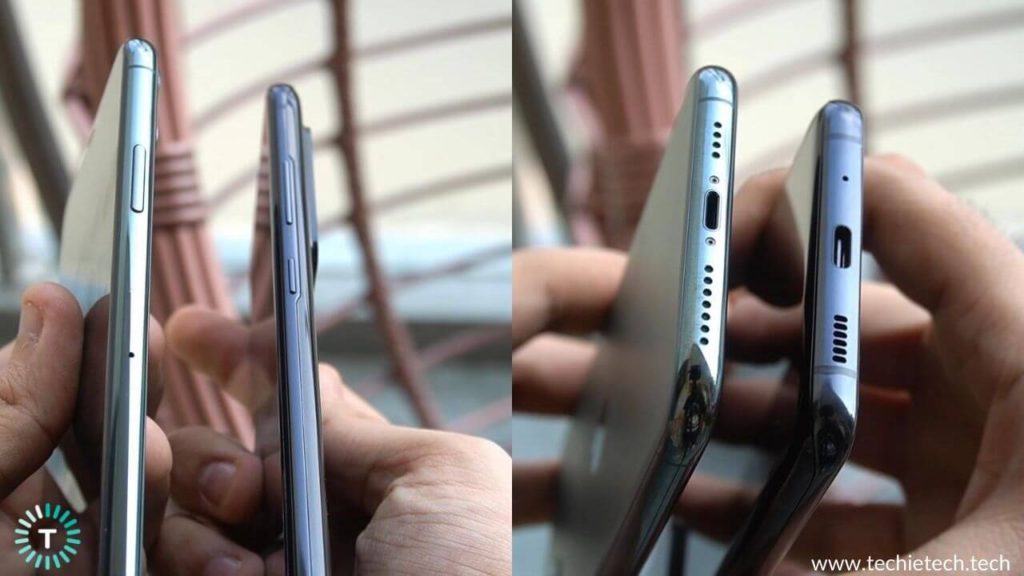 But overall, Samsung has nailed the hardware and construction part of this phone and if there's only one thing I could add, it would be the stainless steel frame that the iPhones use. It isn't even far fetched, given how this phone is more expensive than them.
Display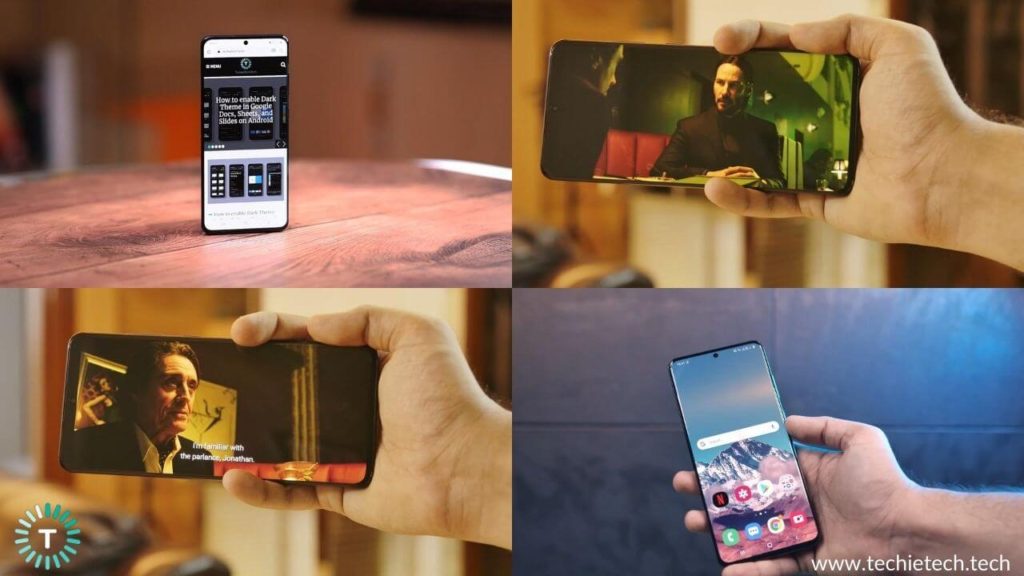 Let's flip over to the display. Samsung colours and displays are the best so without obsessing a lot over it, I think this is the best display in the industry which offers an excellent viewing experience. There is the problem of you getting either 120Hz refresh rate + lesser Full HD resolution or 60Hz + QuadHD, which is the display's actual resolution. I personally make do with Full HD but it's a shame that there are still compromises to be made at such an exuberant price point. The argument that it might lead to throttling or terrible battery life is another thing that is just unacceptable to me. This is supposed to be a very top of the line product, issues like throttling or battery life should have been taken care of before shipping the finished version.
Now that we're talking about throttling, let's talk some more about it. Before a series of software updates, there was a terrible problem with throttling, to the point that even scrolling through the app drawer and browsing lead to excessive heat and slowdowns. That has been largely fixed and not a problem anymore. The phone does tend to get warm randomly sometimes but the temperature does not climb to worrying levels.
Also read: How to hide apps on any Samsung Galaxy Smartphone
Performance & Gaming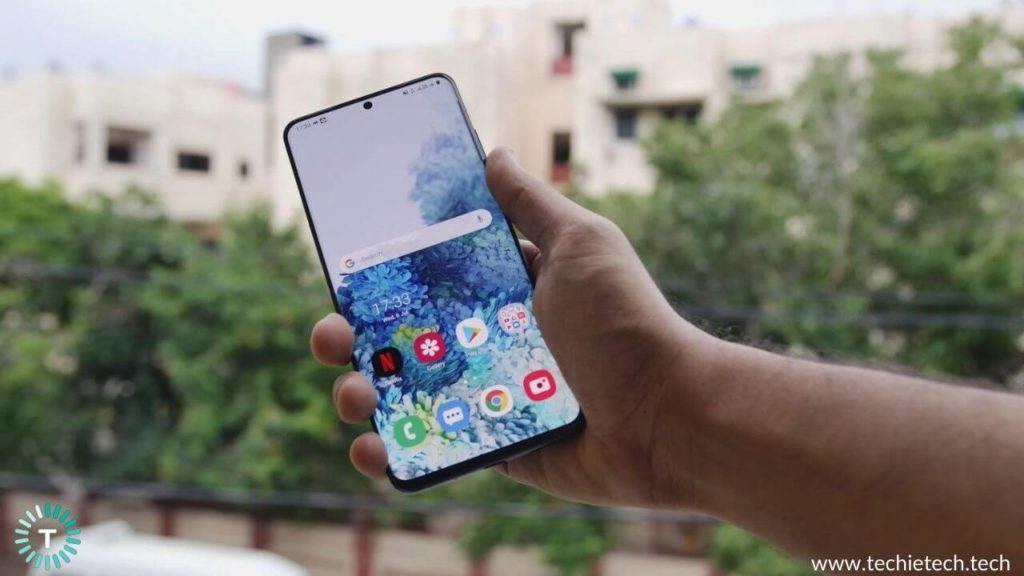 Now don't get me wrong, the general performance of the S20 Ultra is very good. As good as it can get. There is excellent memory management, apps open quickly and the UI carries itself very well at 120 Hz. But then you switch over to gaming and the Exynos processor in this phone shows its ugly side. Long story short, this phone is not made for gaming and should not be considered by gamers. Long time followers of this blog and YouTube channel know that I love PUBG. Catch this, The $1400 or Rs 100,000 S20 Ultra does not even support HDR+Extreme graphic settings. That is insane. If the most expensive Android phone does not support the highest available graphic setting then where am I supposed to go? And it gets even worse. Turns out that even flagships from last year support higher graphic settings than the Ultra. Isn't it just insane? Even my Exynos S10 Plus from last year supports it!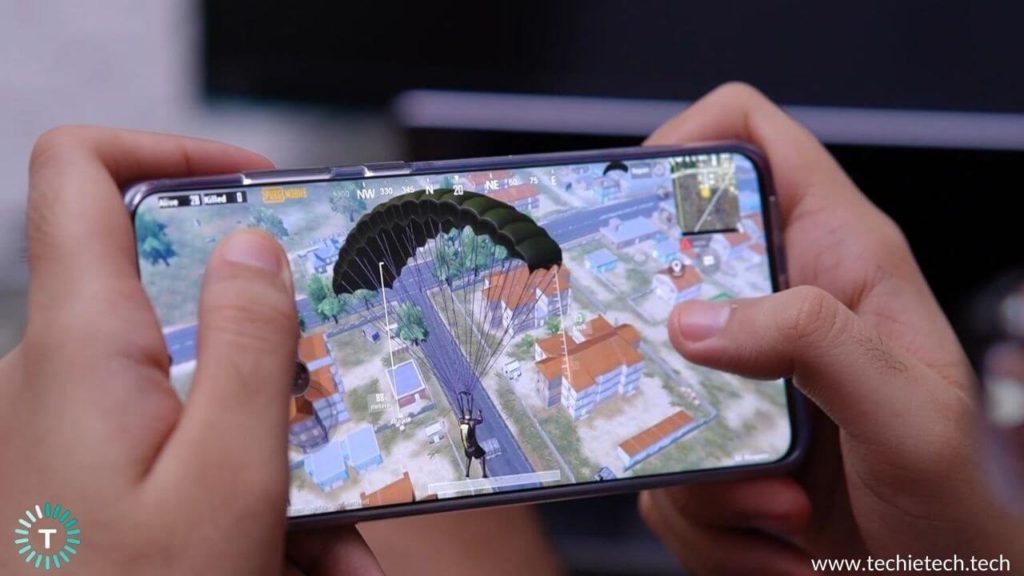 After 30 minutes of gaming with voice chat on, the S20 Ultra throttles and drops frames like no one's business. It is a shame that Samsung included the Exynos processor in this phone since I have heard that the Snapdragon 865 is free of all this nonsense. And don't tell me to wait for them to optimise it. It is a very expensive phone, I shouldn't have to wait months after buying it to get optimal performance. Anyway, to cut my rant short, if your usage includes anything performance intensive, forget about this phone. Just believe it doesn't exist and move on.
Now that I've calmed down, let's move on to the camera.
Camera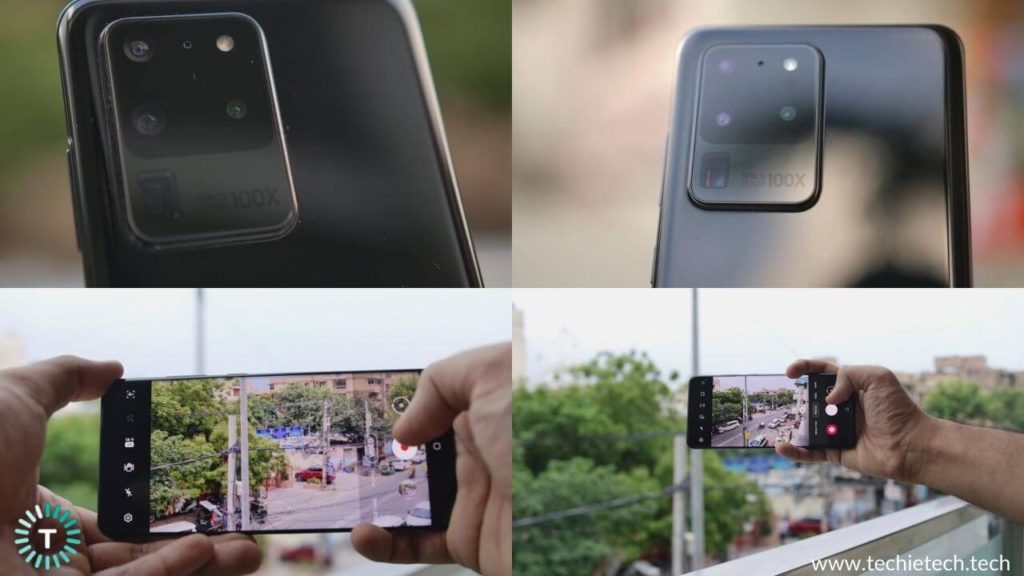 We've lauded Samsung's Galaxy flagships are famous for their amazing colour science and HDR processing and the S20 Ultra is no different. But it left some stones unturned on their way to the $1400 price tag.
Now, this year's flagship sports a Quad camera setup with time-of-flight (ToF) depth sensor. Here's a quick look at the detailed camera specs of Galaxy S20 Ultra: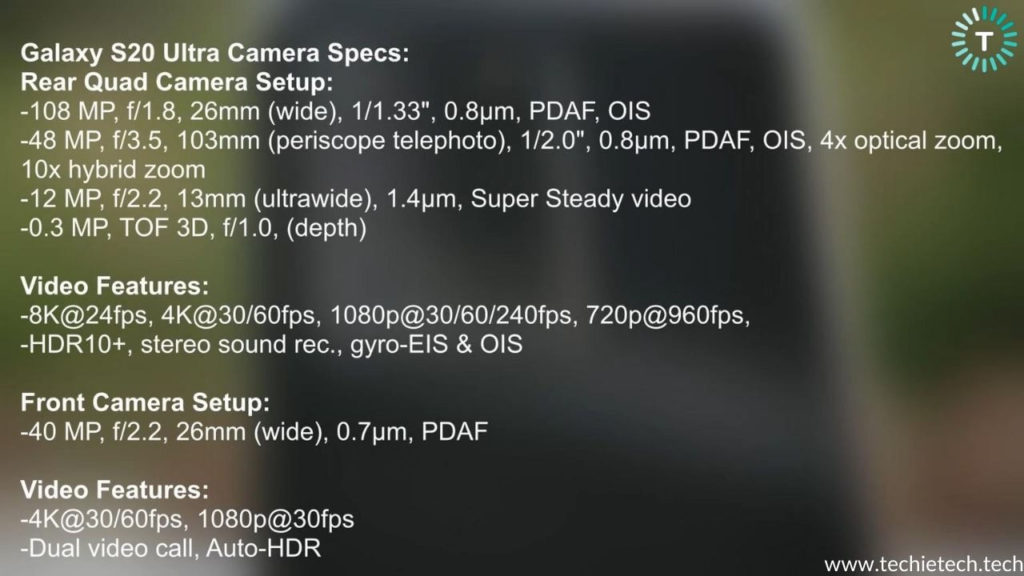 Photos:
The pictures from the primary lens are sharp, exposed properly and have accurate colours with true to life contrast.
The optics for all the primary 3 lenses (ultra-wide, wide and telephoto) have significantly improved from the earlier generation in terms of chromatic aberration, sharpness and overall performance.
The 108MP shots are remarkable but only in the right lighting conditions. The pictures are detailed and are fairly good even on the edges. But the files sizes are too big.
The indoor performance has improved as compared to last year's flagships because of the new sensor and processor.
Thanks to the larger sensor size on the S20 Ultra, the super-wide lens takes way better pictures than the last generation of Galaxy flagships.
The 4x telephoto lens is sharp and well exposed but sometimes the pictures have artefacts. And for some reason, the telephoto lens option is set to 5x instead of 4x. The S20 Ultra has 4x optical zoom but the camera app always zooms in on 5x.
The 100x space zoom is a nice feature but not practical. The pictures taken are not sharp and have a lot of noise. Although, it might come in handy if you want to know what your neighbour is cooking. Here's a picture of a potato moon for no reason. (Shot with 100x zoom)
One annoying thing while shifting between the 3 primary lenses is that the colour temperatures change sometimes.
The S20 Ultra takes breath-taking portraits with both the wide and zoom lenses. The subject separation & blur effect are one of the best we've tested so far including the iPhone 11 Pro series. Plus, the HDR mode adds icing to the cake if you're taking portraits outdoors.
The front camera takes fairly good 40MP stills in both regular and wide field of view. The selfies are good in daylight with highlights and accurate skin tones.
In the night-mode mode, the noise performance and the colour accuracy are really good and there are less artefacts as compared to previous generations.
Other findings include an overall snappiness in camera app, improved camera UI, and the lack of HDR in panorama mode. My favorite feature is the Single Take mode which takes a video 3-10 seconds and gives you different formats of media like pictures, videos, and GIFs. So, you can easily shoot without missing out on the moment. It's like Live Photos on steroids.
Full Resolution Camera Samples of Galaxy S20 Ultra: https://flic.kr/s/aHsmPnV3yb
Videos:  The overall video performance is good and there are some excellent video features, but the small limitations make the shooting experience somewhat annoying.
Videos shot outside are well exposed with accurate colour and contrast on all 3 lenses. Things go south while shooting indoors but the improved larger sensors control the noise very-well.
Here's the annoying part:
Not all lenses and features are supported in all resolutions and frame rates. That's really disappointing for a $1400 smartphone which is designed to provide a revolutionary camera experience.
The front camera performance in terms of exposure, colours and skin tones is good in different resolutions but captures flares & hue shifts when you're in front of a light source.  The footage is not jittery and the quality more than enough if you want to vlog with it.
The 8K video mode:
o   It shoots in 24fps and is cropped
o   Moreover, there's a lot of jitteriness present which makes handheld videos almost unusable.
In conclusion, it feels nice to carry an 8K video camera in your pocket, but honestly, it's overhyped and not practical. In order to take full advantage of the 8K resolution, you'll need a mobile gimbal to stabilize all the jitteriness and an 8K display to "feel" the high resolution.
The manual video mode feels very limited and Samsung hasn't allowed any 3rd party app like Filmic Pro to take full advantage of the new camera setup.
The S20 Ultra can shoot videos in HDR10 and supports HEVC format which is great when you're low on storage.
The low light footage looks better than Note10+ and the colours pop-out evenly. There is noticeable over-smoothening when shooting in 60fps in 4K and FullHD.
Full resolution 8K Video Samples shot on the Galaxy S20 Ultra: https://bit.ly/s20ultra8ksample
In short, the S20 Ultra has a really nice camera both in terms of hardware and software. Samsung has become one of the leaders in Android market when it comes to mobile photography.
But buying the S20 Ultra just for the 100x zoom and 8K video isn't the best choice. We recently reviewed the Note 10 Plus and the difference between the Note 10 Plus and S20 Ultra's camera performance isn't exponential. So, make sure to check that out as well.
Moving on to the other bits and pieces from my experience, 120 Hz displays are amazing. A noticeable step up even from 90 Hz, big thumbs up.
There is no headphone jack of course, and no included dongle sadly, but at least there are Type C AKG earphones in the box, which are actually nice.
Conclusion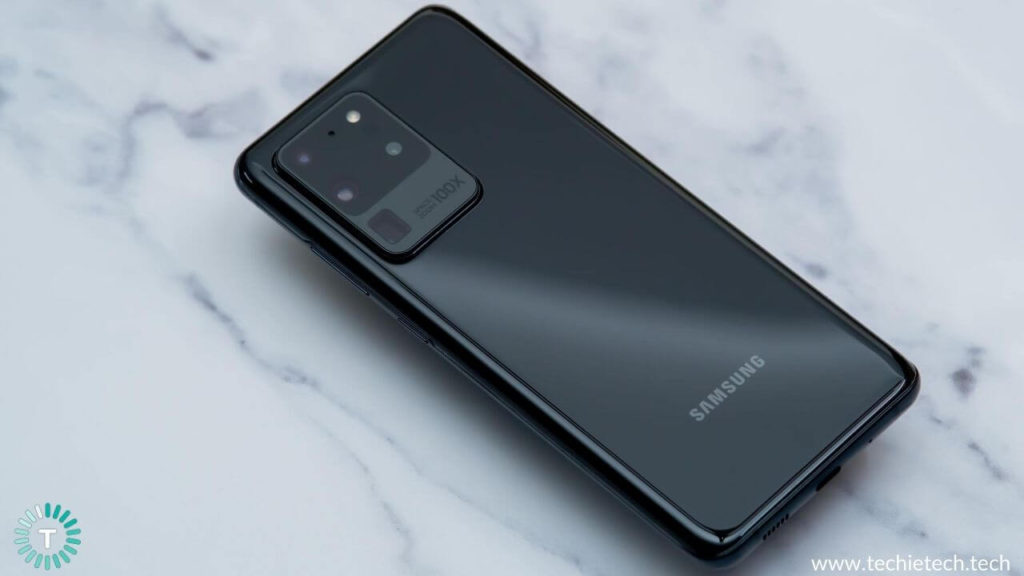 As I conclude, I want to talk more about the general concept of this phone. With budget phones becoming more and more capable, $399 iPhones and value for money OnePlus phones, why does the Galaxy S20 Ultra even exist. Even the significantly cheaper S20 Plus is reason enough not to go for the Ultra. Then why is it here and who is it for? In my opinion, while the S20 Ultra fails to stand out in function, it shines above all in form. The large footprint, the impossible to miss camera module and the big display, they are all style statements from Samsung. They are there to make the phone stand out from the sea of rectangular slabs and exhibit opulence, both of the device and the one who wields it.
Check Price on : Amazon(US) Amazon(India)