Pixel 6a is officially here and has brought several notable features of Google Pixel 6 at a mid-range price point. But the cheaper price tag comes with a few compromises, while the Pixel 6 and Pixel 6 Pro come with Gorilla Glass Victus, the Pixel 6a settles for Gorilla Glass 3. Gorilla Glass 3 is sturdy enough but it is not invincible so you might want to cover your Pixel 6a with a screen protector to prevent cracks and scratches. If you are a traveler, working on a field job that requires you to go out frequently, or even parents of toddlers, you need a good screen protector.  A good screen protector can go a long way in extending the life of your phone and even retains the resale value over the years. So we have made a list of the best screen protectors for Pixel 6a and you can easily pick up one according to your need. There are TPU film screen protectors which give mild protection but are not durable while the other ones are very sturdy tempered glass. 
There are many Pixel 6a screen protectors available in the market right now. But we have saved you the time to wade through so many options and included the top screen protectors for Pixel 6a in this roundup. All the screen protectors mentioned in this list are precisely for Pixel 6a, have cutouts for the selfie camera, and are tested to work with the fingerprint scanner seamlessly.  
1. Spigen GlasTR AlignMaster Tempered Glass Screen Protector
Spigen's AlignMaster GLAStR tempered glass protector is ideal for the Pixel 6a's tiny size. Spigen's tempered glass protectors are well known for their exceptional clarity, touch sensitivity, and scratch resistance. Spigen's installation kit, which is one of the best on the market, makes applying the screen protector on Pixel 6a a breeze.
Spigen's 9H hardness tempered glass screen protector provides outstanding drop protection while maintaining a crystal-clear picture. Fingerprints are kept at bay with an oleophobic coating, and this protector is also compatible with all Spigen cases. It does not affect touch responsiveness, and the Smart Installer tray gives bubble-free installation. This screen protector also has black bars to match the Pixel 6a's bezels.
Reason to Buy:
9H hard tempered glass for premium protection

Oleophobic coating to repel fingerprints

Comes with an installer 
Where it falls short:
More on the expensive side but worth the investment
Also read: Best chargers for Pixel 6a
2. Black Silk Tempered Glass Screenguard + 2 Lens Protector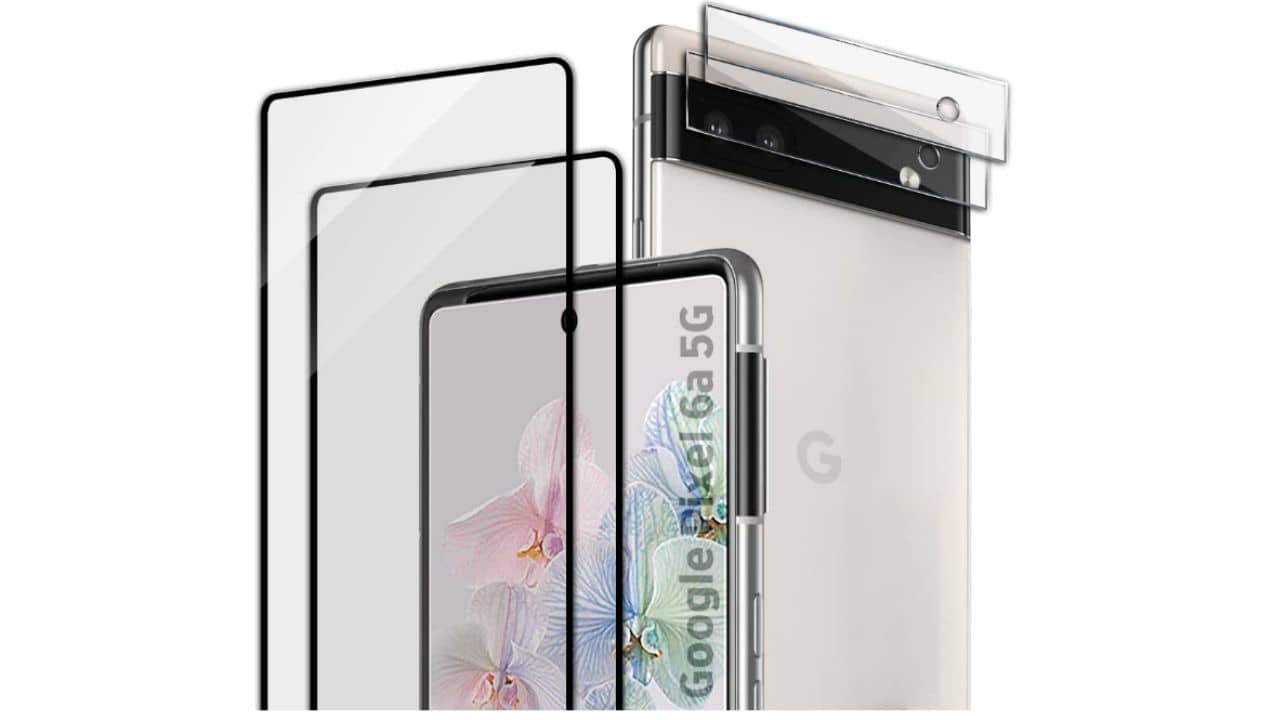 This set of screen protectors for Pixel 6a has a set of 2 screen guards and 2 camera lens protectors with an installation kit. It has a hardness of 9H and covers the whole screen. The screen protector features a 2.5D curve to suit the display flawlessly. This Black Silkscreen protector is a low-cost option that also offers camera lens protection. While the front screen protector is sturdy enough, the camera lens protector is where this lacks. The cutouts on camera protectors are so big that they might not protect the camera and you have to clean it frequently.
Reason to Buy:
Comes with 2 screen protectors and 2 camera protector

Comes with a 9H hardness rating

Fit flawlessly on the curvature
Where it falls short:
Camera lens protectors are not good enough
Also read:  Best Fast Chargers for Google Pixel 6 and 6 Pro
3. Supershieldz Screen Protector (Pack of 6)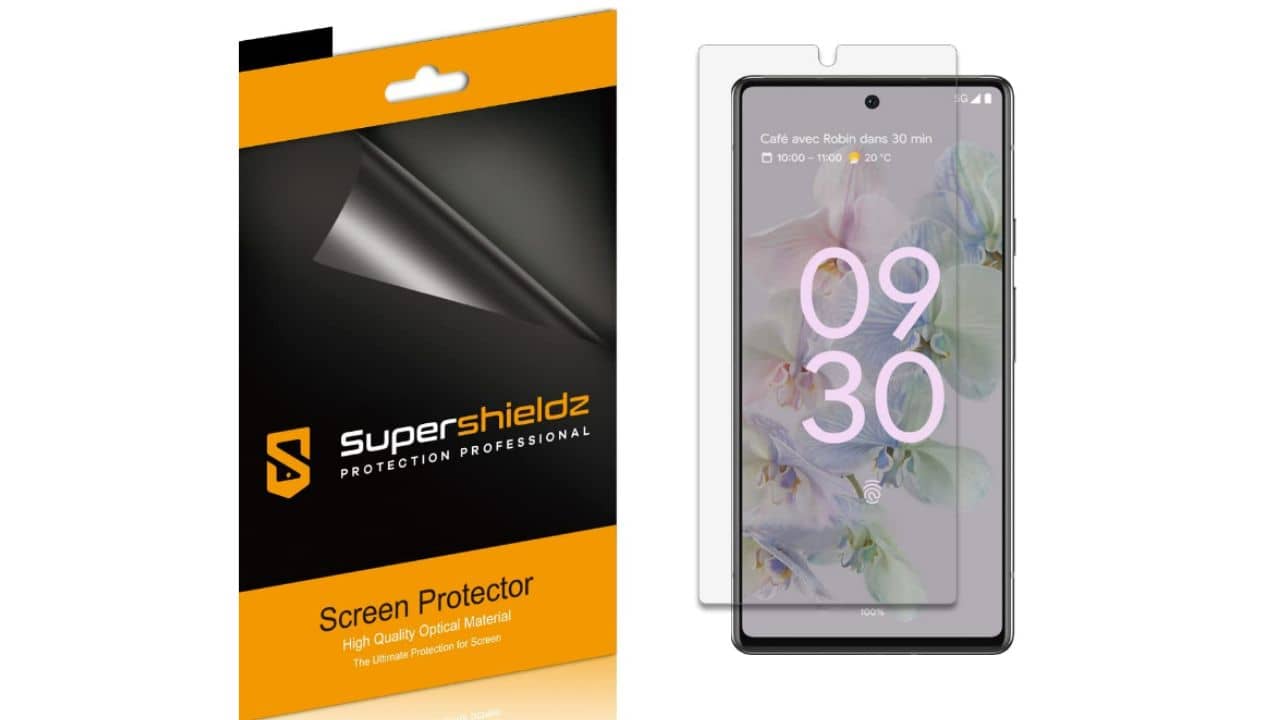 This Supershieldz Glass Screen Protector is another capable PET film-based screen protector for Pixel 6a and a good choice for people on a budget. The box includes six screen protectors. However, there is no camera lens shield, unlike some of our other choices. This screen protector offers decent protection while still being more transparent and responsive than a glass-based cover. It's a lot thinner than most other protectors because it's made of film, and as long as you install it correctly, you won't even realize it's there. The disadvantage is that it may not be as sturdy as some of the hardest tempered glass protectors, but it will protect your Pixel 6a's screen from most scratches and bangs.
For a more pleasant experience, the screen protector includes 2.5D rounded corners. You also get exceptional clarity, scratch resistance, and touch sensitivity. It's a straightforward procedure but much simpler you can easily misalign by accident because of how thin the film is. Simply go slowly and see how much slack you notice on the stickers that serve as the "spine."
Reason to Buy:
Comes in a pack of 6 

Very transparent and light

Works very smoothly with in-display fingerprint
Where it falls short:
Not as strong and durable 
Also read: Best Accessories for Google Pixel 6a
4. ZAGG InvisibleShield Glass Elite Screen Protector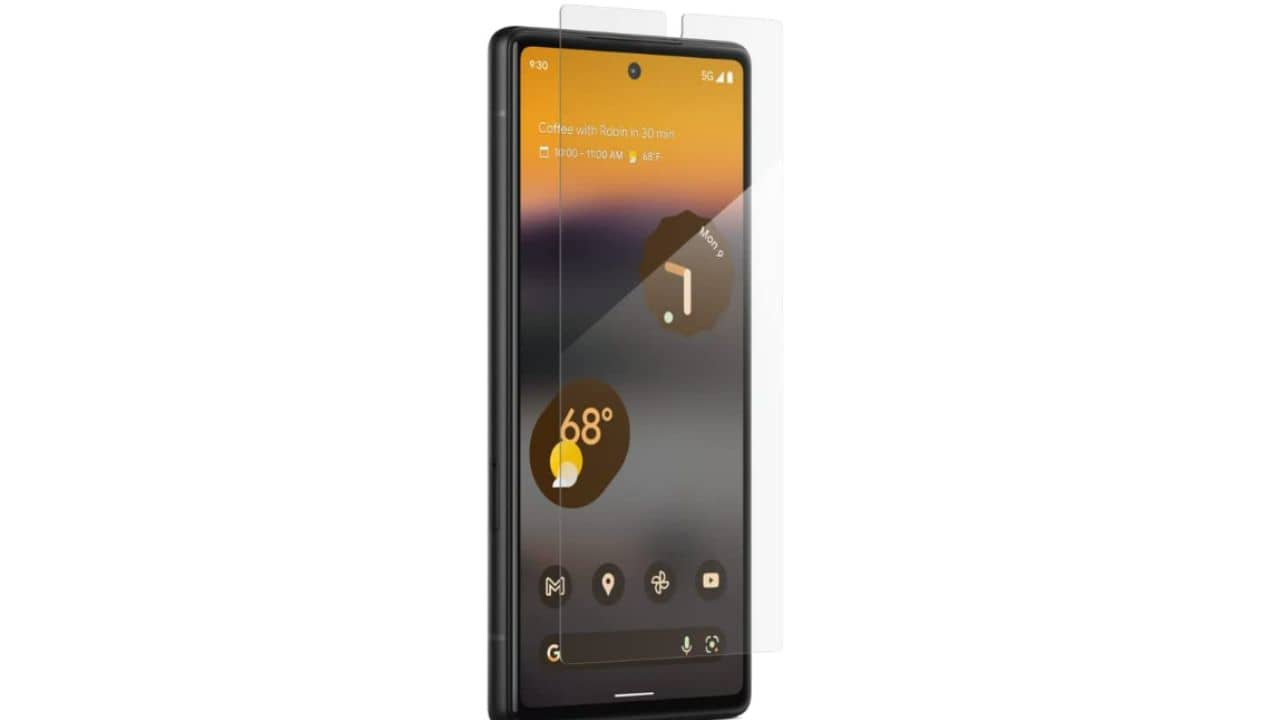 If you're looking for one of the most rigid Pixel 6a screen protectors on the market, go no further than Zagg's InvisibleShield Glass Elite. It claims to be 5 times tougher than other screen protectors and is made with aluminosilicate glass enhanced by ion exchange knowledge, resulting in superior compression that provides more energy and scratch resistance. It has also received an antimicrobial treatment. Zagg's proprietary ClearPrint therapy disperses oil from your fingerprints and keeps the protector looking new.
Reason to Buy:
Antimicrobial technology

Recommended by Google for seamless fingerprint sensor
Where it falls short:
Also read:  The Best Cases You Can Get For Your Google Pixel 6a 
5. amFilm 3pack Tempered Glass Screen Protector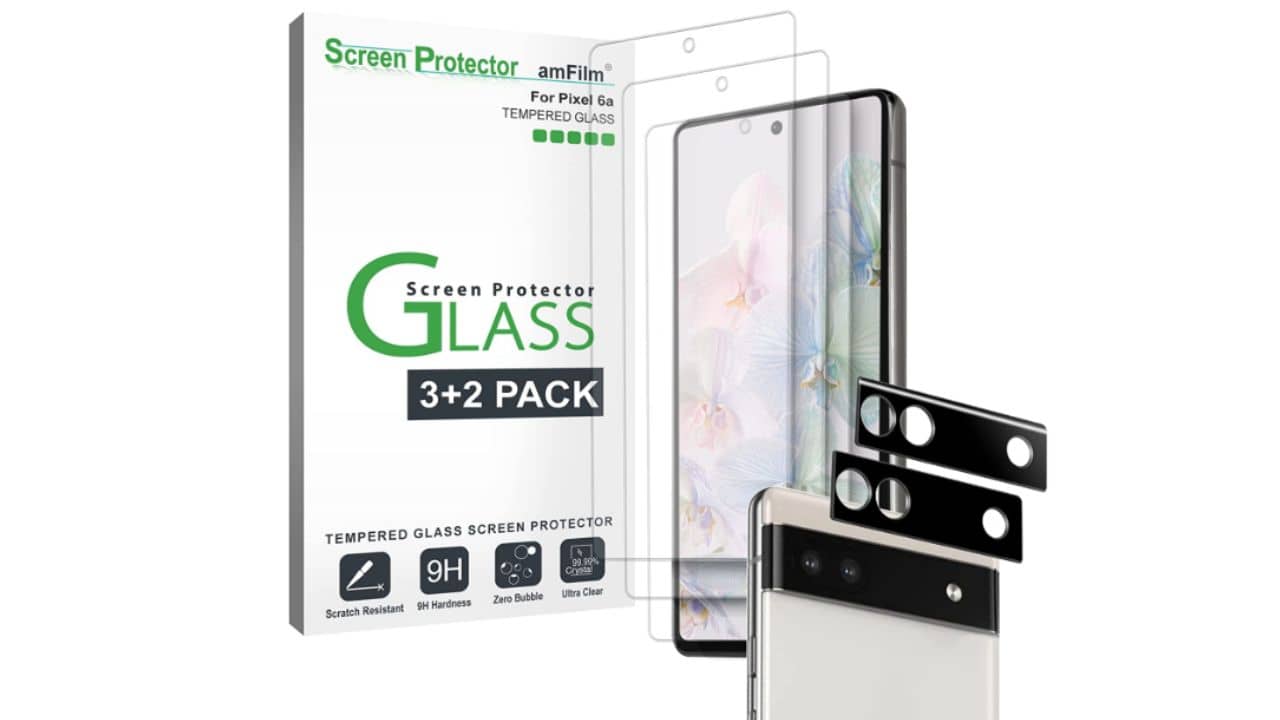 amFilm has released a tempered glass screen protector for Google Pixel 6a. You receive three screen protectors in the box, which you can share with a friend or family member or keep two as spare. Each protector is composed of 9H hardness tempered glass and is just 0.33mm thick. With 99.99 percent transparency, your screen looks and feels just as it did out of the box, so you won't even notice you're using a protector. These screen protectors are scratch-resistant and include an oleophobic coating that repels fingerprints. Wet wipes, dust cleaning stickers, a microfiber cloth, and installation instructions are all included in the box.
Reason to Buy:
0.33mm ultra-thin film

Comes with everything you need for installation

Includes screen and camera lens protectors 
Where it falls short:
Also read:  Best Cases for Pixel 6 Pro in 2022
6. JeTech Screen Protector for Pixel 6a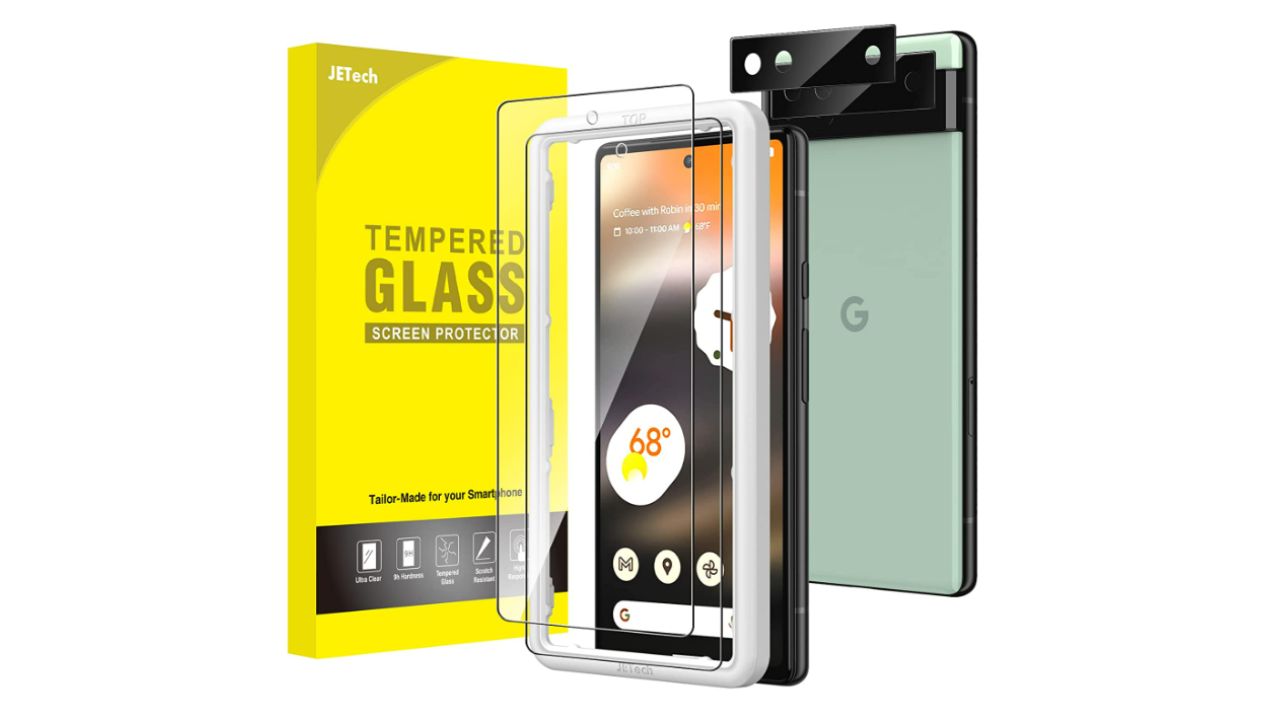 The JeTech Tempered Glass Screen Protector for Pixel 6a will cover your phone without burning a hole in your pocket. In this package, you get two screen protectors, along with a cleaning cloth, a sticker to remove any dust before installation, a guide sticker, and an instruction manual. The installation itself is super simple and won't cause any bubbles. What's more, the manufacturer claims this screen shield can resist scratches of up to 9H, which is equivalent to a cut from a knife. You can rest assured that your phone's screen will be generously protected by this hefty screen protector. The protector has an optimal thickness of 0.33mm, which gives your Pixel 6a's display a low response time and maximum transparency. The glossy surface finish makes it an excellent choice for phones as it does not compromise the touch experience.
Reasons to Buy:
Edge-to-edge coverage

Case friendly 

Easy installation kit

Pack of 2 screen protectors along with a camera protector
Where it falls short:
Some users complain about poor fingerprint recognition 
Also read: Not Amused by the Pixel 7? Here are the Top 14 Alternatives to Buy Right Now
7. LK 2+2 Pack Screen and Camera Protector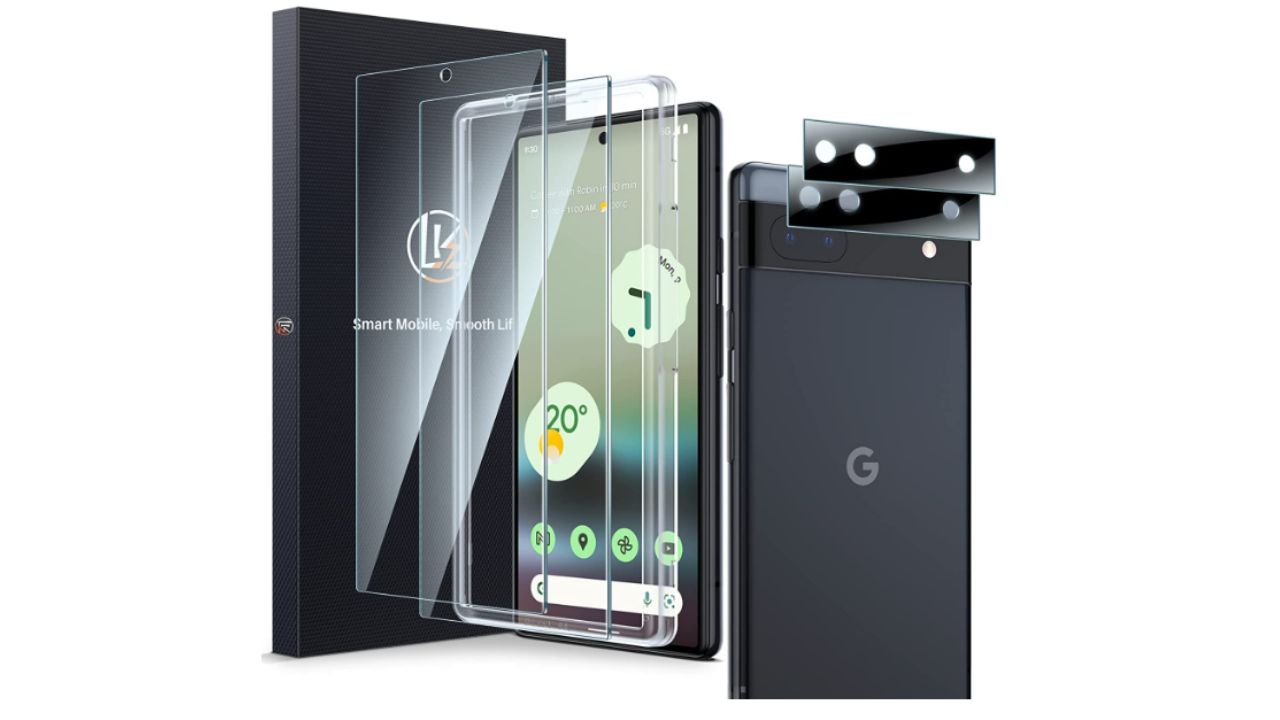 Maintaining the sweet spot between camera quality and screen protection. This screen protector for Pixel 6a is one of the easiest-to-apply screen protectors in this list and also comes with a camera protector. It features 9H hardness and a punch-hole cutout for the camera. This makes it one of the most value for money on our list as it comes with 2 camera protectors and 2 Lense protectors, both the price of one while maintaining quality.
Reasons to Buy:
2 screen and lens protector 

Value for money 
Where it falls short:
Installation is not beginner friendly
Also read: Should you Buy Pixel 7 or 7 Pro?
8. AACL Tempered Glass Screen Protector with Lens Protectors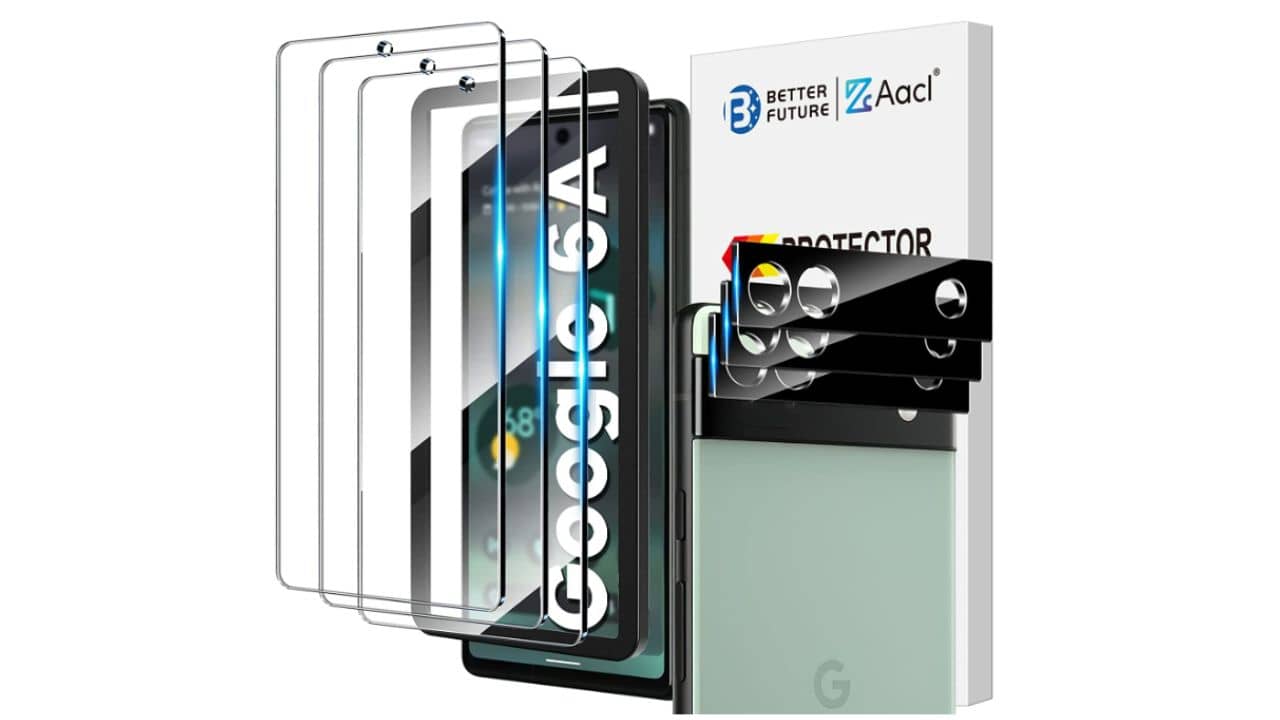 This AACL screen protector for Pixel 6a includes three tempered glass guards and three camera lens protectors. It includes an installation kit and frame for simple installation. The protector is composed of 9H hardness tempered glass for maximum protection. The set also includes three cleaning cloths and three dust removers.
Reason to Buy:
Pack of 3 screen protectors and 3 camera lens protectors

Easy to install and fits perfectly
Where it falls short:
Not as sturdy as other options on the list
Also read:  How to fix common Google Pixel 6 and Pixel 6 Pro problems 
These were our recommendations for the best screen protectors for Google Pixel 6a. Let us know in the comments which one you will buy.