With the release of iOS 16 this year, Apple is taking steps toward making its devices more user-friendly. Apple has already released the iOS 16 beta version for general users and developers and the public version is likely to be launched with iPhone 14 which is expected to arrive in September. In a recently shared video, the Cupertino-based tech giant is talking about how users can replace CAPTCHAs with Private Access Tokens.
CAPTCHA codes are crucial for online user safety to eliminate robots. However, in times of emergency and panic users run out of patience to tap on traffic lights, cars, or mangled text to prove they are human. Keeping that in mind, iOS 16 has introduced a feature that will let users bypass CAPTCHA in selected websites and applications.
According to MacRumours, Apple will be introducing a new technology called Automatic Verification in its iOS 16, iPadOS 16, and macOS Ventura. This feature will let the websites and apps know that the user is human without solving a CAPTCHA. In general terms, it allows websites to keep CAPTCHA spams and data phishing websites at bay.
How to bypass the CAPTCHA with Automatic Verification on iOS 16?
Step 1: On your respective device that supports iOS 16  go to Settings.
Step 2: Select the Apple ID button.
Step 3: Go to Password and Security
Step 4: Finally, enable the Automatic Verification toggle. Reboot your device once so that all the changes can be executed.
After you complete all the steps, iOS 16 will automatically start bypassing CAPTCHA on selected websites. Users can check the web browser to check if the feature is working after the settings are modified.
Also read: Best SSDs for M2 Macbook Air 
How Automatic Verification Works
Apple explained the feature of Automatic Verification explaining how its new operating systems work by replacing standard CAPTCHA with "Private Access Tokens".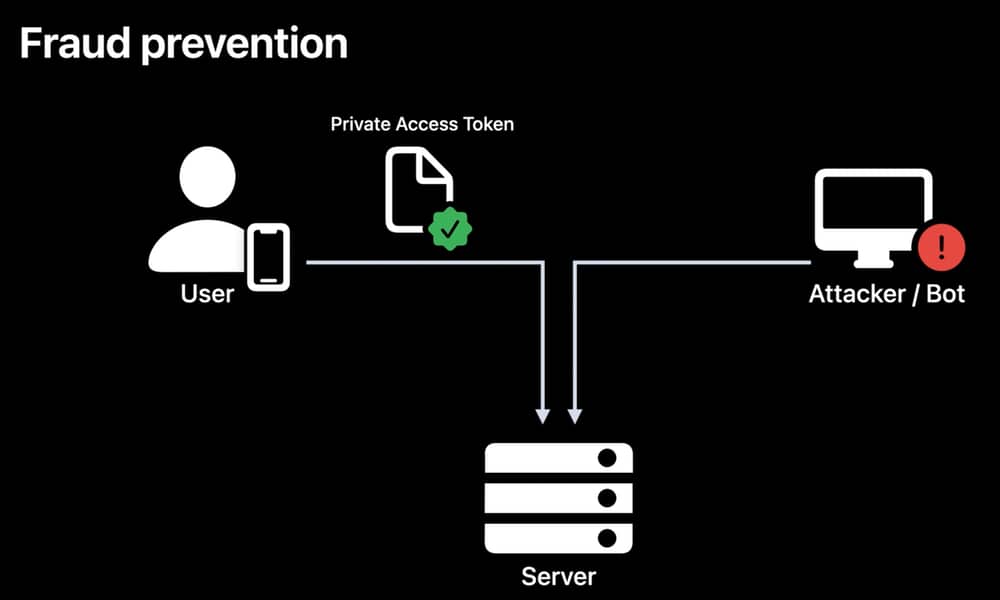 Image Credit: Apple
Other factors like rate-limiting will help verify that the device is used by humans. The iPhone bot networks work as quickly as possible to eliminate bot attacks and provide user information quickly.
Also read: Best Screen Protectors for iPhone 13 MIni
While the feature is for users to make things more convenient for all of us who are tired of dealing with CAPTCHAs, there are other benefits to Automatic Verification. The strong focus is on improving accessibility by avoiding CAPTCHAs as the entire web becomes more attainable.
Another benefit is that CAPTCHA often comes with a lot of tracking and fingerprinting clients by using their IP addresses. With Automatic Verification, the Private Access Tokens don't reveal your IP addresses or other information. So, there is no need to store your IP or set cookies in your browser to bypass CAPTCHA
The Automatic Verification is a part of the broader Internet Engineering Task Force (IETF) called Privacy Pass. The report adds that Cloudflare and Fastly- are the two prominent Content Delivery networks (CDN providers) that have announced support for this feature. This means that many websites will be able to use these Bypass CAPTCHAs for
iOS users.
What are your thoughts about this feature? Let us know in the comments!
Also read: Galaxy S22 Ultra vs iPhone 13 Pro Max. The Greats Fight!