Online dating has boomed more than ever, but it can be tricky, even with the best dating apps available at your fingertips. We have witnessed some horror stories where Tinder matches have gone wrong, therefore a safe online dating app is the need of the hour. And, is especially important for those who already had bad experiences in the past. 
Fortunately, Tinder has improved its safety features with the latest Incognito Mode which has grabbed the eyeballs of the online dating community. Besides, the online dating giant introduced a handful of safety features that aims to create Tinder a safe place for everyone looking for a partner. 
Now that you have landed here we are assuming that you want to know how to enable Incognito mode on Tinder, right? Well, we have covered that for you here, so don't worry. But, before we move to that, let's talk about Tinder Incognito mode, what is it, why is it important, and a few other things related to the safety feature.
What is Tinder Incognito mode and how to enable it?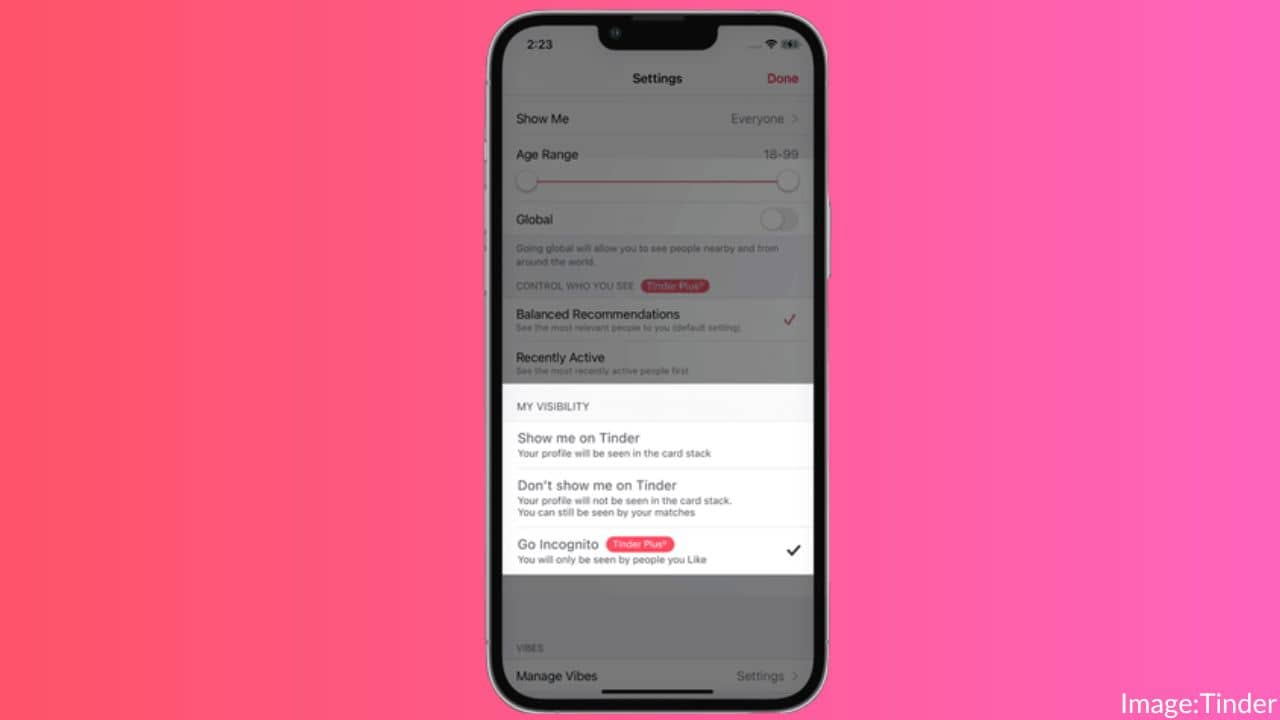 Tinder needs no introduction, it is the most popular online dating app with over 100 million active users as reported in 2022. The company has introduced an all-new Incognito mode in its recent update which is intended to increase users' safety online. When enabled, Incognito mode on Tinder allows you to browse profiles without being visible to anyone else's recommendation feed unless you express interest in them. Meaning, if you like them or swipe them right, they can see you, else they won't even see your profile in their recommendations feed.  
Also read: How to Add and Delete Instagram Notes on Android and iOS (Step-by-step Guide)
How to enable Incognito mode on Tinder on iPhone & Android?
Wondering how to use Tinder Incognito mode? Well, for that you've to be a subscriber of any of these Tinder premium plans – Tinder Plus, Gold, or Platinum. If you've already subscribed to any of these plans, you can follow the steps given below to enable Incognito mode on Tinder. Remember, the following steps to turn on Tinder Incognito mode apply to both Android and iOS users. 
First,

Open the Tinder app

on your device

Next,

tap on the profile icon

Then,

tap on Settings from menu

Now,

scroll down and tap on Go Incognito

Lastly,

you need to confirm that you want to turn on Tinder Incognito mode by tapping on Yes

.
That's it! The Incognito mode for your Tinder profile is enabled. Now, you can browse and find your dating partner safely. 
Also read: Best End-to-End Encrypted Android Messaging Apps to Download in 2023
What happens when you use Incognito mode on Tinder?
If you turn on Incognito mode on Tinder, your profile will be visible to only those users whom you've liked or swiped right. Meaning,
your profile will not be visible in other users' recommendation feeds if you enable Incognito mode on Tinder. While it is a vital step taken by online dating firms to increase their users' safety, you should know that it comes with a cost. At present, subscribers of Tinder Plus, Gold, or Platinum can use or enable the Incognito mode for their Tinder profile. The biggest benefit of this feature is it allows you to choose who can see your profile and who doesn't. Also, it personalizes the Tinder experience and makes it more enjoyable.
Also read: 4 Ways to Remove Google Search Bar on Android Devices
What is the price/cost of using Tinder Incognito mode?
Is Tinder Incognito mode free to use? Not really. The Incognito mode is a security feature introduced by Tinder recently and doesn't have a price of its own. Rather, it is a feature bundled with premium Tinder plans such as Tinder Plus, Gold, or Platinum. Therefore, if you are willing to use Incognito mode on Tinder, first of all, you'll have to subscribe to any of the premium plans. 
Here's a comparison chart of prices for all three premium plans on Tinder:
| | | | |
| --- | --- | --- | --- |
| Premium Plans | 1-month subscription | 6-month subscription | 12-month subscription |
| Tinder Plus | $7.99 | $4.00 | $2.67 |
| Tinder Gold | $24.99 | $12.50 | $8.33 |
| Tinder Platinum | $29.99 | $15.00 | $10.00 |
Source: Tinder 
Note: Above pricing applies to users in the US only)     
Also read: Tired of duplicate photos on your iPhone? Here are 5 ways to delete them quickly                                     
Why Tinder Incognito Mode is so important?
Incognito mode is a giant leap toward the safety of users looking for a dating partner online. Like IRL dating, online dating can be a scary place, especially when you don't know who is viewing your profile. That's where enabling Tinder Incognito mode comes in handy, it allows you to choose who will view your profile by swiping right on them. Undoubtedly, it has made Tinder a more secure place for finding the love of your life.
Can you use Incognito mode without a Tinder subscription?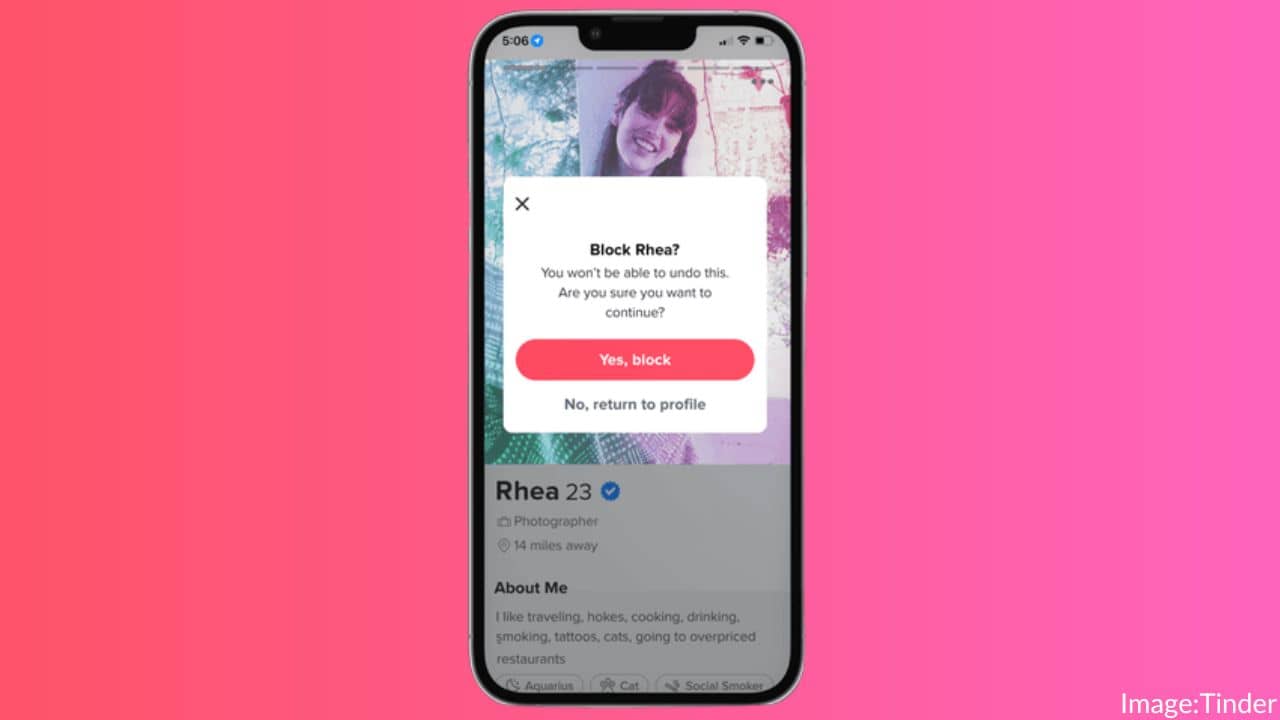 If you don't want to pay for a Tinder subscription to use the Incognito mode, don't worry. Tinder is rolling out similar features soon, and will be available for everyone. The upcoming Tinder feature allows you to block profiles that show up in your feed. Well, that's quite handy to avoid your Ex or Co-worker, or even your Boss (pun intended) on the popular dating platform. In another word, the Blocking feature gives you the option to choose whom you want to see on Tinder. So, next time your Ex pops up in your feed, you can block them and they won't show up again on your recommendations.
Also read: 4 Ways on How to Delete Multiple Messages on an iPhone
That's all for now in this guide where we explained how to enable Incognito mode on Tinder. If you are worried about privacy on the popular messaging platform, don't forget to check out our dedicated guide on how to hide WhatsApp Status from selected contacts in Android. 
If you want to download Tinder, please click on the following links: