Tinder has come up with new ways to prohibit catfishing or an awkward situation when you show up for a date, and the other person looks nothing like their profile photos. Tinder rolled out new safety features last week, including a blue checkmark on the user's profile, a way to flag offensive messages, and collaboration with the safety app Noonlight.
Let's see what exactly do these features mean, how you can access them, and how useful they can turn out to be. 
Tinder's Photo Verification
The photo verification system of Tinder requires users to take a selfie in real-time, matching the pose shown by a model in the sample image. Subsequently, the photos are sent to Tinder's Community Team, and they check if the real-time posed selfie matches the photos on their profile. Upon authentication, the users will receive a blue checkmark on their profile. 
For now, Tinder is making use of a human-assisted AI review for the verification process, but the ultimate goal is to offload the process to software.
But, a few things are unclear for now, like when will the verification badge expire, how often the users will have to redo the verification, and if the system can sustain haircuts, aging, and weight changes.
Tinder's photo verification feature is gradually rolling out in smaller areas like Ireland and Taiwan.
Tinder's Offensive messages Detection
Tinder is slowly rolling out a feature in select areas that detects offensive messages; ask the user if it bothers them. Upon approval, the sender of that message can be reported. Subsequently, Tinder provides an undo option, so that the user can un-send the potentially offensive messages. 
This addition to Tinder is quite similar to the feature launched by Instagram in 2017,  that detects offensive comments. However, Instagram also provides you the authority to hide the comments.
Tinder's partnership with a safety app Noonlight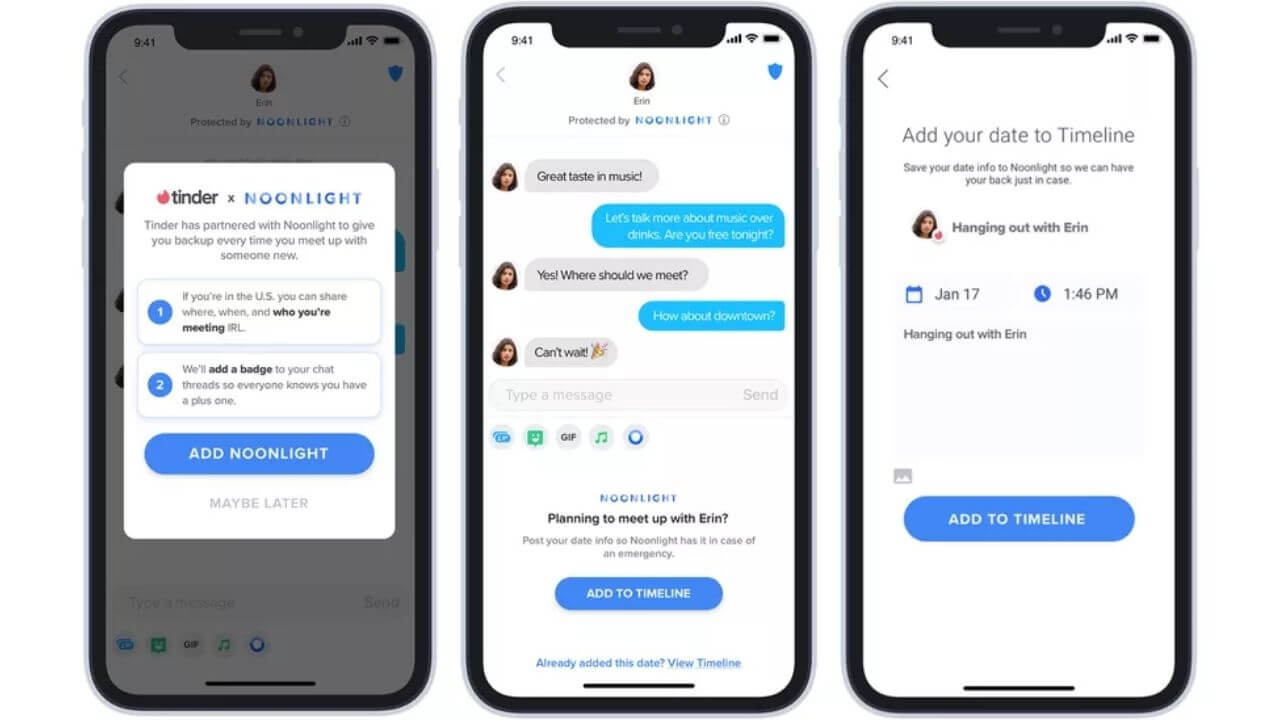 Tinder also announced its partnership with a safety app Noonlight, to offer US-based users free access to the app. In addition to this, a safety center is provided, which contains resources and tools about online dating. Also, it includes advice on topics like how to stay safe and handle harassment. Noonlight syncs with various apps to provide on-call emergency service assistance as follows:
Users can enter information about when and where they're meeting someone. 

If there's an emergency during the date, you can hold down a button to call for emergency services. 

Noonlight app will first ask for a PIN to cancel the request.

Then it will send you a text followed by a call. 

In case of no response, emergency services will be called. 
This feature is similar to the Uber emergency calling feature, introduced back in 2018. 
Tinder has picked up on other apps initiative to keep its users safe and is doing the same. The addition of these safety features will offer users a sense of satisfaction that they have a way to escape a dangerous situation if needed.