Going back to September 2020, AMD released its Ryzen 3000 C-series for Chromebook, a lineup of budget-priced chips based on the 12nm Picasso (Ryzen+) architecture that featured up to 4 cores and 8 threads and up to 11 Radeon Vega GPU compute units.
After roughly two years, AMD has finally unwrapped the much-awaited upgrade, the Ryzen 5000 C-series for Chromebooks. AMD's new lineup consists of four new Ryzen 5000 C-series ranging from 8 Cores & 16Threads to 2 Cores & 4 Threads, all with a 15 W TDP. All these processors are designed to improve upon the productivity and battery life that Ryzen 3000 C-series has to offer. AMD is aiming at the premium area of the Chromebook market with the Ryzen 5000 C-series and looks to offer OEMs and users premium options for the latest Chromebooks. Some high-end features also include fast charging and Wi-Fi 6E networking capability.
Don't miss: Wi-Fi 7 Routers to offer 33 Gbps speeds!
AMD Ryzen 5000 C-series processor specifications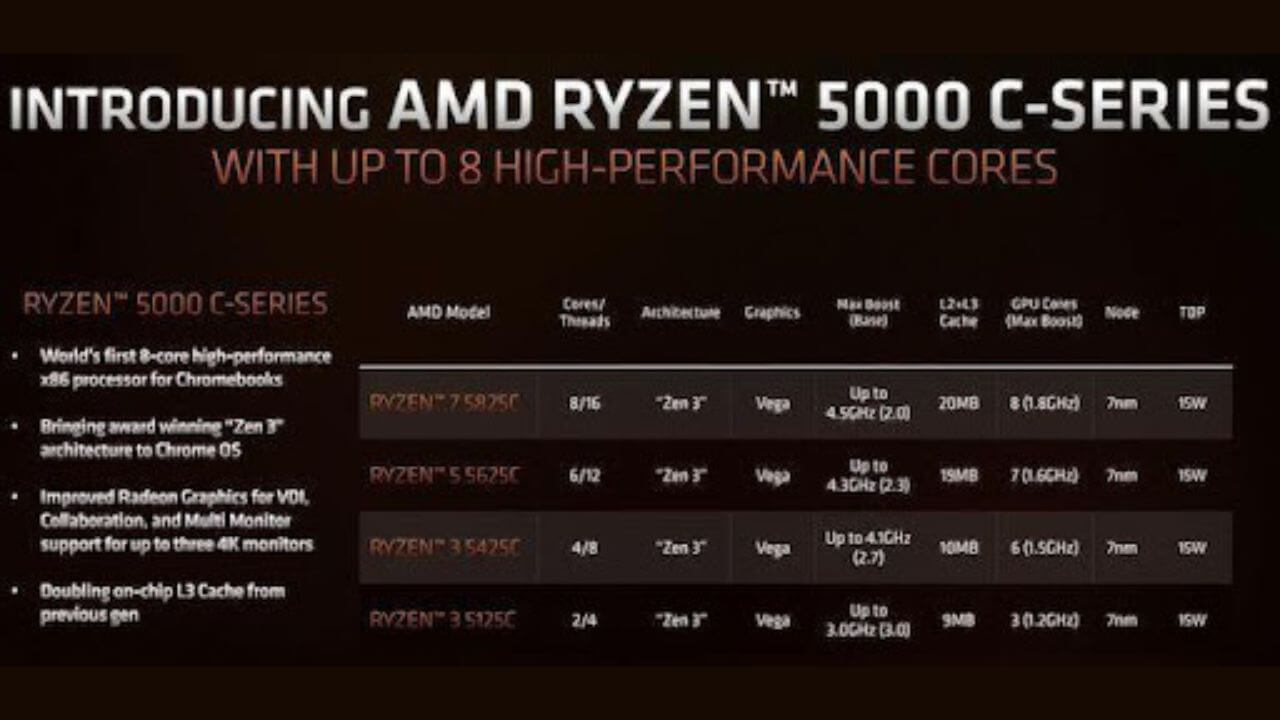 Ryzen 7 5825C
Looking at the specifications above, the top model from the Ryzen 5000 C-series is the Ryzen 7 5825C with an impressive 8 cores and 16 threads. It is double that of the previous top-tier Chromebook Ryzen processor (Ryzen 7 3700C). The Ryzen 7 5825C has a base frequency of 2GHz, while the core clock speed of up to 4.5GHz (Max Boost) on a single core.
Also read: Best Chromebooks for Zoom Video Calls in 2022
Ryzen 5 5625C
The second model in the new line-up is the Ryzen 5 5625C. It has 6 cores, 12 threads, and integrated Radeon Vega 7 graphics with a maximum boost frequency of up to 1.6 GHz. The 6 cores feature a base frequency of 2.3 GHz, while one of these cores can boost up to 4.3 GHz for applications that demand additional performance.
Also read: Best Smart Home Device Upgrades You Need in 2022
Ryzen 3 5425C & Ryzen 3 5125C
These high-end processors are followed by two-entry level models Ryzen 3 5425C and Ryzen 3 5125C. The Ryzen 5425C comes with 4 cores, and 8 threads with a base frequency of 2.7GHz, while the boost frequency on one core can go up to 4.1GHz. As far as Ryzen 3 5125C is concerned, it is the lowest in the C-series tier with just 2 cores and 4 threads with a consistent core clock speed of up to 3GHz.  Let's not forget that all the Ryzen 5000 C-series models feature a 15W TDP, meaning they are way more efficient than the Team Blue chips in this segment. 
Also read: Sony QD-OLED TV Prices announced
AMD claims crazy battery life on Chromebooks running on Ryzen 5000C-series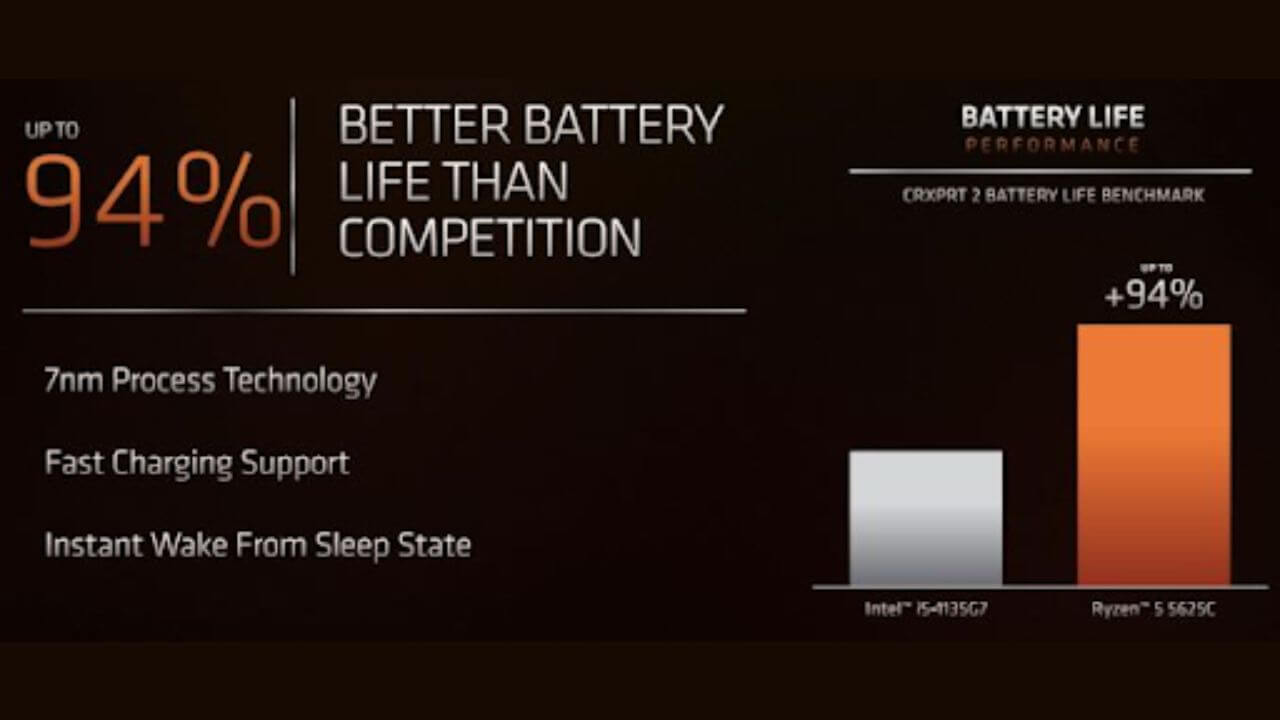 Amongst everything else, the most interesting claim made by AMD is about the battery life. It claims that the Ryzen 5 5625C
has improved battery life by 94% when directly compared to Intel's Core i5-1135G7 processor, which is seriously crazy, if true.  
HP and Acer onboard with AMD for its Ryzen 5000 C-series for Chromebooks
As of now, AMD has announced that HP and Acer will be the first two partners who are already on board with its Ryzen 5000 C-series for Chromebooks. Both brands are launching new models later this year, however, AMD has highlighted these two specifically:
1. HP Elite C645 G2 Chromebook
The first of the new Chromebooks to feature AMD's Ryzen 7 5825C processor is the HP Elite C645 G2.
2. Acer Chromebook Spin 514
The second Chromebook to sport the new Ryzen 5000 C-series is the Acer Chromebook Spin 514, which will use the AMD Ryzen 7 5825C processor. 
Also read: Microsoft Windows' new email client, One Outlook leaked before announcement