Introduction
The Sigma 35mm f1.4 ART lens DG HSM lens is a standard wide-angle lens, designed for full-frame Sony E-mount mirrorless cameras to take full advantage of the incredibly fast continuous autofocus (AF-C).
The ART line-up for Sony Alpha cameras was announced at Photokina 2018 and went on sale during the Q4 of 2018. Sigma claimed that the native mount lenses have faster and more efficient data transmissions via the contacts for mirrorless cameras so the lenses should focus faster than the DSLR lenses when used with Sigma or any other 3rd party adapters like Metabones.
I'll be covering the following parameters for the review of the Sigma 35mm f1.4 ART lens for Sony Mirrorless Cameras:
Review Parameters:
1. Build Quality & Design
On the Outside
The lens is very well built. From the fine polishing of the metal body to the brass bayonet mounts, attention to detail was paid to the smallest of things.  The lens has a rugged brass bayonet mount which aids in enhanced construction and durability of the mount.
On the other end of the lens, there's a 67mm thread and the front lens element with super multi-coating. Then there's the rubber ring. It is a wide rubber ring as compared to other 35mm lenses out there but it helps in better focusing. On the downside, it is a dust magnet! That doesn't affect the ring movements but for aesthetic purposes and clean gear shots, you should keep it clean. And if you're shooting in the wild you'll need to clean it regularly.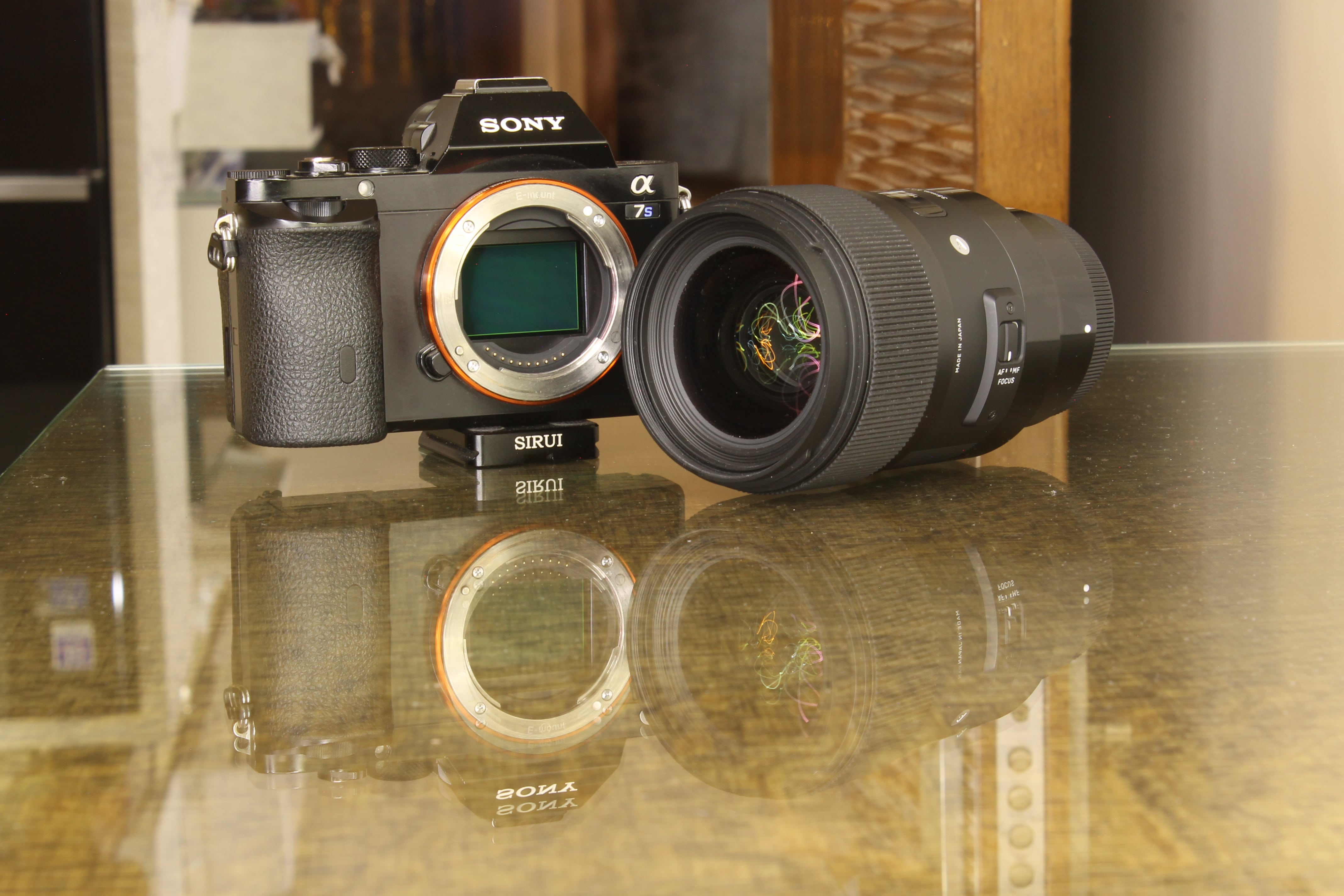 Since this is a full frame ART lens for Sony Mirrorless cameras, the Sony cameras have a feature called APS-C mode. This mode allows you to use your full frame 35mm sensor in crop mode. In simpler terms, you can use APS-C lenses as well. Of course, this comes at a cost of resolution. The Sony A7S which shoots 12MP photos in full frame, when switched to APS-C mode, you get 5MP stills. So, you get 2 different focal lengths if used on a full frame Sony Mirrorless camera, in this case, 35mm at full frame and 52.5mm at crop mode. This also gives you a Nifty-Fifty experience as well.
Moving on, the lens body both on the outside and on the inside is made out of TSC material, i.e Thermally Stable Composite material. This means you can use your lens in wide temperature variations ranging from icy Arctic trips to the deserts of Sahara and the lens won't disappoint you at all. I did test the autofocus performance in 40-degree Celcius and the lens worked fine.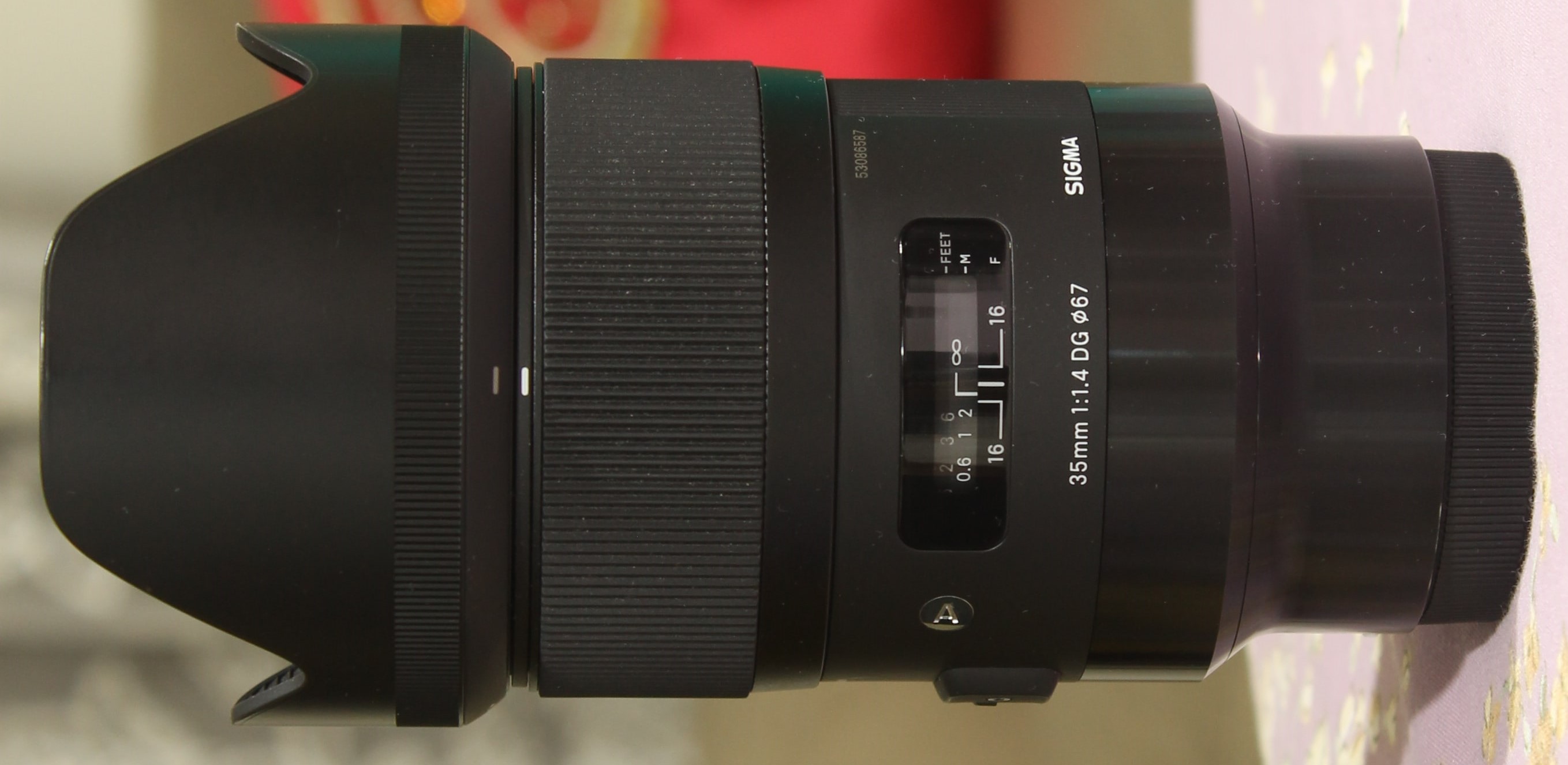 On the Inside
The 35mm f1.4 ART lens features what Sigma calls HSM i.e. Hyper Sonic Motor which helps in quiet and quick focusing. It's a plus point especially for Sony Alpha mirrorless cameras because it's complemented by the Eye AF feature. HSM also permits full-time manual focus control simply by rotating the focus ring at any time. So, fine-tuning your focus won't involve switching back and forth to manual and autofocus mode.
It has 13 lens elements in 11 groups. A combination of one F Low Dispersion (FLD) element and four Special Low Dispersion (SLD) elements helps in reducing the chromatic aberration while shooting.
The lens also has Super Multi Coating, not only on the front element but also on the inside lens elements. It gives more contrast and helps in reducing flares and ghosting (Image)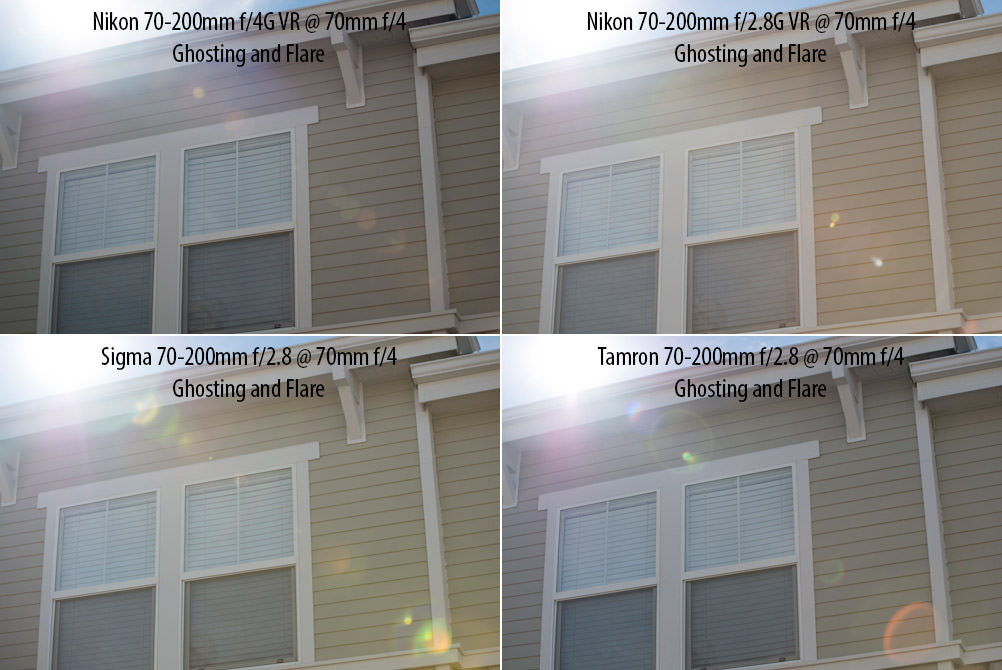 The total number of these ghosts varies by how many elements there are within each lens. Sigma really did an amazing job with the reduction of unwanted flares in this ART lens.
2. Ease of Use
I tested this lens on the Sony A7S and the Sony A7RIII for a little while. The lens is 12cm long but it feels a bit heavy on the front, even for a standard-wide focal length of 35mm.
During my review, I mostly shot handheld so, the lens felt pretty heavy even when I paired the battery grip to the Sony A7S. So, make sure to consider this if you're looking for a lighter piece of glass.
This lens weighs 665 grams and that combination is very close to the weight of the DSLR version of the lens paired with the Sigma MC11 adapter. But considering how you can get 2 different focal lengths out of one lens, I'd say it worth the weight.
3. AutoFocus Performance 
As I said, it was tested mostly on the Sony A7S and the A7RIII for a little while. The autofocus on both the cameras was fast, quirky and for the most part quiet. Before this, the only way to use ART lenses on mirrorless Sony cameras was to use 3rd party adapters. The most famous options were the Sigma MC11 and Metabones series.
Despite the fact that these adapters got faster with each software update but they still couldn't take full advantage of the continuous autofocus and eye autofocus features.
Now that the ART lenses sport a native Sony E mount, the Eye AF and continuous autofocus performance do not disappoint. I tested the autofocus performance (both stills & videos only) on different f-stops. Here are some results:
I also shot a YouTube video using the same lens. Have a look at the AF performance:
Even in bad lighting or low lighting conditions, the lens didn't have to do much focus hunting, thanks to the f1.4 and hypersonic motors.
4. Sharpness
Usually, faster lenses suffer from a lack of sharpness when they go wider than f2. But the Sigma 35mm really outperformed other lenses in terms of sharpness even at f1.4! I compared the 7Artisans 55mm f1.1 at f1.4 with the Sigma 35mm and the Sigma easily shot the 7Artisans out of the frame with sharper images and videos.
5. Bokeh
Being an ART lens, the images are supposed to be good, right? No. They're better. The 9 rounded blades speak for themselves in the photos and videos. Moreover, the focal length 35mm is both wide and narrow enough to produce visuals which are both sharp and sport beautiful bokeh.
6. Chromatic Aberration
Chromatic aberration, also known as "color fringing" or "purple fringing", is a common optical problem that occurs when a lens fails to focus all colors to the same point.
During my review, it was found mostly between f1.4-2.8. It can be found in images with latter f-stops but it's not a deal breaker at all.
7. Vignetting
It is a reduction of an image's brightness or saturation toward the periphery compared to the image center. It is most commonly found in fast lenses i.e. with f-stop 2.8 or less.
In the Sigma 35mm f1.4, only a minimal amount of vignetting can be found when shooting between f1.4-2.8.

8. Minimum Focus Distance
The minimum focusing distance of the Sigma 35mm f1.4 is 30cm/11.8inches which is quite close to a macro lens. The maximum magnification ratio is 1:5.2. The magnification ratio is the relationship between the size of an object on film to the size of the object in real life. In order to be called a macro lens, a lens needs to have a maximum magnification ratio of 1:1 or 1x. Here's a sample image:

9. Standard Features Summary
Here's a list of other specifications that might come in handy for you:
| | |
| --- | --- |
| Particulars | Value |
| Focal Length | 35mm |
| Maximum Aperture | f/1.4 |
| Minimum Aperture | f/16 |
| Lens Mount | Sony E Mount |
| Compatibility | Full Frame |
| Angle of View | 63.4 Degrees |
| Magnification | 0.19x |
| Minimum Focus Distance | 11.81″ / 30cm |
| Optical Design | 13 Elements in 11 Groups |
| Diaphragm Blades | 9 Rounded |
| Focus Type | Autofocus |
| Image Stabilization | None |
| Filter Size | 67mm (Front) |
| Dimensions | 3.03 x 3.70″ / 77 x 94 mm |
| Weight | 1.5lb / 665gm / 77 x 94 mm |
10. What's in the box
Sigma 35mm ART Lens
Front Lens cap
Real Cap
Carrying Case
Lens Hood

11. Competition Landscape
Now, this is a very interesting part. I've talked to a lot of DOPs (Director of Photography), & photographers and when asked: "What's your favorite focal length to shoot on?"  Most of them answered 35mm because "it's not too wide and too zoomed in". So, I've compiled a little list of my favorite (and why they're my favorite) 35mm full frame lenses which compete with the Sigma 35mm f1.4 ART for full frame Sony mirrorless cameras.

Zeiss Sony Distagon T* FE 35mm f/1.4 ZA
About: Better than Sigma 35mm f1.4 ART in focusing, sharpness and chromatic aberration.
Learn more: Amazon (US), Amazon (India), B&H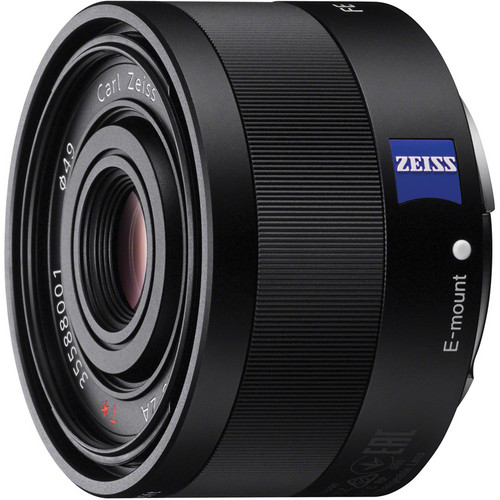 Zeiss Sony Sonnar T* FE 35mm f/2.8 ZA Lens
About: This lens has exceptional quality at 1/3rd the size of it's bigger brother the Distagon T* 35mm f1.4. It's quite similar to the Samyang 35mm f2.8 AF FE.
Learn more: Amazon (US), Amazon (India), B&H

Samyang AF 35mm f/2.8 FE Lens
About: This is my personal favorite as I use it for most of my shoots and carry this along whenever I take my camera out in the city. It's a small and lightweight lens which gives decent autofocus performance and satisfactory images & videos.
Learn more: Amazon (US), Amazon (India), B&H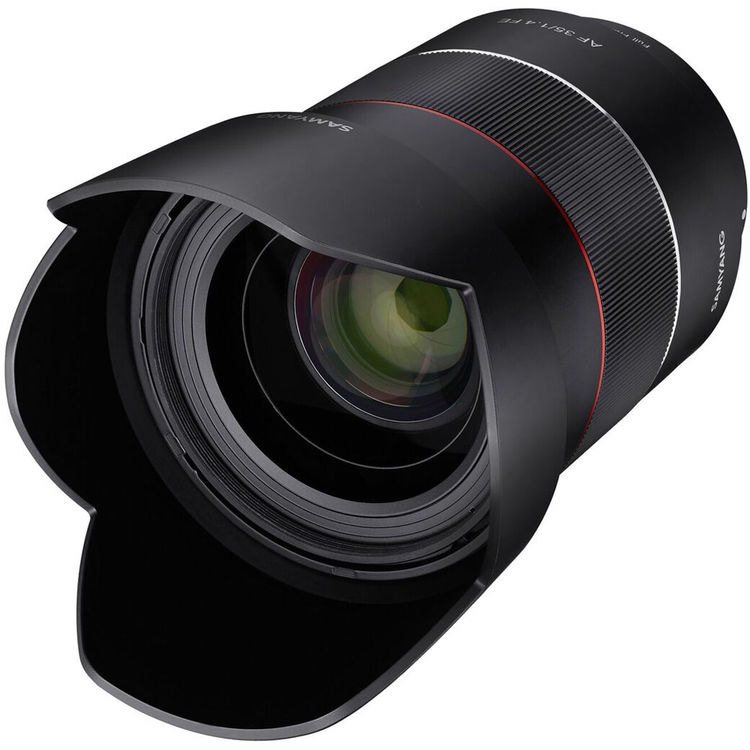 Samyang AF 35mm f/1.4 FE Lens for Sony E
About: The specs are quite similar to the Sigma 35mm f1.4 ART like instead of an HSM, it features what Samyang calls Linear SuperSonic motor for better autofocusing. Yes, you do get similar specs as that of Sigma but you don't get the build quality of ART lenses with this lens for sure.
Learn more: Amazon (US), Amazon (India), B&H
Conclusion
To cut the chase, I'd say the Sigma 35mm f1.4 ART lens is for creators who are looking for a good and reliable lens that wouldn't cost them another camera like the Zeiss lenses and can survive in different climate conditions while delivering sharp and bokehlicious images and videos at the same time.
Pricing: Amazon (US), Amazon(India), B&H