Before we proceed with anything, let's answer some of the most important questions regarding the Galaxy S20 series' Android 12 (One UI 4.0) update. 
FAQs – Galaxy S20 Series & Android 12 
Will Galaxy S20 get Android 12 (One UI 4.0) update?
Yes, the Galaxy S20 series smartphones will receive Android 12 (One UI 4.0) update. Samsung has promised 3 generations of Android operating system software updates and upto 5 years of security updates. Please note that both security and software updates are very different things. Android OS software update means Android 11 (One UI 3.0), Android 12 (One UI 4.0) and these updates are released once a year followed by many smaller updates for bug fixes & patches. On the other hand, security updates are released quarterly or monthly depending upon the device and network providers.
Which Galaxy S20 devices will get the Android 12 update (One UI 4.0)?
Here's a list of compatible/eligible Galaxy S20 devices which will receive the One UI 4.0 (Android 12) update:
Galaxy S20,

Galaxy S20 5G,

Galaxy S20+,

Galaxy S20+ 5G,

Galax S20 FE 5G
Please note this list includes both the Snapdragon and Exynos powered variants. 
What is the Galaxy S20 Android 12 update release date?
Based on the past trends, speculations & leaks the Android 12 (One UI 4.0) beta should be released in Q4 of 2021 and the final stable release should be out there in Q1 of 2022. This is just a ballpark date and the final date is subject to change. Please read our Galaxy S20 Android 12 update tracker at the end of this article to get the latest update. 
Confirmed Android 12 features for Galaxy S20 (One UI 4.0)
One UI is one of the best Android skins out there. It is smooth and runs very well and offers plenty of features for productivity and content creation. Samsung has been ahead in the Android camp for pushing One UI software patches and fixing bugs with regular software updates. With the Android 12 developer preview and betas out there, we can confirm there's a substantial improvement in privacy, user experience and performance areas in One UI 4.0 / Android 12.
Here's a list of features that have been confirmed in the first beta of Android 12. Some of these features are already present in Galaxy S20 devices running One UI 3.0 (Android 11).
Scrolling screenshots

On-device search

Privacy indicator APIs in WindowInsets

Camera and microphone toggles configurable for enterprises

New permission for CDM-paired apps starting foreground services

Better, faster auto-rotate

Game Mode
---
Here's a list of confirmed Android 12 features that were present in the Beta 2:
Privacy Dashboard

New power menu

Addition of microphone and camera indicators that show users if an app is using those.

Clipboard read notification

It shows users when an app is reading from a clipboard.

New Quick Setting toggles to disable app access.

New Internet Panel

Makes it easier to switch between internet providers, Wi-Fi networks, etc.
A lot of the above mentioned features are focused around privacy and better user accessibility. 
---
Here's a list of speculated Android 12 (One UI 4.0) features for Galaxy S20 series smartphones:
Ad-free user interface

(confirmed)

 

User-friendly notifications

A more advanced power menu

Fingerprint unlock animations

Astrophotography in stock Camera app

Vertical scrolling App drawer

Exceptional Recents menu
There have been some leaked videos and images of users running One UI 4.0 on Galaxy S series devices but all of them have been either taken down or removed. For the latest update regarding One UI 4.0 on Galaxy S20, please refer to the tracker below. 
Samsung Galaxy S20 Android 12 Update (One UI 4.0) timeline/tracker
Google Android 12: Schedule 
Here's a look at the release date and official schedule of Android 12 shared by Google.

Google released the first developer preview of Android 12 on February 18, 2021.

The second Android 12 Developer Preview was released on March 17.

At Google I/O 2021 on May 18, Google started the public Android 12 beta program. The beta is now available to all Pixels starting with the Pixel 3 series, and it is also making its way to over a dozen third-party devices from 11 manufacturers, excluding Samsung. The Android 12 Beta 2 launched on June 09, 2021. The Android 12 Beta 3 launched on July 14, 2021. Google released Android 12 Beta 4 on August 11, 2021.
Also read: Galaxy S20 Review in 2021
Android 12 (One UI 4.0) Release Date for Galaxy S20/S20+ and S20 Ultra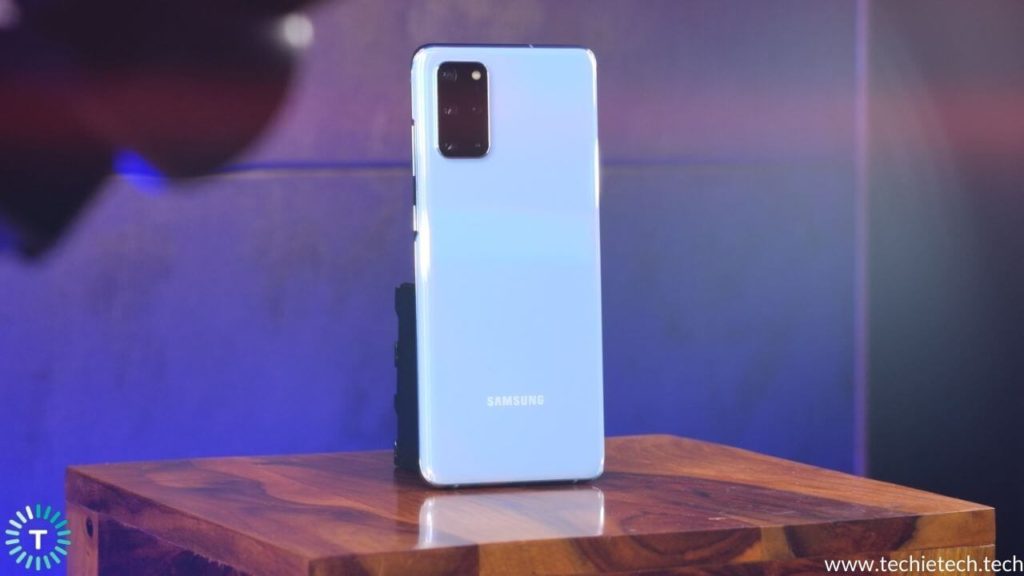 At the Google I/O event, we got to know Google's full schedule of the Android 12 update with a lot of new features. Several OEMs also announced their respective dates for beta release of Android 12. As usual, Samsung did not jump on board and planned to release One UI 4.0 after their own beta testing.
Samsung is expected to announce the One UI 4.0 release this September/October. Of course these dates are subject to change. You can bookmark this article as we will be updating this as soon as there's any new news about the Android 12 or One UI 4.0 update for Galaxy S20, S20+ and S20 Ultra.  
Update 1: 28 July 2021
One UI 4 Beta,coming soon!https://t.co/o9APXTxFNV pic.twitter.com/V0wK6ceICL

— Ice universe (@UniverseIce) July 28, 2021
Samsung has invited Galaxy S21, S21+ and S21 Ultra owners to participate in beta testing of Android 12 (One UI 4.0). As of July 2021, it is limited to South Korean users only. Please note, both unlocked and carrier locked smartphone users can participate. It is clear that the Galaxy S21 series will get the Android 12 update first but based on the past trends the Galaxy S20 could get user beta and stable release in a few months after S21 series' stable update rollout. 
Update 2: 28 July 2021
Based on several rumours & leaks, Samsung's One UI 4.0 will incorporate many aesthetic & performance upgrades over the One UI 3.0. It will include the following changes:
New Color scheme,

Android 12 Material You UI design, 

New icons,

New Notes app (support for S-Pen),

Updates to Samsung Knox (Samsung's security framework), and

Better power and performance optimization for Snapdragon and Exynos SoCs
Update 3: 16 August 2021
SoundAssistant might be coming to DeX in One UI 4.0 (Android 12). SoundAssistant is an app which gives you a lot more control over the audio settings on your Galaxy smartphone. Samsung DeX allows users to expand their device into a desktop-like experience by connecting a monitor, mouse, keyboard or even a gaming controller. SoundAssistant will be quite useful when you're using your Galaxy S20 in DeX mode with a good speaker setup.
Update 4: 18 August 2021
Samsung's Mobile Chief has announced they will be removing ads from the stock apps. This news was confirmed in an internal meeting. The list of apps including Galaxy Themes, Samsung Pay and the Weather app. This change will be implemented via an update later this year. Based on past trends, it could align with the stable release of the Android 12 of the Galaxy S21, Galaxy Fold 3, Flip 3 and S20 series. 
Update  5: 29 August 2021
According to sources, Samsung has started testing internal testing of OneUI 4.0. This is the first version of Android 12 (One UI 4.0) which will be tested by Samsung's employees. We can only assume that the initial testing will be conducted for the Galaxy S21 series. 
This is laying the groundwork for a year end Android 12 release for Galaxy S21 and possibly the Galaxy S20 series.
Update 6 : 31 August 2021
One UI 3.1.1. launched with the next-gen foldables event at Galaxy Unpacked. The update mostly focuses around features meant for foldable smartphones. But it is being rolled out to other flagships as well. Afterall, Samsung promised 3 years of software support. 
Although, it is difficult for users to find out whether they have One UI 3.1 or 3.1.1. But this update was confirmed by South Korean giant's official community manager; the software updates pushed in the last week of August are based around One UI 3.1.1.
The Galaxy S20 series received this update with firmware version G98xBXXU9DUH2 and with a 623MB file size.
Here's a list of new reported features in OneUI 3.1.1 for Galaxy S20/S20+/S20 FE & S20 Ultra:
Bedtime Mode quick setting toggle,

Faster fingerprint reader,

Faster camera, faster pop-up menus,

Improved heat management, and

Faster app opening speed,

Slight improvements to some stock apps (Clock, Contacts, Samsung Internet, Weather)
This article will be updated regularly.
Check latest price of
Galaxy S20:
Amazon (US): https://amzn.to/3izMXTO
Amazon (UK): https://amzn.to/3pcseIs
Amazon (India): https://amzn.to/3643iem
Galaxy S20 Plus:
Amazon (US): https://amzn.to/2FVxIW6
Amazon (UK): https://amzn.to/3k680hX
Amazon (India): https://amzn.to/2G1gfvg
Galaxy S20 Ultra:
Amazon(US): https://amzn.to/38Zpx5x
Amazon (UK): https://amzn.to/3rnNkV9
Amazon (India): https://amzn.to/2OnQypY