A good gaming mouse is the most important component to utilize the true power of your gaming setup. If you have the best games, you need the best peripherals too, as they make a huge difference in digital life and death. A gaming mouse isn't just aesthetically different from a regular mouse, it's designed to be more accurate and more responsive, and the buttons are better positioned for gaming keybinds. The best gaming mice offer faster response time, which never sets you back from shooting your rivals first in the favorite shooters like Call of Duty and Fortnite.
A gaming mouse offers a more comfortable grip and has many extra programmable buttons. Therefore, a user doesn't need to memorize the keyboard shortcuts, everything's within an easy reach when you have the best mouse for gaming. They come in all sizes and shapes. Some gaming mice are small and sleek, allowing the user to skate a mousepad at super-high speed. On the other hand, some gaming mice are large, with some extra bells and whistles to let the user customize a perfect fit & weight for their hands. Also, there are some mice designed especially for the lefties.
If you're looking for a premium, a budget-friendly gaming mouse, or everything in between, this article is sure to help you pick your favorite. There are several contenders available in the market right now for the best gaming mice with side buttons in 2021. We've tossed several options and came up with our roundup of the best FPS, the best budget, the lightweight, and even the best wireless gaming mouse.  
Razer Viper Ultimate (Best Wireless Gaming Mouse)
DPI: 20,000
Buttons: 8
Weight: 74 gms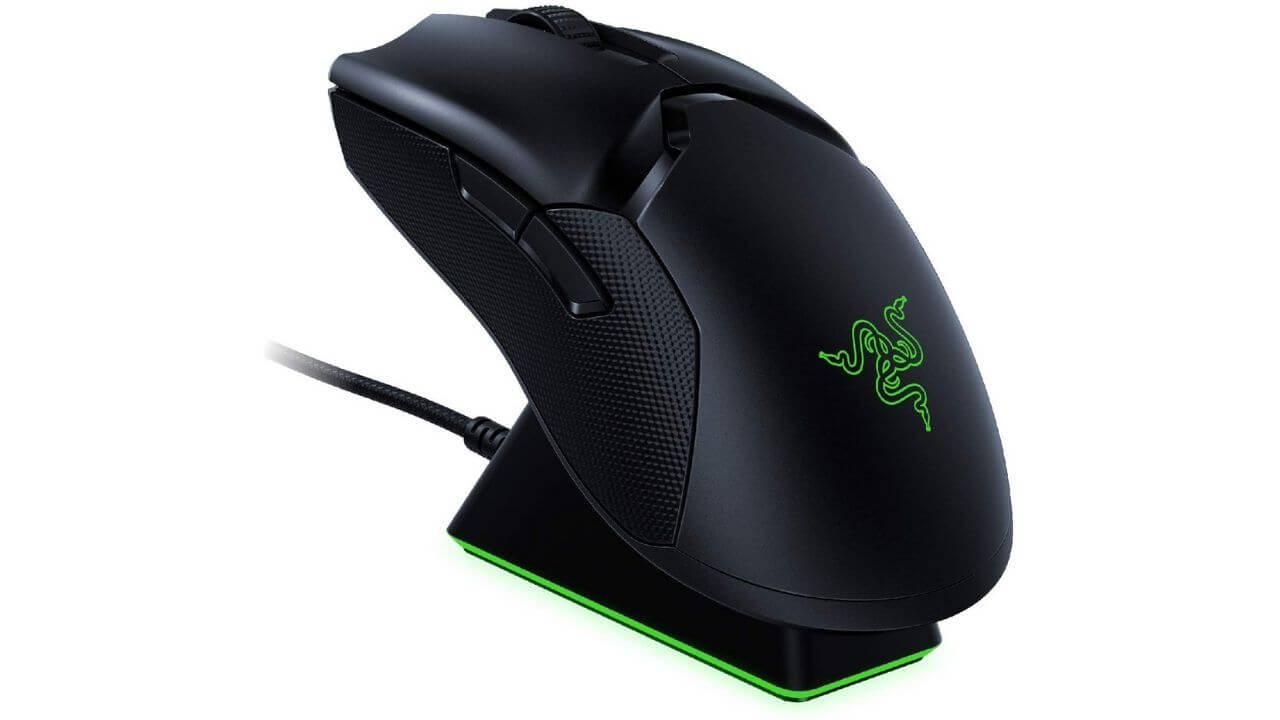 If you're looking for the best wireless gaming mouse that offers you the top-of-the-line DPI, look no further than Razer Viper Ultimate. With the sky-high 20,000 DPI of the optical sensor, Razer Viper Ultimate reserves the top spot in our list of the best gaming mice in 2021. 
It offers you 8 programmable buttons, which can be reconfigured for the complex macro functions through Razer Synapse 3.
Razer Viper Ultimate features an ambidextrous design, which is comfortable for both right and left-handers, with easily accessible buttons on the side. 
This wireless gaming mouse offers you a battery life of 70 hours, which is sufficient enough to support long gaming sessions.
Viper Ultimate includes a customizable chroma RGB charging dock that can fast-charge the mouse and offer up to 5 hrs of wireless playtime, with just a 10-minute charge.
For anyone who's looking for the best lightweight gaming mouse that offers you super-fast response time, low-latency, and the ultimate wireless freedom, it's worth checking out this mouse.
If you're tight on budget, you can check the wired version for this mouse. Razer Viper wired mouse features 16,000 DPI optical sensor, chroma RGB lightning, and 8 programmable buttons.
2. Logitech G602 Wireless Mouse (Best MMO Gaming Mouse)
DPI: 2500
Buttons: 11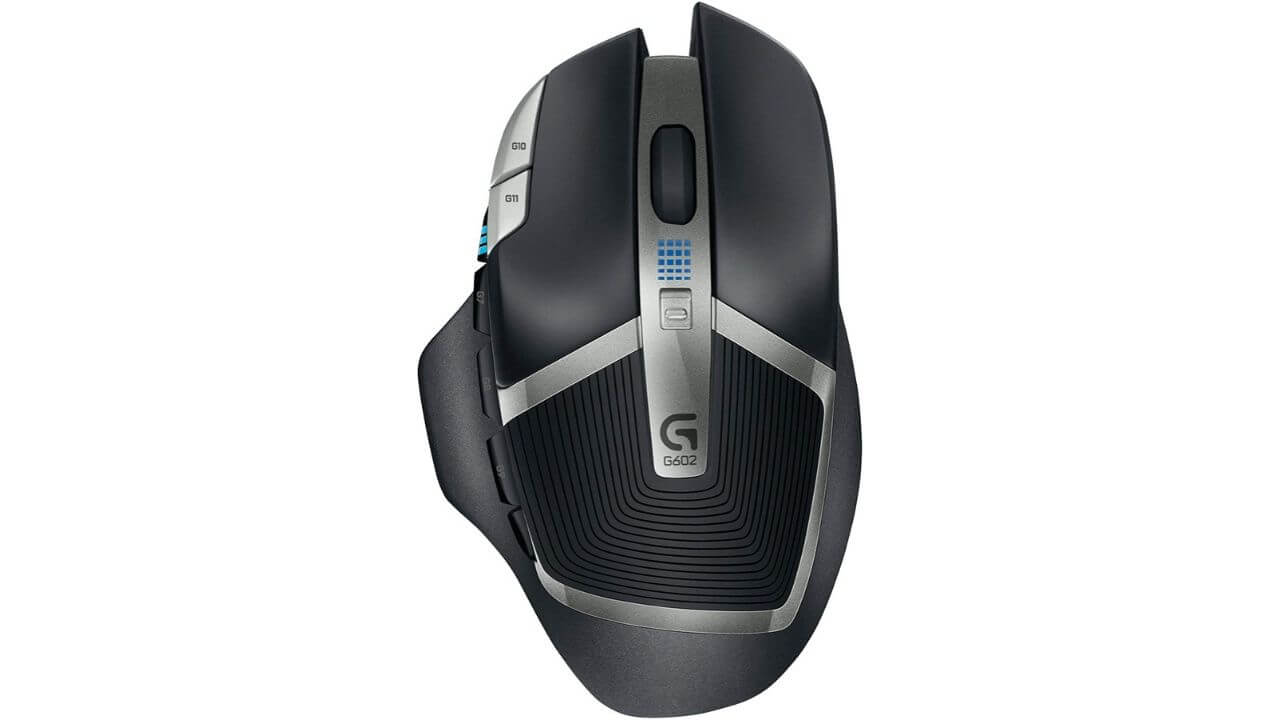 Logitech G602 is one of the best MMO gaming mouse, which features a sleek design and a host of extra, programmable keys. 
Logitech G602 is crafted specifically for the right-hand users, with a comfortable thumb rest on the left side.
The mouse offers 11 buttons- three on the top, two rows of three buttons each on the left edge, and two additional keys for mouse sensitivity are housed next to the left-click button.
Once the mouse is operational, the user can download Logitech Gaming Software to assign functions to the buttons and adjust sensitivity levels. 
Logitech G602 deploys Delta Zero sensor technology, which offers high accuracy to help you unleash your gaming potential.
This wireless gaming mouse is powered by two AA batteries and offers an amazing battery life of up to 250 hours. The mouse can even run on a single battery, in case you want to shed some weight.
There's a newer version of this wireless gaming mouse- Logitech G604. It offers 15 buttons, including 6 thumb buttons that can be programmed fully via G Hub Software. The mouse also features a Hero 16K sensor for more accurate tracking and is powered by a single AA battery to give 240 hours of gaming.
3. Roccat Kone Aimo
DPI: 16,000
Buttons: 23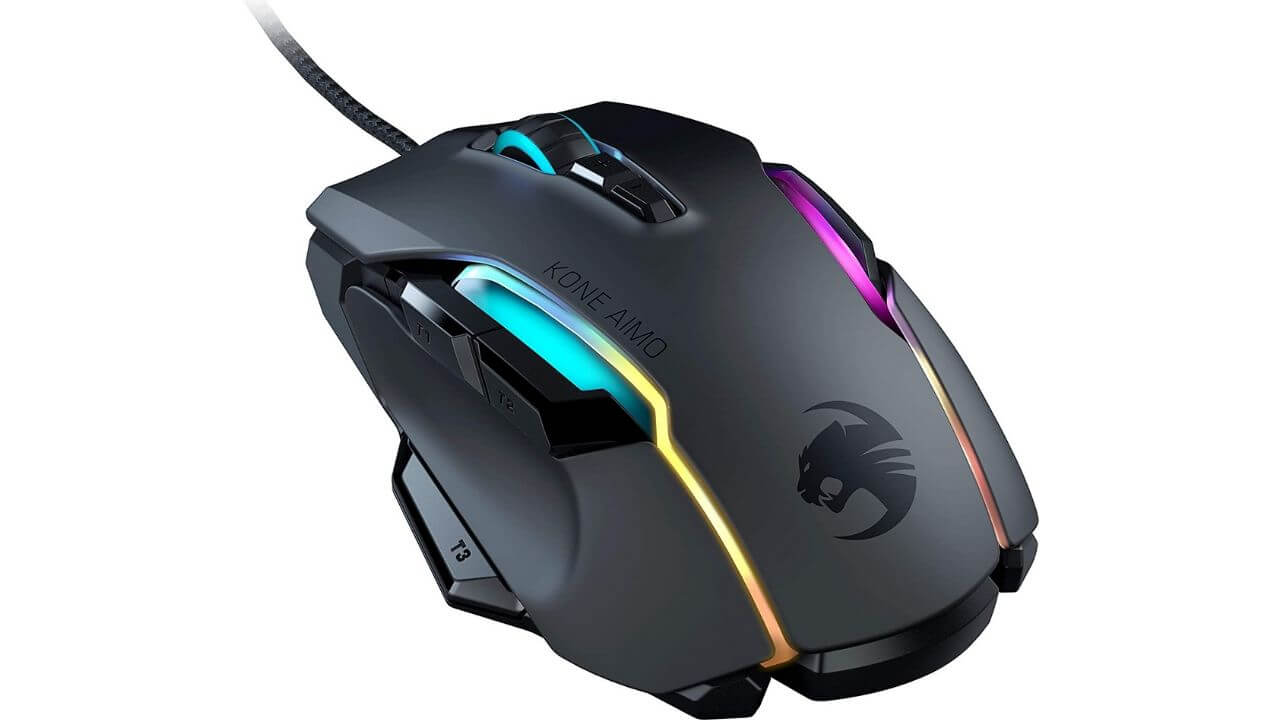 The latest Roccat Kone AIMO gaming mouse is an absolute beast in every aspect. The mouse features RGB Aimo Illumination and a 16,000 DPI Roccat Owl-eye optical sensor, which offers sharp accuracy and tracking capabilities. 
Kone AIMO features five independent configurable lighting zones, which offer next-level customization of your gaming aesthetic.   
The mouse has a stylish, durable, and grippy body to provide the gamers a firm hold in furious gaming sessions.
The Easy-Shift technology doubles up the button functionality, by providing each of its 12 buttons a second function.
4. CORSAIR Sabre (Best Budget FPS Gaming Mouse)
DPI: 10,000
Buttons: 8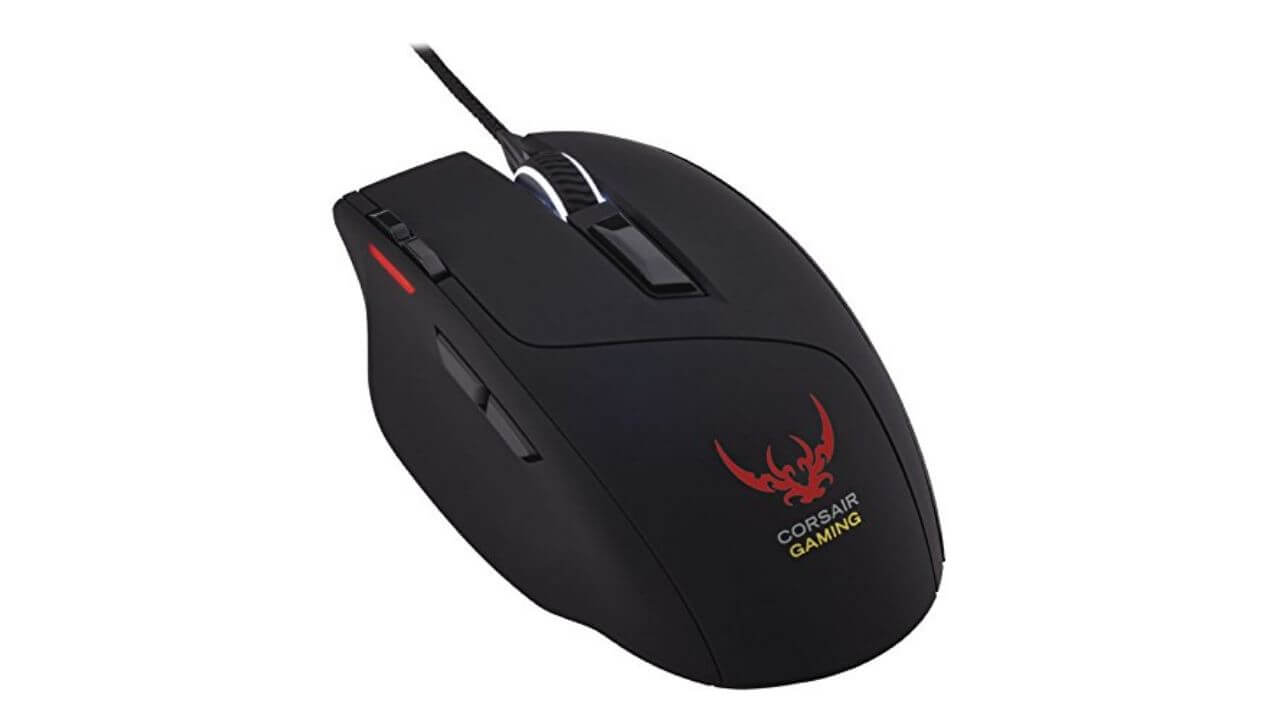 If you're looking for an affordable FPS gaming mouse, CORSAIR Sabre is worth checking out. It features a decent 10,000 DPI, a lightweight design and RGB lighting to attract gamers. In short, this mouse offers complete value for money.
A user can customize the programmable buttons and RGB lighting through CUE (CORSAIR Utility Engine)
This gaming mouse offers a super-comfortable grip and an accurate sensor, which is bound to offer its users a nice gaming experience.
It doesn't offer any weight tuning system, but keeping in mind the price point and the default weight of the mouse, weight tuning doesn't really matter.  
5. Logitech G502 Hero (Best Versatile Gaming Mouse)
DPI: 16,000
Buttons: 11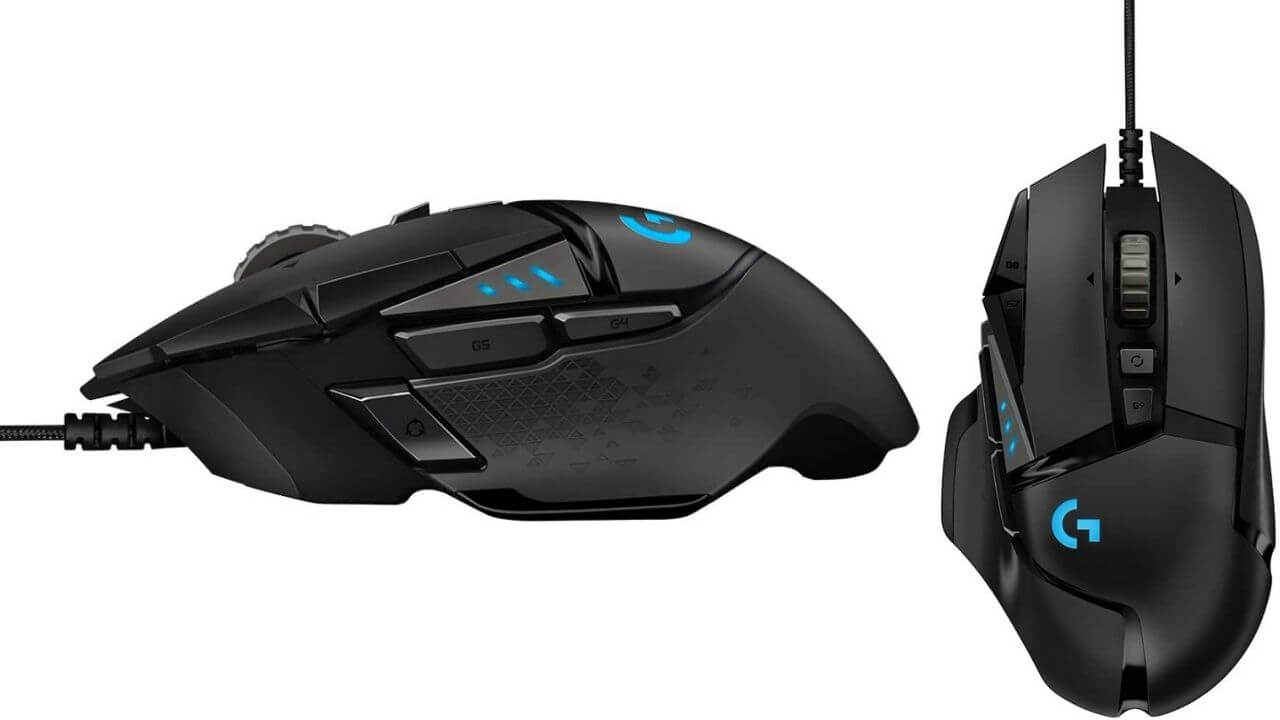 Here comes another gaming mouse from Logitech on our list. For anyone who's looking for the best versatile gaming mouse, look no further than Logitech G502 Hero. 
This mouse features a futuristic angular design, which is super-comfortable to hold for long gaming sessions.
The user can fully customize the 11 programmable buttons, RGB lighting, and save up to five custom profiles for each game with the Logitech G Hub software. 
The mouse weight and balance can be adjusted, thanks to a number of easy-to-install tunable weights.
Logitech G502 Hero has an ergonomic and customizable design, which makes it one of the most versatile gaming mice that's available in the market today.
Also read: Best HDMI Cables for Gaming on PC, PS4, & Xbox in 2021[Buying Guide]
6. CORSAIR M65 Pro and Elite ( Best FPS Gaming Mouse)
DPI: Pro- 12,000, Elite- 18,000
Buttons: 8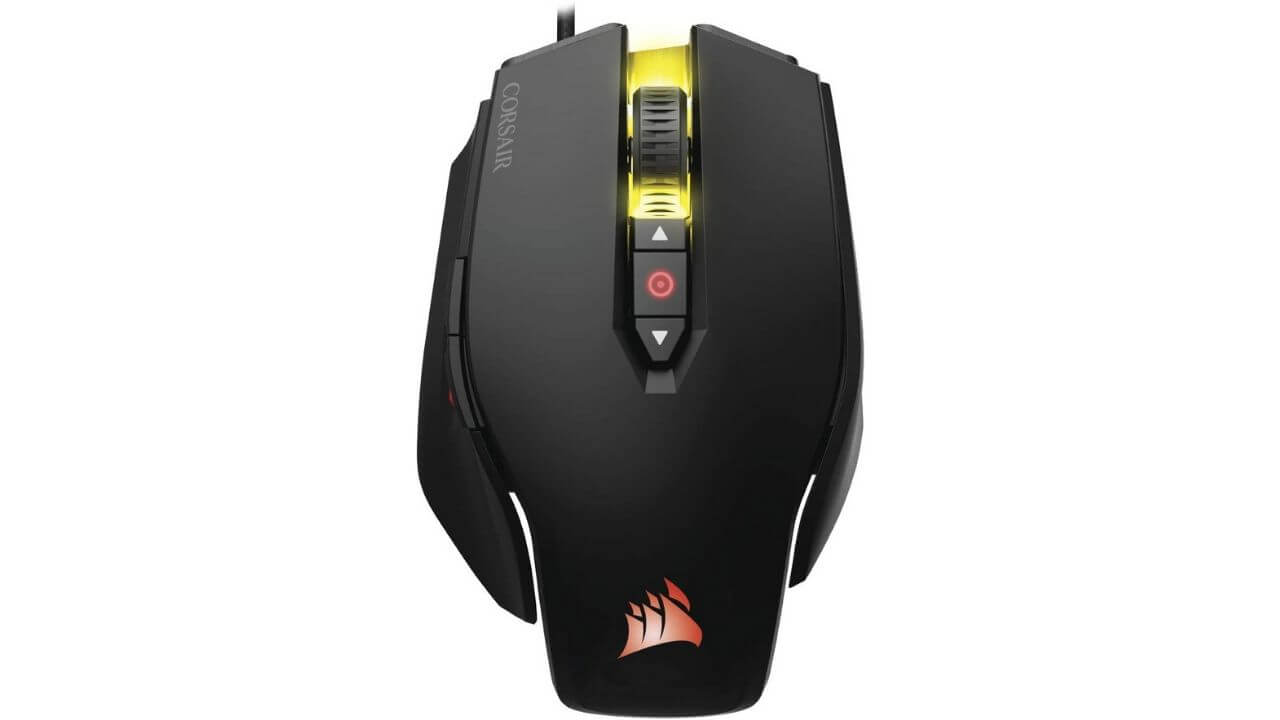 CORSAIR M65 Pro and Elite are known to be the best FPS gaming mouse that you can own. They are definitely made for the gamers who're inclined towards saving money while getting a lot in return. All in all, these gaming mice won't disappoint the gamers, regardless of the genre they want to play.
These mice feature a premium aluminum structure, which offers optimal mass distribution and makes them lightweight as well as durable.
The CORSAIR M65 Pro offers 12,000 DPI, 8 programmable buttons, and RGB lighting that can be customized through Corsair's customization software. 
The newer version, Elite, on the other hand, offers an even higher DPI of 18,000.
Both the variants offer a handy weight tuning system, therefore, a user can simply put some weights away to make the mouse lighter. 
The sniper button is placed ergonomically to reduce the sensitivity of crucial shots, which is sure to attract all the gamers.
7. Razer Naga Trinity ( Best MOBA and MMO Gaming Mouse)
DPI: 16,000
Buttons: 19, 14, or 9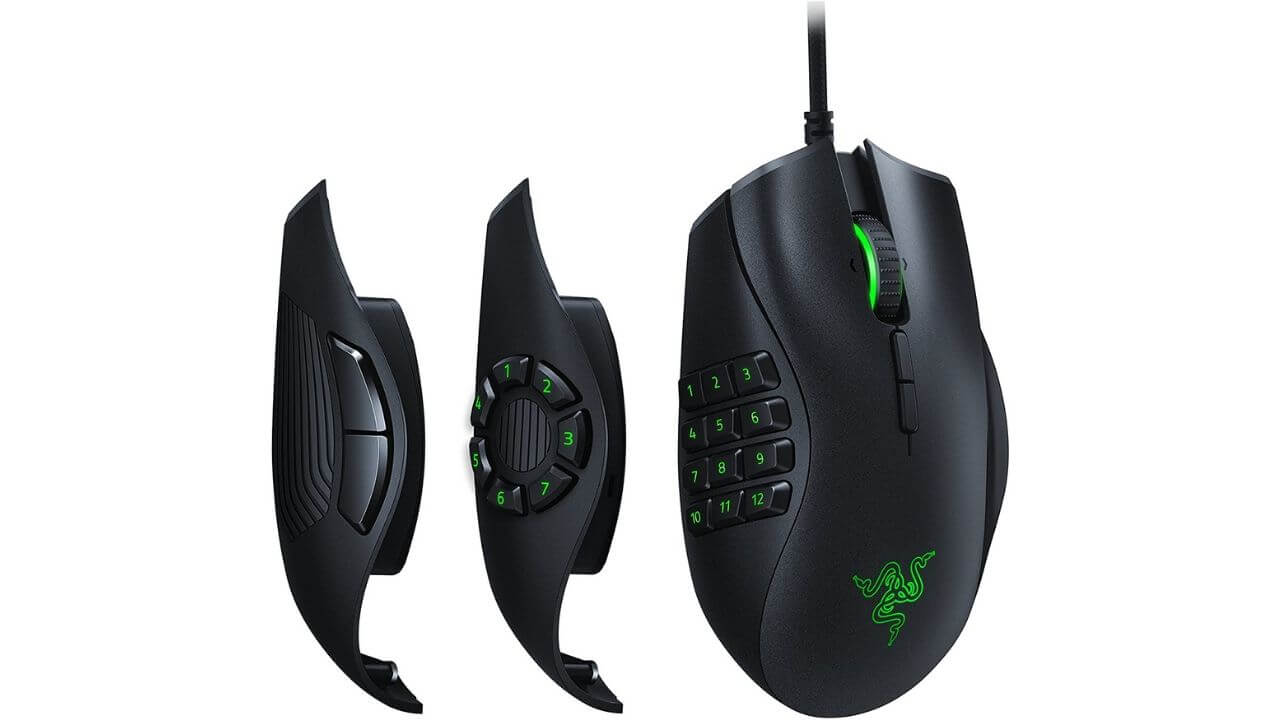 Razer Naga Trinity is one of the best gaming mice for MOBAs and MMOs, featuring a high-precision 16,000 DPI optical sensor and durable mechanical switches. 
In addition to a high-resolution optical sensor, Razer Naga Trinity is equipped with impressive 19 thumb buttons.
The mouse offers three interchangeable thumb grips, with button arrays ideal for MOBA and MMO gameplay.
The MOBA array is considered to be the best, which offers 7 buttons in a circle around the thumb.
The complex macro functions can be activated by the thumb alone, and the mouse has many in-game configuration utilities for many popular MMOs. 
It's a must-have gaming mouse for the players who love participating in competitive modes, where precision, accuracy, agility, and a number of different functions are required. 
8. SteelSeries Rival 3 (Best Budget Gaming Mouse)
DPI: 8,500
Buttons: 6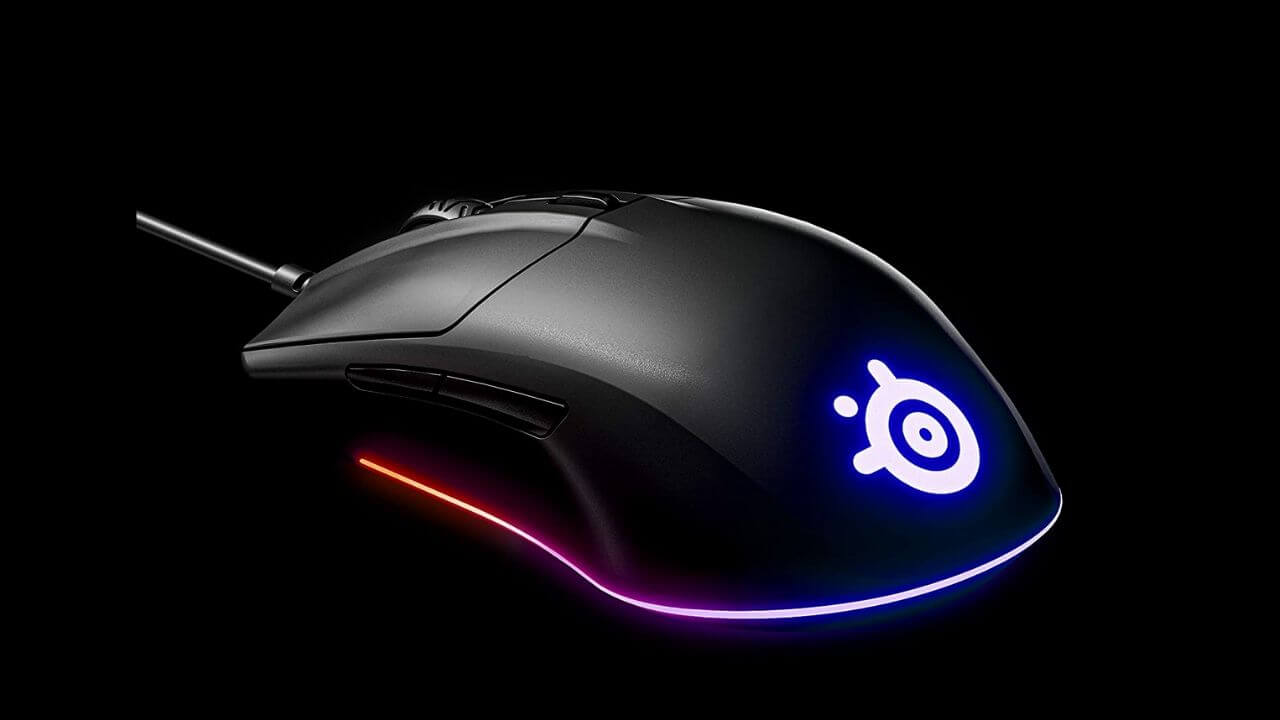 SteelSeries Rival 3 is the best budget gaming mouse that doesn't fall short on features and performance. 
The mouse features a simple, clean design that's built using high-grade durable material.
Despite lying on a cheaper end of the spectrum, SteelSeries Rival 3 throws in customizable RGB lighting and a high-performance sensor to offer an ultimate gaming experience.
The mouse has a comfortable ergonomic construction, which offers a perfect fit for gamers who prefer claw or finger grip. 
The lighting has been redesigned to synchronize with other SteelSeries products and react to actions and in-game events, adding more bells to your gaming setup.
SteelSeries Rival 310 features an updated optical sensor than Rival 3 with better ergonomics and a higher DPI of 12,000.
9. HyperX Pulsefire Surge
DPI: 16,000
Buttons: 6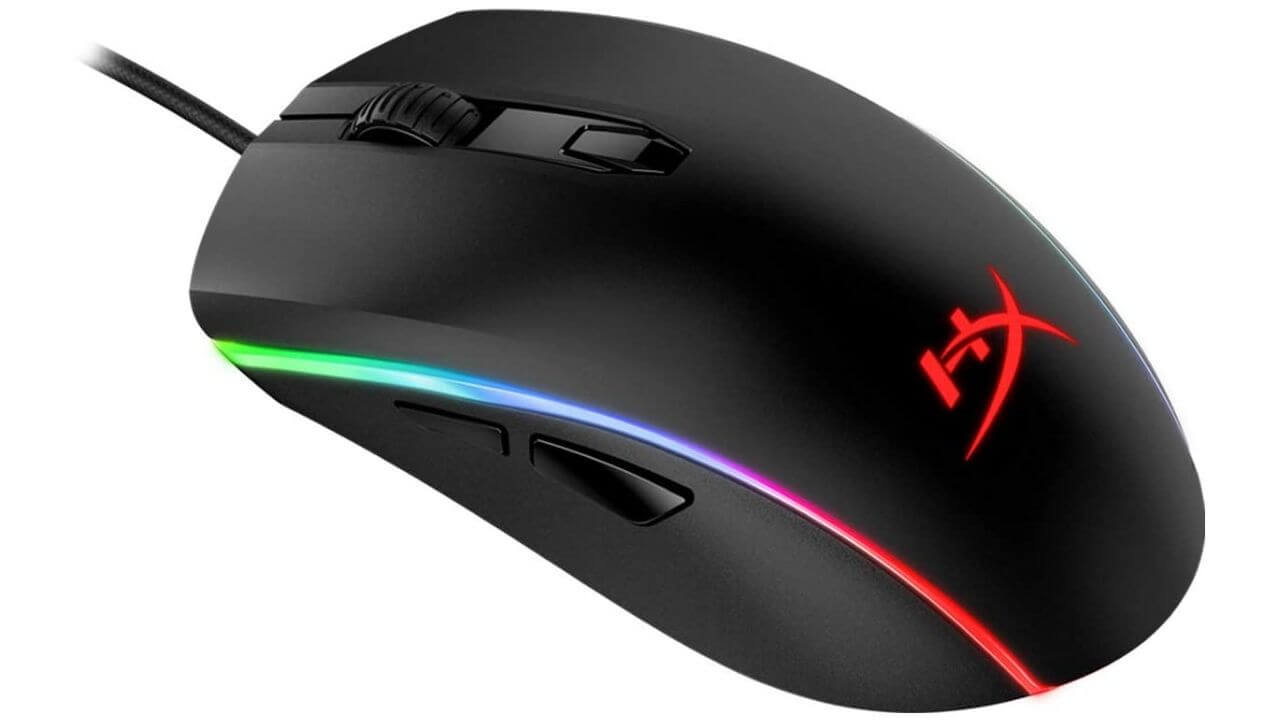 HyperX Pulsefire Surge is a comfortable gaming mouse that feels great to hold and looks amazing too, all thanks to 32 tones of RGB lighting.
HyperX Pulsefire Surge boasts reliable Omron switches for satisfying clicks, RGB lighting, and an impressive 16,000 DPI sensor, which makes it one of the best gaming mice at an affordable price point. 
The mouse has a smooth, contoured outer shell that feels perfect to hold, no matter which type of grip you use.
These features are enough to put this mouse with other good options, including Roccat 120 Aimo and Razer DeathAdder Elite, but at a comparatively lesser price. 
10. SteelSeries Sensei 310 ( Best Ambidextrous Gaming Mouse)
DPI: 12,000
Buttons: 8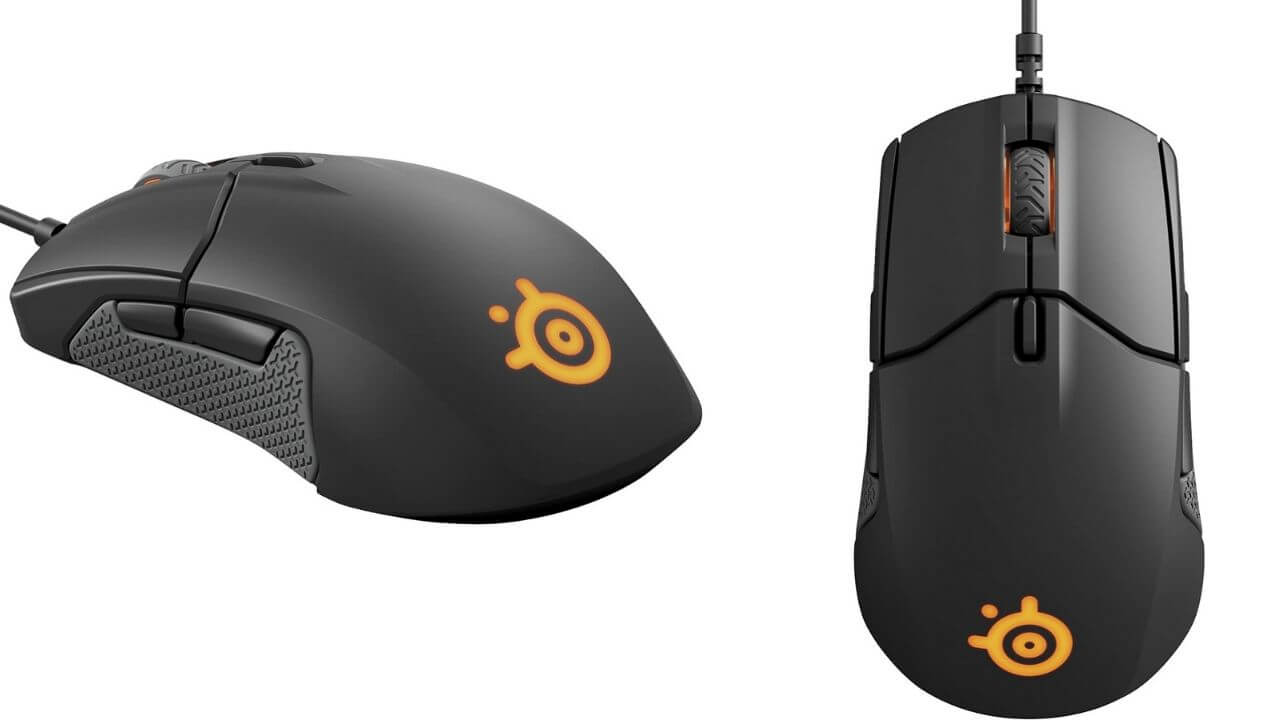 SteelSeries Sensei 310 is the best ambidextrous gaming mouse (suitable to both right and left-handed users), which offers a 12,000 DPI sensor and a lightweight design.
The mouse features two large silicone pads on both sides, which is extremely helpful in giving a firm hold during frantic sessions.
The sensitivity of this gaming mouse is capped to 3,500, which enables 1:1 tracking, where the on-screen cursor will exactly follow the hand movements.
For anyone who's a fan of light, no-frills, high-performance, and small accessories, SteelSeries Sensei 310 can be the best gaming mouse for them.
Some of the shortcomings of this mouse are the lack of weight management and a slightly plastic finish. But, someone who's not concerned with these things can surely go for this lightweight, an ambidextrous gaming mouse with 6 buttons.
Also read: Best DisplayPort Cables for Gaming in 2021[Buying Guide]
11. Razer DeathAdder V2 Gaming Mouse
DPI: 20,000
Buttons: 8
Weight: 82 gms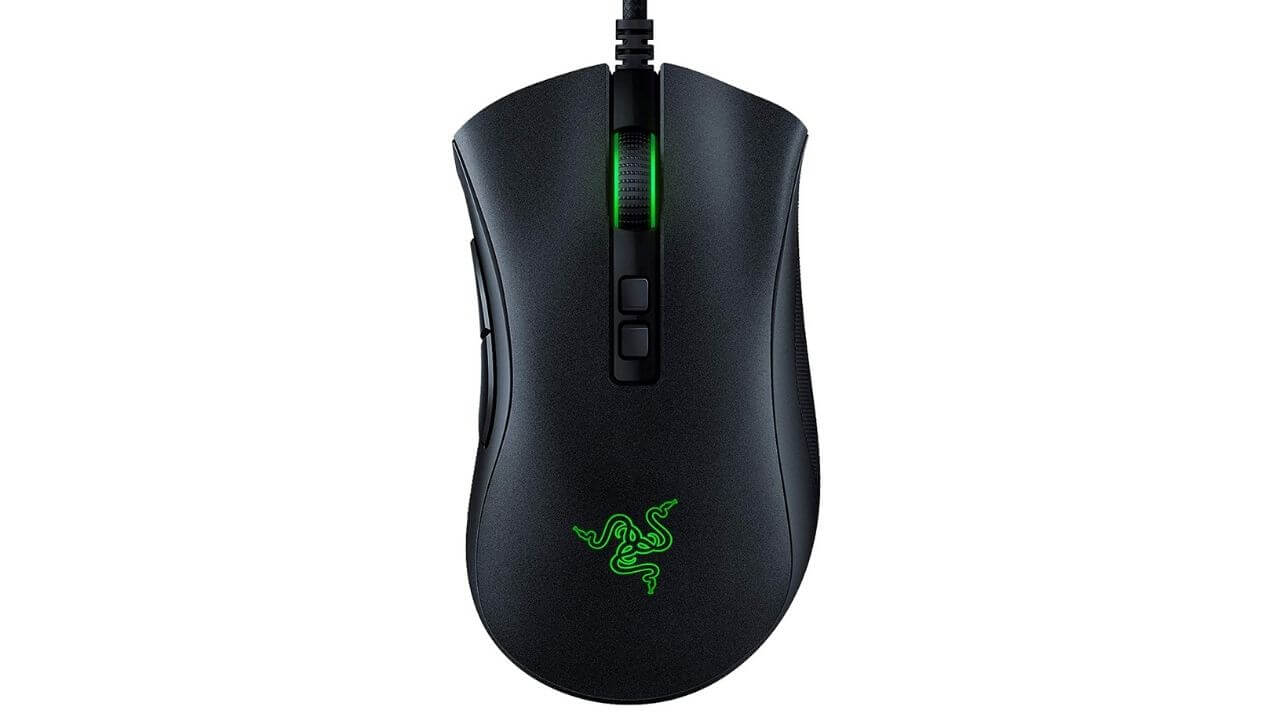 Razer DeathAdder V2 is one of the best gaming mice that you can get for yourself in 2021. It has got one of the best sensors to deliver a top-of-the-line gaming experience. The mouse sports an ideal shape for all hand sizes & grips and delivers maximum comfort during those long gaming sessions.
The Razer DeathAdder V2 is an impressive and feature-packed gaming mouse with 8 programmable buttons which can be re-configured for the complex macro functions through Razer Synapse 3 software.
It uses a 20,000 DPI Razer Focus+ optical sensor that delivers flawless tracking and registers button presses at the speed of light. Besides, the sensor works really well on hard as well as cloth pads. This makes the DeathAdder V2 an excellent option for all gamers who need a mouse that offers super-fast response time.
It has got a drag-free cord that gives more control, reduces weight, and eliminates the need for mouse bungees to offer a wireless-like performance.
12. Corsair Nightsword RGB Gaming Mouse
DPI: 18,000
Buttons: 10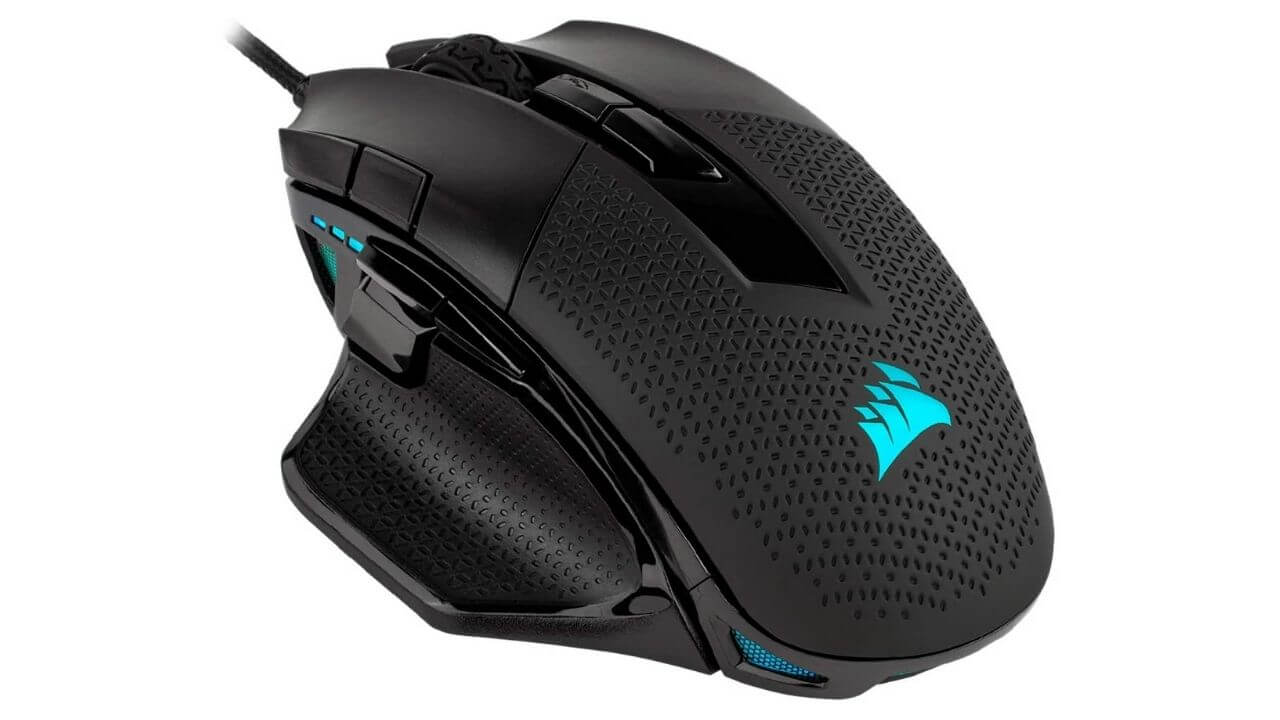 If you're looking for a gaming mouse with 10 programmable buttons, a comfortable contoured shape, and powerful precision capabilities, get yourself the Corsair Nightsword RGB. This mouse for gamers is packed with a cutting-edge 18000 DPI optical sensor, weight Calibration, and real-time center of gravity detection system. 
The Corsair Nightsword RGB gaming mouse offers 10 fully programmable buttons that let you customize your gaming with powerful macros and key Remaps. There's a dedicated sniper button too and a thumb wing that makes the mouse more comfortable to use. 
This gaming mouse has two sets of weights and six mounting locations so that you can easily adjust weight between 119g and 141g. This offers 120 different weight and balance configurations for a precise gaming experience.
You can control dynamic four-zone RGB lighting, enable real-time Smart weight tuning, create custom macros, and much more by using the Corsair CUE software.
What mouse do pro gamers use?
Pro gamers usually recommend a lightweight, simpler mouse, with a few buttons that easily get in your way. The ideal weight is considered below 100 gms for the gaming mouse. After all, a lightweight mouse won't hurt your wrist, if you play games for a longer time, and it's easier to skate the mouse at a higher speed. If you prefer a bit heavy mouse, you can surely go for that too, without any compromises made. We'll tell you how to pick a mouse that best satisfies your needs.
How to choose the best gaming mouse?
There are many different factors that need to be considered while choosing the best gaming mouse. Design is probably one of the most crucial amongst them. The best gaming mouse must fit perfectly in your hand and should feel comfortable, while you're using it for a long time. This really matters; everything else can be put on a secondary level. So, it's recommended that you should hold the mouse in your hand before you shell out the cash. There are three grip types, preferred by the gamers:
Palm grip: The hand rests entirely on the mouse.
Claw grip: The Index and middle fingers are arched backward to make a perpendicular angle for clicking.
Fingertip grip: Only two fingers and thumb are on the mouse; the hand stays in the air.
You must be well aware of your preferred grip before spending the cash, as different gaming mice are designed for different grips.
Apart from this, there are several other technical factors that need to be considered for the best gaming mouse- like you should look for the mouse having a higher DPI and Polling rate. A regular buyer may not be familiar with these terms, therefore, we've mentioned a few points, which are crucial for a gaming mouse.
1. DPI (Dots per Inch)
It's a measure of how sensitive a mouse is. The higher DPI will give you precision and accuracy when you don't have a lot of desk space. The lower DPI means you'll need more space to move your mouse further to move the cursor on the screen. You should look for a mouse with a higher DPI rating that can toggle to a lower DPI. But this is also subjective when it comes to FPS games where precision is required in the shooting. 
2. Polling Rate
The polling rate measures how often the mouse reports its position to the PC. It's measured in Hz; if the mouse has a polling rate of 150Hz, it means the mouse will report its position 150 times per second. The higher the polling rate, the better the response time. 
3. Acceleration
This is one of the most scrutinized aspects of gaming mouse sensors. It's the ratio of mouse pointer speed to the speed of your hand. If a mouse shows acceleration, the cursor will move faster, the faster you'll move the mouse. This is considered as bad because it introduces variability. So, when you're looking for the best gaming mouse, look for the one with a little or no acceleration. 
 4. Programmable Buttons
The gaming mice with programmable buttons allow the user to turn the buttons into hotkeys for executing quicker in-game actions. Therefore, you don't need to memorize the shortcut keys of the keyboard; all the controls are available right at your clicks.
That was all for our roundup for the best gaming mouse with side buttons in 2021. We hope these tips will help spot your favorites and enhance your gaming experience. Do share this article with all the game-lovers you know.
Don't miss our list of the best iPhone gaming accessories. Also, if you're looking for the best AR games for iPhone and iPad, make sure to check our roundup.