Asus was among many brands that unveiled their new monitor lineup at CES 2023. At the event, the laptop giant debuted a brand-new gaming monitor: the ROG Swift OLED PG27AQDM. The OLED display of this gaming monitor has been the talk of the town and stands out among other Asus' past releases. If you are a gamer but don't like huge OLED monitors that were launched in the past but want something with a high refresh rate and OLED visuals, the ROG Swift OLED PG27 will be one of the best picks for you. Asus named this monitor 'endgame monitor' and has got a point behind naming it so. This OLED gaming monitor checks all boxes for gamers.  
Also read: Best 4K Monitors for Xbox Series X 
Asus ROG Swift OLED PG27AQDM Specs: Design, Display, Refresh Rate, and Response Time
Talking of specs, this gaming monitor features an ideal 27-inch OLED display that comes with a resolution of 2560×1440 pixels and a considerably higher 240Hz refresh rate. Besides, it has a response time of 0.03ms, so yes it's pretty fast. Please note that the ideal response time we have seen in gaming monitors in the past has been around 0.1ms. This OLED monitor has next to no bezels whereas the screen uses an anti-glare Micro-Texture coating. As far as color technology is concerned, the ROG Swift OLED PG27 comes with a 99% DCI-P3 & 135% sRGB coverage with a pre-calibrated Delta E < 2. Let's not forget that the peak brightness of this gaming monitor can go up to 1000 nits with HDR enabled. Since OLEDs can run pretty hot at times, Asus has also incorporated a custom heatsink that will dissipate the heat. This will help prevent OLED burn-ins down the line.
Further, the monitor is complemented with a bulky stand and Asus' RGB logo at the back.
Also read: Best DisplayPort Gaming Monitors [Buying Guide + Top 20 Picks]
Asus debuted the ROG Swift Pro PG248QP gaming monitor with a 540Hz refresh rate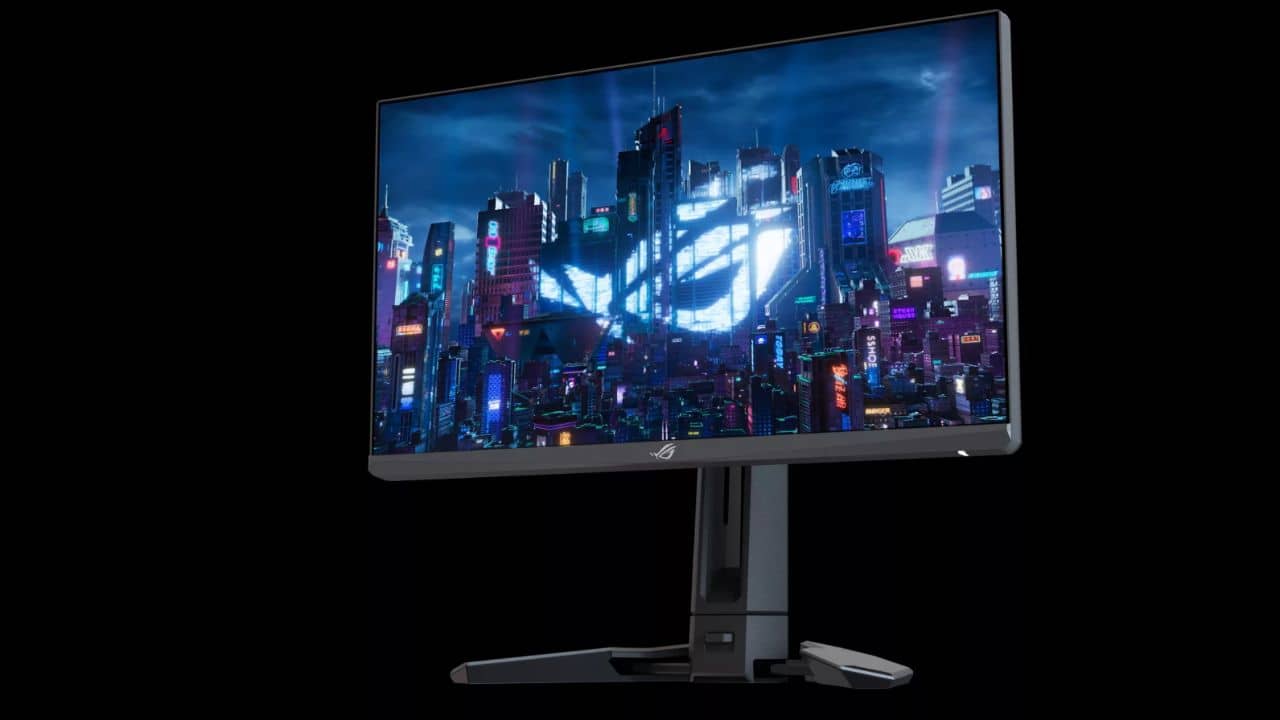 It is worth mentioning that the company also unveiled "the fastest esports gaming monitor," the ROG Swift Pro PG248QP. We know it's quite a name. It features a 24-inch 1080p display which can overclock up to 540Hz refresh rate. This FHD monitor also comes with an adjustable base to support multiple arrangements and different keyboard styles. The innovative stand has feet that can be popped in and out and locked into place. It gives you a wide area and allows keeping the keyboard and mouse pretty close to the display so you never miss your shot in the next battle. 
Also read: Best DisplayPort Cables for Gaming 
Asus ROG Swift OLED PG27 and ROG Swift Pro PG248QP Price and availability
As we write, Asus hasn't quoted a price for both gaming monitors, but the company has mentioned that they will ship before the end of March this year. 
Also read: Best 49" Ultrawide Monitors for Productivity, Gaming, Entertainment
Our Thoughts
Asus' latest gaming monitor seems to hit the sweet spot as a 240Hz refresh rate is more than sufficient. Gone are the days 60Hz used to be the standard, these days most gaming monitors come with at least a 120Hz or 144Hz refresh rate. Also, the 27-inch flat display means users can comfortably place it on any desk, without needing a full-sized gaming station to utilize the display. Since it is not a curved monitor, more eSports cameras are likely to consider it for their gaming journey.
That said, time will tell whether Asus has lived up to what it promised for the gamers at CES 2023. If you have a gamer friend or someone who loves following such topics, make sure to share this news with them.
Banner Image Source: Asus