This September has been quite happening for the tech industry. We saw Apple release the iPhone 13 and iPads, followed by Microsoft's Surface event. Now, after Amazon's announcement to hold its hardware event, the behemoth finally wrapped up its fall product event, where it unveiled a bunch of new gadgets. A new robot, a smart thermostat, a fitness tracker, and other devices were on display. Take a look at what all was unveiled at the event!
1. Home Robot Astro
Amazon has unveiled Astro, a household robot. Astro comes with a revolving screen that is set on a wheeled platform. Amazon created an animated and friendly robot with expressive eyes and body movements that respond to user interaction. The robot can navigate around objects on the floor and brake to avoid hitting obstacles such as a pet that moves into its path. To view objects that are high above, a periscope camera attached to the device's base can be lifted or lowered. 
Alexa, Amazon's voice assistant, is built into Astro. It can, among other things, create and deliver reminders, provide entertainment like TV shows or podcasts, and operate smart home gadgets. There are additional security and safety features on the robot. Astro can patrol a user's house autonomously while they're away thanks to a partnership with Amazon's smart home security subsidiary Ring. Through a function dubbed Alexa Guard, it can detect possible intruders and listen for things like shattered glass or smoke alarms.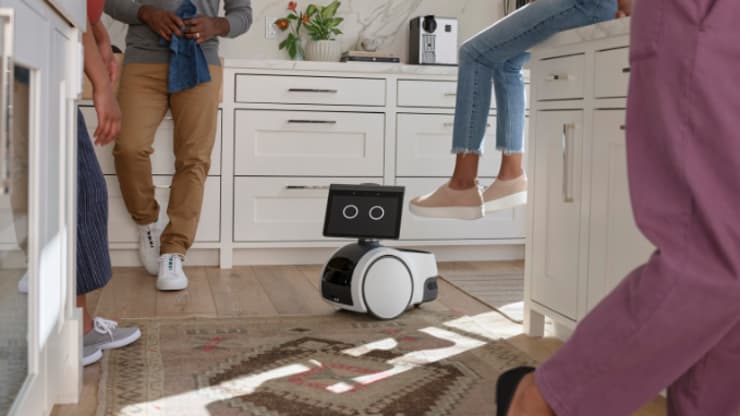 2. Smart Thermostat
Amazon's new thermostat integrates Alexa and is energy efficient. Honeywell Home has partnered with Amazon to make the smart thermostat compatible with existing HVAC systems. The product is also reasonably priced at $59.99. The thermostat can detect changes in the environment and adjust the temperature accordingly. It will also respond to orders like "Goodnight" to adjust the temperature.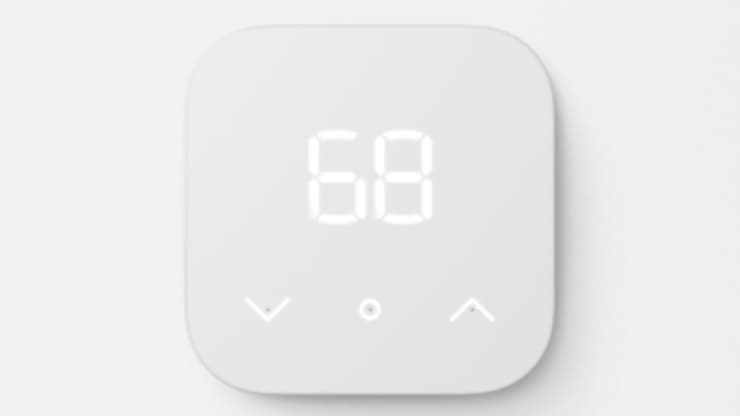 3. Alexa Together
Alexa Together is a service that allows users to assist ageing family members in feeling more at ease in their own homes. Alexa Together, which is an extension of Care Hub, will include additional capabilities such as immediate response, hands-free 24/7 access to a professional emergency helpline, and more. The service will also work with third-party gadgets that can detect problems at home, such as a person falling. Alexa Together will also make assistance more readily available when it is required, allowing anyone, such as a concerned neighbour, to assist someone in need. You may also add contacts to a user's Alexa account so they can make hands-free calls to friends and family. Together costs $19.99 per month as a membership.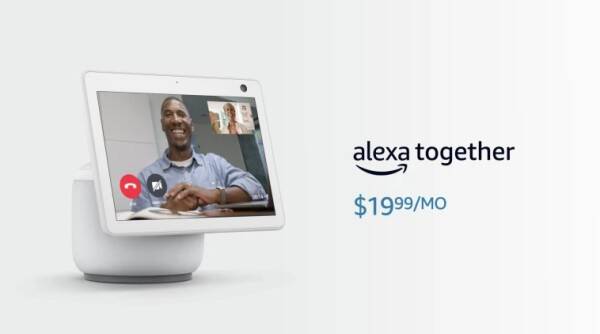 4. Echo Show 15
The Amazon Echo Show 15 has a large display and can be mounted on the wall or on a stand. The large 15.6-inch screen makes it much easier to take a quick look at the information. The new Alexa widgets also help with this. The device will also sync widgets from each family member, such as sticky notes, and display them all in one place. Amazon has also created a widget that allows customers to view all of their existing widgets in one place, as well as one that displays live camera feeds in a PiP (picture in picture) perspective. The tablet can also stream Full HD video, including news, movies, and other content. 
When not in use, the Echo Show may be transformed into a photo frame that can show personalised information if desired. The new AZ2 Neural Edge processor, which is faster than ever, powers the Echo Show 15. It enables capabilities such as Visual ID, which allows the device to recognise you when you walk into a room and display content accordingly. All processing takes place on the device, and the user can remove their profile at any time. The Amazon Echo Show 15 costs $249.99 and includes Alexa unique sounds. New sounds, such as the opening of a refrigerator door, can now be taught to Alexa. This can then be used to automate tasks in a chain.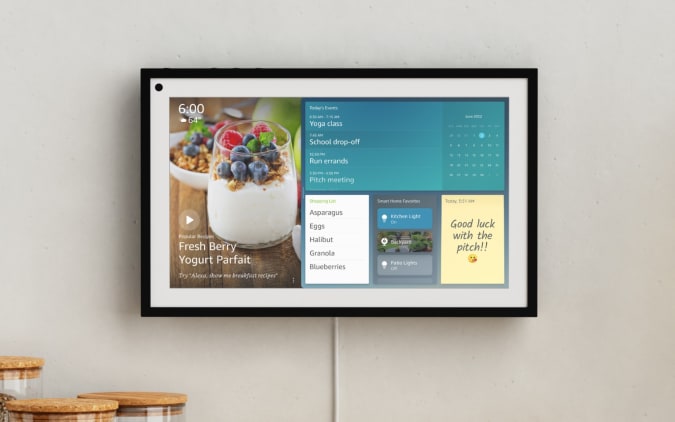 5. Ring Gadgets
The Ring Alarm Pro is a professionally monitored security system with a built-in WiFi 6 eero router and the Ring Virtual Security Guard feature, which allows you to have professionals monitor your cameras. Amazon also announced the Blink Video Doorbell, which will allow users to see and speak with visitors at their front doors.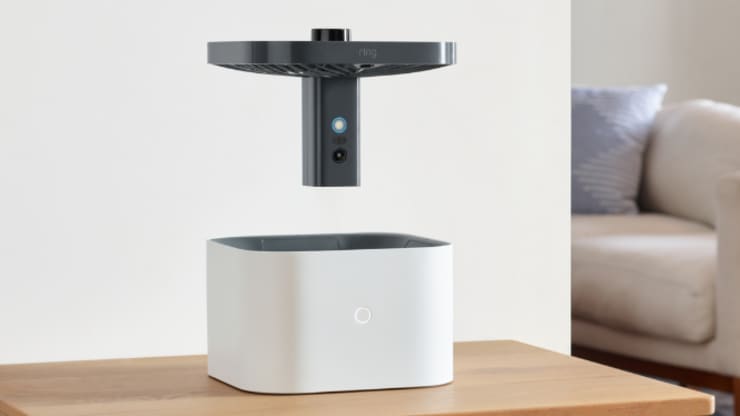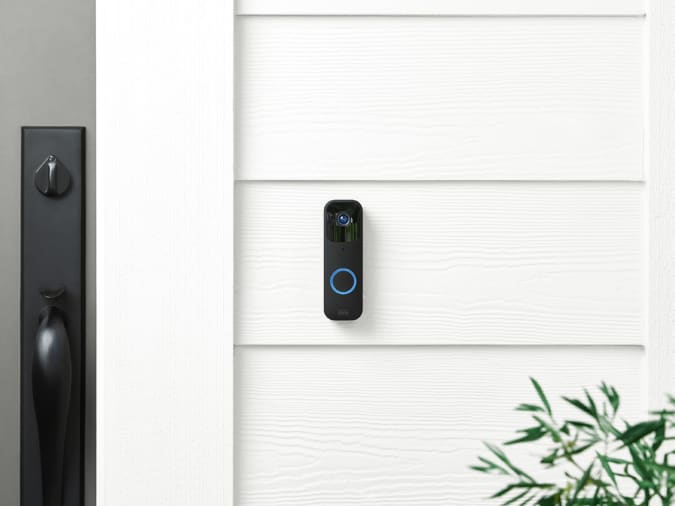 6. Amazon Halo View
The Halo View is a follow-up to Amazon's Halo, and it has a display and a 7-day battery life. It includes a variety of leather, metal, and other bands. It will include heart-rate tracking, Halo Fitness workout plans, and a Halo Nutrition personalised meal planner, among other health tracking features (Both included in the Halo membership).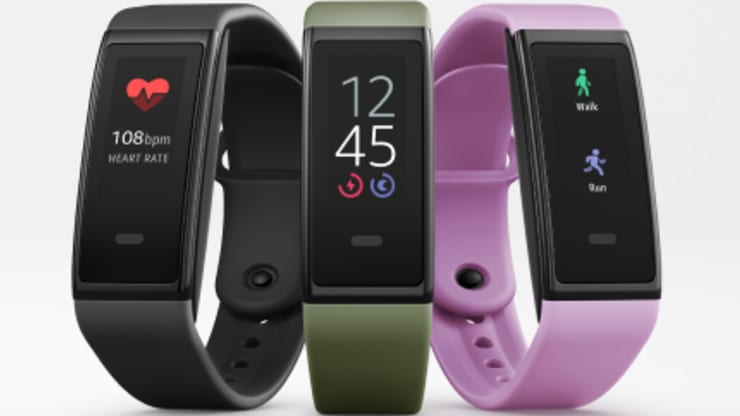 7. Amazon Glow
Amazon has unveiled a new gizmo geared at children that mixes video calling with projector-based activities. Touch activates the projected visuals. According to Amazon, the goal is to make video calls more entertaining for kids. Kids can play games like "Tangram Bits" on the projected surface as their parent's video conference from a normal iPad. The camera is turned off using a "privacy shutter" on the gadget. Characters from Disney, Mattel, Nickelodeon, and Sesame Street have signed on to create games for the device. Next year, Amazon plans to give it out to certain outside developers.
It costs $249, but it won't be available to the general public right once, and obtaining one will require an invitation.
8. Amazon Kids+, Hey Disney
Amazon Kids+ now has additional new content, including programmes and games. Do Re Mi, Arpo, Super Spy Ryan, Blippie's Treehouse, and Monkie Kid are among them.
After adding Shaquille O'Neal and Melissa McCarthy to the Alexa voice assistant, Amazon is now adding more real-life personalities. Hey Disney, a new service from the corporation, will allow customers to engage with their favourite Disney and Star Wars characters in the near future. In addition, the assistant will provide trivia and humour.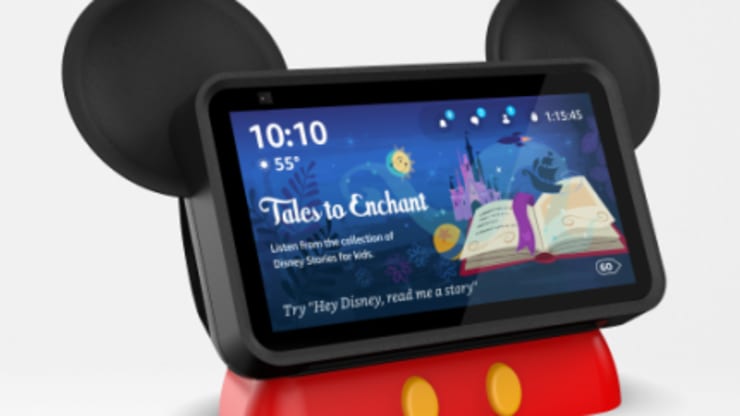 Also Read: Best Amazon Fire Stick and Fire TV Alternatives to Stream Content