The Samsung Galaxy S22 series is expected to launch in the same order as the previous flagships. While the rumour mill has been busy leaking information about Samsung's future flagship range, the latest leaks imply that Galaxy S22 owners will have a large selection of accessories to pick from.
Samsung appears to be going all-out this year, especially when it comes to Galaxy S22 cases. On box.co.uk, a UK eCommerce website lists a huge number of accessories that appear to be for the Galaxy S22 series. Clear Covers, Clear Standing Covers, Frame Covers, Leather Covers, Protective Standing Covers, Silicone Covers (with/without strap), Smart Clear View Covers, Smart LED View Covers, and Gel Cases will be available for Galaxy S22 and S22+ users.
Also Read: Galaxy S21 Review: The Benchmark to Beat
Galaxy S22 series: 60+ smartphone cases
The Galaxy S22 Ultra is claimed to come with the same accessories as the Galaxy S22, plus a Frame Cover. The Special section at Box divides the accessories into 24 cases for the base model, 19 cases for the S22 Ultra, and 23 cases for the Galaxy S22 Plus. 
Also Read: Best Cases for Galaxy S21
Galaxy S22 series: S-Pen accessories
A box of toughened glass screen protectors for the Galaxy S22 range has also been spotted for $12.99. Finally, the website displays four distinct coloured S-Pens for the Galaxy S22 Ultra: black, white, green, and dark red, indicating that the phone will be available in these four colours, however we expect a few more unique colours to be added to the mix later down the line.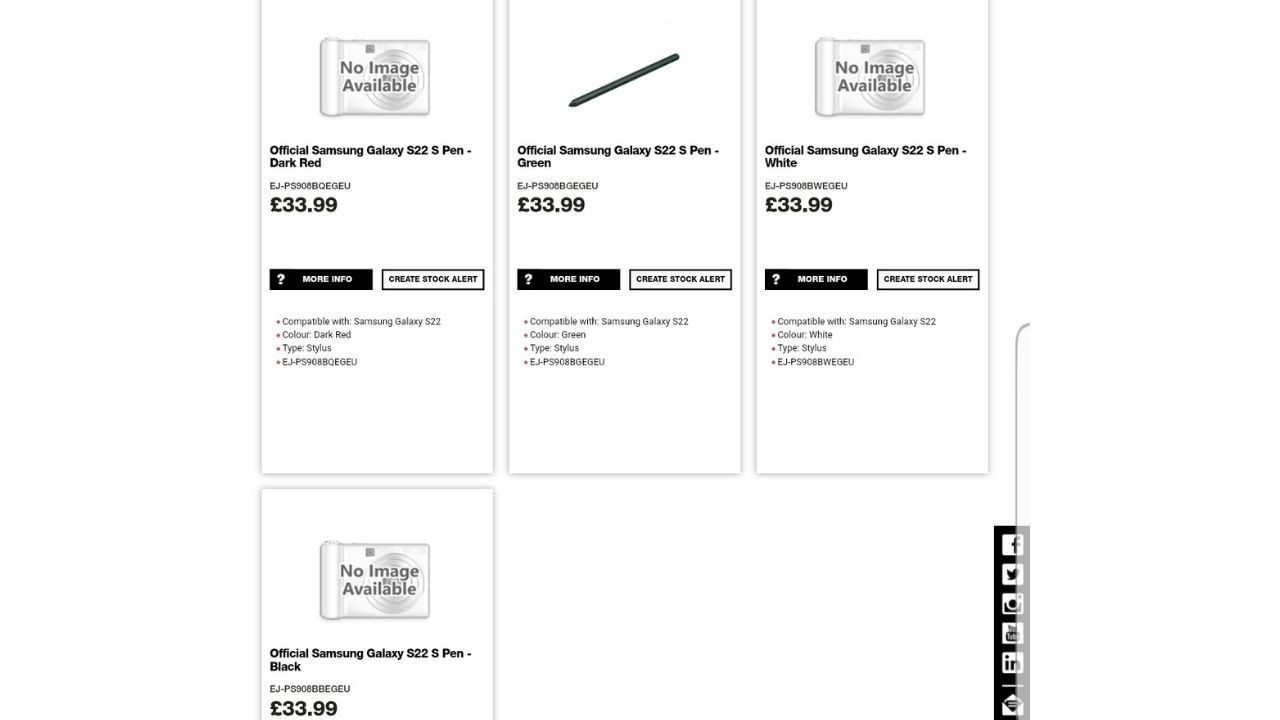 Also Read: Best Galaxy S21 Screen Protectors
According to previous leaks, the vanilla and Plus variants would have 8GB and 12GB RAM, respectively, while the high-end model Galaxy S22 Ultra will have 16GB RAM. The phones will have varied storage options, with the basic and Plus models rumoured to have 128GB/256GB options and the Ultra variant rumoured to have 256GB/512GB possibilities. S-Pen replacements for the largest of the S22 group have arrived at the merchant in four colours: Green, Dark Red, White, and Black. These should be compatible with the phone's colour settings. 
Galaxy S22 series: Processor 
In the United States, the Galaxy S22 Ultra, Galaxy S22+, and Galaxy S22 will be equipped with the Snapdragon 8 Gen 1 mobile platform. Although it is unclear whether the Snapdragon chipset or Samsung's in-house Exynos 2200 will be used in the rest of the world. Samsung may toy with colours again this time, as leaks show a variety of colour options for the forthcoming Galaxy S flagship series, including Pink Gold, Green, Dark Red, and Black. In terms of the official launch, we're likely to see it in February.
Also Read: Samsung upgrades the Galaxy S21 Ultra with a brand new camera app
Image credits: Mark Peters, Parvez Khan and Ice Universe