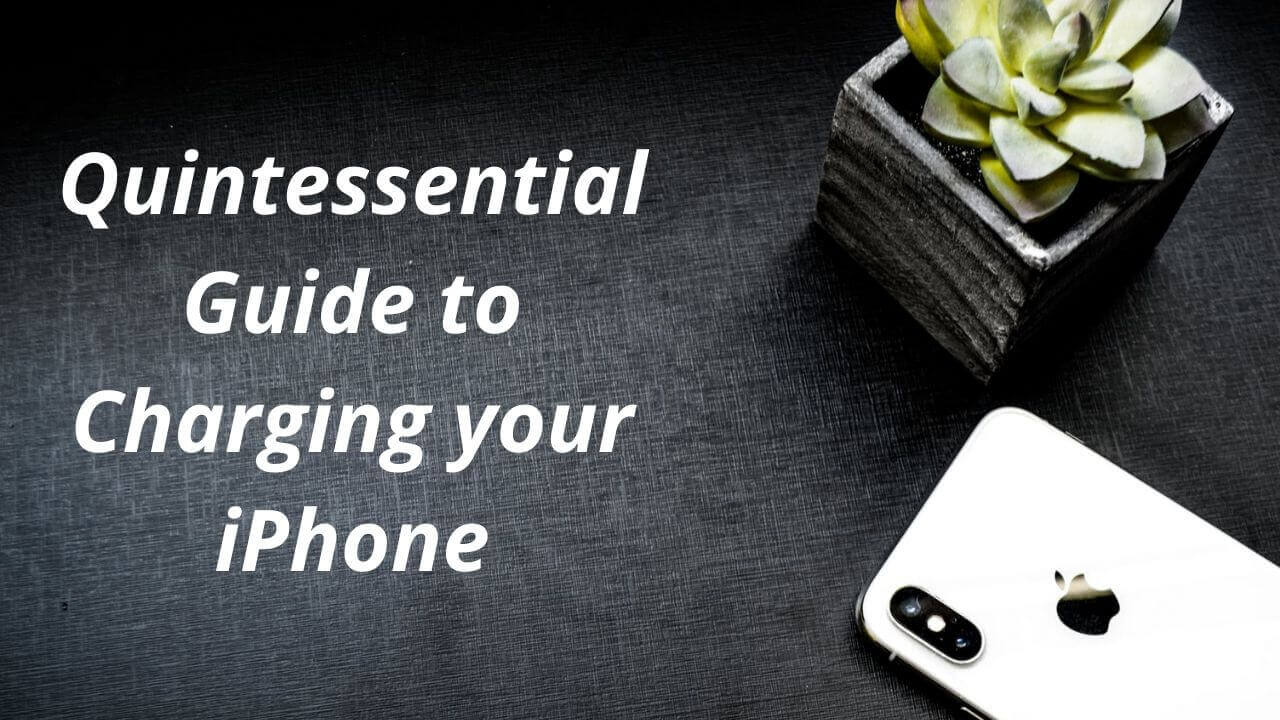 Here are some of the most commonly and frequently asked questions revolving around the best way to charge your iPhone. If you have any questions regarding lightning cables to adapters go through this article and it will hopefully be resolved. 
Are non-Apple lightning cables safe?
Using non-Apple lightning cable is unsafe as they can damage your iOS device. It is preferable to use lightning cables that are either made by Apple or are MFi certified. Lightning Cables that are not recommended by Apple might break off or fray easily and destroy the iPhone's battery health permanently. Using a non-MFi certified cable might also lead to the nullification of your device's warranty. Thus it is not safe to use a lightning cable that is not attested by Apple. 
What does MFi mean?
MFi stands for Made for iPhone, Made for iPad and Made for iPod. If any product has been MFi certified it means that Apple has verified the authenticity and quality of that product. However, these products are not made or manufactured by Apple. They are made by third-party manufacturers and vendors. These products undergo a series of extensive tests to prove their high-quality standards. It is always recommended to buy and use products that are MFi certified as they pass the basic technical requirements set by Apple. 
How do I know if my cable is MFi certified?  
The simplest way to ensure that your cable is MFi certified is to check the packaging of the product and ensure that it has the MFi logo printed on it. 

If your cable is not MFi certified then it might show a pop-up message saying that "this accessory is not certified" as soon as you plug it into your phone.

The most trusted way to ensure that your cable is MFi certified is to check the list of MFi certified brands and manufacturers present on Apple's website. Check if your cable MFi is certified or not

here

. 
Are Anker cables MFi certified?
Yes, Anker cables are MFi certified. To check if your Anker lightning cable is MFi certified or not visit here. Choose Brand and search for Anker. The list of Anker products that are MFi certified and safe to buy will show up. This will help you make an informed decision before buying any lightning cable. 
Is Anker better than Apple?
Anker products are MFi certified which ensures its credibility and authenticity. According to thousands of users on Amazon, Anker products have lasted much longer than ones from Apple. Even their chargers are considered much more powerful than Apple chargers. Adding to this, Anker products are pocket-friendly and way cheaper than Apple products.  Anker definitely provides reliable and high-quality products to its customers. 
Are Anker lightning cables good?
Anker lightning cables are good quality products as they are MFi certified. Anker cables are nylon braided which makes them stronger than Apple cables. There is a wide variety of options available to choose from when it comes to Anker cables. The brand offers a lifetime warranty with hassle-free exchange and friendly customer service. They are cheaper and much more durable than Apple. 
Are all lightning cables the same?
No, all lightning cables are not the same. Third-party cables might differ in their quality and durability depending on the type of material that is used to make them. Some lightning cables are wrapped in Nylon threading while some have a steel body. Some cables can withstand 30,000+ bends whereas others might not even be able to endure 5000+ bends. 
All Apple lightning cables, on the other hand, have the same functionality and they only differ in sizes and colors. Other than that the core of the product is the same. But the adaptors for different Apple devices might vary depending upon the voltage and amperage output.     
Is it safe to use a non-Apple Lightning cable?
It is safe to use a non-Apple lightning cable as long as it is MFi certified. If the cable is not MFi certified then it can cause serious damage to your device. It might lead to overheating and slow charging. A non-certified MFi cable might not be supported by your Apple device and might end up not transferring data from one device to another. 
Are MFi certified cables safe?
Yes, MFi certified cables are safe as they undergo a series of tests to ensure the quality of the product. Apple ensures that these third-party manufacturers meet their basic technical and mechanical requirements. A cable is given the MFi certification only if they pass these rigorous tests and thus ensure that these products are safe for Apple products. 
Do lightning cables have serial numbers?
MFi certified third-party lightning cables do have a twelve-digit serial number printed on them. There is also a chip inside these cables which ensures that they are MFi certified. Check out more details about serial numbers on lightning cables here. 
Apple lightning cables, on the other hand, do not have any serial number printed on them. They only have Apple's logo printed on them which ensures their authenticity. 
How do you know if an iPhone charger cable is real?
To ensure that an iPhone charger cable is real 
Make sure that they are MFi certified. The logo for MFi certification is printed right on the box. 

Slow charging is one of the best ways to identify a fake lightning cable. 

The connector end of the original iPhone cable is a smooth single piece as compared to the rough inconsistent finish of fake lightning cables. 

A fake lightning cable can cause overheating. 
What does a lightning cable do?
A lightning cable performs various functions. 
Its primary function is to charge Apple devices like iPhone, iPad, and iPod. 

It can be used to transfer data like videos, photos, and movies from a laptop or a PC to your Apple device and vice versa. 
Does iPhone 11 come with a fast charger?
No, iPhone 11 does not come with a fast charger but it does support fast charging. iPhone 11 comes with a standard 5W charger and a USB-A to lightning cable. However, iPhone 11 Pro and Pro Max supports fast charging and comes with an 18W USB-C charger. 
Is Fast charging bad for your iPhone?
If your iPhone supports fast charging then it will not affect your phone's battery life. However, if your device does not support fast charging and is being charged by a fast charger then it can cause damage to your phone. Let's say you plug an 18W charger into a device that has a 5W circuit then it might cause damage to your phone's battery life. 
Is Apple getting rid of lightning cable?
Rumors are suggesting that Apple might have to get rid of its lightning cable, at the time of writing this article. European Commission has been protesting against the electronic waste that is caused due to outdated cables in the market. They are suggesting that there should be only one type of charging cable instead of three dominant types that are seen in the market today. However, no final verdict about the same has been announced yet. 
How long is an iPhone charger? 
The standard size of a lightning cable is 1-meter. All Apple devices come with 1-meter long lightning cable in the box. However, there are three different sizes available on Apple's website. They feature a 1-meter, a 3-meter, and a 0.5-meter long lightning cable. 
How much is an iPhone charger at Apple?
Here are the prices of the iPhone charger as is available on Apple's website.
Apple's 5W and 12W USB power adapters are for $19 each. They are compatible with any iPhone, iPod, and Apple watch model. 

18W USB-C power adapter is for $29 each and it is compatible with iPhone 8 and devices launched after that. 

30W USB-C power adapter is for $49. It is also compatible with iPhone 8 and its successors. 
What is the most durable lightning cable?
The most durable lightning cable according to thousands of users on Amazon is Anker Powerline+ II lightning cable. It is MFi certified and has braided nylon covering which protects it from fraying and breaking. It can withstand more than 30,000 bends and can bear 175 lbs of weight. Anker offers a lifetime warranty and hassle-free customer service. It comes in four color variants (red, silver, gold, and black) and in three different sizes (3ft, 6ft, and 10ft). It comes in a travel pouch which makes it very convenient to carry. Here is a list of the most durable lightning cables.
Which Anker cable is best?
Here are some of the reasons why Anker Powerline+ II is the best lightning cable out there.
It is MFi certified which ensures superior performance. 

It has a two-shade nylon braiding which protects it from breaking and fraying.

The brand offers a hassle-free lifetime warranty and friendly customer service. In case the lightning cable breaks Anker replaces it with a brand new cable.

It offers high-speed charging and is compatible with all Apple devices.

It comes with a travel pouch which makes it easier to carry. 

It comes in different colors and sizes and it never hurts to have options. 
Thousands of users all across the world have sworn by the durability and high quality of this lightning cable. 
Do lightning cables charge faster?
No, Apple's Type A to lightning cable does not support fast charging. The fast charging feature of a phone depends on the charger and the device rather than on the cable. The standard iPhone charger that comes in the box is 5W which is not capable of fast charging. Chargers above 10-12W are considered capable of fast charging. 
iPhone 8 and its successors are capable of fast charging but for that, you need to buy a charger that has high voltage as well as lightning to USB-C cable. iPhone 11 pro and pro max are the only phones that come with a lightning to USB-C cable and an 18W fast charger in the package. 
What are the best lightning cables?
There are a few things one needs to keep in mind while buying a lightning cable. You need to look for a cable that is MFi certified, have nylon or steel covering which makes it much more durable and the sort of warranty that is offered by the company. Apple has allowed third-party vendors to make lightning cables that undergo rigorous tests to prove its quality. From Anker to AmazonBasics and FuseChicken, there is a wide variety of MFi certified cables available in the market. Here is a list of
best lightning cables which I have made keeping in mind all the above factors. Make sure to visit it before making your next buy as it will last you longer than first-party cables. 
Why do Apple cables break so easily?
Some of the reasons why Apple cables break so easily are
They are made of soft rubber material instead of PVC which makes them prone to breakage. 

They do not have strain relief which means that the connecting ends of the cable are not protected. This is one of the major reasons for breakage as these joints are prone to stress and bending. 

Wear and tear also lead to a breakage of cables. If you are not careful in the way you treat your wires then they can easily get damaged. 
How long does a lightning cable last?
The longevity of any lightning cable depends on the user as much as it depends on the quality of the product. If you mishandle your lightning cable then it is bound to break and fray very easily. Most of the Apple lightning cable users say that they break within the first six months to 12 months of use. They generally break from the bends as they do not have a strain relief and is made of soft rubber material. To make them last longer, you can use cable ties and wrap them properly instead of just throwing them in your bags as it can lead to tugging and pulling. 
Is lighting better than USB C?
Lightning cables can handle 12W of power whereas USB C can handle 100W of power. USB C thus charges your device faster than lightning cables. USB-C to lightning cables can charge up to 50% of your phone in just 30 minutes. USB-C is also better than lightning cable in the sense that USB-C is widely compatible. You can directly plug your iPhone into MacBook and iPads. 
However, there is one advantage of lightning cable as well. They are slimmer than USB-C due to which Apple can make iPhones slimmer and beautiful. 
In other words, USB-C cables are better than lightning cables as they support fast charging, high-speed data transmission, and high USB power delivery. 
Why are iPhone chargers so bad?
The lightning cable made by Apple tends to break very easily. This is due to the rubber material that is used by the company instead of PVC which makes them fragile. There is no strain relief at the bend which makes it vulnerable to fraying and breakage. This is why most of the lightning cables tend to break at the joints as they cannot handle much stress and bending. 
iPhone adapters, on the other hand, have not been updated for a very long time. The same 5W charger is available with iPhone 11 as was available with iPhone 5. Fast charging was introduced by Apple with the launch of iPhone 8. Even though the device supports fast charging, it comes with the standard 5W charger. In other words, the phone's battery capacity keeps on increasing whereas the charging speed of the adapter remains the same. If you want to charge your iPhone at a faster pace then you will have to spend extra money on heavy voltage adapters that support fast charging. Only iPhone 11 pro and pro max come with heavy voltage chargers that are ideal for fast charging.
What is the most durable lightning charger?
Anker Powerport Speed Plus Duo Wall Charger delivers 42W of power and is compatible with most of the devices. It supports fast charging and claims to reduce charging time by 1 hour. It is available in white color and has a USB-C as well as a USB-A charging port. It is compact with a foldable plug which makes it travel-friendly. The company also offers an 18-month return and exchange policy with lifetime friendly customer service. However, it supplies power at a high voltage and thus it will be compatible with phones that support fast charging. 
Why are Apple cables so expensive? 
Apple is known as one of the most premium technology companies all around the world. They are known for creating high-quality products and consumer accessible technology. The problem with both Apple's adapter and lightning cable is that they need to be updated more regularly. Why these cables are so expensive cannot be answered as they are proprietary products. However, the only solution I can think of is to buy third-party cables as they are durable and cheaper than Apple's lightning cable. These third-party cables fulfill the shortcomings that are seen in the company's products. 
I hope I was able to solve your doubts and queries. In case of any more queries comment below and I will definitely try to solve them for you.