The Consumer Electronics Show in Las Vegas is witnessing plenty of products from the major tech companies. Many renowned brands are announcing their concept devices, like OnePlus introduced its Concept One. Talking about the gaming devices, Dell has showcased a Project UFO from it's Alienware gaming brand, at CES 2020. With Project UFO, Dell aims to bring more portability to traditional PC gaming technology. 
"This concept is powered by Intel's latest 10th gen processors. You can connect it to an external display and play using the detached controllers."

-Vivien Lien
Dell's Concept UFO details
Dell's Project UFO takes a similar approach like the Nintendo Switch, with a screen and detachable handheld controllers. The much-admired Nintendo Switch adopted a unique approach to console gaming and did not face much competition since its launch in 2017. 
Dell's Project UFO is introduced as a concept, and the company neither revealed its exact specifications nor the release date. But, it's pretty evident that Alienware's UFO will stack up against the Nintendo's Switch. 
Dell's gaming console features an 8-inch screen with thin bezels and 1900×1200 resolution. Concept UFO is a tried-and-true Alienware PC, starring iconic black and white color scheme and rings of glowing lights. You can play Alienware's UFO as a handheld device, or by setting it up on a desk, using the in-built kickstand. Alienware's UFO features USB-C ports at its top and bottom, and can also be plugged with an external monitor, using a docking station.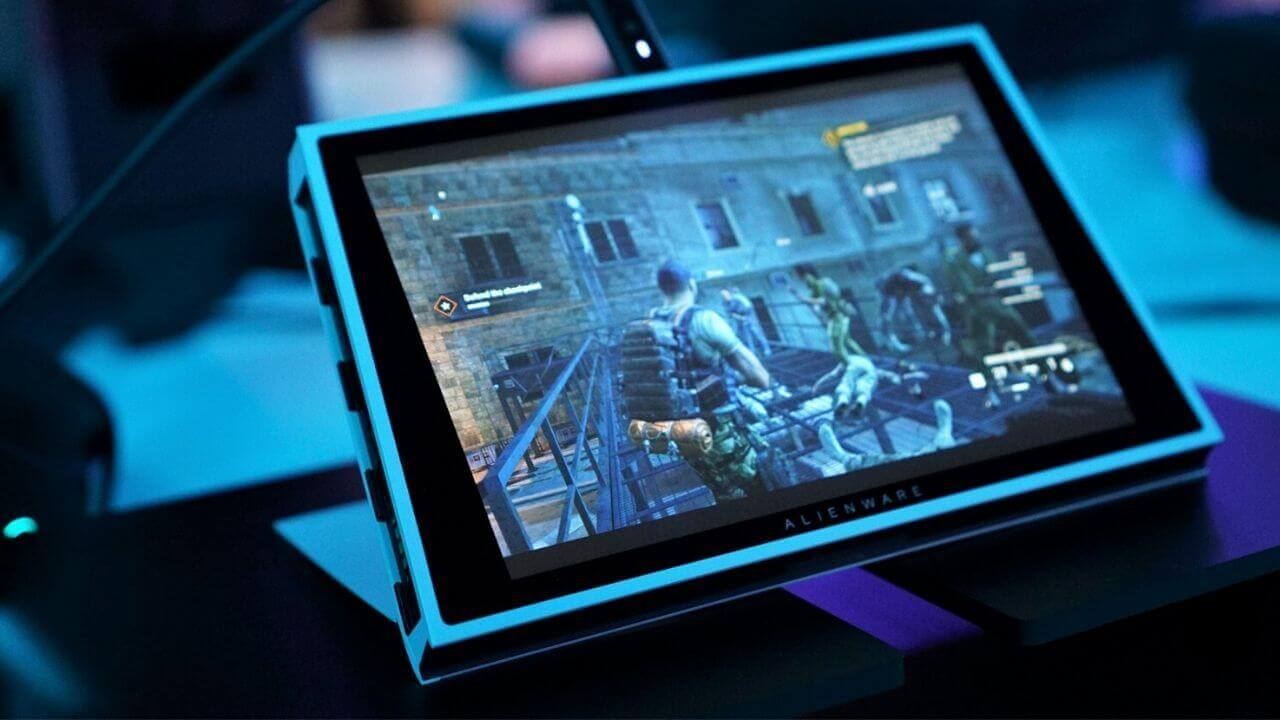 The Project UFO is a portable Windows gaming PC. The device can also be used as a desktop, just pair a Bluetooth keyboard and mouse, are you're good to go. Therefore, you can access your entire Steam games library, and that's great news for gamers who have already spent a lot of money on Steam games.
Alienware UFO uses Dell's 10th generation hardware. And, except for this, no other technical specifications have been revealed by the company. The gaming laptops are infamous for their battery life, and smaller handheld devices have to compromise on performance and graphics. Interestingly, Concept UFO includes AMD's Ryzen graphics technology.
Nintendo Switch has sold more than 41 million consoles worldwide since its launch in 2017. And, with the introduction of Concept UFO, Dell aims to mirror the success of Nintendo's Switch by opening a way for Windows PC games to a handheld market. 
Let's sum up
We still have questions about Concept UFO, ranging from performance to battery life. The price of Concept UFO is also a big concern, and for now, it's a mystery. Nintendo Switch and Switch Lite cost $299 and $199 respectively, and as Dell wants to be competitive, this might set a standard for the Concept UFO. 
For now, Alienware's UFO is a concept and is not likely to release for some time. But, it can serve as a first step towards something truly interesting. And, we might see the first functional pocketable PC from an established player like Dell.