It has actually been quite some time since the Pixel 4a and iPhone SE first launched. Both these phones are Value Kings because they provide an excellent smartphone experience at a great price. But they are 2 very different devices and picking one for yourself can be hard. Let me help you decide. 
Design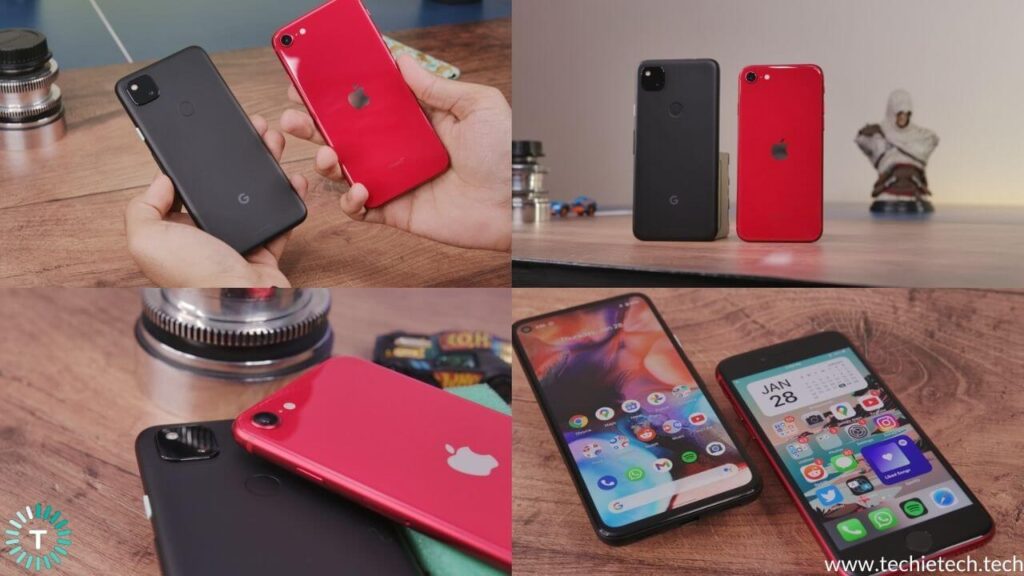 The Pixel 4a and iPhone SE are as different from each other as can be and that can clearly be seen when we talk about the build quality and design. The iPhone SE is a very old design with huge bezels, a home button and a 16:9 aspect ratio display. It has a glass front and back with aluminium frame in the middle which gives it a very premium in-hand feel. It is an excellent option for those who are comfortable with this design and yet a terrible one for those who want something a bit more modern. 
Cue the Pixel 4a. While it does not boast of the same metal and glass build as the iPhone, it does have a design that is in with the times, thanks to the edge to edge display on the front. This edge to edge display allows the Pixel 4a to pack more screen than the iPhone in roughly the same footprint. A huge positive in my books.


However, a certain space where the Pixel 4a could lack for some is the design. Don't get me wrong, I personally love the understated matte black plastic look. It is discrete and unassuming. However, not everyone wants discrete. Cue the iPhone SE. If you want your phone to grab attention, the RED or even White SE look far more distinguishable than the Pixel 4a. This is a very subjective matter, so I am not going to call a winner here, but the differences in design are quite fundamental. 
Also read: Best Accessories for Pixel 4a
Display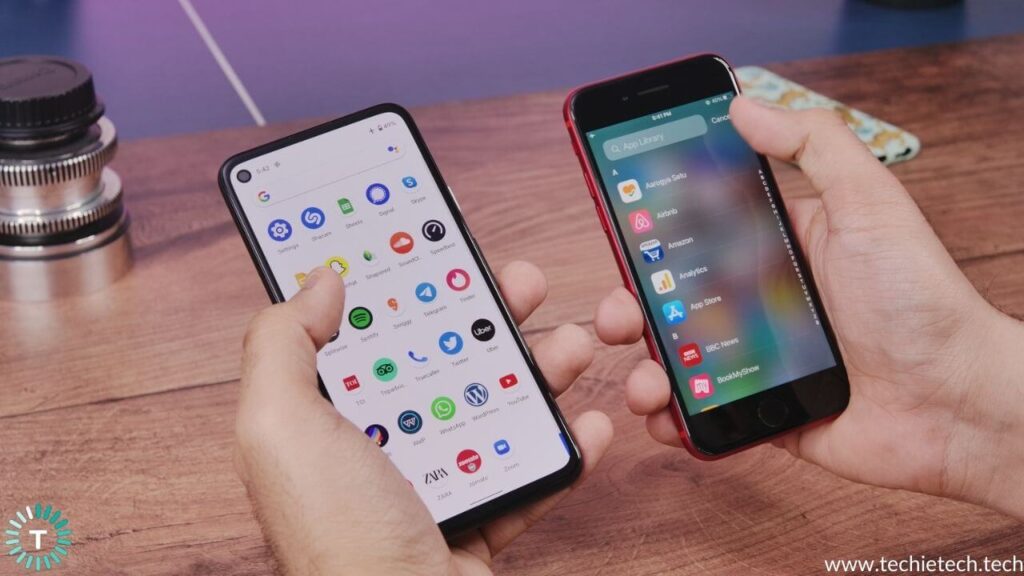 Talking of fundamental differences, let's talk displays. I mean, they are worlds apart. The iPhone SE packs the same LCD display as the 4 year old iPhone 8. It is good enough for day to day usage but not the best for stuff like movie watching or gaming. For that stuff and more, the Pixel 4a's display clearly takes the lead with a much larger AMOLED display that has better colours, deeper blacks and a higher pixel density, which makes text look noticeably sharper, even if you're not pixel peeping.

What's more, if you're used to a modern smartphone, moving back to the iPhone's 16:9 display and Home Screen navigation felt really regressive. It is doable but it is not fun. Frankly, there is just no competition here. When it comes to the display, the Pixel 4a is worlds better than the iPhone SE. 
Also read: Best iPhone SE Cases
Performance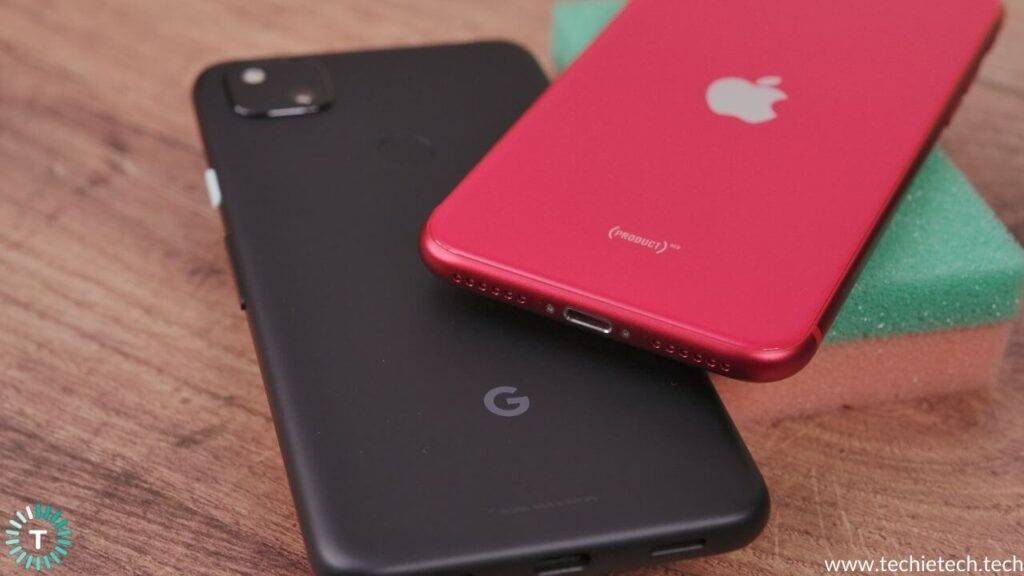 Where the iPhone SE is worlds better though, is performance. The Pixel 4a packs a mid tier CPU which is decent for day to day stuff and even some casual gaming. However, you cannot expect a lot from it and there is a noticeable difference compared to what you see on flagship phones.
The iPhone SE, packs the same A13 CPU as the more expensive iPhone 11 Pro. IT is blazing fast and everything runs quickly. Even performance intensive stuff like heavy games and video editing run smoothly without as much as a frame drop. The iPhone SE might not be good at everything, but it is definitely the most powerful phone you can get at its price.

And all this performance goes a long way. We keep our phones for multiple years now and I believe that the more powerful phones will run smoother for a longer period of time. It is what we've seen happen with iPhones and many flagship Android phones. Definitely keep that in mind when you're choosing. 
Software: Android vs iOS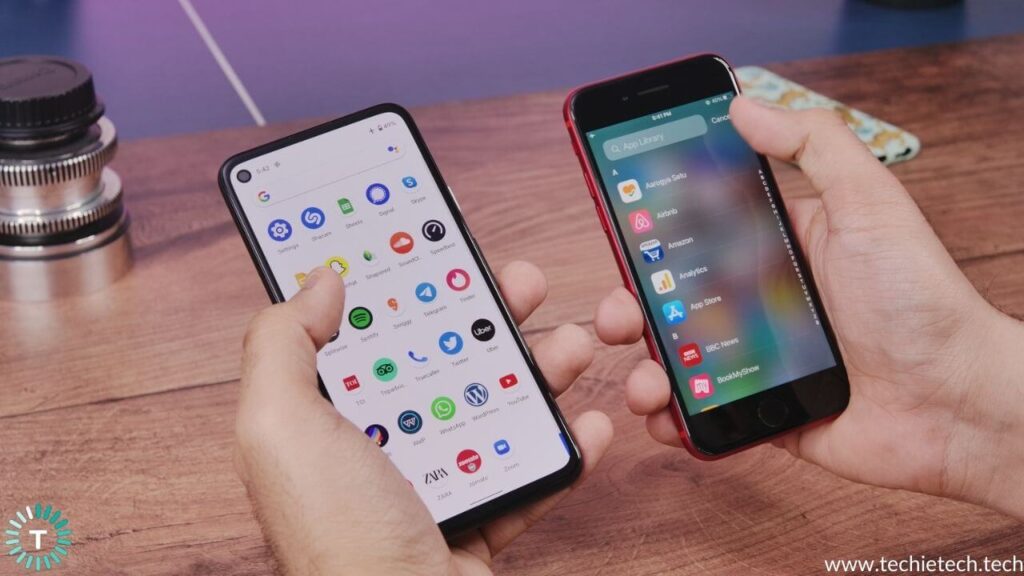 Let's talk a bit about software. I'm not going to declare a winner between iOS and Android, it's purely personal preference but I would like to highlight a few things. Both the iPhone SE and Pixel 4a represent the best of their respective ecosystems with a smooth and bug free user experience. Apple has an unbeatable record when it comes to long term software support but if there's anything which can compete, it's the Pixel lineup. Google provides timely Android updates for 3 years while Apple has a 5 year update cycle. Another massive point to consider if you're planning to use your phone for multiple years. 
Also read: iPhone SE vs iPhone 12 Mini
Cameras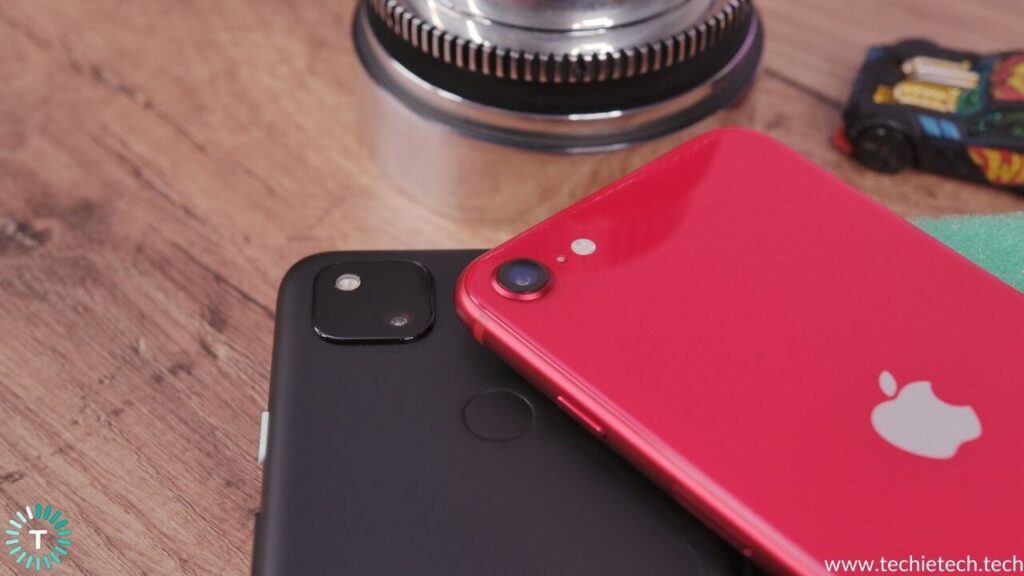 Moving on, let's discuss the cameras now. In terms of optics, both smartphones sport one camera on both sides. The iPhone SE has a 12MP f1.8 camera which is the same as that on the older iPhone 8. However, it's powered by the newer A13 Bionic chip which also powers the iPhone 11 series so we can see some improvements. On the other hand, the Google Pixel 4a sports a 12.2MP f1.7 snapper on the rear. Similarly,  it has also been used in older Pixel smartphones and the name of the game with Pixel cameras has always been excellent software processing. Let's find out how these smartphones with old camera hardware powered by new CPUs perform in real life.
Photos:
The primary camera performance on both devices is very different. Apart from the white balance differences, the iPhone SE shoots pictures with high dynamic range with respectable details. On the flip side, the Pixel 4a shoots contrasty pictures with accurate colors and better noise processing. 

Even though both smartphones have 12MP sensors, the Pixel 4a offers digital zoom which is really helpful while shooting portraits.

Subject separation performance is good on both devices. However, the pictures shot on the Pixel 4a have better depth perception than the pictures shot on the iPhone SE.

The iPhone SE has a 7MP f2.2 front camera while the Pixel 4a sports an 8MP f2 selfie camera. Both smartphones shoot sharp selfies. The overall image quality is very similar to the primary cameras. 

When we talk about Low light comparison, there is no competition between these two devices. The Pixel 4a has a dedicated night mode on both cameras which shoots brighter and sharper pictures while the iPhone SE has trouble shooting bright pictures.
Videos:
The iPhone SE is a step ahead when we talk about video resolutions and frame rates. It can shoot videos in 4K@ up to 60fps from the rear cameras while the Pixel 4a tops at 4K @30fps only.

The Pixel 4a shoots sharp videos with well-saturated colors. On the other hand, the iPhone SE shoots videos with high dynamic range, amazing image stabilization and excellent amount of details. 
To conclude, if you're looking for a smartphone that takes better pictures every time you press the shutter button, the Pixel 4a is a good choice. On the contrary, if you're more of a video shooting person then the iPhone SE trumps the Pixel 4a. But all in all, both these phones have very capable cameras, especially in their price segment. 
Battery Life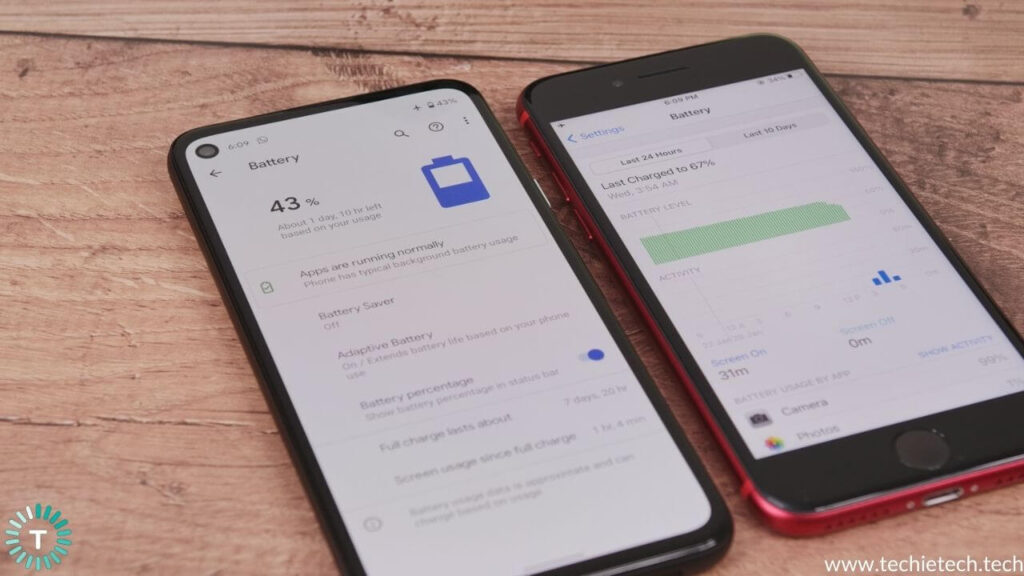 Time to discuss the battery life. Another area where both phones perform vastly differently. The Pixel 4a has great battery life. Easily lasts a day of heavy use and can be stretched to one and a half days too. We're talking roughly 5 to 6 hours of Screen On Time here. Google has some amazing AI which learns your usage patterns and improves the efficiency as you use your phone.

The iPhone SE has bad battery life. Sorry, there is no easy way to say it. It used to be fine but after the iOS 14 update, I'm never able to run the iPhone SE for a full day on a single charge. In my usage, I needed to charge the phone by around 4 to 5 PM if I started my day with 100% in the morning. I'm hopeful that Apple will fix it with a software update but until that happens, the Pixel 4a has objectively better battery life.

A couple of things to note, now that we're talking about charging. Firstly, the iPhone SE supports wireless charging, the Pixel does not. Secondly, if you buy the iPhone SE now, you will not get a power brick in the box so factor the cost of that in. You will get a fast charger in the box with the Pixel 4a. 
Also read: iPhone 12 SE vs OnePlus Nord
Highlights
Before we conclude, let's talk about a few key things. Both phones have stereo speakers and both sound great to me. The iPhone SE offers IP67 dust and water resistance, the Pixel does not. The Pixel has a headphone jack, the iPhone does not. Both phones have extremely fast fingerprint sensors although at different places. Both phones have great call clarity although the iPhone has a louder and more clear earpiece comparatively. Still, both phones are great for phone calls. 
Conclusion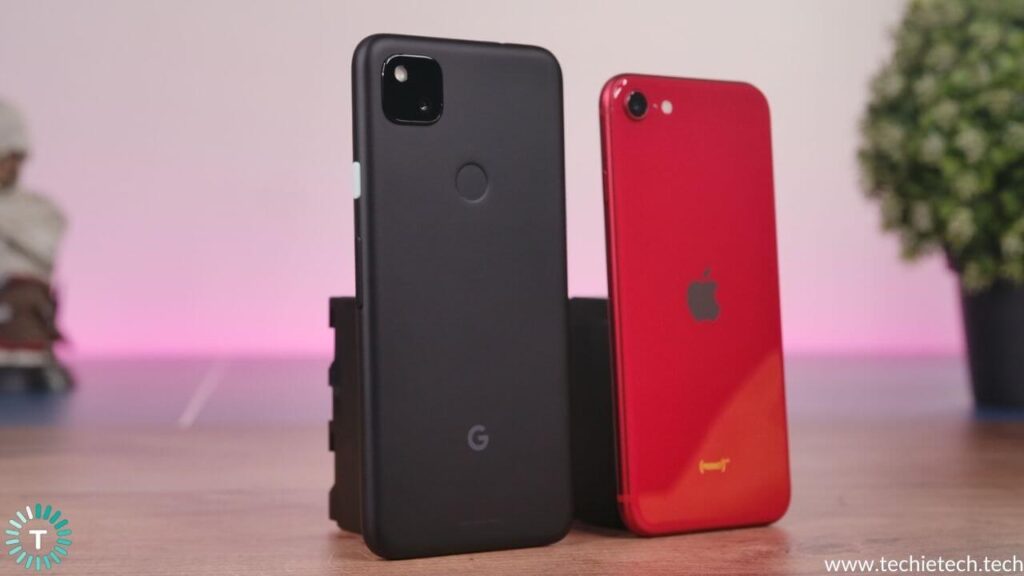 In conclusion, I'll just say that even though the iPhone SE and the Pixel 4a are priced similarly, they are very different phones meant for very different types of people. If you're picking between these two phones, list out your priorities in a phone and what's better for you will become obvious.

Check Pixel 4a price :
Amazon (US): https://amzn.to/2QF7AUP 
Amazon (India): https://amzn.to/3m0A6Mp 
Amazon (UK): https://amzn.to/3rmtybE 
Check iPhone SE price :
Amazon (US): https://amzn.to/3lPV7Zv 
Amazon (India): https://amzn.to/2ETI20O 
Amazon (UK): https://amzn.to/2Z9Qi3p