iPhone 11 is truly a premium flagship smartphone with top-of-the-line specifications. It has an all-glass front and back, so it's very important to protect the phone from any major scratches, bumps, and drops. It's really not a good idea to use your phone without a protective case, as just an accidental drop can ruin that immaculate design. The iPhone 11 has a beautiful design and offers some really gorgeous color options. If you want to show off your iPhone's color, while protecting it at the same time, you must invest in a good clear case. Moreover, if you don't fancy using designer or solid cases, a clear case can help you in keeping your iPhone safe. 
We've tossed several options and came up with our list of the best clear cases for the iPhone 11 in 2021. The list includes everything, from sleek to seriously tough and rugged clear cases that will help you find the most suitable transparent cases.
The Best Clear Cases for iPhone 11:
1. Spigen Ultra Hybrid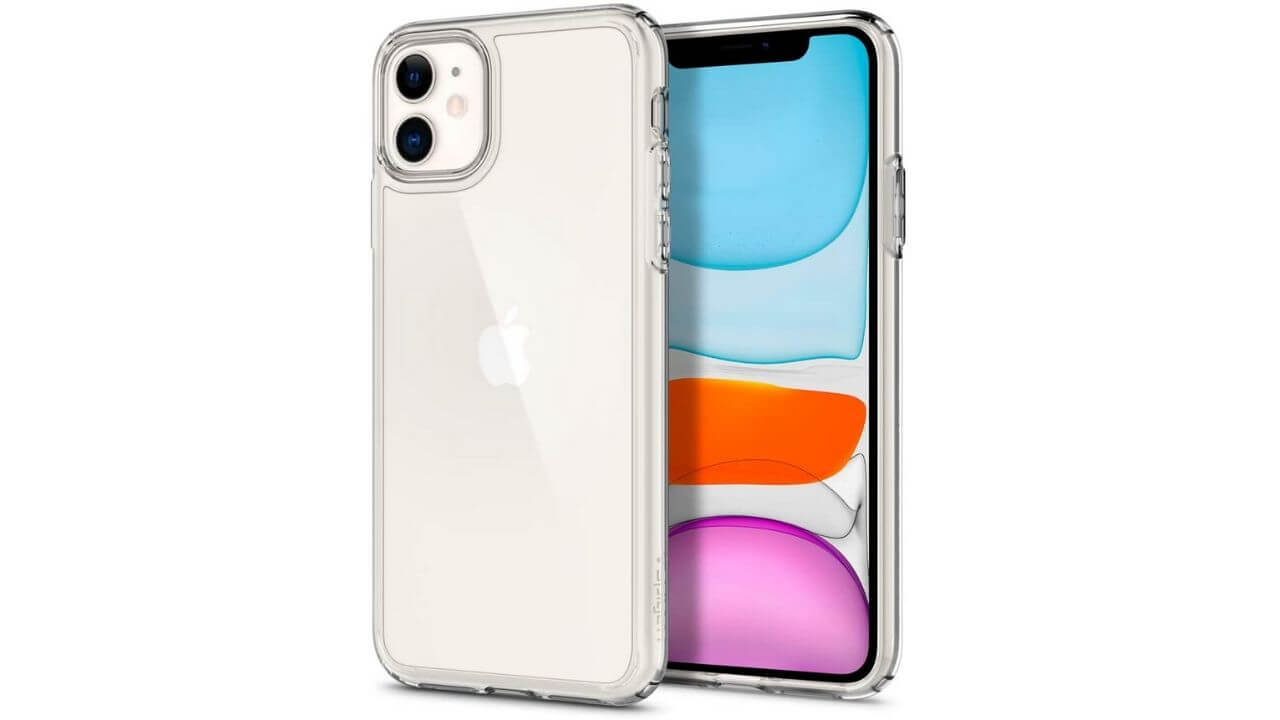 Highlights
Affordable price

Wireless Charging compatible 

Raised edges to protect screen and camera
If you're looking for a budget-friendly clear case with good durability and protection, the Spigen Ultra Hybrid case is worth checking out. It has a clear TPU bumper and a durable polycarbonate back that will protect your phone while the original back design will be clearly visible. This case has raised edges, which means your phone will be lifted slightly off on flat surfaces to protect the screen as well as the glass camera bump. Spigen Ultra Hybrid clear case fits the iPhone 11 really well with proper cutouts and tactile buttons. The case also supports wireless charging.
2. OtterBox Lumen Series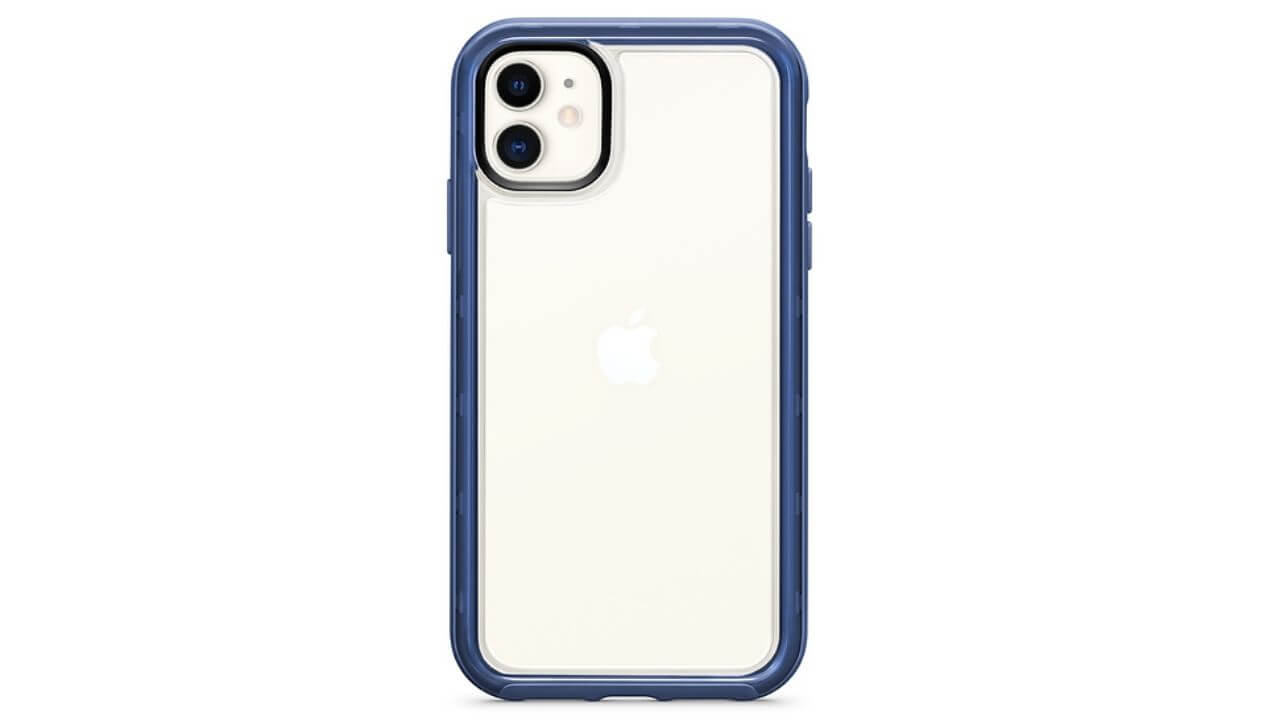 Highlights:
Scratch-resistant

Durable

Sleek clear case
For someone who's looking for a durable clear case with a splash of color, the Lumen Series from OtterBox is sure to impress you. It's a sleek case with a recessed back to protect your phone from scratches, drops, and daily wear and tear. The raised bumpers add more durability and keep the screen as well as camera safe from any drops and falls. The best part is the case doesn't add a lot of bulk to your phone and slides easily in your pockets. The case fits perfectly and makes your phone look more beautiful by showing off the iconic design with a splash of colorful hues.
This clear case is available in Red, Blue, Pink, and Black colored bumpers. 
Check out OtterBox Lumen series 
3. Speck Gemshell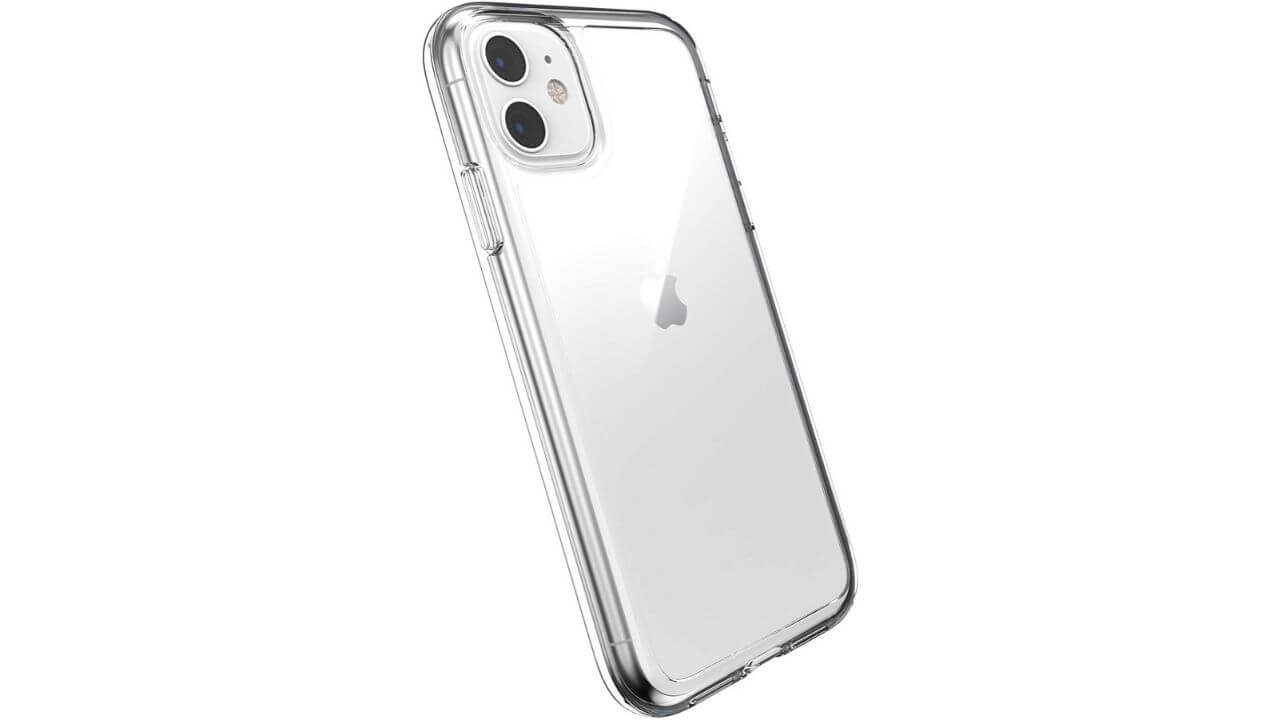 Highlights:
MIL-SPEC Drop tested

Anti-microbial protection

One year warranty
Speck Gemshell is a protective clear case for iPhone 11 that features a durable polycarbonate outer shell fused with the inner protective cushioning to offer two-layers of protection. The corners of the case are flexible which makes it very easy to put and remove your phone from the case. Also, the bezels are raised and the case is MIL-DROP Test certified, which means it can easily survive a few drops depending upon the height (up to 13ft). Speck Gemshell features anti-microbial protection and offers a one-year warranty as well. In short, if you're looking for a durable and protective clear case for your iPhone 11, Speck Gemshell is worth investing in.
4. Apple Clear Case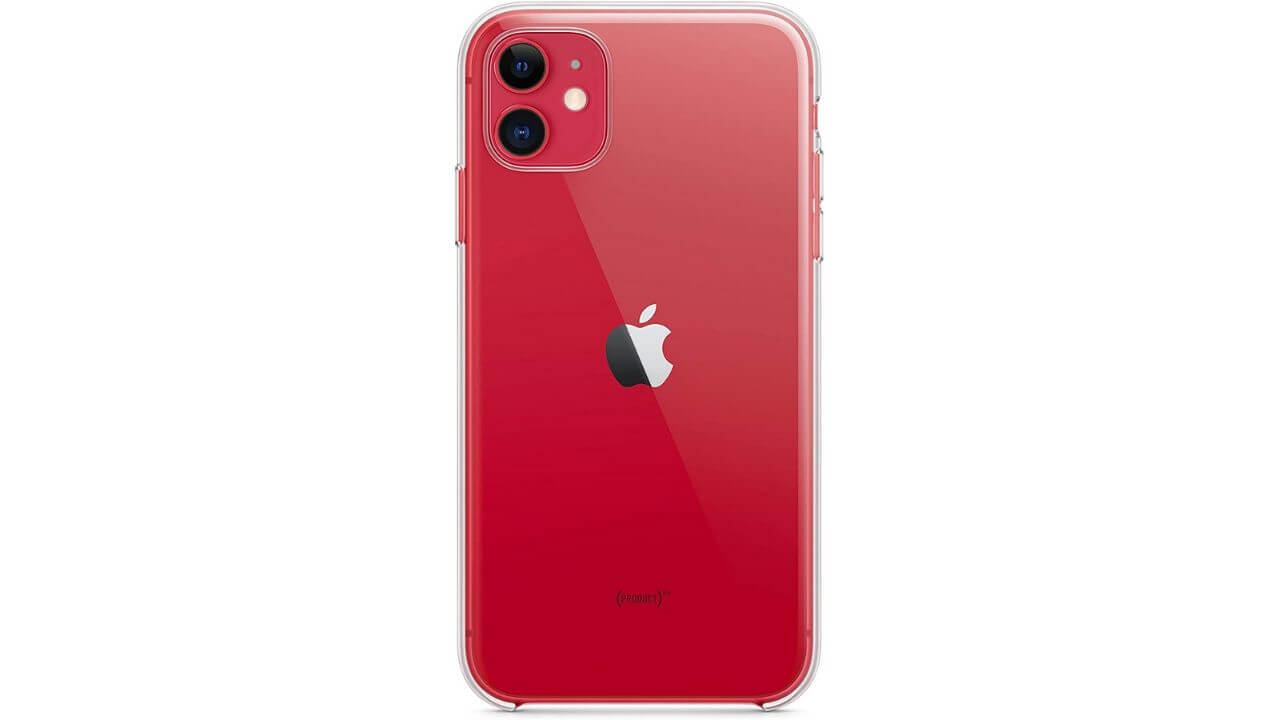 Highlights:
Apple-designed

Scratch-Resistant

Flexible and lightweight 
Apple Clear case is the best first-party case that you can get for your iPhone 11. It has a sturdy but flexible and lightweight design that makes it perfect for regular use. Also, the case is solid and scratch-resistant from both the inside as well as outside, and the materials are optimized to prevent yellowing over time, which is a major concern with the clear cases. Since it's an Apple accessory, it has been designed especially for the iPhone 11 and it fits perfectly with accurate cutouts and comfortable buttons. The clear case also supports wireless charging. However, the case might appear too slippery to hold at times, and it's prone to fingerprints too.
5. OtterBox Symmetry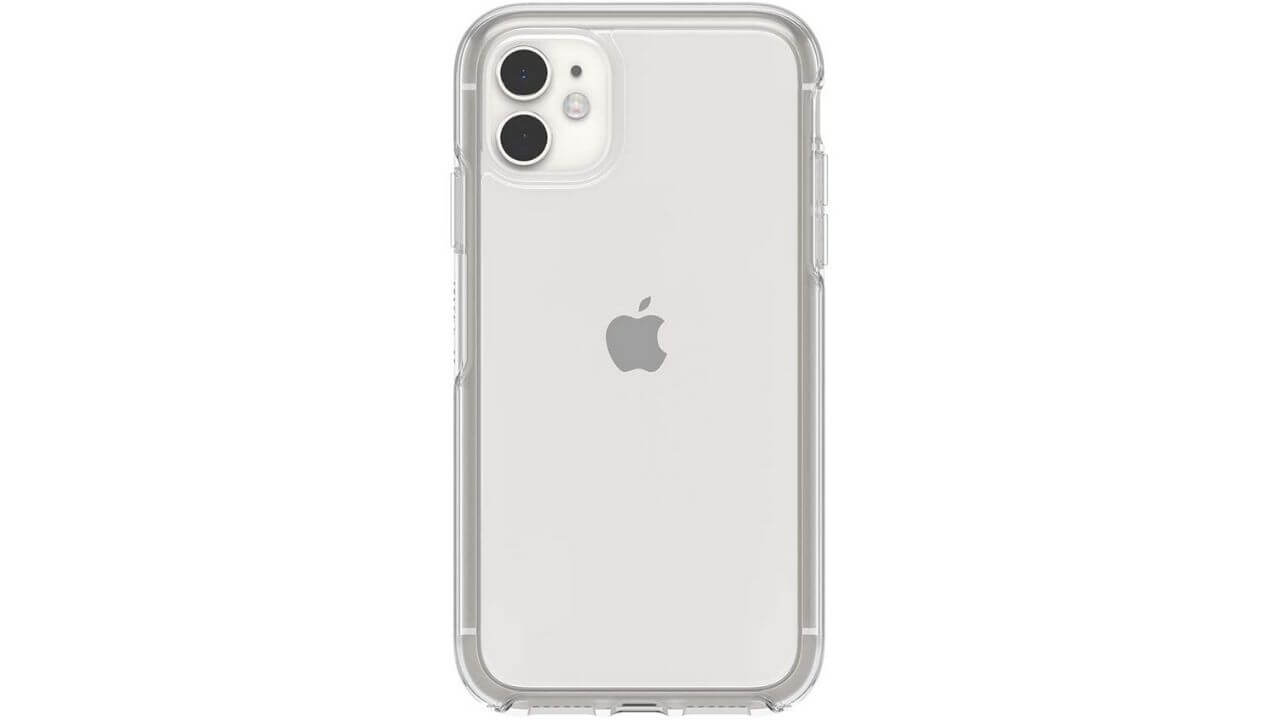 Highlights:
Better Grip

Durability

Slim design
Here we have another option from OtterBox, the Symmetry Series features a slim and protective clear case that shows off the actual color and design of your iPhone 11. The back of the case is made from solid polycarbonate and there's a rubbery finish around the edges of the case that offers better grip and bounciness in case of any falls or bumps. Like the other series from OtterBox, the Symmetry series also comes with the Drop+ Protection, which makes them one of the most durable and protective clear cases for the iPhone 11. Also, if you're looking for a clear case with a dash of sparkle, the Symmetry series has some amazing options to choose from.   
Also read: Best iPhone 11 Wireless Chargers in 2021
6. Mkeke Crystal Clear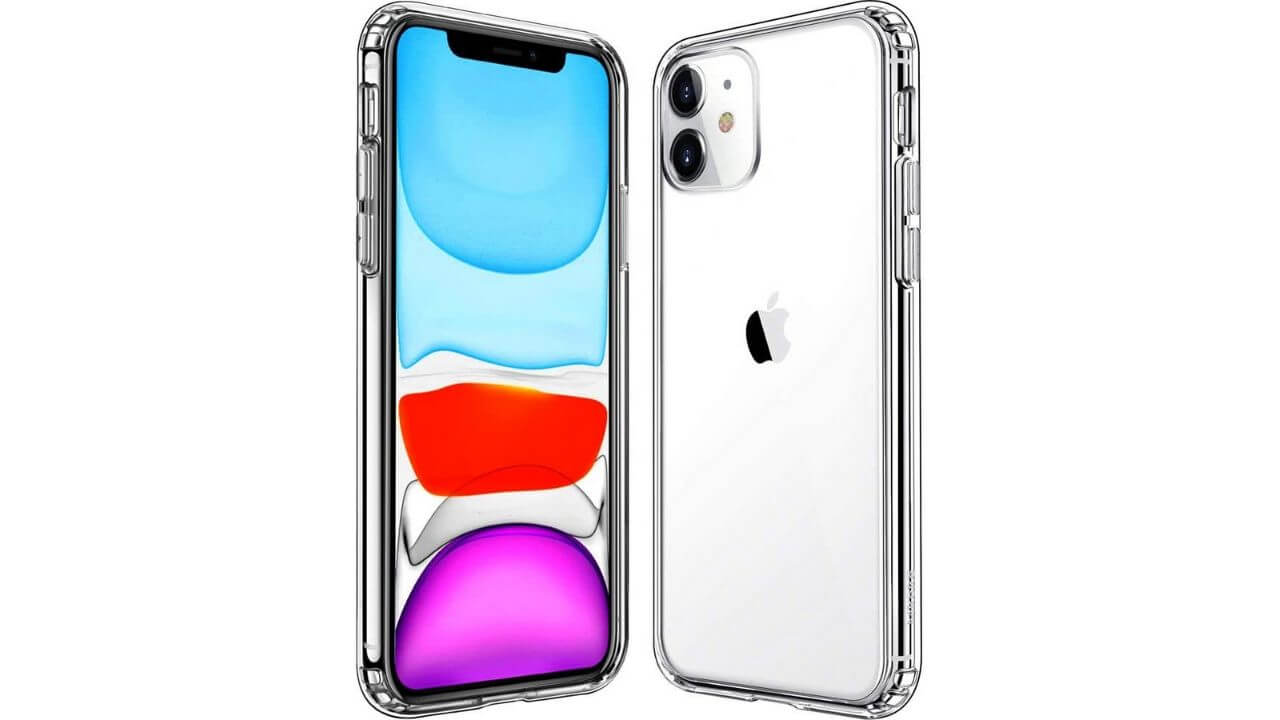 Highlights:
Affordable

Shockproof

Wireless charging support
Mkeke Crystal Clear is an affordable clear case for iPhone 11 that offers a better grip for a comfortable holding experience. The case features little bumper guards on the corners to safeguard your phone from any accidental drops and bumps, which makes it one of the best shockproof cases for the iPhone 11. Moreover, the edges are raised to protect the screen as well as the camera on the rear panel. Mkeke Crystal Clear fits smoothly on the phone and has apt cutouts for speakers, camera, buttons, mics, and lightning port. In short, this is the best budget clear case for iPhone 11 that offers drop protection, without adding any bulk. 
7. JTech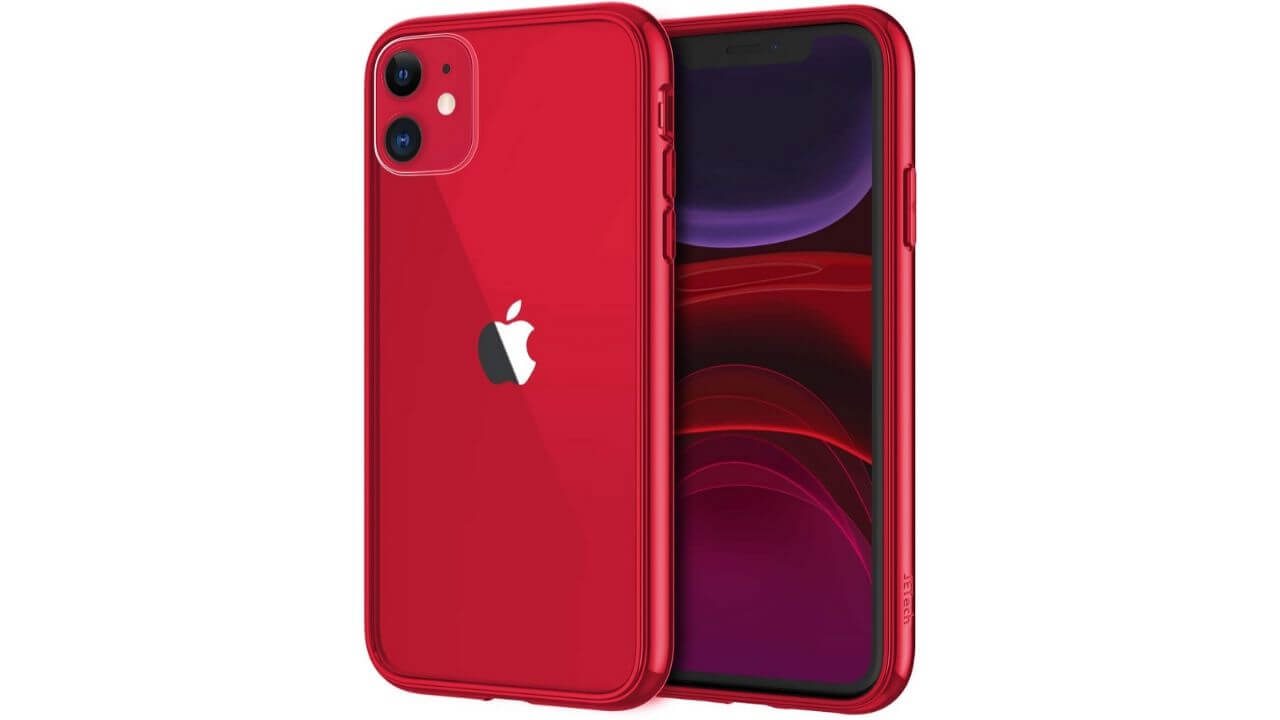 Highlights:
Shockproof bumper 

Anti-scratch body

Prevents watermarks
Here we have another iPhone 11 clear case with shock absorption and scratch-resistant design. All the four corners of the case are capable of absorbing shocks efficiently in case of accidental falls. It has a slim build with ultra-transparent back, so your choice of color can shine through. The JTech clear case fits easily on your iPhone 11 and has a tiny dots design that helps to prevent watermarks. In short, it offers pretty good protection and comes with an affordable price tag.
8. Caseology Skyfall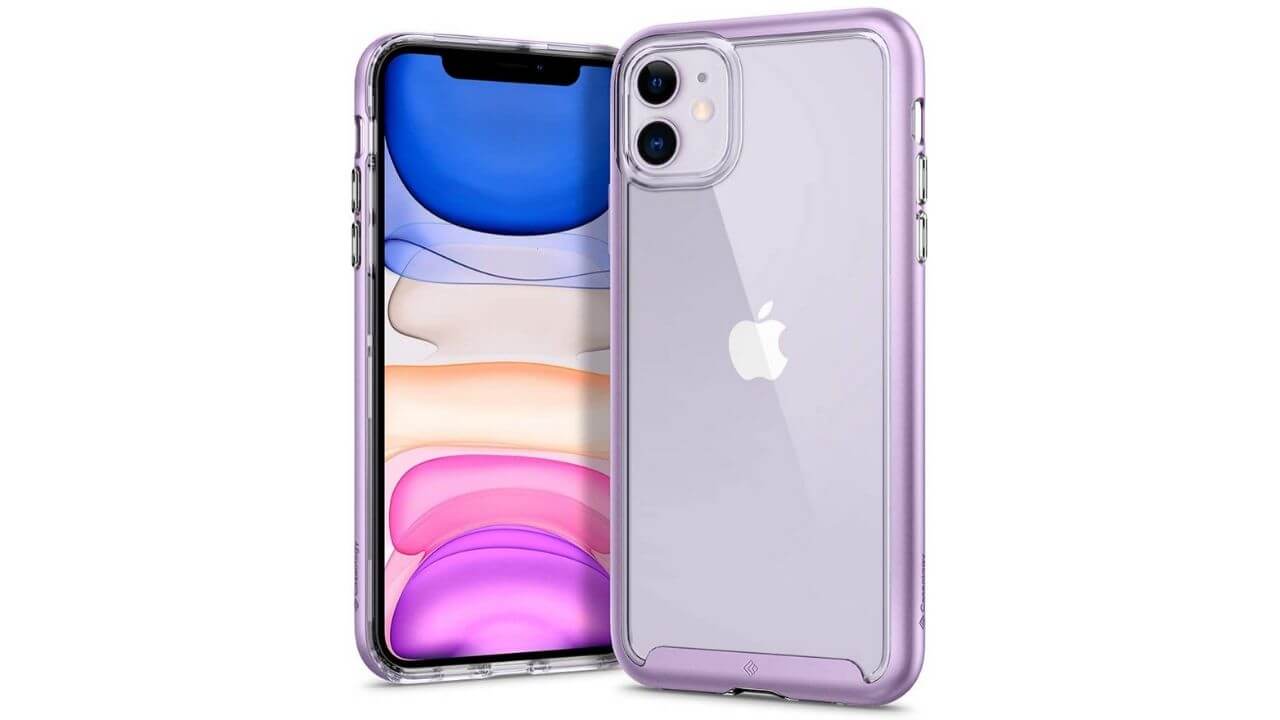 Highlights:
Caseology Skyfall offers a balanced combo of heavy-duty protection and classy design packed into a slim and ultra-clear polycarbonate body. The clear case is crafted using lightweight yet durable materials that protect your iPhone completely. Apart from protection, the case comes with colorful bumpers to match with your iPhone 11. Also, the case is certified with multi-drop tests to ensure the overall safety of the device. Therefore, it's a must-have clear case for people who love experimenting with different bumper shades and give a unique look to their phones. 
9. ESR Kickstand Clear Case for iPhone 11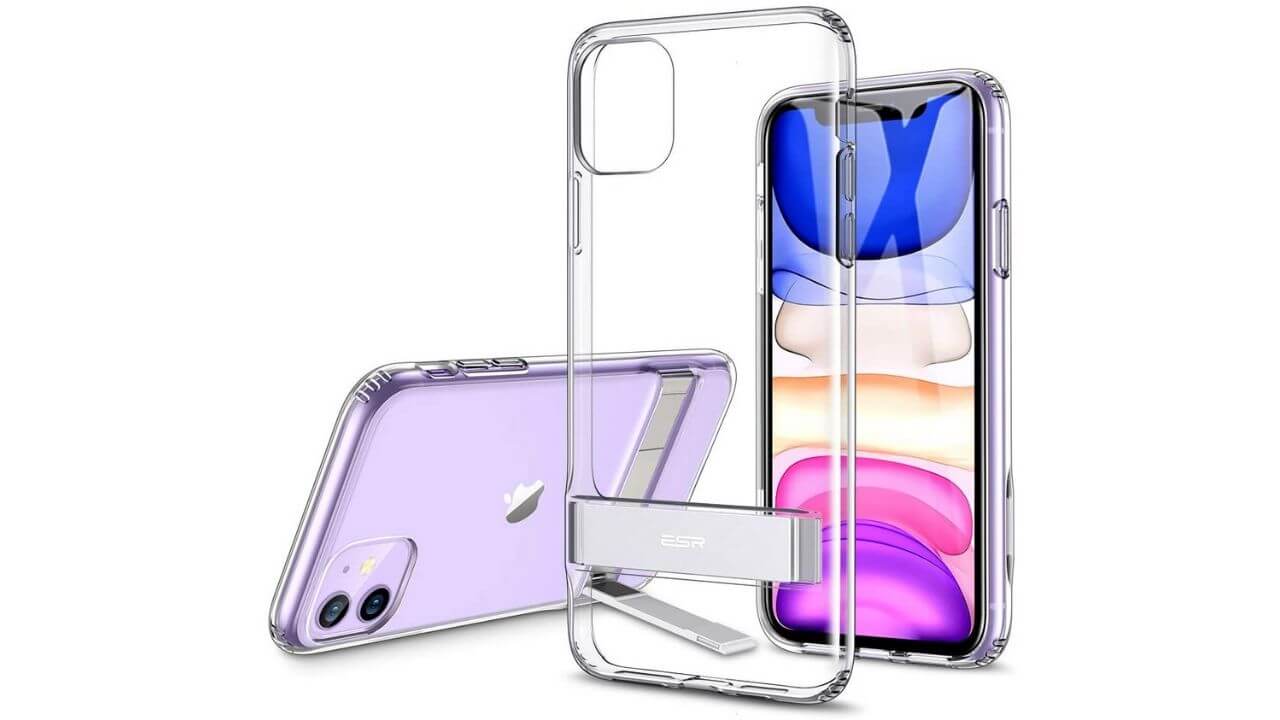 Highlights:
Two-way stand

Wireless charging support

Reinforced drop protection
ESR Kickstand is an interesting clear case for iPhone 11 that lets you watch videos and make FaceTime calls hands-free. It has a slim TPU body with raised edges and a metal kickstand that pops out and props your iPhone vertically or horizontally. The stand holds the phone securely and adds to a more comfortable viewing experience.  Also, the case offers reinforced drop protection and wireless charging support without having to remove the metal stand. 
10. Tech21 clear mobile case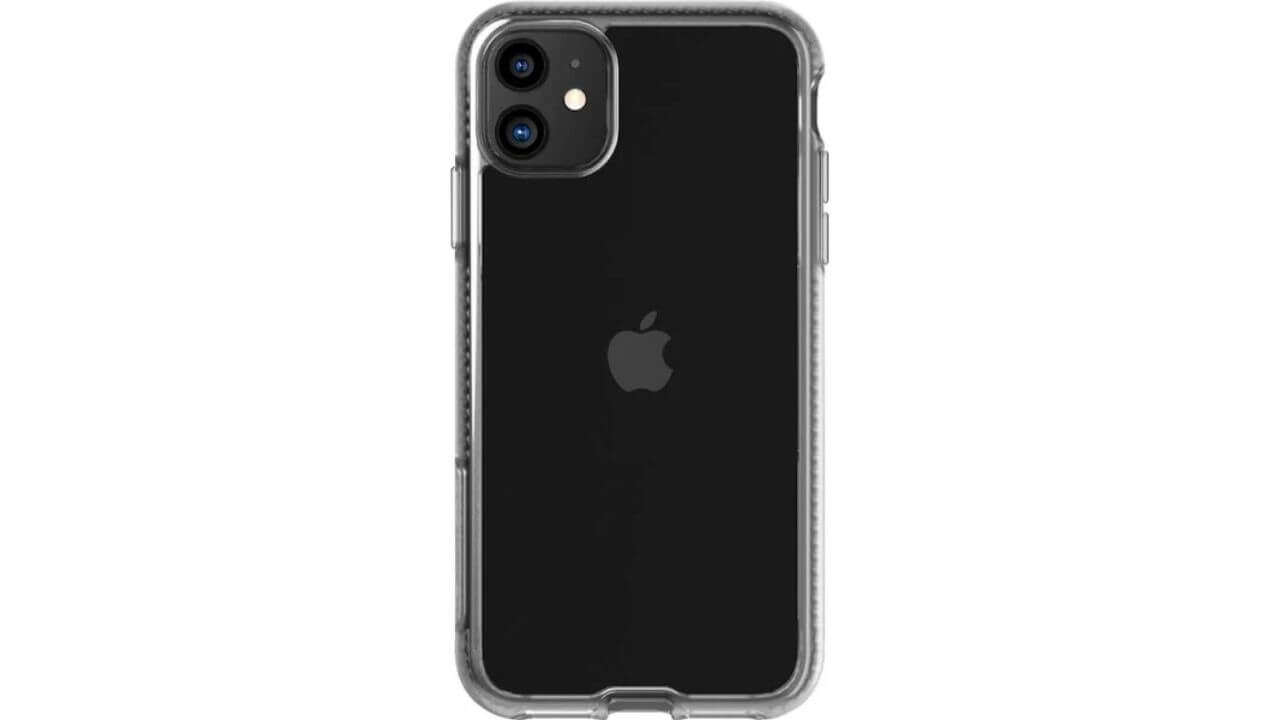 Highlights:
Drop protection from up to 3 meters

Anti-microbial protection

Smooths out scratches
If you're a clumsy smartphone user, you must own the Tech21 clear case for iPhone 11. This clear cover claims to protect your iPhone after a drop from up to 3 meters, so you don't have to always worry about "What happens if I drop my expensive iPhone?". Moreover, the case comes with BioCote antimicrobial protection, which reduces the microbes by up to 99.99% and keeps your phone hygienically clean. Besides, the Tech21 case features a self-healing finish, which keeps the case newer for a long time by smoothing out day-to-day scratches. 
Also read: Best PopSocket Grips for iPhone 11
11. Gear4 Crystal Clear
Highlights:
Integrated D30 Technology

Anti-yellowing body

Wireless charging support
Gear4 Crystal Clear is built using D30 approved materials, which are used in protective gear and are better-known for offering the thinnest and most advanced protection against knocks and falls. The case features a slim design with a transparent PC backplate that keeps the phone safe and sound. The exterior of the case features aura glow reflections for an added touch that gives a unique look to the phone depending upon the angle and how the light hits it.  It's been claimed by the company that the case is drop-resistant up to 10 ft. The clear cover for iPhone 11 is designed with beveled edges for added protection and precise cutouts for easy gliding over the phone. So, for someone who's looking for the best clear case with aura glow reflections and a tough build, Gear4 Crystal is worth giving a shot.
12. Lifeproof Next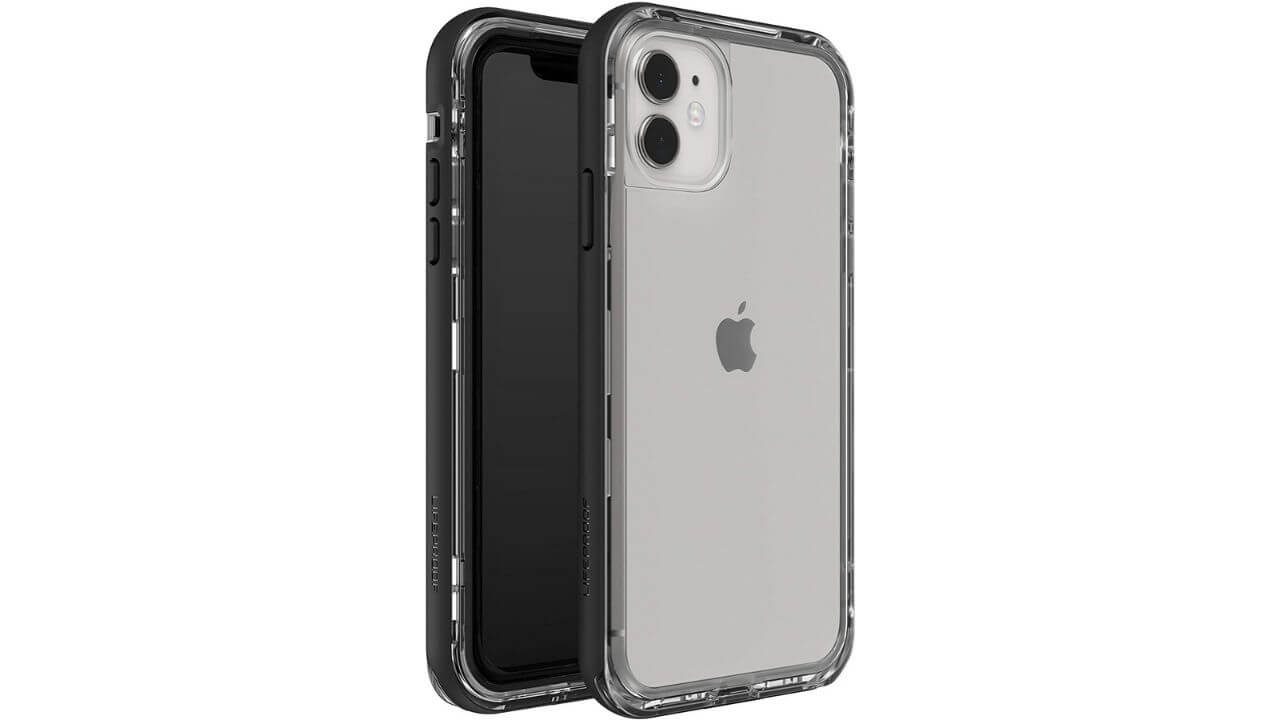 Highlights:
Drop Proof, Dirt Proof, Snow-Proof

Colored Bezels
The Lifeproof Next is an ultra-thin clear case for iPhone 11 with a transparent shell that reveals the phone's finish and colored bezels that draw a lot of attention. The front bezel helps to keep all the dust and debris away from getting inside and it's claimed that your iPhone can survive drops from up to 2 meters. Also, the case features closed speaker grates, mics, and a sealed charging port that prevents dust and lint from reaching inside those ports. Despite being protected, the speakers and mics are easily accessible. Lifeproof Next is one of the best durable iPhone clear cases for users who're looking for a subtle design with adequate protection.
13. X-Doria Defense Shield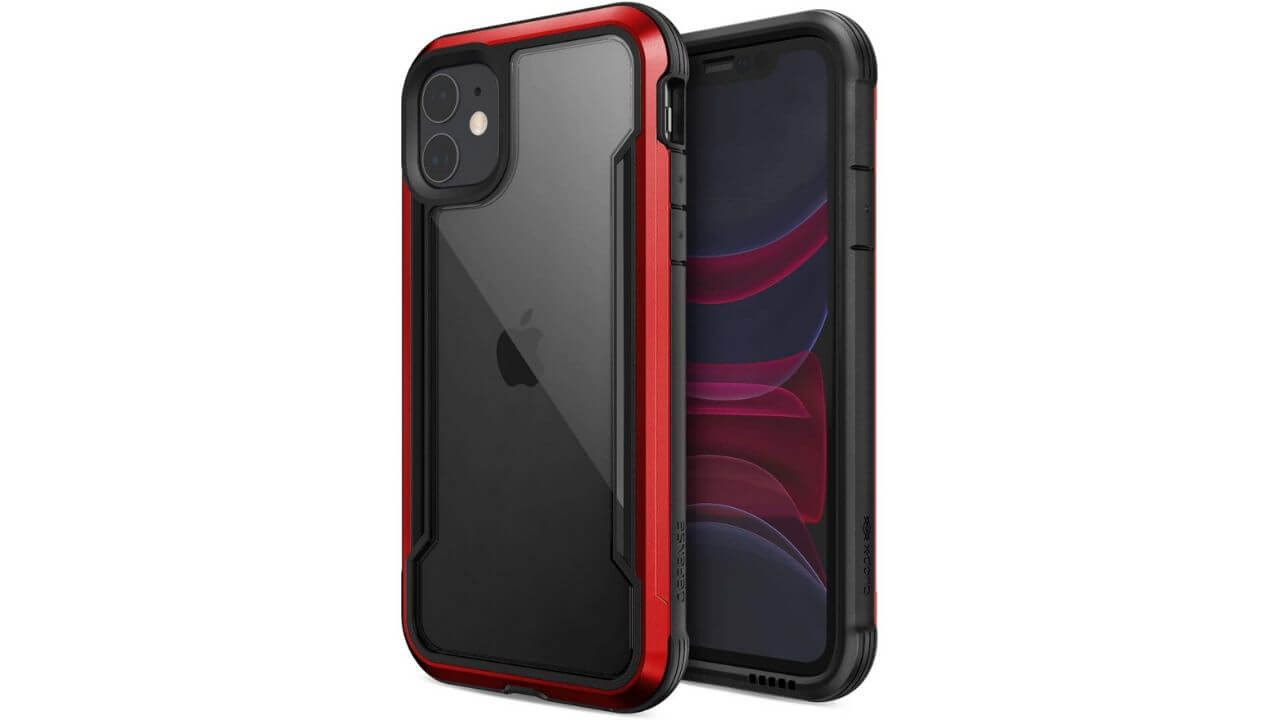 Highlights:
Military-grade protection

Integrated sound channel

Heavy-duty case

Supports wireless charging
If you're looking for the best rugged clear case for iPhone 11, look no further than the X-Doria's Defense Shield. The case is built from a heavy-duty machined aluminum frame and has soft rubber on the inside that absorbs and deflects shock in case of any falls. The frame comes with raised lips to protect the phone's screen from surface scratches. One of the main highlights of this case is the integrated sound channel that helps to generate front-faced sound. It amplifies the bottom speaker to redirect the sound to the front of the case, resulting in a better sound quality when you're listening to music or watching your favorite series. Also, the Defense Shield clear case offers some worth-trying exclusive colors, including the iridescent and bright purple finishes.
14. i-Blason Ares iPhone 11 Rugged Clear Case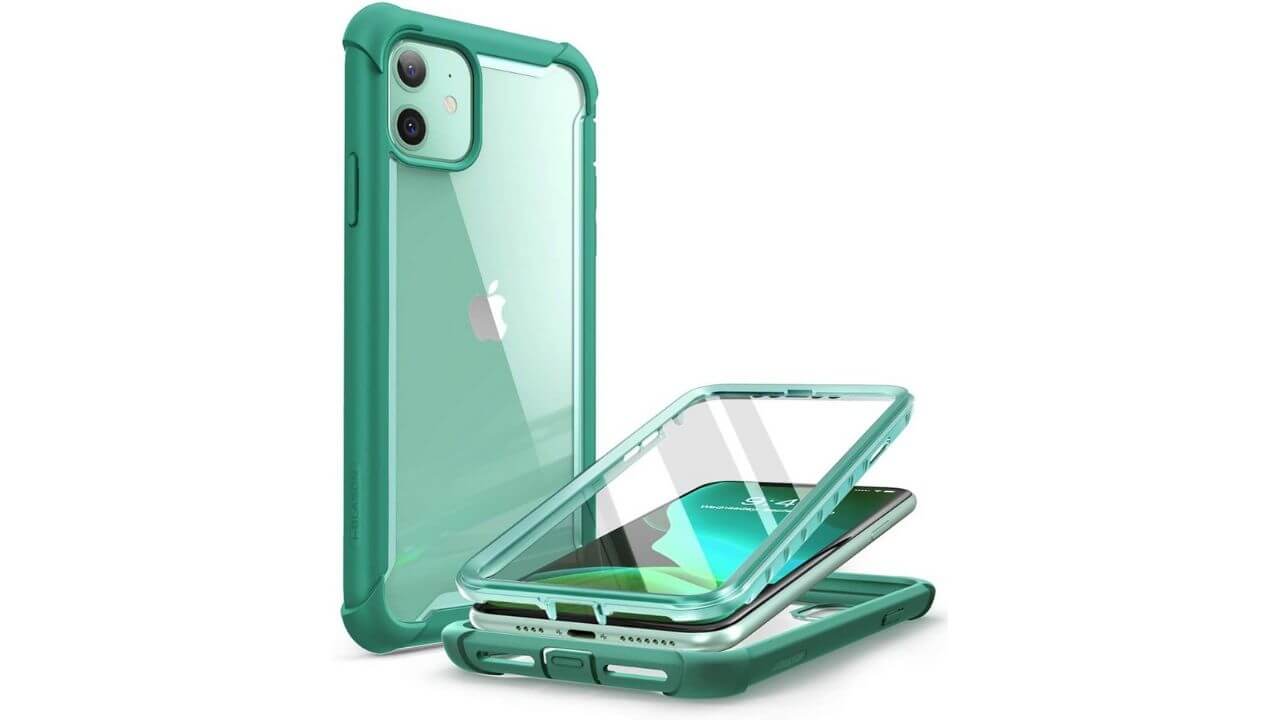 Highlights:
Drop tested by CNET 

Built-in screen protector

Comfortable grip

Wireless Charging support
Here we have another scratch-resistant clear case on our list, which supports wireless charging. The case is constructed using premium polycarbonate and shock absorbing TPU bumper to offer 360-degree protection to your iPhone 11. This case also has an added bonus, it comes with an in-built screen protector that adds a layer of protection to your phone's screen, without affecting its responsiveness. Moreover, the case's body is intelligently designed with high-quality textures that add enough grip to hold your phone comfortably. 
15. Speck Presidio Clear+Glitter Case for iPhone 11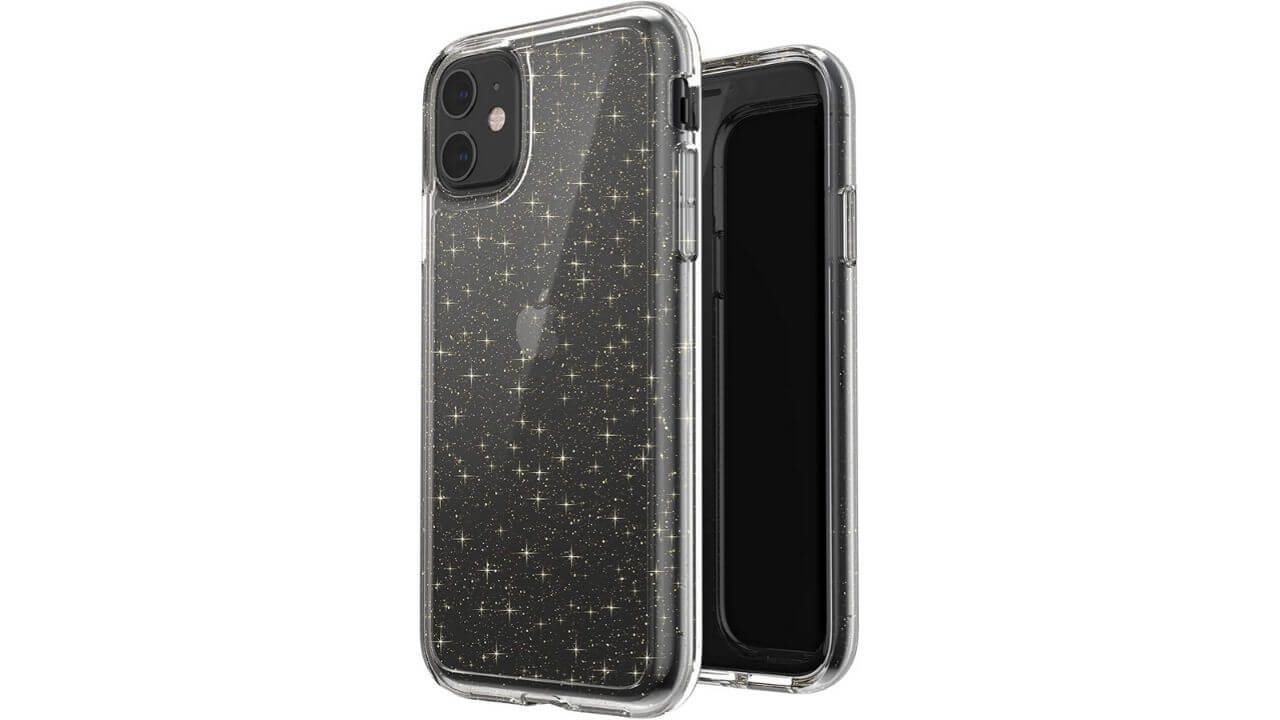 Highlights:
Beautiful glitter crystals design

Anti-microbial protection

MIL-SPEC drop tested
For all the girls out there, who love shimmery and glitter crystal cases, the Speck Presidio Clear+Glitter case is sure to become your front-runner. The Speck Presidio case features a slim and durable design with a polycarbonate outer shell and a layer of protective cushioning on the inside to safeguard the phone completely. It has a clear back with embedded gold glitter crystals that look super-beautiful. The case comes with Microban's antimicrobial protection that helps to prevent stains and odor-causing bacteria and eventually adds to the life of the case. The Speck Presidio Clear+Glitter case has been tested to meet the MIL-SPEC drop standards and also supports wireless charging.
Also read: Best Fast Chargers for iPhone 11, 11 Pro, and 11 Pro Max
16. TORASS Shockproof iPhone 11 Clear Case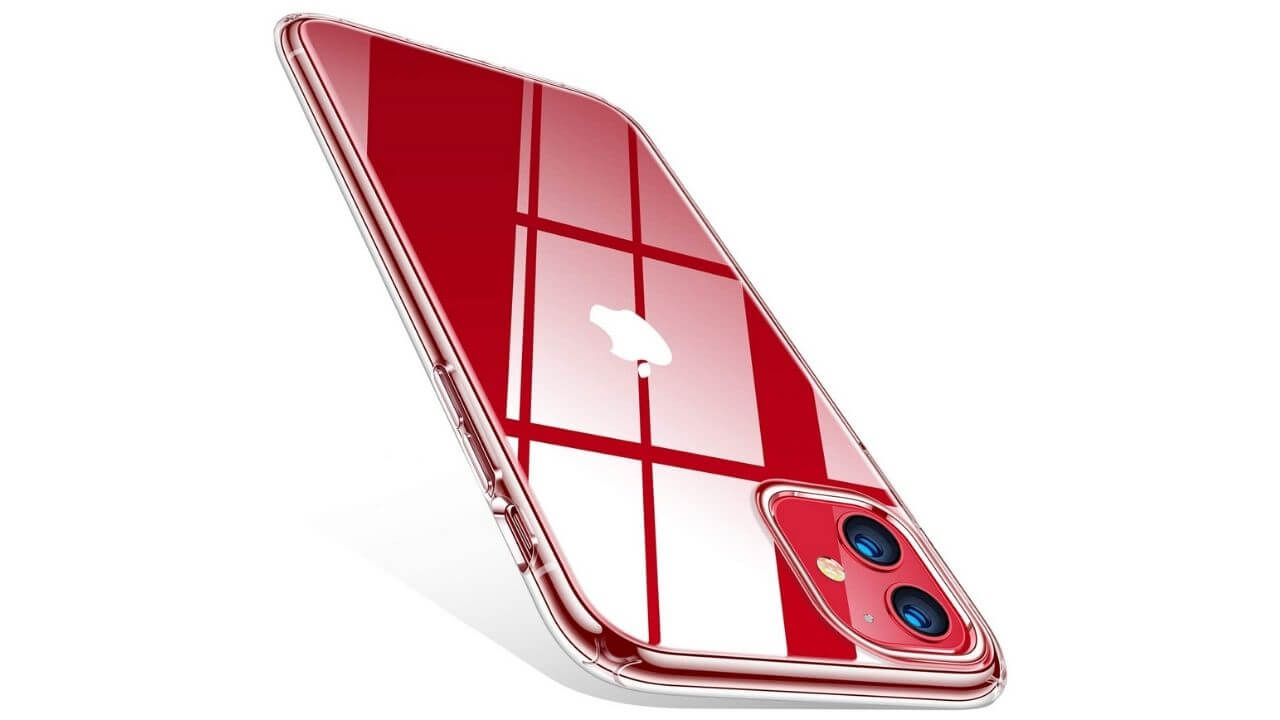 Highlights:
Upto 6ft drop protection

Slim and lightweight design

Shock-absorption

Anti-yellowing materials
Here we've got a slim and lightweight iPhone 11 clear case that utilizes X-SHOCK Technology to deliver reliable drop protection from up to 6ft. The TORASS Diamonds Clear Case is designed using clear and anti-yellowing materials that ensure long-lasting clarity. The rubberized edges for a superior grip and there's an oleophobic coating to keep away those greasy fingerprints. Besides, the raised edges work as a camera and screen guard to offer enhanced protection. The clean design, responsive buttons, and wireless charging compatibility are amongst some of the impressive features of this case.
17. Case-Mate Tough Clear Case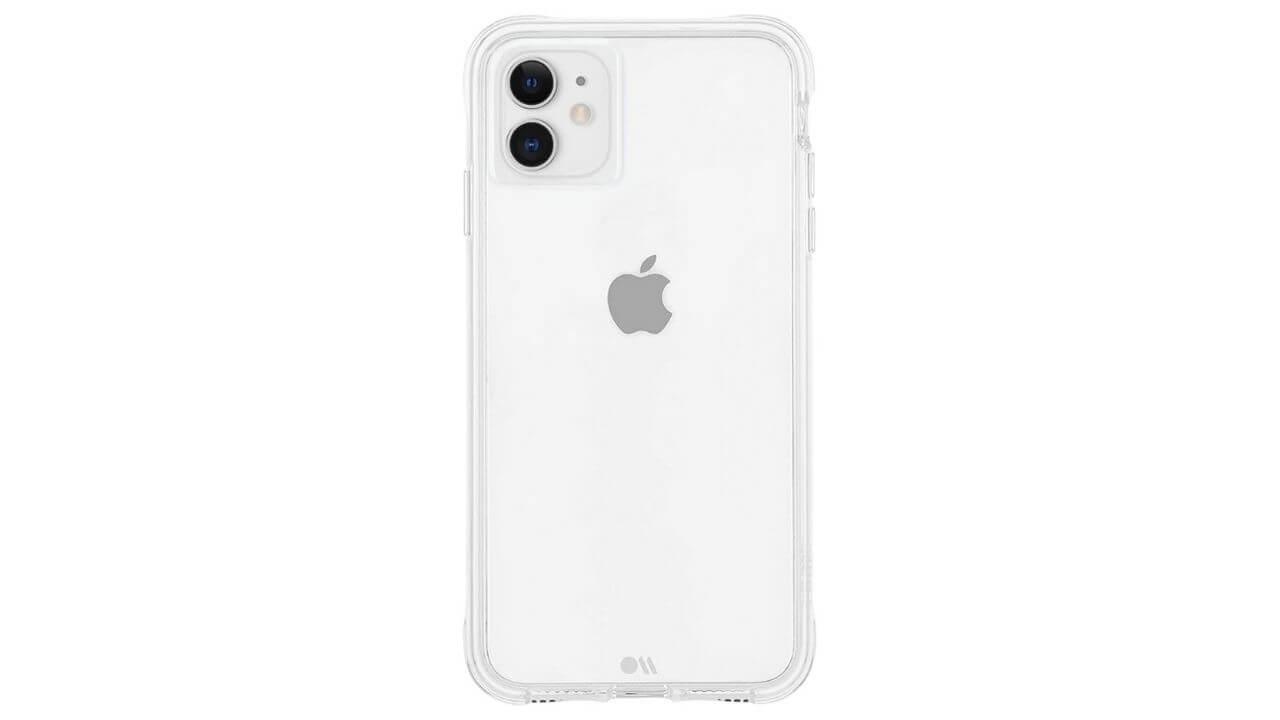 Highlights:
Lifetime warranty

10ft drop protection

Supports wireless charging

Slim profile
If you're a fan of protective cases that allow you to flaunt the brilliant colored finish of your iPhone 11, get yourself the Case-Mate Tough Clear Case. It's a protective clear case for iPhone 11 that features an
ultra-slim design and flexible grip sides
to offer an enhanced grip for a comfortable in-hand experience. It's a well-made case that can protect your
iPhone 11 from drops as high as 10 feet
. The case is topped with an anti-scratch and anti-yellow coating that ensures clarity for a long time. The Case-Mate Tough Clear Case for iPhone 11 is compatible with most wireless chargers and is backed by a robust lifetime warranty.
If you want to give your iPhone 11 a touch of glitter or wrap it with colorful bumpers, Case-Mate has got some amazing options for you.
18. Mous Transparent iPhone 11 Clear Protective Case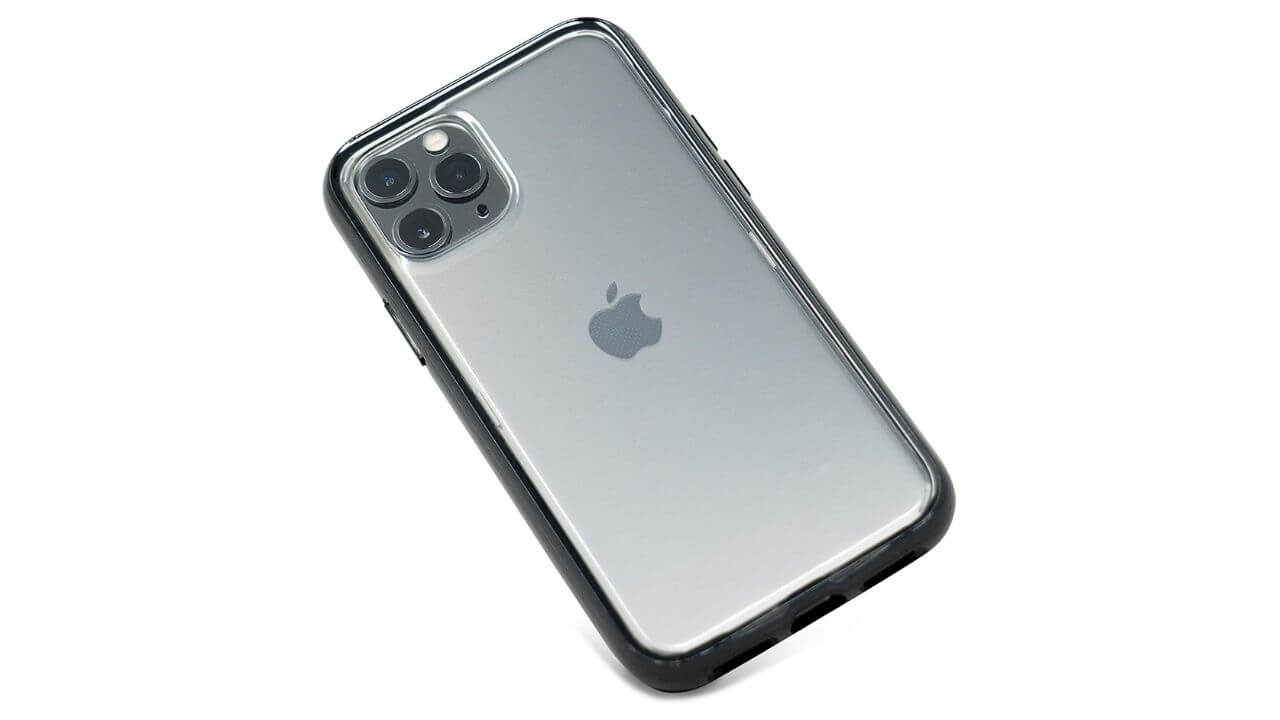 Highlights:
Lifetime warranty

Excellent impact protection

Crystal clear and slim design

Scratch-resistant coating
Looking for a premium clear case for your iPhone 11? Have a look at the Mous Transparent Clear Protective Case. It's a super-slim clear case that's just 2mm thick, which helps to maintain the sleek profile of your iPhone 11 while giving it the necessary protection. This transparent case for iPhone 11 is designed using high-quality, durable materials and embeds impact-absorbing AiroShock technology to deliver incredible protection in case of shocks and drops. The built-in anti-yellowing UV resistance ensures the case stays clear for a longer time. The raised edges safeguard the pristine display and dual camera setup against scratches when you lay your phone on flat surfaces.
Don't miss our recommendations on the best iPhone 11 Pro cases in 2021.
That was all for our roundup of the best clear case for the iPhone 11 in 2021. We hope you've spotted the favorites to protect your 6.1-inch of iPhone 11 goodness while flaunting the gorgeous shade you own. 
Make sure to check out the round-up of the best gaming and camera accessories for iPhones.