More and more wireless earbuds are joining the competition every day and the good old headphone jack is nowhere to be found. Well, it's safe to say that we're finally in the true wireless earbuds era now.
So, I recently got to review budget wireless earbuds from a company called Silicon Power, which is popularly known for manufacturing flash memory products for computers. They recently released the second iteration of their true wireless earbuds, called the Blast Plug BP82. Let's find out how good they are in real life.
Design
At first glance, you'll notice the elegant circular LEDs with a glossy design along with the microphone hole.
There are no physical buttons on these earbuds because they use touch capacitive buttons on both the earbuds. I've been using the Jabra Elite Sport before I tested these earbuds so I'm used to the 2 physical buttons on each earbud. Therefore, moving to the touch capacitive buttons did require a small learning curve but the experience was nice. Although, this came at a cost of losing volume controls because each earbud only has 1 control feature like play/pause or next/previous song.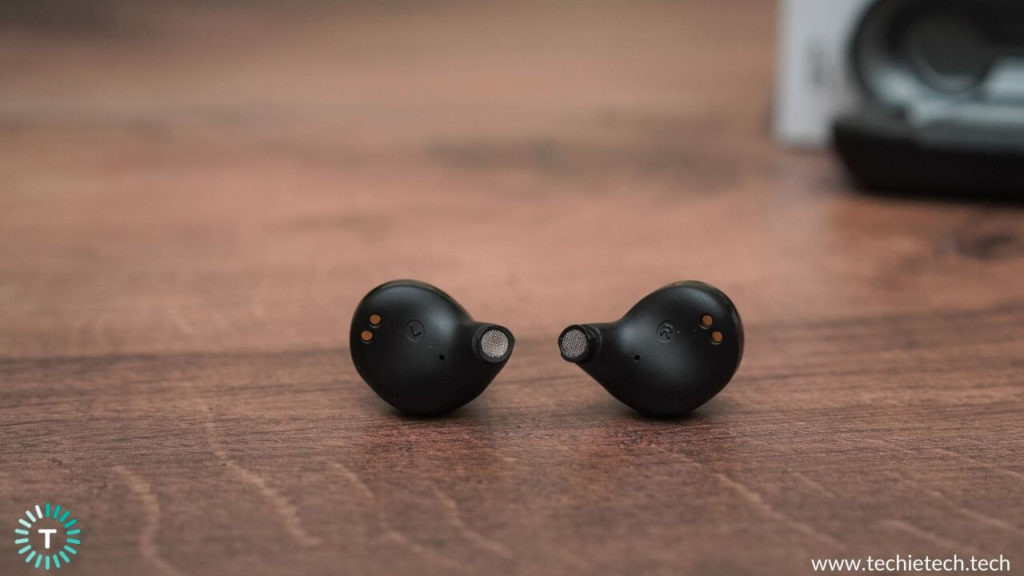 The Blast Plug BP82 earbuds feature an elongated earpiece design which ensures an isolated listening experience. If you're used to in-ear earphones then you'll feel at home using these. Initially, the in-ear earphones were not comfortable at all because I was using them with the wrong ear tips. You can learn more about this in the user experience section.
Both the earbuds sit in a charging carry case. The case is very lightweight and features small LED lights for indicating battery levels of both the earbuds and the charging case. At this price tag, this is a really good feature.
Features
The best thing about the Silicon Power BP82 wireless earbuds is the magnetic attachment feature. The earbuds attach to the charging case magnetically. When it comes to real-life usage, this feature is a lifesaver. I've dropped my previous earbuds countless times because they did not attach magnetically.
The BP82 series earbuds use Bluetooth 5.0 connection. In simple terms, you get a strong wireless connection along with an easy auto-pairing feature, whenever the earbuds are taken out of the case. But you will have to pair the earbuds while setting up for the first time.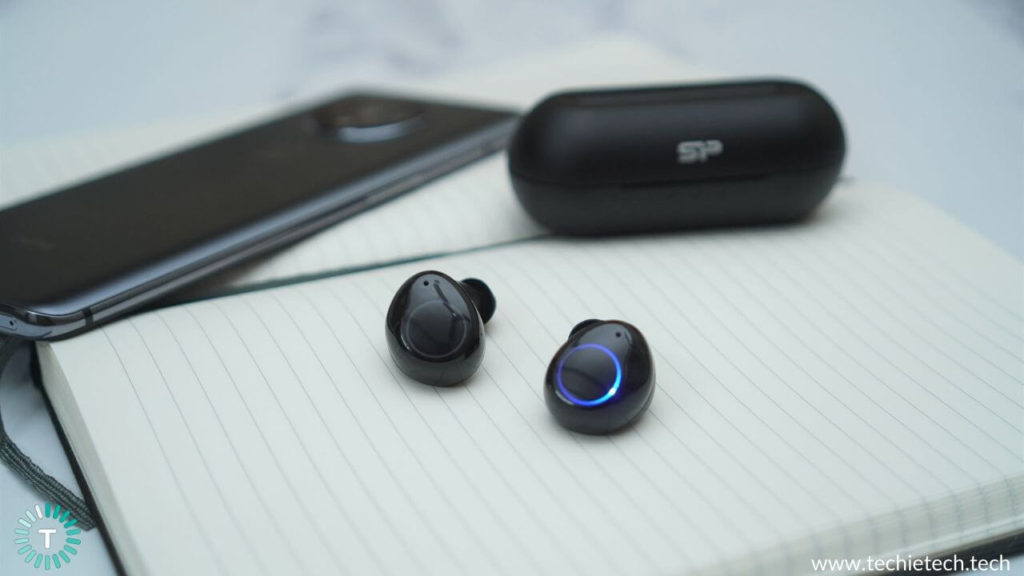 I tested these with the OnePlus 7T and I kept facing this Bluetooth auto-pairing bug. Whenever I took the earbuds out of the case, they connected to some random non-existent device and I had to restart them to get them to connect to my smartphone. This problem went away after I factory reset the earbuds.
Silicon Power claims that the BP82 wireless earbuds feature a water and sweat-resistant design. Honestly, this feature sounds cool but I wouldn't recommend running a marathon while wearing these. They're fine for casual usage in gyms and other daily work but definitely recommended not for extreme usage in any conditions. The BP82 earbuds are not IP certified.
The LEDs on the Blast Plug 82 series earbuds as well as the charging case are really useful for the pairing and charging process. But the charging case LEDs blink even after you've closed the case. Now, this is really really infuriating when you're using them in the dark for watching a video or listening to music. It gets so annoying that I end up putting the case in a drawer after use.
What's in the box
The earbuds come in a small plastic box. The box has a transparent plastic that displays the carry case as well as both the earbuds. You get the following contents in the box: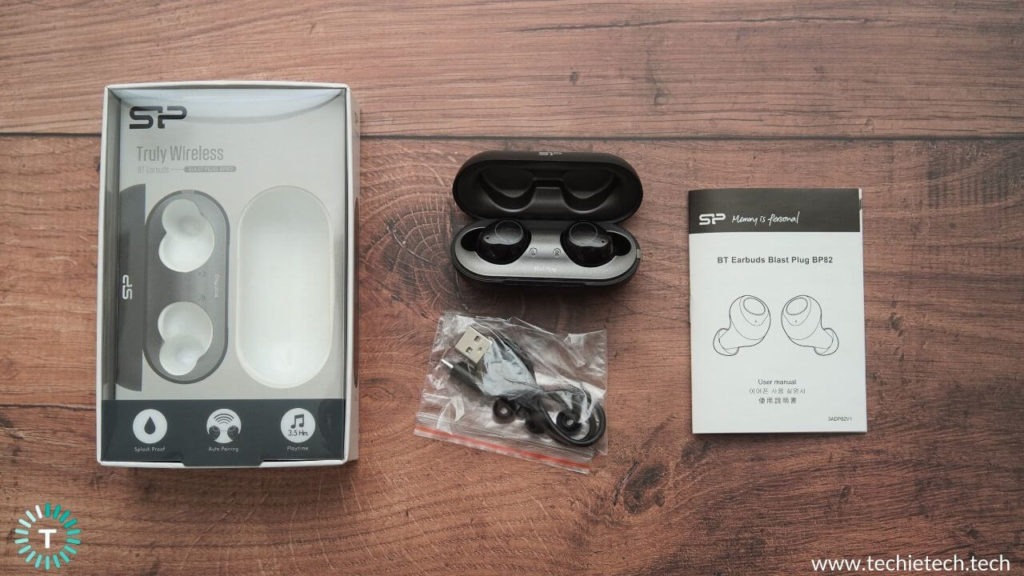 Earbuds – 2
A charging case
A manual
A type-A to MicroUSB cable
Eartips of 3 sizes: S, M, L
Specs
Here's a look at the specs of the Blast Plug BP 82 series earbuds: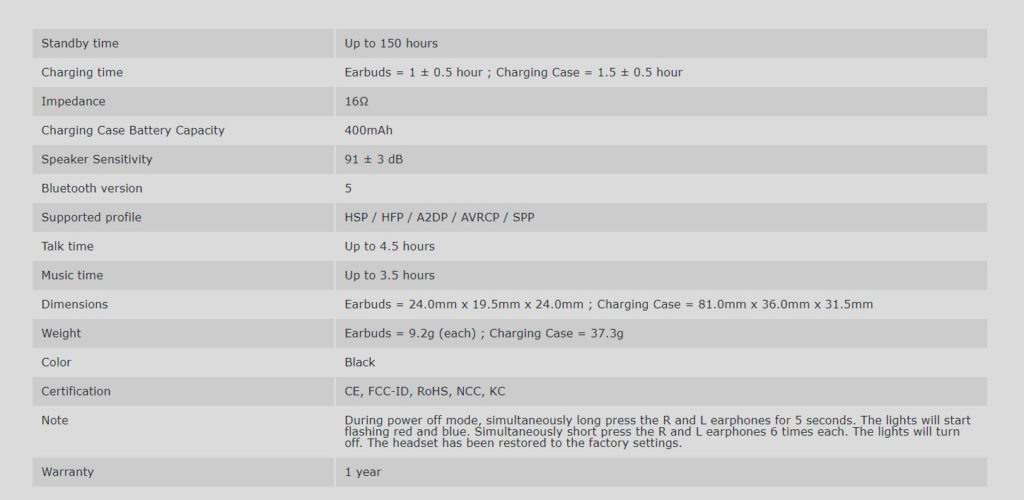 Performance
I tested the BP82 wireless earbuds for a few weeks before writing this review. In those weeks, I used the wireless earbuds for watching movies, videos, listening to music, podcasts as well as editing videos.
I'll keep it simple and won't get too technical about it. Starting off with casual usage for listening to music and watching videos, the BP82 performs very well. They're a bit more on the bass side. Probably because of the isolation feature found in in-ear earbuds.
The vocals are good, especially in the mid-levels. But as you move to higher or lower frequencies, the earbuds tend to lose the details and bass takes over. One might not notice these if they're used to in-ear earbuds. Same is the case for watching YouTube or regular videos. To sum it up, they work decently without any noticeable hiccups.
But things get a bit choppy when you're watching movies. Before you proceed to read this, please note that a casual user won't even notice these findings.
Since, movies have a properly laid out sound design with background music, dialogues, and SFX, which consist of multiple high and low-frequency responses. The BP82 performs those adequately but does not deliver any justice to the dialogues which are usually between mids and highs. Now, in order to hear those dialogues clearly, I'll have to increase the volume and after a certain level, this introduces harmonic distortion. That's because of the design and build quality of the BP82 earbuds. This can be annoying but as I said, it can only be noticed if you're trying to nitpick on a sub $40 wireless earbuds.
Moving to the calling and microphone performance, the BP82 does a decent job indoors but picks up noise outdoors especially in windy situations.
As mentioned in the specs sheet, the 400mAh battery case along with the fully charged earbuds provides between 3-4 hours of battery life. It is charged using a MicroUSB cable.
Also read: Meze Audio Neo 99 Headphone Review
User experience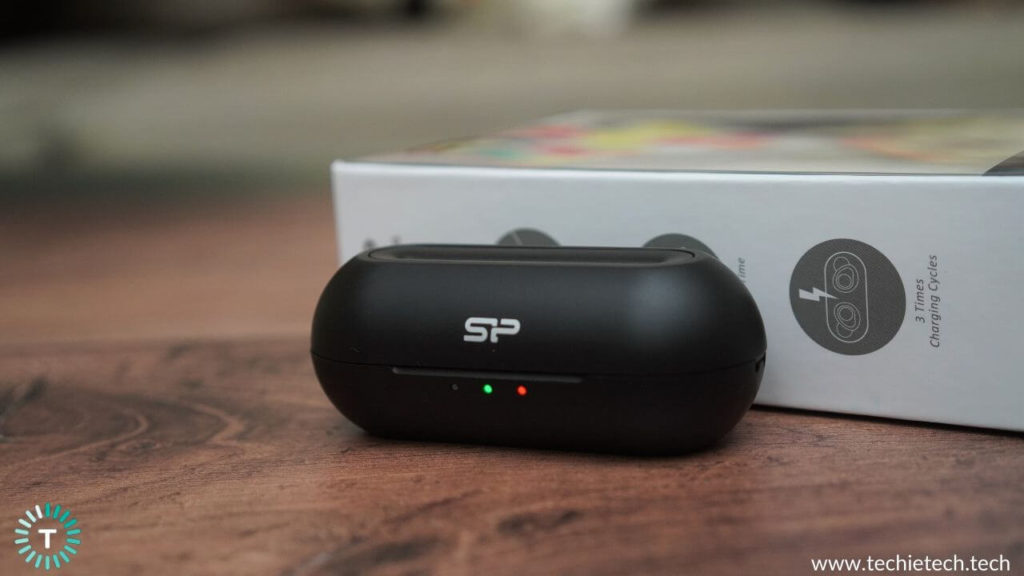 I believe comfort plays a really important part when it comes to selecting the perfect wireless earbuds. Primarily, because the earbuds might be sitting in your ears for hours so they better be comfortable.
The Silicon Power BP82 earbuds come with 3 different ear tip sizes, L, M, and S. This might be a subjective thing but I believe the size of the ear tips even the L size is very small. When trying them on for the first time with the M size, I ended up getting a minor scratch in my ear because of the small size of the ear tips and the elongated earpiece design. So, I used a bigger set of ear tips to get them to fit perfectly and make use of the isolation feature.
I used these for watching videos, movies and listening to music and these Silicon power wireless earbuds are decent for all these activities as long as you're not wearing them for more than 2 hours. After that, it tends to get uncomfortable.
Conclusion & Pricing
Price: $30 USD 
Considering the price of these Silicon Power BP82 series wireless earbuds, they're totally worth the money. I mean, if you're a casual user looking to get started with a decent pair of true wireless earphones, these are really good. All those issues can easily be overlooked for that attractive sub $40 price tag.