Introduction
With the new generation of smartphones ditching the good old Mr. Headphone Jack, audio brands have come up with a variety of wireless earphones with and without good microphones. The Hooke Verse has taken it a step ahead with 3D audio recording capabilities using binaural mics. 
Before we dive into what's 3D audio, here's a little bit of history about Hooke Audio. It was founded by Anthony Mattana, a former Broadway theater sound designer. He assembled a team of designers and developers and launched a Kickstarter campaign for Verse, a pair of Bluetooth headphones with
integrated binaural microphones.
Review Parameters:
What's 3D Audio & Binaural Microphone?
3D audio effects are a group of sound effects that manipulate the sound produced by stereo speakers, surround-sound speakers, speaker-arrays, or headphones. This frequently involves the virtual placement of sound sources anywhere in three-dimensional space, including behind, above or below the listener. – Wikipedia
It's basically the sound we hear and feel in real life. Recreating & listening to the same sound over headphones require 3D audio recordings or 360-degree audio recordings. That's where Binaural microphones step in.
Binaural recording is a method of recording sound that uses two microphones, arranged with the intent to create a 3-D stereo sound sensation for the listener of actually being in the room with the performers or instruments. –
Listen to this audio sample and you'll get an idea of what I'm talking about. *HEADPHONES RECOMMENDED*
BTW, that was recorded using the Hooke Verse.
What comes in the box?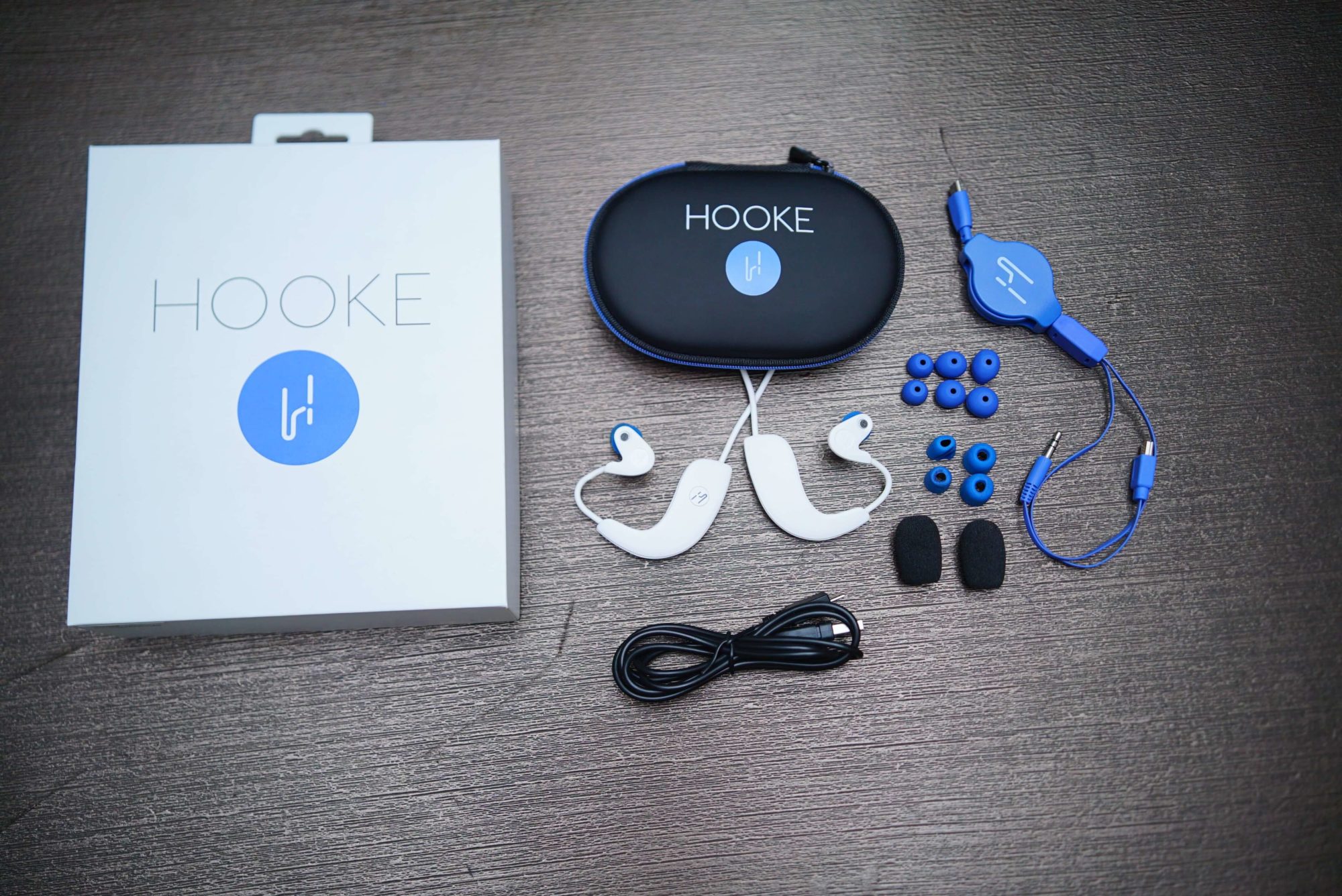 I'll keep this section very short and to the point.
Hooke Verse 

3x pairs of memory foam ear tips (Decent quality as compared to my current foam ear tips that came with

Jabra Sports Elite

)

3x pairs of silicone ear tips (Your standard silicone ear tips – Not great, not terrible) 

2x Microphone windscreens (Do not lose them. They're lifesavers for audio recordings in windy situations)

Carrying case (It's just a carrying case, not a hard-shelled case so make sure you keep that in mind before throwing it in the bottom of your backpack)

3D Audio recording cable (Probably the coolest cable I've ever used)

Micro – USB Charging cable

Jim Head Binaural Dummy Head (

Watch the assembly here

. I tried assembling it but I guess I'm the dummy head here. Yes, it did come with instruction manual)
Design & Durability
With competitors like Airpods, Jabra Sports Elite and even the OnePlus bullets, the design game of the Verse isn't exactly what you'd call a modern one. It honestly looks and feels like a hearing aid. If it wasn't for those 3D audio recording capabilities, I probably wouldn't have picked them up. Also, the Hooke Verse comes in 2 colors, white and black. 
It might sound a bit complicated to operate but it's basically a pair of in-ear Bluetooth headphones with tiny microphones on the backs of the speakers and chunky behind the ear plastic case connected with a wire behind the neck.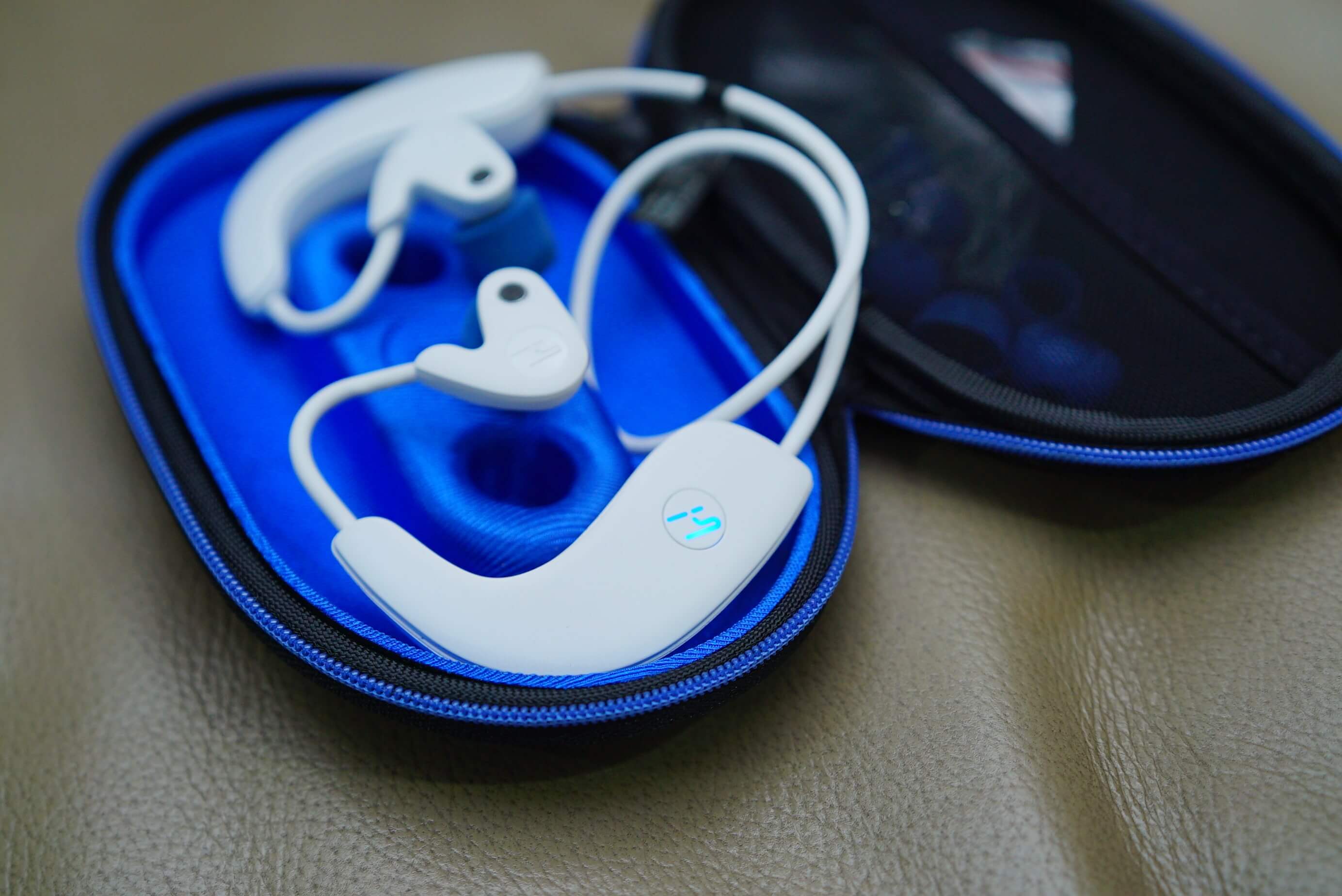 There's only one button on the right side which performs multiple functions like powering it on and off, play/pause.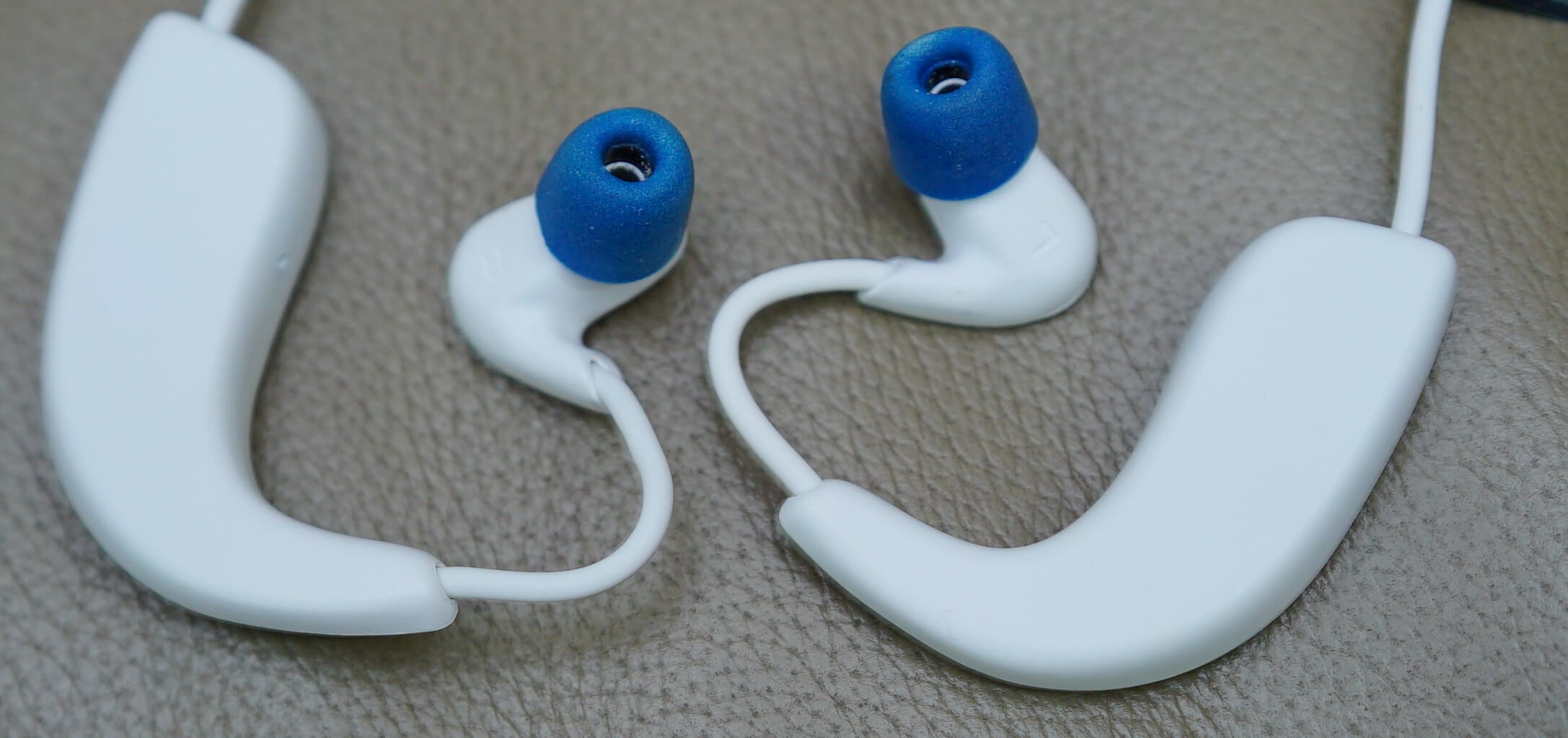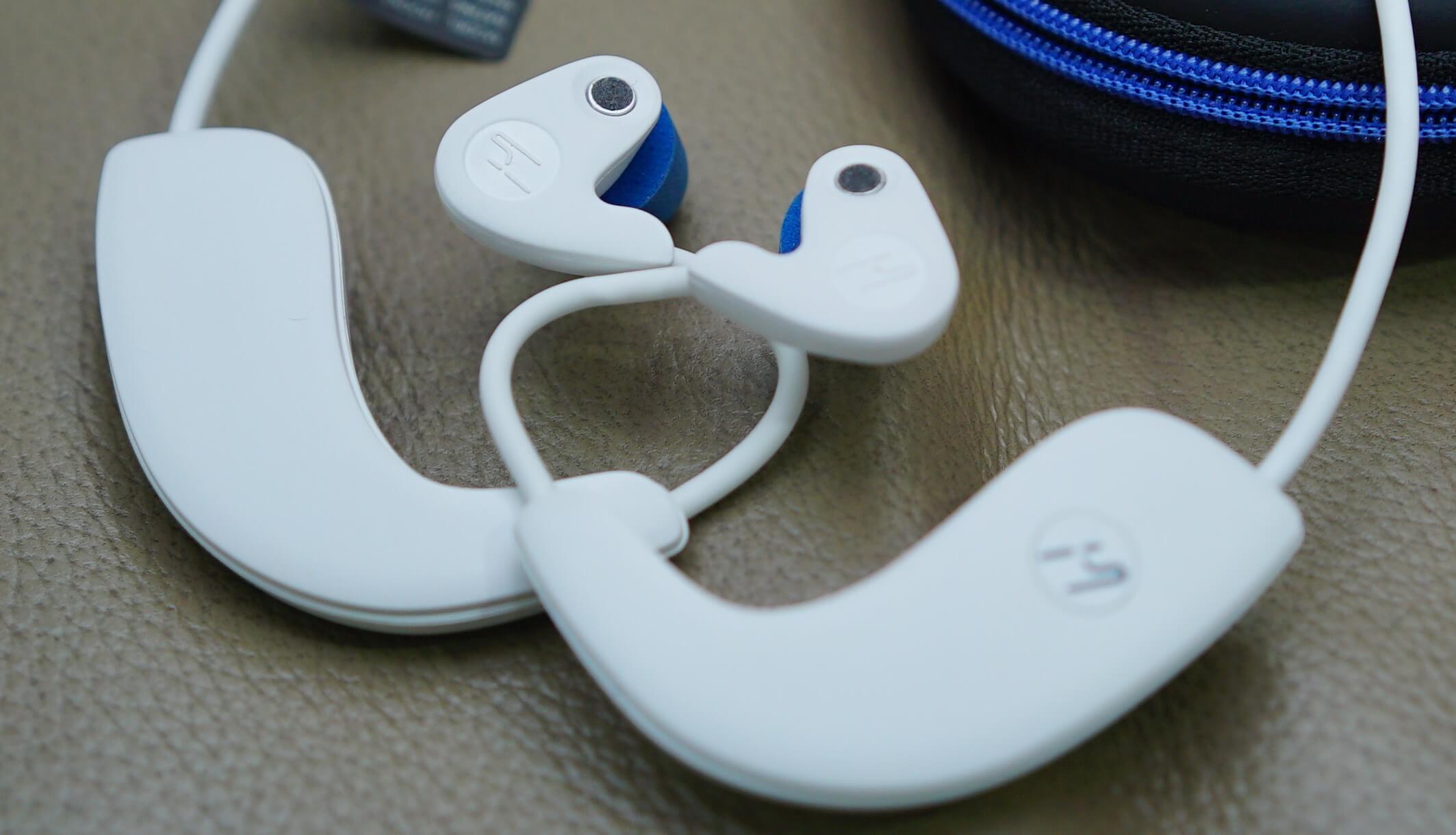 Moving on to the build quality, it's all plastic and the manual clearly states that the mic wires shouldn't be stressed too much. I did drop mine a couple of times and it survived with only minor & barely visible scratches. 
Performance
The performance of the Hooke Verse depends on how well it fits your ears. In the beginning, I had some issues because I was using the wrong silicon earbud size. This is pretty common in wireless earbuds. So, you too will have to try out every silicon and foam ear tips before deciding which one is the most comfortable and doesn't fall out easily.
Sound Quality
The sound quality of the Hooke Verse is somewhere between the bracket of decent and good. I'm still amazed about how they managed to patch together the binaural microphones and 10-hour battery life.  
Microphone Quality
Overall the mic quality is good only if you know how to adjust the gain and other settings. Otherwise, the mics will pickup extra noise from the environment. All recordings are stereo, so I highly recommend using
headphones. 
Watch out for this space, I'll add some audio recordings very soon.
I tried taking some calls using the Hooke Verse, I was fairly audible to the caller but the Verse picked up extra environmental noise. 
Also read: Meze Audio Neo 99 Headphone Review
Battery Life
Hooke Audio promises a continuous 3D audio recording battery life of 8-9 hours and 9-10 hours of continuous listening. 
The real-world stats match the promised stats in some rare cases. 
Honestly, I didn't measure the exact battery life but I only had to charge it once a week. And my usage is well over the average user because I have this bad habit of forgetting to press the pause button sometimes.
Device Compatibility
The Hooke Verse is one of the most compatible and optimized binaural microphones out there. It's not only compatible with both iOS and Android devices but can also be used with cameras ranging from GoPros and DSLRs with the supplied cables.

I did try it with my main cameras i.e. Sony A7S Mark I and the Zcam E2. It did work with the Sony but had some issues with the Zcam. (Update: the old firmware of the Zcam had some bugs with external microphone compatibility).
Device Connectivity
The Hooke Verse uses Bluetooth 5.0 and as mentioned before, it's not only a wireless earphone but also a wireless microphone. The secret to that seamless 3D audio recordings that you just heard above lies in the Bluetooth technology. Hooke Audio has invented the first pro-grade dual channel Bluetooth recording codec. This allows Hooke Verse to stream 16bit 44.1kHz (CD quality) sound over Bluetooth at .0043ms of latency (lag).  
For an average user, that was way too much jargon, so in simple terms, the Hooke Verse uses Bluetooth 5.0 to play music and record audio while simultaneously sending it back to the smartphone for storage.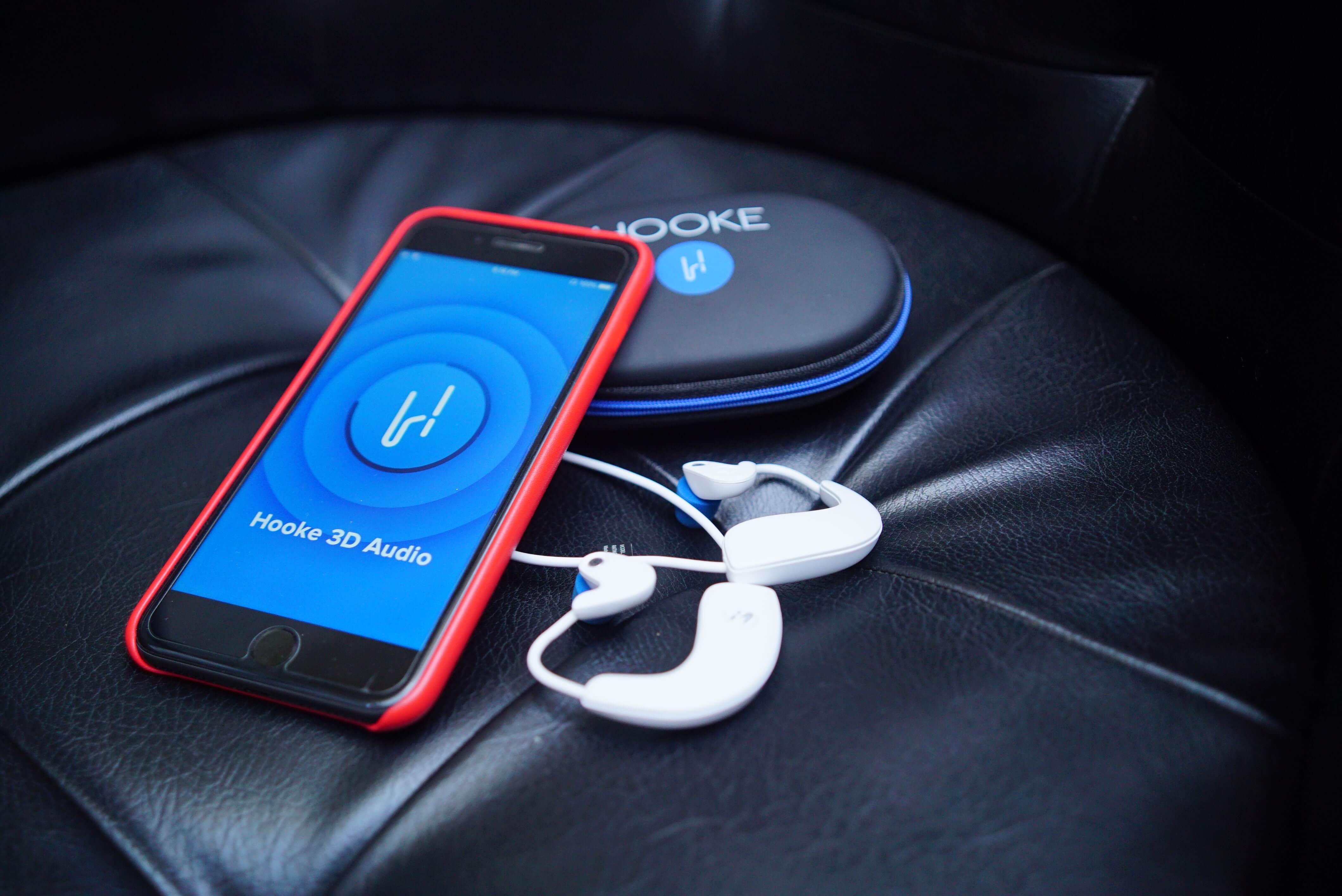 App Review 
The Hooke Verse app allows you to record both 3D audio and video via the in-built camera app. 
You can also playback the recordings right from the app. When you launch the app, you're greeted by the video camera screen with audio level meters on either side. You can change the input gains by sliding your finger up (to reduce the level) or down. 
Tap the button labeled "3D," which indicates that the Bluetooth earphones are paired (if it says 2D, it will record through your phone's built-in mic). You can record videos as well as audio right from the app. Other features include manual controls like locked focus and locked exposure for better control over footage.
Honestly, the app could use some extra features from other camera apps like Filmic Pro. 
Did I mention about the paid in-app audio filters? As a regular user, you won't need them but if you're an audiophile. Well, that's your call then. Also, there's this "Powered by Hooke" watermark on all the exported video. Honestly, its very annoying.
iOS App
As always the iOS app was better optimized in terms of performance and battery usage. I have zero complaints regarding the iOS app.
Android App
I had to face multiple hurdles before I could use the Verse with my OnePlus 5. Since I had already paired and used it with the iPhone 8 Plus, I had to clear the Bluetooth cache, commonly known as a hard reset. 
Even after pairing and adjusting the mic gain, the app lagged and didn't allow me to shoot in 4k in the first few tries. One thing that I'd like to point out is the recording capabilities work fine on the Android app but you might have a hard time figuring it out in the beginning. Yes, there are multiple in-app tutorials which will help you with the initial setup.
Easy to share
One feature that I loved in both apps is that the 3D audio or stereo sound isn't affected if you share your videos/audio online i.e. Instagram, Facebook, etc. 
Gotta give it to the team at Hooke for how they made sure that accessibility was at the core of it.
Other notable features include the ability to live stream using the Verse and the wide device compatibility. Did I mention you can use the Verse with 360-degree cameras?
Conclusion & Pricing
Before concluding I just have to mention that your standard Bluetooth communication codec doesn't allow audio to be sent from a Bluetooth mic to a phone. So, Hooke Audio created its own codec which not only allows dual-mic audio to be sent to the phone in real-time but also doesn't compromise the quality. Moreover, they made the 3D audio easy to share.
So, if you're someone who's looking for decent wireless earphones and shoots videos from your smartphone, the Hooke Verse is your best option. 
With a price tag of $159.99 and the amazing features the Hooke Verse offers, it's an offer you can't refuse.