The successor to once leading short-form video platform Vine, Byte has now officially launched on iOS and Android platforms. Although the app was available in beta form for quite a long time, its launch on January 24, has turned out to be a surprise. 
Vine was a short video sharing platform, created by Hofmann, Colin Kroll, and Rus Yusupov, back in June 2012. The platform was acquired by Twitter in 2013, and it reached over 200 million users, within a few years of its launch. However, in 2017, Twitter announced its plans to pull the plug on Vine, to cut costs. As a result, many famous creators on Vine migrated to YouTube.
Hofmann was developing Byte on and off for years, which got initially named as V2. He had regularly shared the update of the rebooted Vine on his Twitter account. The beta testing of Byte had begun back in April 2019. 
Byte was launched with the slogan- Creativity First. And, in order to spread the app globally, social pages have been launched on several platforms, including YouTube, Instagram, and Twitter.  
Byte lets users shoot and upload a short six-second video, which can be done from the camera roll or the in-app camera.  The app lets you create custom soundtracks to play over images and GIFs. Byte has all the basic functionalities of a video-sharing app like a video feed, ways to discover creators and browse through curated videos. 
Byte's competition- TikTok
Undoubtedly, ByteDance's TikTok will be the biggest competition for Byte. TikTok has become one of the most popular and loved video-sharing platforms. It lets users create one-minute videos and offer features such as Augmented Reality filters and effects. Also, licensed music and lip-syncing features turned the app to viral stardom.
Monetization to distinguish itself from other platforms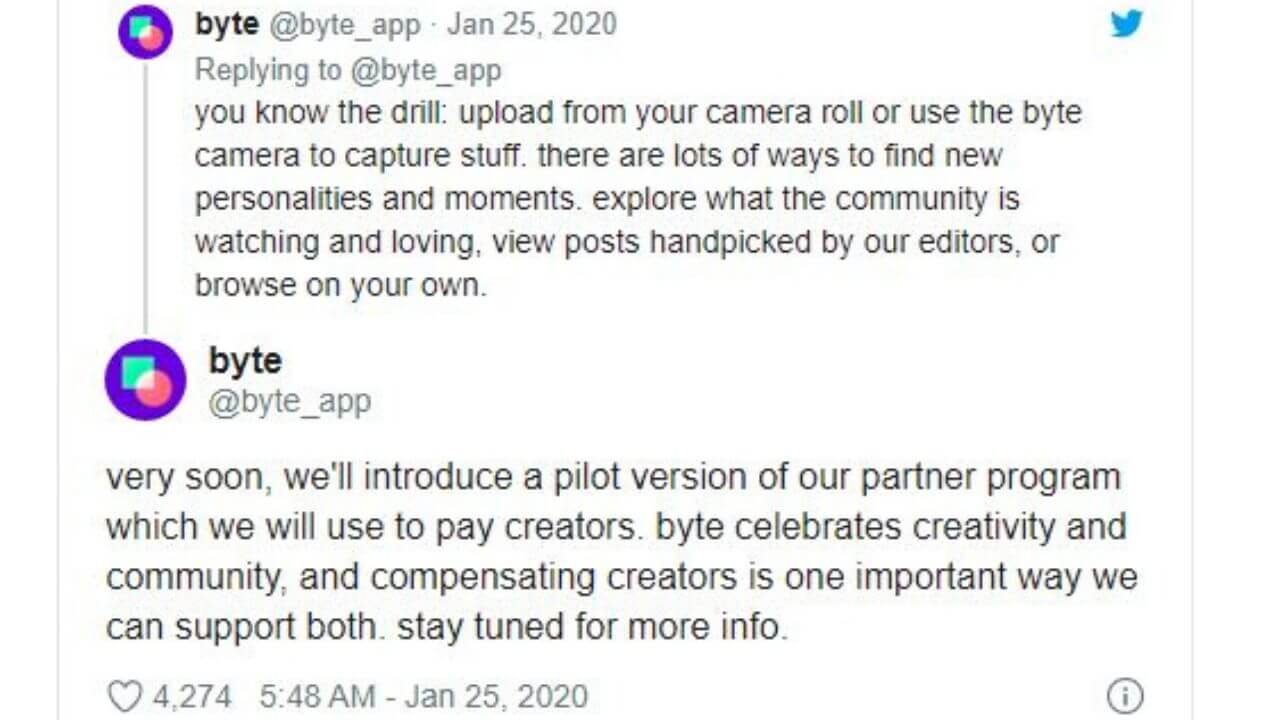 In the race of competing with the other similar video-sharing apps like TikTok and Instagram, Byte will soon introduce direct monetization opportunities to pay creators for their work, once the app introduces advertising.
"We are looking at all of those, but we'll be starting with a revenue share + supplementing with our own funds. We'll have more details about exactly how the pilot program will work soon." 

-Hofmann
Currently, Byte is focusing on a revenue share model in its pilot programs. Besides, it will look for other options like ad revenue sharing and tipping for its partners in the future.