We are racing towards a world where we use a multitude of peripherals daily for a more convenient life. However, this convenience gets marred when the time comes to charge these devices. Difference cables, different adapters and different setups means that this is a messy task which we have to deal with daily. Well, what if we tell you that there is a product which can mitigate all these problems and bring you a simple, elegant charging solution for all your devices while using just one socket? Let's talk about the MagBak MultiCharger.
MagBak MultiCharger: Design and Build Quality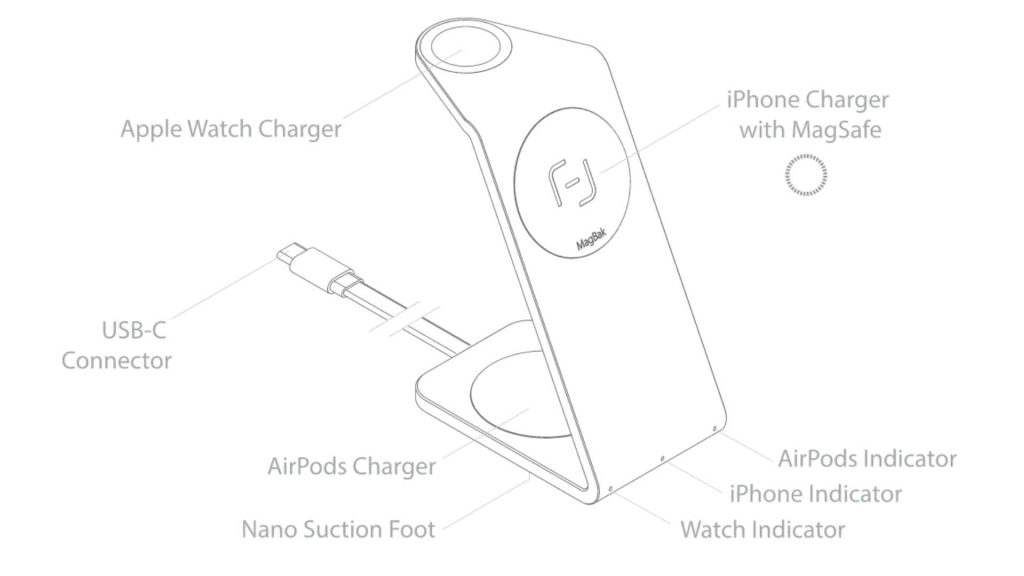 The MagBak MultiCharger is one stunning looking product. It has a solid, space gray aluminum body in a design which screams both elegance and durability. The design language is amazing, with a very slim body that oozes style. It would fit naturally on the desk of a minimalist or even a very organized power user. It has three discrete wireless charging pads on the body. The most prominent one on the front is a MagSafe charger used to charge your iPhones. 
There is also a charger on the top which is suitable for charging an Apple Watch and then there is Qi-wireless charger at the bottom as well, which can be used to charge AirPods or any other device. We charged an iPhone 13 Pro, an Apple Watch Series 7 45mm and a pair of AirPods Pro simultaneously and faced no problems pertaining to the design or build quality of the MagBack MultiCharger. For what it's worth, the aluminum body actually performed admirably when it came to conducting and dissipating extra heat to keep the overall setup cool. 
Another interesting addition to the overall design of the MagBak MultiCharger is the addition of 3 LED lights which showcases the charging status of the plugged in devices.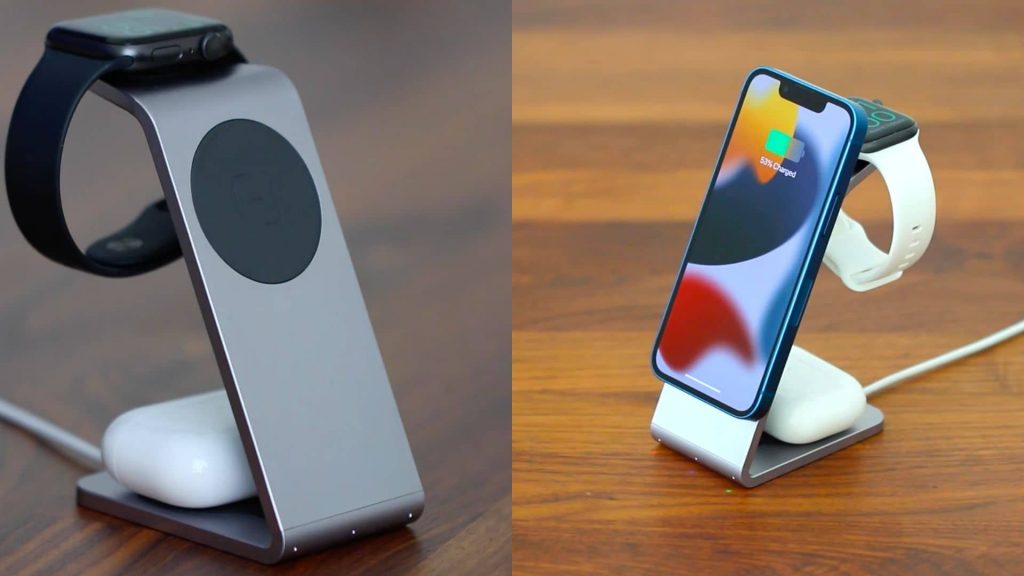 MagBak MultiCharger: Performance
We used the MagBak MultiCharger for a number of days in varied configurations of different phones, Apple Watches and Qi-compatible peripherals. Individually, all these chargers work really well and get the job done with quick charging and no significant heat generation. 
The MagSafe charger in particular, holds on to your iPhone really well if it is caseless or has a MagSafe case on. We even tried using some Android devices with MagSafe compatible cases and it worked flawlessly. Our iPhone 13 Mini was able to charge wirelessly with a non-MagSafe case installed but that can be attributed to the light weight of the device which did not require a stronger magnetic group to stay attached.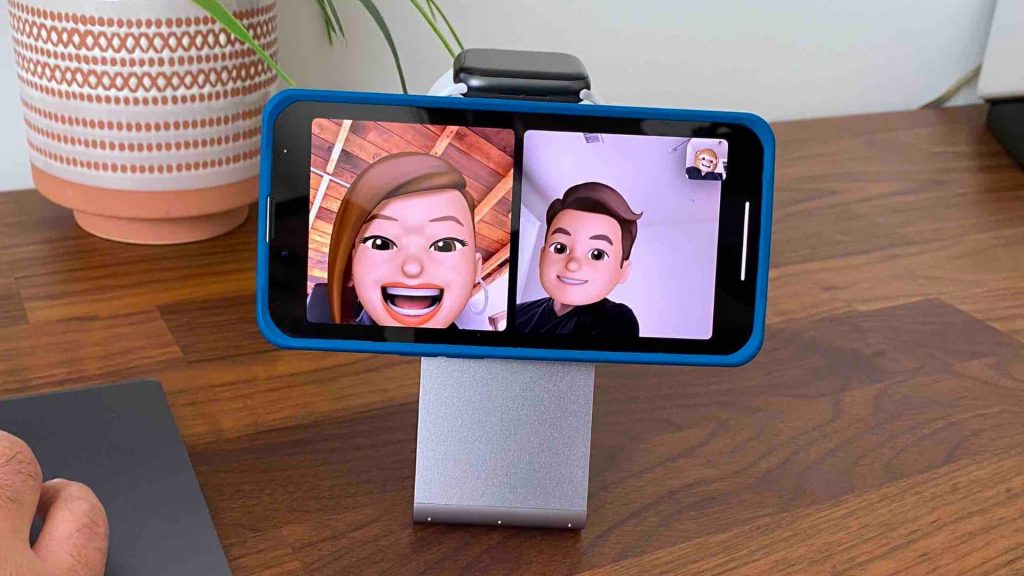 As for the Apple Watch and the Qi-enabled chargers, both of them worked fuss-free without any hiccups. The LED indicators also proved to be incredibly useful in determining the charge level of your device without moving a finger. 
During our testing with charging all 3 devices at the same time, we did notice some heat generation although it was not enough to trigger an iPhone warning or stop charging. The devices and the MagSafe MultiCharger got warm to the touch but cooled down in a few minutes. It is also notable that this was in the peak summer season which could've been a factor as well. But apart from this one incident, the MagBak MultiCharger has proven to be fuss-free and gets the job done in my daily workflow. It's stunning design along with reliable performance has made it a permanent installation in my desk setup. 
MagBak MultiCharger: Conclusion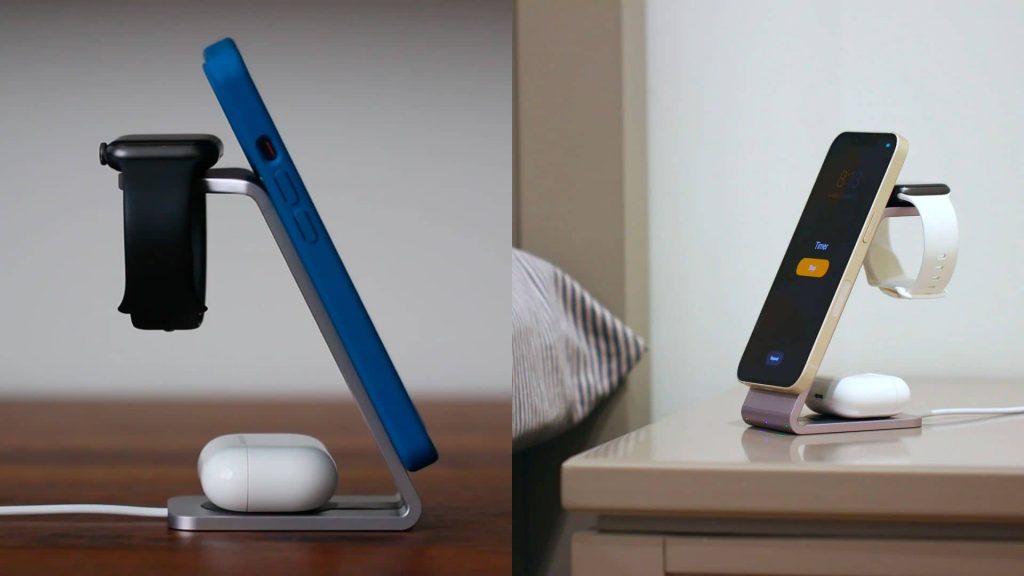 So, should you buy the MagBak MutliCharger? We would say YES! For anyone who's deeply integrated into the Apple eco-system and uses an iPhone, Apple Watch and AirPods daily, the MagBak MultiCharger is a no-brainer. It performs very reliably and its stunning design means that it would always fit in really well and add to the looks of your desk or bedside. I use my MagBak MultiCharger daily and highly recommend it to all kinds of users!