On Jan 24, video game publisher Activision Blizzard and Google announced a multi-year partnership to enter a new generation of gaming experiences.  Accordingly, Google Cloud will power the entire hosting and technical needs of Activision Blizzard. And, YouTube will become the exclusive streaming partner for the live broadcast for all of Activision's e-sports leagues and events, including Overwatch League, and Call of Duty. However, the deal does not include broadcast rights in China. 
YouTube has competed with 12 other teams in Minnesota and bagged this exclusivity deal. 
The deal is a pretty big shift. Earlier, Amazon-owned Twitch was the exclusive streaming partner for Activision's first two seasons of Overwatch League. Therefore, this deal was a huge win for YouTube as it managed to rout Twitch that has been a go-to destination for live gaming, for long.
YouTube Gaming
YouTube launched a dedicated gaming destination- YouTube Gaming in 2015, to compete with Twitch. But, since its launch, YouTube Gaming failed to establish itself as a distinct platform in the broader YouTube ecosystem. As a result, YouTube Gaming was shut; instead, a game-focused hub introduced on YouTube for popular live streams and videos.
Also, Google's video-sharing service has managed to ink exclusivity deals with top creators like Jack CouRage Dunlop and Lachlan Power in the past few months. Consequently, YouTube has become the largest video hosting website in the world. 
"With more than 200 million gamers a day watching more than 50 billion hours of gaming content per year, YouTube provides gamers and their passionate fans with the most popular video gaming platform in the world."

-Ryan Wyatt, YouTube's Head of Gaming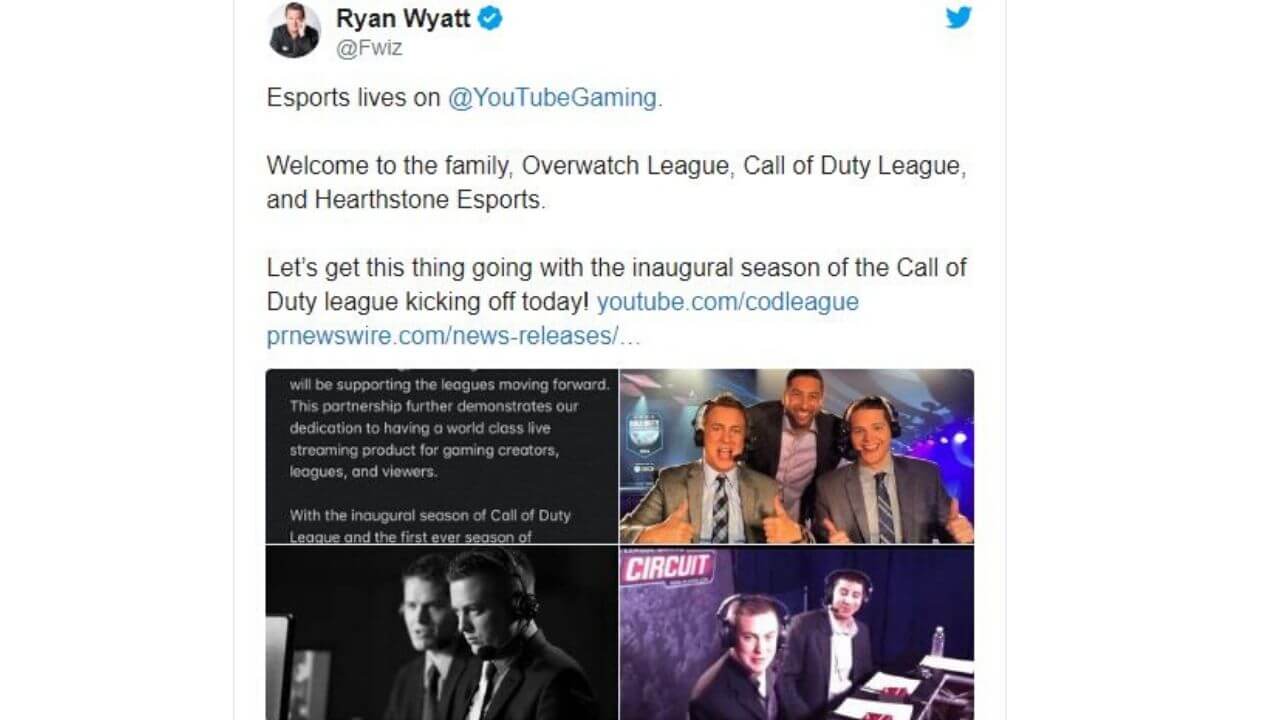 The Activision deal is another feather on Google's YouTube cap. The competition between different streaming platforms has increased to such an extent; they are ready to spend a hefty amount to lock down the talent and bag exclusivity deals. And now, to capitalize on the popularity of the gaming content, Facebook is trying to build its own live-streaming platform. Well, we might soon see big streaming services like Netflix and Disney+ get more involved in the gaming space. 
Google said the collaboration with Activision Blizzard speaks for its commitment to supporting game developer networks across the globe. 
"This partnership will help us deliver on that promise at new levels, by combining our passionate communities of fans and players with YouTube's powerful content platform and exciting history of supporting next-generation entertainment."

– Pete Vlastelica, Activision Blizzard Esports chief executive
The inaugural season of the Call of Duty League kicked off on Jan 24; Overwatch League is all set to begin on Feb 8.