The Sony E-mount lens family has been growing ever since the mirrorless series hit the market. But the major challenge with Sony mirrorless lenses is that they have been very expensive. Third-party lenses exist but they lag in the autofocus-performance department, which is what these Sony systems primarily excel at-, the accurate and blazing fast autofocus.
In 2019, we saw over a dozen new lenses released by different manufacturers for the E-mount system. One of those companies was Viltrox, famous for designing lens adapters. They released an 85mm f1.8 lens for both the Fujifilm X mount and Sony E mount and I got to try the latter so here's my review.
I'll be covering the following parameters for the review of the Viltrox 85mm f1.8 STM full-frame lens for Sony Mirrorless Cameras:
Build Quality & Design

Ease of Use

Performance – Autofocus

Sharpness 

Bokeh

Chromatic Aberrations

Vignetting

Minimum Focus Distance 

Standard Stock Info & What's in the box

Competition Landscape

Conclusion 

Pricing
Build Quality & Design

On the Outside
Due to its full metal construction, the build quality of the Viltrox PFU RBMH 85mm f/1.8 STM lens is very good. It is made of metal and glass only which, for a Chinese lens is pretty good. Initially it felt like a Zeiss lens. The metal on this lens has anodized satin finish with an engraved lens barrel marking that is filled with paint. Furthermore, the focus ring is very wide and has a nice texture.
The lens is larger than the manual version (665gm/1.46 lb) of the Viltrox 85mm but in terms of weight, the STM version (autofocus) is lighter at 636gm/1.4 lb. Also, there's no control button on the lens body like the one in stock or G Master lenses.
On the rear, besides the glass elements and the lens mount, there's a micro-USB port which allows the lens to receive firmware updates. Viltrox has proactively rolled out firmware updates for both the Fujifilm as well the Sony version of this lens. There's no weather sealing except for the moisture-resistant coating on the front of the lens.
Moving to the front of the lens, the glass element has what Viltrox calls, an HD Nano Multi-Layer coating which suppresses flare and ghosting, giving you better contrast and to my surprise the images were…well let's just cover that in the image quality section. The lens features a 72mm front filter thread and a plastic lens hood which is reversible for easy storage.
Overall, the Viltrox 85mm f1.8 is a solid piece of glass and feels far more premium in hand than any other Sony E-mount lens in this price segment.
On the Inside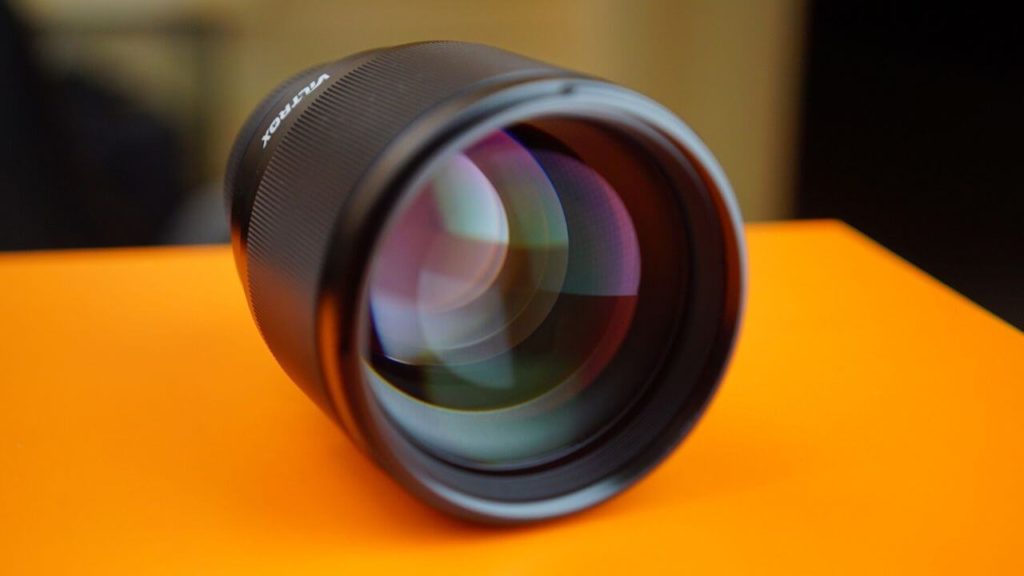 One thing that you need to know is that this is a focus by wire lens i.e. it focuses internally so the overall length of the lens does not change. The Viltrox 85mm f1.8 has 9 rounded aperture blades which do a decent job of retaining a circular shape when stopped down.
Moreover, the lens features 10 elements in 7 groups including one extra-low dispersion element which aids in reducing chromatic and spherical aberrations to retain the sharpness of images. I put these features to test in the image quality section of the Viltrox 85mm STM lens.
Ease of Use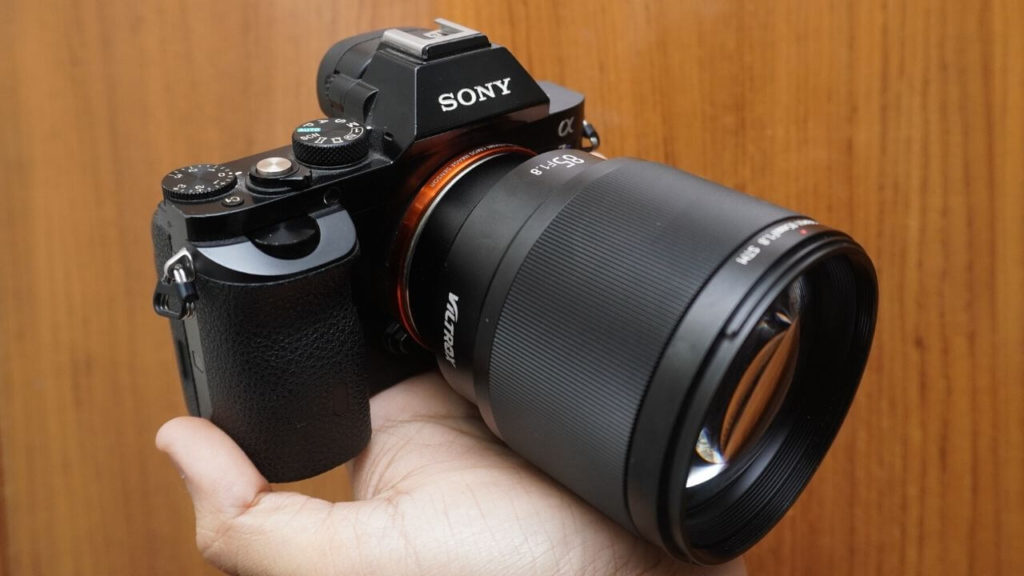 As mentioned earlier the Viltrox portrait lens is a focus by wire lens. A focus by wire system uses an electronic motor that moves the glass elements as the focus ring is moved to achieve sharp focus. It is the modern alternative to the mechanical system where the glass elements directly moved as the focus ring was moved.
In terms of ease of use, the Viltrox 85mm f1.8 features a very wide and easy to use textured focus ring. Usually, the ring runs very smoothly but there's some dampening here and there. If I had to describe it, I'll say that the focus ring is something between a Sigma ART and a Zeiss Batis lens.
Also, manual lens lovers won't like this lens for one major reason, the nearly 300° long focus throw. There's no manual aperture ring either as the STM version of the Viltrox 85mm sports an electromagnetic aperture iris which can only be controlled from the camera body. On the other hand, people who use autofocus will appreciate this feature.
I tested the lens with 2 cameras, a Sony A7S and primarily with the Sony A6400 so that I could test the EyeAF and the extra resolution.
Performance – Autofocus
I've tested quite a decent amount of E mount lenses and my experience dictates that mastering autofocus on Sony mirrorless systems is a hard nut to crack. Samyang, for example, makes good lenses at good prices but they've got some deal-breaker issues when it comes to autofocus performance.
One major factor that directly affects the autofocus performance of a lens, especially on an E-mount system is the quality of the lens motor and the Viltrox 85mm f1.8 STM version features a high-quality motor as it is both quiet and fast.
The only time I heard the faint focus whirring when I was in a totally silent room looking through the viewfinder or if I put my ear next to the lens barrel. To give you an idea of how silent the lens is, my Samyang 35mm f2.8 FE lens' autofocus motor makes noises that are very similar to whale mating calls and the in-built mic easily picks up these noises while recording a video.
Moving to EyeAF performance, the Viltrox 85mm STM does not disappoint. It's probably the fastest lens with EyeAF at this price. Keep in mind that at the time of writing this review, the Sony 85mm f1.8 lens cost $200 more. Coming back to the EyeAF, it works consistently good with humans. I didn't try it on animals because I don't have a pet and neither do my neighbors. I'll update this section when I complete my test on animal EyeAF.
There is, however, a weird focus hunting issue with this lens when it comes to shooting landscapes. I know it's a portrait lens, but it takes some decent landscape pictures too. It's kind of weird because the focus pulsing is only found in unchallenging landscape pictures. Upon further testing I noticed, it only occurred in pictures that had wide surroundings and too many elements which were less contrasting. Similarly, there's a tiny bit of focus hunting at f1.8 if your subject isn't contrasting enough. This issue can be fixed with a software update but there's been only one update since the launch which has slightly improved autofocus performance but not the focus hunting issue. On the other hand, the Fujifilm variant has received updates which drastically improved autofocus performance.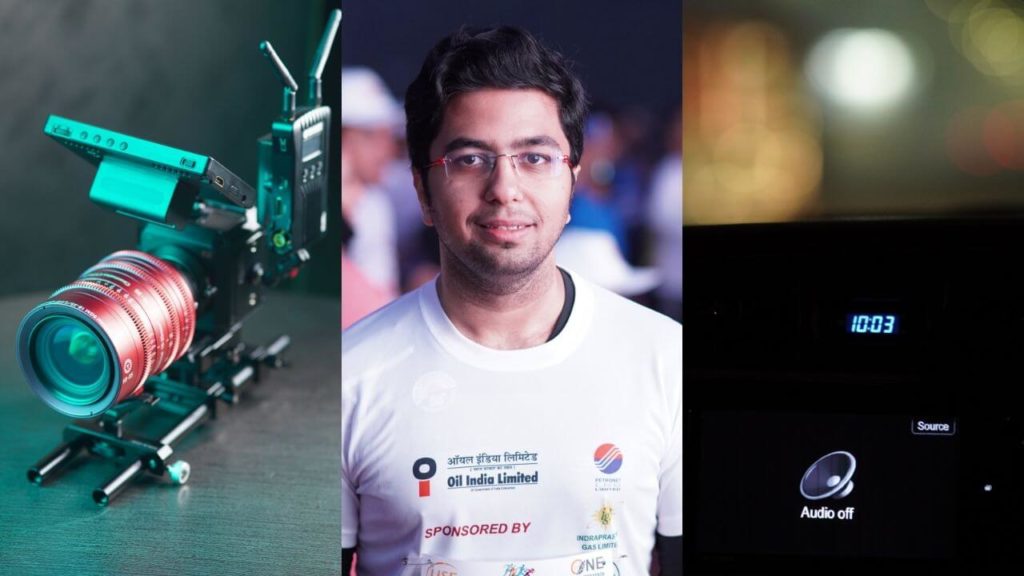 Overall, the Viltrox 85mm STM shoots decent portraits at f1.8-f2 and the optimum EyeAF performance is the cherry on the cake, making it a good choice for shooters looking for a budget full-frame portrait lens for Sony mirrorless cameras.
Overall Image Quality
I tested the lens in various lighting conditions with different cameras and settings and its safe to say that the Viltrox 85mm f1.8STM is a strong optical performer. The colour rendition from this lens is remarkable, producing accurate saturated colours, although a bit on the warmer side.
This section is divided into different segments, in which I test different aspects of the Viltrox 85mm f1.8 STM AF variant- sharpness, bokeh, chromatic aberration, flares, and vignette.
As mentioned earlier, I conducted most of my image quality testing on the Sony A6400 primarily because of the higher resolution.
Sharpness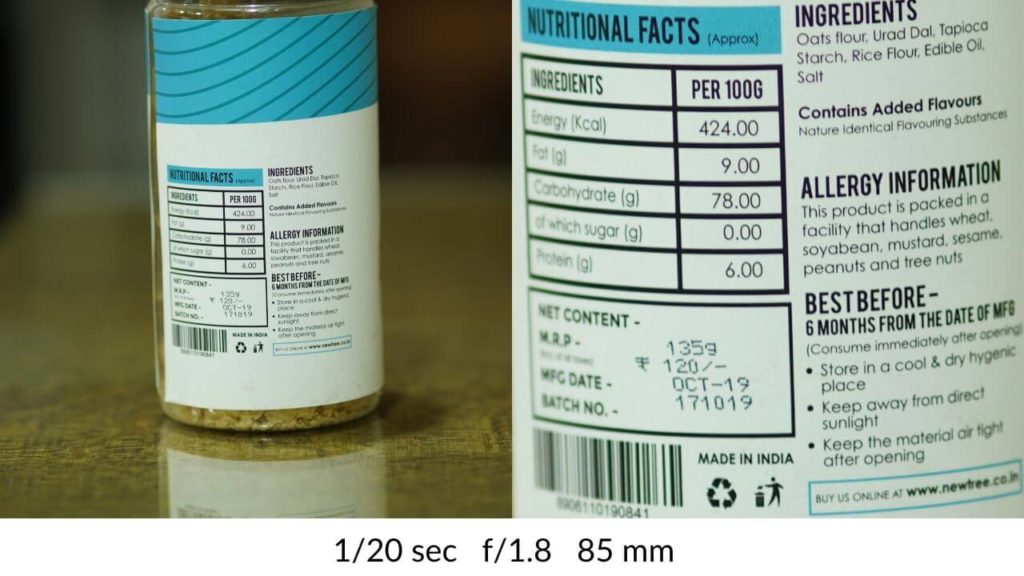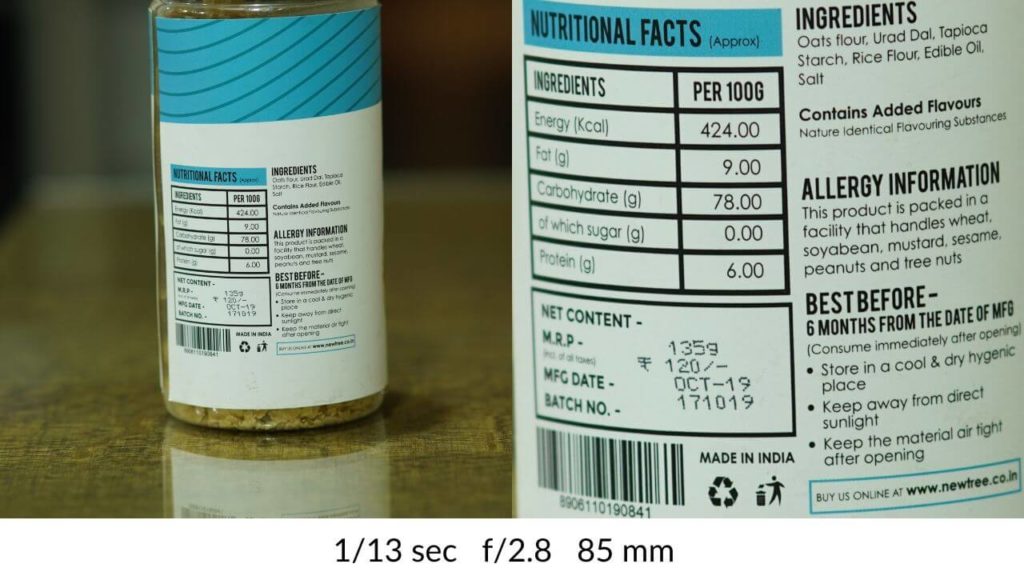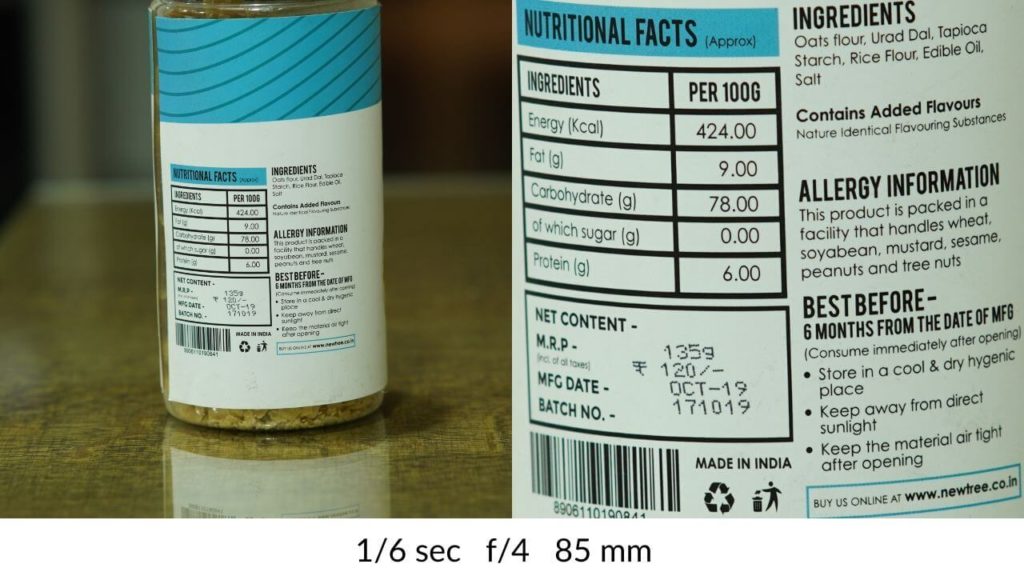 The lens stays sharp in the centre and gradually reduces at the extreme corners.

The contrast also reduces somewhat in extreme edges complemented by some vignetting. This finding was found only at f-stop 1.8 but the results improved with each stop towards f16.

The lens loses some contrast when it's wide open and mild ghosting can also be seen. 

At f2.8, both the contrast and overall sharpness are optimum at the centre and there's a thorough improvement in vignetting. A general reduction in chromatic aberration and decent improvement in overall image quality can be seen. 

If you have a decent amount of lighting, I'd suggest you shoot at f4 then f2.8 because of the sharpness and minimal chromatic aberration.

Between f4-f8, the image quality produced is very sharp and contrasty across the frame. 
Bokeh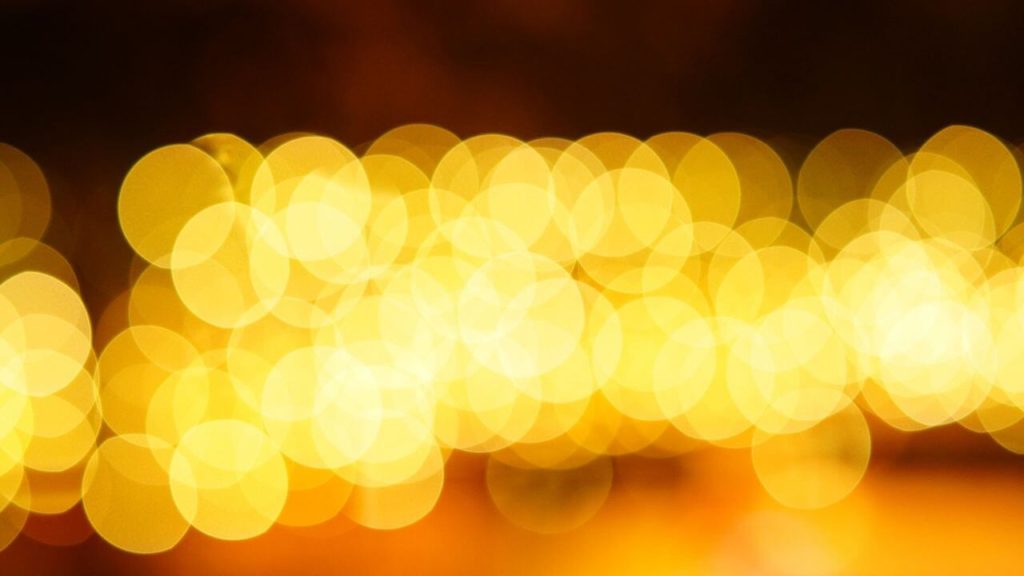 The bokeh from the Viltrox 85mm f1.8 STM lens is smooth and nice, especially at close distances. The subject separation also looks decent. Let's move to the specifics:
Bokeh balls are smooth but they don't have sharp outlining.

Foreground bokeh is where the Viltrox 85mm doesn't fare well. This is only found in images where the elements are somewhat smaller/thinner like grass or leaves.  

The lens handles challenging backgrounds very well and the performance is fine in most situations.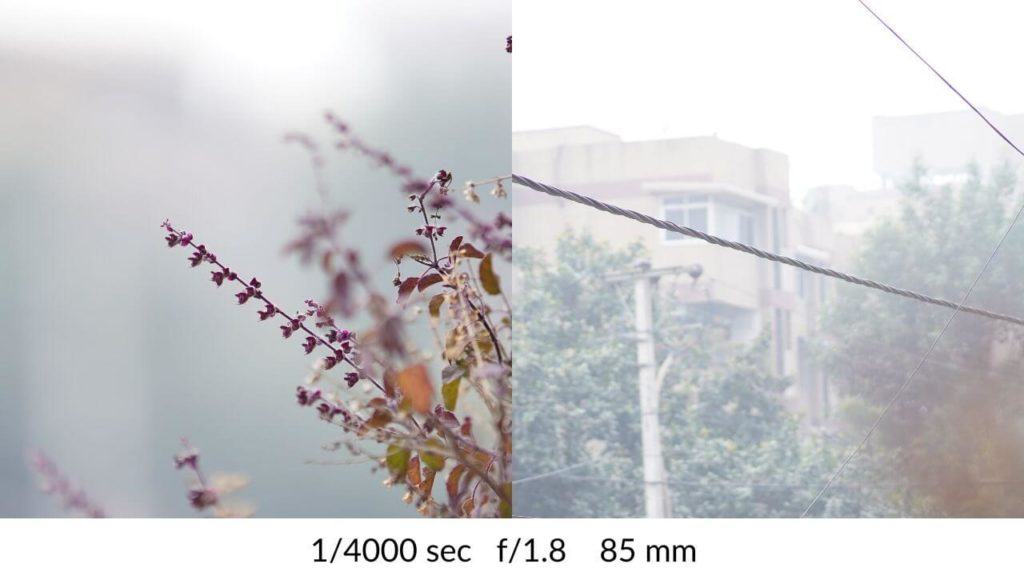 Chromatic Aberration
Chromatic aberration, also known as "colour fringing" or "purple fringing", is a common optical problem that occurs when a lens fails to focus all colours to the same point.
Testing the colour fringing of this lens was a bit troublesome but I do have some interesting findings to share.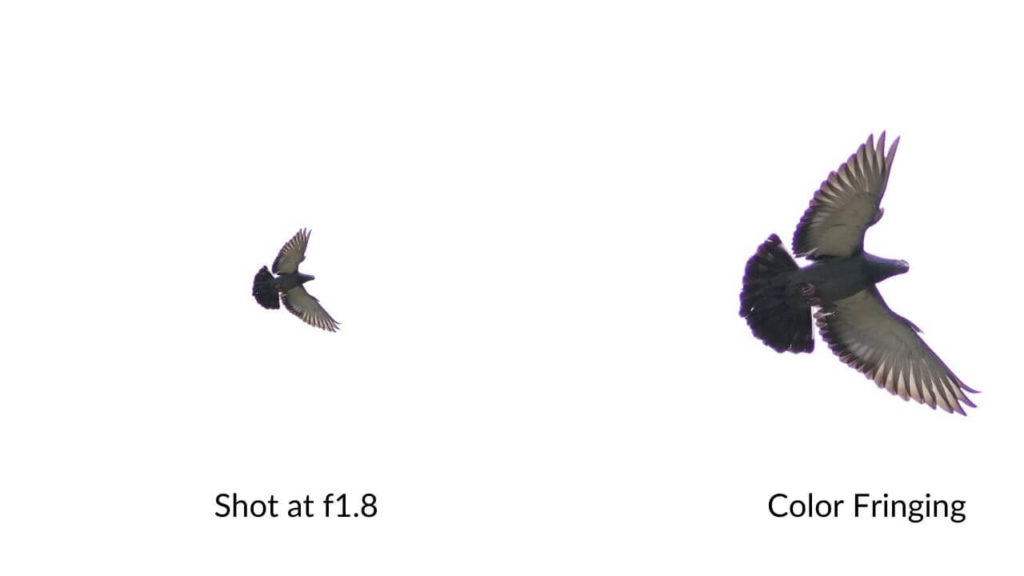 A decent amount of purple/green fringing i.e. longitudinal chromatic aberration was found while shooting at wide f-stops. But this only occurred when the highlights were off the charts or the background was lit or the sky itself. For example, shooting bird silhouettes with the sky as background. It might not be that significant to a regular portrait shooter at events, but some people might prefer the Sony 85mm over Viltrox because of this.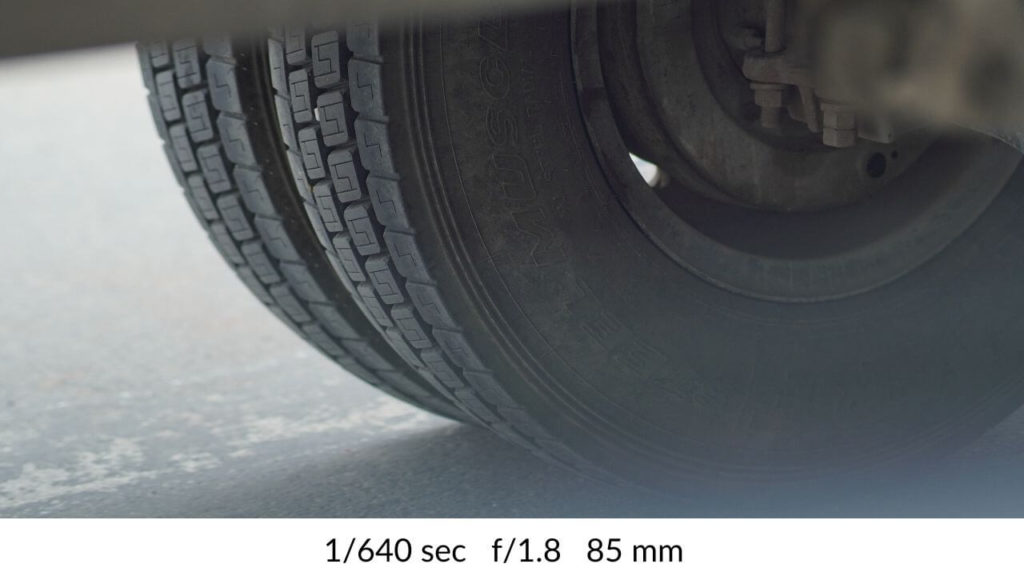 Moderate lateral chromatic aberrations (LaCA) were also found but they're easily correctable in post.
Flares
This right here is the test which is both a deal-breaker and a deal maker to some shooters. Lots of photographers and filmmakers select their lenses based upon how the lens elements process the flares and ghosting to create the "look" of the picture. The lens could create a sharp and crisp flare with minimal ghosting or it could give you a really artistic look like the one found in 7Artisans 55mm f1.1 lens or more commonly found in vintage lenses.
In short, the Viltrox 85mm f1.8 STM lens does have some ghosting issues especially when the sun/light source is just outside the frame causing flares.
I'm more of an artistic look kind of shooter so I liked the results from the lens but if you don't, perhaps you should consider other options.
Vignetting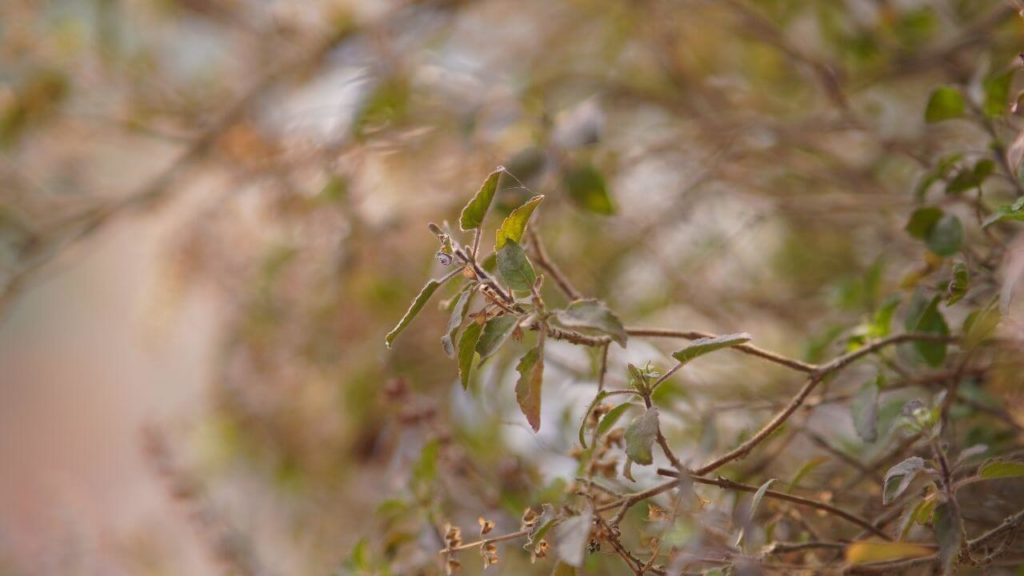 The wider in f-stops you go, the more the image starts to vignette. As expected, there's some vignetting and visible pincushion distortion. But it gets better as we stop down.
At f2, minor lift in vignetting but there a radical improvement at f2.8. As mentioned before, the lens has shown an optimum level of performance at f2.8 and f4 so that becomes the preferred aperture if you want a shallow depth of field and minimal vignette.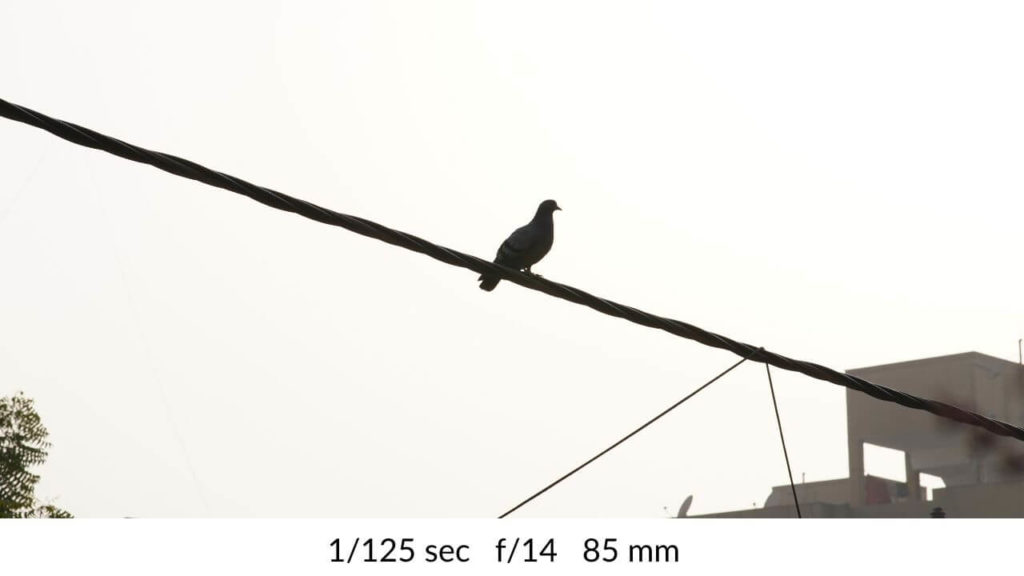 It gets better beyond f5.6, but you'll still find minimal to no amount of vignetting till f5.6.
Minimum Focus Distance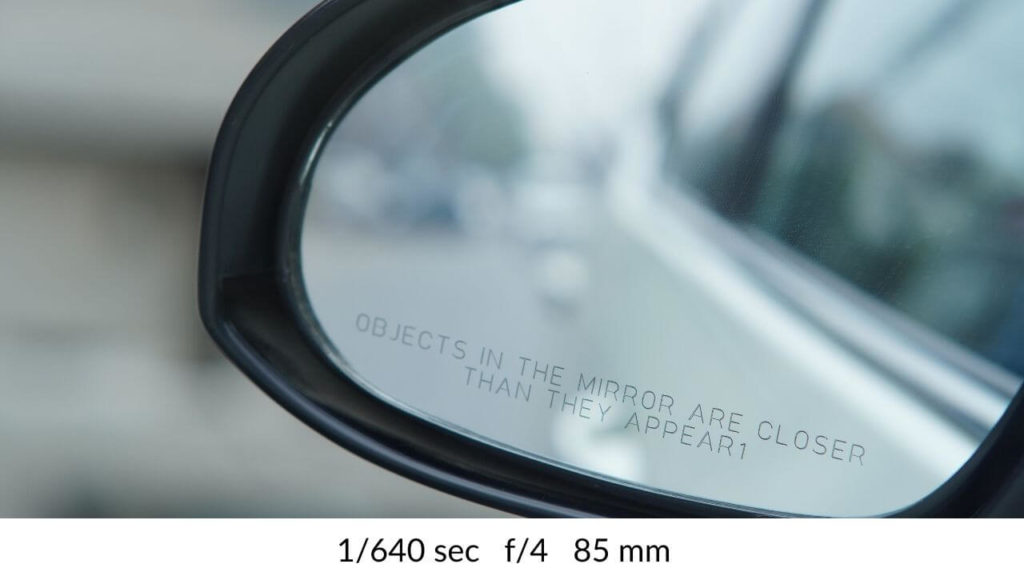 The minimum focus distance of the Viltrox 85mm STM lens is 0.8m (2.62ft). Hence, the magnification is 0.125x which is approximately in the middle of other 85mm lenses. Overall image quality at minimum focus distance is decent with good bokeh, subject separation and contrast.
Standard Features Summary
Here's a features summary of the Viltrox PFU RBMH 85mm f/1.8 STM Lens for Sony E:
Focal Length

85mm

Maximum Aperture

f/1.8

Minimum Aperture

f/16

Lens Mount

Sony E

Format Compatibility

Full-Frame

Maximum Magnification

0.125x

Macro Reproduction Ratio

1:8

Minimum Focus Distance

2.62′ / 80 cm

Optical Design

10 Elements in 7 Groups

Focus Type

Autofocus

Image Stabilization

None

Filter Size

72 mm (Front)

Weight    1.4 lb / 636 g
Packaging Info
:
Package Weight

2.16 lb / 987 g

Box Dimensions (LxWxH)

5.7 x 5.1 x 4.8
What's in the box: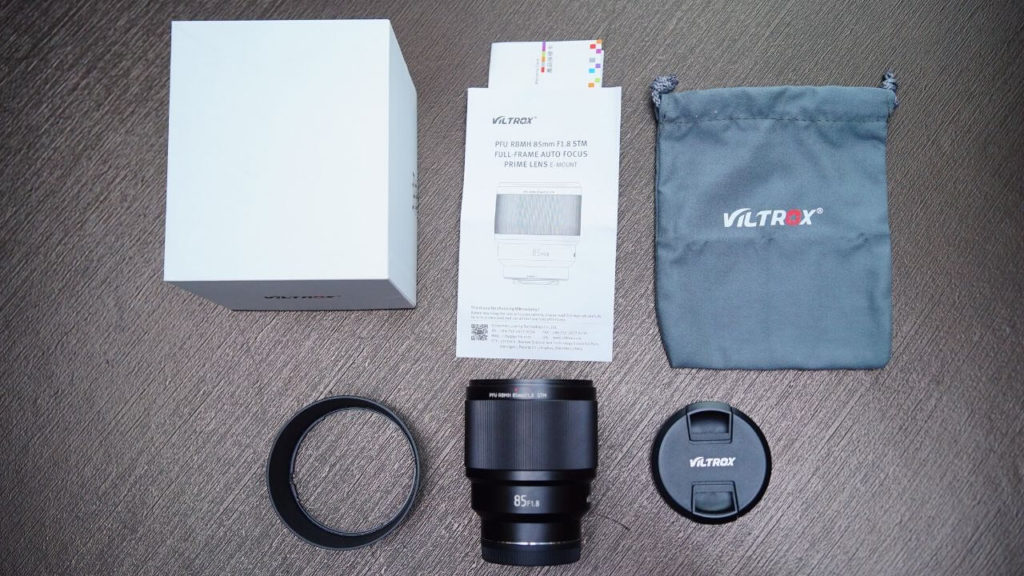 Viltrox 85mm f1.8 STM lens

Front cap 

Rear cap

Carrying case

Lens Hood

Manuals
Competition Landscape
The major competitors of the Viltrox 85mm STM variant are:
Sony FE 1.8/85mm
About: Very fast and reliable autofocus performance(Afterall, it's a native lens!). Almost 300 grams lighter and more expensive by $200 . Even the used version of this lens is dearer than a brand new Viltrox.
Price: Amazon (US)
Sony G Master 85mm f1.4
About: It costs almost 5 times the Viltrox and is significantly heavier. But the autofocus performance and the bokeh is probably the best you can get on the Sony mirrorless system. Moreover, the lens features a dedicated aperture ring, a focus-hold button (customizable) and an AF/MF switch.
Price: Amazon (US)
Samyang 85mm f1.4
About: In terms of price, it's a good competitor to the Viltrox but lighter in weight too. The autofocus performance is a bit slower but still reliable. Also, the body construction isn't as good as the Viltrox. I've used one for a while and honestly, it feels cheaper compared to the Viltrox.
Price: Amazon (US)
Meike 85mm f1.8
About: Disclosure: I've owned the EF version of this lens and it's nowhere as good as the Viltrox 85mm STM. It's cheaper both in terms of price and build quality, and it's noisier. I will not recommend it to anyone.
Zeiss 85mm f1.8
About: Very good autofocus performance (especially with EyeAF) and build quality. It's a bit expensive, it is a middle ground between the Sony G Master 85mm f1.4 and Sony 85mm f1.8.
Price: Amazon (US)
Conclusion
Why you should get this lens?
You want an 85mm full-frame lens with a wide aperture

Good bokeh at a cheap price

Really good autofocus performance even with EyeAF

Good build quality of the lens

Can also use it for manual focusing
Why you should not get this lens?
You're always on the go and want something light in weight because this lens is quite heavy

You shoot pictures in challenging environments where you can't modify lighting and framing

Looking for a manual 85mm lens – Check out the manual version of this lens
I've tested a decent number of lenses both cheaper and expensive and honestly, looking at the price tag and performance of this lens, Viltrox has somewhat outshined the other Chinese competitors in build quality and autofocus performance. Maybe because they've been leading the autofocus lens adapter market for DSLRs and mirrorless cameras. Nonetheless, I can't deny the fact that this is a good piece of glass for a good price.
Here are all the pictures that I shot using this lens. (Straight out of the camera, no editing at all)
Pricing
Amazon (USA): 
Amazon (India)
I hope you found the review helpful! Please subscribe to our newsletter to stay updated with the latest news in consumer tech!