2019 is the year of portable lighting with almost every major lighting company like Aputure and Litra either expanding or stepping up their portable lights line-up. But there's always the one who always brings something different to the table. This time it's SpiffyGear, the lighting company which is popularly known for its modular lighting kit, Spekular. 
At NAB 2019, Udi from Spiffygear, gave us a preview about the wearable light, Lumiee. Back then some of the details like pricing etc. were not disclosed but now they're out in the market and I was lucky enough to get my hands on Lumiee, more precisely, I was lucky enough to get Lumiee on my hands. 
Remember those 90s folding rulers that folded when you threw them on your wrist. Now imagine somebody put an LED strip on it. So, it's basically a light bracelet with features that make it probably one of the most versatile and portable of lights.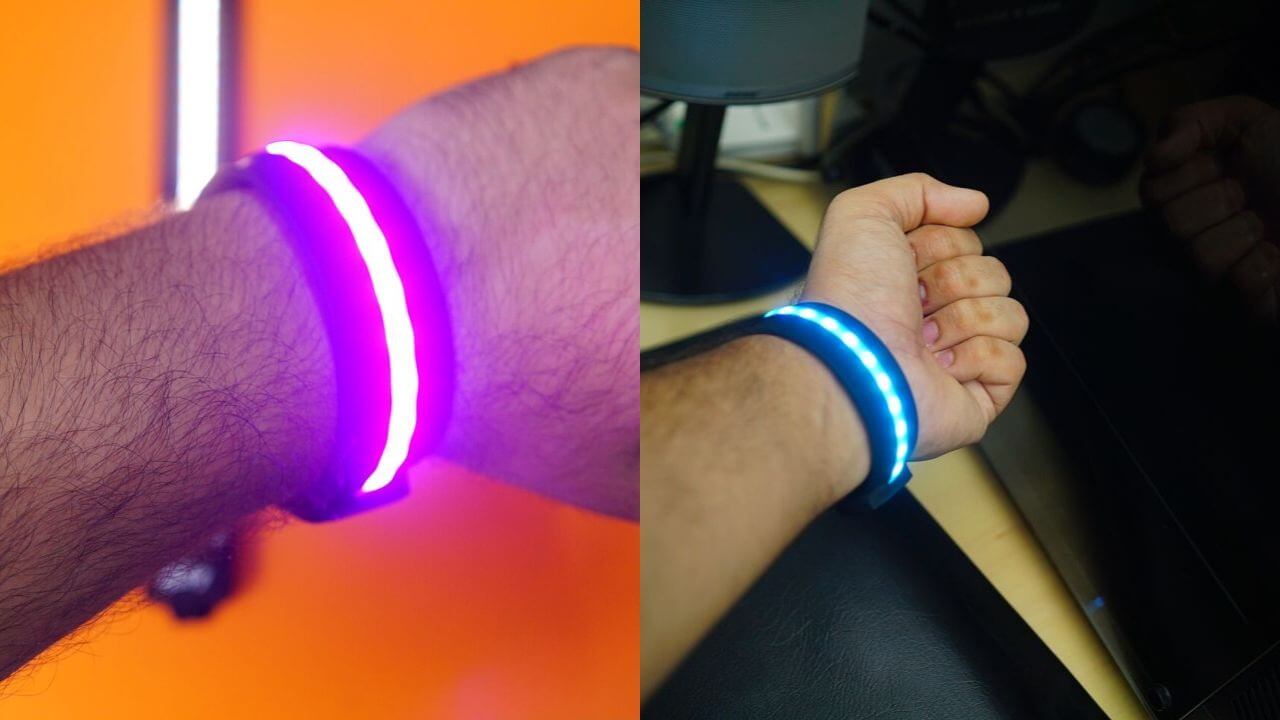 Table of Content
Variants & What Comes in The Box
The Lumiee comes in 2 variants i.e. Bi-Color and the RGB one. In terms of looks, both look exactly the same. I tested both the variants. 
The Bi-Color and RGB Lumiee have the exact same packaging except for the box colors to distinguish between them. Moreover, you get the same accessories in the box too:
Lumiee light bracelet – 1

Tripod Mount – 1

Micro USB Cable – 1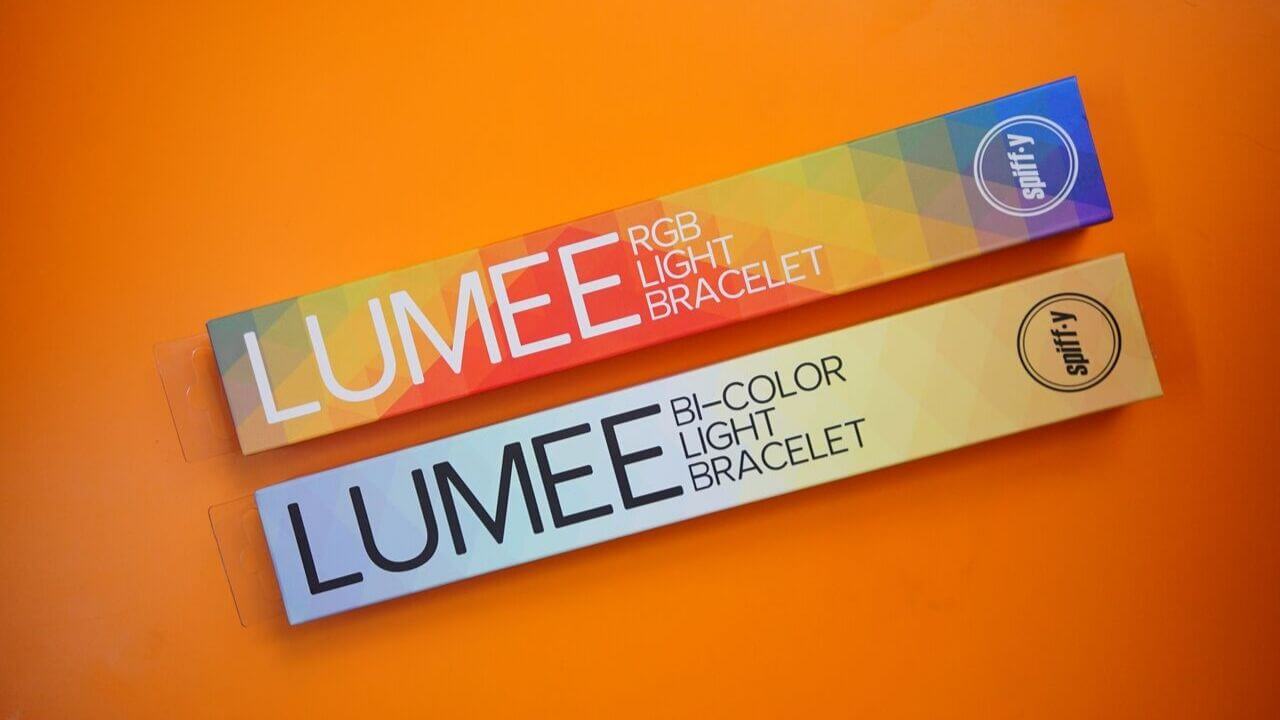 Build Quality
The build quality of the Lumiee is pretty good. It's made out of a flexible metal frame covered in a thick and high-quality rubber that gives it a bold look. In short, the moment you touch the bracelet, you'll know its quality stuff.
Design
Starting from the top, there's a mounting hole followed by the LED strip in splashproof covering. Moving down, there are two flat square cubes that contain the battery and the adapters/controllers. Then there are the 3 control buttons. On the bottom, you'll see the micro-USB charging port with an indicator LED. Gotta give it to the guys at Spiffygear for the attention to detail on this small light.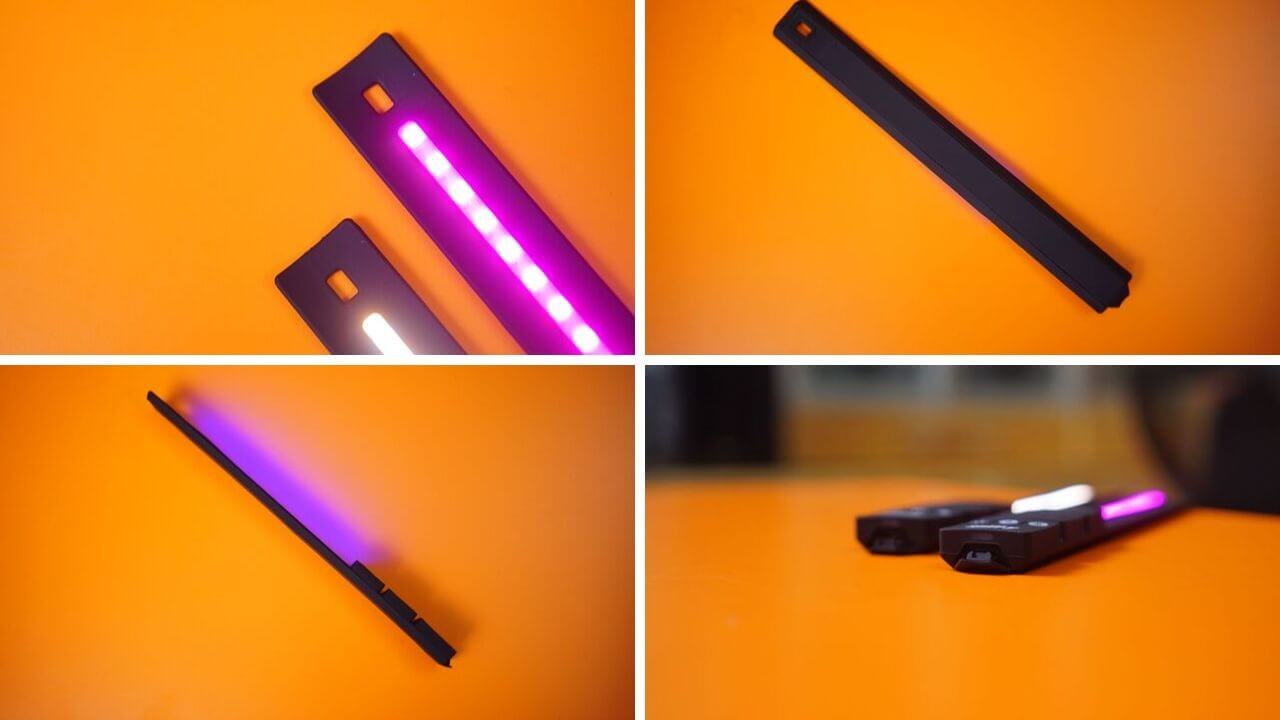 Features
Brightness & Accuracy
In terms of brightness, both the Lumiees have 4 levels of brightness. In fact, I tested the accuracy using the an app. You can find the results under the performance section. 
Color Temperatures
Color temperature range for the Bi-Color Lumiee: 2700k to 6500k with a CRI of 95.
As for the RGB Lumiee, it features the 3 primary colors which are accessible by a dedicated button. What makes things more interesting is once you're in a primary color, you can change the hue of the color by pressing the secondary colors button. Each primary color has 4 different hue variations so that gives you a total of 15 different colors at your wrist.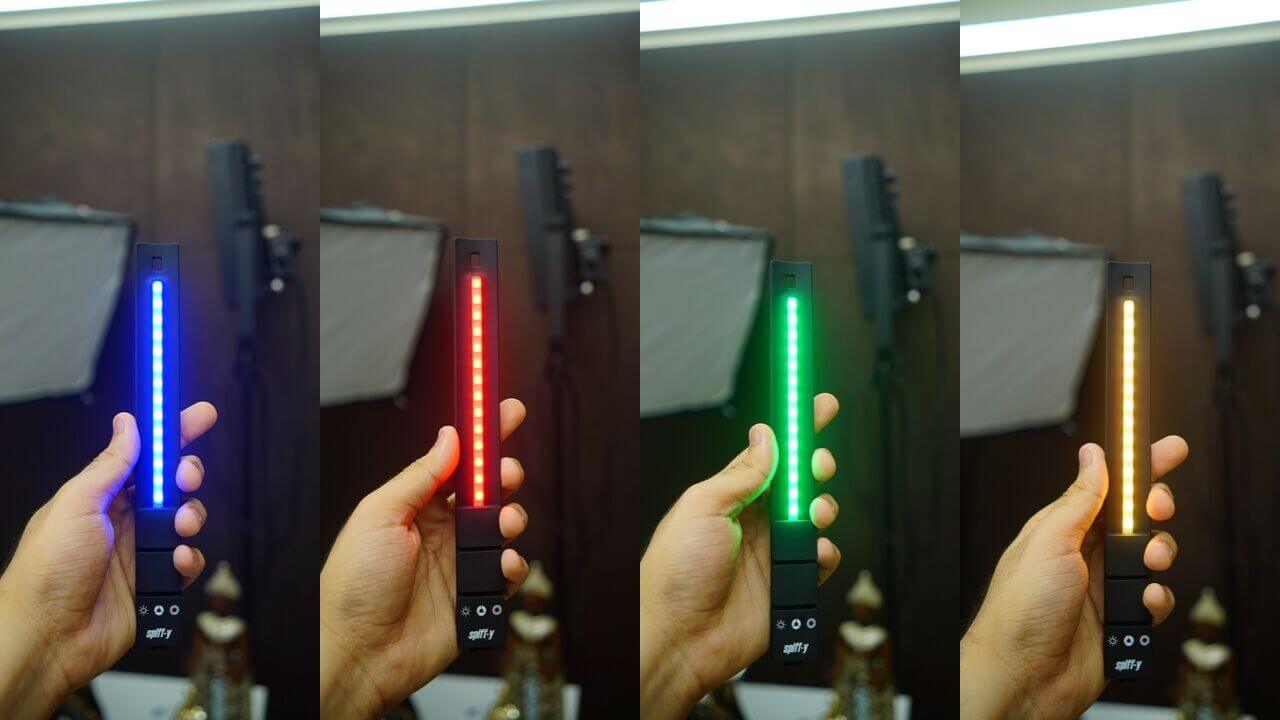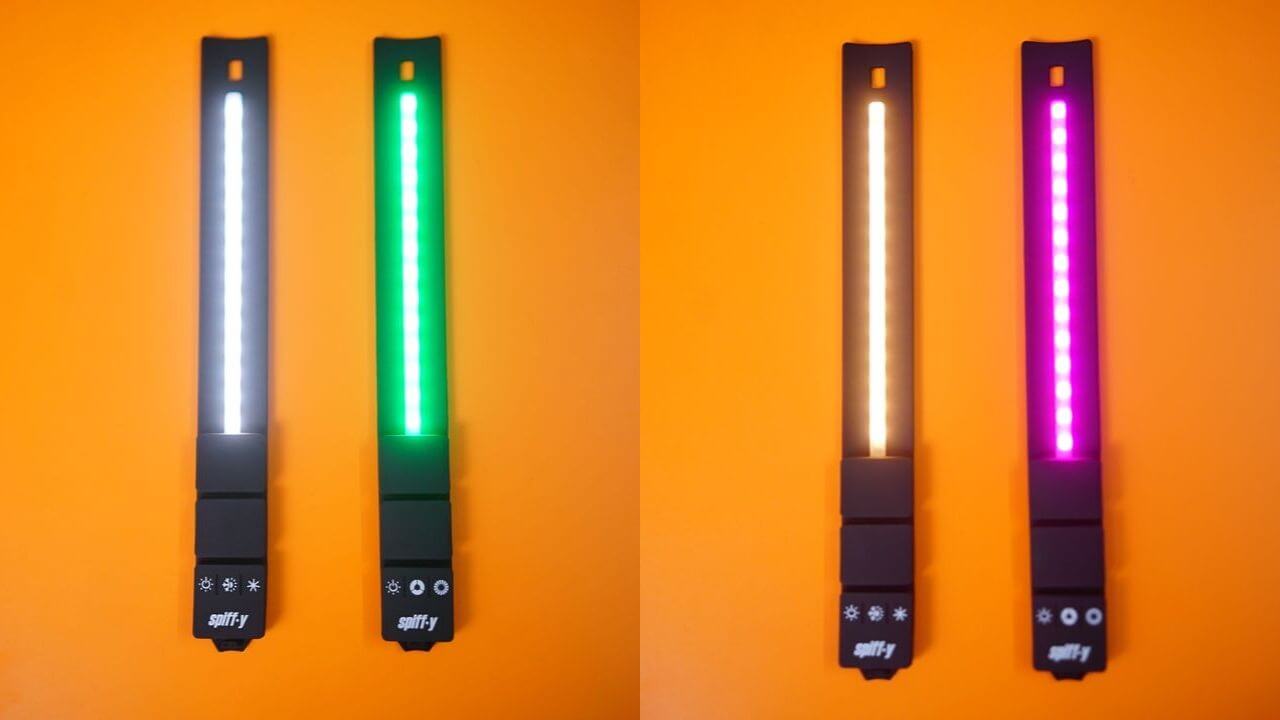 Splash-proof
Spiffygear claims that the Lumiee is splash-proof, although no ratings or certification has been attributed to the lit bracelets. I did try out these in mild rains and they did pretty well. One thing that you need to take care of is the charging port cover. It gets a bit slack after charging it continuously. Just make sure that it's closed firmly whenever you take these out.Performance
I measured the Lumiees' performance in different parameters like brightness or illuminance, effects, color accuracy (yet to be tested as my color meter is not here yet), and battery life.  
Lighting Levels/ Brightness – LUX
| | | |
| --- | --- | --- |
| Lumiee | Illuminance at 0.5M (LUX) | Illuminance at 1M (LUX) |
| Bi-Color | 1541 | 347 |
| RGB | | |

Effects
Both the Lumiees have different lighting effects.
Bi-Color Lumiee Effects: 
Breathing Light

–  Decent  if you know how to light-up sets, 

Candle Effect

– Yeap, pretty much a candle. The illumination is way more than a candle 

Red Carpet

– Basically a paparazzi mode 

Stroboscopic

– Yeah, keep this away from kids, it's very effective. I don't know whether to call it a good or a bad thing.
RGB Lumiee Effects:
Cop Light

– It's pretty dope and the best part is it's actually noticeable in decently-lit areas, 

Fire Effect

– Not as realistic but still gets the job done if you place it right,

Rainbow Fade

– It's an RGB light, I mean it was supposed to be there,

TV

– Not that effective,

Fireworks

– It's something 
Battery Life
Both are quite similar in terms of battery life. I used the Quasar Science QLEDs Turbocharging adapters as they're pretty fast. It took me like 75 minutes to charge from zero to 100%.
As for performance, Spiffy Gear claims the following when it comes to run time:
| | | | |
| --- | --- | --- | --- |
| Lumiee | Run Time @ Level 1 | Run Time @ Level 4 | Charging Time |
| Bi-Color | 4 hours (Almost) | 1.1 hours | 1.25 hours |
| RGB | 4 hours (Almost) | 1 hour | 1.25 hours |
One thing I'd like to add is the fact that it does not overheat. That's a +1 in my opinion as during my test, I wore it throughout a movie (Not in a movie hall. No I'm not a monster) and it didn't overheat.
Image Samples
Compatibility 
Compatibility is probably the best part of owning a Lumiee. Firstly, it's rollable not only on your wrist but you can roll this on a light stand or boom pole. What makes it even better is the in-built magnet strips under the rubberized coating. Hence, it's easier to mount vertically on any metal-based accessories/sets. For example, you can easily mount it on a light stand. So, this opens up a whole new world of mounting opportunities for gaffers.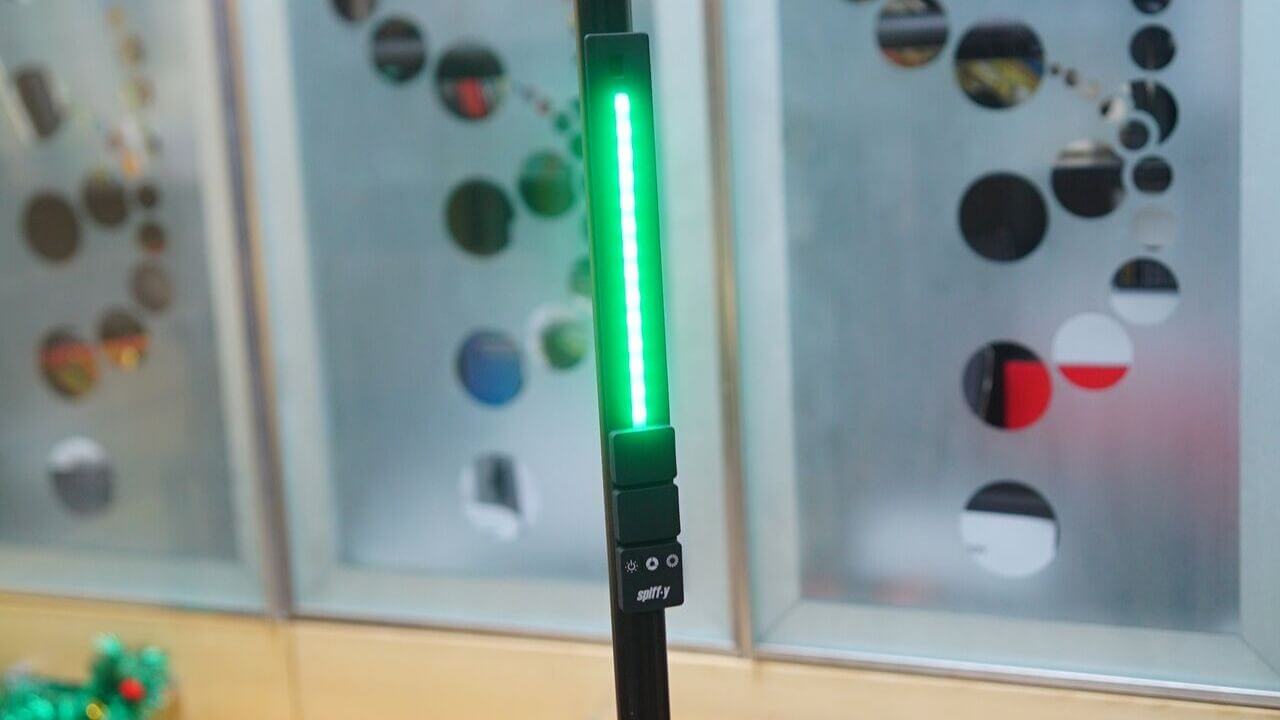 You do get a tripod mount included in the box and a metal coin with 3M adhesive on the other end to help you mount in different spots.  
The mounting possibilities are endless when it comes to small spaces. I've used both the Aputure Amaran AL M9 and the Litra Pro but the beaming angle and mounting issues are something that makes them unusable in some spots. That's where the Lumiee rolls ahead of them. 
Pricing 
Both the Lumiees are priced at $45 USD each. There's also a duo combo available on their website. That'd be my personal recommendation. 
You can learn more about pricing and shipping rates on their website. or on Amazon(US) for Bi-Color and RGB. 
Conclusion
I'll be dividing the conclusion into two sections i.e. professionals and casual users. 
Casual Users
Now, a casual user would include anybody who's looking for a light (and the sole purpose is portability and illumination) or a vlogger. This would also include a camper, or people who take selfies in a poorly lit area as shown in Lumiee's commercial or a family who just bought it for fun and utility purposes. 
Professionals
Professionals would include photographers, filmmakers, gaffers or anybody who has anything which involves cameras and lighting. As a camera enthusiast, I'd recommend you to order these right away. It might seem like a gimmick in the first place but trust me after you start using these on sets, you'll be like "Glad I bought these" and end up using these in most of your shoots. 
---
TL;DR Get this fun light bracelet. It's worth it.
Shoutout to SpiffyGear for sending these light bracelets for the review. This is not a paid review. All our opinions and test are unbiased and honest.