Samsung made a jagged entry into the world of foldable smartphones with the Galaxy Fold model. The smartphone was delayed by a few months, due to some design and display issues in the earlier units. Samsung launched Galaxy Fold at a whopping price of $2000, and still, the phone has reported for being troublingly fragile. And now, Samsung is moving towards its second iteration of the foldable smartphone, Galaxy Fold 2. 
The phone is expected to launch in the first half of 2020, with the possibility of even arriving as early as in February. Though Android moved away from the plastic screens almost a decade ago. But, Galaxy Fold and even other foldable smartphones still have plastic screens.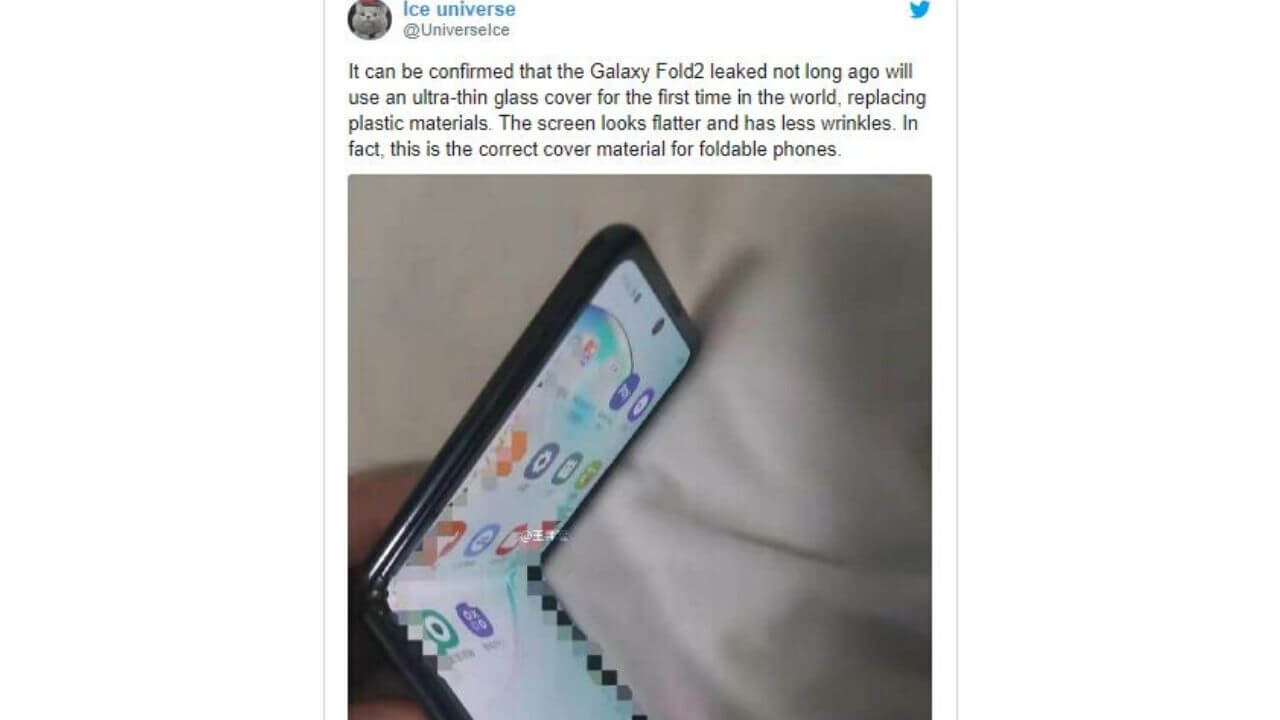 According to the leakster Ice Universe, with Galaxy Fold 2, Samsung is reportedly planning to ditch the current transparent plastic material and switch over to a scratch-resistant ultra-thin glass. Also, the Korean tech giant has recently applied to trademark Ultra-Thin Glass. If the rumors turned out to be legitimate, it would be a remarkable transition in the making of foldable smartphones in the future.
Smartphone glassmaker Corning has also confirmed that they are working on flexible glass. 
"The back of the problem we're trying to break, the technical challenge is, can you keep those tight 3- to 5-millimeter bend radii. And, increase the damage resistance of the glass too."

– Senior Vice President, Corning
Galaxy Fold 2 specifications
A rumor suggested that Samsung Galaxy Fold 2 will feature a 6.7-inch screen that folds across the horizontal axis, unlike the vertical axis in the Galaxy Fold. There will be a secondary display, but of just 1-inch, as compared to a 4.6-inch screen in Galaxy Fold. Also, it has suggested that this new model will feature a slimmer display, as compared to the previous model. In terms of optics, Fold 2 might have a 108 MP main camera and a lens with 5x optical zoom. 
Samsung has already disclosed a new clamshell design, and it looks quite similar to the Moto Razr 2019 model. Fold 2 will be priced lesser as compared to Galaxy Fold, with the expected price not rising above $1500.